« July 2008 | Main | September 2008 »
August 31, 2008
Photos From The Announcement For Republican VP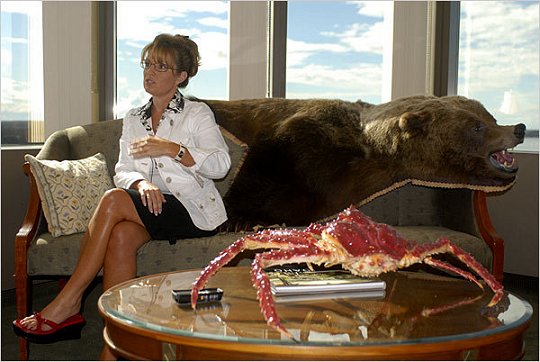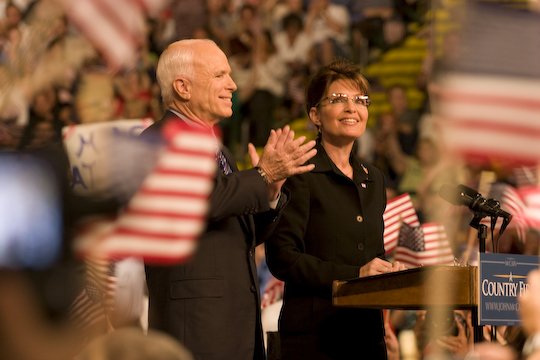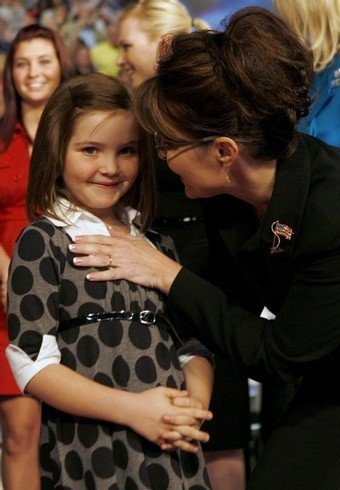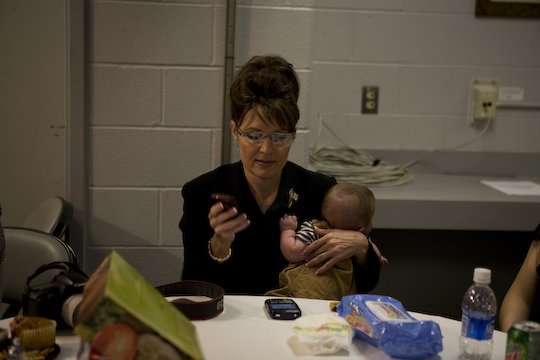 Executive Mom. It'll drive the Libs nuts! heh heh
This one of Sarah holding precious Trig and her Blackberry needs to be put in front of anybody who claims she can't be both Mommy and Veep. ( photo from Meghan McCain)
For more NON media photos and write up .......
Meghan McCain has a Blogette, she is very nice and the daughter John and Cindy McCain . At her blog she pictures of the campaign. You can see more there and also clcik at the bottom , where it says PREVIOUS POSTS, to go back to more of Meghan McCain's reports with photos. These are pictures not in the media or the press. They are Meghan's own .

http://mccainblogette.com/index.shtml

"Governor Sarah Palin"
blogette by Meghan McCain and photos by Heather
"Yesterday was incredible. Again I got to witness history in the making, from a front row seat. Starting out the day with Dad's choice of Governor Sarah Palin as his nominee for Vice President is a moment on stage I will never forget. She and her family are so down to earth and so much fun. I could not be any luckier to have these wonderful people join us on the road. I had the pleasure of spending the day with kids Bristol, Willow, Piper and Trig. Not only do we have a new Vice Presidential nominee, but I have three new awesome girls to share the road with. I am looking forward to spending more time with them hanging out on the Straight Talk Express. It feels a bit like we're welcoming a few new blogettes to the site and my life. I couldn't be happier, more pleased or excited. This has truly been one of the best days on the trail so far. "
.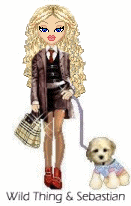 Wild Thing's comment......
LOL you all know how I love pictures and graphics. And to think we finally get a conservative we get to vote for. tah dah!
The photos at Meghan McCain's blog are so special of Sarah Palin and Trig her new baby. Dear God protect these families and the children. The left is so cruel and vicious.
I reallly like Meghan's blog because it is much better to have photos that are not posed and photos that show back room things that go on. Some of her other posts show the campaign on the bus, the plane and back stage where speechs have and will be made.
I am sure there will be more in the future that willl be fun to see, especially this week with the Republican Convention starting Monday.
One more thing to share with you.......never before has McCain.com raised $1 million in a day. He has donen OK but never more then $1 Million. I heard on the news that they're STILL counting online donations - well
over $5 Million JUST online since the announcement of oSarah Palin as VP was made, and they have lots more coming in, and lots more yet to count!
Posted by Wild Thing at 05:55 AM | Comments (18)
---
To All Our Friends In Gustav's Path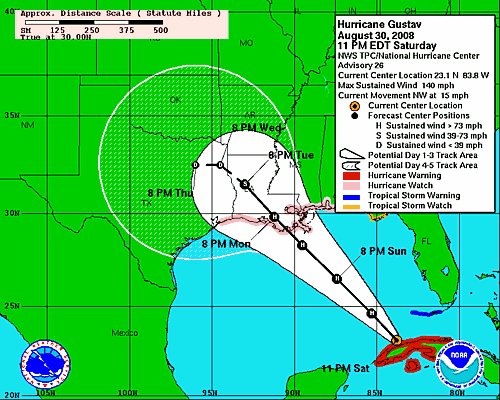 Extremely dangerous Hurricane Gustav blasted across Cuba's Isle of Youth and toward the mainland with 150-mph (240-kph) winds and lashing rains on Saturday as forecasters said it could grow into a catastrophic Category 5 .
Tropical Depression

39 mph
34 kts Minimal
Tropical Storm
39 - 73 mph
34 - 63 kts Minimal
Hurricane 1
(Weak) 74 - 95 mph
64 - 82 kts 28.94" or more
980.02 mb or more 4.0' - 5.0'
1.2 m - 1.5 m Minimal damage to vegetation

Hurricane 2
(Moderate) 96 - 110 mph
83 - 95 kts 28.50" - 28.93"
965.12 mb - 979.68 mb 6.0' - 8.0'
1.8 m - 2.4 m Moderate damage to houses

Hurricane 3
(Strong) 111 - 130 mph
96 - 112 kts 27.91" - 28.49"
945.14 mb - 964.78 mb 9.0' - 12.0'
2.7 m - 3.7 m Extensive damage to small buildings

Hurricane 4
(Very strong) 131 - 155 mph
113 - 135 kts 27.17" - 27.90"
920.08 mb - 944.80 mb 13.0' - 18.0'
3.9 m - 5.5 m Extreme structural damage

Hurricane 5
(Devastating) Greater than 155 mph
Greater than 135 kts
Former DNC Chairman Don Fowler while talking to U.S. Rep John Spratt (D-SC) on a commercial flight laughing that Hurricane Gustav will hit New Orleans during the RNC convention. You can't hear Spratt but he chuckles along.

I know there is Tom, SSgt Steve, and Cheryl, are in Texas. And then there are those that do not comment but write to me that come to TW that live in Texas, LA and areas in the path of this monster hurricane. You are in my thoughts and prayers. stay safe.
Posted by Wild Thing at 05:50 AM | Comments (8)
---
McCain - Palin 08 Our Awesome Military and America

Video's are from " StudentsofAmerica " it is a grassroots youth movement for young Americans, Myspacers and College Students in support of Senator John McCain and Gov. Sarah Palin.
Michel Luciano of Students for America also weighed in on why he decided to back Sarah Palin for VP, saying,
"I believe that Governor Sarah Palin's conservative credentials, fight against corruption, and stance on energy security along with her leadership experience as Mayor of Wasilla and Governor of Alaska make her the best qualified candidate for Vice President of the United States."

http://www.myspace.com/studentsofamerica

Worcester State College
Worcester,MA
Graduated: N/A
Degree: Bachelor's Degree
Major: History
Minor: Polticial Science

N H Community Tech C Stratham
Stratham,NH
Graduated: N/A
Degree: In Progress
Major: Biotechnology

Mcintosh College
Dover,NH
Graduated: N/A
Degree: In Progress
Major: Criminal Justice



.
McCain - Palin 08
This one is John McCain and Sarah Palin Visit the Troops and Obama clips included showing what a huge difference we all know is there. Also the troops at the end speak about support and none support for what they are doing.
Obama's Arrogance America's Nightmare
.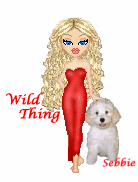 Wild Thing's comment........
No time is Obama time, and now more then ever it is important that a man known as Barack Hussein Obama never be able to become President of the United States of America.
Thank you to Students for America Students for America.
Posted by Wild Thing at 05:48 AM | Comments (8)
---
Obama on Gustav: Preparation 'appears to be good'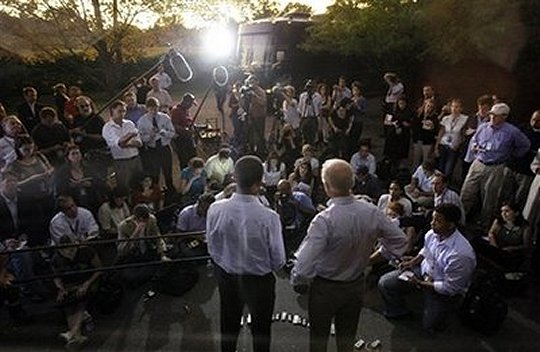 Democratic presidential candidate, Sen. Barack Obama, D-Ill., left, and his vice presidential running mate, Sen. Joe Biden, D-Del., talk with reporters in Dublin, Ohio about approaching Hurricane Gustav Saturday, Aug. 30, 2008.
Obama on Gustav: Preparation 'appears to be good'
After conversations Saturday with Louisiana Gov. Bobby Jindal and emergency management officials about Hurricane Gustav, Barack Obama said cooperation between the local and federal government "appears to be good" but he will continue to monitor it.
"The main message," Obama said, "is for the public in those areas that are potentially in danger to take the evacuation seriously, even if you have ridden out this storm before, even if you think that it may pass over, even if you think you can wait until the last minute, this is going to be potentially very, very serious."
It was the second time Saturday that Obama had spoken with the press about the hurricane, now a Category 4 storm. After an evening rally here, Obama detailed his conversations with Jindal, Lt. Gov. Mitch Landrieu, New Orleans Mayor Ray Nagin and R. David Paulison, administrator of the Federal Emergency Management Agency.
"This could be gigantic in terms of in its consequences," said Obama's running mate, Joe Biden, who stood at his side. "Ride out of town, get out of town. Do what the governor is suggesting."
Obama said he did not have plans to visit the area, adding: "We can be a distraction in these situations."
He declined to say whether President Bush should attend the Republican National Convention, where he is scheduled to speak on Monday.
"I don't want to wade into the White House's decision-making at this point," Obama said. "The main priority has to be making sure that everything is being done on the ground to prevent a repeat of some of the tragic situations we saw several years ago. I think the White House is mindful of that, FEMA is mindful of that, and my expectation is that they are monitoring it very closely."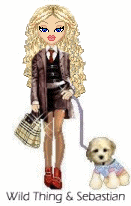 Wild Thing's comment...........
First I thought why are they bothering with Obama when our side is much more fun and interesting. heh heh
But then they are the media so I guess just maybe the media could be setting him up to take credit for a successful evacuation....... since, after all, the Republicans are to be safely ensconced at the polar opposite end of the Mississippi River.
It's all about the 'O'. ( O for Zero)
"cooperation between the local and federal government "appears to be good" but he will continue to monitor it"
Oh, he'll continue to monitor it. Thank goodness! I feel better now. ( no thanks Obama)
Posted by Wild Thing at 05:47 AM | Comments (6)
---
Palin versus Obama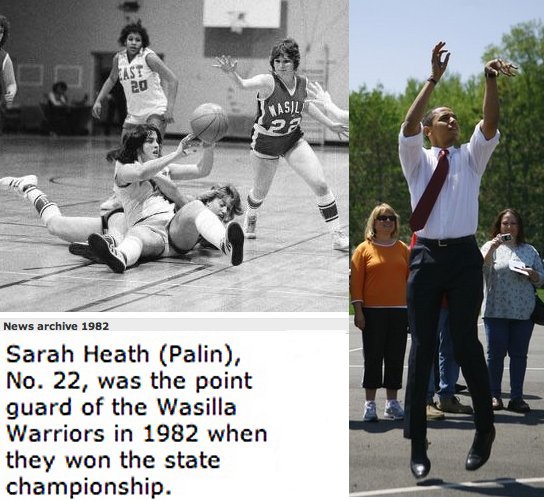 Sarah Palin Visit To Our Wounded Soldiers in Landstuhl and Obama Went To The Gym
Governor Palin during her visit to wounded soldiers in Germany's Landstuhl Regional Medical Center
Posted by Wild Thing at 05:45 AM | Comments (6)
---
August 30, 2008
Cindy McCain tells Stephanopoulos that Obama Offended Her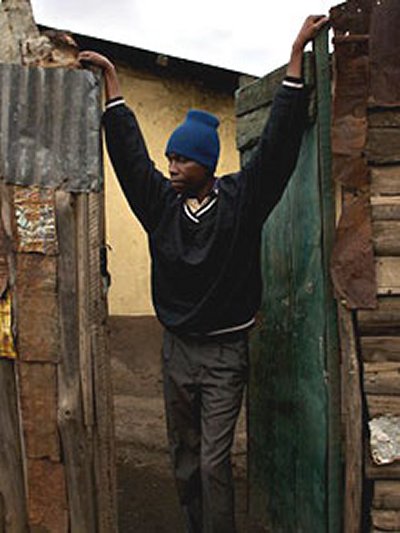 Barack Obama's younger brother George in a slum hut in Nairobi

Cindy McCain tells Stephanopoulos that Obama Offended Her
ABC News' George Stephanopoulos reports: Democrats' attacks on her family's wealth are unfair and offensive, Cindy McCain said today in an interview airing tomorrow on "This Week with George Stephanopoulos."
For nearly two weeks, Democrats have repeatedly hit Sen. John McCain, R-Ariz., for saying he is unaware of how many houses he owns, calling the presumptive Republican presidential nominee out of touch with everyday Americans. In his acceptance speech at the Democratic convention on Thursday, Democratic nominee Barack Obama turned up the heat on McCain, saying he "doesn't know" about the lives of middle-class Americans.
"I'm offended by Barack Obama saying that about my husband," said McCain's wife Cindy. When asked if Obama went too far in his criticism of McCain, Cindy responded, "I do. I do. I really do."
McCain also said beer the distributorship her father built, which is the source of much her family's wealth, typifies the American Dream.
"My father had nothing. He and my mother sold everything they had to raise $10,000," she said. "I'm proud of what my dad and my mother did and what they built and left me. And I intend to carry their legacy as long as I can."
More of the exclusive interview with Cindy McCain airs tomorrow on "This Week."
UPDATE: The Obama campaign is not backing down. "The fact that John McCain does not know how many houses he owns when millions are struggling to stay in the only house they have shows he's out of touch with the lives of real Americans," said Obama spokeswoman Linda Douglass Saturday afternoon. "McCain is promising to double down on the economic policies of George W. Bush which have benefited corporations and CEO's while leaving middle-class families behind. John McCain just doesn't get it."
Douglass later added that "the issue here isn't the wealth of the McCain family, it's that Senator McCain is out of touch when he says that the fundamentals of our economy are strong' and that the Bush economy has 'made great progress' when most Americans are actually losing ground."

.

Wild Thing's comment...........
This will air tomorrow on "This Week".
Good for Cindy!!!! B. Hussein and Michelle Obama are jealous !
They hit with houses. You hit back with Rezko and Ayers.
The fact that her father and mother built the business means nothing to a socialist that thinks in black and white. (no pun intended but what the hey haha) And Obama allows his own brother to live in a " hut" on $1 a month.
Let's see there is Barack Obama's older brother Malik Abongo "Roy" Obama, who is a Luo activist and a militant Muslim.
Then there is Barack's Muslim brother Bernard the son of Kezia Obama who married Barack Obama Sr. in Kenya in 1957 when she was a teenager (16) before he went to the US where he fathered Barack. Bernard was born after Barack Sr. came back to Africa.
The British media was able to track down Barack's brother Mark Ndesandjo the son of Barack Obama's late father and his third wife, an American woman named Ruth Nidesand. Mark ran an illegal firm in China.
And the Italian press discovered Barack Obama's younger brother George in a slum hut in Nairobi. He is the son of Barack Obama Sr. and Jael. ( source and article)
Obama offends ANYONE who is a red-blooded, American who understand what oppressive socialism and Marxism are, and stand for. Hussein Obama offends America and Americans. His anti-American entourage is replete with hate America and blame America first marxist socialists
Maybe Cindy should have said:
"John knows exactly how many houses we own. He was just reluctant to say because he was concerned that Obama would send William Ayers over to blow them up!!"

....Thank you Mark for sending this.

Posted by Wild Thing at 06:14 PM | Comments (12)
---
Has Joe Biden been drinking?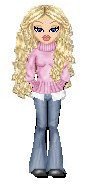 Wild Thing's comment.........
If he is drunk like this appears he might be, maybe he is worried just a tad about his future debates with Sarah Palin. Just a thought anyway.......
Posted by Wild Thing at 05:27 PM | Comments (7)
---
Sarah Palin at Camp Buehring, Kuwait and More Of Her History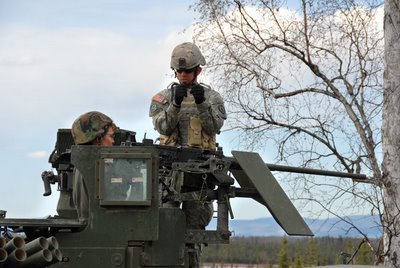 (Gov. Palin is the one behind the gun)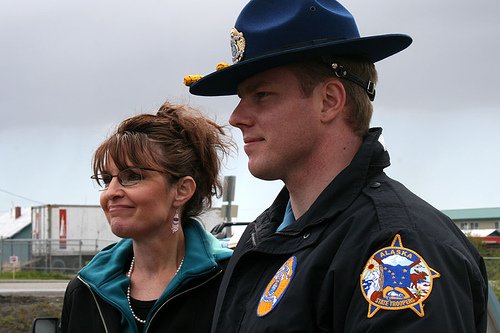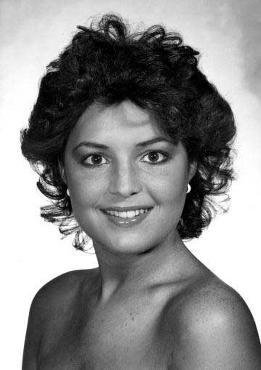 In 1984, Palin was chosen as Miss Wasilla and went on to become the first runner-up in the Miss Alaska Pageant and received the Miss Congeniality award the same year. Her husband, Todd Palin was a judge in the 2008 Miss Alaska Pageant.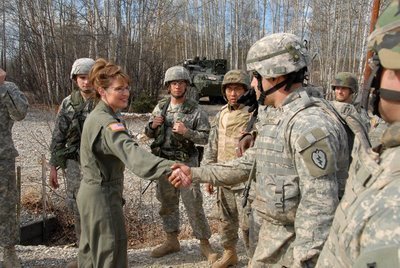 CAMP BUEHRING, KUWAIT - Alaska Governor Sarah Palin (center) arms a simulated roadside bomb on the IED defeat course at the training village on Camp Buehring, Kuwait. (July 2007)
Maybe it's the frontier heritage or maybe it's the state's rugged landscape, but whatever the reason, Alaskan women seem to have more cajones than most of the men in Illinois politics.
Republican Sarah Palin was elected Alaska's first woman Governor in 2006. Now 43, she's also the youngest in state history.
Palin is something of a Renaissance Woman. She once competed in the Miss Alaska contest and she played on her high school's state championship girls basketball team. She's been a television sports reporter, a city council member and mayor. She's helped run the family's commercial fishing business and she remains married to her high school sweetheart. Earlier this month she announced she was seven months pregnant with the couple's fifth child.
Palin has one of the highest approval ratings of any Governor in America and she continues to build a reputation as one of the greatest crusaders for ethical government anywhere. She also believes in reducing the size of government. Last year she introduced a budget that cut state spending by $124 million.
While once favored by the old guard of Alaska's GOP, Palin split with the good old boys over corruption issues. Palin was elected Governor in 2006 as a maverick reformer, without the help of the entrenched party players.
Two weeks ago the Alaska Republican Party held their State Convention in Juneau and Palin rose to the occasion yet again. Under Palin's leadership, their convention was all about reforming and cleaning-up the State GOP.
Around 400 delegates registered for the 3-day event, reportedly a record. (By comparison, that's about the same size crowd that attended the Illinois GOP's State Convention in 2004, and Alaska's population is barely 5% of ours, 670 thousand vs. 12.8 million.)
Alaska is a very Red State with vastly fewer people, but on some other levels there are startling similarities to Illinois. For one thing, there seem to be a lot of ongoing federal investigations involving bigwig politicos. And just like the Illinois GOP, the Alaska GOP has been devastated by corruption.
The state's Republican National Committeeman has been under an ethical cloud, just like ours. Alaska's is Ben Stevens, the son of the longest serving Republican in the U.S. Senate, Ted Stevens.
While Ben has not been charged with any crime, it's been reported that he's under federal scrutiny. Two former executives (now convicted) of the oilfield service firm VECO Corp. have already testified they made certain payments to Stevens and others.
Last fall Palin called on Ben Stevens to resign as Republican National Committeeman. Stevens ignored those calls for early resignation, but a new National Committeeman was just selected at their State Convention. Stevens reportedly hadn't been to an RNC meeting since 2005, and he didn't show up to the State Convention.
Ben's father Ted (the GOP U.S. Senator) is also the subject of a federal probe, and in July of 2007 federal agents raided his home. Palin has called on the Senator to explain why to Alaskans. He's refused.
Then there is Republican Don Young who has been Alaska's lone U.S. Representative for 35 years. Young is probably best known outside of Alaska for securing $223 million in federal earmarks for the "Bridge to Nowhere" - a bridge nearly as long as the Golden Gate which connects Gravina Island (population less than 50) with Ketchikan (population 8,000). Last year Young's campaign spent nearly $850,000 on legal fees, but he also won't explain why.
At the start of the Convention, Palin's Lieutenant Governor Sean Parnell stunned delegates by announcing he would be making an August GOP Primary challenge against Young for the Congressional seat. Parnell, with Governor Palin at his side, then left the Convention floor to file the official paperwork. That move was reportedly very well received by the delegation.

But the Alaska State Convention probably saw the most excitement when Palin and her allies fought to remove State Party Chairman Randy Ruedrich (like our Chairman Andy McKenna, Ruedrich's regular term isn't up until 2010).

Palin parted ways with Ruedrich back in 2003 when both served on the state's Oil and Gas Conservation Commission. Palin exposed Ruedrich for ethical violations and he ended up paying a $12,000 penalty, the state's largest civil fine for an ethics case.

From media coverage it's clear Alaska's GOP Convention provided a lot of positive energy and exciting political theatre. It's also clear Alaska has some real leaders who get it.

Quotes from Palin from the convention podium and floor:
"I think we need to call on all of you assembled delegates to rise and literally even stand with me if you desire change in our party's leadership. If you believe in that change please be bold." --Governor Sarah Palin.
"We can't kid ourselves, there has not yet been restoration of the public's confidence in the Republican Party and we have got to do better." - Governor Sarah Palin.

Right before the Convention's adjournment, the delegates voted 167 to 133 to table the resolution calling for State Chairman Ruedrich's early resignation. Ruedrich told the assembled just prior to that vote that he would ignore such a resolution anyway (that also sounds familiar).
Still, the Alaska GOP had a very successful convention. They had real leaders standing-up for positive change. They elected a new and better National Committeeman. And they found out their popular Lieutenant Governor would be challenging their stayed-to-long King of Pork, GOP Congressman Don Young.
Reform minded Republicans maybe didn't get everything they wanted, but they seriously advanced the ball. The Alaska GOP is truly rebuilding. Our State GOP can't say that yet.
The only question left is why in a state with nearly 20 times the population of Alaska can't we seem to find a Republican for statewide office like Sarah Palin?

Wild Thing's comment.........
The article is interesting and gives a glimpse of some history about Palin. Good stuff!!!
Posted by Wild Thing at 04:55 AM | Comments (19)
---
"The Man In The Door"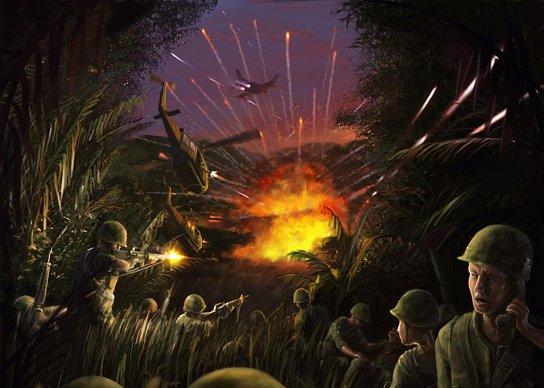 "The Man in the Door"
A story by Marine, Michael Rierson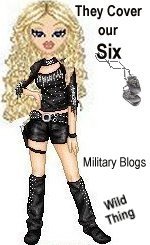 Wild Thing's comment.........
Thank you to all of our Vietnam Veterans. This video is so well done, very moving I am sure the very first cut of the blade into the air brings back many memories. With tears in my eyes I thank you all . To the door gunners , the gunners on Huey gunships, the crew chief's, and all that served in that war and others that have memories watching this video.............brothers all.

......Thank you RAC for sending this to me.

RAC has a website that is awesome. 336th Assault Helicopter Company

13th Combat Aviation Battalion - 1st Aviation Brigade - Soc Trang, Republic of Vietnam


Posted by Wild Thing at 04:50 AM | Comments (6)
---
Madame 9 % Pelosi : "Palin is not the right choice"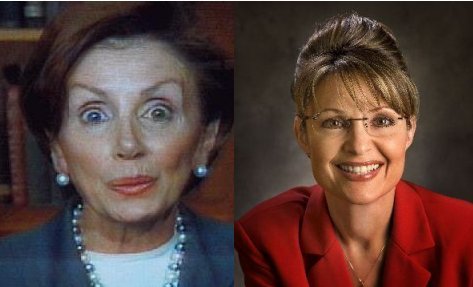 Nancy Pelosi on McCain's veep selection: 'Palin is not the right choice'

House Speaker Nancy Pelosi (D-San Francisco) issued the following statement Friday on Sen. John McCain's selection of Alaska Gov. Sarah Palin as his vice presidential running mate:
"The selection of a vice presidential candidate is one of the most significant and telling decisions a presidential candidate can make.

John McCain's selection of Sarah Palin raises serious questions about his judgment. Why, when the country is fighting two wars, facing an uncertain economy and an energy crisis, did Senator McCain make the choice that he did?

Why, with so many other qualified women and men in his party, did John McCain choose Sarah Palin? Sarah Palin is not the right choice. She shares John McCain's commitment to overturning Roe v. Wade and continuing George Bush's failed economic policies.

John McCain and Sarah Palin will not bring the American people the New Direction they need."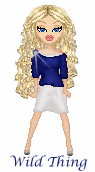 Wild Thing's comment..........
The best endorsement yet...giggle.. Pelosi's jealous that Palin still has the ability to blink!
Pelosi: "MEOOOOOOOOOOW"
Palin: "Bang bang"
LOL
Nancy Polosi's approval rating.... 9%
Sarah Palin's approval rating....80%
Next!
Posted by Wild Thing at 04:48 AM | Comments (16)
---
Carter: McCain 'Milking' POW Experience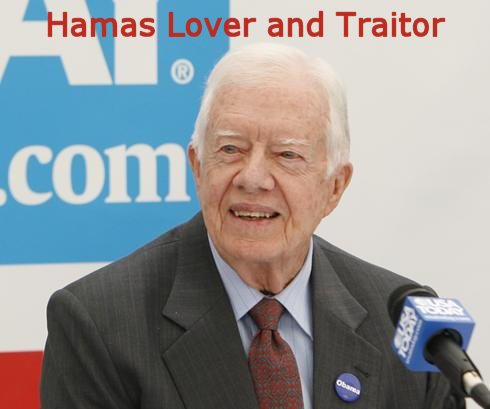 Former President Carter: McCain 'Milking' POW Experience
Former President Jimmy Carter said Thursday that John McCain is "milking every possible drop of advantage" from his time as a prisoner of war in Vietnam, USA Today reported Thursday.
Carter focused on McCain's interview earlier this month with author and pastor Rick Warren at his parish, the Saddleback Church in Lake Forest, Calif. McCain used every question, whether it was about religion, domestic or foreign affairs, to talk about his five-and-a-half years as a POW, Carter claimed.
"John McCain was able to weave in his experience in a Vietnam prison camp, no matter what the question was," Carter, a 7-year Naval officer, told the paper. "It's much better than talking about how he's changed his total character between being a senator, a kind of a maverick at the time, and his acquiescence in the last few months with every kind of lobbyist pressure that the right wing Republicans have presented to him."
In the interview that came before Obama's acceptance speech at the Democratic convention in Denver, Carter also talked about Obama's challenges facing the lingering effects of racism in America, the ability of the Clintons to bring their supporters over to Obama. He also decried Sen. Joe Lieberman's decision to "abandon" the Democrats by speaking at the Republican National Convention next week.
I would hope that the Democrats could have enough senators elected in November so that we would not any longer need to include Joe Lieberman among the senators," Carter said.
Carter called Hillary Rodham Clinton's speech at the convention Tuesday "superb" but questioned her for pointing out her accomplishments in some areas and merely saying that Obama shared those concerns.
Carter said former president Bill Clinton's speech Wednesday was "perfect." Carter said the two speeches took pressure off Obama by uniting the party and ensuring that Clinton supporters would support Obama.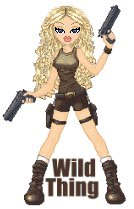 Wild Thing's comment........
Traitor Carter is so full of it, if anyone milked their military experience it was Hanoi Kerry and he did it to the max. Try again peanut breath, better yet , leave the country and NEVER come back.
Next week is going to be really painful for Jimmuh.
I find it disgusting that this POS leftist appeaser who unleashed Islam terror on the world actually has a US Navy ship named after him!
Carter is a bitter, evil,. supporter of dictators washed up antisemitic hack.
Posted by Wild Thing at 04:47 AM | Comments (16)
---
Hillary Fans and "PUMAs for Palin"
You can scroll down and read the comments at Hillary's forum....... there are pages and pages of comments like the ones below.

"HOPE ITS PALIN, I WOULD VOTE TWICE JUST TO STICK IT TO OBAMA"
"I'm actually very excited that women will get some serious respect in this race."
"Hoo Ray! Fu*k the DNC. Fu*k Obama. They are so fu*k up. They brushed off the women base like dirt. and the GOP pick them up. Go McCain."
"OMG!!!!!!!!!!!!!!!!!!!!! Buuuuurn Obama Buuuurn! What a slap in the face. If it's Palin, I will put blood and sweat into campaigning for that team."
"Leave it to the GOP to pick a woman for the ticket. Obama snubbed the most viable and experienced woman who received 18 million votes, for another MALE. I have a feeling, somewhere somehow, Hillary is snickering!"
"SHE HAS FIVE KIDS!! TRUST ME! SHE KNOWS HOW TO RUN THINGS!"
"That's it for me. I will be voting McCain/Palin, a Republican team, for the very first time in my life. YEOW, how my life has changed this year."
.....and this one had this with her comment...........

"So much for McCain being against women's rights and equal pay... I can't wait til Hillary can mutter under her breath- I TOLD YOU SO- you stupid arses! "
"They keep making this mistake again and again. The more they trash this woman the more she will get Hillary's vote."
"No surprise. CNN's treatment of Hillary Clinton tells you EXACTLY what they think about women who seek power. Shame on them."
" I have had it, my party used Roe V Wade to try to keep us all "loyal" to the party. But the truth is the Democrat party has proven that they didn't really respect women because of the way they treated Hillary. I wrote Hillary about this and told her I will sign up again for her in 2012 and we will win. And that I want to stick it to Obama and will be voting for Palin on McCain's ticket. I have been noticing at work too the people that are against Obama are a lot nicer to me. "

.
And there is also this...................
Some Clinton Donors Are Contributing to McCain
Some of Hillary Clinton's most fervent supporters are taking their enthusiasm – and their campaign contributions – to John McCain.
More than 85 of Clinton's fundraisers, including Donald Trump, Univision chief executive Joseph Uva, cable mogul Charles Dolan, philanthropist Norma Hess and one of Florida's biggest lobbyists appear to be skipping Barack Obama when it comes to writing checks for the general election, according to an ABCNews.com review of campaign finance records.
These Clinton donors have contributed at least $200,000 to McCain's campaign in the last few months, an amount which doesn't include larger contributions to the Republican joint fundraising committees.
The defecting donors, along with a significant segment (20 percent) of Clinton fans who have expressed support for McCain in recent polls, could present a problem for Obama in the general election.
That speech was amazing, but it's not going to change my mind," one Texas donor, who gave $2,300 to Clinton earlier this year and contributed $2,300 to McCain last month, told ABCNews.com. "I talk to plenty of people like me who just won't accept an unqualified president."
At least one of Clinton's HillRaisers, elite fundraisers who contributed at least $100,000 to her failed campaign, recently donated to the Republican candidate.
Charles Dolan, head of the giant Cablevision, wrote a $2,300 check to McCain on June 30 after Clinton's initial plea to help Obama.
Ronald Book, one of the biggest lobbyists in Florida who represents clients as diverse as the University of Miami and Bell South, raised $700,000 for President Clinton in recent years and contributed the maximum to Hillary Clinton's presidential campaign earlier this year.
Now, he's contributing to McCain and is leaning toward endorsing the Republican nominee. Book notes that he wouldn't give money to Obama even if the candidate took money from lobbyists.
"Obama has said a lot of stuff, but nothing with a concrete vision," says Book
..........this article is 3 pages long this is the link if anyone would like to read the entire article ........

.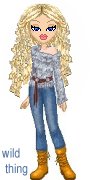 Wild Thing's comment..........
This is so interesting to me these women have had their vote stolen from them in Florida and Mich.. They saw Hillary pushed aside by the media and Obama and they are angry. From reading the comments at Hillary's forum they are as excited as we conservatives are even though it is mostly for completely different reasons.
This will really hit Obama hard, and I am glad. He could have stopped the votes from being stolen and he said nothing, so much for respecting a persons vote. But then he is a wanna be dictator so it figures he would be like that.

Posted by Wild Thing at 04:45 AM | Comments (12)
---
Sarah Palin Brings Up Obama and Biden Regarding National Energy and Drilling.
.


Wild Thing's comment..........
Just sitting here thinking of the Palin vs. Biden debate, I think Sarah will be having some fun. heh heh
Posted by Wild Thing at 04:40 AM | Comments (8)
---
August 29, 2008
John McCain, here is your Vice President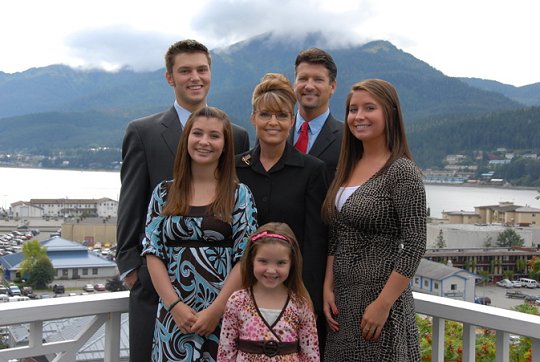 John McCain, here is your Vice President
By Nat Hentoff
In 2006, Sarah Palin became Alaska's youngest and first woman governor after having earned a reputation as a determined and successful advocate of ethics reform in politics. In the primary, she defeated an incumbent Republican governor and then a former two-term Democratic governor.
During her first year in office, as reported by the Associated Press on May 10, she "distanced herself from the old guard, powerful members of the state GOP (and) stood up to the oil interests that hold great power in Alaska, and with bipartisan support in the statehouse, she won a tax increase on the oil companies' profits."
Last December, the mother of four children, Palin, four months pregnant, found she was going to have a child with Down syndrome, a condition characterized by moderate-to-severe mental retardation. A school friend of one of my sons had Down syndrome, and I have known functioning adults with the extra chromosomes of that syndrome.
However, as a longtime reporter on disability rights, I have discovered that many fetuses so diagnosed have been aborted by parents who have been advised by their doctors to end the pregnancies because of the future "imperfect quality of life" of such children.
Palin's first reaction to the diagnosis was to research the facts about the condition, since "I've never had problems with my other pregnancies." As a result, she and her husband, Todd, never had any doubt they would have the child
.
"We've both been very vocal about being pro-life," she told the Associated Press. "We understand that every innocent life has wonderful potential."
In an age when DNA and other genetic-selection tests increasingly determine who is "fit" to join us human beings, we are witnessing the debate between sanctity of life versus quality of life being more often decided in favor of death. This is a result welcomed by internationally influential bioethicist Peter Singer, now a celebrated Princeton University professor, who, in July 1983, wrote in "Pediatrics," the official Journal of the American Academy of Pediatrics:
"If we compare a severely defective human infant with a nonhuman animal, a dog or pig, for example, we will often find the nonhuman to have superior capacities, both actual and potential, for rationality, self-consciousness, communication, and anything else that can plausibly be considered morally significant."
And there are bioethicists who point to the continuing costs of rearing a "defective infant." By inspirational contrast, Palin, says of her new son, Trig: "I'm looking at him right now, and I see perfection. Yeah, he has an extra chromosome. I keep thinking, in our world, what is normal and what is perfect?"
Three days after she gave birth, Palin was back in her Anchorage office with her husband and Trig. "I can think of so many male candidates," she tells the AP, "who watched families grow while they were in office. There is no reason to believe a woman can't do it with a growing family. My baby will not be at all or in any sense neglected."
Says the governor of Alaska, "I will not shirk my duties." Taking her stand for life as a holder of high political office is all the more valuable in the face of not only the termination of fetal lives as not worth continuing before they can speak for themselves, but it also puts a searching light on the growing "futility" doctrine in hospitals — affecting born people of all ages.
Nancy Valko, a medical ethicist and intensive-care nurse I consult on these lives-worth-living debates, has emphasized that "with the rise of the modern bioethics movement, life is no longer assumed to have the intrinsic value it once did, and 'quality of life' has become the overriding consideration."
Because of Palin's reputation as a maverick, and her initial reduction of state spending (including pork-barrel spending), life-affirming Palin connects with voters and has been mentioned as a possible vice presidential running mate for John McCain.
She would be a decided asset — an independent Republican governor, a woman, a defender of life against the creeping culture of death and a fresh face in national politics, described in "the Almanac of National Politics" as "an avid hunter and fisher with a killer smile who wears designer glasses and heels, and hair like modern sculpture."
Still unknown is whether Palin would be as flip-flopping as McCain on the Bush torture policy that has so blighted our reputation in the world. But we'd find out, as — if chosen as his running mate — she would create more interest in this already largely scripted presidential campaign.
And her presence could highlight Obama's extremist abortion views on whether certain lives are worth living, even a child born after a botched abortion.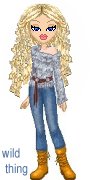 Wild Thing's comment........
Great article, we are so fortunate that Sarah Palin said yes to being the VP.

....Thank you Mark for sending this to me.

Posted by Wild Thing at 03:47 PM | Comments (19)
---
John McCain's VP Pick Alaska Gov. Sarah Palin ~ Fantastic!
Announcement to be made by McCain at noon EST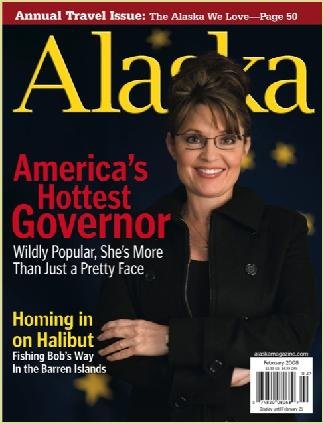 Gov. Palin grew up in Wasilla, where as star of her high school basketball team she got the nickname "Sarah Barracuda"
Her rise is a great (and rare) story of how adherence to principle--especially to transparency and accountability in government--can produce political success. And by the way, Palin is a conservative who only last month vetoed 13 percent of the state's proposed budget for capital projects. The cuts, the Anchorage Daily News said, "may be the biggest single-year line-item veto total in state history."
As recently as last year, Palin (pronounced pale-in) was a political outcast. She resigned in January 2004 as head of the Alaska Oil and Gas Conservation Commission after complaining to the office of Governor Frank Murkowski and to state Attorney General Gregg Renkes about ethical violations by another commissioner, Randy Ruedrich, who was also Republican state chairman.
State law barred Palin from speaking out publicly about ethical violations and corruption. But she was vindicated later in 2004 when Ruedrich, who'd been reconfirmed as state chairman, agreed to pay a $12,000 fine for breaking state ethics laws. She became a hero in the eyes of the public and the press, and the bane of Republican leaders.
In 2005, she continued to take on the Republican establishment by joining Eric Croft, a Democrat, in lodging an ethics complaint against Renkes, who was not only attorney general but also a long-time adviser and campaign manager for Murkowski. The governor reprimanded Renkes and said the case was closed. It wasn't. Renkes resigned a few weeks later, and Palin was again hailed as a hero.
Palin, 43, the mother of four, passed up a chance to challenge Republican senator Lisa Murkowski, the then-governor's daughter, in 2004. She endorsed another candidate in the primary, but Murkowski won and was reelected. Palin said then that her 14-year-old son talked her out of running, though it's doubtful that was the sole reason.
In 2006, she didn't hesitate.
She ran against Gov. Murkowski, who was seeking a second term despite sagging poll ratings, in the Republican primary. In a three-way race, Palin captured 51 percent and won in a landslide. She defeated former Democratic governor Tony Knowles in the general election, 49 percent to 41 percent. She was one of the few Republicans anywhere in the country to perform above expectations in 2006, an overwhelmingly Democratic year. Palin is unabashedly pro life.
With her emphasis on ethics and openness in government, "it turned out Palin caught the temper of the times perfectly," wrote Tom Kizzia of the Anchorage Daily News. She was also lucky. News broke of an FBI investigation of corruption by legislators between the primary and general elections. So far, three legislators have been indicted.
In the roughly three years since she quit as the state's chief regulator of the oil industry, Palin has crushed the Republican hierarchy (virtually all male) and nearly every other foe or critic. Political analysts in Alaska refer to the "body count" of Palin's rivals.
"The landscape is littered with the bodies of those who crossed Sarah," says pollster Dave Dittman, who worked for her gubernatorial campaign. It includes Ruedrich, Renkes, Murkowski, gubernatorial contenders John Binkley and Andrew Halcro, the three big oil companies in Alaska, and a section of the Daily News called "Voice of the Times," which was highly critical of Palin and is now defunct.
One of her first acts as governor was to fire the Alaska Board of Agriculture. Her ultimate target was the state Creamery Board, which has been marketing the products of Alaska dairy farmers for 71 years and wanted to close down after receiving $600,000 from the state. "You don't just close your doors and walk away," Palin told me. She discovered she lacked the power to fire the Creamery Board. Only the board of agriculture had that authority. So Palin replaced the agriculture board, which appointed a new creamery board, which has rescinded the plan to shut down.
In preserving support for dairy farmers, Palin exhibited a kind of Alaskan chauvinism. She came to the state as an infant, making her practically a native. And she is eager to keep Alaska free from domination by oil companies or from reliance on cruise lines whose ships bring thousands of tourists to the state.
"She's as Alaskan as you can get," says Dan Fagan, an Anchorage radio talk show host. "She's a hockey mom, she lives on a lake, she ice fishes, she snowmobiles, she hunts, she's an NRA member, she has a float plane, and her husband works for BP on the North Slope," Fagan says. Todd Palin, her high school sweetheart, is a three-time winner of the 2,000-mile Iron Dog snowmobile race from Wasilla to Nome to Fairbanks. It's the world's longest snowmobile race.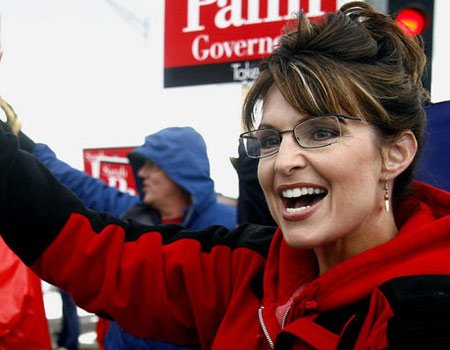 Alaska governor sees 'perfection' in son with Down syndrome
The results of Gov. Sarah Palin's prenatal testing were in, and the doctor's tone was ominous: "You need to come to the office so we can talk about it."
Palin, known for a resolve that quickly launched her from suburban hockey mom to a player on the national political stage, said, "No, go ahead and tell me over the phone."
The physician replied, "Down syndrome," stunning the Republican governor, who had just completed what many political analysts called a startling first year in office.
The doctor's announcement in December, when Palin was four months pregnant, presented her with a possible life- and career-changing development.
"I've never had problems with my other pregnancies, so I was shocked," said Palin, a mother of four other children.
Once her husband got the news, he told her: "We shouldn't be asking, 'Why us?' We should be saying, 'Well, why not us?'"
There was never any doubt the Palins would have the child, and on April 18 she gave birth to Trig Paxon Van Palin.
"We've both been very vocal about being pro-life," Palin said. "We understand that every innocent life has wonderful potential."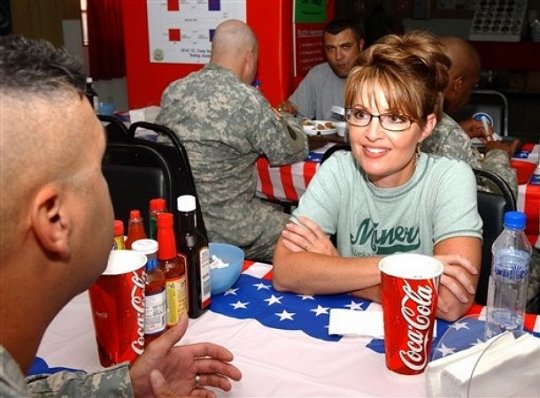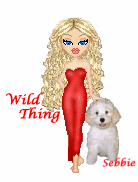 Wild Thing's comment........
Brilliant move!
I LOVE this heh heh "she got the nickname "Sarah Barracuda" ". Out of the park, game changing home run Senator McCain.
She is a governor and has been a mayor, so she has executive experience—right there is more experience than B.Hussein Obama.
This choice will cause the dems to self-destruct.
Also pro-life! Five children, the last of which is a Downs Sybdrome child. God bless her. A hunter, pro drilling, she is also a hockey player.
"We've both been very vocal about being pro-life," she told the Associated Press. "We understand that every innocent life has wonderful potential."
Gov. Palin loves to get up in the middle of the night to go moose hunting! Now it's a female clinging to her guns and religion!
Lifetime NRA Member
Oldest Son Joined Army on 9/11 and will be deployed to Iraq this September!!
giggle....she eats moose burgers, ice fishes, rides snowmobiles, and owns a float plane!

From CBS News' Ryan Corsaro:
Alaska Governor Sarah Palin's parents were called early this morning at their home in Wasilla and told to "listen to the radio" by Palin's husband, Tim.

Palin's father, Chuck Heath, says he and his wife were caribou hunting when they were told to come home and tune into their local radio station to hear "exciting news," but said he did not know if his daughter was the choice for John McCain's vice president.

"The river was swollen, so we almost didn't get back," Palin's mother, Sally Heath, told CBS News.

The two said they said the call was "a wonderful surprise."
Posted by Wild Thing at 11:14 AM | Comments (20)
---
Democrats Trash Old Glory, and YES Democrats Are NOT Patriotic!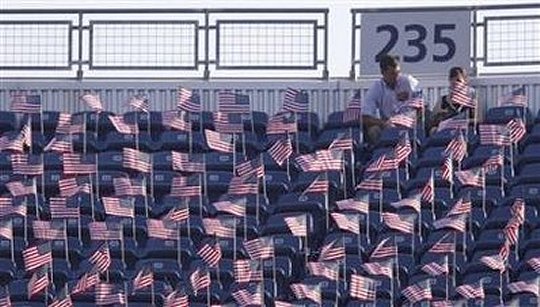 You see each person was given a Flag, GIVEN , they did not have to buy them at some booth, they did not even have to bring them with them. The DNC had their bases covered trying to ' appear" patriotic. But it was ONLY for show and nothing more. IMO!
Flags are on seats at top of stadium at the 2008 Democratic National Convention in Denver, August 28, 2008
Old Glory gathered up and waiting to be thrown out as it rests on steps of bleechers in trash bags.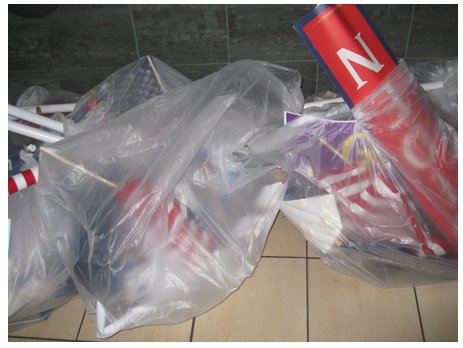 The American flag is only a prop in their propaganda message.
It shines a great big light on the fact that the core of the democrat party is all show and no substance. The things that are sacred to a majority of Americans are nothing but props to them.
Fly over country needs to see this crap again and again and again until November 4 .. there is no defense that the dims can offer that won't just keep pissing people off. If the outcome of this election is governed by symbols, this one can make a difference:
It doesn't matter if you are republican, democrat, independent, male, female, black, white, whatever. This is a symbol of America, a symbol of those who sacrificed their lives so I could sit here pounding away at my keyboard. This is truly a disgusting act. Like I said this would make a great McCain ad, "Old Glory" could be the title. Countless Patriots have died for that flag including friends and family of mine. And we should revere it because of its symbolism for FREEDOM.
Posted by Wild Thing at 03:55 AM | Comments (18)
---
Identity Theft Actor James Woods Proves Crime Does Not Pay
Identity Theft Actor James Woods Proves Crime Does Not Pay
James Woods, who played an LA prosecutor on Shark, has set a great example for dealing with identity theft. Woods told Michael Glynn at The Enquirer that he was horrified to learn that someone had charged thousands of dollars on his credit card.
The crook had bought a computer and purchased two VIP tickets to the recent Dave Matthews concert at the Staples Centerin LA for $3,700.
The fraudulent charges were deducted from his bill, but James was determined to find the guilty party. He called the Staples center and cleverly told them he hadn't received his tickets yet - that he wanted to verify the correct name and address. Incredibly, the crook had used his own real name and address. James realized he'd eaten at a restaurant just blocks from where the crook lived.
He then called the restaurant and tracked down a guilty waiter. Woods handed the info to the Beverly Hills police and they arrested the guy.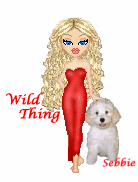 Wild Thing's comment.......
Woods is a good guy.
When I saw this story about Wood's it reminded me of another thing that happened to him. He observed and reported four hijackers making a trial run on an airline flight before the September 11 terrorist attacks on America.
Posted by Wild Thing at 03:50 AM | Comments (8)
---
Obama's Speech Bottom Line ~ His Win Will Cost Us Billions and or Trillions
Obama spoke to an audience of 84,000 ....his speech if you can stand it. LOL

A heaping plate of new government programs to be paid for by yep you go it all of us.
His spech was ineffective; because he did not give America any credit at all for being the greatest country in the world, the only country everyone turns to when they're in trouble, and for kicking the OTHER Hussein out of existence.
During his speech he looked angry for most of it. Maybe using that as a punch to act tuff or maybe he is ticked about the Ayers ad, the home runs McCain's ad's have been hitting.
Of course he blames Bush and McCain for everything. He combined the two ( Bush and McCain ) in all his complaints.
Everytime he mentions our military I cringed and felt sick to my stomach. I don't like him even mentioning our troops or anything about our miilitary since I know he hates it.
This is a photo at the end of his speech, hello B. Hussein and Michelle, where are the smiles. haha
Posted by Wild Thing at 03:47 AM | Comments (10)
---
August 28, 2008
Lacking In Good Judgement and Experience Obama Seeks To Be Worshiped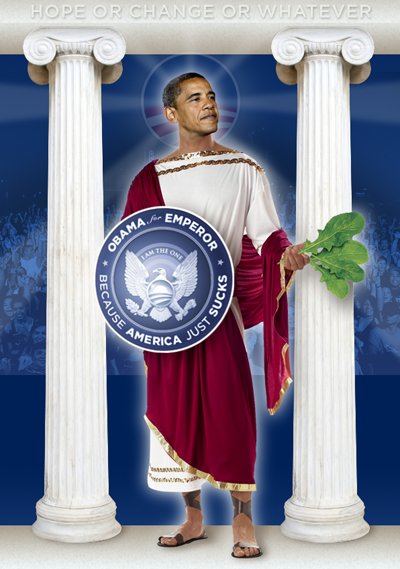 Photoshop image by Tennyson Hayes

Greek Tragedy?
So all the buzz today was supposed to be about two big Wednesday speeches -- Bill Clinton's and Joe Biden.
Why, then, is everyone in Denver talking about stagecraft?
It's simple: Reporters got their first glimpse of the stage where Barack Obama will deliver his speech tomorrow night at Invesco Field. Reuters described the set as similar to a "Greek temple."
Said one Democrat: "This is a disaster of mythical proportions." Said another: "It's not enough that he wants to be president -- he wants to be Zeus." Said the first: "Will he send down thunderbolts from the mountain?"
Those are the Democrats -- though assuredly not Obama partisans. Cue the Republicans: The RNC blasted around an e-mail referring to the "Temple of Obama."
"Tomorrow you're going to see Obama come down from Olympus to be among us mere mortals," Michael Steele, the former lieutenant governor of Maryland, told reporters in Denver.
Senior Obama advisers dismiss the comparisons. There will be columns, they say, but it won't look like a Greek temple -- or even the White House portico.

"It looks like any state capitol," one adviser tells ABC News. "It's a bunch of columns."
For the candidate who brought you his very own faux-presidential seal, this is not a good perception. Obama aides insist that the set is staying, and that it won't look as bad as it sounds right now; the real backdrop, they say, will be his supporters.
It raises anew the larger issue: After Berlin, and the "Celebrity" ads, does Obama want to accept the nomination in front of a screaming crowd of 75,000 people?


Reports indicate the stage will be configured like a Greek temple with giant pillars aligning the forum. When Obama is announced, he is expected to emerge from in between the Greek-style columns to address what certainly will be a frantic throng. There have been concerns voiced by some Democrats who believe Obama is seen as an elitist who is out of touch with common Americans. The setting for his acceptance speech will only add credence to that notion. Obama's appearance before that adoring throng will create images of the surreal.
It is an over-the-top glorification of a man who has accomplished little in public life to deserve the adulation.
Has He Lost His Mind?
by Charles Krauthammer
The Berlin folly -- in English.

The Superbowl Halftime Show -- without the game.

What's the finish? Maybe Obama's got Zhang Yimou to do the hidden-rope trick, and have him lifted, Beijing-style, to the heavens when he's done. Will he reappear three days later at the Bird's Nest?

Or maybe he'll just do a Napoleon and coronate himself. By the time Napoleon made himself emperor, he had won the Battles of Lodi, of Arcole, of Rivoli, of the Pyramids and of Marengo. And had promugulated the Napoleonic Code. He had yet to write a single autobiography.

.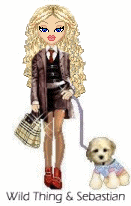 Wild Thing's comment.........
This is Obama's idea, I heard on TV that he and his camp came up with it on the plane during his Obama semi ego tour.
So much for Obama not wanting to be thought of as elitist.
Posted by Wild Thing at 04:55 AM | Comments (15)
---
UH- UH- Obama Seeks Solitude To Write Big Ole Speech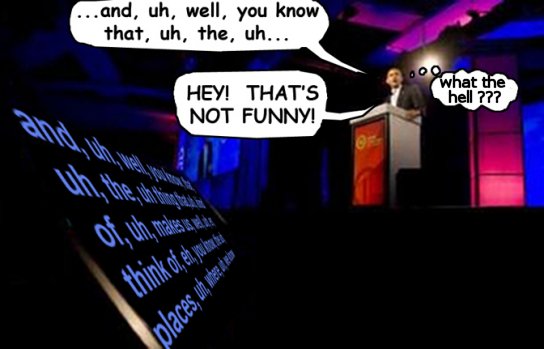 Obama Preps in Solitude for Speech
by Carrie Budoff Brown
For three days in a row, Barack Obama traded his Hyde Park home for a solitary Park Hyatt hotel room.
He needed space to think, on his own. With no aides and a small security detail, he put his pencil to his legal pad and worked on a nomination acceptance speech that pundits will inevitably compare to the 2004 Democratic National Convention address that catapulted him into political stardom.
Facing expectations much higher this time around, Obama was ensconced inside the downtown luxury hotel — alone, according to aides — preparing for the biggest speech of his career.
He worked on it for 20 hours, until past midnight each day.
"I am still tooling around with my speech a little bit," Obama said Sunday.
In an obvious attempt to lower the bar, he said "it may not be as good as the headliners of the other three nights, but hopefully it will make clear the choice that the American people are going to face in November."
--- snipet ---
But after campaigning in Wisconsin, Obama flew home, worked out and made the 20-minute trip from Hyde Park to the Hyatt. His motorcade disappeared into a private garage, as did Obama in the hotel for the next seven hours. He emerged at 2 a.m., sitting in the back seat of an SUV, his head either bowed in exhaustion or buried in materials on his lap.
"He can clear his thoughts and write without the distractions of home," Obama spokeswoman Jen Psaki said.
He has collaborated with speechwriters and top aides, but with many of them in Denver already, Obama has worked alone at the hotel, Psaki said.
The late-night sessions shed light on the meticulous preparations that are going into the speech. Expectations will undoutedly build this week as the media revisits Obama's 2004 convention performance and speculate about the impact of this year's address.
"This speech requires more thought, more preparation," Obama told the Chicago Tribune in an interview published Saturday. "I'm not focused on trying to match the soaring rhetoric or levels of excitement that we had four years ago. This is much more a yeoman-like task of making the case for my presidency."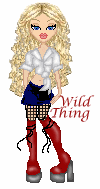 Wild Thing's comment..........

"He worked on it for 20 hours, until past midnight each day."
I call this baloney!! There are only 24 hours in the day (unless Barry thinks that there are 57 hours). That gives him four hours to sleep, eat, listen to people chant his name, etc.
Obama preps........
First, look at the teleprompter on the left.
Then over to the right. Back to the left and then pause and gaze into the teleprompter in the middle.
Now stare at the crowd as they chant my name.
Back to teleprompter on the right. Then Left. Then middle.
More chanting...More teleprompters.
Posted by Wild Thing at 04:50 AM | Comments (6)
---
Update: Latest About The American Issues Project Obama Ad " Know Enough"
Counterpunch from American Issues Project Regarding their Ad that the Obama Camp does NOT want anyone to see.

American Issues Project ( AIP) sends the same message to the DOJ's Deputy Assistant Attorney General John Keeney and turns the tables on the Chicago thugs:
Re: Response to August 25, 2008 Letter to DOJ from Obama Presidential Campaign ("Second Letter")
Dear Mr. Keeney:
Yet again, the Obama for America campaign has sent a letter to you and your office, demanding now that the Department of Justice prosecute one of the donors to American Issues Project, Inc., ("AIP), a non-profit organization which is presently sponsoring advertisements to which the Obama campaign objects.
As stated in my letter sent in response to the Obama campaign's first letter, AIP has not violated the law, is not violating the law and is taking every possible precaution to assure that it does not violate the law in the future.
The Obama campaign dislikes the content of AIP's advertising – but is unable to contradict the facts contained in the ad. That is precisely why the ad is presently being broadcast by numerous television stations. It is accurate, documented, and truthful.
The Obama Campaign has specifically called on the Department of Justice to prosecute a donor to AIP, whose contribution was disclosed publicly in accordance with federal law. See 11 C.F.R. §109.10.
Information contained in AIP's FEC Form 5, filed on August 19, 2006 was attached to the Obama Campaign's Second Letter to DOJ and information contained in the filing forms the basis for the Obama Campaign's latest demands of you and the Department.
The Obama Campaign's request gives rise to a significant legal and constitutional question: that is, whether the Department of Justice would seriously undertake the prosecution of a citizen under pressure from a prominent government official / political candidate, relying on information contained in truthful and accurate government filing, disclosed in accordance with federal law. There are serious Fifth Amendment self-incrimination issues involved in a situation whereby a criminal prosecution could be ordered at will by political pressure on your Department based solely on a timely and accurate federal government disclosure.
AIP has sought and received the voluntary after-tax contributions of donor(s) to support its policy objectives, which happen to differ from those of the Obama Campaign. Rather than addressing the facts contained in the AIP advertisement, it has instead set about to "deal" with AIP through your Department.
This is, however, only the latest in a series of brazen public statements and efforts by liberal Democratic operatives and agents of the Obama Campaign to silence their critics and organizations with whom they disagree, by initiating what they acknowledge is a concerted national effort announced in recent weeks to intimidate, harass and otherwise bully conservative donors.
An organization calling itself "Accountable America" announced two weeks ago its intent to obtain publicly filed disclosures to attempt to coerce donors to conservative causes to stop making contributions and essentially threatening potential donors into not making contributions to conservative groups. Like the Obama Campaign, this group of operatives is using information obtained from legally mandated public disclosures to identify and target for their attack donors to conservative causes.
Of course, should the Department decide to yield to the pressure from the Obama Campaign and undertake its requested 'investigations' of donors to politically related conservative causes, the Department would necessarily be required to do so in an even-handed, non partisan and non-ideological approach. In that regard, the Department would be required to review all donors to all causes and political / policy organizations, whose contributions exceed $5,000 per calendar year to any such causes, the vast majority of which are donors to liberal causes, not conservative ones.
Based on calculations from the Center for Responsive Politics (www.crp.org ) the following are leftwing donors whose substantial contributions to political causes in the last three election cycles have consistently landed each of them on the top donors list and surely each of these donors warrant the Department's review, scrutiny and prosecution, if the Obama Campaign standard is to be applied evenly:
George Soros:
2004: $23,450,000
2006: $ 3,542,500
2008 (to date) $ 4,650,000
Steven Bing:
2004: $13,852,031
2008 (to date) $ 4,850,000
Peter Lewis:
2004: $22,997,220
2006: $ 1, 624,375
2008 (to date) $ 850,000
Herb and Marion Sandler:
2004: $13, 008, 459
Linda Pritzker:
2004: $3,300,000
2006: $2,101,000
John Hunting:
2006: $1,647,000
2008 (to date) $1,243,000
Alida Messinger
2004: $ 3,580,200
2006: $ 1,042,000
2008 (to date) $ 883,000
Pat Stryker:
2006: $ 1,331,293
2008 (to date): $ 300,000
Jon Stryker:
2006: $ 1,271,313
2008: $ 604,054
The list is quite lengthy and this is but a partial list of those the Department would be obligated to pursue if it bows to the demands of the Obama Campaign to undertake investigations of wealthy donors making large contributions to political causes. The Obama Campaign should be aware that most of the donors on the list are individuals who consistently support left-wing, liberal and Democratic causes. And most of the donors listed above have made public statements regarding their intent to use their wealth to impact the outcome of federal elections should the Department need further evidence of their activities.
The letters from the Obama Campaign to you and your Department are a gross misuse of the power and prestige of that organization. However, because of the environment in which we function, it is important that AIP respond to the ongoing baseless allegations in the letter war now being waged against it by the Obama Campaign.
AIP has violated no provision of law. The donor(s) to AIP have violated no provision of law. However, if the Department of Justice decides to initiate investigations of donors to AIP and other conservative political and policy organizations, as well as the activities of citizens groups such as AIP, we will be prepared to counter such efforts with our list of targets and entities with which we disagree politically and philosophically for the Department to also investigate and prosecute.
Please contact me if you have any questions.
Sincerely,
Cleta Mitchell
Cleta Mitchell, Esq.
Counsel, American Issues Project
.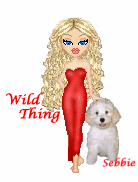 Wild Thing's comment............
Let's start when Obama conplained about having ears written about, then he complained about being called a liberal, then it was announced that he did not want anyone using his middle name. Then after his wife bashed America in sayiing it was the first time blah blah blah she was proud of America.........WE were told Michelle was off limits. She put herself in the political frey and then turned in to the little wife of don't pick on me I am just the wife and not running for office. BS!
Then the truth starts to come out by people other then bloggers and talk show hosts. And American Issues Project hit a home run. ALL the truth and about Obama. God forbid anyone speaks the truth about Obama from his ears to his past.
This is a sample of what it will be if he becomes President, he will control the media, the talk shows, the blogs as well. He will silence all these things if given the chance, and his reaction to this ad above proves it.

....Thank you Mark for sending this to me.


Posted by Wild Thing at 04:47 AM | Comments (6)
---
Glenn Beck Parody of B. Hussein Obama
Glenn Beck Parody base on the Hymn "Gimn Sovetskogo Soyuza" (The National Anthem of the Soviet Union)
Posted by Wild Thing at 03:45 AM | Comments (8)
---
August 27, 2008
Obama Speech Stage To Resemble Ancient Greek Temple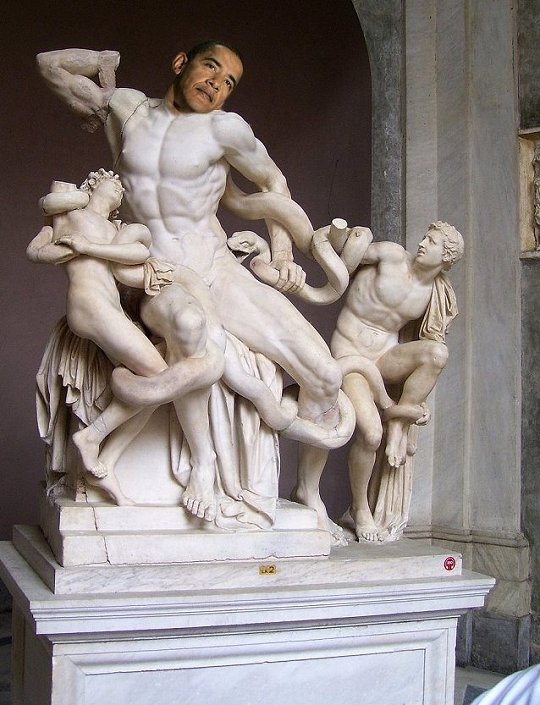 Obama speech stage resembles ancient Greek temple
DENVER
Democratic presidential candidate Barack Obama's big speech on Thursday night will be delivered from an elaborate columned stage resembling a miniature Greek temple.
The stage, similar to structures used for rock concerts, has been set up at the 50-yard-line, the midpoint of Invesco Field, the stadium where the Denver Broncos' National Football League team plays.
Some 80,000 supporters will see Obama appear from between plywood columns painted off-white, reminiscent of Washington's Capitol building or even the White House, to accept the party's nomination for president.
He will stride out to a raised platform to a podium that can be raised from beneath the floor.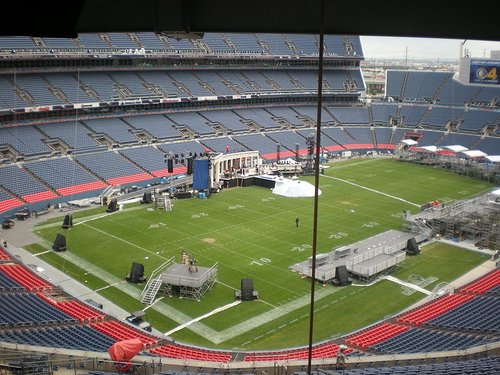 The show should provide a striking image for the millions of Americans watching on television as Obama delivers a speech accepting the Democratic presidential nomination.
Politicians in past elections have typically spoken from the convention site itself, but the Obama campaign liked the idea of having their man speak to a larger, stadium-sized crowd not far from where the Democratic National Convention is being held, at the Denver pro basketball arena.
Obama was taking a page from the campaign book of John Kennedy in 1960 when the future president delivered his acceptance speech to 80,000 people in the Los Angeles Coliseum.
Once Obama speaks, confetti will rain down on him and fireworks will be fired off from locations around the stadium wall.
Democratic convention organizers said the theme for the evening is "Change We Can Believe In," which has been a consistent message of Obama's presidential campaign
Oscar-winning actress and singer Jennifer Hudson will sing the national anthem that night.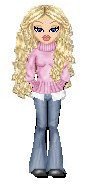 Wild Thing's comment..........
Wow, talk about a huge ego. You can't make this stuff up. This is incredible. It should be a Roman temple. The convention is more like a scene from "Caligula."
Caligula had delusions of grandeur. Obama thinks he's the world's Colossus. Nothing is big enough to define him!
"Those whom God wishes to destroy, he first makes mad." ---Euripides
Will he waft from amidst the columns and dance, like Isadora Duncan? hmmmmm let's see there's Zeus, Poseidon, Hades and now Obama, god of Hope. YIKES!
Obama as an effete Athenian against the Spartan McCain.
A Nairobi hut would be cheaper don't you think? hahaha
Posted by Wild Thing at 12:50 PM | Comments (18)
---
Pelosi to protesters: "Can we drill your brains?"
Pelosi to protesters: "Can we drill your brains?"
House Democratic leaders and protesters waving McCain signs had a war of words Tuesday at a press event outside an old train station. The demonstrators interrupted House Speaker Nancy Pelosi with chants of "Drill here! Drill now!"
Pelosi paused and asked the group, "Right here?"
Seeming to enjoy the back and forth, she followed with another question: "Can we drill your brains?"
She went on to refer to the protesters, who continued to chant sporadically, as "handmaidens of Big Oil." Arguing that increased offshore drilling would reduce gas prices by only a couple of pennies a decade from now, she referred to the demonstrators as the "2-cents-in-10-years-crowd."
Majority Leader Steny H. Hoyer swiped at the demonstrators, too, saying that "sophomoric chanting" won't solve the energy crisis and that "all thinking Americans know" — stressing the word "thinking" and looking at the crowd — that America doesn't have a quarter of the word's fossil fuels yet uses a quarter of the world's energy.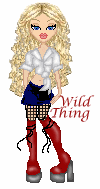 Wild Thing's comment........
There is something definitely wrong with her, amazing! At least her positions on energy and partial birth abortion are consistent with one another. Pelosi defends drilling the brains out of little innocent babies as a "right"; she'd have no trouble drilling the brains out of adult Republicans if she thought she could get away with it.
I always liked the Winston Churchill retort to the woman who said that if he were her husband she'd serve him poison. His response: 'Madam, if you were my wife, I'd drink it'...
Posted by Wild Thing at 12:47 PM | Comments (14)
---
Catholics Not Happy With Abortion Lover Pelosi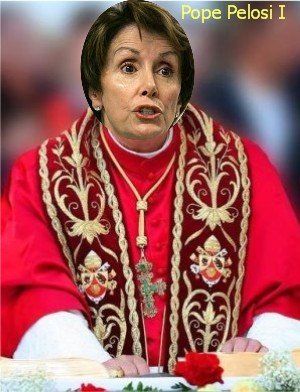 Bishops say Pelosi misrepresented abortion teaching in TV interview

The chairmen of the U.S. bishops' pro-life and doctrine committees criticized House Speaker Nancy Pelosi, saying she "misrepresented the history and nature of the authentic teaching of the Catholic Church on abortion" in a nationally televised interview Aug. 24.
Pelosi, D-Calif., who is Catholic, said in an appearance that day on NBC's "Meet the Press" that church leaders for centuries had not been able to agree on when life begins.
An Aug. 25 statement by Cardinal Justin Rigali of Philadelphia and Bishop William E. Lori of Bridgeport, Conn., said the church since the first century "has affirmed the moral evil of every abortion."
"The teaching has not changed and remains unchangeable," the statement said. "Direct abortion, that is to say, abortion willed either as an end or a means, is gravely contrary to the moral law."
Cardinal Rigali heads the Committee on Pro-Life Activities of the U.S. Conference of Catholic Bishops, while Bishop Lori chairs the USCCB Committee on Doctrine.
The statement recalled how in the Middle Ages "uninformed and inadequate theories" about the development of a child in a mother's womb led some theologians to suggest that human life capable of receiving an immortal soul may not exist until a few weeks into pregnancy.
"While in canon law these theories led to a distinction in penalties between very early and later abortions, the church's moral teaching never justified or permitted abortion at any stage of development," the church leaders said.
However, they added, scientists discovered more than 150 years ago that a new human life begins with the union of sperm and egg, making such a biological theory obsolete.
"In keeping with this modern understanding, the church teaches that from the time of conception (fertilization), each member of the human species must be given the full respect due to a human person, beginning with the respect for the fundamental right to life," Cardinal Rigali and Bishop Lori concluded.
The USCCB response came after Pelosi told interviewer Tom Brokaw "we don't know" when life begins.
"The point is, is that it shouldn't have an impact on the woman's right to choose," she said.
Citing the U.S. Supreme Court's decision in Roe v. Wade, Pelosi said specific considerations must be undertaken during each trimester of a child's development before an abortion can be performed.
"This isn't about abortion on demand. It's about careful, careful consideration of all factors ... that a woman has to make with her doctor and her God," she told Brokaw. "And so I don't think anybody can tell you when life begins, human life begins. As I say, the Catholic Church for centuries has been discussing this."
She also said her goal is to make abortion safe and rare while reducing the number of abortions nationwide.
Other bishops weighed in after Pelosi's interview, reiterating the church's long-standing teaching on abortion.
Archbishop Donald W. Wuerl of Washington said that while he respected the right of public officials to address public policy issues "the interpretation of Catholic faith has rightfully been entrusted to the Catholic bishops."
Quoting from the Catechism of the Catholic Church, the archbishop noted that the church has maintained its teaching on the "moral evil of every procured abortion" since the first century. "From the beginning, the Catholic Church has respected the dignity of all human life from the first moment of conception to natural death," he said.
Archbishop Charles J. Chaput and Auxiliary Bishop James D. Conley of Denver, where the Democratic National Convention is taking place Aug. 25-28, called Pelosi a "gifted public servant" but questioned her knowledge of Catholic teaching.
"Ardent, practicing Catholics will quickly learn from the historical record that from apostolic times the Christian tradition overwhelmingly held that abortion was grievously evil," the Denver bishops said. "In the absence of modern medical knowledge, some of the early fathers held that abortion was homicide; others that it was tantamount to homicide; and various scholars theorized about when and how the unborn child might be animated or 'ensouled.'
"But none diminished the unique evil of abortion as an attack on life itself and the early church closely associated abortion with infanticide. In short, from the beginning, the believing Christian community held that abortion was always gravely wrong."
The bishops called the "right to choose" an alibi that contradicts Christian and Catholic belief.
"The duty of the church and other religious communities is moral witness. The duty of the state and its officials is to serve the common good, which is always rooted in moral truth. A proper understanding of the 'separation of church and state' does not imply a separation of faith from political life. But, of course, it's always important to know what our faith actually teaches," they concluded.
Cardinal Edward M. Egan of New York said he was shocked to learn of Pelosi's comments, saying that her view on theologians and their positions on abortion was "not only misinformed" but "utterly incredible in this day and age."
He said evidence of the development of human life can be detected at an early age thanks to modern technology, and photographs and video have proven "the living realities within their pregnant mothers."
"No one with the slightest measure of integrity or honor could fail to know what these marvelous beings manifestly, clearly and obviously are, as they smile and wave into the world outside the womb," he said in an Aug. 26 statement. "In simplest terms, they are human beings with an inalienable right to live, a right that the speaker of the House of Representatives is bound to defend at all costs for the most basic of ethical reasons. They are not parts of their mothers, and what they are depends not at all upon the opinions of theologians of any kind."
And there is also this...........
Washington archbishop rips Pelosi on abortion
In a rare public rebuke of a top politician, the archbishop of Washington said Monday that House Speaker Nancy Pelosi (D-Calif.) was incorrect when she recently said the moment of conception has long been a matter of controversy within the Catholic Church.
Wuerl noted that Pelosi responded to a question on when life begins by mentioning she was Catholic.
"After Mr. Tom Brokaw, the interviewer, pointed out that the Catholic Church feels strongly that life begins at conception, she replied, 'I understand. And this is, like, maybe 50 years or something like that. So again, over the history of the church, this is an issue of controversy,' " the release said.
Wuerl strongly disagrees.
He said, "We respect the right of elected officials such as Speaker Pelosi to address matters of public policy that are before them, but the interpretation of Catholic faith has rightfully been entrusted to the Catholic bishops. Given this responsibility to teach, it is important to make this correction for the record."
Wuerl pointed out that the Catechism of the Catholic Church is clear, and has been clear for 2,000 years. He cited Catechism language that reads, "Human life must be respected and protected absolutely from the moment of conception … Since the first century the Church has affirmed the moral evil of every procured abortion. This teaching has not changed and remains unchangeable. Direct abortion, that is to say, abortion willed either as an end or a means, is gravely contrary to the moral law."
A Pelosi spokesman did not immediately comment for this article.

Wild Thing's comment...........
No one with the slightest measure of integrity or honor could fail to know what these marvelous beings manifestly, clearly and obviously are...
Obama and Nancy do not.
She didn't misrepresent ... she lied.
The list of bishops speaking out is growing, it is really getting long, too long to put all the various qoutes here. Pelosi is in trouble big time. LOL
I am not Catholic , I am a Christian but I don't belong to any church and even without being a Catholic, there is NO WAY Pelosi could be "confused" on what the Catholic Church teaches in regards to abortion. Pelosi should be ashamed of herself presuming to speak for the Catholic Church in order to give the appearance that it somehow agrees with her pro-abortion political views.
Also the last few days I have been reading that Catholics are not only upset with Pelois but also Obama on his love for abortion and Biden as well. With Obama's even more radical stance on Obama as if that was possible is sending the Catholics into a frenzy.

....Thank you Mark for sending this to me.
Posted by Wild Thing at 12:45 PM | Comments (14)
---
New McCain Ad on Obama ~ " Tiny"
John McCain ad out this morning called, "Tiny." It focuses on the grave threat Iran poses to the survival of Israel, and Barack Obama's lack of understanding of that danger.


Wild Thing's comment............

Regarding the last seveal ads for McCain they are definately one of the most effective advertising campaigns ever run by Republicans. I would have to go back to Reagan to recall an ad campaign as effective as these ads by McCains camp.
Posted by Wild Thing at 11:45 AM | Comments (10)
---
That darn modem!
Hi everyone!
Just a quick note, so sorry, I should have done this last nite, but I wasn't feeling all that wonderful....
Our loverly hostess, Ms. Wild Thing, is having a touch of trouble with her modem. The darn thing appears to be unable to do what modems are supposed to to do, and allow communication between the computer and the internet. End result, Wild Thing can't connect.
The modem doctor has been called, and is expected to make a house call today. Things should be back to normal soon!
LindaSoG
Posted by LindaSoG at 06:35 AM | Comments (5)
---
August 26, 2008
Clinton, Obama Agree On Roll Call Vote ~ Petitions Circulated On Convention Floor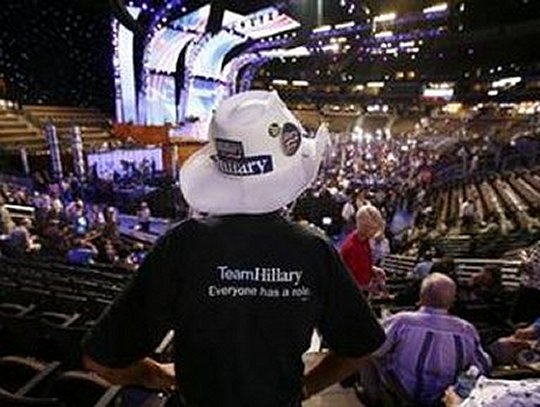 Hillary Rodham Clinton and Barack Obama agreed Monday to limit a divisive roll call for president, giving delegates a brief but historic choice between a black man and white woman.
The deal would allow some states to cast votes for both Obama and Clinton before ending the roll call in acclamation for the Illinois senator.
Clinton herself may cut off the vote and recommend unanimous nomination of Obama, according to Democratic officials involved in the negotiations. They discussed the deal on condition of anonymity while details were being finalized.
Some Clinton delegates said they were not interested in a compromise, raising the prospect of floor demonstrations that would underscore the split between Obama and Clinton Democrats.
"I don't care what she says," said Mary Boergers, a Maryland delegate who wants to cast a vote for Clinton.
As part of the deal, Obama and Clinton activists teamed up and circulated three petitions on the convention floor Monday night — supporting Clinton, Obama and vice presidential candidate Joe Biden. Each needed 300 signatures to be nominated.
The dealmaking indicates the divided nature of the party: Obama does not have full control over a convention that includes many delegates who are enthusiastic Clinton supporters. But both senators have an incentive to help make peace between their opposing sides — Obama so he'll have their backing in November and Clinton so she'll be well positioned for a future run.
Clinton herself said she wouldn't tell her backers how to vote, but she told them she would cast her own vote for Obama. "We were not all on the same side as Democrats, but we are now," she said.
Kathleen Kennedy Townsend, the eldest child of the late Robert F. Kennedy and a former lieutenant governor of Maryland, said the animosity that some Clinton delegates feel toward Obama "is getting worse."
Townsend, a Maryland delegate, was a strong Clinton supporter but now is fully behind Obama. She said she partly understands why some of her colleagues have not joined her yet.
"There's a moment that you want to enjoy your bitterness," she said.
Clinton advisers have been holding talks almost every day on the question of how to handle the roll call, and they were still struggling to solve the mechanics of honoring Clinton without getting bogged down in time-consuming counting.
Obama said he isn't involved in negotiations over the roll call and is letting campaign manager David Plouffe work out the details with the Clinton team.
As part of the compromise in the works for weeks, the New York senator will be the headliner Tuesday night. Her husband, former President Clinton, will speak Wednesday — part of her request that he be on a separate night, negotiators said.
An official familiar with conversations between the Obama and Clinton camps said Hillary Clinton fully realizes it would hurt her politically to be seen as anything other than 100 percent behind Obama.
Bill Clinton "is not as far along" in reconciling himself to his wife's loss, said the source, who would speak only on condition of anonymity because private conversations were involved.
However, the former president is eager to draw sharp distinctions between the policies and visions of Obama and McCain. Clinton is in discussions with Obama aides over how broad the speech should be, the source said.
It was not clear whether there would be floor demonstrations for Clinton after her name was placed in nomination, a spectacle that could detract from Obama's political coronation.
The animosity in Denver is not just on the Clinton side. Susan Castner, a Clinton delegate from Portland, Ore., said six people insulted her as she walked alone down the street Saturday night wearing a Clinton T-shirt, telling her to take it off and calling her a profanity.
"I know this is not coming from Barack Obama, but his supporters are helping us decide who to vote for" in November, Castner said. "I hate the feeling that you shouldn't wear your Hillary gear unless there are two or three of you together."
The split pales in comparison to past political convention battles like the 1980 fight between Jimmy Carter and Ted Kennedy. President Carter beat him in the primaries, but Kennedy supporters tried to take away the nomination at the New York convention. Kennedy didn't have the votes for the nomination, and at the convention finale he shunned the hugs and clasped hands that are customary at adjournment.
House Speaker Nancy Pelosi, who is chairwoman of the convention, said the party must move past their primary divisions, but there should be a full roll call vote.
"I can't imagine not going into a convention and hearing 'Alabama!' and the whole world looking up to see what comes next," she said. "But as typical of these roll calls, at a certain point, somebody has the votes and the protocol and graciousness come through and that will have its own dynamic."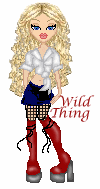 Wild Thing's comment........
...limit a divisive roll call for president, giving delegates a brief but historic choice between a black man and white woman.
The deal would allow some states to cast votes for both Obama and Clinton...

The way I understand this "roll call" will NOT include all the states, just in case it begins to look like Hillary will win it. A dog and pony show, they know very well if they allowed a vote the big O just might lose.

Watching the Dem Conventiion Monday night I noticed the energy level was very low, and few and far between seemed excited. From seeing a lot of the faces, many weren't even smiling, and some were down right somber, then of course others the real Obama's fans were smiiling.
Posted by Wild Thing at 04:55 AM | Comments (8)
---
Obama's Protestors Threathen TV Stations Over McCain Ad "Know Enough"
Obama Campaign Threatens Jihad Against TV Stations That Air Weathermen Ad
Obama Campaign is threatening TV stations that dare to run a controversial ad that questions Obama's friendship with unrepentant Weather Underground terrorist Bill Ayers.
The campaign of Democratic presidential nominee in waiting Barack Obama is threatening TV stations that dare to run a controversial ad that questions Obama's friendship with unrepentant Weather Underground terrorist Bill Ayers.
Politico quotes an Obama aide as saying this afternoon, "The Obama campaign plans to punish the stations that air the ad financially, organizing his supporters to target the stations that air it and their advertisers."
Politico has posted copies of letters the Obama campaign has sent to station managers and a letter the campaign has sent to the Department of Justice demanding a criminal investigation of the group that is running the ads, American Issues Project.
At the same time, the Obama campaign has released an ad respoonding to the Weathermen ad claiming Ayers' acts of terrorism happened when Obama was a child and that he has denounced the actions of Ayers.
The Obama campaign claims its supporters have sent 93,000 e-mails to the Sinclair Broadcast Group, which is airing the Weathermen ad. Sinclair faced similar threats in 2004 when it announced plans to air a critical documentary about John Kerry.
The Obama campaign is unleashing an unprecedented attack against First Amendment rights personally directed by a leading presidential candidate. Should he become president and actually have the power to carry out these threats, the Nation will be pushed to a perilous precipice.


.

Wild Thing's comment.............
These idiots are creating a pent up DEMAND for the very ad they are trying to squelch. Pretty soon stations will run it just because so many people want to know what the big fuss is all about.
So much for "truth" and "tolerance" they claim... They are spinning their wheels trying to figure out how to keep quiet the fact that this whole campaign is filled with Communist/Maoist/Guevera-ite/Marxist Radicals (and of course, terrorists).
Obama's letter says the ad makes a false link between 'The One' and acts of terrorism. The ad does no such thing. It simply asks why does he think such terrorists are 'mainstream' and what does this say about his judgment
Obama's letter states there is no American Issues Project and that is also a LIE. I posted it before in my olther post introducing this video.
http://www.americanissuesproject.org/
The American Issues Project is a 501(c)4 organization representing a coalition of conservative activists committed to raising important issues that deserve deeper examination given their impact on policy. In accordance with federal law, the American Issues Project only solicits and accepts contributions from individuals and not from any business corporation.

It really tees me off that his supporters can't see the incredible hypocrisy these actions represent. Should Obama become President and have any real power you can bet that this will be the MO of his administration. "You can't print anything I don't approve of or you'll be kicked out of the White House Press Corp. etc... etc..." Not to mention the whole "Fairness Doctrine". One can only imagine the utter destruction of the 1st Amendment if they get their way... Scary, indeed!
Posted by Wild Thing at 04:50 AM | Comments (12)
---
~ Happy Birthday Chief! ~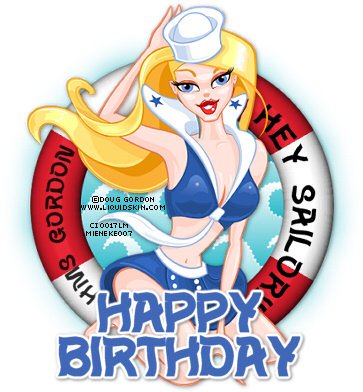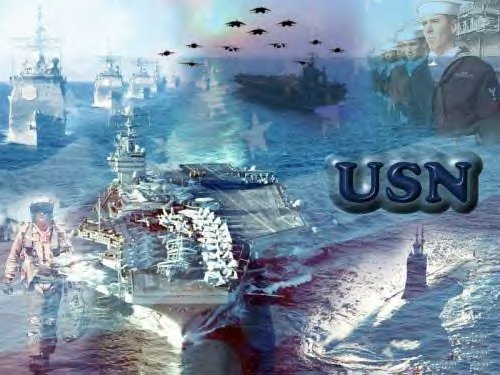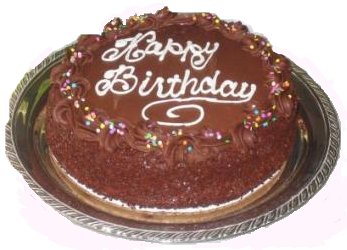 Happy Birthday CHIEF,
May you have the best birthday ever and many more. Thank you for serving our country and being a part of
Theodore's World and my friend.
From Chrissie and Nick ( Angry Old Salt) and everyone here .
Posted by Wild Thing at 04:49 AM | Comments (7)
---
James Carville on the DNC: Where's the message? LOL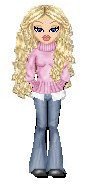 Wild Thing's comment........
When you watch the video notice how totally ticked the others on the panel are that Carville is not drinking the Kool-Aid of the Obama's. LMAO
He left shortly after he spoke and they made a few coments about it. This was just so rich to see this happen. He is a Hillary supporter but even so it was great to see someone with CNN not kissing up like the rest of them do and saying how he felt. hahahahhaa
Posted by Wild Thing at 04:48 AM | Comments (4)
---
Police Investigate Possible Plot To Kill Obama ~ 4 Arrested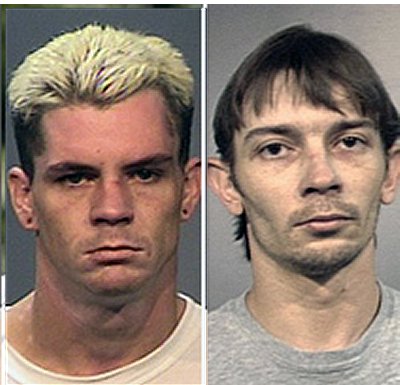 Tharin Gartrell .....media did not have name with 2nd photo
Plot to Kill Obama: Shoot From High Vantage Point
DENVER (CBS4)

CBS4 has learned at least four people are under arrest in connection with a possible plot to kill Barack Obama at his Thursday night acceptance speech in Denver. All are being held on either drug or weapons charges.
CBS4 Investigator Brian Maass reported one of the suspects told authorities they were "going to shoot Obama from a high vantage point using a ... rifle … sighted at 750 yards."
Law enforcement sources tell Maass that one of the suspects "was directly asked if they had come to Denver to kill Obama. He responded in the affirmative."
The story began emerging Sunday morning when Aurora police arrested 28-year-old Tharin Gartrell. He was driving a rented pickup truck in an erratic manner according to sources.
Sources told CBS4 police found two high-powered, scoped rifles in the car along with camouflage clothing, walkie-talkies, wigs, a bulletproof vest, a spotting scope, licenses in the names of other people and 44 grams of methamphetamine. One of the rifles is listed as stolen from Kansas.
Aurora police alerted federal officials because of heightened security surrounding the Democratic convention, Dudley said.
"Clearly we found there are federal implications -- otherwise we would not have notified them," Det. Marcus Dudley with Aurora police said. "The weapons clearly would cause great concern."
Subsequently authorities went to the Cherry Creek Hotel to contact an associate of Gartrell's. But that man, identified as Shawn Robert Adolph, 33, who was wanted on numerous warrants, jumped out of a sixth floor hotel window. Law enforcement sources say Adolph broke an ankle in the fall and was captured moments later. Sources say he had a handcuff ring and was wearing a swastika, and is thought to have ties to white supremacist organizations.
A third man -- an associate of Gartrell and Adolph, Nathan Johnson, 32, was also arrested. He told authorities that the two men "planned to kill Barack Obama at his acceptance speech."
Johnson, along with his girlfriend, Natasha Gromek, are also under arrest on drug charges.
The Secret Service, FBI, ATF and the joint terrorism task force are all investigating the alleged plot.
The U.S. Attorneys Office has scheduled a news conference for Tuesday afternoon. The U.S. Attorney in Denver said it does not believe there is a credible threat to Obama or the convention.
"It's premature to say that it was a valid threat or that these folks have the ability to carry it out," said a U.S. government official familiar with the investigation. The official spoke on condition of anonymity because the investigation is ongoing.
U.S. Attorney Troy Eid said the case was under investigation.
"We're absolutely confident there is no credible threat to the candidate, the Democratic National Convention, or the people of Colorado," Eid said in a prepared statement.

Additional information:
KUSA, the NBC affiliate in Denver, is reporting that three men have been arrested in connection with a plot to assassinate Barack Obama.
According to its website, KUSA says NBC News has learned that federal officials are downplaying the arrests, saying when one of the men was arrested, he made a threat against Obama, but they do not believe it was based on any kind of plan or actually intent.
However, other sources have told 9NEWS the three men may be connected to skinheads and that it appears they were involved in an assassination plot.
Aurora Police arrested the first man, 28-year-old Tharin Gartrell of Centennial, early Sunday morning after a routine traffic stop. During the traffic stop, officers found two rifles, boxes of ammunition, one rifle scope, a bullet proof vest, walkie-talkies and methamphetamines. Gartrell is being held in the Arapahoe County jail in lieu of $50,000 bond and has a felony criminal record.
Aurora Police say a second man, 32-year-old Nathan Johnson, was arrested at 4:30 a.m. on Sunday morning at a hotel near Interstate 25 and Belleview Avenue. He is being held by Denver Police.
A third man, 33-year-old Shawn Adolf of Greeley, was arrested at Cherry Creek Hotel in Glendale on Monday. NBC News reports that when police knocked on his hotel door, Adolf jumped out a sixth floor window. He landed on an awning and then jumped down to the ground, injuring himself. He ran into nearby bushes where officers apprehended him. Authorities say he had weapons.
He was taken to Denver Health Medical Center where he was treated.
Adolf was wanted on seven outstanding warrants totally more than $1 million.
-snip-
In December 2006, he [Tharin Gartrell] pleaded guilty to felony possession of a controlled substance and received a deferred sentence.
When Gartrell was pulled over, an Aurora Police sergeant spotted him driving erratically in between lanes near East Hampden Avenue and South Parker Road at 1:30 a.m. on Sunday. He was in a rented 2008 dark blue Dodge ram truck.
Gartrell was driving with a suspended driver's license and Aurora Police say he was on probation for previous drug charges.

Wild Thing's comment...........

Why don't these stupid racists figure out that this sort of crap will only help B.Hussein Obama! It does seem strange about the driving erratically - and apparently easily admitting that he was there to kill BO. It's almost like he wanted to be caught. And then the 6th floor jump with only a broken ankle.
The alleged plotter fell six stories and only broke an ankle? Who is this guy? Supernazi?????
Wait I just heard on TV just now "he jumped out of the window and landed on an awning:". OK so that would break his fall so that explains why only a broken ankle.
Just a thought here.....You know there have been many 'plots' to assassinate President Bush over the last 8 years. The media never reports on them though and they are not leaked to the media. The only thing I ever heard was that weekly he has had death threats since he became President. Now this happens and it is getting coverage in the media. I understand why it is not a good idea to leak things like this if it had been about President Bush but with Obama iit could be used for a sympathy vote. AUGH!


Posted by Wild Thing at 04:47 AM | Comments (6)
---
Cindy McCain Heading to Republic of Georgia
Cindy McCain Heading to Republic of Georgia
Cindy McCain, wife of Sen. John McCain, is headed to the Republic of Georgia, where tensions between the government and Russia have sparked international concern and have become an issue on the presidential campaign trail.
McCain announced to a group of fundraisers in Sacramento that his wife was headed to the country, but the campaign did not provide any details about the trip.
McCain has been very aggressive in his condemnation of Russia's invasion of Georgia, and his campaign has been critical of Obama's more measured response when Russian tanks first pushed into the country.
McCain spokeswoman Jill Hazelbaker confirmed Cindy McCain is enroute to the nation and said she is visiting as part of the World Food Program. She said she will meet with Georgian President Mikheil Saakashvili and visit with wounded Georgian soldiers..
Cindy McCain said she has wanted to visit Georgia for "some time" and that trips like this are "an important part of what I'm about, what makes me tick."
In the Time article, McCain aides denied that the trip was specifically designed to occur during the Democratic National Convention, and specifically on the day that her counterpart, Michelle Obama, is scheduled to speak.
"She's on the phone with the World Food Program, he's on the phone with Saakashvili," McCain adviser Nicolle Wallace told Time. "It's like this great picture of what they'll be like in the White House."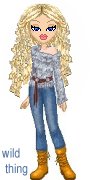 Wild Thing's comment............
Cindy McCain has been very active throughout the last two decades in helping to raise awareness of injustice and poverty overseas. This is very much within her interests, and not some election year ploy. She has always she shunned publicity about the things she has done. Most of it was never in the press until McCain ran for President.
She has visited our soldiers too and to visit the wounded soldiers in Georgia is wonderful.
Posted by Wild Thing at 04:45 AM | Comments (7)
---
Michelle Obama At DNC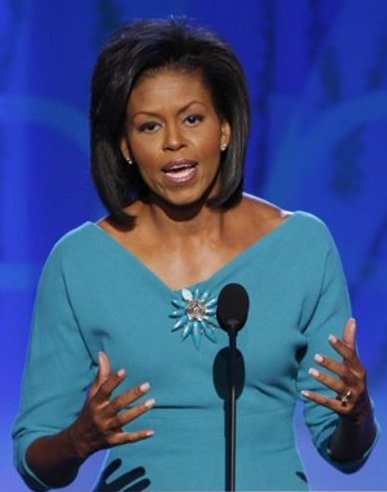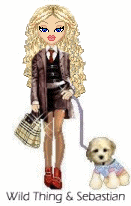 Wild Thing's comment..............
Michelle Obama's speech that she allegedly wrote herself, said the following phrase..........
Where the current of history meets this new tide of hope
That's pretty good, I said to myself after hearing that line except it comes from this:
Brutus:
There is a tide in the affairs of men.
Which, taken at the flood, leads on to fortune;
Omitted, all the voyage of their life
Is bound in shallows and in miseries.
On such a full sea are we now afloat,
And we must take the current when it serves,
Or lose our ventures.
Julius Caesar Act 4, scene 3, 218–224


So, she threw in "hope" , ok
Michelle hashed together some cliches, some bromides, a pinch of the trite, a tablespoon of schmaltz, stirred it with a big hypocritical spoon and voila, crap.
She hates America in the way only one who "grew up in Jesse Jackson's house" can.
In a way which only one who wrote her thesis on woe-is-me-I'll-always-be-black-first.
In a way which only one who was [no doubt] heavily influenced by Bernadine Dohrn ca. 1988, the pivotal year of Finding Hussein the Messiah.
Sorry, Michelle, only one chance to make a first impression, and you are ashamed of America.
Other then that she pledged he would end the war in Iraq, revise a sputtering economy and extend health care to all.
There was also this which I find alarming.
""We will build the world as it should be." said Michelle Obama.
Posted by Wild Thing at 03:44 AM | Comments (9)
---
New McCain Ad ~ " Right"
LOL Just more fun along the campaign trail. heh heh
Posted by Wild Thing at 03:40 AM
---
August 25, 2008
Former Clinton Delegate Debra In McCain Ad
ARLINGTON, Va.
U.S. Sen. John McCain's presidential campaign today released its latest television ad, entitled "Debra."
The ad features Waterford's Debra Bartoshevich explaining why she supports John McCain, according to a release issued today by the McCain campaign.
A committee of the Wisconsin Democratic Party in July voted to strip Bartoshevich, a lifelong Democrat and former Clinton delegate, of her delegate status.
Bartoshevich made headlines in June when news reports indicated she would support McCain if Sen. Barack Obama was the Democratic nominee.
The ad will air in key states.

Wild Thing's comment............
My first thought on this is what I said in another post. People cannot be treated like the Democrats were treated with their votes. And the same thing with the Delegates votes. I could never be a democrat as long as I am breathing and this is just another reason why.
This is GREAT that this Debra has allowed this Video to be made. The Dems need to be taught a lesson just like our sad sack RNC needs to learn we want conservatives thank you very much.
Posted by Wild Thing at 02:55 PM | Comments (12)
---
Bad breath, stinky feet, hairy armpited women....yep the dem's have arrived!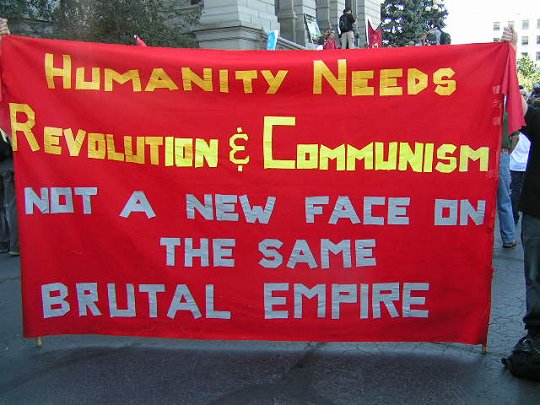 I wonder if those that support communism have actually lived in a communist country. I bet they have never even asked themselves why so many living under a communist rule attempt to escape to non-communist countries.
They dont realize that when/if foreign inspired Communism does come to our shores as they hope, they are the first to be executed because of their disloyalty to the United States will not be trusted by their new communist overloads, who they would have thought would be their "comrades". Those are always the first to go.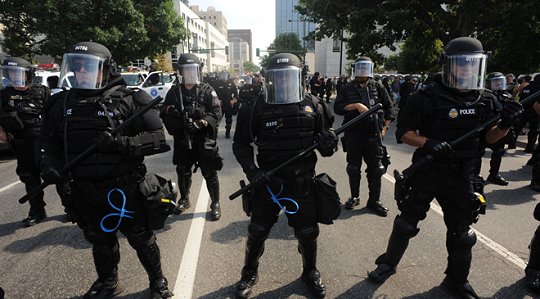 Denver Police moved in riot gear to keep protesters from blocking downtown Denver streets on August 24, 2008. (RJ Sangosti | The Denver Post)

A group of Democrat National Convention protesters have been gathering to block major arteries in downtown Denver, moving each time as police demand they disperse.
First the marchers blocked traffic at the intersection of Broadway and Colfax Avenue and briefly refused to move.
The protesters, chanting, "no more presidents, no more wars," disrupted traffic along both streets as police tried to move them into either Civic Center or Lincoln Park.
They chanted "our streets!" in front of Capitol.
The war protesters chanted "Two, four, six, eight. This is a police state!"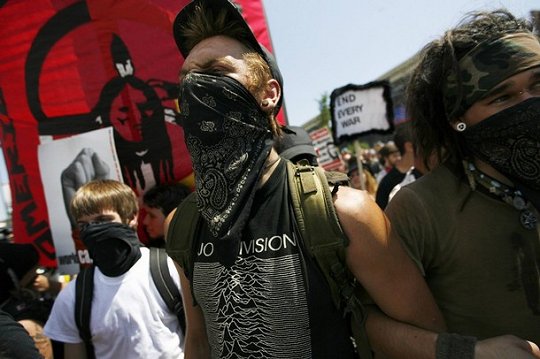 One of their fans, just for old time sake..... John Kerry protests Vietnam War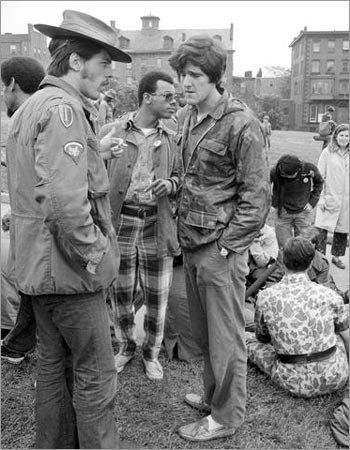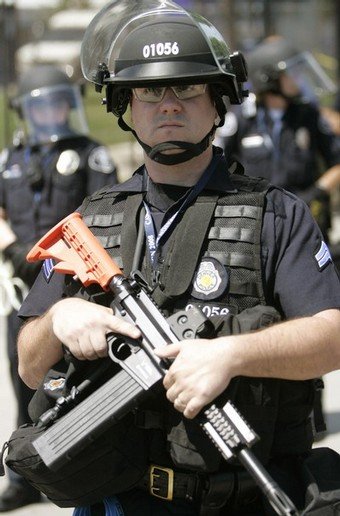 One of othe good guys the policeman in the photo above!!!


Some of the speakers at the outdoor area of the Democrat Convention
Ward Churchill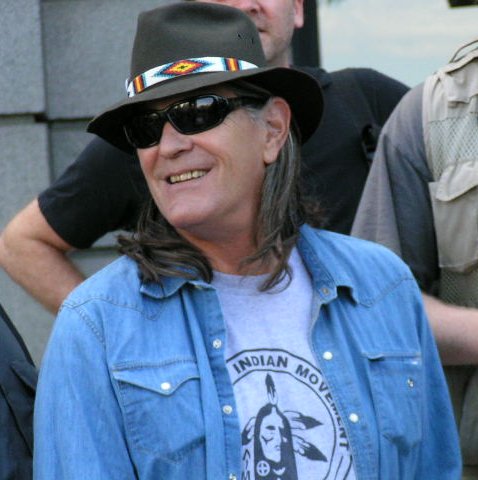 Mumia Abu Jamal, is a convicted cop killer, will address the outdoor area of the Dem convention through a video taken in prison. The Obama campaign thinks this is just fine.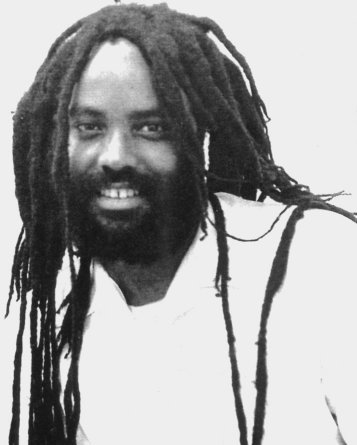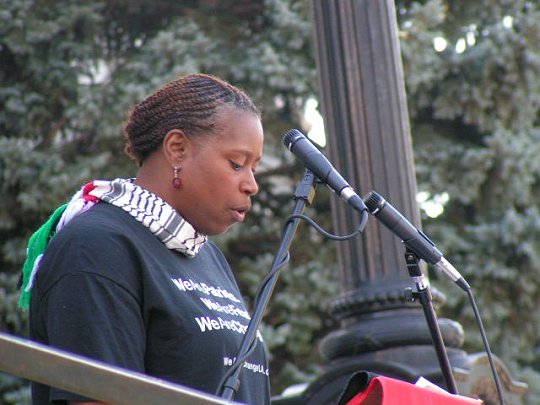 Green Party Presidential candidate Cynthia McKinney speaking. She kept raising her hand and yelling "Power to the People!!"...60's flashbacks...Note her scarf represent???
RECREATE68. "Cindy Sheehan Joins Us in Denver The Re-create 68 Alliance also announced that anti-war activist Cindy Sheehan and Green Party Presidential candidate Cynthia McKinney and Green Party Vice Presidential candidate Rosa Clemente will be joining their historic line-up of speakers who include :
Ida Audeh, Kathleen Cleaver, Ward Churchill, Mark Cohen, Chairman Fred Hampton Jr., Larry Hales, Larry Holmes, Ron Kovic, Glenn Spagnuolo, Pamela Africa, King Downing, Jenny Esquiveo, Mumia Abu Jamal - Current Political Prisoner (Recorded from Death Row for the DNC), Gloria Estela La Riva, Ricardo Romero, Natsu Saito, Ann Erika White Bird, and others..."

Anti-Obama ( yes anti-Obama) and Anti-War Protesters Meance Intrepid Fox News Reporter
When the Fox News reporter ran up to Ward Churchill and asked him if he would appologize to America. All hell broke loose, with Wards bodyguards getting in the way and the reporter quickly being shoved out of the area. The crowd went nuts when they found out Fox News was there, screaming "F... Fox News!" over and over.

Why do they always want to lay down in the streets.....LOL
.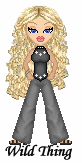 Wild Thing's comment...........

Notice its always the ugly, the unclean, the unkempt, the stupid. If they are so proud of what they believe in I don't understand why they want to cover their faces. That is like what the terrorists do , the same thing.
Posted by Wild Thing at 04:55 AM | Comments (21)
---
The Gangs All There Sheehan, Ward Churchill and Terrorists Lovers
A collection of far-leftists address the crowd at a DNC anti-war rally on August 24th in Denver.

Speakers (Alphabetical order):
Ida Audeh - Palestinian Refugee
Kathleen Cleaver - Black Panthers
Ward Churchill - Long-time Author, Activist, and Scholar
Mark Cohen - Re-create 68 Alliance
Chairman Fred Hampton Jr. - Prisoners of Conscience Committee
Larry Hales - World Worker's Party and Re-create 68 Alliance
Larry Holmes - Troops Out Now Coalition
Ron Kovic - anti-war activist, veteran and author of Born On The Fourth of July
Cynthia Mckinney - Green Party United States Presidential Candidate
Glenn Spagnuolo - Re-create 68 Alliance
Special Guest Speaker to be announced at Monday's Press Conference
Bands:
David Rovic - State Capitol Steps, kicking of the rally
M1 and Stic.man of Dead Prez - Free Concert at the State Capitol Steps, prior to the march
Blue Scholars - Free Concert at State Capitol, after the march
Jim Page - State Capitol Steps, during the rally
Monday, August 25
The Freedom March and Rally, Civic Center to the Federal Courthouse, 10am
The event will be focusing on political prisoners and human rights violations. It will include speakers, music and a march to the Federal Courthouse.
Speakers (Alphabetical order):
Pamela Africa - MOVE Organization
Rosa Clemente - United States Vice Presidential Candidate for the Green Party
Kathleen Cleaver - The Panther Nine from San Francisco
King Downing - National Coordinator of the ACLU's Campaign Against Racial Profiling
Jenny Esquiveo - Spokesperson for Eric McDavid (Political Prisoner)
Chairman Fred Hampton Jr. - Prisoners of Conscience Committee
Mumia Abu Jamal - Current Political Prisoner (Recorded from Death Row)
Cha Cha Jimenez - Founder of the Young Lords (Puerto Rican Resistance Prisoners)
Gloria Estela La Riva - Spokesperson for the Cuban Five
Ricardo Romero - National Coordinator for the Mexican Liberation Organization
Natsu Saito - Author, Activist, and Human Rights Scholar on Guantanamo Inmates
Ann Erika White Bird - American Indian Movement Spokes Person - Leonard Peltier Defense and Sacred Sites
.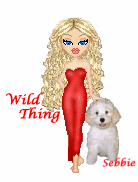 Wild Thing's comment.........
Not one of these people would I alllow on our property! But in a way they are because they are on the property of the USA! Grrrrr !
I thought since I posted the schedule for the Democrat Convention and the Republican Convention coming up I might as well post the nuts cases too that will be outside the Democrat Convention. I have no idea if they plan on showing up at the Republican Convention as well.

* Rocky Mountain Right thanks for the video.
Posted by Wild Thing at 04:50 AM | Comments (5)
---
Connection of Obama, William Ayers and the CAC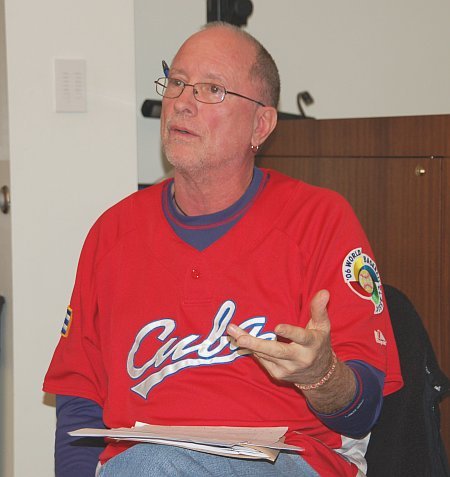 William Ayers in t-shirt saying Cuba
Obama's role in the Chicago Annenberg Challenge (CAC)
Extra Sources:
The Annenberg Challenge

Clarice Feldman lays out the reasons why the William Ayers/Annenberg Challenge story will seriously damage the candidacy of The One. A sample:
"...the story was that Ayers was an old professor in Mr. Obama's neighborhood who just happened to host a fundraiser for him in 1995 which launched his political career.

Some mush was thrown in along the way about having served with him on a charity board, but Obama did not correctly describe the charity or the dates or the extent of their association on it.

The truth is that the two men worked closely together for years, beginning several months before that 1995 fundraiser. The fund Obama chaired and which was supposed to improve public education in Chicago never met its stated purpose of improving public school pupils' performance and, in fact, probably hindered it, despite having blown through $110 million in the process. And as chairman of this group Obama funneled this money to politically useful types including Fidelistas and Maoists who like Ayers (now vice-president elect of the American Education Research Association) are working to make our public schools indoctrination centers for the left .

Once the public learns more of the CAC, will the voters decide that the manner in which Obama exercised his sole opportunity at executive authority was so good that he deserves the keys to the Oval Office? "
And this..........
Chicago Annenberg Challenge Shutdown?
A cover-up in the making?
By Stanley Kurtz
Ayers and his wife, Bernardine Dohrn were terrorists for the notorious Weather Underground. Ayers and Dohrn remain unrepentant for their terrorist past. Ayers was pictured in a 2001 article for Chicago magazine, stomping on an American flag, and told the New York Times just before 9/11 that the notion of the United States as a just and fair and decent place "makes me want to puke."
Although Obama actually launched his political career at an event at Ayers's and Dohrn's home, Obama has dismissed Ayers as just "a guy who lives in my neighborhood," and "not somebody who I exchange ideas from on a regular basis."
...We already know a good deal about Obama's service at the Chicago Annenberg Challenge. That information paints a disturbing picture, and one sharply at odds with Obama's claim that Bill Ayers was just "a guy who lives in my neighborhood."
photo of Mike Klonsky

And last but most assuredly not the least is this. The owner of the link to the blog is a Democrat but even so he wants the truth exposed about Obama. ...........
from one of his posts dated June of this year
.....it must be pointed out that a notorious ally of Bill Ayers for many years, Mike Klonsky, is an open member of the Obama campaign. Klonsky runs a blog on the official Obama website here where he claims to be a "professor of education" (the website of the Small Schools Workshop that he directs says only that he teaches some graduate courses, though it appears he was a visiting professor for one year at Nova Southeastern University in Florida in 2006-07) and says he blogs for Obama on "education politics and teaching for social justice."
Who is Mike Klonsky? Well, on one level, he might just appear to be a protege of Bill Ayers in the education world. He received, as I detail below, a $175,000 grant from the Ayers/Obama-led Annenberg Challenge to run the Small Schools Workshop that he and Ayers started in Chicago to push their school reform agenda.
But that is only half the story. Klonsky was one of the most destructive hardline maoists in the SDS in the late 60's who emerged from SDS to form a pro-Chinese sect called the October League that later became the Beijing-recognized Communist Party (Marxist-Leninist). As chairman of the party, Klonsky travelled to Beijing itself in 1977 and, literally, toasted the Chinese stalinist leadership who, in turn, "hailed the formation of the CP(ML) as 'reflecting the aspirations of the proletariat and working people,' effectively recognizing the group as the all-but-official US Maoist party." (Elbaum, Revolution in the Air, 228).
I know of no indications that Klonsky has ever expressed any regrets about that activity. Perhaps like his SDS comrade, Ayers, he, too, thinks he did not do enough back then. In my view they did more than enough.
An excellent profile of that maoist milieu is available in a book called Revolution in the Air by Max Elbaum, a first hand participant whose sympathy for the maoism of the period does not get in the way of an excellent account of these idiot savants of the left.
How is it possible that someone of Klonsky's ilk would now be playing a visible role in the Obama campaign itself on such an important issue as education policy - apparently with free reign to push his authoritarian "social justice" agenda?
.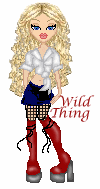 Wild Thing's comment........
Can you imagine if this extensive information was presented by the media, I mean all they have to do is give these facts which are the truth. Put it out there and let people decide if they want to vote for a man like Obama or not. But instead the media has taken the road of propaganda and information control. The media by giving a lack of information is attempting to brain wash the public with non or little information about their candidate B. Hussein Obama.
We keep hearing over and over again by Wolf Blitzer ( CNN) and others how people are still saying they don't know enough about Obama. I am so sick of this, but then I see how all of us .....we seek out information, we go online and do research about all the candidates. The people saying there is not enough information about Obama as an excuse to why they have not decided are lazy and just want to be told whom to vote for. And they will get what they deserve that's for sure.
But Wolf finishes his stupidity with ......" Perhaps after the Democrat Convention the voters will know Obama better."...... LMAO Oh sure, a controlled convention of hand picked speakers giving speeches kissing up to The One will give you all kinds of NEW information...... NOT!
Posted by Wild Thing at 04:47 AM | Comments (8)
---
Remembering ...Obama Plans Muslim Summit IF He Wins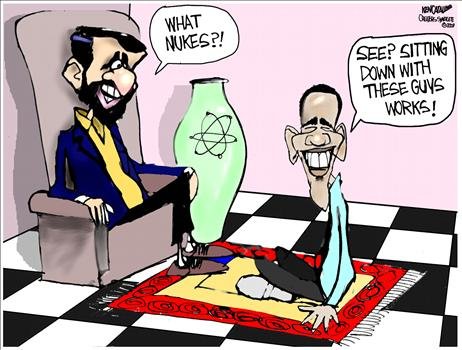 Just looking at something Obama has said he would do when he becomes President. -- Wild Thing

Obama would hold Muslim summit
PARIS (AFP)
US presidential hopeful Barack Obama has told a French magazine he wants to organise a summit of the Muslim world if he makes it to the White House.
Muslim and Western leaders would be invited to the summit for "a discussion about how we can prevent the widening misunderstandings and gaps between the Muslim world and the West," Obama said in the interview to Paris Match.
"I will ask them to join us in battling terrorism but we should also be willing to listen in terms of some of their concerns," he said in the interview to be released Thursday.
In the interview, Obama also said he wanted to shut down the US Guantanamo prison camp in Cuba and end the war in Iraq.
"As long as we are maintaining an occupation in Iraq, it's going to be hard to focus on other things," he said.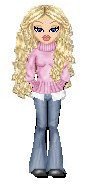 Wild Thing's comment........
Obama represents a foreign policy disaster of untold proportions. And Biden is no better, the left offers to put our country at high risk just so these two can play nice with Muslim nations.
Posted by Wild Thing at 03:45 AM | Comments (4)
---
August 24, 2008
Rudy Giuliani on "This Week" Hammers the "Obama-No Clinton" Ticket
Here is video of former New York Mayor Rudy Giuliani on ABC News "This Week" discussing the Democratic ticket of Barack Obama and Joe Biden. Giuliani says the choice of Biden is a real insult to Hillary Clinton, and describes the ticket as essentially the "Obama-No Clinton" Ticket.

Wild Thing's comment............
I don't know if Rudy is a Hillary fan, but it seems to me he is trying to rub salt in the wound with the so called feminist types. Keep them agitated—better for us.
Operation Chaos continues unabated hahaha
Posted by Wild Thing at 06:45 PM | Comments (2)
---
Politics Makes Strange Bedfellows ~ OMG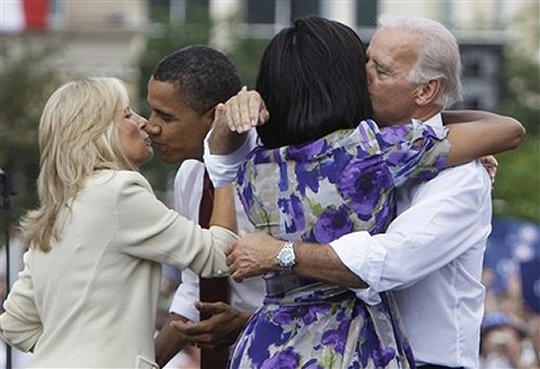 Democratic presidential candidate Senator Barack Obama (D-IL) (R) embraces Jill Biden, the wife of his vice presidential running mate Senator Joe Biden (D-DE), as Biden embraces Obama's wife Michelle (L) during a campaign event at the Old State Capitol in Springfield, Illinois, August 23, 2008. (John Gress/Reuters)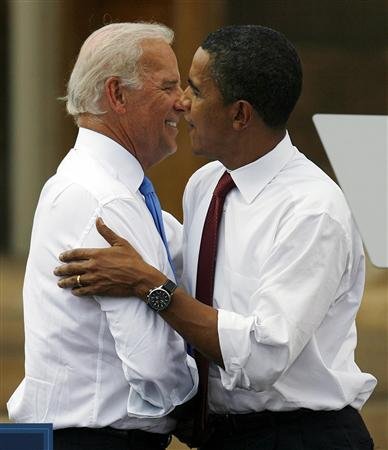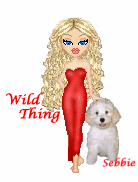 Wild Thing's comment..........
YUK! Why does Obama always look like he is trying to kiss men and women. And just one other thing, there is no way Nicholas would go for my kissing another man on the lips. Nope nada. A hug sure, kiss on their check no problem for good friends or family, but smack dab on the lips, no way. And I am glad.
Posted by Wild Thing at 03:55 AM | Comments (20)
---
Hillary Supporters Outraged and Ready For Denver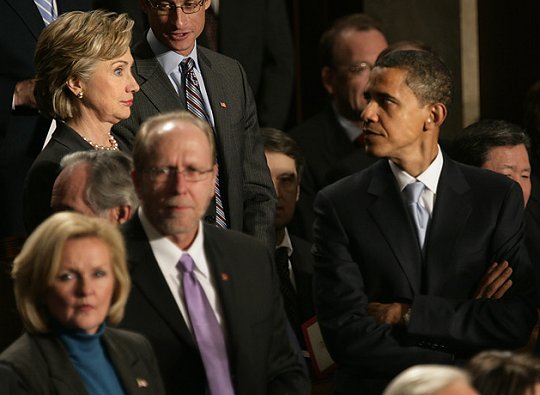 Remember this when it happened????? Obama and his glare at Hillary then the snubbing her a few minutes later.
Some in Clinton circle 'outraged'
Evan as Hillary Clinton praised the newly-minted Democratic presidential ticket Saturday, some in her circle are furious Barack Obama did not appear to give the New York Democrat serious consideration for the No. 2 spot, or even ask for her consultation on the matter.

"Set aside that Obama said she'd be on anybody's short list, set aside anybody's feelings on whether she was deliberately snubbed and the pros and cons of whether it should be her," a former Clinton strategist told CNN's Candy Crowley. "Focus on the politics of it and you have about a quarter of Clinton loyalists still not joining the caravan…for God's sake, not to even make a show of taking her seriously is flatly stupid."

A top Clinton advisor also told CNN they were "outraged," over how the process was conducted.

"You can't put [Obama VP vetters] Eric Holder and Caroline Kennedy on an hour plane ride to Chappaqua just to check the box? They should have done it just for the optics," this person said. "Barack never even said to her, 'Here's how I envision the job'– not one discussion with her about [the position]."

"They thought her supporters were mad before? They are really mad now," this person also said. We knew it was never going to happen but you would have thought they might at least make a show of it."

Former Clinton strategist Paul Begala echoed similar frustrations on CNN Friday night.

"I think there are a lot of Hillary voters who are going to say, 'Hey, wait a minute, man You said you were going to put her on the short list. You know, you didn't even vet her. You didn't call her. You didn't seek her advice,'" Begala said. "By the way, he didn't seek President Clinton's advice either. He's actually the guy who I think picked the best vice president in American history. You would think maybe you would sort of check in with him."

Hillary fans come to terms with ticket (Not!)
Hillary Rodham Clinton's hardy troupe of die-hards hoped against hope until the last minute—and reacted to the announcement Barack Obama had chosen Joe Biden as his running mate with a mixture of anger, resignation and gallows humor.

Hillary supporter Rep. Loretta Sanchez, (D-Calif.) predicted the move would further anger many of the New York senator's most hardcore supporters.
The Confluence ( a pro Hillary website)
And this from ther same pro Hillary site:
"The DNC has lost its mind. Not only have they perpetrated fraud after fraud on the voters this year but they send me an email seeking my help in promoting this stupid meme that McCain doesn't know how many houses he has. Tell me they aren't really this clueless.

It doesn't matter how many houses McCain has. It doesn't matter that he doesn't know about all of them. The point is, men who live in million dollar mansions (that they purchased with help from a convicted felon) have no right to point to the abundance of his opponent's living arrangements. Neither one of them knows what it's like to live in a Philly row home or a trailer park or a modest three bedroom townhouse or a California ranch. Pursuing this line of attack is a waste of time and effort.

Oh, what do I care?

Who is running the DNC these days? They are really amatuers. Someone should keep them away from sharp objects. They are a danger to themselves and others."

And there is this................
Some man named John Siegal of WeWillNotBeSilenced has been working on a documentary to expose how the game was rigged and who pays for the damage to the process.
"The information in the film is especially jarring for those who were not in caucus states, but it is information that our party must face. There is a reason why half of all Hillary voters are not currently willing to vote for Obama, and this is a big part of it.As I told my friend Rep. Lois Capps, whose son in law is Obama's National Communications Director, it would be unfair and unethical to delegates, both pledged and super, to withhold this otherwise untold story prior to their floor votes in Denver. This is, oddly, also an opportunity for unity; if the Obama campaign stated that they played rough in a caucus system that should be abolished, it would heal a lot of wounds."
Here is an interesting Video called WE WILL NOT BE SILENCED - DOCUMENTARY PREVIEW
Please allow approx. 10 - 20 seconds for video to start buffering.

There are a few places in the video that go black ( dark ) just let it keep gonig and the visual comes right back.

http://wewillnotbesilenced2008.com/video/index.htm
And here is one last link of Hilllary people that are extremely upset and the site has even included McCain's Ad's and the information on Ayers and Rezko.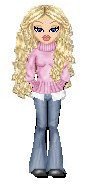 Wild Thing's comment...........
I believe it is quite a bit more than "some" who are outraged! I would say there are a lot of them upset.
The way their votes were stolen from them and just handed to Obama was disgusting. All to help Obama get elected in the Primary's.

....Thank you Mark for sending me information on this.
Posted by Wild Thing at 03:50 AM | Comments (18)
---
New McCain Ad "Passed Over"

McCain's new ad echoes the grievance that Clinton voiced at the end of her campaign, and that some of her supporters still feel.
McCain Ad..........."Passed Over"
Wild Thing's comment.........
I am hoping and praying for utter chaos, rioting, floor fighting, hair pulling, bats and chairs over heads, during the DNC.
Posted by Wild Thing at 03:48 AM | Comments (10)
---
Obama's Swift Boat? by Russ Vaughn
Obama's Swift Boat?

A week ago an old Marine buddy sent me a link to a You tube video that after viewing it, caused me to sit momentarily stunned by the horror of what I had just seen and heard. The video was that of nurse, Jill Stanek, who had in a completely straightforward and highly effective manner related how she had cradled a dying infant that had been dumped in the dirty laundry room of the Chicago hospital where she worked, following an abortion procedure the unfortunate baby had just survived.
Stanek's wrenching account of how that baby had fought for forty-five minutes to live but finally died in her arms, is one of those rare experiences that reaches into you and grabs you like a heart attack. If you have not seen it by now, here it is:
If you come away from that video with less than a heavy heart, I don't think you'd be someone I'd care to number among my friends. Do not, however, think that I am some kind of hard core, under any and all circumstances pro-life conservative because I'm not. However, I am adamantly opposed to the cold, heartless infanticide depicted in this video and I am totally opposed to any politician who would permit it to be public policy as Barack Obama apparently did while serving in the Illinois Senate.

While watching Sean Hannity interview Ms. Stanek, it suddenly occurred to me, Jill Stanek could very well be Obama's Swift Boat Veteran. Her recounting of how Obama coldly disregarded her heartfelt testimony regarding the issue of these induced labor abortions and the horrifying consequences which she had personally experienced as a result, gives us a glimpse into the heart of this so-called Messiah that is nothing less than chilling. I believe every American who views that video can't help but come away from it with questions about whether or not this is the kind of man we want as the leader of our nation.

But then, we must realize, he was merely a state senator and not a presidential candidate so decisions about leaving live infants alone in a hospital's cold, dirty laundry room to helplessly die without any human warmth, love or contact were obviously above Mr. Obama's pay grade.

Last week at Saddleback, he reminded us they still are.
Russ Vaughn
Vietnam 65-66

.....Thank you Russ. This is so important!!!
Posted by Wild Thing at 03:47 AM | Comments (21)
---
"Yes We Can" ~ But We Shouldn't!
Posted by Wild Thing at 02:45 AM | Comments (6)
---
August 23, 2008
It's A Boy, It's Biden (Obama Picks Biden for VP)


Barack Obama has chosen Delaware Sen. Joe Biden to be his vice-presidential running mate.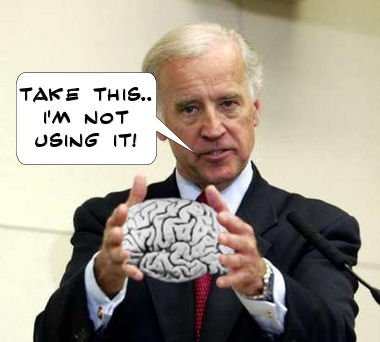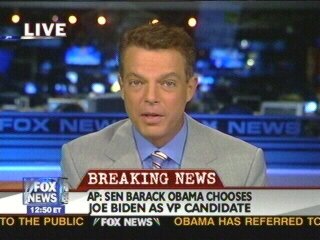 'Just Words' That Joe Biden Would Like To Forget-The curse of a loose mouth and Nexis
Biden on McCain:
Biden, on a post-debate appearance on MSNBC, October 30, 2007:
"The only guy on the other side who's qualified is John McCain."
Biden appearing on The Daily Show, August 2, 2005:
"John McCain is a personal friend, a great friend, and I would be honored to run with or against John McCain, because I think the country would be better off, be well off no matter who..."
On Meet the Press, November 27, 2005:
"I've been calling for more troops for over two years, along with John McCain and others subsequent to my saying that."
Biden On Obama:
Reacting to an Obama speech on counterterrorism, August 1, 2007:
"'Look, the truth is the four major things he called for, well, hell that's what I called for,' Biden said today on MSNBC's Hardball, echoing comments he made earlier in the day at an event promoting his book at the National Press Club. Biden added, 'I'm glad he's talking about these things.'"
Speaking to the New York Observer:
Biden was equally skeptical — albeit in a slightly more backhanded way — about Mr. Obama. "I mean, you got the first mainstream African-American who is articulate and bright and clean and a nice-looking guy," he said. "I mean, that's a storybook, man."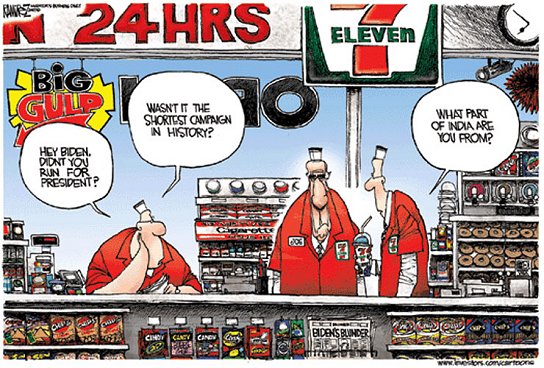 "You cannot go to a 7-Eleven or a Dunkin' Donuts unless you have a slight Indian accent. I'm not joking . . ."
-- Senator Joseph Biden (D-Del)

.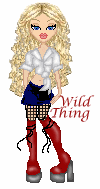 Wild Thing's comment...........
Dang, midnight. That's a GREAT time to break the news! They just borke this and it is after midnight. LMAO Does this mean that if Ho-Bama if he wins will be doing his State of the Union Speeches after midnight? hahaha
Bwahhaaaaaa! Biden is a walking and talking gaffe machine! OH wait Obama and Michelle are too.
I bet the Obama fans who signed up for that "first to know" text message feel duped now. Obama can't even make the VP pick smooth. Just think of all the people waiting all day to get their text message from Obama and the cable news shows are breaking the news first. Obama was too inept to get this out in the afternoon, scheduled the announcement for 10 a.m. this morning.
I just read where Drudge had it linked. From the article - " The official who spoke did so on condition of anonymity, saying they did not want to pre-empt a text-message announcement the Obama campaign promised for Saturday morning."
Uhmm...I don't think that this 'official' is too bright. He/she did exactly that by roughly 9 hours or so.
This whole VP selection is just a continuation of the Obama hype machine. All about theater and no substance.
The man of CHANGE ( B.Hussein Obama) picks a man who has been in washington for 35 years .
Isn't Biden the RAT who said Obama is a clean, articulate black man? This must be Obama's way of saying thanks for the "clean, articulate" compliment. hahaha
Considering that they're both plagiarists, they will be some pair. Joe Biden was shamed from his own presidential ambitions because he plagiarized Neil Kinnock's speeches and LIED about his class rank. He was called on this and was done.
So HO-Bama has choosen someone as arrogant and with a higher opinion of themselves as the Chosen One . LOL
MSNBC Chuck Todd just said- "Republican" Dick Lugar told Obama to pick Biden.
It shows you what a sorry state the DC GOP is in when we have our own senators trying to help RATS .
I just checked the DUmmy board, they are all crying cause they didn't get their text message! ROFLMAO! WAKE UP DUMMIES, OBAMA LIED TO YOU TOO!
Bye bye bye ..... Barack.
Let the fun begin!
.
Rush Wednesday, August 20, 2008
Ruish Limbaugh Wants Obama-Biden Ticket
Conservative talk radio titan Rush Limbaugh relished the prospect of an Obama-Biden Democratic presidential ticket on his broadcast Wednesday.

"I really hope it's Biden," Limbaugh told his listeners. "You don't want to say that too loud, but I really do hope that it's Joe Biden, because we've got mountains of archival audio on Joe Biden."

"Plus, the arrogance factor times two," Rush added. "Biden and the Messiah would just be delicious.
Posted by Wild Thing at 03:55 AM | Comments (20)
---
The Future???? What Will They Tax Next?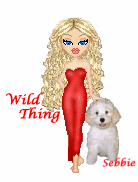 Wild Thing's comment.........
LOL Even though this is in another languge it still gets the point across. It is in French and is asking what will they tax next?
It is very funny but also close to being true. If Obama wins we all know how he wants to tax everyone.
.

......Thank you RAC for sending this to me.
RAC has a website that is awesome. 336th Assault Helicopter Company
13th Combat Aviation Battalion - 1st Aviation Brigade - Soc Trang, Republic of Vietnam
Posted by Wild Thing at 03:50 AM | Comments (10)
---
A Glimpse At Airevac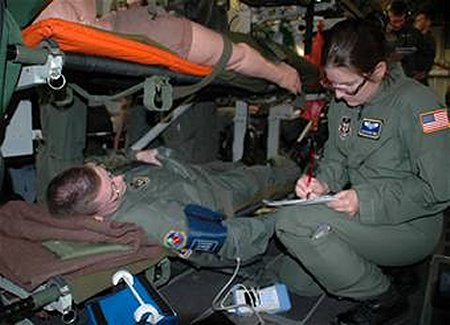 .
Click HERE: SFGate Single Title Player Video
This is a really good video showing something few get to see about our Military Airevac.
.

....Thank you Tom for sending this to me.
Posted by Wild Thing at 03:48 AM | Comments (6)
---
University of Illinois To Release Obama Records Regarding Ayers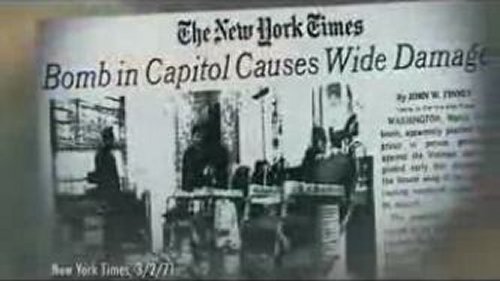 University of Illinois to release Obama records
WASHINGTON (AP)
The University of Illinois said Friday it is releasing records of Barack Obama's service to a nonprofit organization linked to former 1960s radical William Ayers.
Supporters of John McCain have been trying to exploit the tie between Obama and Ayers, with a conservative group spending $2.8 million on an ad focusing on Ayers. Ayers' Weatherman group took credit for bombings that included nonfatal blasts at the Pentagon and U.S. Capitol four decades ago.
The records of the Chicago Annenberg Challenge, an organization that Obama chaired and that Ayers co-founded, will be made available to the public Tuesday, the University of Illinois at Chicago said in a statement.
On Monday, National Review magazine posted an online article saying the university had initially declared that the records were open to inspection but that the university subsequently reversed its position.
On Tuesday, the university said that there had been a misunderstanding about the status of the collection.
The unidentified donor of the records notified the university about the absence of a signed ownership agreement last week.
The donor's only concerns regarding the collection are due to personal information that could include names, confidential salary information and even Social Security numbers, a university spokesman said at the time.
In its latest statement, the institution said that it now has legal authority to allow public access to the material.
In the 1990s, Ayers was instrumental in starting the Chicago Annenberg Challenge, which was awarded nearly $50 million by a foundation to help reform Chicago schools. Ayers is now a professor at the University of Illinois at Chicago.
Obama and Ayers have other ties.
Ayers held a meet-the-candidate event at his home for Obama when Obama first ran for office in the mid-1990s. Ayers and Obama live in Chicago's Hyde Park neighborhood.
Ayers and Obama served together on the board of the Woods Fund, a Chicago-based charity that develops community groups to help the poor. Obama left the board in December 2002.
The new ad sponsored by American Issues Project says that Obama and Ayers served together "on a left-wing board. Why would Barack Obama be friends with someone who bombed the Capitol and is proud of it? Do you know enough to elect Barack Obama?"
One of the board members at American Issues Project, Ed Failor Jr., was a paid consultant for McCain's campaign in Iowa last year.
In April, Obama said he "deplored" Ayers' actions in the 1960s and that "by the time I met him, he is a professor of education at the University of Illinois. We served on a board together that had Republicans, bankers, lawyers, focused on education."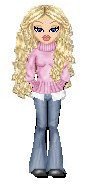 Wild Thing's comment...........
Why the sudden change of heart...did they get a call from Clinton Inc.?
...The University of Illinois said Friday it is releasing records...
There is one word missing in this article though maybe on purpsose not sure.....the word missing -- "all records".
I wonder how many are missing, cleansed and redacted?
They better put an extra fire alarm in that university building over the weekend.
I did a search on Wikipedia on these folks last night and there were too many to easily count: Here is the list (links are to original article http://en.wikipedia.org/wiki/Weatherman_(organization)
This is what we know:
How many buildings did Bill Ayers and his wife try to blow up?
Chronology of events

18-22 June, 1969 – SDS National Convention held in Chicago, Illinois. Publication of "Weatherman" founding statement. Members seize control of SDS National Office.
We are talking about TRAITORS and TERRORISTS who banded together with our enemies in time of war:--- Wild Thing side note here

July, 1969 – Members Bernardine Dohrn, Eleanor Raskin, Dianne Donghi, Peter Clapp, David Millstone and Diana Oughton travel to Cuba and meet representatives of the North Vietnamese and Cuban governments.

August 1969 – Weatherman member Linda Sue Evans travels to North Vietnam. Weatherman activists meet in Cleveland, Ohio, in preparation for "Days of Rage" protests scheduled for October, 1969 in Chicago.
4 September 1969 – Female members converge on South Hills High School in Pittsburgh, Pennsylvania, where they run through the school shouting anti-war slogans and distributing literature promoting the "National Action." The term "Pittsburgh 26" refers to the 26 women arrested in connection with this incident.
24 September 1969 – A group of members confront Chicago Police during a demonstration supporting the "National Action," and protesting the commencement of the Chicago Eight trial stemming from the 1968 Democratic National Convention.
7 October 1969 – The Haymarket Police Statue in Chicago is bombed; The Weathermen later claim credit for the bombing in their book, Prairie Fire.
8 October-11, 1969 – The "Days of Rage" riots occur in Chicago, damaging a large amount of property. 287 Weatherman members are arrested, and some become fugitives when they fail to appear for trial in connection with their arrests.
November-December, 1969 – A small number of Weatherman members join the first contingent of the Venceremos Brigade (VB) that departs for Cuba to harvest sugar cane.
6 December 1969 – Bombing of several Chicago Police cars parked in a precinct parking lot at 3600 North Halsted Street, Chicago. The WUO claims responsibility in Prairie Fire, stating it is a protest of the fatal police shooting of Illinois Black Panther Party leaders Fred Hampton and Mark Clark on 4 December 1969.
27 December-31, 1969 – The Weathermen hold a "War Council" in Flint, Michigan, where they finalize their plans to change into an underground organization that will commit strategic acts of sabotage against the government. Thereafter they are called the "Weather Underground Organization" (WUO).
February, 1970 – The WUO closes the SDS National Office in Chicago, concluding the major campus-based organization of the 1960s. The first contingent of the VB returns from Cuba and the second contingent departs. By mid-February the bulk of the leading WUO members go underground.
13 February 1970 - Several police vehicles of the Berkeley, California, Police Department are bombed in the police parking lot; 16 February 1970: A bomb is detonated at the Golden Gate Park branch of the San Francisco Police Department, killing one officer and injuring a number of other policemen. No organization claims credit for either bombing.
March, 1970 – Warrants are issued for several WUO members, who become federal fugitives when they fail to appear for trial in Chicago.
6 March 1970 – 34 sticks of dynamite are discovered in the 13th Police District of Detroit, Michigan. During February and early March, 1970, members of the WUO, led by Bill Ayers, are reported to be in Detroit, for the purpose of bombing a police facility.[citation needed]
6 March 1970 – WUO members Theodore Gold, Diana Oughton, and Terry Robbins are killed in the Greenwich Village townhouse explosion, when a nailbomb they were constructing detonates. The bomb was intended to be planted at a non-commissioned officer's dance at Fort Dix, New Jersey.
30 March 1970 – Chicago Police discover a WUO "bomb factory" on Chicago's north side. A subsequent discovery of a WUO "weapons cache" in a south side Chicago apartment several days later ends WUO activity in the city.
April, 1970 – The FBI arrests WUO members Linda Sue Evans and Dianne Donghi are arrested in New York.
2 April 1970 – A federal grand jury in Chicago returns a number of indictments charging WUO members with violation of federal anti-riot laws. Also, a number of additional federal warrants charging "unlawful flight to avoid prosecution" are returned in Chicago based on the failure of WUO members to appear for trial in local cases. (The Anti-riot Law charges were later dropped in January, 1974.)
10 May 1970 – The National Guard Association building in Washington, D.C. is bombed.[citation needed]
21 May 1970 – The WUO releases its "Declaration of a State of War" communique under Bernardine Dohrn's name.
6 June 1970 – In a letter, the WUO claims credit for bombing of the San Francisco Hall of Justice, although no explosion has occurred. Months later, workmen locate an unexploded bomb.[citation needed]
9 June 1970 - The New York City Police headquarters is bombed by Jane Alpert and accomplices. The Weathermen state this is in response to "police repression."[citation needed]
23 July 1970 – A federal grand jury in Detroit, Michigan, returns indictments against a number of underground WUO members and former WUO members charging violations of various explosives and firearms laws. (These indictments were later dropped in October, 1973.)
27 July 1970 - The United States Army base at The Presidio in San Francisco is bombed on the 11th anniversary of the Cuban Revolution. [NYT, 7/27/70]
12 September 1970 – The WUO helps Dr. Timothy Leary escape from the California Men's Colony prison.
8 October 1970 - Bombing of Marin County courthouse. WUO states this is in retaliation for the killings of Jonathan Jackson, William Christmas, and James McClain. [NYT, 8/10/70]
10 October 1970 - A Queens traffic-court building is bombed. WUO claims this is to express support for the New York prison riots. [NYT, 10/10/70, p. 12]
14 October 1970 - The Harvard Center for International Affairs is bombed. WUO claims this is to protest the war in Vietnam. [NYT, 10/14/70, p. 30]
December, 1970 – Fugitive WUO member Caroline Tanker, who fled the country for Cuba, is arrested by the FBI in Pittsburgh, Pennsylvania. Fugitive WUO member Judith Alice Clark is arrested by the FBI in New York.
1 March 1971 - The United States Capitol is bombed. WUO states this is to protest the invasion of Laos. President Richard M. Nixon denounces the bombing as a "shocking act of violence that will outrage all Americans." [NYT, 3/2/71]
April, 1971 – FBI agents discover an abandoned WUO "bomb factory" in San Francisco, California.
29 August 1971 - Bombing of the Office of California Prisons, allegedly in retaliation for the killing of George Jackson. [LAT, 8/29/71]
17 September 1971 - The New York Department of Corrections in Albany, New York is bombed, as per the WUO to protest the killing of 29 inmates at Attica State Penitentiary. [NYT, 9/18/71]
15 October 1971 - The bombing of William Bundy's office in the MIT research center. [NYT, 10/16/71]
19 May 1972 - Bombing of The Pentagon, "in retaliation for the U.S. bombing raid in Hanoi." [NYT, 5/19/72]
18 May 1973 - The bombing of the 103rd Police Precinct in New York. WUO states this is in response to the killing of 10-year-old black youth Clifford Glover by police.
19 September 1973 – A WUO member is arrested by the FBI in New York. Released on bond, this member again submerges into the underground.
28 September 1973 - The ITT headquarters in New York and Rome, Italy are bombed. WUO states this is in response to ITT's alleged role in the Chilean coup earlier that month. [NYT, 9/28/73]
6 March 1974 - Bombing of the Dept. of Health, Education and Welfare offices in San Francisco. WUO states this is to protest alleged sterilization of poor women. In the accompanying communiqué, the Women's Brigade argues for "the need for women to take control of daycare, healthcare, birth control and other aspects of women's daily lives."
31 May 1974 - The Office of the California Attorney General is bombed. WUO states this is in response to the killing of six members of the Symbionese Liberation Army.
17 June 1974 - Gulf Oil's Pittsburgh headquarters is bombed. WUO states this is to protest the company's actions in Angola, Vietnam, and elsewhere.
July, 1974 – The WUO releases the book Prairie Fire, in which they indicate the need for a unified Communist Party. They encourage the creation of study groups to discuss their ideology, and continue to stress the need for violent acts. The book also admits WUO responsibility of several actions from previous years. The Prairie Fire Organizing Committee (PFOC) arises from the teachings in this book and is organized by many former WUO members.
11 September 1974 – Bombing of Anaconda Corporation (part of the Rockefeller Corporation). WUO states this is in retribution for Anaconda's alleged involvement in the Chilean coup the previous year.
29 January 1975 - Bombing of the State Department; WUO states this is in response to escalation in Vietnam. (AP. "State Department Rattled by Blast," The Daily Times-News, January 29, 1975, p.1)
March, 1975 – The WUO releases its first edition of a new magazine entitled Osawatomie.
16 June 1975 - Weathermen bomb a Banco de Ponce (a Puerto Rican bank) in New York, WUO states this is in solidarity with striking Puerto Rican cement workers.
11 July-13, 1975 – The PFOC holds its first national convention during which time they go through the formality of creating a new organization.
September, 1975 – Bombing of the Kennecott Corporation; WUO states this is in retribution for Kennecott's alleged involvement in the Chilean coup two years prior.[49]
October 20, 1981 - Brinks robbery in which Kathy Boudin and several members of the Weather Underground and the Black Liberation Army stole over $1 million from a Brinks armored car at the Nanuet Mall, near Nyack, New York on October 20, 1981. The robbers were stopped by police later that day and engaged them in a shootout, killing two police officers and one Brinks guard as well as wounding several others.
Posted by Wild Thing at 03:47 AM | Comments (14)
---
Do You Know Enough ( about Obama) Ad Upsetting Obama and His Camp
This Ad above is running in VA and it is ticking off Obama's team off big time. I had posted it this last Thursday and am putting it here again. heh heh
Tell Virginia TV stations this kind of garbage shouldn't run on the public's airwaves

Some stations are running a full-fledged attack ad from a right-wing group connected to John McCain that pulls in every baseless lie and re-hashed false assertion in the playbook to smear Barack Obama.

Contact Virginia TV stations and tell them not to let this trash pollute another election.

Our online tool will help you share your voice.

To begin, click Participate.

We'll provide you with talking points on this potentially illegal hit ad to help guide you through the process.

This is the email that was sent out to supporters, I got it from Nicholas's brother who is unfortunately a socialist and voting for Obama. AUGH!


Supporter --

Yesterday, a right-wing smear group launched a full-fledge attack against Barack, pulling in every baseless lie and re-hashed false assertion in their playbook.
Not only that -- it turns out the ad may be illegal. Campaign finance experts are weighing in about violations of election law. And the ad is so ridiculous that CNN and even Fox News have both refused to run it.
This is exactly the kind of politics Barack is running to change.
Unfortunately, some TV stations in Virginia are running the ad right now.
Contact stations in Virginia and tell them this kind of garbage shouldn't be run on the public's airwaves -- no matter how much money they are making to run it.
John McCain claims he had nothing to do with this attack, but a former McCain consultant leads the so called 'third-party' group behind these lies.
The primary funder of the ads, Harrold Simmons, is one of the main culprits behind the Swift Boating of John Kerry and a top bundler for John McCain. The spokesman for the group also has ties to the Kerry Swift Boat attacks.
The McCain camp and the Swift Boaters must be truly desperate to change the subject from John McCain's shocking disconnect with the economic struggles of the American people.
Take action right now to make sure this trash doesn't pollute another election:
http://va.barackobama.com/offtheairVA
Keep fighting the good fight,
Obama Action Wire
The Obama Action Wire is a grassroots rapid response group for supporters to fight smears, spread the truth, push back on misleading media, and take positive action.
.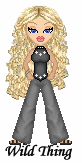 Wild Thing's comment............

What pray tell, was inaccurate about that ad? LOL It is all the truth. Obama just does not like the truth but he knows it is not a lie.
The Ad is igreat and there's not one bit of exaggeration in the ad. Well known facts plainly stated.
LMAO I clicked on the link
Obama campaign have set up to conveniently send a message to multiple TV stations.
And it took me to this page where they have the statioins listed.
http://my.barackobama.com/page/speakout/offtheairVA?js=true
So what is a girl to do. heh heh I used their wonderfully efficient email system to send the stations a thank you for airing the ad.
My note to them:
I appreciate your running the ad on Ayers/Obama. I am disgusted by Obama's relationship with known domestic Terrorist Bill Ayers. I'd heard about this but hadn't seen it covered in such detail and I appreciate you running the ad. People need to know this kind of thing. Thank you for doing this public service. It helps increase my trust of the local TV media to not hide such things for political reasons.
Thank you
Posted by Wild Thing at 03:45 AM | Comments (13)
---
August 22, 2008
Threats To Republicans McCain, Charlie Crist and Joel Dykstra
McCain's staff quarantined after receiving threat letters: Officials

Staff members at two campaign offices for White House hopeful John McCain were quarantined Thursday after threatening letters containing a suspicious powder substance were received, officials said.
The first letter arrived at the Republican's campaign headquarters in a suburb of Denver, Colorado. A second letter was later reported at a McCain office in Manchester, New Hampshire.
Both buildings were evacuated and staff members sent to medical facilities for treatment under quarantine while FBI and Secret Service agents joined hazardous materials experts at both scenes.
Secret Service spokesman Eric Zahren told AFP that the envelope received in Centennial, a Denver suburb in the western state, "also contained a generic warning regarding the contents," but gave no further details.
"McCain staffers reported that they had received an envelope containing white powder in McCain's campaign office in Centennial," Zahren said.
"The staff has been quarantined and the building has been evacuated."
McCain spokesman Jeff Sadofky said that all campaign offices were put on the alert after the New Hampshire letter was found.
"We have put all of our offices on highest alert. They're looking for anything suspicious and all staff has been quarantined as of right now," he told Fox news.
"Immediately upon learning of this, federal and local law enforcement officials were notified," Sadofky said.
"Staffs were immediately transported to a local hospital. Hazmat is on the scene and is looking for more information," he added. "Our staff has evacuated as a precaution."
Asked about the content of the letters, Sadofky said: "The best I can tell you is that the letters contained a threat to those who have read it. We have turned everything over to law enforcement."
Fox television reported that between five and 25 staff and volunteers were at the McCain office in Centennial when the letter arrived in the mail, and that those people had been taken to hospital. It was unclear how many were in the New Hampshire office.
In Colorado, the Arapahoe County sheriff's office said police and fire officials responded to a "a call of a suspicious package, containing an unknown powder, that was delivered," to the headquarters.
"At this time the scene has been secured and several people who may have been exposed to the substance are being examined by medical personnel," it said in a statement.
"The substance is being examined to determine if it is hazardous."
A spokeswoman for McCain's rival Barack Obama said they were unaware of any similar incidents at the Democrat's offices.
.
Is Crist threat letter linked to McCain's?
TALLAHASSEE, Florida
State investigators are trying to find out who sent a threatening letter to Republican Gov. Charlie Crist in an envelope filled with a white powdery substance, The Miami Herald has learned.

The powder was quickly tested and deemed nontoxic, said Florida Department of Law Enforcement spokeswoman Heather Smith. She said FDLE is coordinating with federal authorities who are investigating the circumstances behind two threatening letters reported Thursday by presidential candidate John McCain's campaign.

Smith said the letter sent to Crist directly threatened him. She suggested the perpetrator could soon be caught and called this an ``isolated incident.''

The letter addressed to Crist was received Wednesday, but news of it didn't leak out until McCain's campaign reported similar letters. McCain and Crist are friends. McCain has been considering Crist as a vice-presidential candidate. Crist is scheduled to speak briefly at the Republican National Convention next month in Minneapolis.

The Crist letter was detected during a routine screening of Crist's mail at a site away from the Capitol, Smith said.

''We believe significant progress has been made in the investigation,'' Smith said. ``We've worked aggressively on this. It appears to be isolated incident. We expect this will be resolved quickly, and when it does the information will be made public.''
And now there are three counting a letter sent to Joel Dykstra......


Threatening Letter Sent To Joel Dykstra
Sioux Falls, SD
ksfy.com
The incident happened at about 10:30 Tuesday morning. Staff members for Republican Joel Dykstra were opening mail in his U.S. senate campaign office when they came across an angry sounding letter with white powder.

"The message on the letter was very threatening. Very direct," said Dykstra.

Dykstra was at DakotaFest in Mitchell but his staff called 911. Soon Hazmat crews were suiting up outside the strip mall on Minnesota Avenue to find out what the white powder was. A special machine indicated it was baby powder, but crews didn't take any chances. Becky Otten's business is right next door to Dykstra's campaign office.

"The firemen did come in to let me know what was going on. We share the same heating and air conditioning system and stuff to make sure I was safe," said Otten.

Becky was safe as was everyone else in the building. Dykstra says if there's any silver lining, it's that law enforcement and rescue crews knew how to handle the situation. Dykstra says as for his campaign, it's back to business.

"We intend to carry on with activities of our campaign that we have been. And I believe we'll do that without too much further interruption," said Dykstra.

Even though that powder is believed to be baby powder, it's being sent to SDSU for further testing.

Tuesday Police told KSFY it is possible to pull finger prints from an envelope but they'll have to see if they can do that in this case.
.


Wild Thing's comment............
There have been three letters containing white powder sent to Republicans in the last two days.
Why can't we disagree with people without trying to harm/kill/threaten them? Sheesh! To anxswer myself, it started when idiots thought that violence "in the name of the proletariat" was cool (William Ayers et al.).
Obama's fall from grace really has the 'RATS riled up. I imagine we're going to see more of this.
Posted by Wild Thing at 03:55 AM | Comments (14)
---
Obama: Russia, U.S. should not 'charge into' other countries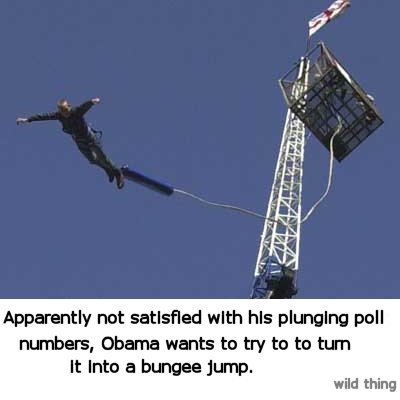 Obama: Russia, U.S. should not 'charge into' other countries
LYNCHBURG, Virginia
Democrat Barack Obama scolded Russia again on Wednesday for invading another country's sovereign territory while adding a new twist: the United States, he said, should set a better example on that front, too.
The Illinois senator's opposition to the Iraq war, which his comment clearly referenced, is well known.
But this was the first time the Democratic presidential candidate has made a comparison between the U.S. invasion of Iraq and Russia's recent military activity in Georgia.
"We've got to send a clear message to Russia and unify our allies," Obama told a crowd of supporters in Virginia. "They can't charge into other countries. Of course it helps if we are leading by example on that point."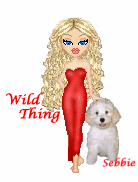 Wild Thing's comment.............
Obama, you traitor go to hell. And people want this guy to be our President? Obama always kicks the U.S.A. at the end of everything he says....Good luck jackass in the election!
We cannot afford this amateur hour foreign policy when we are engaged all across the globe with potential threats!
Hey Muslim freak B. Hussein Obama, the Philippines, Midway Islands, France on June 6, 1944, etc. were sovereign territories of Imperial Japan. Normandy and Sicily were sovereign territories of the Third Reich. We should have left them alone, and avoided provoking their legitimate fascist rulers too? According to your way of thinking.

This below is so shocking to me!!!!
Eight days after the atrocities of September 11, 2001, Barack Obama wrote a piece for the Hyde Park Herald—and blamed the attacks on "a failure of empathy."
"Even as I hope for some measure of peace and comfort to the bereaved families, I must also hope that we as a nation draw some measure of wisdom from this tragedy. Certain immediate lessons are clear, and we must act upon those lessons decisively. We need to step up security at our airports. We must reexamine the effectiveness of our intelligence networks. And we must be resolute in identifying the perpetrators of these heinous acts and dismantling their organizations of destruction."
"We must also engage, however, in the more difficult task of understanding the sources of such madness. The essence of this tragedy, it seems to me, derives from a fundamental absence of empathy on the part of the attackers: an inability to imagine, or connect with, the humanity and suffering of others. Such a failure of empathy, such numbness to the pain of a child or the desperation of a parent, is not innate; nor, history tells us, is it unique to a particular culture, religion, or ethnicity. It may find expression in a particular brand of violence, and may be channeled by particular demagogues or fanatics. Most often, though, it grows out of a climate of poverty and ignorance, helplessness and despair."
"We will have to make sure, despite our rage, that any U.S. military action takes into account the lives of innocent civilians abroad. We will have to be unwavering in opposing bigotry or discrimination directed against neighbors and friends of Middle Eastern descent. Finally, we will have to devote far more attention to the monumental task of raising the hopes and prospects of embittered children across the globe—children not just in the Middle East, but also in Africa, Asia, Latin America, Eastern Europe and within our own shores."
Posted by Wild Thing at 03:50 AM | Comments (10)
---
Do you speak Obama ? ~ A Must See!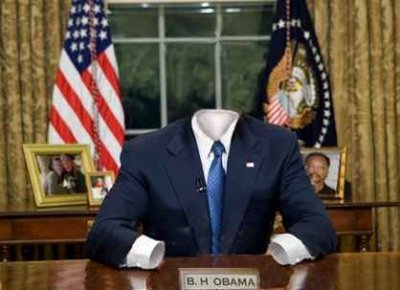 .
Clips taken from the - Saddleback Forum. This is hilarious!!!
Posted by Wild Thing at 03:48 AM | Comments (5)
---
CIA Agent, Bay of Pigs Hero, Dies
August 18, 2008
Miami Herald
TAMPA, Fla.
Grayston L. Lynch, a hero of the anti-Castro movement for his leadership in the Bay of Pigs invasion, where fired the first shot of the battle, died at 85 on Aug. 10.
Lynch, a wounded combat veteran of World War II and Korea who suffered multiple health problems, was hospitalized for foot surgery when he had a heart attack at the James A. Haley Veterans Hospital, near his Tampa home, said Karen Lynch, his wife of 18 years.
In his 1998 book, Decision for Disaster: Betrayal at the Bay of Pigs, Lynch detailed his role as CIA case officer in charge of the April 16, 1961, operation.
He fired the first shot of the three-day assault -- at a Jeep shining its headlights on Brigade 2506 frogmen landing at Playa Giron -- then returned to his ship and shot down two Cuban fighter planes.
Despite the invasion's disastrous failure, Lynch continued to direct clandestine assaults on the island from Miami until 1967.
His anger at the Kennedy administration's decision to cancel air support never abated.
Janet Weininger, whose father, American pilot Thomas "Pete" Ray, died in the attack, recalls how decades later Lynch's voice rose when he talked about the losses.
"You could tell he was emotional, and this was really coming from his heart," she said.
His wife said Lynch attributed Fidel Castro's longevity to the supernatural.
'He'd laugh and say, 'You can't kill someone in league with the devil.' "
Lynch, a Catholic, was "very spiritual," she said. "He prayed every day."
A strapping six-foot-two Texan, Lynch looked every bit the role he chose after lying his way into the U.S. Army at 15: highly decorated career soldier and undercover agent.
He's been the subject of several documentaries, and director Ron Howard optioned his book for Universal Studios.
"He was the John Wayne type, and you'd go to hell and back with him," said Amado Cantillo, a Bay of Pigs frogman, now a Miami-Dade County Public Works pilot.
A fierce anti-communist, Lynch "inspired respect and attention. He motivated his men and led by example. Whenever there was a mission, he was there up front. He took care of his men and kept them informed."
Lynch, whose mother died giving birth to him on June 14, 1923, was the son of an East Texas ranch hand and oil driller.
"He was meant to be a soldier," Karen Lynch said, given that June 14 is both Flag Day and the 1775 birthday of the Army.
Lynch joined in 1938: the 5th Cavalry (Horse). He later landed on Omaha Beach on D-Day -- where a hand grenade at his back peppered him with shrapnel. During the Battle of the Bulge, an exploding shell shattered his right leg.
He earned a political science degree from the University of Maryland and, after much surgery, he reenlisted for Korea, where he fought in the Battle of Heartbreak Ridge.
He served with the Special Forces in Laos and Panama before retiring from the military as a captain in 1960.
Lynch then joined the CIA and while recruiting for Brigade 2506, met Cantillo.
"He closed ranks with us," Cantillo said. 'He said, 'You have to work hard if you want to save your country.' "
In time, Cantillo came to "love him like a father. . . . He taught me discipline. He taught me never to surrender."
During the invasion, the two men went ashore together and before the fighting stopped, rescued 35 and buried four of their comrades -- as well as one of Castro's pilots.
A month later, a disillusioned Cantillo 'was mopping floors at Mount Sinai Hospital, and there he was with the cowboy boots. He says, 'Let's go, man!' He was in charge of [secret] missions to Cuba."
In all, Lynch oversaw 2,126 missions, participating directly in 113.
"He was best man at my wedding in 1975, and we were supposed to go to Laos together" with the CIA, Cantillo said, "but they sent me to Africa for two years. After that, I was working with him locally and internationally."
When Karen Hartley-Soben met him in 1987, Gray Lynch was retired from the agency and long divorced.
Twenty years his junior, she was involved in breeding racehorses and writing a spy novel. Already in failing health, Lynch was writing as well.
His book -- and his life -- became her cause.
Cantillo and Janet Weininger credit Karen with keeping him alive far longer than his poor health would have predicted.
"It took 10 years to pull the book out of him," said Karen, who married Lynch in 1990. 'He was so emotionally involved. He cried through the whole chapter 'Rescue.' "
In his speeches, she said, "he never said anything about his exploits, but he talked about how bravely the men fought. He never had a note and could have you crying at the end. It would get to the soul of the people listening."
In June, Lynch celebrated his birthday at the VA hospital. Karen brought a cake decorated with toy soldiers, tanks and American flags.
It would be his last birthday, he told Cantillo, who said, "Don't talk like that!"
Cantillo and other South Florida Bay of Pigs veterans plan to attended a memorial service for Lynch on Aug. 30. It's scheduled for 1 p.m. at the MacDill Air Force Base chapel in Tampa, where the Lynches were married.
The body will be cremated.
"We consider him a member of Brigade 2506," Cantillo said. "I'm giving the widow a flag of the brigade."

Wild Thing's comment..............
These Heroes walk among us and I am forever grateful.

....Thank you Tom for sending this article to me.
Posted by Wild Thing at 03:47 AM | Comments (6)
---
McCain ad "Housing Problem" Targets Obama's Glass House
The Ad: Barack Obama knows a lot about housing problems. One of his biggest fundraisers helped him buy his million-dollar mansion. Purchasing part of the property he couldn't afford. From Obama, Rezko got political favors including 14 million from taxpayers. Now, he's a convicted felon, facing jail. That's a housing problem.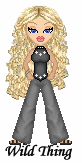 Wild Thing's comment...........
It also looks like Obama has a "glass jaw". haha
Posted by Wild Thing at 02:45 AM | Comments (6)
---
John Rich - Raisin' McCain Music Video
Country music star John Rich in support of Republican presidential candidate John McCain.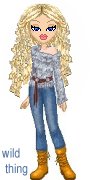 Wild Thing's comment.............

He did good, this is the knid of music that makes a person want to get up and dance. I am glad to see this after I read yesterday that Toby Keith is pulling for ............OBAMA.
GRRRRRRRRR
I wsas so disappointed to hear that.

....Thank you Cheryl for sending this to me.
Posted by Wild Thing at 02:44 AM | Comments (6)
---
Butting Heads at the Border by Chuck Norris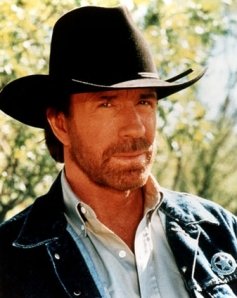 Butting Heads at the Border
By Chuck Norris

This past week, a 10-year veteran of the U.S. Border Patrol shot and wounded a man in the left buttock who assaulted agents at a violent stretch of the U.S.-Mexico border.
Despite the fact that the man was among a group that was trying to enter the United States illegally and was throwing rocks and concrete chunks at agents, officials at the Mexican Consulate in San Diego are criticizing the agent and demanding the U.S. conduct a full investigation. Consul General Remedios Gomez Arnau said,
"Any kind of shooting toward Mexican territory is rejected by the Mexican government. They should have waited for response of the Mexican authorities."
Are you kidding me? Do I smell another Compean-and-Ramos case in the making? Do illegals think border crossing is nothing more than a game of cat and mouse? Do Mexican officials think we only are playing "rock, paper, scissors" at the border? When will we finally draw a line in the sand and stop this insanity at our nation's boundaries? When will we back our agents and their Bill of Rights? When will we give them the complete resources, permission and support they need to carry out their duties fully? Supervisory Border Patrol Agent Daryl Reed reports that there have been 330 assaults on agents already this year, compared with 254 reported incidents in 2007. It's time for our government to ante up and protect and secure our borders and agents better.
Border security is so critical, of course, because it is about far more than just illegal immigrants. It affects the transport of drugs, weapons, gangs (such as MS-13) and terrorists, and it even affects issues surrounding national sovereignty. That is why I address our border troubles as one of eight major problems threatening America most in my upcoming (Sept. 7 release) book, Black Belt Patriotism, which is available for pre-order at Amazon.com. In the book, I give my critique of what is destroying our country and offer my solutions for rebuilding America and restoring the American dream. In particular, I lean heavily upon our Founders' work and wisdom, looking to them for possible solutions to our present problems. In the next couple of columns, I'll be giving readers a few first-seen excerpts from the book.
Here's a glimpse from the chapter "Secure and protect our borders," in which I also give (but not here) my solutions to deal with the 12 million or so illegal immigrants already residing in America:


"A few years ago I had the opportunity to fly along America's borders with my good friend John Hensley, who was the assistant commissioner of U.S. Customs. We flew on a Black Hawk helicopter and checked out locations along the California border, where there was heavy traffic of drug dealers and illegal aliens coming into the United States from Mexico.
"As we were flying over the desert, we landed in the middle of nowhere. We stepped out of the helicopter and John asked me, 'What do you see?' I replied, 'Absolutely nothing but desert.' As soon as I said that, up popped U.S. border agents, who were hiding in holes covered by beige tarps that blended in with the terrain. They were waiting for illegal traffic trying to sneak into our country. I thought, what dedication this takes to hide out here in this intense heat for hours at a time -- just waiting.
"There's no doubt that Americans possess the resources and passion to close off our borders and ports from illegal immigration and contraband. If we can overthrow another country, we ought to be able to protect our own. Yet to this day, our national borders and ports of entry are like lattice work with plenty of holes through which illegals now come in.
"I don't lay the blame on our dedicated border agents. But I do blame an overly bureaucratic government that still has not given agents the proper resources and permissions they need to get their job done. I also blame government for undermining national security by being more concerned with global commerce than national sovereignty. They would rather please the international masses than enforce our own laws.
"Let's ask ourselves, why is Congress not securing our borders? Could it be they have greater global goals that will ultimately dissolve this Union? Whether intentionally or not, government has failed for decades to secure the borders. It is up to us to make sure it gets done, by taking several points of action that I'll be outlining in this chapter. The time is now. And if we don't do our part, America as we know it will dissolve like a sugar cube in coffee. From the coastland to the heartland, we will lose our distinctions and no longer even recognize our country. As President Ronald Reagan said, 'A nation without borders is not a nation.'"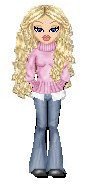 Wild Thing's comment.............
"Any kind of shooting toward Mexican territory is rejected by the Mexican government. They should have waited for response of the Mexican authorities."
And mexican military actually crossing the border into the USA and holding BP and citizens at gunpoint is A-OK I guess?
The bad guys around the world smell weakness and lack of resolve on our part.
Posted by Wild Thing at 02:40 AM | Comments (10)
---
August 21, 2008
McCain Prepares Rezko Ad; Wright "Now Fair Game"; GOP 527 Attacks
The American Issues Project today announced the debut of a new television advertising campaign examining the relationship between Sen. Barack Obama and unrepentant 1960's domestic terrorist, William Ayers. The ad -- entitled "Know Enough?" -- begins with a simple, yet pointed question: "Beyond the speeches, how much do you really know about Barack Obama?"
Supported by over one hundred pages of back-up documentation and historical accounts, the American Issues Project is using this ad to shed light on Obama's friendship with Ayers, the former leader of an American terrorist group known as Weather Underground.
McCain Prepares Rezko Ad; Wright "Now Fair Game"; GOP 527 Attacks
Sen. John McCain's campaign is finishing a hard-hitting television ad highlighting Barack Obama 's ties to shady Chicago land dealer Tony Rezko, the one-time Obama patron who was convicted earlier this summer of fraud.
A campaign official said that the decision to Go Rezko was Obama's. "He's opened the door to this," the official said.
The ad will be released to network news divisions in time for their broadcasts tonight.
Though McCain is widely perceived to to drawn first blood by attacking Obama's character, the official said that the difference between Obama's mocking McCain for his wealth and his shaky answer on the number of homes he owns was that McCain's charge "reflects an existential reality," where Obama's charges "attack Cindy. She owns the homes. I thought he said the wives were off-limits."
McCain strategists hope that Obama's brass knuckles punch doesn't work. "Americans don't like this class warfare stuff," the official said. They aspire to be rich, the official said. They don't aspire to eat arugala or hang out with celebrities.
Earlier in the news cycle, McCain's press team invoked Obama's friendship with a former member of the Weatherman, William Ayres, and an official said that even Obama's former pastor, Rev. Jeremiah Wright, "is now fair game." The official declined to say whether the campaign was contemplating running an advertisement linking Obama to Wright.
McCain also released a second web video mocking Obama as "The One."
A group called the American Issues Project said it launched a 2.8 million television ad buy highlighting Obama's ties to Ayres. The group calls itself "an organization representing a coalition of activists committed to raising conservative issues both during and after the election."
It includes longtime Republican activists like Ed Failor, Jr. of Iowa. Failor was a McCain adviser in the state. The ad will air in Ohio and Michigan.
Here's the script:
Narrator:

"Beyond the speeches, how much do you know about Barack Obama?
What does he really believe?

Consider this:
United 93 never hit the Capitol on 9/11.
But the Capitol was bombed thirty years before -


By an American terrorist group called Weather Underground that declared 'war' on the U.S. -

Targeting the Capitol, the Pentagon, police stations and more.

One of the group's leaders, William Ayers, admits to the bombings, proudly saying later:

'We didn't do enough.'
Some members of the group Ayers founded even went on to kill police.

But Barack Obama is friends with Ayers, defending him as, quote,
'Respectable' and 'Mainstream.'
Obama's political career was launched in Ayers' home.
And the two served together on a left-wing board.

Why would Barack Obama be friends with someone who bombed the Capitol...and is proud of it?

Do you know enough to elect Barack Obama?

American Issues Project is responsible for the content of this ad."

.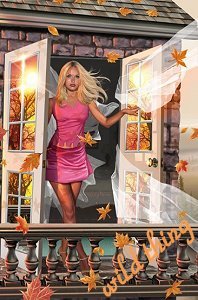 Wild Thing's comment............
John and Cindy McCain could own 1000 homes, so what? I could care less. There's no showing he got any of them illegally or as a result of shady political deals.

McCain's people aren't playing softball. He clearly has an expert team. I hope that 527 really hits Obama with Wright again. He spent 20 years in that church and you better believe if McCain was caught dead being a member of a church pushing White supremacy he'd be dead meat. Black Liberation theology is racism pure and simple.
Obama has been going ballistic because HE got caught in a lie when he said he didn't vote for killing innocent babies after they had been aborted and might still be alive. He brought up the houses the McCain's own to try and get the press off his butt so Obama by doing that he is the one that opened the gate.
So a question for Obama, since you attacked Cindy McCain, does this mean that "Michelle Angry Mabelle" is now fair game too??? Just curious.
It's the mid 1970s and the Weather Underground Organization (WUO), a radical (and violent) offshoot of the Students for a Democratic Society.
Documentary/interviews with the Weatherman Underground while they were on the run for bombings and deaths.

UPDATE on information: For the Democrats that lurk and read this blog. ........
According to this John McCain himself dows not own any of the properties.
McCain family owns 8 properties
John McCain's family owns at least eight properties — not the seven Democrats are alleging.
Sen. McCain himself does not own any of the properties. They're all owned by Cindy McCain, her dependent children and the trusts and companies they control.
Brian Rogers, a McCain spokesman, did not question Politico's analysis, but said his boss's bungling of the how-many-homes question is a nonissue.
"Voters care a lot more about candidates' personal ethics than about how many houses or residences or doghouses that John and Cindy McCain own," he said. He questioned efforts by McCain's Democratic rival, Barack Obama, to exploit the issue, given that Obama benefited from a 2005 land deal with the wife of convicted Chicago businessman — and former Obama fundraiser — Tony Rezko that expanded the Obama family's newly purchased $1.65 million homestead.
"The reality is that Barack Obama purchased his million-dollar mansion in a shady deal involving a convicted felon, and it raises questions about his ethics and judgment," said Rogers.
Posted by Wild Thing at 05:55 PM | Comments (8)
---
Obama's Latest Ad Attack On McCain and The Response! Whoa!
Obama camp links McCain to Abramoff scandal

Barack Obama's campaign is linking John McCain to the infamous Jack Abramoff scandal that ended several Republicans' political careers three years ago in a new campaign ad hitting Georgia airwaves Wednesday.
The 30-second spot is the Obama campaign's second negative ad in the past 24 hours.
It attacks the Arizona senator for his association with former Christian Coalition head Ralph Reed, one of the Republicans implicated in the scandal.
The ad also seems to suggest McCain didn't call Reed to testify before a Senate panel he chaired in return for political favors.
"When the Senate investigated, the senator in charge never even called Reed to testify….And that senator? John McCain. And who's now raising money for McCain's campaign? Ralph Reed," the ad's narrator says. "For 26 years in Washington, John McCain's played the same old games. We just can't afford more of the same."
The TV spot sparked a sharp rebuke from McCain campaign spokesman Brian Rogers, who called it "ridiculous," and noted Obama's connection to Bill Ayers, the current University of Chicago professor and one-time leader of the militant group "Weather Undeground."
"If Barack Obama wants to have a discussion about truly questionable associations, let's start with his relationship with the unrepentant terrorist William Ayers, at whose home Obama's political career was reportedly launched," Rogers said. "Mr. Ayers was a leader of the Weather Underground, a terrorist group responsible for countless bombings against targets including the U.S. Capitol, the Pentagon and numerous police stations, courthouses and banks."
Reed, who lost a bid in 2006 for lieutenant governor of Georgia, had promoted a McCain fundraiser last week in the Atlanta area that netted the presumptive Republican nominee $1.75 million in campaign cash.
.
From McCain campaign:
Please see comment from me on Barack Obama's new ad supposedly running in Georgia:
"Barack Obama's ad is ridiculous. Because of John McCain, corruption was exposed and people like Jack Abramoff went to jail.

"However, if Barack Obama wants to have a discussion about truly questionable associations, let's start with his relationship with the unrepentant terrorist William Ayers, at whose home Obama's political career was reportedly launched. Mr. Ayers was a leader of the Weather Underground, a terrorist group responsible for countless bombings against targets including the U.S. Capitol, the Pentagon and numerous police stations, courthouses and banks. In recent years, Mr. Ayers has stated, 'I don't regret setting bombs … I feel we didn't do enough.'

"The question now is, will Barack Obama immediately call on the University of Illinois to release all of the records they are currently withholding to shed further light on Senator Obama's relationship with this unrepentant terrorist?"
—McCain spokesman Brian Rogers
.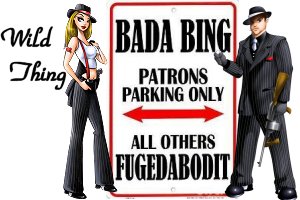 ...They send one of yours to the hospital. You send one of theirs to the morgue. heh heh

Wild Thing's comment................

What do Obama and Osama have in common?
Friends that have bombed the Pentagon!!
Hello Obama do you really want to go there? You are playing with the big boys now Obama and you better double and tripple check your research before you bring on your attacks. hahaha
From one of my past posts..dated November 15, 2006
Abramoff Ready To Flip On Senate Dems
Sources close to the investigation say Abramoff has provided information on his dealings with and campaign contributions and gifts to "dozens of members of Congress and staff," including what Abramoff has reportedly described as "six to eight seriously corrupt Democratic senators."

With his (Obama's) list of associations and friends this is nothing less then an invitation to bring it on! LOL
Regarding McCain spokesman Brian Rogers, that is the way to play ball! Smack the indignant liberal and smack him hard! It's time to shove it back at the Socialist!
So many things to pick from this is just too juicy. Ayers, Obama was the Chairman of an organization that Ayers founded, Hamas endorsement, terrorists in Gaza funds to Obama, Rezko and also the connection through Rezko to Saddam Hussein's Oil for Food briber, Wright, and the list goes on.
Jerome Corsi has so quietly driven the stake into the Marxist vampire's heart the sound of the hammer hitting the stake was barely audible. This is vampire slaying. heh heh
Posted by Wild Thing at 04:55 AM | Comments (8)
---
B. Hussein Obama Attacking Fox News and Corsi
Obama personally went on the attack Wednesday on a best-selling new book that falsely describes him as a closet Muslim.

Talking about "The Obama Nation," Obama said author Jerome Corsi was just making "stuff up."

"But it gets a lot of play on Fox News," he said to loud boos.

The news network has interviewed Corsi.

Obama said GOP attackers "will run negative ad after negative ad, attack after attack, with the goal of making you lose focus on the issues. … and focus on me and try to make me out to be a risky, scary guy."

"Now I must say: I don't find myself particularly scary or particularly risky," he said.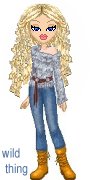 Wild Thing's comment...........
I like the calm way Corsi presents himself. It is great how Obama is totally rattled by this book then add in how Obama totally felt short last Saturday night at that interview/debate.
After all the media hype, the people fainting, the propaganda from the left day in day out about Obama it feels good to be able to see him upset like this. One more thing does anyone else find it interesting how the fainters have stopped???? hahahaha
Nicholas said when he used to play football with Elvis he asked him about the fainters at his concerts. In all the years Elvis was around the fainters never stopped and the swooning. They were for real and the ones with Obama had to be a set up and they don't pay them anymore I guess. heh heh
Posted by Wild Thing at 04:50 AM | Comments (8)
---
Republicans Announce Convention Speaker Line-Up


The Republican National Convention announced its speaker roster today for the four days of the convention in St. Paul from Sept. 1-4.
The roster of speakers announced today includes John McCain, Mrs. Cindy McCain, 10 current and former Republican governors, five current and former U.S. Senators and two well-respected businesswomen.
According to the RNC, approximately 45,000 people will be in attendance
The overall convention theme is "Country First" with each day of the convention intended to "center on a touchstone theme that has defined John McCain's life and will be central to his vision for leading our nation forward as president" with themes of service, reform, prosperity, and peace.
Monday evening
• Joe Lieberman
• Gov. Arnold Schwarzenegger
• Vice President Cheney
• First Lady Laura Bush
• President Bush.

Tuesday
• Rudy Giuliani
• Mike Huckabee
• Fred Thompson
• Sarah Palin
• Jon Huntsman
• Linda Lingle
• Tom Ridge
• Rosario Marin
• Michael Steele

Wednesday• Mitt Romney
• Cindy McCain
• Meg Whitman
• Carly Fiorina
• Bobby Jindal
• Norm Coleman

• Prime time slot is reserved for the unnamed vice presidential nominee.

Thursday
• Tim Pawlenty
• Charlie Crist
• Sam Brownback
• Mel Martinez
then McCain takes the stage
.

The program of events is as follows:
Monday, Sept. 1
Service
"Love of country, my friends, is another way of saying love of your fellow countryman." —Sen. John McCain
John McCain's commitment to his fellow Americans, a commitment forged in service to his country, is one of the defining hallmarks of his life. Monday's events will highlight John McCain's record of service and sacrifice and reflect his commitment to serving a cause greater than one's own self-interest.
Speakers will include:
U.S. Sen. Joseph Lieberman (Conn.)
Gov. Arnold Schwarzenegger (Calif.)
Vice President Richard B. Cheney
First Lady Laura Bush
President George W. Bush
Tuesday, Sept. 2
Reform
"If you find faults with our country, make it a better one. If you are disappointed with the mistakes of government, join its ranks and correct them." —Sen. John McCain
John McCain's life is a testament to the fundamental truth that every American can be a force for change. A restless reformer who has dedicated his career to taking on special interests and the status quo, John McCain will deliver the right kind of change and reform to meet the great challenges of our time. On Tuesday, the convention program will underscore his vision of a government that is transparent, principled and worthy of the American people it serves.
Speakers will include:
Former New York City Mayor Rudolph W. Giuliani
Former Gov. Mike Huckabee (Ark.)
Former Gov. Tom Ridge (Pa.)
Gov. Sarah Palin (Alaska)
Gov. Jon Huntsman (Utah)
Rosario Marin, California Secretary of the State and Consumer Services Agency and former Treasurer of the United States
Former U.S. Sen. Fred Thompson (Tenn.)
Gov. Linda Lingle (Hawaii)
Former Lt. Gov. Michael Steele (Md.)
Wednesday, Sept. 3
Prosperity
"America's best days are still to come."—Sen. John McCain
The American story is one of perseverance. Even in the face of tough times, the ingenuity and spirit of the American people has ushered in a new era of prosperity. Wednesday's program will focus on John McCain's plans to get our economy back on track and continue our long tradition of meeting the challenges we face and using our prosperity to help others. The day will conclude with an address by the vice presidential nominee.
Speakers will include:
U.S. Sen. Norm Coleman (Minn.)
Meg Whitman, National Co-Chair for McCain 2008 and former President and CEO of eBay
Carly Fiorina, Victory '08 Chairman for the Republican National Committee and former Chairman and CEO of Hewlett-Packard Co.
Former Gov. Mitt Romney (Mass.)
Mrs. Cindy McCain
Gov. Bobby Jindal (La.)
Republican Party's Vice Presidential Nominee
Thursday, Sept. 4
Peace
"Our next president will have a mandate to build an enduring global peace on the foundations of freedom, security, opportunity, prosperity, and hope."-Sen. John McCain
John McCain understands the challenges that America faces in the world and the sacrifice necessary to defend our freedom in a way that few others can fathom. Thursday's events will reflect his vision of an America in pursuit of peace and seen as a beacon of goodwill and hope throughout the world. The evening will close with John McCain accepting the Republican Party's nomination for the Presidency of the United States.
Speakers will include:
Gov. Tim Pawlenty (Minn.)
Gov. Charlie Crist (Fla.)
U.S. Sen. Sam Brownback (Kan.)
U.S. Sen. Mel Martinez (Fla.)
John McCain
In the coming days, the 2008 Republican National Convention will announce additional speakers and program details.
About the Republican National Convention
The 2008 Republican National Convention will be held at Saint Paul's Xcel Energy Center from Sept. 1-4, 2008. Approximately 45,000 delegates, alternate delegates, volunteers, members of the media and other guests are expected to attend the convention. Minneapolis-Saint Paul is expected to receive an estimated $150-$160 million positive economic boost from the four-day event. For more information about the 2008 Republican National Convention, please visit our website at www.GOPConvention2008.com and join our social network sites on Facebook, MySpace, Twitter, YouTube and LinkedIn.""
.


Wild Thing's comment..........
I could list the ones I am disappointed in their being there but you all know already who they are. Like all the rino's and Lieberman is NO Zell Miller.
All I know for sure is we all need to pray for our country, for your troops and that if it is OK dear Lord to know there are those of us that do love America and have tried hard to wake people up including our political party. Amen
Posted by Wild Thing at 04:48 AM | Comments (8)
---
McCain Visits Oil Rig, Presses Obama on Offshore Drilling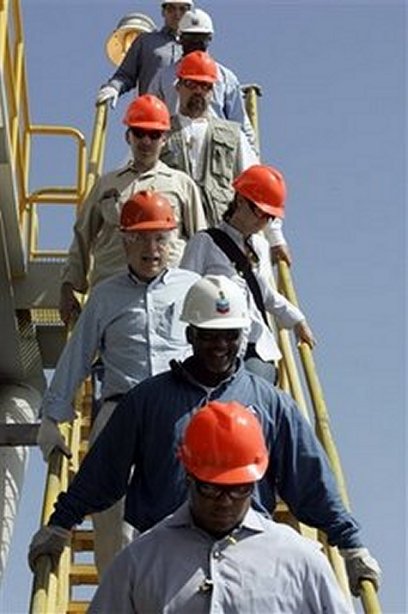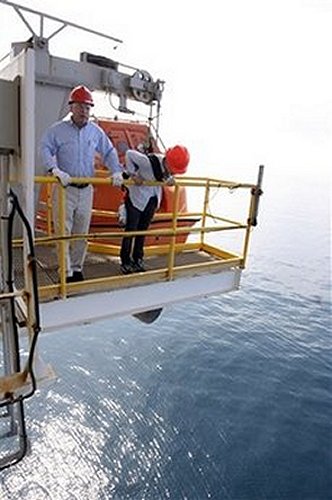 Republican presidential candidate, Sen. John McCain, R-Ariz., left, looks at the fish in the ocean with press secretary Brooke Buchanan during a tour the Chevron Genesis Oil Rig Platform in the Gulf of Mexico near New Orleans, La. Tuesday, Aug. 19, 2008
McCain visits oil rig, presses Obama on offshore drilling
As a dip in gas prices barely registers at the pump, presumptive Republican nominee John McCain continued his pressure on opponent Barack Obama over the politically popular policy of offshore drilling with a visit to an oil rig in the Gulf of Mexico.
"We need to start drilling offshore," McCain said Tuesday, standing on a Chevron oil platform that pumps out 10,000 gallons of oil and 15 million cubic feet of natural gas each day. "Sen. Obama opposes new drilling. He has said it will not 'solve our problem' and that 'it's not real.' He's wrong, and the American people know it. I hope he'll seize the opportunity to come out and pay a visit like this one and I think it would probably change his mind."
Both McCain and Obama opposed offshore drilling when the campaign began. But as prices at the pump reached $4 a gallon – and polls showed a significant majority of Americans favor the idea — both men shifted their positions.
The Arizona senator has embraced the policy. His fall rival says he remains personally opposed, but would consider legislation that includes a provision expanding the practice if the compromise was required to pass comprehensive energy legislation.
"Americans across our country are hurting, as we all know, because of the cost of energy," McCain said aboard the rig. "Gas prices are through the roof. Energy costs have seeped into our grocery bills, making it more expensive to feed our families. Now as we prepare for the winter, it's time for us to be more serious about our home heating oil needs…"
"New drilling has to be part of our energy solution," McCain said. "When I'm president there will be a whole more like this, not only here in the Gulf, but also off of our East and West Coasts."
McCain's original plans to visit an oil rig in the Gulf several weeks ago had to be scrapped because of Hurricane Dolly. During a Wednesday safety briefing on the rig McCain asked if anyone had ever fallen in the water. "Never," replied offshore installation manager Joe St. Ann. "Knock on wood."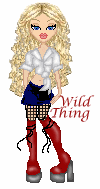 Wild Thing's comment............
"Both McCain and Obama opposed offshore drilling when the campaign began. But as prices at the pump reached $4 a gallon – and polls showed a significant majority of Americans favor the idea — both men shifted their positions."

But Obama shifted his position much later and only after he saw his poll numbers plummet because he supports the idiotic Dem energy policy. Obama's shift was "nuanced," while McCain is visiting the rigs.
I will always give credit to a person when they see what they are doing isn't working and they change their stand on something. McCain did this and lead the way, Obama was just a copycat.
Posted by Wild Thing at 04:47 AM | Comments (6)
---
Vote Democrat and Stay Poor
Tampa Taxi Driver explaining why he will be voting Republican! This was in Creative Loafing's "Political Whore" blog page.
Posted by Wild Thing at 03:45 AM
---
August 20, 2008
Obama: McCain 'doesn't know what he's up against'
Obama reminds me of this guy............... LMAO

Obama: McCain 'doesn't know what he's up against'
A combative Barack Obama said Tuesday that Republican John McCain "doesn't know what he's up against" in this election and challenged his rival to stop questioning his character and patriotism.
Obama, campaigning in a state where he hopes to become the first Democratic presidential candidate to win in more than three decades, implored his supporters to fight for the presidency.
"Our job in this election is not just 'win,' although I'm a big believer in winning," Obama said during the rally. "I don't intend to lose this election. John McCain doesn't know what he's up against."
"He can talk all he wants about Britney (Spears) and Paris (Hilton), but I don't have time for that mess," Obama said.
His remarks carried forward a theme of feisty campaigning he debuted earlier in the day.
Addressing the Veterans of Foreign Wars convention in Orlando, Fla., Obama reaffirmed his early opposition to the U.S. invasion of Iraq and said the strategy of sending in 30,000 additional troops last year had not produced the political reconciliation necessary to achieve lasting peace in the country.
"These are the judgments I've made and the policies that we have to debate, because we do have differences in this election," Obama told the veterans. "One of the things that we have to change in this country is the idea that people can't disagree without challenging each other's character and patriotism. I have never suggested that Sen. McCain picks his positions on national security based on politics or personal ambition. I have not suggested it because I believe that he genuinely wants to serve America's national interest. Now, it's time for him to acknowledge that I want to do the same.
"Let me be clear: I will let no one question my love of this country," Obama said to applause.
McCain stood before the same audience a day earlier and said Obama :
"tried to legislate failure" in the Iraq war and had put his ambition to be president above the interests of the United States. He said the Illinois senator did this by pushing for a timetable for withdrawal of U.S. combat troops from Iraq and by voting in the Senate against a major appropriations bill to help fund the troop increase.
Responding to Obama's comments, McCain spokesman Tucker Bounds said: "Barack Obama has made it clear that unconditional withdrawal in Iraq is more important to him than victory in Iraq. That's not a criticism of his patriotism, that's a criticism of his judgment."
A decorated Vietnam war veteran and member of the Senate Armed Services Committee, Arizona Sen. McCain has sharply questioned whether the 47-year-old Obama has the experience and character necessary to serve as commander in chief.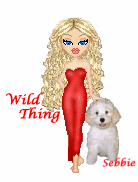 Wild Thing's comment..........
Is that - like - a threat? What the heck does that mean? This man is off his rocker...I'm telling you...we may witness a complete nervous breakdown before this is over. He's unstable!
Heck I question it too, so take that B. HUSSEIN Obama you ARE NOT Patriotic, not even in your dreams!
Obama is not not qualified to be John McCain's valet. Hussein is a sniveling twit .
Husseins is trying to be feisty after getting trounced at Saddleback. LMAO
A combative Barack Obama said Tuesday that Republican John McCain "doesn't know what he's up against" in this election and challenged his rival to stop questioning his character and patriotism.
What a tough guy! I'm sure McCain is shaking in his boots. LOL! Hey Obama that was 5 years in the Hanoi Hilton NOT the Hawaiian Hiltton. McCain knows what he is up against, Obama is a self-absorbed, socialist, with no core values.

"He can talk all he wants about Britney (Spears) and Paris (Hilton), but I don't have time for that mess," Obama said.
Now, is that any way to treat a Harvard education?
So B.Hussein Obama comes by his threats from his background. His Muslim background and relatives and friends.

Check out the link below........
OBAMA'S 'CLOSE FRIEND' A BLOODTHIRSTY MUSLIM EXTREMIST
Posted by Wild Thing at 02:55 AM | Comments (18)
---
Cross Us And We Will Crush You, Warns Medvedev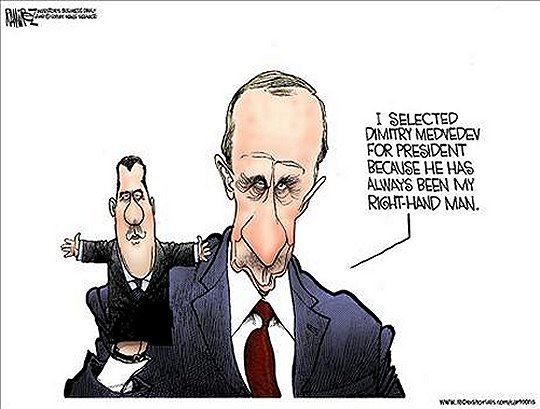 .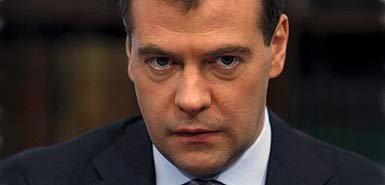 Cross us and we will crush you, warns Medvedev
Ceasefire latest: Russia stalls on Georgia pullout
President Medvedev of Russia yesterday promised a "shattering blow" against any foreign power that moved against Russian citizens.
The threat will compound the fears of former Soviet states, which are concerned that they could be next after Russia's attack on Georgia.
"If someone thinks they can kill our citizens, kill soldiers and officers fulfilling the role of peacekeepers, we will never allow this," Mr Medvedev told a group of Second World War veterans in Kursk. "Anyone who tries to do this will receive a shattering blow."
He continued: "Russia has the capabilities - economic, political and military. Nobody has any illusions left about that."
Russia's incursion into Georgia, and its reluctance to leave, has alarmed former Soviet states such as Ukraine and the Baltic states of Estonia, Latvia and Lithuania.
The war was designed in part to send a message to the former Soviet states that "you can't solve your problems by running to give the West a hug", Liliya Shevtsova, an analyst at the Carnegie Centre in Moscow, said.
At the start of the war, Mr Medvedev said it was his constitutional right to defend the "lives and dignity" of Russian citizens. Georgia's allies now fear that Russia will begin to throw its weight around in defence of the millions of ethnic Russians who live outside the motherland.
The break-up of the Soviet Union left a huge Russian diaspora outside the country. There are more than 8 million ethnic Russians in Ukraine, 4.5 million in Kazakhstan and 1.2 million in the Baltic states.
Russia justified its attack on Georgia by insisting that it was acting to protect the 90 per cent of South Ossetians who have Russian passports.
How many of the passports are genuine is another question, as the region has long been infamous for smuggling and counterfeit passports and dollars.
Yevgeniya Latynina, a columnist, wrote last week that when the South Ossetian leader, Eduard Kokoity, received his passport, he opened it to find that it contained the picture of Abraham Lincoln from a $5 note instead of his own photograph.
Viktor Yushchenko, Ukraine's reformist President, who visited Tbilisi last week to support President Saakashvili of Georgia, said that the use of Russian ships for a war violated Ukraine's neutrality and risked drawing it into conflict.
Ms Shevtsova, however, dismissed the idea that Russia might attack other countries.
"It is not possible," she said, arguing that Mr Medvedev's rhetoric was for internal consumption. "It would be suicide for Russia; it is just a show."
.


Wild Thing's comment..........
Dear Comrade Medvedev,
Bite Me.
Sincerly,
Me.
What's next? Will he start beating podiums with his shoe? ( channeling Khrushchev)
I wrote in another post how Russian passports had been handed out like candy to people, so this is true that many of the so called Russian passposts are not genuine. And Russia is trying to say they are. LOL
Posted by Wild Thing at 02:50 AM | Comments (10)
---
Buyer's remorse about Obama?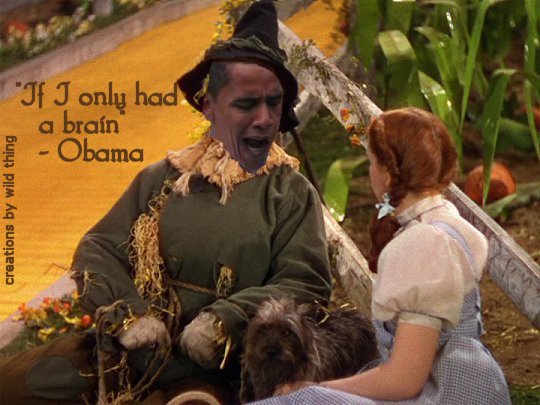 "If you can spare the hours,
I can tells ya why I cowers,
at the mention of McCain.
If I was any good at thinkin'
you might think that I was Lincoln,
if I only had a brain!"
"I can hear the right wing mutters,
that all I does is stutters,
'cause I did too much cocaine!
If I could give a simple answer,
I wouldn't be the artful dancer,
if I only had a brain!"
.
Buyer's remorse about Obama?
Public wary of 'amateur president'
Washington Times for complete article

As we approach the final weeks of the 2008 presidential election, it is quite possible that the Democratic nominee, Sen. Barack Obama, will be elected to the highest office in the nation. The real consequences of this are difficult to know in advance, but there are some notable qualities of the Obama candidacy beyond the fact that he would become the first African American to become president of the United States.
I think the most notable is the fact that, considering his experience, Mr. Obama would be the first "amateur" to reach the Oval Office. Technically speaking, Mr. Obama is not a pure amateur, having served in the Illinois state Senate, and completed three years of his first six-year U.S. Senate term. But compared to every other major party candidate for president in the past 100 years, with the exception of 1940 Republican nominee Wendell Willkie, he has the slightest political background of any serious aspirant.
In Mr. Obama, whose primary background in politics was as a community organizer in Illinois, there is little executive experience on which to judge how he might govern. His skillful use of the caucus-system aspect of the presidential nominating process, and his endurance through a late resurgence of his major Democratic opponent in the closing primaries tell us that he has excellent political talent. His oratory before large crowds and record-breaking fundraising ability reinforces these campaign skills.
On the other hand, his behavior and response to the recent international crisis following the Russian invasion of Georgia, indicates his lack of experience in foreign affairs. His public comments were those of an amateur statesman, especially in contrast to his Republican opponent, Sen. John McCain, who had a sober, thoughtful public response.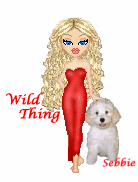 Wild Thing's comment............
There has been so much media hype on Hussein I keep wondering why or when people will tire of having Obama shoved at them.
I worry about Obama and his potential to do heavy damage to our Constitutional republic. He is an angry guy who is used to getting his way no matter what he has to do.
Posted by Wild Thing at 02:48 AM | Comments (12)
---
Red State Update at Saddleback Forum
Red State Update at Saddleback Forum Pt. 1
Pt. 2-Red State Update at Saddleback Forum
Posted by Wild Thing at 01:47 AM | Comments (2)
---
What Has Obama Accompolished ~ LOL

Wild Thing's comment........

LOL this is so funny. Does Soros think anyone with a brain will not see what a fool Soros's money has paid for?
Posted by Wild Thing at 01:45 AM | Comments (6)
---
August 19, 2008
DNC Credential Design Questioned ~ Democrats Are NOT Patriotic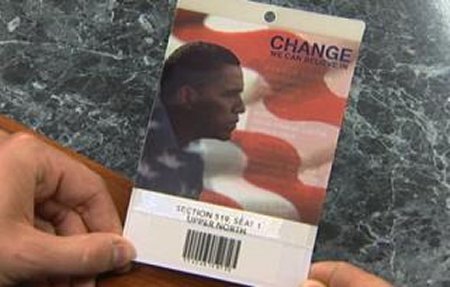 Viewers question credential design .....DNC attendees have holograms in hand
The tickets are for Obama's speech at INVESCO Field.
Some viewers contacted 9NEWS Saturday, questioning the design of the credentials to see Sen. Barack Obama accept the Democratic Party's presidential nomination at INVESCO Field at Mile High.
The viewers say with the stars and blue field in the lower left corner, it looks like an upside down American flag. Published flag etiquette states the stars should always be displayed in the upper left corner. An upside down flag represents an international symbol of extreme distress.
Matt Chandler with the Obama campaign says the flag is not upside down. He says it is a stylized flag designed to blend the stars on Senator Obama's shirt with the flag blowing in the wind.
Natalie Wyeth with the Democratic National Convention Committee sent 9NEWS the following statement Saturday night:
"The DNCC community credentials incorporate patriotic design elements. They do not depict an actual American flag. The DNCC has full and complete respect for the flag and all rules of display."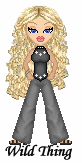 Wild Thing's comment...........
I am so sick of this anti-American actions, and words too from the left!!!
So the design with flag elements, not a real flag. Silly me - I interpreted it as an actual upside down flag.
How tone deaf are these people, anyway??
"The DNCC has full and complete respect for the flag ...."
Sure long as they can burn them.
An upside down flag, if I recall correctly, is a distress signal.
How else can they insult America? It just never ends! Democrats can't take a single breath of air without insulting this country.

Posted by Wild Thing at 02:55 AM | Comments (12)
---
Some Dems In House Looking Forward To Voting For Hillary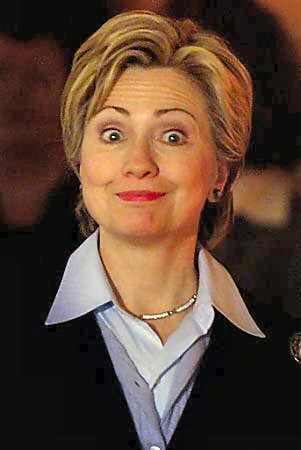 Rep.: Half of House Dems may vote Hillary at DNC

Rep. Loretta Sanchez says she's happy for the chance to vote for Hillary Rodham Clinton at the Democratic National Convention — and she predicts that as many as half of the Democrats in the House could join her.
Just how many former Clinton supporters will vote for the former first lady during the symbolic first ballot is anybody's guess, but each of them will be called upon to do so — whether they want to or not.
On Friday, the Obama campaign confirmed that the floor vote in Denver, intended to assuage Clinton supporters still stewing over her narrow loss, will be conducted as a state-by-state roll call. Under proposed convention bylaws, delegates would be forced to register their votes on a tally sheet with the convention secretary — the rules could be altered or suspended before the start of the convention.
"By putting her name in nomination, you're putting people on the spot," said former delegate counter Matt Seyfang, adding a second potential drawback: "Having a roll call ... just chews into your broadcast time."
Lower-key options were available. For example, Clinton's name could have been entered into nomination, followed by laudatory speeches, ending with her release of delegates to Obama and proposal that he be nomination by acclamation, Seyfang said.
Said Sanchez: "I believe there are a lot of supporters for Hillary among the superdelegates, especially now that they've agreed to place her name in nomination. I think half the House Democrats would probably be Hillary supporters, especially women. ... I felt she was the most experienced and the best candidate and I still feel that way."
A longtime Clinton adviser said it was "crazy" to guess at numbers but estimated that the former first lady would garner between 600 and 1,200 delegates — considerably short of the approximately 1,800 she had collected at the time of her departure from the race in early June.
"It's a bizarre strategy," said one Democratic strategist of the roll call. "It could backfire and show that her influence is waning. Chances are, she's not going to have as many delegates vote for her on the floor as she had in the primary."
Indeed, many Hillary diehards, including at least one member of the New York delegation, are reluctant to vote for Clinton after switching over to Obama.
"I think that most superdelegates, including myself, are going for Obama," said New York Rep. Anthony Weiner, who campaigned with Clinton around the country. "I made my decision for Obama, and I'm not switching again."
Other onetime Clinton backers are reluctant to reverse course for fear of angering their black constituents.
"My boss is totally conflicted about it — and pissed Hillary is putting us in this position," said a congressional staffer for another New York House member. "We still haven't made up our mind and I don't know when we are going to."
Another New York delegate, speaking on condition of anonymity, predicted that as much as 30 percent to 40 percent of the New York delegation would pick Clinton over Obama during the symbolic vote.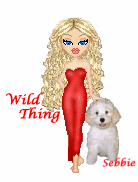 Wild Thing's comment...........
Verrrrry interesting, well it will not be dull that's for sure. hahahaha
Posted by Wild Thing at 02:50 AM | Comments (11)
---
Obama's Islamist Problem
Obama's Islamist Problem
Democratic presidential candidate Barak Obama's appearance before a large evangelical congregation in Orange County over the weekend underscored an evident imperative of his campaign: Emphasize his Christian faith and put to rest insistent rumors that he secretly adheres to the Islamic creed of his father and youth.
The effort to minimize any grounds for fearing Obama has an abiding, if covert, attachment to Islam has prompted him to risk offending Muslims in order to avoid off-message controversies and photo ops. It is, therefore, curious in the extreme that he is giving a prominent role at next week's Democratic convention to a leader of an organization identified by the Department of Justice as a Muslim Brotherhood front organization and an unindicted co-conspirator in a terrorism financing conspiracy.
Dr. Ingrid Mattson is the president of the Islamic Society of North America (ISNA), an organization created by the radical, Saudi-financed Muslim Students Association. She will represent the Muslim community at the first-ever interfaith prayer service at a Democratic nominating convention.
Now, we know from the Holy Land Foundation (HLF) trial that ISNA is one of many Muslim Brotherhood-affiliated groups operating in America. We also know from a Brotherhood document entered into evidence in that case (which is currently being retried after the first prosecution resulted in a mistrial) that,
"The work [of Brotherhood members] in America is a kind of grand jihad in eliminating and destroying the Western civilization from within, and 'sabotaging' its miserable house by their hands and the hands of believers so that it is eliminated and God's religion is made victorious over all other religions."
The question is why would Barak Obama's campaign – which has prevented Muslim women wearing headcoverings from being in the background of photographs with the candidate and which recently fired a Muslim-outreach coordinator who had ties to another unindicted HLF co-conspirator – allow itself to be put in such company?
Presumably, the response will be one heard from the Bush administration: ISNA is a large, "mainstream" Muslim-American organization that is an appropriate vehicle for outreach to that community. In fact, Deputy Secretary of Defense Gordon England and former Under Secretaries of State Nick Burns and Karen Hughes are among the senior U.S. government officials who have lavished praise on the group and legitimated ISNA by meeting with Dr. Mattson and others.

The difference is that, for whatever reason, Sen. Obama clearly is exercising care about his public associations with Muslims. Given that, one would think that he would want, in particular, to avoid any actions that could be described as a "third term" for a Bush administration that has repeatedly embraced and allowed itself to be influenced by Muslim Brotherhood fronts.

Certainly, such would seem to be the message of Sen. Obama's cashiering of Mazen Asbahi, his campaign's erstwhile Muslim coordinator. The problem was not simply that Asbahi had served on a board with Jamal Said, who the government chose not to indict but nonetheless implicated in the HLF racketeering conspiracy in support of the terrorist group, Hamas.

It was that the board on which Messrs. Asbahi and Said served was for a company owned by yet another Saudi-funded, Brotherhood front and un-indicted coconspirator: the North American Islamic Trust (NAIT). The company, Allied Asset Advisors, is, as the Wall Street Journal put it: "a subsidiary of the North American Islamic Trust…which is supported financially by the government of Saudi Arabia, holds title to many mosques in the U.S. and promotes a conservative brand of Islam compatible with the ideology of the Muslim Brotherhood and also akin to the fundamentalist style predominant in Saudi Arabia." NAIT is, in other words, a powerful instrument in the Islamists' campaign to dominate and radicalize the Muslim community in America. ISNA's Dr. Mattson is an ex officio member of the NAIT board of directors.
Another problem for Sen. Obama would have been that Allied Asset Advisors is one of a growing number of companies that engages in Shariah-Compliant Finance (SCF). This practice ostensibly eschews investments involving interest, pork, gambling and other activities considered impure by authoritative Shariah advisors.
Far from being just one of many religious-based "socially responsible" investing options, however, SCF is a vehicle for legitimating the Islamists' repressive, totalitarian Shariah code and establishing its seditious tenet that Muslims here will not be governed by the U.S. Constitution and laws.
Whatever the reasons for the Democratic presidential candidate's sensitivities about the Islamic faith, he has an obligation to make clear his attitude towards the Muslim Brotherhood, its mission in America and his willingness to be associated with its front organizations.
It is still the case that most Muslims in this country do not want any part of Shariah law. It behooves Sen. Obama to make known now whether he is willing to embrace those who do, and his true attitude towards their ambition to impose the Islamists' barbaric code here through such subterfuges as Shariah-Compliant Finance.

.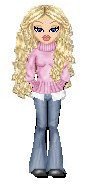 Wild Thing's comment..............
I honestly believe Obama's Primary religion is "OBAMA!" I believe Obama's mind is so shallow and infintile and his ego so deliriously beserk, that he can only worship himself, the delusionsionally warped Osama Obama HUSSEIN!
But the evidence supports that Obama is Muslim inside and Muslim outside. His Mentor Rev. Wright is now proven to have been a Black Muslim and a close follower and associate of Loius Farrakkon before founding his "Christian Church". My proof was when Quaddaffi of Libya came out and declared
Obama a Great Prophet of Islam and an Excellent Muslim.
More evidence click and scroll down
Posted by Wild Thing at 02:47 AM | Comments (17)
---
Obama's Rapid Response Backfires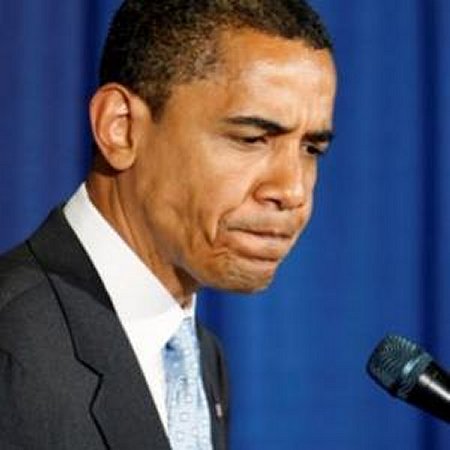 Obama's Rapid Response Backfires
Barack Obama's fierce attack on Jerome Corsi's best-selling book, "The Obama Nation," has backfired. He has been forced to confirm things he'd hoped would stay buried.
Obama, for example, for the first time has acknowledged that the mysterious "Frank" in his 1995 autobiography, "Dreams From My Father," is in fact Communist Party USA member Frank Marshall Davis, who during the height of the Cold War was investigated by both the FBI and Congress as a pawn of Moscow.
As we've noted, the late Davis was Obama's early mentor with whom he shared whiskey and rage while growing up in Hawaii. The militant black poet influenced the young Obama's decision to become a pro-labor community organizer and agitator in his hometown of Chicago.
Corsi writes about Davis in his critical new book, "The Obama Nation," which has hit No. 1 on the New York Times best-seller list. In an unusual 40-page rebuttal posted on his campaign Web site, Obama tries to smear the entire book as a "series of lies."
Only, Corsi's book is basically a critique of Obama's own first book, "Dreams From My Father," written in 1995. It finds hole after hole in the narrative. Dates don't add up. Stories don't square with reality. Identities of central characters like Davis are hidden from view.
In his angrily worded report, Obama attempts to play down the influence Corsi says Davis had on him. But he doesn't dispute anything the book documents about Davis' un-American activities with the Soviets.
Instead, Obama takes issue with Corsi claiming Davis' angry poems provided "a voice for Obama's black rage." He calls it a "lie."
In fact, Obama's own words appear to support the claim. On Page 171 of "Dreams," Obama flies into a fit over chronic black poverty in Chicago's South Side, blaming whites who took flight to the crime-free suburbs and took jobs with them. He's overcome by the same black rage Davis radiated in his Waikiki bungalow years earlier.
Obama took to heart Davis' advice to "keep your eyes open" to signs of institutional racism. He became race-conscious like never before. He admits he never "let it go," even when he could see that overt racism was a thing of the past.
But that wasn't even the point Corsi was making in his section on Davis, which he subtitled "Obama's Communist Mentor." The issue of black rage was a side point. The main point is Davis' communist influence, something voters have a right to know more about.
Obama in his rebuttal leaves that point completely unaddressed. He doesn't want to go there — for obvious reasons.
Obama's rapid response to Corsi's alleged "swift-boating" backfires again in the same report when he defends his wife, Michelle, against the charge that she was influenced by another black Marxist revolutionist, Stokely Carmichael, in formulating her Princeton thesis on black separatism.
Again, Obama calls it a "lie." But turning to Page 139 of his memoir, "Dreams," we find that he himself was inspired by Carmichael, a civil rights leader turned militant black nationalist. Changing his name to Kwame Toure, Carmichael wrote a book on "Black Power" that propounds an explicitly socialist, Pan-African vision.
While living in New York, Obama says he was in "search of some inspiration" one day and "went to hear Kwame Toure, formerly Stokely Carmichael of SNCC and Black Power fame, speak at Columbia." He clearly knew the background of the source for his inspiration that day.
"At the entrance to the auditorium, two women, one black, one Asian, were selling Marxist literature and arguing with each other about Trotsky's place in history," he wrote, describing the scene. "Inside, Toure was proposing a program to establish economic ties between Africa and Harlem that would circumvent white capitalist imperialism."
Obama, who has family in Kenya, is proposing his own bailout of Africa.
Obama wants to run from this radical past, but his first memoir — written long before he had serious White House aspirations — is a peek into his soul. "Dreams" has become more of a nightmare, and he may just come to regret ever writing it.
.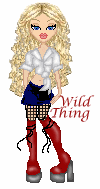 Wild Thing's comment..........
This is an excellent article.
LOL I like this part of the article:
"Corsi writes about Davis in his critical new book, "The Obama Nation," which has hit No. 1 on the New York Times best-seller list. In an unusual 40-page rebuttal posted on his campaign Web site, Obama tries to smear the entire book as a "series of lies."

Only, Corsi's book is basically a critique of Obama's own first book, "Dreams From My Father," written in 1995. It finds hole after hole in the narrative. Dates don't add up. Stories don't square with reality. Identities of central characters like Davis are hidden from view."
Hahahaha A 40 page rebuttal, that is a lot of work for someone that is not guilty.
HELLO Obama, this is Houston Control....YOU have a problem.
heh heh
Posted by Wild Thing at 02:45 AM | Comments (8)
---
August 18, 2008
Tropical Storm or Hurricane Fay Not Sure Yet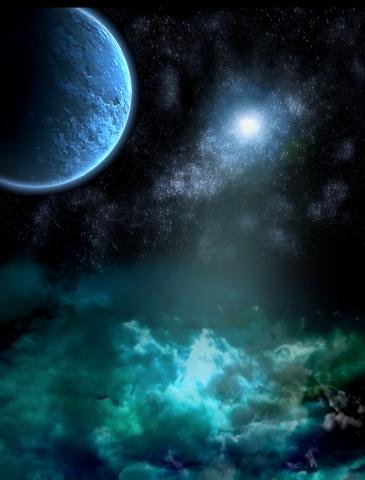 This is the tracker I have been using, it has a little animated arrow thing that follows the storm.
http://www.local10.com/hurricanetracker/index.html
This is weird, there are two stroms, like bookends. Maybe the storm in the Gulf will bump into Fay and stop her. Just a guess anyway.
http://www.ssd.noaa.gov/goes/east/gmex/loop-avn.html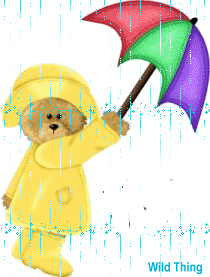 Hi everyone,
As long as I can get online I will have a posts for you in the morning. If not the storm Fay will be the reason. I am posting this now just to let you know. We are one hour south of Tampa, in a city called Sarasota. It is on the West coast of Florida.( the Gulf of Mexico side) ......... Linda is on the East coast side ( the Atlantic Ocean side) so we aren't sure which side the storm will decide to go to.
We have water, batteries and everything is all set. Things are cleared off the patio. We live 10 miles inland from the Gulf, out in the country in a wooded area.
Take care everyone,
((((hug ))))
Chrissie
Posted by Wild Thing at 08:14 PM | Comments (10)
---
300,000 Flee As Jihadis Attacked
300,000 flee as jihadis attacked
A human tide of more than 300,000 civilians has fled the al-Qa'ida badlands, amid indications that the fighting there has reached unprecedented levels, with the Pakistani army using massive firepower to attack jihadi militant strongholds.
Helicopter gunships, fixed-wing strike aircraft, tanks and heavy artillery have been used in the onslaught that followed the visit last month by Prime Minister Yousuf Raza Gilani to Washington, where he was berated for Pakistan's failure to wipe out the militants.
The offensive runs counter to perceptions that Pakistan's new civilian Government is "soft" on Islamic extremism.
This will reassure Washington, whose ally in the war in terror for the past nine years, President Pervez Musharraf, was given by the Coalition Government until midnight last night (4am today AEST) to resign or face impeachment proceedings beginning tonight in the National Assembly.
Pakistani television showed thousands of civilians caught in the crossfire streaming out of the Bajaur, Mohmand and Kurrum agencies during the fighting estimated to have killed more than 500 militants. Tens of thousands of people are camping on the perimeter of Peshawar, the capital of the North West Frontier Province, and some have reached Rawalpindi, the garrison city adjoining Islamabad.
New security tsar Rehman Malik, the architect of the get-tough policy against the militants who have over-run the Federally Administered Tribal Areas, said at least 220,000 civilians had been displaced. But welfare agencies said the figure was probably well in excess of 300,000.
An NWFP government official appealing for federal assistance said yesterday: "There are hundreds of thousands of people waiting for help and we don't have the wherewithal to deal with the situation."
In a speech to the National Assembly on Saturday, Mr Gilani declared the Government was determined to re-establish control in the tribal areas bordering Afghanistan. "We will establish the writ of the Government at all costs (as) a parallel government cannot be tolerated," he said.
The offensive, launched without fanfare to avoid conveying the notion it was done at the insistence of Washington, is targeting primarily Bajaur, slated as the most likely hiding place of Osama bin Laden. Fierce fighting is also under way in areas of the NWFP where many of Pakistan's nuclear weapons are believed to be based.
Dr Malik, who accompanied Mr Gilani to Washington, estimated yesterday that a force of more than 3000 well-armed and highly trained al-Qa'ida militants were operating in Bajaur.
"We will wipe them out," Dr Malik said. "We will not surrender before them."
Fighting in the NWFP's strategic Swat Valley, 250km north of Islamabad, is at unprecedented levels.
Relations between Washington and the new administration in Islamabad had been tense, particularly over the case of accused terrorist Aafia Siddiqui.
The Pakistani neuroscientist appeared in a New York court this month after disappearing with her three children in Karachi five years ago. US officials say Ms Siddiqui, 36, is a significant al-Qa'ida figure. Human rights workers argue she was abducted in a joint Pakistani-US operation under the Musharraf regime.
The Pakistani parliament's foreign affairs committee vowed on Saturday to visit Ms Siddiqui in her New York cell, as well as Pakistanis held at Guantanamo Bay.
Talks between Mr Musharraf's aides and the coalition Government, which set today's deadline, aimed at securing him indemnity from prosecution have been hampered by the opposition of Nawaz Sharif, the prime minister deposed by Mr Musharraf in a coup. Saudi Arabia, the US and UK have sent envoys to resolve the crisis.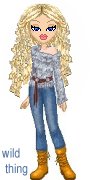 Wild Thing's comment........
Pakistani television showed thousands of civilians caught in the crossfire streaming out of the Bajaur, Mohmand and Kurrum agencies during the fighting estimated to have killed more than 500 militants.
Why didn't they do this 7 years ago??
I heard their top military leader is very close to us. I hope so since we probably have some people in there or very close. Prayers up again for our military beyond the frontline.
Posted by Wild Thing at 07:55 PM | Comments (4)
---
President of Pakistan Pervez Musharraf Resigns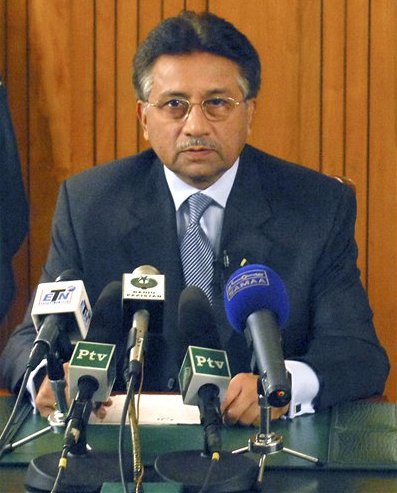 President Pervez Musharraf of Pakistan announced his resignation Monday, the eve of an impeachment procedure announced by his government.

He went on national TV to say that while he was confident the charges would not stand, this was not the time for more confrontation.
He is accused of violation of the constitution and gross misconduct.
The Speaker of the Pakistani Senate, Muhammad Mian Sumroo, automatically took over as caretaker president.
The key issue now is whether the ruling coalition, which had pushed for Mr Musharraf's exit since winning the February election, can stay united and deliver on its promises, he says.
It will have to agree on a new president, then persuade allies like the US and UK, and its neighbours like India and Afghanistan, that it will be committed to defeating militancy and terrorism, our correspondent adds.
International reaction to Mr Musharraf's resignation was mixed, with the US hailing him as strong ally against terrorism but Afghanistan welcoming his departure as a boost to democracy.

Wild Thing's comment........
I am worried about our troops. I think this will make it worse for them and give a go ahead even more to the enemy. The world has gotten very volatile. At some point in the (near) future, Pakistan will become an islamic fundamentalist state, and radical islam will have its nukes.
This ia all another good reason why reason for NObama.
Posted by Wild Thing at 06:55 PM | Comments (4)
---
Putin and Georgia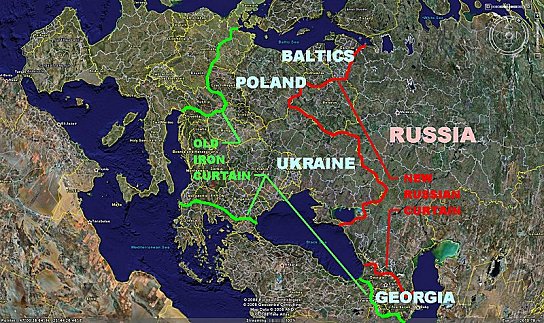 After the collapse of the Soviet Union, as the following map shows, that buffer for Russia disappeared.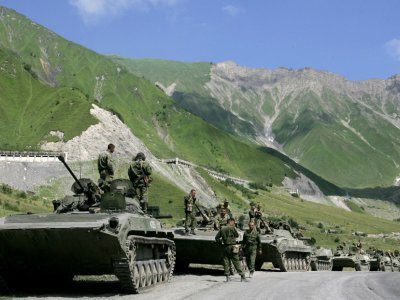 August 8th and 9th , 2008
On August 8th, large columns of Russian tanks, armored personnel carriers, and infantry entered Georgia into South Ossetian through the Roksky Tunnel that penetrates the Caucasus Mountains. These forces, with heavy Russian air support, drove south and after a fierce counterattack by the Georgians was defeated, drove towards the Sough Ossetian capitol of Tskhinvali. Georgian air fileds and military bases all around the country came under attack, during which between 4 and 10 Russian aircraft were shot down.
In Beijing, where both U.S. President George Bush, and Russian Prime Minister (and defacto leader in many eyes) Vladimir Putin, were in attendance, as word of the Russian attack was reported, President Bush immediately held tense, one on one discussions with Prime Minister Putin in Beijing to try and immediately difuse and resolve the crisis.
.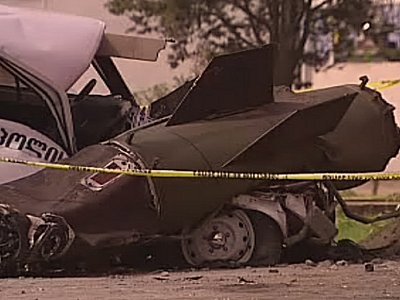 August 9th, and 10th 2008
On August 9th the Russian troops opened a second front in Georgia by landing troops in amphibious operations and air transport landings in the other Georgian seperatist province of Abkhazia. These forces, assisted by Russian paratroopers, immediatly began pushing eastward and southward, dividing the country.
The rapid availability and deployment of these two invasion forces by Russia makes it clear that the Russian government had planned, deployed and staged these operations well in advance, raising the natural question regarding whether Russia instigated the attacks/shelling of Georgian villages and positions by South Ossetian forces to provoke the response by Georgia, which Russian then used as a pretext for an already planned invasion.
Fighting was fierce, Russian progress was rapid. On the 9th and 10th the Russians drove into and through the South Ossetian capitol of Tskhinvali, having used air support to loosen Georgian positions and then drive them back with their armored columns, artillary, and the use of SS-21 ballistic missiles.
President Bush statement:
"I'm deeply concerned about the situation in Georgia. The United States takes this matter very seriously. The attacks are occurring in regions of Georgia far from the zone of conflict in South Ossetia. They mark a dangerous escalation in the crisis. The violence is endangering regional peace. Civilian lives have been lost, and others are endangered. This situation can be resolved peacefully. We've been in contact with leaders in both Georgia and Russia at all levels of government. Georgia is a sovereign nation and its territorial integrity must be respected. We have urged an immediate halt to the violence and a stand-down by all troops. We call for an end to the Russian bombings, and a return by the parties to the status quo of August the 6th. The United States is working with our European partners to launch international mediation, and with the parties to restart their dialogue. Russia needs to support these efforts so that peace can be restored as quickly as possible. "
.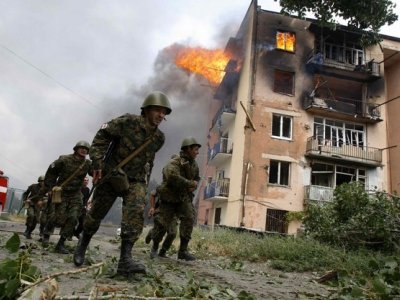 August 10th and 11th, 2008
By the end of August 10th and into the 11th the Russians had driven into the Georgian city of Gori in the north, after significant air raids there had destroyed buildings, terrorized the population, and softened up the Georgian defensive positions. The Russians also drove on the Port of Poti and the town of Senaki in the west.
A couragous, but doomed attack by four small Georgian missile boats on the large Russian Black Sea fleet failed and two Georgian boats were destroyed in the exchange. Reports indicated that the small force may have damaged the Russian flagship, the guided missile cruiser, Moskva, causing her to withdraw, but those reports were not confirmed by the Russians.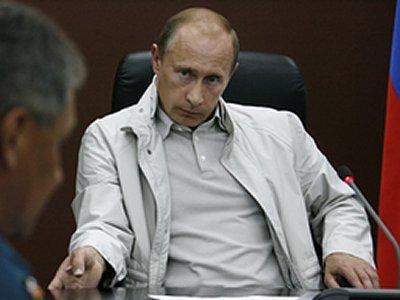 RUSSIAN PRIME MINISTER VLADIMIR PUTIN Statement, August 10, 2008
"The actions of the Georgian leadership in South Ossetia are a crime and foremost they are a crime against their own people because a deadly blow has been delivered to the territorial integrity of Georgia, which brings massive damage to its national identity.

It's hard to imagine after all that had happened and after all that is still happening they'll be able to convince South Ossetia to be part of Georgia.

In my opinion they are already elements of some kind of genocide of the Ossetian people. I think it would be correct if you instruct the military prosecutor to document all such incidents. "
By August 11th the Georgian military was retreating from Gori and falling back towards the capitol of Tiblisis where the President had called for a defense in depth of the city. Airbases around Tiblisi were under Russian air attack, as was the Presidential residence where the Georgian President had to be quickly evacuated from one press conference when air raid warning went off. The Russians were apparently at that point targeting the Georgian President.
Conditions in the west deteriorated as well. The major east-west higway in the nation had been cut, severing the west side of the country from the east side. Access to the Sea had been cut by Russian forces as well. Conditions for the Georgian Republic appeared very grave.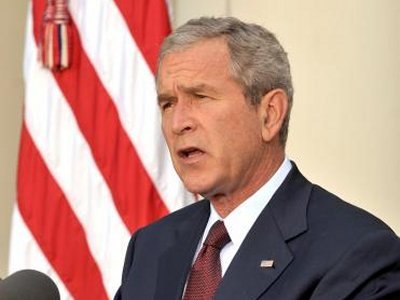 Some of President Bush's statement on August 11th, 2008
"I just met with my national security team to discuss the situation in Georgia.

I am deeply concerned by reports that Russian troops have moved beyond the zone of conflict, attacked the Georgian town of Gori, and are threatening the Georgia's -- Georgia's capital of Tbilisi. There's evidence that Russian forces may soon begin bombing the civilian airport in the capital city.

If these reports are accurate, these Russian actions would represent a dramatic and brutal escalation of the conflict in Georgia. And these actions would be inconsistent with assurances we have received from Russia that its objectives were limited to restoring the status quo in South Ossetia that existed before fighting began on August the 6th.

It now appears that an effort may be underway to depose Georgia's duly elected government. Russia has invaded a sovereign neighboring state and threatens a democratic government elected by its people. Such an action is unacceptable in the 21st century. "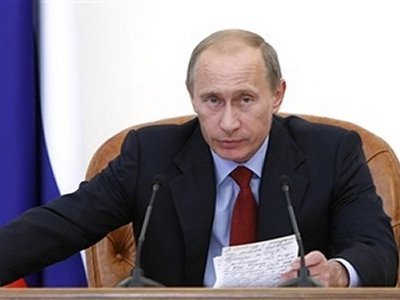 RUSSIAN PRIME MINISTER VLADIMIR PUTIN Statement, August 11, 2008
"It's a pity that some of our partners, instead of helping, are in fact trying to get in the way. I mean among other things the United States airlifting Georgia's military contingent from Iraq effectively into the conflict zone. This of course will not change anything.

The very scale of this cynicism is astonishing -- the attempt to turn white into black, black into white and to adeptly portray victims of aggression as aggressors and place the responsibility for the consequences of the aggression on the victims.

Of course, Saddam Hussein ought to have been hanged for destroying several Shiite villages. And the incumbent Georgian leaders who razed ten Ossetian villages at once, who ran elderly people and children with tanks, who burned civilian alive in their sheds — these leaders must be taken under protection. "

.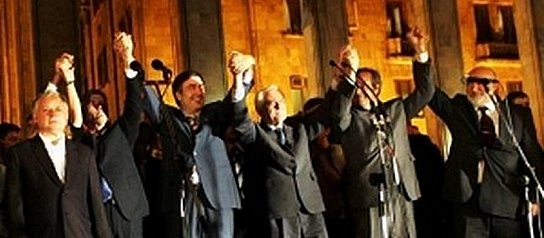 August 12th, 2008
On August 12th a singular surprisingly effective diplomatic effort took place.
This action was coinducted by the five Presidents of European Union nations, all whom had suffered under Soviet domination, and all who bordered the current Russian sphere of influence and control.
These five personally came to the aid of Georgia on August 12th and 13th. The five Presidents, Ukraine's Viktor Yushchenko, Poland's Lech Kaczyski, Lithuania's Valdas Adamkus, Latvia's Valdis Zatlers, and Estonia's Toomas Hendrik Ilves , while Russia was still bombing Georgia, and clearly targeting the Georgian President Saakashvili, flew to Tiblisi, Georgia on August 12th and personally sought out and stood with President of Georgia.
They risked their lives in defiance of the Russian military and leadership, in essence placing themselves directly in harms way as a shield to the Georgian President.
From that moment, the tempo of war seemed to ease as the Russian juggernaught, to that point seemingly unstoppable, paused to consider the ramifications of this event and the location of these Presidents in the Georgian capitol.
It should be recorded as one of the most couragous acts by actual leaders of nations in several generations...and it worked.
In addition, French President Sarkozy, as the current President of the European Union, worked tirelessly to broker a cease-fire agreement in Moscow that day that both nations would sign.


.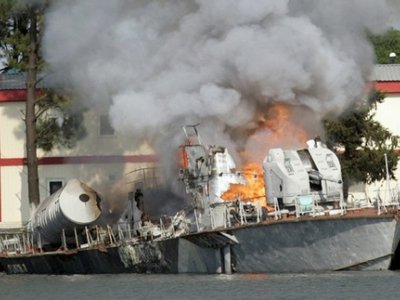 August 13, 2008
After the announcement of the agreement in Moscow, the French President flew to the European Union and then on to Tiblisi.
But, despite the asurance of the Russians, their troops continued to move towards the Georgian capital and continued operations in other parts of Georgia, occupying and destroying bases, demolishing naval vessels, and destroying infrastructure while the Georgian troops withdrew.
U.S. President George W. Bush scheduled and delivered a national message regarding the current status of the Republic of Georgia crisis.
snipet from his speech:
"We expect Russia to honor its commitment to let in all forms of humanitarian assistance. We expect Russia to ensure that all lines of communication and transport, including seaports, airports, roads, and airspace, remain open for the delivery of humanitarian assistance and for civilian transit. We expect Russia to meet its commitment to cease all military activities in Georgia. And we expect all Russian forces that entered Georgia in recent days to withdraw from that country.

As I have made clear, Russia's ongoing action raise serious questions about its intentions in Georgia and the region. In recent years, Russia has sought to integrate into the diplomatic, political, economic, and security structures of the 21st century. The United States has supported those efforts. Now Russia is putting its aspirations at risk by taking actions in Georgia that are inconsistent with the principles of those institutions. To begin to repair the damage to its relations with the United States, Europe, and other nations, and to begin restoring its place in the world, Russia must keep its word and act to end this crisis. "
.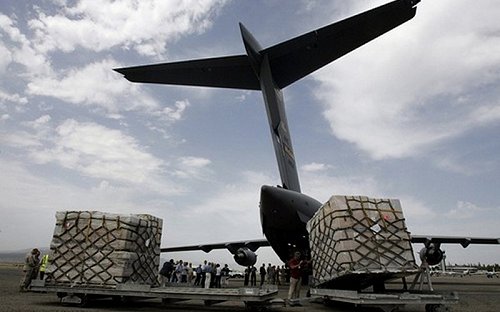 August 14, 2008
By the end of the day on August 14th, the Russians advanced to within 30 miles of Tiblisi, blocking the main east-west highway there just beyond the Georgian positions. They also destroyed the major east-west railway near there, destroying a major bridge for that railway. Aside from this however, no further major combat occurred between the two forces, and Georgian forces tensely manned their own positions, watching the Russians.
Also on August 14th, true to President Bush's word, US Air Force C-17 transport planes began arriving in Georgia, unloading supplies, and also U.S. military teams to assess the needs of the Georgians and prepare for the logistical efforts to meet those needs. The thousands of pounds of humanitarian supplies for the Georgian people were much needed and welcomed, as were the U.S. military personnel. An ongoing effort of 2-3 planes a day will provide the logistical and humanitarian needs of the Georgians, which will be augmented later by US Navy vessels coming in on Georgia's west coast. The Georgian people were beside themselves with joy and relief to see US military aircraft and personnel arriving. They knew full well, like with the five Presidents who came to stand vigil with them, that these troops and this equipment, in addition to the humanitarian effort, provide another shield from Russian attack and all the more opportunity to diffuse the crisis.
.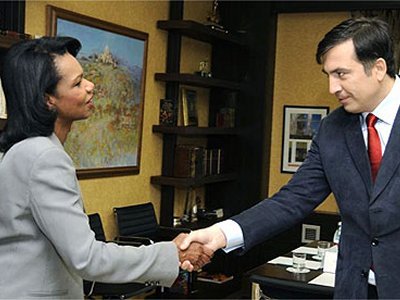 August 15, 2008
Late on August 15th, after a five-hour consultation with the U.S. secretary of State, Rice, the President of Georgia, Mikheil Saakashvili , signed the cease-fire agreement brokered by the French President with the President of Russia. Russian troops had moved to within 30 miles of the capital where that tense standoff with Georgian military continued.
.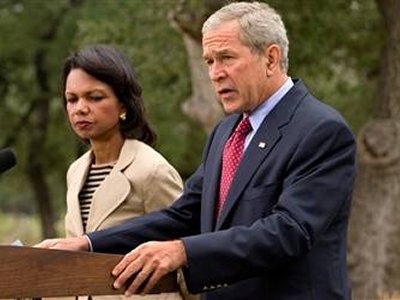 August 16, 2008
On August 16th, in the morning, Russian President Medvedev officially signed the European Union brokered cease-fire agreemnent.
Under the terms of the agreement, 1500 Russian troops will remain in the Georgian separatist provinces of South Ossetia and Abkhazia and can patrol a buffer zone of five miles outside of those provinces but cannot patrol in Gori and other Georgian cities or hamper aid distribution or control ports, highways or railroads. The Russians will remain until a group of international peacekeepers is identified, accepted, and deployed to the two Provinces.
In the mean time, French President Sarkozy, in his role as the President of the European Union, was working to provide peacekeepers to the Georgian seperatist provinces as soon as possible.
.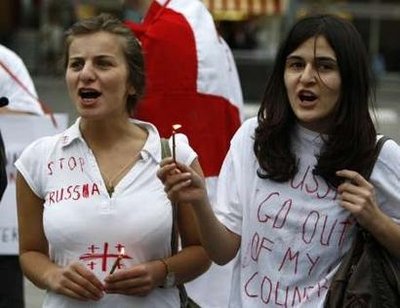 These girls are FOR Georgia and they are protesting in Berlin!
Protestors shout slogans as they gather during a demonstration against the conflict between Georgia and Russia in Berlin August 16, 2008. Russia defied U.S. demands for an immediate pullout of its troops from Georgia on Saturday, saying extra security arrangements needed to be put in place before a withdrawal could begin.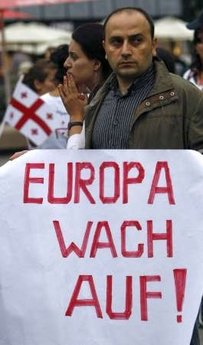 A protestor holds a placard which reads 'Europe wake up!' during a demonstration against the conflict between Georgia and Russia in Berlin August 16, 2008. Russia defied U.S. demands for an immediate pullout of its troops from Georgia on Saturday

.

August 17th, 2008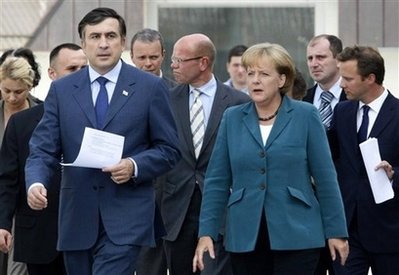 Georgia's President Mikhail Saakashvili, left, and German Chancellor Angela Merkel speak while meeting in the Georgian capital Tbilisi, Sunday, Aug. 17, 2008.German Chancellor Angela Merkel arrived in Georgia on Sunday to meet with President Mikhail Saakashvili .

.
Georgia's President Mikheil Saakashvili meets refugees in Tbilisi

'Putin has given us an order that everyone must leave or be shot'
"The soldiers told us they had an order from Putin - leave or be killed." Manana Dioshvili showed no emotion as she described how Russian troops forced her to flee her home. Her former neighbours nodded in agreement, huddled together in a kindergarten whose windows had been blown out by a Russian bomb.

"That's how they explained themselves to us," she recalled of the moment they fled the ethnic Georgian village of Kurta, near the capital of South Ossetia, Tskhinvali.

"They said, 'Putin has given us an order that everyone must be either shot or forced to leave'. They told us we should ask the Americans for help now because they would kill us if we stayed."

Vardo Babutidze, 79, was not lucky enough to be visited by Russian soldiers. Her husband Georgi, 85, was shot twice through the chest by an Ossetian paramilitary who came to their house to demand weapons.

"We didn't have any guns, so he shot Georgi in front of me without saying a word," she said. "A neighbour helped me to bury him in our garden and then I just fled."

Manana Galigashvili, 53, whose husband Andrei stared vacantly from a bed behind her, said that Ossetian soldiers had returned later and torched the house. They, too, had left after a soldier threatened to slit their throats.

Frightened refugees told similar stories all over the city of Gori yesterday as the Russian army extended its reach deep into Georgian territory despite a ceasefire agreement signed by President Medvedev that requires them to withdraw.

Troops and tanks moved to within 25 miles (40km) of the capital, Tbilisi, setting up roadblocks and digging in defensive positions in the hills above the highway. A line of tanks faced towards Tbilisi outside the village of Kaspi, a day after soldiers had blown up the railway line linking the capital to Georgia's main port of Poti.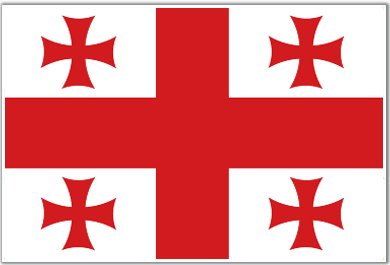 Posted by Wild Thing at 05:55 AM | Comments (9)
---
The Chronicles Of The Obamessiah,Volume I
The Chronicles Of The Obamessiah, Volume I: The Adulteress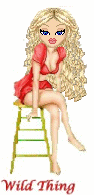 Wild Thing's comment........
LMAO this is hilarious!
Posted by Wild Thing at 05:50 AM | Comments (3)
---
Democrat Convention Obama's Image To Be All-American
For Convention, Obama's Image Is All-American
New York Times ....for complete article
One of the first images prime-time viewers will see of the Democratic National Convention next week is that of Michelle Obama, who will begin the four-day introduction of her husband, and her family, on her terms.
Through four nights there will be testimonials from family members like Mr. Obama's wife and sister who will tell his "very American story," in the words of one adviser, and from party luminaries like Senator Edward M. Kennedy (by videotape) and former President Bill Clinton (live) who will give Mr. Obama, the presumptive presidential nominee, the imprimatur of the party establishment.
At the convention beginning next Monday in Denver, there will be appearances by lesser known "Americans from all walks of life, from across the country" speaking about their support for Mr. Obama. Combined with a film featuring the candidate in all-American scenes by Davis Guggenheim — the director of "An Inconvenient Truth" whose father produced a similar biographical film for Robert F. Kennedy — aides to Mr. Obama are using the convention to tackle what members of both parties see as his greatest vulnerability with undecided voters: his "otherness."
-----------
Campaign aides and outside advisers, however, have grappled with how far convention speakers, including the candidate himself, should go in explicitly addressing race and the historic nature of his candidacy, particularly as Mr. Obama accepts the nomination on the 45th anniversary of the Rev. Dr. Martin Luther King Jr.'s "I Have A Dream" speech.
"There are two overriding strategic imperatives for the convention: One is to make people comfortable with Barack Obama," said Mark Mellman, a Democratic pollster who served as a top strategist for Senator John Kerry's presidential race in 2004. "The other is to define the race clearly and define Barack Obama as change and McCain as a continuation of Bush's policies at home and abroad."
-----------
None of this is to leave out Mr. Obama's solid base of enthusiastic supporters. Advisers to Mr. Obama said the gathering was built around specific tasks aimed at capitalizing on their excitement.
For instance, when people arrive at the stadium in the hours leading up to Mr. Obama's acceptance speech, they will be urged to call or send text messages to their friends and neighbors back home, sharing pro-Obama messages or asking them to watch the speech. The idea is to turn the football stadium into a giant phone bank.
"We always look for opportunities to put our people to work and not just have them sit idle and listen to speeches," said Steve Hildebrand, the deputy campaign manager.

.
The Democratic Convention Lineup

Monday, Aug. 25
HEADLINE SPEAKER Michelle Obama, wife of the presumptive nominee, Senator Barack Obama, Democrat of Illinois
OTHER SPEAKERS Representative Nancy Pelosi of California, speaker of the House and permanent chairwoman of the convention; Senator Claire McCaskill of Missouri; and Craig Robinson, Michelle Obama's brother
Tuesday, Aug. 26
HEADLINE SPEAKER Senator Hillary Rodham Clinton of New York
OTHER SPEAKERS Former Gov. Mark Warner of Virginia will deliver the keynote address.
Wednesday, Aug. 27
The vice-presidential acceptance speech
OTHER SPEAKERS Former President Bill Clinton; Gov. Bill Richardson of New Mexico; Senator Evan Bayh of Indiana; Senator Joseph R. Biden Jr. of Delaware; Senator John D. Rockefeller IV of West Virginia; Senator Harry Reid of Nevada, the majority leader; Senator Ken Salazar, the convention's home state senator; Representative James E. Clyburn of South Carolina, the House majority whip; Representative Patrick J. Murphy of Pennsylvania; Tammy Duckworth, the director of the Illinois Department of Veterans Affairs and an Iraq war veteran
Thursday, Aug. 28
Mr. Obama's acceptance speech
.

Wild Thing's comment..............
If there is anything Hussein isn't, it's "All-American". Now that Obama has made it to the convention, will Michelle be proud of America for the 2nd time in her life?
Posted by Wild Thing at 04:48 AM | Comments (6)
---
McCain and Bolton
Someone did this of John Bolton I love it.
And this is well done of McCain.
.


.....Thank you RAC for sending these things to me.
RAC has a website that is awesome. 336th Assault Helicopter Company
13th Combat Aviation Battalion - 1st Aviation Brigade - Soc Trang, Republic of Vietnam
Posted by Wild Thing at 04:47 AM | Comments (5)
---
"The Clueless White Guy Vote" by Russ Vaughn
The Clueless White Guy Vote
Contrary to their politically correct aims, the advertising industry in this country has created a voting bloc that I am positively sure they never intended. I refer to all us Clueless White Guys, that resentful constituency that for years has endured a constant onslaught of television commercials in which the white male is always the bumbling buffoon, while minority males, black, Asian and Hispanic are always the cool, in-tune, in-the-know dudes who always, effortlessly get it, whatever it may be.
Variations include the Clueless White Guy being totally oblivious to the obvious worth or value of whatever is being sold in the commercial while his wife or some other female, usually a racial minority, demonstrates with over-done grimaces or knowing smiles just what a total and complete dumbass the white guy is.
I have no children so I've never had to suffer the indignity of spending an evening watching television with my kids where at least every fifteen minutes or so that demographic which I represent is subjected to ridicule by the corporate sponsors of the programs I'm watching. Still, I have to wonder, don't those fools realize the influence fathers have on the buying decisions made by their families? Don't any of the corporate wunderkind ever question the wisdom, or lack thereof, of insulting that demographic which controls the buying decisions, especially of big-ticket items, in a majority of American households, especially the most affluent ones?
And yes, I know, it's just all in good fun and to take offense is being silly and hypersensitive, or at least that's what all these advertising whizzes would be quick to tell us were we ever to mount an organized protest. And I would agree if such commercials were merely sometime things and if black, Hispanic and Asian husbands and fathers were depicted occasionally as hapless losers, just like their white counterparts; but that's not the case.
In fact, this phenomenon has become so widespread that even my wife now sits and shakes her head ruefully when we see it played out again and again. And that brings up another issue, the ancillary effect of such advertising where it has become so prevalent that now the offense extends to those family members who happen to love their white fathers and husbands and are fed up with seeing them constantly portrayed as maladroit dopes.
So all you smug, elitist, politically correct liberals in the business of making these commercials should give some thought to the inestimable backlash voting bloc that you have cluelessly created out here with your steady drumbeat of ridicule of white males. Take just a moment to wonder as to just how many clueless white males, their wives and their adult children are going to go into the voting booth in November and express their frustration with your constant condescension by the only means available to them:
Their vote for the only white male in the race, the one the media loves to portray as clueless.
And it's not because they are racists that these folks will vote this way; to the contrary, many white Americans who might have voted for a first black president will not do so precisely due to their heretofore, unexpressed resentment of your unceasing, smug portrayals and precisely to prove you wrong. In fact, I'm wondering how many white males may go into the booth intending to vote for Obama and at the last minute remember a particularly insulting commercial and think, "Well, screw them!"
This reaction may be comparable to the reasoning we hear from the liberal media who claim that the 93% of blacks reporting their support for The One are not racists. We hear that this is a completely understandable skewing, given the history of oppression endured by that demographic and their need to find a champion to advance the healing process. Please don't think I'm trying to equate the malignance of slavery and Jim Crow with this current campaign of ridiculing of white males, which does indeed pale in comparison. But before you accuse us of whining, consider this: if we are whiners, why have you not heard more complaints, earlier and louder from this caricatured cohort? We have endured the indignities with graceful (dare I say manly) silence and only now have I raised the issue in the context of how it relates to the coming election.
If you creators of these commercials think you are cleverly and harmlessly assuaging the resentment of minorities by constantly and very publicly maligning white males, you are badly mistaken. You are only transferring resentment from one group to another and in doing so may be creating a backlash vote not against the first black presidential candidate for his race but rather a protest vote against yourselves, the too politically correct media industry that slavishly supports him. On a broader scale, the overt bias in the news media for any Democrat candidate may be creating a similar backlash vote and for similar reasons, but that's a topic for another article.
All of this, your mocking of white males and your idolizing of The One, will result in yet one more demonstration of that fatal flaw in too many liberal minds, the inability to foresee the unintended negative consequences of your supposedly good intentions: the clueless white guy vote.
We'll just have to wait until November to see if I'm right.
Russ Vaughn
Vietnam 65-66
.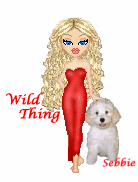 Wild Thing's comment...........
It has always bugged me how fathers and men are portrayed on television, in the ads and in sitcoms. They make men look like they could not do anything and that men are stupid, clumsy, helpless fools.
A couple of years ago I noticed it had begun and then last year it got even worse and showed up more often, to the point a person would have to be brain dead not to notice what is such obvious propaganda to dumb down America, the family and the leadership of the man in the home. I have ranted about it just to the TV haha but it has really been getting worse and worse.
I realize how things happen, slowing, inch by inch, step by step things like this worm their way into the mind of the public then one day what was thought to be just stupid ads we find more and more people believing this baloney.
Then we hear talk shows with liberals telling us how men are no longer leaders in the home, how the home itself has changed and how yes government is needed to take the leadership to run the lives of the citizens.
Children taught to disrespect the father in the home simply by propaganda they see on TV, that insults the man of the house.
Sooooo I am thrilled that Russ wrote this, I think it is excellent.

....Thank you Russ
Posted by Wild Thing at 04:45 AM | Comments (7)
---
August 17, 2008
McCain KO's Obama In His Answers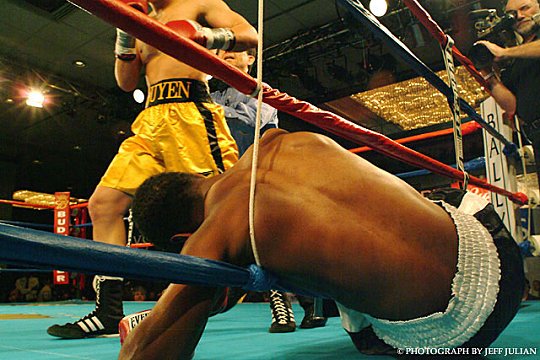 McCain and Obama had a face off at Saddleback Church in California. They were questioned seperately and Obama was asked the questions first while McCain was kept in another area where he could not hear Obama's replies.

It will be repeated this morning on C-Span
10:36 AM EDT
C-Span
Forum on Civil Leadership and Compassion
Saddleback Church, Civil Forum
John S. McCain III, R, Arizona
Barack Obama , D, Illinois
On Abortion:
McCain
Obama
.

Among the points they made:( this is from my notes so some are missing exact quotes)
-Their greatest moral failure.
"The failure of my first marriage," said McCain. "It's my greatest moral failure."
Obama said he experimented with drugs and drank during a "difficult" youth when his father had left and he himself was overly selfish. "I couldn't focus on other people," he said.
-Most gut-wrenching decision
McCain said it was when he refused early release from a North Vietnamese prison camp because it would have put him ahead of fellow American prisoners in violation of their code of conduct. "It took a lot of prayer," he said.
Obama said it was opposing the war in Iraq at a time it was politically risky and he believed that Saddam Hussein did mean to harm the United States. However, he said he did not believe that Saddam had weapons of mass destruction.
-On the meaning of their own Christianity
"It means I'm saved and forgiven," said McCain.
He told how his faith sustained him while a prisoner of war in Vietnam, telling how one of his captors treated him humanely and once secretly drew a cross in the dirt to signal his own faith. "It was just two Christians worshipping together," he said.
"It means I believe that Jesus Christ died for my sins and that I am redeemed through him," said Obama. "That is a source of strength and sustenance. ... I know that I don't walk alone."
He said that influences his belief that people should think about helping the needy.
-The three wisest people they would consult as president
McCain listed Gen. David Petreaus, the architect of the surge strategy in Iraq; Rep. John Lewis, D-Ga., a veteran of the civil rights movement; and Meg Whitman, the CEO of eBay, who created more than a million jobs.
Obama named two, his wife and grandmother. He also said he would consult bipartisan sources such as former Democratic Sen. Sam Nunn and Republican Sen. Richard Lugar.
-Supreme Court justices they would not have nominated
McCain named Stephen Breyer, Ruth Bader Ginsburg, David Souter and John Paul Stevens.
Obama said he would not have appointed Clarence Thomas because he wasn't smart enough or Antonin Scalia because he disagreed with him.
-On sending troops to stop genocide
"Our obligation is to stop genocide wherever we can," McCain said. He added that the United States can provide material and support, not just troops.
"I don't think there is a hard and fast line at which you say we are going in. It is always a judgment call," Obama said. "If we have it within our power to prevent mass killing and genocide and we can work in concert with the international community to prevent it, then we should act."
-On when a child secures human rights
"At the moment of conception," McCain said. "I have a 25-year pro-life record. ... I will be a pro-life president."
"Answering that question with specificity is above my pay grade," Obama said.
He said he supports limits on late-term abortions if there is an exception for the health of the mother. But ultimately, he said, he supports abortion rights. "I am pro choice," he said.
-On marriage
McCain said marriage should be between a man and a woman. He said he'd leave it to the states to regulate, but that he would support a constitutional amendment to ban gay marriage if a federal judge ordered all states to recognize one state's gay marriages.
Obama also said he believes marriage is between a man and a woman. But he said he would not support a constitutional amendment to define marriage that way, saying that marriage historically is left to the states to define.

After putting my notes above I found this if you want to read it. The first few links are Obama's interview and the last half of the links are McCains.
Broadcast Transcript Service: Saddleback Civil Forum on the Presidency
http://www.rickwarrennews.com/transcript/

.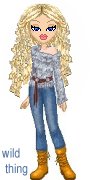 Wild Thing's comment.......
It was a Knockout. Not a TKO but an honest to goodness Knockout.
There is a reason Obama will not agree to the Town Hall debates...he knows McCain will clean his clock. Tonight was proof of that, even though they were separated and each one did not hear the responses of the other. The difference was night and day.
I have my issues with McCain, but I have to give him credit for what happened at the event last night.
I don't have videos of all of it from last night, just a few. .
The questions were the same for both candidates. Making it fair and actually it showed even more what a horrible candidate Obama is for our country.
Just this for McCain ....he needs to try and stop his use of "my friends" it irritates me like nails on a blackboard. And his VP pick will be a break or make thing too I think.
Obama has his hands full. McCain is all nuts and bolts. Obama is theory.
No matter who wins we have a rough ride ahead of us and America deserves better that is for sure.

Posted by Wild Thing at 05:55 AM | Comments (24)
---
Ukraine Torments Russia With Show Of Solidarity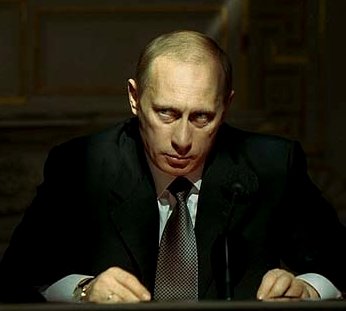 Ukraine torments Russia with show of solidarity

Ukraine yesterday offered to create a joint missile defence network with the West amid fears that its port city of Sebastopol, home of the Russian Black Sea fleet, could become the next flashpoint between Russia and its former satellites.
The Ukrainian offer, which means its early warning radar stations could become part of the West's civil defence system, will further damage poor relations between Kiev and Moscow.
Ukraine, which to the fury of Russia is looking towards Europe and membership of Nato, announced last week that it would require the Russian fleet to seek permission whenever ships entered its territorial waters.
Viktor Yushchenko, Ukraine's reformist president who visited the Georgian capital Tbilisi last week to support President Mikhail Saakashvili, said the use of Russian ships for a war violated Ukraine's neutrality and risked drawing it into conflict.
He instructed his security council to draw up new rules forcing Russia to apply up to 10 days in advance for permission for its fleet to move in and out of Ukraine's territorial waters.
This weekend Yushchenko said a threat to Georgia's territorial integrity should be viewed as a potential threat to Ukraine's: "We have lived through the most terrible 10 days of our recent history."
The Russian response was immediate. Colonel-General Anatoly Nogovitsyn, deputy chief of the Russian general staff, who last week warned Poland that it could face a nuclear strike after signing a deal with the United States to place a missile shield on its soil, made a belligerent statement to Ukraine.
He said Russian ships would ignore the order to seek permission, which he claimed was "illegitimate".
Vladimir Putin, the Russian prime minister, warned Yushchenko last February that Russia could point nuclear missiles at Ukraine if it cooperated with US missile defence plans.
Ukraine is insisting the Russian military must leave Sebastopol when the lease on the base expires in 2017. The Russian navy has made it clear it may refuse to do so.


Wild Thing's comment........
It's good to see solidarity of Russia's neighbors in resisting this aggression. Dangerous times all because of Russia.

Posted by Wild Thing at 05:50 AM | Comments (16)
---
Gov. Tim Kaine of Virginia One Of Obama's Sheep

Tim Kaine, the Governor from Virginia, actually made a comment that indicated he believed that the Russians agreed to a ceasefire in Georgia because Obama asked for it.
Here are Kaine's actual words…
It was a bad crisis for the world. It required tough words but also a smart approach to call on the international community to step in. And I'm very, very happy that the Senator's request for a ceasefire has been complied with by President Medvedev.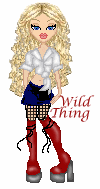 Wild Thing's comment........
I would like to thank Nicholas and a couple of guys at Gold's Gym and our mailman since they too called for a ceasefire.
Only one problem - after that claim was made by Gov. Tim Kaine, there is no cease fire.
BODS (Barack Obama Derangement Syndrome)
A syndrome that causes sufferers to attribute positive events and "changes" to Barack Obama, when they have absolutely nothing to do with him. Sufferers also tend to show obsession with words "hope" and "change" and tend to be extremely thin skinned towards criticism.
Also see: Insane.


....Thank you Cheryl for sending this to me.
Posted by Wild Thing at 05:47 AM | Comments (16)
---
Don Rickles on Dean Martin Roasts Reagan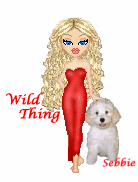 Wild Thing's comment...........
LMAO I love Don Rickles he is so funny.
Like Mark said, do you think Obama could take this kind of ribbing? hahhaa no
This is great. Reagan will always be missed.

....Thank you Mark for sending this to me.
Posted by Wild Thing at 05:45 AM | Comments (13)
---
August 16, 2008
Russia Alarmed by US-Poland Defense Missile Deal, Calls Poland "a target"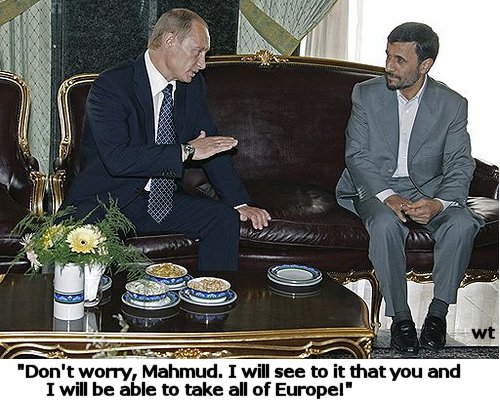 Russia alarmed by US-Poland defense missile deal, calls Poland "a target"
The signing of an agreement that allows the United States to build a missile defense shield in Poland amid the backdrop of the invasion of Georgia drew severe criticism from Russia on Friday, who said that the deal is aimed at it.
In the strongest threat Russia has issued against a plan to establish missile defense elements along the borders of former Soviet ally nations, Russia's deputy chief of general staff, Colonel-General Anatoly Nogovitsyn, warned that Poland has become a "target for attack" and that "such targets are destroyed as a first priority."
Addressing a news conference with German Chancellor Angela Merkel in the Russian resort of Sochi, Russian President Dmitry Medvedev said the deal "clearly demonstrates what we had said earlier - the deployment has the Russian Federation as its target."
The United States' chief negotiator of the deal, John Rood views the agreement important for the security of his country, Poland, and its NATO allies.
Russia's envoy to NATO, Dmitry Rogozin was quoted as saying that the project has "no relation to the Iranian missile threat but is aimed against Russia."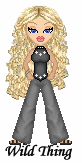 Wild Thing's comment..............
I think General Moronovitch made a mistake.
Putin on "the greatest geopolitical catastrophe of the [20th] century":
"World democratic opinion has yet to realize the alarming implications of President Vladimir Putin's State of the Union speech on April 25, 2005, in which he said that the collapse of the Soviet Union represented the 'greatest geopolitical catastrophe of the century.'
From the Sino-Russian Joint Statement of April 23, 1997:
"The two sides [China and Russia] shall, in the spirit of partnership, strive to promote the multipolarization of the world and the establishment of a new international order."
Posted by Wild Thing at 02:55 AM | Comments (13)
---
McCain To Run Ads During Breaks Of Network Dem Convention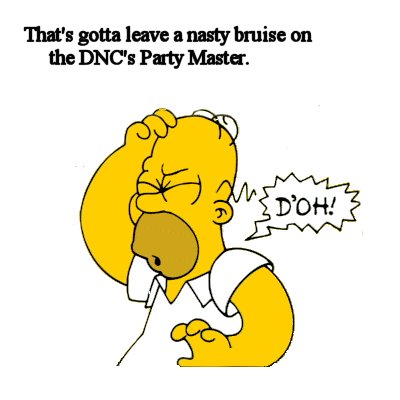 McCain to crash Obama's party
Will run ads during breaks of network DNC coverage
Sen. John McCain has so much spare cash on hand — he collected a record $27 million in July — that the Republican candidate plans to run campaign ads during the networks' coverage of the Democratic National Convention later this month.
Political strategists said airing ads during an opponent's convention makes sense.
"McCain now has enough financial resources to break tradition and advertise during the opposition's convention week," said Republican strategist Scott Reed, who was campaign manager for former Sen. Bob Dole in his 1996 presidential run.
"The McCain camp is building a case about Obama's ability to lead and needs to keep the pressure on his weakness with voters."
Democratic strategist Mary Anne Marsh said the McCain campaign's strategy illustrates just how much presidential campaigns have changed. In past contests, one candidate went quiet while the other had his convention, and the strategist said she can't remember a candidate ever airing ads during the other's party convention.
"The ads are less an effort to get votes than make a point and get it covered by the national media while Obama has the attention of the nation," she said. "No doubt the Obama campaign will do the same now."
Democratic presidential candidate Sen. Barack Obama's campaign was staying mum on whether it would follow suit during the Republican convention.
"We don't have a comment," spokesman Tommy Vietor said.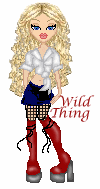 Wild Thing's comment...........
LMAO don't you just love politics?!
They better buy the ad time for the GOP convention before Obama and Soros do likewise.
Posted by Wild Thing at 02:50 AM | Comments (6)
---
Obama Needs Salute 101 Lessons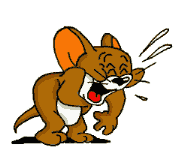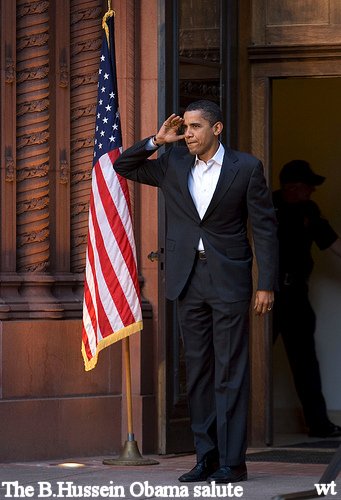 .

LMAO well I saw this photo and could not resist. I saw it in google and have no idea what the story is that belongs to it. I wonder if he is practicing for his future salutes to our troops.
It almost looks like his thumb is up his nose. hahahahahahahaha
Posted by Wild Thing at 02:48 AM | Comments (12)
---
The Second American Revolution
Thomas Paine, author of "Common Sense," returns to modern times to pleas for a second revolution to take back America, Now!

....Thank you RAC, this is great.
Posted by Wild Thing at 02:47 AM | Comments (4)
---
Pool opens in Adhamiyah, Iraq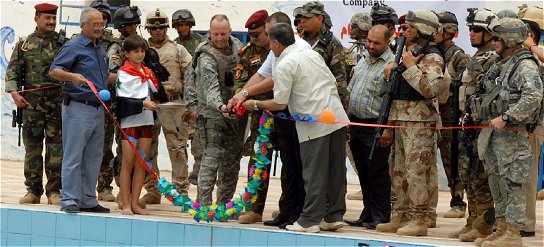 Col. John Hort (center) along with members of the Iraqi Army and the Adhamiyah District Advisory Council, cut the ribbon to signify the opening of the Adhamiyah Community Pool.
by Sgt. Zach Mott
For most people in Iraq, a dip in the local watering hole is either impossible, or involves tempting fate in the ancient Tigris or Euphrates rivers.
"This is the only swimming pool in Adhamiyah district. All of the children go to the river and that's very dangerous for them," said Muhtad Hasan, a member of the Support Council of Adhamiyah who works with youth and education.
The project to refurbish the pool and recreation complex began in March under the direction of the 3rd Squadron, 7th Cavalry Regiment. That unit recently completed its 15-month tour in Iraq and was replaced by the 1st Squadron, 2nd Stryker Cavalry Regiment, who oversaw the project's final days.
The $150,000-venture helped reopen the pool after violence and the subsequent damage from criminals left the facility uninhabitable more than three years ago.
During the opening festivities, children ran around the deck with smiles and happily showboated acrobatic feats to gain the attention of the ceremony attendees.
"It's really money well-spent when you look at the thrill that it's given these kids," said Lt. Col. Daniel Barnett who commands 1st Squadron, 2nd SCR, which is currently attached to 3rd Brigade Combat Team, 4th Infantry Division.
The adjoining recreation center has a boxing ring, a weight room and wrestling mats for children to practice their specific sport of choice.
"It's an ongoing project," Barnett said. "One of the first things they asked for, as far as community projects, was to get this pool re-established so the kids didn't have to swim in the river."
Temperatures in Iraq historically surpass 130 degrees during the unrelenting summer.
For the Soldiers who patrol these streets in northern Baghdad, the pool is a welcome sight to help the people they're here to protect.
"This is a good example of what cooperation with the local government officials, the Iraqi Army, with the Coalition Forces -- what we can all do together to improve the quality of life here," Barnett said.

"Every time a Soldier walks by on a patrol here he's going to say, 'Hey, you know, we helped facilitate that. We helped make a difference.' "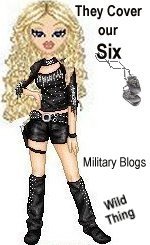 Wild Thing's comment..........
"Hey, you know, we helped facilitate that. We helped make a difference."
I hope and pray these soldiers know how much we appreciate all they do, and we know just as the Iraq's do too, that our troops make a huge difference in people's lives.
Posted by Wild Thing at 02:45 AM | Comments (4)
---
Howad Dean Calls the GOP the "White Party"
Democratic Chair Howad Dean Calls the GOP the "White Party" - 8/15/08
Here is that veritable bastion of wisdom and knowledge - Democratic National Committee Chairman Howard Dean - waxing eloquent on how the Republican Party is the "White Party." He actually said it - then caught himself, apologized, and went on.
.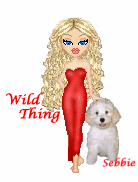 Wild Thing's comment...............
I thought the Democrats were against racial profiling. LOL
I think of the Republicans Party as the party that ABOLISHED SLAVERY! And the Democrats as the proponents of slavery. And the Democrats are the party of Black Liberation Theology, which is clearly a white-hating religion.
Posted by Wild Thing at 02:40 AM | Comments (11)
---
August 15, 2008
Hillary To Be Entered Into Nomination At Convention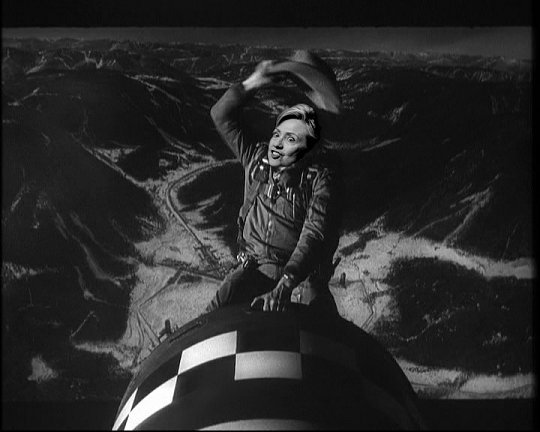 .
Now imagine this............ Hillary walking onto the stage at the convention with the music from Jaws playing in the background.
.


Hillary To Be Entered Into Nomination At Convention
Sources within Hillary Clinton's campaign say the New York Senator's name is likely to be placed in nomination in Denver — at the insistence of the Obama campaign.
Clinton had originally said she would NOT sign a document allowing a vote to be held on her nomination; aides thought it could be divisive, and worried that it could make her seem weak, since many of her nearly 1900 delegates would almost certainly not vote for her almost 3 months after she formally conceded.
But in listening to her staunch supporters — those who are still bitter over the way she lost, and are having a hard time getting behind Obama — the Clinton campaign became convinced that entering her name into nomination at the convention was the best way to give Clinton backers the "catharsis" she said was necessary to move forward.
Turns out, the Obama campaign agreed. They'd independently decided that the move wins friends and costs little.
That being decided, all that remains are the details– as well as the decision on whether to actually press ahead with a roll call vote. As Marc Ambinder notes, Clinton could use the occasion of her nomination at the convention to formally release all of her delegates to Obama, instead of calling the roll and finishing well behind what her delegate count would suggest.
UPDATE: The two campaigns released a joint statement officially confirming the news on the record, saying Senator Obamas campaign encouraged Senator Clinton's name to be placed in nomination as a show of unity and in recognition of the historic race she ran and the fact that she was the first woman to compete in all of our nations primary contests.
Obama says "" am convinced that honoring Senator Clinton's historic campaign in this way will help us celebrate this defining moment in our history and bring the party together in a strong united fashion."
.
Creep Dick Morris on Hannity and Colmes about the Clinton's taking over the Democrat convention LOL
He was talking about the DNC Convention and how the Clinton's are taking it over. Hillary, Bill and Chelsea have all been given speaking roles. In addition.. Hillary has hired a video production team to make a movie about her candidacy.
.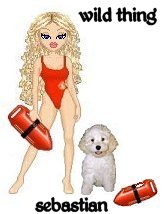 Wild Thing's comment...........
Making sure we have popcorn in the house heh heh this is going to be just sooooo much fun. Let the games begin!
Just a thought about all of this besides it will be fun to watch all this happening.
I don't believe for one minute that the Obama camp "agreed" to this scenario so much as accepted the fact that under DNC rules, this is within Hitlery's right to demand, including a full roll call vote.
Hillary pushed this hard and intended to from the very moment she "suspended her campaign" (she did NOT concede) and the best Obama's campaign can manage here is to put on a public face and appearances so this looks like a "unity" thing.

The focus on and stories about Obama's past, and his continued stupid statements and obvious prejudicial feelings, questions about place of birth, actual name, his ridiculous ideas and solutions, etc. people will eventually (have begun to) lose interest in this bumbler. Hillary is the BEAST and dangerous too. I just wonder if there are Dems besides the ones that have been for Hillary, the ones that were soooo much for Obama are seeing he is a huge problem especially with his birth certificate stuff waiting in the wings with some serious researchers out there not giving up.
It just makes it very interesting and scary too, scary for our country to even have people like this in our country. Marxists, communists, military loathers and American haters wanting to rule and I do mean rule and turn our Nation into some weak third world country.
It appears he's turned the entire convention over to the Clinton's. Either the Clinton's have something on him.. or Obama is a terrible negotiator.The Clinton's are ruthless. Obama folded with a winning hand showing on the table. There had to be a joker up somebody's sleeve. I wonder if the items being speculated about that I mentioned might be making him nervous.
It isn't over till it's over. And this is one wild turkey chase.
Posted by Wild Thing at 03:55 AM | Comments (12)
---
Jeff Beatty a REAL Hero vs. Hanoi John Kerry a Traitor!
Who is Jeff Beatty?
Jeff is a former Army Delta Force Officer (wounded in the first Blackhawk shot down) who earned a Purple Heart and a Combat Infantry Badge helping to rescue hundreds of Americans. He is a former FBI Agent advising the National Hostage Rescue Team and a former CIA Counter-terrorism Officer with service in Europe and the Middle East. Jeff Beatty's government service is second to none.
After leaving government, Jeff founded TotalSecurity.US an anti-terrorism consulting firm that has helped protect U.S. citizens here in Massachusetts and across our country.
Jeff lives in Harwich, MA with his dog Buddy. Jeff loves dogs and in addition to Jack Russell Buddy, has rescued several dogs - most recently a Belgian Malinois named Major BO. Major BO had been abandoned and was going to receive lethal injection in 72 hours. This situation came to Jeff's attention and he immediately made the commitment, spent the funds out of pocket, flew to Florida and saved Major BO who is now placed with a great family on Cape Cod..
For relaxation Jeff enjoys motorcycling, fishing from Red River Beach in Harwich, a good Red Sox, Celtics or Patriots game and golf.
Jeff's Military Honors include the
Meritorious Service Medal (as Delta Force Assault Troop Commander)
Purple Heart (Grenada Rescue)
Combat Infantry Badge (Grenada Rescue)
Army Commendation Medal with "V" (Valor) (Grenada Rescue)
Ranger Tab (Company Commander of Ranger Class)
Parachutist Badge
Army Aviator (Distinguished Honor Graduate - #1 in Flight School)
Army ROTC Rutgers College - Distinguished Military Graduate (top 5% in the country)
Page with some photos from his military service
http://www.jeffbeatty.com/Media/PhotoGallery/Jeff-Beatty-in-the-Milita-9.html

He has a wonderful website with links to a lot of articles he has written as well as information about his campaign.
Here is one of the articles he has written:
Now Playing in Massachusetts
The thought of Sen. John Kerry and a president named Barack Obama loose on the streets of Washington, D.C. sounds like an idea for a horror movie. But it would just be a sequel to a disaster movie that the people in Massachusetts have already seen -- one which stars Kerry and Gov. Deval Patrick.

Here in the Commonwealth, where I am the Republican nominee for U.S. Senate, we are fighting to keep this "remake movie" from reaching national screens by prevailing in my election to the U.S. Senate over John Kerry and by giving the Bay State's 12 electoral votes to John McCain. We have paid the price to see this disaster film once in Massachusetts and will not pay to see it spread across America.

From our view, the only thing sadder than a Barack Obama imperial presidency is the vision of John Kerry bopping from country to country as Obama's "special envoy." Recently, their big budget screen test went international -- Barack with his long apology about American power before 200,000 at Berlin's Brandenburg Gate, and Kerry simultaneously chatting away on cable here at home. Kerry's shilling for Barack cannot mask what we here already know: The combination of Gov. Deval Patrick and Sen. John Kerry has been devastating for the citizens of Massachusetts. Under Kerry and Patrick, Massachusetts now has one of the nation's highest property tax burdens, is among the highest in per capita debt, and is one of the few states in the country to be losing population. Now, Governor Patrick is flirting with raising income taxes to wipe away the sins of his Democratic buddies. In short, the Patrick/Kerry movie boils down to a series of broken promises and failed leadership.
and some more from the article................
To make matters worse, in word and deed, John Kerry has expressed anti-American sentiment throughout his public life -- beginning with his testimony before the Senate Foreign Relations Committee in 1971. Early last year in Davos, Switzerland, Kerry ingratiated himself with Europeans by again making public comments that revealed his true nature and shocked many people here at home.

Speaking at the World Economic Forum, he openly ridiculed the United States to the delight of many in the audience. "The problem with Americans is they have an unfortunate habit of seeing the world through an American lens," Kerry said. He also referred to the United States as an "international pariah." This is the John Kerry who could have written Barack Obama's America-bashing speech in Berlin.
.
And here is the ad that Hanoi John Kerry has been running
Here is Kerry USING our soldiers and I don't care what he pushes that he has done for them it is all an act. He is a liar, a phony and anti-American. The damage he has done to our troops in the Vietnam War and the horrible things he said about our troops serving today, MY GOSH this man is so vile he makes me sick to my stomach! --- Wild Thing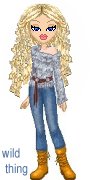 Wild Thing's comment.............
Jeff is also on Facebook if any of you have it let me know and you can get on his friends list there as well. Facebook is awesome because there are updates and tons of political information directly from the person running for office.
Jeff is a REAL hero not a bandaid wanna be hero and traitor to America like John Kerry.
I wish I lived in Mass. so I could vote for him. But at least I can get the word out about a good man , Jeff Beatty unning opposite John Kerry.
God Bless Jeff Beatty and I pray he wins!!!!
Posted by Wild Thing at 03:50 AM | Comments (14)
---
Poland says "Yes" to American Missile Defense ~ Putin Doesn't Like It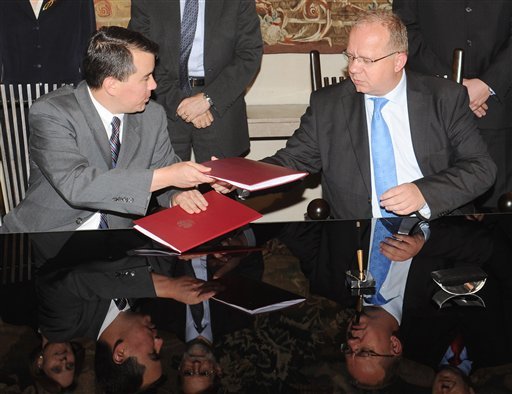 Chief U.S. negotiator John Rood, left, and Polish negotiator Andrzej Kremer exchange documents they just signed on an initial agreement on conditions for placing a U.S. missile defense base in Poland, in Warsaw, Poland, Thursday, Aug.14, 2008. (AP Photo/Alik Keplicz)

U.S., Poland Reach Agreement on Missile Defense
The U.S. and Poland signed a preliminary accord today that will allow for 10 U.S. interceptor missiles to be based in the eastern European country, completing a defense system that Russia opposes.
The U.S. has agreed to Polish requests including modernization of its armed forces in exchange for the location of the missiles, Polish Prime Minister Donald Tusk said in an interview with private broadcaster TVN24 this evening.
``We are now harvesting the fruit of many months of hard work,'' said Polish Foreign Minister Radoslaw Sikorski at a joint press conference with U.S. Undersecretary of State John Rood in Warsaw. ``Only people of ill intent should fear this agreement.''
Talks on locating part of the planned missile-defense shield on Polish territory made headway yesterday in the wake of the Georgian conflict.
The Russian incursion heightened Poland's security concerns and ``made the Polish government a little more willing to conclude a deal,'' said Wade Boese, research director at the Arms Control Association, a non-partisan group in Washington. ``It may also have made the Bush administration more willing to meet the Polish demands.''
White House View
In Washington, White House spokeswoman Dana Perino said the purpose of the system ``is to protect our European allies from any rogue threats such as a missile from Iran'' and ``in no way is the missile defense aimed at Russia.''
Perino said she ``couldn't say'' whether Russia's attacks in Georgia spurred today's final action on the agreement.
Poland and the U.S. have been holding talks on establishing an American base in Poland for more than 18 months. While the U.S. signed a final agreement last month with the Czech Republic on locating a radar base there, the Polish government held out for additional security assurances.
The Polish government said before the current round of missile defense talks that the Georgian conflict had underscored its arguments in favor of more security guarantees.
Sikorski confirmed that Russian Foreign Minister Sergei Lavrov had called off a visit to Warsaw, planned for next month. He said he had received the information before an agreement had been reached with Rood over missile defense and said he thought the Russian decision had been made ``in connection with Georgia.''
Russian Criticism
Russia has sharply criticized U.S. plans to place elements of the defense shield in the two former Soviet satellite states, saying they threatened its national security. The Russian government has repeatedly warned it would build up military defenses along its frontiers if the project went ahead.
Sikorski will talk to Secretary of State Condoleezza Rice next week to find a date for signing a final contract, which also has to be ratified by the Polish parliament, he said today. If completed, the agreement will allow for the deployment of 10, two-stage missile interceptors made by Orbital Sciences Corp., based in Dulles, Virginia.
The missile shield may still encounter resistance from U.S. lawmakers. Congress, controlled by Democrats, has mandated that the interceptors' effectiveness be proven through tests and that the Polish and Czech Republic parliaments approve the deals before U.S. funding for the programs is approved, Boese said.
New President
``We're still talking a number of years before any interceptors can actually be deployed, and in the meantime you're going to have a new administration that could rethink the whole plan,'' Boese said.
The Pentagon wants to start construction in Poland by July next year in order to have an initial capability to defend against Iranian missiles by April 2012, according to U.S. Missile Defense Agency briefing charts.
According to Tusk, the U.S. agreed to initially station one battery of Patriot air defense missiles on Polish soil with potentially more to follow. This would be good news to Lockheed Martin Corp. and Raytheon Co., as the two companies are the top contractors on the Patriot missile program.

Wild Thing's comment.........
This'll make Putin wet his KGB issued panties.
I think Russia will come to regret the day that they decided to invade Georgia.
Posted by Wild Thing at 03:48 AM | Comments (10)
---
Obama Hits Back At Jerome R.Corsi's and His Book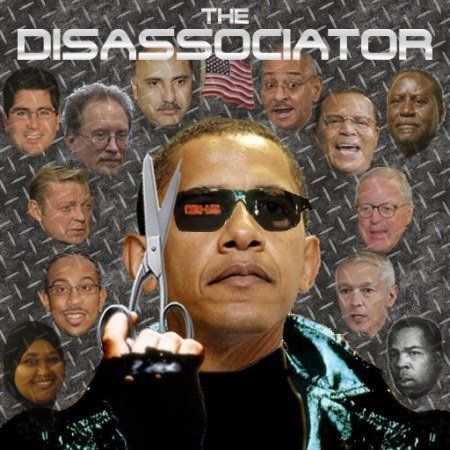 Obama hits back at critical author
msnbc ....for complete article
Campaign releases 40-page rebuttal, calls writer a 'discredited liar'
HONOLULU
Democratic presidential candidate Barack Obama hit back Thursday with a 40-page rebuttal to the best-selling book "The Obama Nation," arguing the author is a fringe bigot pedaling rehashed lies.
Jerome Corsi's anti-Obama book, "The Obama Nation: Leftist Politics and the Cult of Personality," claims the Illinois senator is a dangerous, radical candidate for president. The book is a compilation of all the innuendo and false rumors against Obama — that he was raised a Muslim, attended a radical, black church and secretly has a "black rage" hidden beneath the surface.
The Obama campaign picked apart the book's claims in a rebuttal titled "Unfit For Publication," to be posted on the Obama campaign's rumor-fighting Web site, FightTheSmears.com. The title is a play on the book Corsi co-authored against 2004 Democratic presidential nominee John Kerry's military service called "Unfit For Command."
"Jerome Corsi is a discredited liar who is pedaling another piece of garbage to continue the Bush-Cheney politics he helped perpetuate four years ago," said Obama spokesman Tommy Vietor. "His is just one of what will likely be many more lie-filled books rushed to print this election cycle, which are cobbled together from debunked Internet sources to make money and advance a partisan agenda. We will respond to these smears forcefully with all means at our disposal."
Corsi's book is off to a swift start and is No. 1 on The New York Times' hardcover nonfiction best-seller list, even though Obama's campaign would argue the book should be listed as fiction.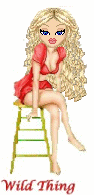 Wild Thing's comment...........
Corsi has hit a home run two elections in a row!
Truth is a big problem for the radical left.
Obama ...waaaa waaaa waaaa stop picking on me, I want to be President.
Posted by Wild Thing at 02:45 AM | Comments (13)
---
August 14, 2008
Home Depot, Others Required To Make Day Laborer Shelters
Ronald Reagan - A Time for Choosing (October 27, 1964)
Home Depot, Others Required To Make Day Laborer Shelters
Big-box, home-improvement stores in Los Angeles will have to set aside space for day laborers under an ordinance passed by the City Council on Wednesday.
When the ordinance takes effect -- the mayor has to sign it, and most city laws take effect 30 days afterward -- it will apply to stores such as The Home Depot that have 100,000 square feet or more, or any structure where 250,000 square feet or more of warehouse floor area is added.
The shelters must be easily accessible and include drinking water, bathrooms, tables, seating and trashcans. The stores may be required to work with Los Angeles police in developing a security plan, according to the unanimous vote by the 15-member lawmaking body.
People who live near Home Depot stores have complained of day laborers drinking beer, urinating in yards or other unseemly behavior.
The National Day Laborer Organizing Network, a nonprofit group started in Northridge in 2001, supports the new requirements.
"It provides for safe and dignified hiring locations where contingent workers can defend their basic rights. It carefully balances the interests of business, residents, day laborers and their employers," said the group's executive director, Pablo Alvarado.
Francisco Uribe, senior manager of government relations for The Home Depot, said the corporation does not oppose the day laborer centers.
"Although the complex challenges associated with the presence of day laborers are not specific to one industry nor one company, The Home Depot recognizes that some of our stores in the city of Los Angeles are impacted," Uribe said.
"The Home Depot has and will continue to work with the city of Los Angeles and other key stakeholders in the various communities where The Home Depot operates to jointly address these challenges," Uribe said.
City Councilman Richard Alarcon singled out The Home Depot for attracting day laborers, saying other big-box stores do not have the same kind of problems.
"Lowe's doesn't have the problem. And you ask yourself 'why don't we see massive (numbers of) day laborers at Lowe's?' The reason is they target women. It's very clear that their marketing scheme is more focused on interior design-type customers," Alarcon said.
The Community Development Department already operates 11 day-laborer sites in the city. Grant funding is used to maintain the facilities at an annual cost of $180,000.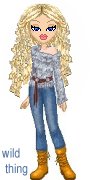 Wild Thing's comment..........
Stuff like this brings to mind Reagan's "Time for Choosing" speech. He, literally, warned of just this type of behavior...in 1964!!! I am also thinking of our elections and also our stand for what is right in the world and for our country.
Why not arrest them? Why not arrest the people who hire them? Why not spend the $180 grand a year the City spends to maintain these things to help "the poor contingent workers" get legal? Why not tax the companies that hire them?
Posted by Wild Thing at 02:08 PM | Comments (7)
---
Limo Shortage For Denver Democrats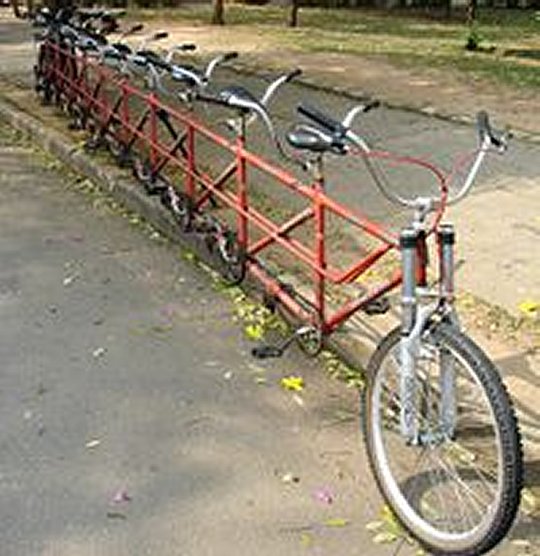 Limousine liberals may be forced to take the bus at the Democratic National Convention this month because Denver simply does not have enough limos and black cars to go around.
"We just don't have the cars - Denver just isn't really big on chauffeurs," said Barbara Curtis, of Two Step Limousine. "I am totally booked, and have been for six weeks."
The city has 271 limousine companies, but most have fleets of only two or three cars, Curtis said. She expects there will be no shortage of price-gouging opportunists.
"A lot of the companies put in reservations for black SUVs, and apparently the Secret Service had all of those canceled because they needed the vehicles instead," she said.
On average, black cars cost $4,000 for the four-day convention and limos twice that.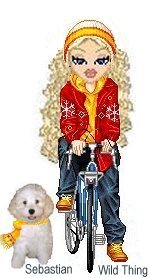 Wild Thing's comment............
All citizens of Denver that can stand the stink of a Democrat, if you have an SUV and it has to be black it seems from the article, here is a chance to make $1000. a day. hahha
One other thing I don't get. From the time it was planned to hold the Dem convention in Denver up to now has to be well over a year. Couldn't they bring Limo's in just for the event??
A friend of mine told me that there was a stretch HUMMER Limo parked in front of 24 Townsend St. Malden, MA last weekend. That address, it is the "residence" of one "Fast Ed" Markey, the Chairman of the House Committee on Global warming. Hahahha what a bunch of phony's.
LMAO ...All these screaming "save the environment" liberals upset they can't get a limo. heh heh
Posted by Wild Thing at 04:55 AM | Comments (13)
---
Russia Tells USA To Choose Sides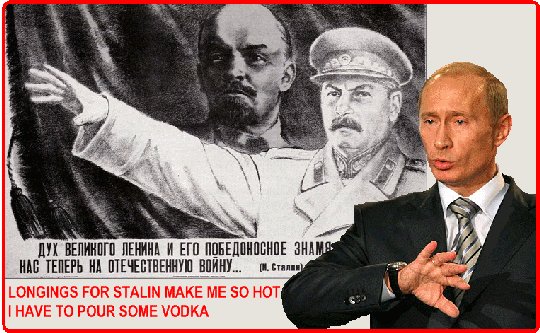 .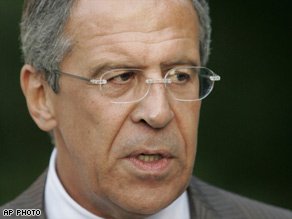 Russian Foreign Minister Sergei Lavrov on Wednesday says the United States should choose sides.

Russia to U.S.: Choose us or Georgia
Russia pressed the United States on Wednesday to choose between "a real partnership" with Moscow or an "illusory" relationship with U.S. ally Georgia.
Washington said it's sticking with Georgia.
"As to choosing, the United States has made very clear that it is standing by the democratically elected government of Georgia," Secretary of State Condoleezza Rice said Wednesday.
She spelled out the Bush administration's stance after Russian Foreign Minister Sergei Lavrov called Georgia's government "a special project for the United States."
"And we are aware that the U.S. is uptight about this project," Lavrov said in remarks broadcast on Russian television. "But a choice will have to be made someday between considerations of prestige related to an illusory project and a real partnership in matters which indeed require collective efforts."
Rice, amid reports that Russian troops remained on the move Wednesday, pushed Russia to abide by a cease-fire signed Tuesday by the Russian and Georgian presidents.
Russian military action in Georgia "must stop and must stop now," Rice said.
Rice said Moscow already faced "quite significant" diplomatic consequences over its conflict with Georgia before Tuesday's cease-fire agreement, which calls for Russian and Georgian troops to return to pre-conflict positions.
Bush said reports he had received were contrary to Russian assurances that it had halted military operations. Bush said he was told the Russian military had blocked Georgia's major east-west highway, and had soldiers at the main port at Poti. There were reports that some ships had been attacked, he said.
Russia has likely moved additional troops into the disputed Georgian provinces and into Georgia proper over the past several days, several administration officials told CNN on Wednesday.
The officials said the United States now believes Russia may have 15,000 or more troops in the region. That would be an increase from the 8,000-10,000 the U.S. government estimated when the fighting began. A Bush administration official stressed that the scope of Russia's military effort remains unclear.
Any violations of the cease-fire would call into question Russia's "suitability" as an international partner, Rice told reporters before leaving on a diplomatic trip to Europe.
Bush administration officials told CNN the United States and its European allies were considering kicking Russia out of the G-8, the group of the world's largest industrial economies, and other international organizations as punishment for its actions in Georgia.
Rice discounted concerns that Moscow would no longer assist Washington on thorny diplomatic issues such as efforts to halt nuclear programs in Iran and North Korea, saying it had its own interests at stake.
"Let's be very clear whose interests are being served by the partnership that Russia and the United States have engaged in on Iran or North Korea," she said. "Again, it's not a favor to the United States."
Russia's move into Georgia came amid a struggle between the United States and Russia for influence within Eastern Europe. From Russia's point of view, American support for Georgia is a direct threat to its influence.
By striking heavily in Georgia, Moscow is sending a signal to other former Soviet republics, such as Ukraine and Moldova, said Sarah Mendelson, the director of the Human Rights and Security Initiative at the Center for Strategic and International Studies in Washington.
"If I were a neighbor of Russia and I saw what Russia had done in Georgia, I would be very nervous," Mendelson said. "I think those countries that are leaning toward the West are very nervous today."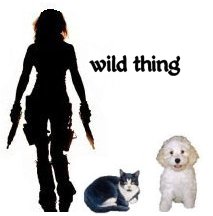 Wild Thing's comment..........
Hmmmmm Russia to U.S.: Choose us or Georgia.....ok .......answer is Georgia.
Next question please.
The choice is not Russia or Georgia, but Tyranny or Liberty. So they are giving us a choice; to live on our knees as a slave or fight like free men and women. Well, for at least the next 4 1/2 months I know what the answer will be.
For us democracy is a universal project. That's exactly why it frightens the rulers in the Kremlin.
Posted by Wild Thing at 04:50 AM | Comments (15)
---
Kerry's New Website "Truth Fights Back" ~ LOL Got a Bandaid?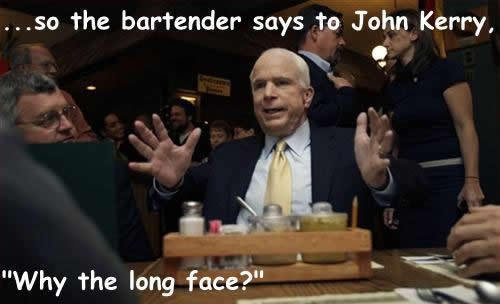 .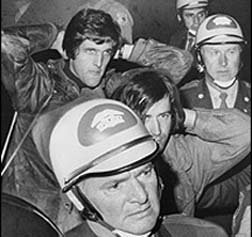 Kerry arrested.....Operation Dewey Canyon III began on April 18, 1971, as he and others gathered on Washington's Mall for what they called "a limited incursion into the country of Congress."
Kerry vs. Corsi
Politico

John Kerry is launching a website, Truth Fights Back, to defend Obama and other Democratic candidates against attacks.
The site, paid for by his leadership PAC, goes after the "80 lies" in a new book by Jerome Corsi, whose 2004 attack on Kerry's military record helped sink the Democrat's campaign, but whose Obama book seems likely to remain on the margins this year.
Kerry writes in an e-mail going out shortly to his (massive) list:
"Pick up the New York Times this morning and read the headline: "Book on Obama Hopes to Repeat Anti-Kerry Feat"

Yes, Jerome Corsi, the right wing fringe author who made his bones smearing the Catholic Church and lying about my military record, is back atop the best-seller list with an anti-Obama book chock full of lies.

If your blood isn't boiling yet, read this: "This is a fact: Today Barack Obama is subject to what is probably the greatest concentrated attacks of smears, lies and innuendo in the lifetime of anyone who reads these words."

The site's focus isn't so much on debunking as on "tracking" the attacks, and promises to watch their spread in real time.
It also defends a pair of Senate candidates, and Kerry's staff says it'll focus more heavily on congressional races going forward.
Kerry continues:
"By signing up, you'll stay on top of what the right wing is doing and help fight for the truth. And you can report smears when you see them to keep us on track on what the smear machine is up to at every moment. You will be our eyes and ears.

We know the game, we've learned some things, and we have a fired-up movement of activists like no party has had in decades, all networked together with great Internet tools.

So sign up to help. This is a massive undertaking, so we need your help to pull it off."

KERRY'S e-mail:
From: John Kerry
Subject: the liars are back. Time to finish them off
Pick up the New York Times this morning and read the headline: "Book on Obama Hopes to Repeat Anti-Kerry Feat"
Yes, Jerome Corsi, the right wing fringe author who made his bones smearing the Catholic Church and lying about my military record, is back atop the best seller list with an anti-Obama book chock full of lies.
If your blood isn't boiling yet, read this: "This is a fact: Today Barack Obama is subject to what is probably the greatest concentrated attacks of smears, lies and innuendo in the lifetime of anyone who reads these words."
Those are the words of Brent Budowsky in Editor and Publisher. He knows what he's talking about.
And it's not just Barack: up and down the ticket and all across the country, the rightwing smear machine is ramping up attacks on Democrats.
We've seen this movie before. The Republicans, without ideas, start running a negative campaign filled with personal attacks and misleading ads. The attacks get condemned, but they get lots of attention and get played on TV endlessly.
We've got to fight every way we can. I'm going on television and the radio pushing back every chance I get - just like I did on MSNBC a few days go - but I need your help.
Click here to watch that clip on MSNBC and sign up to our new, grassroots project to beat back the rightwing machine wherever it operates!
We're launching a new website that empowers you to fight back across the country in ways no campaign has attempted. It's called TruthFightsBack.com, and we can use all the help you can give.
By signing up, you'll stay on top of what the rightwing is doing and help fight for the truth. And you can report smears when you see them to keep us on track on what the smear machine is up to at every moment. You will be our eyes and ears.
We know the game, we've learned some things, and we have a fired up movement of activists like no party has had in decades, all networked together with great Internet tools.
So sign up to help. This is a massive undertaking, so we need your help to pull it off:
TruthFightsBack.com
You can't just play defense against smears, pointing out how they aren't true. You've got to play offense, too, exposing the whole cynical game for what it is: an attempt to keep us from talking about the real issues and ultimately changing our country for the better.
The Republicans have nothing to run on, no ideas to push, no solutions for America. They'll run a campaign of laughable gimmicks and outright distortions and lies. But we can fight back with the truth - and the truth can win this time.
Let's do it.
Thanks,
John Kerry

.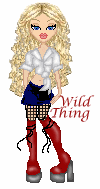 Wild Thing's comment..........
Bwahahahahahahaha nice try, Lurch. John Kerry couldn't launch a rubber ducky!
First thing he'll post is his military record. Right?
He (or his staff...) also put into the Congressional record a statement about Kerry's proud "Irish" heritage. Another lie.
And he's going to represent "TRUTH" Fights back???
Posted by Wild Thing at 04:49 AM | Comments (12)
---
US Planes Begin Delivering Humanitarian Aid To Georgia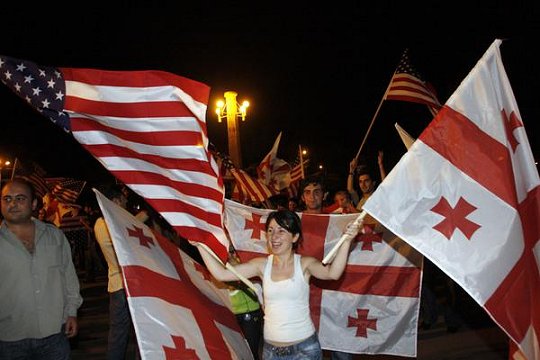 Georgians holding Georgian and U.S. flags celebrate Wednesday's arrival of U.S. humanitarian aid at the airport in Tbilisi, Georgia's capital. (AP)

US planes begin delivering humanitarian aid to Georgia

US military planes have begun delivering aid to Georgia as Washington stepped up support for a shaky ceasefire with Russian troops around the breakaway region of South Ossetia.
Russia said today it will soon pull out from Gori, a town 60km east of the capital Tbilisi, just outside South Ossetia and which contols the key road between eastern and western Georgia. US Secretary of State Condoleezza Rice is set to hold talks with French president Nicolas Sarkozy before heading to Tbilisi.
Her trip comes six days into a conflict that has shifted from artillery, tank and gun battles at the weekend to increasingly sharp diplomatic and political exchanges out of Washington, Moscow and Tbilisi.
US president George Bush, flanked by Ms Rice and Defence Secretary Robert Gates in the Rose Garden, demanded Moscow end the crisis, abide by an agreed ceasefire and withdraw Russian troops sent into Georgia after fighting began last Thursday.
"The United States of America stands with the democratically-elected government of Georgia. We insist that the sovereignty and territorial integrity of Georgia be respected," Mr Bush told reporters at the White House.
Moscow has denied violating a ceasefire and rejected claims its troops and armour had advanced on Tbilisi or looted Gori.
Speaking in Moscow, Foreign Minister Sergei Lavrov, told by Ms Rice that Russian servicemen were failing to prevent looting by irregular militias in Gori, said such actions would not be tolerated.
"I said from the very beginning that if any such facts prove true, we will react in the most serious way...The peaceful population should be protected. We are investigating all these reports and will not allow any such actions," Mr Lavrov said.
Russian president Dmitry Medvedev has urged France, which is mediating in the conflict, to encourage Tbilisi to sign a binding agreement


Wild Thing's comment.........
We lead...UN follows ONLY after how many nations individually contributed to the cause.
Australia to offer humanitarian aid to Georgia
Slovakia to send humanitarian aid to Georgia
Romania decides to send aid to Georgia
Norway announces more humanitarian aid to Georgia
France, Germany contribute aid for Georgia, UN feeds displaced
Netherlands pledges emergency aid to Georgia
Italy gives 200 thousand euro in aid to Georgia
Canada pledges one million dollars for Georgia
United Nations Steps Up Aid To Georgia
Posted by Wild Thing at 04:48 AM | Comments (7)
---
A New Obama Book From Two Of His Kool-Aid Drinkers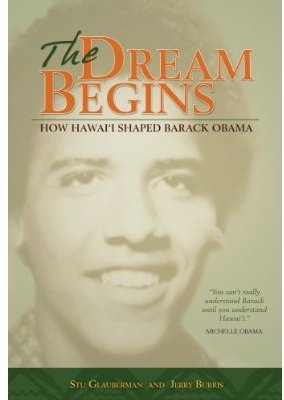 The Dream Begins: How Hawaii Shaped Barack Obama (Paperback)
by Stu Glauberman (Author), Jerry Burris (Author)

Product Description
from amazon.com
Born and raised in the most multicultural state in the union, United States presidential candidate Barack Obama bears the indelible stamp of his native Hawaii. Here is a coming-of-age story set in Hawaii's storied "melting pot—a revealing look at what makes Obama tick.
Authored by veteran political writers Stu Glauberman and Jerry Burris, this 152-page book examines Obama's early years in Hawaii. The self-described "skinny kid with the funny name" flourished in the Islands, where local values foster tolerance, compromise and mutual respect—and where diversity defines people rather than divides them. The social mores of the Aloha State and the experience of growing up in an island culture have had a deep and lasting influence on the candidate. Obama himself has noted, "What's best in me, and what's best in my message, is consistent with the tradition of Hawaii."
Glauberman and Burris offer concise lessons in Hawaii history to help the reader understand its racial and social climate, and how such an environment could impact a young man like Obama. For, as his wife, Michelle Obama, has said, "You can't really understand Barack until you understand Hawaii." Interviews with Obama's Punahou School classmates and teachers, as well as others who knew the Senator in his youth, add a personal dimension to the narrative. Obama's paternal and maternal family history and his years in Indonesia are also thoroughly covered.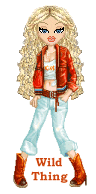 Wild Thing's comment........
Alternate title: "Hawaii Jive-O"
Well I guess we will be seeing a ton of books now on how wonderful B. Hussein Obama is and how he is the solution to all the problems in the entire world.
Posted by Wild Thing at 04:47 AM | Comments (12)
---
Lindaaaaaaaa Prayers and Well Wishes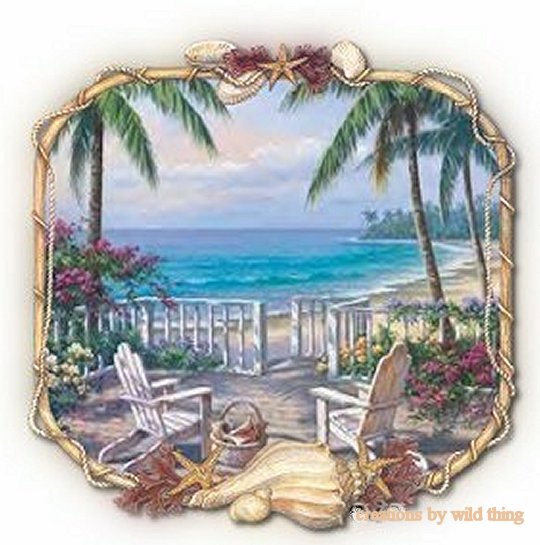 Today Linda will be having her brain tumor, zapped, whacked, annihilated, destroyed, slayed and kung fu'd.
She has explained it better then I could at at Something....and Half of Something her blog. The LINK is the post she has done to explain about it.
Linda, you are in our prayers and our thoughts and from now on we will only be celebrating good health for you for the next 100 years. And with all this new fangled medicine stuff maybe we can push it for 200. After all we only just started to fix all the things wrong in the world. heh heh

LOVE ya bunches,
Chrissie
This is s photo of Linda on one of her visits to our home. The photo is of Nicholas and Linda.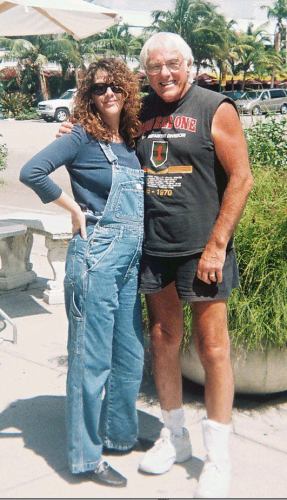 "End result, tomorrow, I have an appointment have this MFCS of a tumor eradicated. I'm out of my insurance network, which means I'm going to be out-of-pocket a bit but so what. I'm getting the best treatment available and I'm getting it right now. I'll deal with the financial fallout later.

Tomorrow, the battle begins.

Linda"
Linda SoG is one of the finest people I know and I adore her. Lots of us do. If you all wouldn't mind sending some of your fantastic healing powers her way I'd really appreciate it.
You've all done so well by me the last week or so that I don't need them so much any more.....
Because it just never hurts to ask, if anyone cares to offer a little financial help towards her medical bill I'll be taking donations all week. I'd like to pull the post after tomorrow so we could surprise her but that's really not as important as giving people a little time.
If anything we can buy her a nice get-well present. I know all of mine did wonders to cheer me up.
Headmistress Sondrak

SondraK has "the First Never Going To Need Another LindAthon "
Posted by Wild Thing at 02:55 AM | Comments (8)
---
August 13, 2008
Obama Girl vs McCain Girl Olympics Part 1
Posted by Wild Thing at 06:45 PM | Comments (5)
---
Wright pressured by Obama into scrapping book?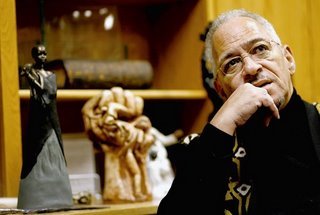 New York Magazine reported that Reverend Wright is publishing a book and going on the road to promote it in October. However, there seems to be some question as to whether this is true. His daughter told Essence that this New York Magazine story was false. An alert reader notes that Daily Kos has reported the story is false and that Reverend Wright will be issuing a statement denying he is publishing a book upon his return from Ghana.
At the very least, this will put Wright back in the news again. The real question is whether Wright was pressured by Team Obama into shutting up until after the election.
I can remember that back in the spring that Wright was talking about his upcoming book tour in October. Not only that it was discussed last spring on the political talk shows on Sunday morning's.
Posted by Wild Thing at 05:57 PM | Comments (8)
---
Required To Volunteer? Obama Ticket Giveaway Causes Confusion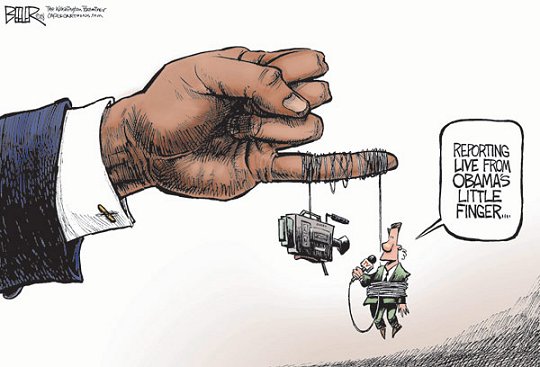 Obama ticket hopefuls told that volunteer gig is involved

Some of those hoping to wrangle a seat for Barack Obama's speech were told this week they have to put in six hours of volunteer work for his campaign by Friday to have a shot at a ticket.
And that ruffled at least a few feathers.
"My whole reason why I'm so mad about it is because Democrats need to act like Democrats," said Heather Kreider, a working mother from Centennial.
"Democrats work for a living, and they have to work and take care of their families. And they say these are open to those in the community, so they shouldn't ask people to drop everything in their lives for this," Kreider said Tuesday.
Doing the volunteer work only makes someone eligible for a ticket and doesn't guarantee one, according to the phone message from the campaign.
Obama's decision to move the last night of the Democratic National Convention to Invesco Field at Mile High, where he will speak to a crowd of more than 75,000, sparked a frenzy for tickets.
Campaign organizers pledged that more than half of those in the stadium would be Coloradans, but they have been vague about how they would decide who got tickets. Kreider was among more than 80,000 people who applied for tickets to Obama's Aug. 28 speech accepting his party's presidential nomination.
As part of the application process, people were asked to check a box if they were willing to volunteer for the Obama campaign.
Matt Chandler, a spokesman for the Obama campaign, said the only people who were asked to volunteer were those who said on their applications that they were willing to do the work.
Those who don't volunteer will still have a chance at the tickets, Chandler said.
"The vast majority of people who get credentials won't have to volunteer," he said. "The folks who might have accidentally hit the 'volunteer' tab, they don't have to worry. They're in the same place in line."
People asked to volunteer are those in line for "all star" tickets that will put them closer to the stage, and they are being contacted first, said Stephanie Mueller, campaign spokeswoman. Applicants who didn't offer to volunteer will be contacted later this week, she said.
But Kreider said she is certain she didn't hit the "volunteer" box on the online application. Still, Kreider got a message telling her that she had to do six hours of volunteer work by Friday if she wanted a chance at a ticket. Kreider said she will not do the work.
"Absolutely not," she said. "Now, it's pure principle. I was a Hillary Clinton supporter, and this is literally my first touch with the Obama campaign. And it's just disappointing."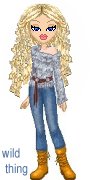 Wild Thing's comment...........
LOL but of course they're required to do something at the direction of Obama and the RATS. Maybe one or two of these dimbulbs will get a clue that this is what's in store if Obama and the rest of the leftists take power.
People giving of themselves to help Obama so that the sick can be healed and the oceans recede, how wonderful. We are just a few million morons short of Marxist Utopia!
This just gets better and better. Just one step away from forced "volunteerism" just to have a potato to eat for dinner.
I need to watch Dr. Zhivago again.

....This was sent in from the Greta Wire. ( Greta Van Susteren )
Posted by Wild Thing at 05:55 PM | Comments (10)
---
Democratic Convention Chief Wants Reparations For Blacks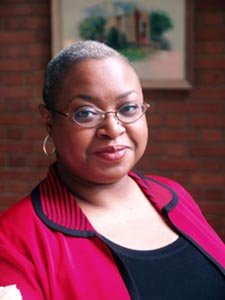 Democratic convention chief wants reparations for blacks
The woman commissioned by the Democratic Party to direct its presidential nominating convention in two weeks espouses the same black liberation theology pursued by Rev. Jeremiah Wright, whose church presumptive nominee Barack Obama was forced to leave because of its controversies.
Those included Wright's condemnation of America and a vicious attack on Hillary Clinton from the pulpit, and WND reported when, finally, the Obama campaign announced the candidate resigned his 20-year membership in the church.
Now a profile in the New York Times reveals Rev. Leah Daughtry, a Pentecostal minister who leads a congregation of 20 in Washington, embraces "black liberation theology" beliefs such as the "debt" the U.S. "owes" all blacks for slavery.
The Times describes the congregation in which Daughtry was raised – the House of the Lord Church in Brooklyn, N.Y., where generations of family members, including her father Herbert Daughtry, have preached for decades:
"Below the sanctuary, in the fellowship hall, a banner for slavery reparations proclaimed, 'They Owe Us.' Fliers recounted Herbert Daughtry's arrest, a few weeks earlier, as he led marchers protesting the not-guilty verdict in the police killing of Sean Bell, an unarmed black man. His ministry has always combined consuming spirituality with black liberation theology – the theology Jeremiah Wright invoked this spring to defend his controversial sermons – and zealous political activism. Leah holds these forces within her."
Judi McLeod, a former Toronto Sun columnist, opined it will be "Rev. Jeremiah Wright in a skirt" as Daughtry leads the Democratic National Convention in Denver.
When Howard Dean, chairman of the Democratic National Committee, announced Daughtry's appointment to the post of convention CEO, he cited her "strong guidance, skilled leadership and counsel."
McLeod writes, "Like Wright, Daughtry is in your face about her activism," noting Daughtry told the Capitol Hill publication The Hill in May 2007, "That's why I work in politics. My family, we're activists."
Said McLeod: "Some would say with Marxist Momma in the top job, it's little wonder why Barack Obama is the DNC's Golden Boy coming to Denver with mainstream media garnered rock star status."
Daughtry supports abortion, as does her father's church.
Throughout her Times interview, Daughtry did not put any distance between herself and the black liberation theology of James Cone.
"At the basis of black liberation theology is the understanding that God has a special place in His heart for those at the bottom of the ladder," said Daughtry.
REPARATIONS RAP
.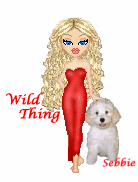 Wild Thing's comment.........
"Reparations!" The new "american" dream! And you don't have to work for it! This reparations crap is the most enabling rascist whoremongering tact yet. This is socialist redistributionist theory that must never happen.
The Democrat party, the party of anger and bitterness! These people are steeped in their Marxist thinking. I wonder if they will be singing the BLACK National Anthem?

....Thank you Mark for sending this article and link.
Posted by Wild Thing at 04:55 AM | Comments (21)
---
Nancy Pelosi's Take On The November Election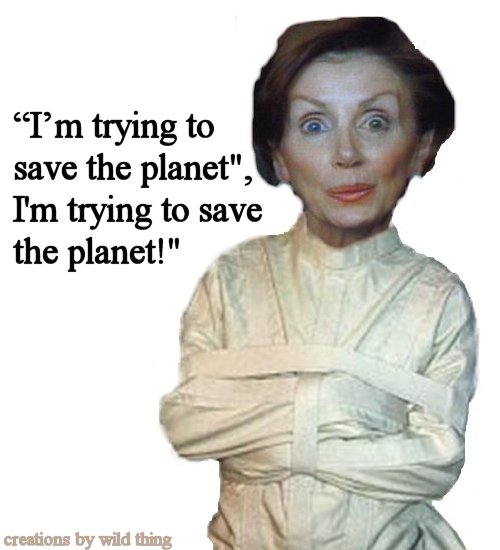 Pelosi: "This Election is Like Death for Life on This Planet as We Know It"

Pelosi was interviewed by Rabbi Robert Wexler of the American School of Judaism in West Los Angeles before a sometimes hostile crowd of leftist agitators who harangued her for her failure to end the war in Iraq and impeach President Bush and Vice President Cheney.
Speaking about the upcoming presidential election between leading candidates Republican John McCain and Democratic Barack Obama, Pelosi let loose with what is may well become her 'Dean scream' moment if camera were present to record it, according to a report by the liberal publication The Public Record:
"Whether it's the deficit or the challenges to the constitution we have to dig our way out, this election is like death for life on this planet as we know it today."
Pelosi has been under enormous pressure from the right and left during her year-and-a-half tenure as the first woman Speaker of the House. Under her leadership, Congress' approval rating has plummeted to a humiliating nine percent.
Pelosi's feminist book, Know Your Power, has been a miserable failure in bookstores, with only a few thousand copies sold despite a publicity blitz worthy of the most powerful woman in America.
According to the results of the July poll, 72 percent of voters believe Congress is more interested in furthering their own political careers. Fourteen percent believe members of Congress are genuinely interested in helping people.
Pelosi responded to the statistics by defending her performance and the performance of her Democratic colleagues in Congress.
"I preside over the greatest collection of integrity and idealism," Pelosi said.
Wexler, however, continued to press Pelosi to elaborate on her response given that the Rasmussen poll suggested that a wide-range of issues beyond the Iraq war was responsible for Congress's single-digit approval.
Pelosi, visibly flustered, said she was well aware that "much more work needs to be done."
Prior to her appearance in West Los Angeles Monday evening, CNN's Larry King interviewed Pelosi.
.......please see my other post about her visit on the Larry King show -- wild thing)
.

Wild Thing's comment.........
This woman is a nutcase!
Pelosi has been mocked for her recent interview before this event happened, where she adamently described her goal as Speaker: ""I'm trying to save the planet; I'm trying to save the planet." And now she continues on with similar dialogue with her, "This Election is Like Death for Life on This Planet as We Know It". LOL
Pelosi's delusions of grandeur and hysterical ravings about apocalyptic visions could very well cost her the Speakership as Americans look for sane leadership in the upcoming election.
The RNC should do an ad like the Obama "The One" ad using clips of Nancy spouting her delusions. We might pick up a bunch of seats in the house.
Pelosi has taken her position and abused her power, she is obsessed with both, being Speaker and the power that comes with that position.
It is Speaker of the House not Speaker of the Democrats or Speaker of the EARTH. Her physical animations of her over use of her hands, her blinking and repeating sentences, her movements of her head ( just watch how she does this when she is interviewed) all these things look like she is on the edge.
Speaker of the House is a position of leadership not dictatorship. Her hate for President Bush is so intense she can't even control her comments as we have seen when she referred to him with the ever so sarcastic " Bless his heart" baloney that screams Screw You Bush.
She is getting attacked by both sides of the aisle and Code Pink is flipping out with their disappointment in her, the other far left communist groups are protesting Pelosi almost as much as they protest our soldiers. She knows her friends are few and I would imagine many of the Democrats in the House wish they never heard of her since they are connected to the lowest rate for Congress at 9%. They must be worried about their own re-elections just by their connection to this nut case.
Pelosi lost it, she lost it the day she had the lights turned off and thought it would be OK to take her 5 weeks vacation and do her book tour when America needed this energy problem to be settled.
Yes she has an agenda and a plan but it is based on hate and loathing and not common sense or solution solving for a problem. It is based on more power and that can be a fragile thing. If this was a football game the solution would be to make a touchdown to win, not a teams hate for the opposing coach and players of the other team. That might be a driving force but without doing what needs to be done when the time comes, that driving force is just wasted energy.
Posted by Wild Thing at 04:50 AM | Comments (15)
---
Obama Notes 'tragic' US Past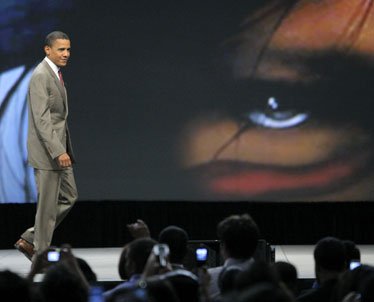 Democratic presidential candidate Sen. Barack Obama, D-Ill., walked by a painting depicting an American Indian after an appearance at the UNITY '08 Convention in Chicago.
Obama notes 'tragic' US past
American history's "sad" aspects require action, the senator tells cheering journalists
Sen. Barack Obama, speaking to a gathering of minority journalists yesterday, stopped short of endorsing an official U.S. apology to American Indians but said the country should acknowledge its history of poor treatment of certain ethnic groups.
"There's no doubt that when it comes to our treatment of Native Americans as well as other persons of color in this country, we've got some very sad and difficult things to account for," Obama told hundreds of attendees of UNITY '08, a convention of four minority journalism associations.
The Hawaii-born senator, who has told local reporters that he supports the federal recognition bill for native Hawaiians drafted by U.S. Sen. Daniel Akaka, noted other ethnic groups but did not mention native Hawaiians when answering a question about his thoughts on a formal U.S. apology to American Indians.
"I personally would want to see our tragic history, or the tragic elements of our history, acknowledged," the Democratic presidential hopeful said.
"I consistently believe that when it comes to whether it's Native Americans or African-American issues or reparations, the most important thing for the U.S. government to do is not just offer words, but offer deeds."
Obama, who appeared tired in his first major appearance since returning Saturday from a 10-day trip abroad, met with a receptive audience at the Chicago convention. Some journalists had waited three hours for the 40-minute appearance.
The group had expected Obama and Sen. John McCain to speak on Thursday night, but because of scheduling conflicts, only Obama could attend yesterday morning's talk.
When Obama walked on stage at the McCormick Center, many journalists in the audience leapt to their feet and applauded enthusiastically after being told not to do so. During a two-minute break halfway through the event, which was broadcast live on CNN, journalists ran to the stage to snap photos of Obama.
The Illinois senator talked about his trip overseas, reiterating his opinion that violence is down in Iraq but worsening in Afghanistan. And he expressed his approval of the Senate's passage of a major housing bill to help homeowners avert foreclosure.
Obama, who acknowledged that he needed a nap, stood up to say farewell to the audience of journalists, many of whom gave him another standing ovation.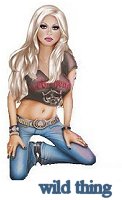 Wild Thing's comment.........
This was an article from Monday, July 28, 2008, Obama speaking about reparations. Obama is the 21st century code-talker. Every person in that room understood reparations were being promised.
"I consistently believe that when it comes to whether it's Native Americans or African-American issues or reparations, the most important thing for the U.S. government to do is not just offer words, but offer deeds."
Deeds, eh? So, let's see, trillions spent on welfare programs, taxpayer-funded but government-run education systems, "affirmative" actions programs at the expense of white people, Black History months, set-asides for minority contractors, "diversity" awareness, and of course 620,000 dead white guys in the Civil War which ended slavery in this country centuries ago, before any of our grandparents were even around. Isn't that enough for this 'Rat-brain? I guess not.
Obama really does despise the United States. Hussein you pinko schmuck ......America has nothing to be ashamed of...and much to be proud of!!!
Posted by Wild Thing at 04:48 AM | Comments (10)
---
Pelosi Indicates Openness To Offshore Drilling Vote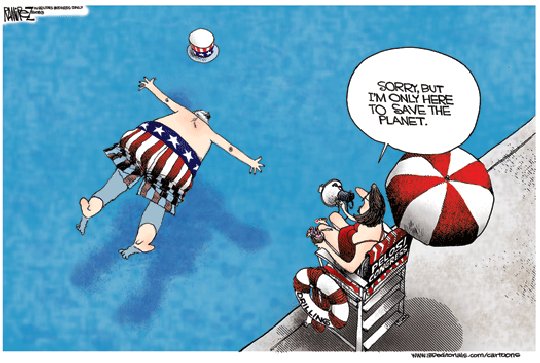 Pelosi indicates openness to offshore drilling vote

House Speaker Nancy Pelosi on Monday night dropped her staunch opposition to a vote on offshore oil drilling in the House.
Republicans, reacting to high gas prices, have demanded a vote on additional oil exploration in the Outer Continental Shelf, where drilling is currently blocked by a moratorium.
Until now, Pelosi (D-Calif.) has resisted the idea as a "hoax." But in an interview on CNN's Larry King Live, she indicated that she was open to a vote.
"They have this thing that says drill offshore in the protected areas," Pelosi said. "We can do that. We can have a vote on that."

She indicated such a vote would have to be part of a larger package that included other policies, like releasing oil from the Strategic Petroleum Reserve, which she said could bring down prices in a matter of days.

"But it has to be part of something that says we want to bring immediate relief to the public and is not just a hoax on them," Pelosi continued.

She even indicated that she might support a package that includes drilling. She said her decision on whether to support such legislation would depend on how the policies are packaged.

"It's not excluded, let's put it that way," Pelosi said.
In a year in which Republicans expected to take a beating at the polls, their support for drilling in protected areas has been a sudden bright spot. They have relentlessly demanded a vote on drilling as Democrats rearranged House business to avoid such a vote.
But the pressure has only grown. Republicans demanded a drilling vote before the House went home for the summer recess, and when that didn't happen, some stayed behind in the chamber to protest.
A bipartisan group in the Senate came up with a plan that would include drilling, and Democratic presidential contender Sen. Barack Obama (D-Ill.) has said he's "willing to consider" it.
And Democrats realize that it will be difficult to end their legislative year in September without a vote because the offshore drilling moratorium must be renewed every year.
Pelosi had previously said she would allow a vote on drilling and then backed off. On July 30, the last day Congress was in before the August recess, she was interviewed by the Capitol Hill press corps. She was asked if she could envision a vote on drilling in new areas this year, and she answered, "Of course."
But her aides later released a statement saying she was not announcing a change in her stance on a drilling vote.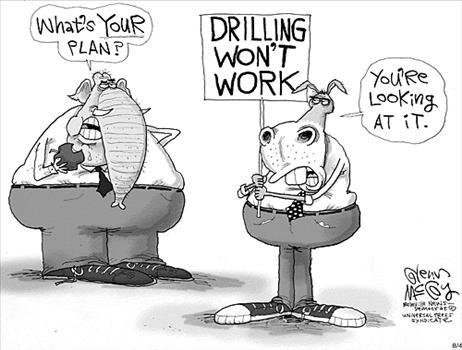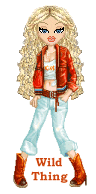 Wild Thing's comment..........
"She indicated such a vote would have to be part of a larger package that included other policies, like releasing oil from the Strategic Petroleum Reserve, which she said could bring down prices in a matter of days."
This way Pelosi and her fellow-traveling comrades can cripple our reserves intended for military and defense.
Luckily, GOPers in both houses are too smart for that.
Oh, wait, Lindsey Graham et al. will go for it if it includes some 50 mile drilling restrictions.
Nancy does nothing without a reason.
Possible scenariio--Dems are getting creamed by drill now demands from public. Five Repubs. of the wonderful NEW gang of ten, rushing to be bipartisan (Chambliss of GA, Graham, & 3 others) are agreeing to offshore drilling--50 miles out, only 4 states, allowing all sorts of orgns. to have a say. In other words, just enough of a come on to take away a winning Repub. cause and to get the drilling question off the backs of vulnerable Dems. This paper/bill still says no ANWR, no reopening of drillrigs shut down since Katrina that are closer in than fifty miles, etc.
Why wouldn't Nancy agree to a vote on a bill that, in effect, gives nothing, but looks like they are for drilling?
In a letter to House Minority Leader John Boehner, R-Ohio, House Speaker Nancy Pelosi, D-Calif., said Republicans have been obstructing Democratic bills aimed at lowering gas prices through releasing oil from the Strategic Petroleum Reserve, investing in alternative fuels and conservation and cracking down on oil speculators.
"While a very small band of your colleagues remain on the House floor to discuss gas prices, their constituents deserve to know why their representatives in Congress have failed to support serious, responsible proposals," she wrote. "Using yesterday's solutions to today's problems will not allow us to achieve energy independence."

Hoyer disappointed over Boehner's 'hang Pelosi' comment, calls for apology
When asked about an idea floating around that Pelosi call a special session only to vote on issues like childrens' health insurance and other Democratic agenda items, Boehner became indignant.
"She's gonna bring us back and not deal with [offshore drilling]? The American people are gonna hang her."
Tell Hoyer I am part of the American public that will 'Hang Her,' if she calls back the House and they end up doing nothing to address the concerns of the public! Noose = vote and people WILL vote against this freak witch.
There, now Boehner doesn't need to apologize for speaking the truth.
Posted by Wild Thing at 04:47 AM | Comments (8)
---
Faith Is A Very Special Dog
Faith, the biped dog from Oklahoma City. She is a Sgt. in the Army as well. This is so special and inspirational.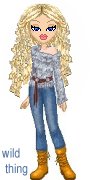 Wild Thing's comment............
What a precious dog and her face so full of love.

....Thank you Mark so much for sending this to me.
Posted by Wild Thing at 03:45 AM | Comments (10)
---
August 12, 2008
Bush Tells Moscow To Leave Georgia ~ Followed By Russia Response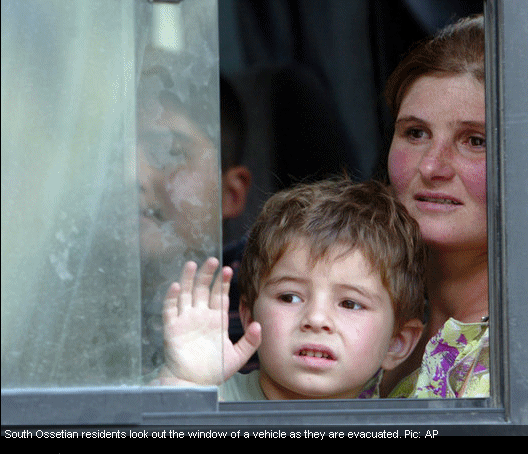 Bush tells Moscow to leave Georgia

Bush has warned Russia to reverse course in Georgia, saying Moscow's military strike there had damaged its world standing and endangered ties with the United States and Europe.
"Russia has invaded a sovereign neighbouring state and threatens a democratic government elected by its people," Mr Bush said at the White House today.
"Such an action is unacceptable in the 21st century."
He said the Georgian Government already had accepted outlines of a peace agreement that the Russian Government previously suggested it would accept.
Its terms include "an immediate ceasefire, withdrawal of forces from the conflict zone, a return to the military status quo as of August 6, and a commitment to refrain from the use of force," Mr Bush said.
He noted that European leaders and officials were pressing for Russia's agreement to the peace plan.
"Russia's Government must respect Georgia's territorial integrity and sovereignty," Mr Bush said. "Russia's government must reverse the course that it appears to be on as a first step toward resolving this conflict."
"Russia's actions this week have raised serious questions about its intentions in Georgia and the region."
Mr Bush's comments came just after the UN Security Council began fresh talks on draft text calling for an immediate truce in the Russia-Georgia conflict, agreed by US and European diplomats after several days of discord.
Few details were immediately available about the draft UN resolution, but the proposed text was based on a three-point peace plan that French Foreign Minister Bernard Kouchner is trying to sell to Tbilisi and Moscow.
The French blueprint called for "an immediate cessation of hostilities; full respect of the sovereignty and territorial integrity of Georgia" and "the re-establishment of the situation that existed before" Georgia sent forces into its breakaway South Ossetia enclave last week to wrest control from Moscow-backed separatists.
Earlier a diplomatic source, speaking on condition of anonymity, reported "good progress" after the expert-level meeting at France's UN mission and said the participants were consulting with their capitals on the next step.
The diplomat said the US side wanted tougher language condemning what Washington saw as Moscow's "disproportionate" response to the Georgian offensive.
But the Europeans were much more interested in crafting a text that would enjoy broad support, particularly from Russia, a veto-wielding permanent member of the council, he added.
"This is going to take some time, except if you want a Russian veto, which is not the solution," the diplomat said.
Meanwhile, as Russian forces punched deeper into Georgian territory to crush any resistance to their withering assault, Mr Kouchner discussed his peace plan with Georgian President Mikheil Saakashvili before heading to Moscow.
The two visited the Georgian city of Gori, close to South Ossetia, and were forced to take cover when an unidentified helicopter flew overhead.
French President Nicolas Sarkozy was also to visit Moscow and Tbilisi tomorrow, according to Mr Saakashvili.
Despite the flurry of international diplomacy to head off a wider conflict, Russia maintained an uncompromising stance, with its ambassador to NATO saying Moscow could not deal with Mr Saakashvili, a man it now views as a war criminal.
"Saakashvili is no longer a man that we can deal with," Dmitry Rogozin said in Brussels.
"He must be punished for breaching international law. He is responsible for many war crimes (against South Ossetian civilians and Russian peacekeepers)."
And Russia's Deputy Prime Minister Sergei Ivanov dismissed the peace initiative, saying it did not amount to a ceasefire.
A "ceasefire agreement is signed by two sides when they meet," he told CNN, adding first "we need a written agreement between Georgia on one side, South Ossetia and Abkhazia .. that they will never use force in the future."
.

GEORGIAN Soldiers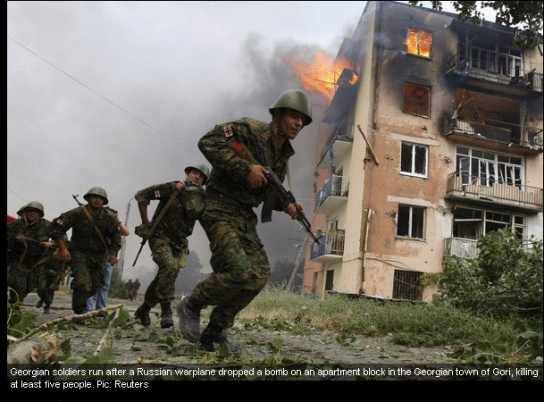 .
Russia set to reject French peace plan
INTERNATIONAL efforts to mediate an end to the conflict between Georgia and Russia were set to intensify today, but Moscow signalled it opposes a peace plan calling for an immediate truce.
President Nicolas Sarkozy of France, which currently holds the rotating EU presidency, was due in Moscow to hold talks with Russian President Dmitry Medvedev on a plan to end the conflict.
But Russia's ambassador to the UN yesterday rejected the proposed Western draft resolution in the Security Council based on a three-point French peace plan.
"I cannot see us accepting this French draft,'' Vitaly Churkin told reporters, referring to a French-drafted text agreed by Western ambassadors.
The plan, which Tbilisi has accepted, calls for an immediate truce, respect for Georgia's territorial integrity and a return to the status quo that prevailed before Georgian troops punched into South Ossetia last week to wrest control from Moscow-backed separatists.
Churkin objected to the fact that the draft resolution did not refer to "Georgian aggression and to the atrocities we have seen''.
Moscow has accused Georgian forces of killing 2,000 civilians as well as Russian peacekeepers in what it described as war crimes.
Churkin however expressed hope that an acceptable draft would eventually be worked out and listed two Russian conditions: Georgian forces must pull out of South Ossetia and "the Georgians (must) agree to sign agreements on the non-use of force with the Ossetians and with the Abkhazians.''
Earlier yesterday Russian Deputy Prime Minister Sergei Ivanov dismissed the EU efforts.
.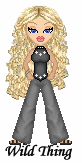 Wild Thing's comment........
Putin's a two-bit thug.
"...We no longer know the limits of the invading Russian army—Russia seems intent on overthrowing the democratically elected government of Georgia and occupying the country," said Alexander Lomaia, the Secretary of the National Security Council. "As a consequence, the National Security Council has just decided to bring the Georgian army to Tbilisi in order to defend the capital and prevent the fall of Georgia.." --- Ministry of Foreign Affairs of Georgia
LINK for quote
Ministry of Foreign Affairs of Georgia
Posted by Wild Thing at 02:55 AM | Comments (10)
---
Putins Push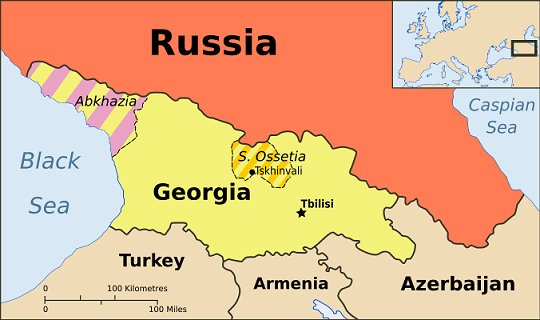 Putin Makes His Move
Washington Post ...for complete article

The man who once called the collapse of the Soviet Union "the greatest geopolitical catastrophe of the [20th] century" has reestablished a virtual czarist rule in Russia and is trying to restore the country to its once-dominant role in Eurasia and the world. Armed with wealth from oil and gas; holding a near-monopoly over the energy supply to Europe; with a million soldiers, thousands of nuclear warheads and the world's third-largest military budget, Vladimir Putin believes that now is the time to make his move.....
His war against Georgia is part of this grand strategy. Putin cares no more about a few thousand South Ossetians than he does about Kosovo's Serbs. Claims of pan-Slavic sympathy are pretexts designed to fan Russian great-power nationalism at home and to expand Russia's power abroad.
Unfortunately, such tactics always seem to work. While Russian bombers attack Georgian ports and bases, Europeans and Americans, including very senior officials in the Bush administration, blame the West for pushing Russia too hard on too many issues.
It is true that many Russians were humiliated by the way the Cold War ended, and Putin has persuaded many to blame Boris Yeltsin and Russian democrats for this surrender to the West. The mood is reminiscent of Germany after World War I, when Germans complained about the "shameful Versailles diktat" imposed on a prostrate Germany by the victorious powers and about the corrupt politicians who stabbed the nation in the back. ...
Now, as then... they are being manipulated to justify autocracy at home and to convince Western powers that accommodation -- or to use the once-respectable term, appeasement -- is the best policy.
But the reality is that on most of these issues it is Russia, not the West or little Georgia, that is doing the pushing.
.


Wild Thing's comment.............

"Europeans and Americans, including very senior officials in the Bush administration, blame the West for pushing Russia too hard on too many issues."
This is BS! The Russians are to blame for their own actions and no one else. I am tired of our country being blamed for things we did not start.
Russia is not just standing by doing nothing, they are ACTIVELY trying to thwart us, causing the deaths of our troops, and HELPING Iran get the bomb.
And with Putin, they have drifted massively backwards to becoming almost what they were before.
Posted by Wild Thing at 02:50 AM | Comments (8)
---
McCain's 'celebrity' Taunts Are Bugging Obama

McCain's 'celebrity' taunts are bugging Obama
In a presidential campaign freighted with war, recession and energy woes, a jibe featuring Paris Hilton, of all things, seems to have struck a nerve in Democrat Barack Obama. For the second time in two weeks, he aired a TV ad Monday rebutting Republican John McCain's claim that Obama is little more than a celebrity, like the blonde hotel heiress.
The first time, Obama dismissed the assertion as "baloney." On Monday, Obama took a different tack with a commercial that says McCain, not he, is "Washington's biggest celebrity."
The back-and-forth may seem as frothy as a boardwalk milkshake in mid-August. But it suggests McCain is making some headway in trying to fight the campaign on his terms.
For weeks, Obama has tried to frame the election largely as a referendum on President Bush, using every chance to tie McCain to the unpopular incumbent. McCain has tried to make it about Obama by arousing concerns about the first-term senator's experience and depth.
McCain has aired a series of TV ads that showed far more images of Obama than himself, a somewhat risky approach. All of them tried to turn Obama's crowd-pleasing talents against him.
A July commercial blaming Obama for high gasoline prices — which the watchdog group FactCheck.org called "a tank full of nonsense" — portrayed crowds chanting Obama's name. A subsequent ad mixed images of Obama on his recent European trip with video clips of pop figures Hilton and Britney Spears.
Obama is "the biggest celebrity in the world," the announcer said. "But is he ready to lead?"
Even some Republican strategists questioned whether the strategy was smart or dignified. And Hilton herself produced a video poking fun at McCain that drew large Internet viewership. But Obama's latest ad suggests the "celebrity" taunt has some sting, and efforts to dismiss it as silly have not been effective.
"They woke up this weekend and figured out that that ad resonated and they needed to do something about it," said Terry Holt, a Republican strategist.
Although the McCain campaign was lampooned for its Hilton ad on late night television and blogs, it kept hammering at the celebrity theme. A McCain TV ad introduced last week showed Obama waving to cheering crowds, along with his picture on the covers of the magazines GQ, US Weekly and Vanity Fair.
In his new ad, Obama tries to turn the celebrity theme to his advantage, grafting it to his claim that a McCain presidency would amount to a third term for Bush. That claim has generated a defensive response from McCain.
McCain daily tries to beat back the idea that he'd represent a continuation of Bush, as he did Monday while campaigning in Erie and Harrisburg, Pa. Nearly 85 percent of Americans think the country is on the wrong track, McCain told workers at an Erie manufacturing facility, and "we've got to reform and reform and reform."
The new Obama ad shows McCain hugging Bush while the voiceover says, "as Washington embraced him, John McCain hugged right back."
Obama spokesman Bill Burton said the ad is designed to say voters have a choice between Obama, who stands for change, and McCain, "who overwhelmingly favors the status quo."
Holt, the GOP strategist, said, "If the celebrity issue were not hurting them, they would have ignored it."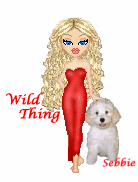 Wild Thing's comment............
Thin skinned B. Hussein Obam, gosh, and after being the bully on the playground. Thin skinned and also because Obama knows what is being said about him is true. knows its true. Nothing to back up anything he's ever done. "Community Planner" doesn't cut it.

Obama whine
"don't talk about my ears"
"don't use my middle name Hussein"
don't call me a liberal"
don't say fairytale that is a rascist word
don't talk about my wfie
and the list goes on and on....

The Madison Avenue campaign is in full effect. Just wait for the display and hype built up around his speech at the convention at a freaking football stadium filled with 72,000 screaming people.
The Georgia situation illustrates what we elect a President to do.
I am not a fan of McCain and you all know that, but McCain would be a man in the White House; Obama by comparison, would be an 18 year old college freshman with long hair and a bong.
Posted by Wild Thing at 02:48 AM | Comments (9)
---
Obama Camp STILL Can't Verify Return Of Arab Cash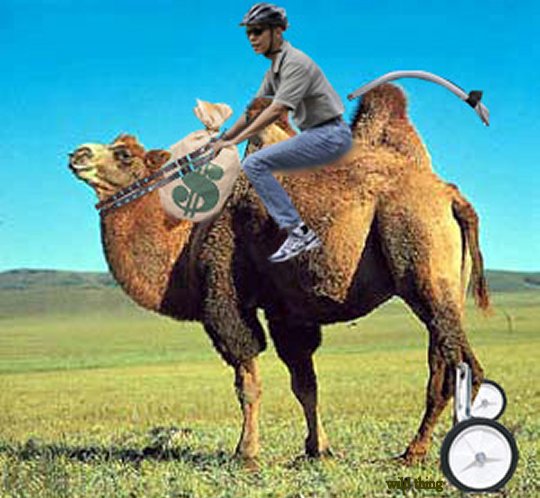 Obama camp still can't verify return of Arab cash
More questions than answers in illegal Middle East donor affair
JERUSALEM – One week after WND reported Palestinian brothers inside the Hamas-controlled Gaza Strip illegally contributed to Barack Obama's campaign, the Democratic presidential candidate's team has not responded to repeated WND requests for a clarification regarding how purported refunds were returned. The brothers told WND their money was not refunded.
Last week it was exposed Palestinian Gazans Monir, Hosam and Osama Edwan made a series of donations online at Obama's official campaign website totaling more than $30,000.
The donations violate election laws, including prohibitions against receiving contributions from foreigners and accepting more than $2,300 from one individual during a single election.
The Wall Street Journal reported it spoke to Obama officials who said the nearly $33,500 in donations were received between Sept. 20 and Dec. 6 of last year and that most of the money was returned by Dec. 6. The campaign claimed, however, the refunds were not reported to the Federal Election Commission due to a technical error.

The Obama camp insisted the remaining $2,500 was refunded Aug. 4 and that all the refunds will be reflected soon in an amended report. The campaign said new controls are in place to prevent any similar attempts in the future.
But WND spoke to the brothers, who denied the Obama campaign refunded their money.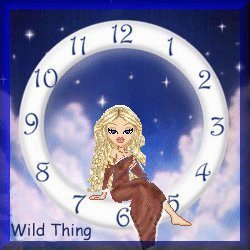 Wild Thing's comment..........
Tick Tock Tick Tock......
"More questions than answers in illegal Middle East donor affair"
This will be one to watch.....LOL
Posted by Wild Thing at 02:47 AM | Comments (6)
---
The Vandals at PB Volunteer, Baghdad, Iraq
The Vandals at PB Volunteer, Baghdad, Iraq 2004
Check out the Vandals playing "America, Fuck Yeah!" in Sadr City, Baghdad for our troops. Shhhh! Please don't tell our guys that you think they're bullshit troops fighting a bullshit war against bullshit terror, they might not appreciate that too much. And they have really big guns. Heh heh I love our troops!! -- Wild Thing
"This video was shot by a fellow soldier at Patrol Base Volunter, Baghdad, Iraq. Unsure if he wants his name published, thanks, CPT. The Vandals played around 5-6 shows in the Iraqi country side, dodging mortar fire and ambush risk like anyone else. Of their set at PB Volunteer, this video was the perfect song to play, as Team America was a big thing at the time. Mad high props to The Vandals! -Med Plt, 2/162 INF BN. "
Posted by Wild Thing at 02:45 AM | Comments (4)
---
August 11, 2008
Republicans Draw Bigger Numbers Than Pelosi's Book Sales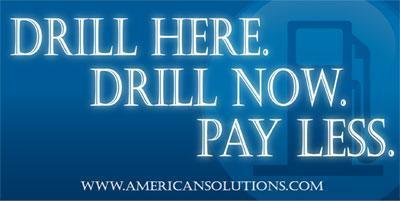 Drill Here Drill Now Link
http://www.americansolutions.com/
Republicans Draw Bigger Numbers Than Pelosi's Book Sales
Republicans are extending their energy vote revolt to a second week this morning in the House of Representatives. Buttressed on Friday by burgeoning crowds attending the protest and glowing praise coming into their offices from voters across the country who are demanding relief from staggering gasoline prices, Republican leaders reiterated their demand that Speaker Nancy Pelosi come off of her book tour to re-convene Congress and bring to a vote the comprehensive "drill and" bill that would authorize as a supply solution drilling into American energy resources.
As week one of the protest came to a close on Friday, there was a settling-in of sorts by short-handed staffers juggling extra duties while some of their colleagues were off on long vacations. The newness of the extraordinary events that so abruptly engulfed congressmen and staff alike had waned just a bit, and folks appeared to have gotten a handle on merging home district and D.C. schedules and systemizing the chaos that engulfs any attempt to put the brakes on something as unrelenting as a federal government timetable.
Prominently visible again on Friday were Rep. Mike Pence (R-IN) and Rep. Tom Price (R-GA). Pence and Price, along with a few of their colleagues, began this protest over a week ago when Pelosi hastily adjourned Congress for a five-week vacation without a vote on a legislation aimed at increasing the oil supply by opening offshore drilling. Pence returned to the Capitol on Friday from a day and a half trip home to his district in Indiana. His packed schedule reflected the gravity of the issue to this man on a mission.
At a breakfast for bloggers Friday morning sponsored by Americans for Tax Reform and the American Spectator, Pence was asked if he was frustrated by the lack of major media coverage. Pence replied, "I don't know how people define 'major media coverage.' Whether the network evening news that comes on before Wheel of Fortune is covering what we're doing, the American people know what's happening and the American people are with us. I saw that with my own eyes when I was home in Indiana, people stopping me on the street, stopping me at the state fair, coming up to me at gas stations saying keep doing what you're doing. It's working."
At the morning press conference, Pence reached out to his Democrat colleagues who favor a vote that includes drilling, saying, "Join us. Come to the floor of the House or call a press conference in your district. Call on your Speaker to call this Congress back into session. We would welcome with open arms any of the dozens of House Democrats who have said in the past that they support more drilling into America's domestic resources."
Pence and his colleagues moved from the presser to and through the staging point for entrance to the House floor speeches, which is now the hallway outside of the Republican cloakroom. Cheers and handshakes greeted the parade of Republican congressmen on duty Friday as they made their way through the hallway, which is blanketed in security and packed with people standing in winding lines that slowly filter through the entrance to the cloakroom.
No more buzzers ringing and a Republican member of Congress answering the door from inside of the cloakroom. That was abandoned out of necessity by Friday. The entrance and exits were propped open to accommodate the flood of people passing through the cloakroom where their electronic equipment is left (to accommodate House rules) before they step onto the House floor and take their seats for back-to-back-to-back speeches.
Pelosi's ban on the broadcast to the peasants of the revolution outside the House chamber remains in effect and a very frustrated C-SPAN continues broadcasting limited coverage of press conferences in Statuary Hall.
Pence and his colleagues took the floor again on Friday and began the day as they always do, whether the House is in session or at the commencement of the protest in the chamber: they lead with a prayer. Then the Pledge of Allegiance was recited and they were off to their charts, signs, and props used to explain America's need for energy independence -- and their ideas to accomplish that goal -- to a cross-section of Mr. and Mrs. America and family seated before them.
The crowds had so broadened in scope by Friday that there was amused talk in the cloakroom of the none-too-happy Democrat staffers spotted in the hallways with their tours in tow asking for directions to the Republican cloakroom.
Estimates on Friday from staffers on hand throughout the day were that upwards of 4,000 people had listened to speeches on the House floor by the end of the day. That number was up around 1,000 from the estimates on Thursday, and the vastly increased congestion in the hallways and the small cloakroom lent support to those claims.
The people who attended the protest in the first week were comprised of mainly two groups. First there were the people who have travelled to the District specifically for the purpose of having their Republican member of Congress escort them to the House floor to be a part of these events. The second and much larger group is comprised of vacationers on the Capitol Hill tour who have asked to be escorted to the House protest -- the kind of rank and file Americans from every race, creed, color and economic station that the Democrats claim are their supporters.
The volume of people who attended the speeches in the House chamber literally dwarfs the number of total sales of Nancy Pelosi's book released two weeks ago (July 29th).
As of deadline Sunday night, Pelosi's new book, Know Your Power: A Message to America's Daughters, was ranked a dismal 2,326th in sales on Amazon.com. Last Thursday's Drudge Report listed anemic book sales totaling 2,737 copies, yet an estimated 3,000 American vacationers attended the protest in the House chamber last Thursday alone.
Perhaps Madame Speaker should move her book tour to the hallway outside of the Republican cloakroom for the duration of the protest.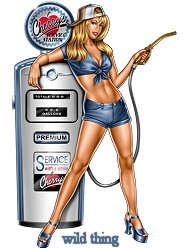 Wild Thing's comment............
Now if we could just get rid of those 5 Republican pukes that sided with the 5 demorats.
LOL oh my so they are saying Nancy Pelosi's book book, "Saving the Planet with Face Lifts", is not doing so great. heh heh
Quote from Mike Pence in the article: Whether the network evening news that comes on before Wheel of Fortune is covering what we're doing, the American people know what's happening and the American people are with us. I saw that with my own eyes when I was home in Indiana, people stopping me on the street, stopping me at the state fair, coming up to me at gas stations saying keep doing what you're doing. It's working."

It is my fervent hope that this will help to drive the stake deeper into the chest of the ENEMEDIA.
"Estimates on Friday from staffers on hand throughout the day were that upwards of 4,000 people had listened to speeches on the House floor by the end of the day. That number was up around 1,000 from the estimates on Thursday, and the vastly increased congestion in the hallways and the small cloakroom lent support to those claims."
IT'S GROWING!!! And the contrast is extreme. Also from the article:
"Last Thursday's Drudge Report listed anemic book sales totaling 2,737 copies, yet an estimated 3,000 American vacationers attended the protest in the House chamber last Thursday alone."
So hundreds more ordinary Americans attended the Tea Party on one day (and NOT our biggest day) than the number of books 9% Nan could peddle in WEEKS!
Plus, she had the full support of the Enemedia which is all but ignoring US! Bwahahahah.
Some links you might like to see or save:
U. S. House of Representatives

Energy prices continue their slide
http://www.bloomberg.com/energy/

Nazi Pelosi email
Posted by Wild Thing at 12:55 PM | Comments (4)
---
Obama Pays Visit To His Grandmother In Makiki (Alone)
Democratic presidential hopeful Illinois Sen. Barack Obama waited yesterday afternoon for the doors to close in the elevator that would take him up to visit his grandmother in a Punahou-area apartment.
Democratic presidential candidate Sen. Barack Obama, D-Ill., walks with his daughter Malia Obama, 10, and carries gifts after going to his grandmother's home in Honolulu, Hawaii Saturday, Aug. 9, 2008
The second photo must be AFTER he saw his Grandma and she must have given him a gift basket. He did not have it with him NOR his daughter when he was on the elevator to go up to her apartment. -- Wild Thing

Obama pays visit to grandmother in Makiki

After delivering a campaign speech, Sen. Barack Obama's first stop on his Hawaii vacation was a visit to his grandmother's Makiki apartment, where he also lived during his youth.
Obama -- escorted by Secret Service and accompanied by a few campaign staff and a pool of reporters and camera crews -- arrived at about 4:10 p.m. yesterday and spent an hour with his 85-year-old maternal grandmother, Madelyn Dunham, who helped raise him.
He was not accompanied by his wife, Michelle, and two daughters.
Dunham, a retired Bank of Hawaii vice president, still lives in the same apartment where she and her husband helped raise Obama, who attended nearby Punahou School.
Obama's half sister, Maya Soetoro-Ng, is his only other living relative left in Hawaii.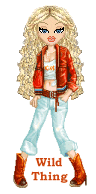 Wild Thing's comment..........
This is so weird. Why aren't the Grandkids crawling all over Grandma? Michelle doesn't like her? Kids have never met her? What is the real story. Is it because the white hating Michelle won't let the kids near her. Sorry but this is jsut very odd. hahaha
Wow, he visited with her for a whole hour after not seeing her for 19 months. What a guy. Or I guess I should say, this Grandma is not just A typical white person, but THE typical white person. And he spent a whole hour with her. Wow.
This could have been a grand photo op to show how INCLUSIVVE he is towards his WHITE Grandma and how his family loves white folks too.
So which person went to see the Grandma, Barry Soetoro or Barak Hussein Obama?
There is something deeply wrong with this family. Remember Barack didn't go to see his mother when she was dying of cancer.
Posted by Wild Thing at 01:55 AM | Comments (12)
---
Bush, Cheney, McCain and Obama Comments On Russia-Georgia War

President Bush and VP Cheney
BEIJING
President Bush has sharply criticized Moscow's harsh military crackdown in the former Soviet republic of Georgia, saying the violence is unacceptable and Russia's response is disproportionate.
Bush, in an interview with NBC, said:
"I've expressed my grave concern about the disproportionate response of Russia and that we strongly condemn the bombing outside of South Ossetia."
Earlier, Vice President Dick Cheney said that:
"Russian aggression must not go unanswered, and that its continuation would have serious consequences for its relations with the United States."
John McCain and Barack Hussein Obama
McCain, an outspoken critic of Moscow, said it was clear that the situation in Georgia was dire.
"Today, news reports indicate that Russian military forces crossed an internationally-recognized border into the sovereign territory of Georgia. Russia should immediately and unconditionally cease its military operations and withdraw all forces from sovereign Georgian territory. What is most critical now is to avoid further confrontation between Russian and Georgian military forces. The consequences for Euro-Atlantic stability and security are grave. Tensions and hostilities between Georgians and Ossetians are in no way justification for Russian troops crossing an internationally recognized border," he said.
Obama:
His first comment UNTIL he heard what McCain's reaction was..............
"I strongly condemn the outbreak of violence in Georgia, and urge an immediate end to armed conflict. Now is the time for Georgia and Russia to show restraint, and to avoid an escalation to full scale war. Georgia's territorial integrity must be respected. All sides should enter into direct talks on behalf of stability in Georgia, and the United States, the United Nations Security Council, and the international community should fully support a peaceful resolution to this crisis."

Here is how Obama reacted when he heard that Russian troops were attacking targets in Georgia:

Then AFTER Obama checked out McCain's take Obama made another comment to try and sound more like a man I suppose.
"I condemn Russia's aggressive actions and reiterate my call for an immediate ceasefire… Russia must stop its bombing campaign, cease flights of Russian aircraft in Georgian airspace, and withdraw its ground forces from Georgia."

Wild Thing's comment..........
Just a thought, maybe Cheney can invite Putin to a quail hunt. heh heh Hint hint to Cheney.
And as for Obama....LMAO good grief! The empty-suited marxist, ignorant as always, gave Russia the benefit of doubt, as fellow travelers always do. Until one of his empty suit handlers told him something else to say.
Posted by Wild Thing at 01:50 AM | Comments (15)
---
Michelle Obama to Speak On Convention's First Night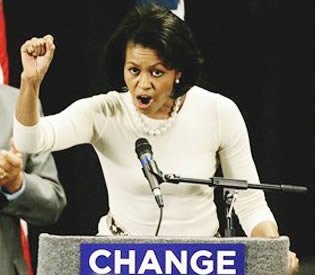 Michelle Obama to Speak On Convention's First Night
Sen. Barack Obama's campaign announced yesterday that his wife, Michelle, will be the star attraction on the opening night at the Democratic National Convention in Denver on Aug. 25.
Following Michelle Obama on Monday, the "headline speakers" for the rest of the convention will be Sen. Hillary Rodham Clinton on Tuesday, Obama's vice presidential choice on Wednesday, and Obama on Thursday. The convention will move that day to Invesco Field at Mile High Stadium, and Obama will officially accept the party's nomination before a crowd expected to reach 75,000.
Two of the dates will be rich with symbolism. Clinton, who came closer than any woman to winning a major-party nomination for president, will speak on the 88th anniversary of women receiving the right to vote, and Obama will give his acceptance speech on the 45th anniversary of Martin Luther King's "I Have a Dream" speech.
The Obama camp had previously said that Clinton would speak on Tuesday night, although negotiations continue about whether her name will be placed in nomination. The New York Daily News reported that Clinton has raised the idea of being introduced by her daughter, Chelsea. Former president Bill Clinton is scheduled to address the delegates on Wednesday night.
The Obama camp and the Democratic National Committee said additional details about the convention and speakers will be released this week.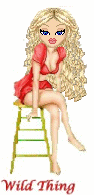 Wild Thing's comment........
There is something I don't understand. I thought that 'pledged delegates' were technically free to vote for whoever they chose - not legally or otherwise bound to the candidate claiming the pledge.
If I'm wrong, and each and every pledged democrat lackey is bound irreversibly to Obama, then so be it.
But, if I'm right, this announcement means that the DNC has admitted that it has anointed Obamasama as their savior - and no deviation from the party line will be tolerated.
There is no other explanation for calling on the wife of a candidate to be the opening speaker in a convention that is supposed to select the man or woman who will lead the party into a presidential election.
And then it mentions about Hillary's name might be placed in nomination. Kind of confusing.
Posted by Wild Thing at 01:47 AM | Comments (10)
---
Massive Explosion in North Toronto, Ontario
Toronto propane depot explosion ( (Go to 1:50 for HUGE explosion)
Firefighter dies battling huge fire at propane depot
A veteran firefighter died trying to extinguish a massive fire at a propane depot in north Toronto early Sunday, a blaze that closed major highways and forced thousands to flee their homes.
Residents said the explosion was terrifying.
Toronto police ordered the evacuation of neighbourhoods within 1.6 kilometres of Sunrise Propane. Thousands of people living between Keele Street, Dufferin Street, Sheppard Avenue and Wilson Avenue were ordered to leave their homes.
"My whole house shook. The front door came off and I saw fire," said Shelby Degan, who lives less than a block away from the depot.
"Next thing you know, I've got glass in my head and I'm running down the road."
O'Hallarn said the explosion sent large pieces of metal — likely from tanks that exploded — flying into nearby streets. Homes were damaged, windows shattered and doors were ripped from their hinges. About 200 firefighters battled intense heat to fight spot fires that continued to burn into Sunday evening.
The cause of the fire was still unknown. The area was still too unstable for Ontario Fire Marshal's Office investigators to enter the site and begin their probe.
Mayor David Miller, on vacation in Vancouver, was rushing back to Toronto to help co-ordinate the relief efforts. In a telephone news conference Sunday afternoon, he said his top priority is to ensure the area is made safe.
A no-fly zone was ordered over the area, as emergency workers feared that propane tankers parked on the site might spark further explosions, although those fears were diminishing by noon.
Natural gas and hydro were shut off to the area as a precaution.
The first explosion, which could be heard seven kilometres away, shook nearby homes and buildings, waking residents.
Robert Halman, who lives on Murray Road, said his ceiling crashed on top of him, and the doors and windows of his home blew out. Flames were everywhere, with fireballs exploding into the sky.
He escaped, but his shirt caught fire, burning his back. His forehead was covered in blood from the debris that hit him.
"I'm lucky that I got out of there alive," he said, scratches visible on his forehead.
ARTICLE SNIPPET:
"Police said the company stores and distributes a number of highly flammable welding supplies and gases such as acetylene, argon, nitrogen, propane and oxygen which police say is "highly explosive."
The cause of the explosion has not been determined."

.

Wild Thing's comment........
The lack of media coverage of this so far is astonishing. It is so good that few were hurt and killed in this horrible explosion.
Posted by Wild Thing at 01:45 AM | Comments (4)
---
August 10, 2008
Georgian and Russian War News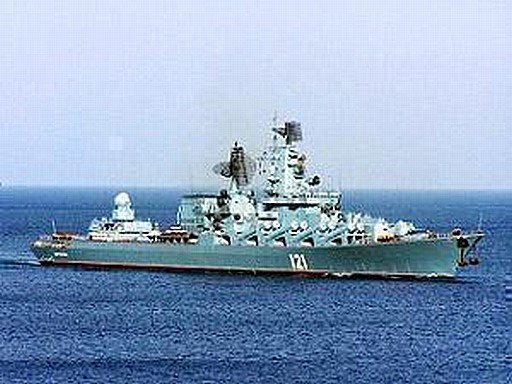 Report: Russian Navy blockades Georgia
MOSCOW (AP)
A news agency says the Russian navy has deployed ships to blockade Georgia's Black Sea coast.
The Interfax news agency says the Moskva missile cruiser and other Russian Black Sea Fleet ships have been deployed to Georgia's coast to prevent any weapons supplies.
A Russian navy spokesman refused to comment on the report Sunday.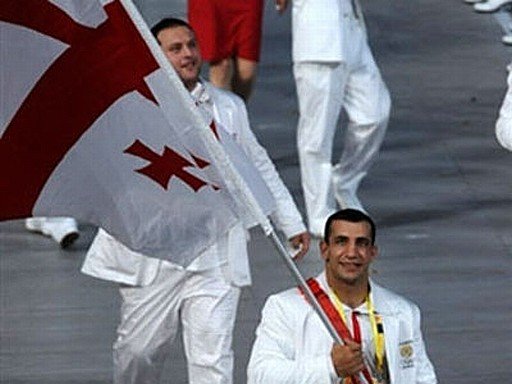 Unclear Whether Georgian Olympic Team Will Stay in Beijing
The Georgian Olympic team will not participate in the 29th Summer Olympics and is leaving Beijing. Georgian media report that the athletes made that decision after a meeting with Sandra Roelofs, wife of Georgian President Mikheil Saakashvili in Beijing. The official reason for the decision is that the athletes want to be with their families during this difficult time for their country.
Saakashvili had stated previously that the Georgian athletes plan to stage a protest against Russian actions in South Ossetia, even though, under the rules of the International Olympic Committee, they could be disqualified for doing so. Georgian and Russian athletes were scheduled to face each other for the first time on August 13, during the women's beach volleyball match.

No UN deal over Georgia
Reuters and video at link
U.N. Security Council fails to reach an agreement aimed at halting the bloodshed in Georgia.
The head of Europe's main security group says the region is on the brink of a full-scale war.

Wild Thing's comment.........
Russia is not going to stop with just South Ossetia... they want all of Georgia.
Georgian troops have been combating Islamic terrorism in Iraq, while previously Putin attempted to block any and all meaningful military action against Saddam, plus Moscow continues 'assisting' Iran's nuclear weapons quest against the West, and arming all of our and Israel's worst enemies.
Posted by Wild Thing at 05:55 AM | Comments (16)
---
"Gang of 10" Morons With Light On His Feet Lindsey Graham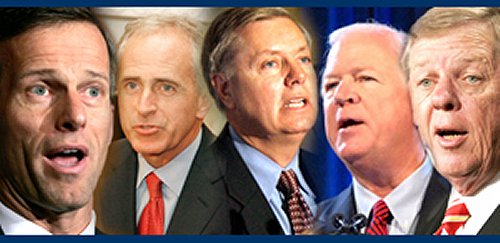 Republican Energy Fumble
by Kimberley Strassel

Politics has its puzzling moments. John McCain and most of the GOP experienced one late last week. That was when five of their own set about dismantling the best issue Republicans have in the upcoming election.
It's taken time, but Sen. McCain and his party have finally found -- in energy -- an issue that's working for them. Riding voter discontent over high gas prices, the GOP has made antidrilling Democrats this summer's headlines.
Their enthusiasm has given conservative candidates a boost in tough races. And Mr. McCain has pressured Barack Obama into an energy debate, where the Democrat has struggled to explain shifting and confused policy proposals.
Still, it was probably too much to assume every Republican would work out that their side was winning this issue.
And so, last Friday, in stumbled Sens. Lindsey Graham, John Thune, Saxby Chambliss, Bob Corker and Johnny Isakson -- alongside five Senate Democrats. This "Gang of 10" announced a "sweeping" and "bipartisan" energy plan to break Washington's energy "stalemate." What they did was throw every vulnerable Democrat, and Mr. Obama, a life preserver.
That's because the plan is a Democratic giveaway. New production on offshore federal lands is left to state legislatures, and then in only four coastal states. The regulatory hurdles are huge. And the bill bars drilling within 50 miles of the coast -- putting off limits some of the most productive areas. Alaska's oil-rich Arctic National Wildlife Refuge is still a no-go.
The highlight is instead $84 billion in tax credits, subsidies and federal handouts for alternative fuels and renewables. The Gang of 10 intends to pay for all this in part by raising taxes on . . . oil companies! The Sierra Club couldn't have penned it better. And so the Republican Five has potentially given antidrilling Democrats the political cover they need to neutralize energy through November.
Sen. Obama was thrilled. He quickly praised the Gang's bipartisan spirit, and warmed up to a possible compromise.
Of course, he means removing even the token drilling provisions now in the bill. But he's only too happy for the focus to remain on the Gang's efforts, and in particular on the five Republicans providing his party its fig leaf.
Equally gleeful was Louisiana's Mary Landrieu, the Senate's most vulnerable Democrat. She had been sweating the energy debate, especially after her vote against more oil-shale production -- a position her Republican opponent, John Kennedy, had used against her to great effect. Yet there she was, chummily standing with the Gang of 10 and boasting that she is working with "five Republicans" to "lower prices at the pump by increasing offshore drilling here at home."
Mr. McCain, who had been commanding the energy debate, was left to explain why he, of all people, wasn't more enthusiastic about a "bipartisan" effort on energy, especially one that includes "drilling."
His camp was forced to take refuge in taxes, explaining that their boss couldn't sign up for a bill that included more. If this is what Mr. McCain's good friend Lindsey Graham considers "helping," somebody might want to ask him to stop.
And pity poor Senate Minority Leader Mitch McConnell, who has been working overtime to stanch GOP losses this fall and head off a filibuster-proof Democratic Senate. His dogged efforts to highlight Democratic opposition to drilling has kept energy in the news and laid the groundwork for GOP candidates to use the issue to their advantage.
In the Colorado Senate race, Democrats had christened former GOP Rep. Bob Schaffer "Big Oil Bob" -- hoping to smear his oil industry career. "Big Oil Bob" has instead embraced his pro-drilling positions and is pummeling opponent Mark Udall for his antidrilling stance. In recent weeks, Mr. Schaffer has erased Mr. Udall's lead. Polls show Republican Sens. Norm Coleman (Minnesota) and John Sununu (New Hampshire) both climbing in the polls on the back of strong energy arguments. As two of the GOP's most vulnerable senators, both might well have run for cover with the Gang of 10. Instead they're fighting on the merits.
The "bipartisan" Republican senators have undercut these efforts, and boosted Ms. Landrieu. They've even put a smile on Senate Majority Leader Harry Reid's face. He'd been struggling to tamp down the energy debate through November, where he hopes to increase his majority and permanently shelve drilling. He's now counting on the Gang to fruitlessly continue "negotiations" straight through the Senate's short September session and solve his problem for him.
Not one of the five Republicans in the Gang is facing a tough election this year. That's the sort of security that leads to bad decisions. And theirs is the sort of thinking that could leave Republicans in a permanent minority.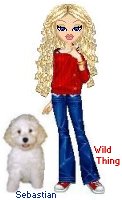 Wild Thing's comment............
Stupidity par excellence by these 5 Republicans. I can't believe this. This is what rino's do best, the screw America to try and make liberals like them. I mean even Paris Hilton knows that McCain is for drilling and then his "little buddy" goes out and makes a deal with the Dems???
This is not an offshore drilling plan, it is an effort to PREVENT serious consideration of rescinding offshore drilling prohibitions. The Congressional prohibition on drilling EXPIRES September 30, 2008, if they do nothing. So they had to throw SOME roadblock in the way.
Just when I thought the GOP finally found their cujones, Lindsey and his "gang" go and cut them off yet again. The Democrat party may be evil but the Republican party is stupid. And unfortunately, evil beats stupid every time.
You can go to link below to contact these Senators and speak your mind.
http://www.senate.gov/general/contact_information/senators_cfm.cfm
I get so tired of Republicans snatching defeat from the jaws of victory.
Pansy Graham's phone number: (202) 224-5972
And also othe pansy Graham is proudly displaying his "Gang of 10" affiliaiton and this absurd energy bill on his web site.
http://lgraham.senate.gov/public/
Right on the front page listed under Recent Headlines
Thank God for the other House Republicans that squished them last Friday and will keep after this. But what the hell who needs these scrum assclowns like these 10 people in our government. I say forget the "yes we can" BS from the left, this calls for a a GET THE HELL OUT!


.

From Rush Limbaugh transcript from Friday August 8,2008
RUSH:
" I have some news that's going to anger you, it's going to chill you. As you know, brave Republicans in the House are continuing their battle to force Nancy Pelosi to bring the Democrats back to have an up-or-down vote expanding the opportunity to drill for oil in ANWR and offshore. They continue to make their points, and they continue to fight. This is an issue, as you know, as I have mentioned it to you, it's the issue that can change this entire campaign around. Americans are angry, and it's not just at the price of oil and gasoline. It is the related price increases, everything that happens as a result of that. Food has gone up, practically everything has gone up, airline transportation, everything's gone up because of the price of oil. The oil is coming down, but it's a market that's still fluid, and nobody can predict what's going to happen. And whether the price continues to come down or not, we've gotten a warning here: We need to do what we can to expand our own supply, and the Republicans in the House are doing everything they can to see to it that this happens."
"However, in the Senate, there is a new bipartisan coalition called the Gang of Ten, five Democrats, five Republicans, led by Senator Lindsey Graham on the Republican side. They have just forged a compromise that basically cuts the Republicans in the House off at the knees, at least temporarily. The Republicans in the Senate have given the Democrats in the Senate everything they want, everything Barack Obama wants in an energy bill. I'll give you the details when we come back. But just because it happened in the Senate does not mean it's doom and gloom, does not mean it's over with, because the Republicans in the House are still fighting this. This is just a Gang of Ten trying to get the Senate moving on this. It's not an official Senate bill yet. It hasn't been passed there. But the Republicans on our side caved totally to the Democrat demands on energy in a way that has to have Obama doing cartwheels if he's heard about it. "
"They're doing all of this while these brave Republicans in the House are fighting the odds in their own revolution, trying to stop Pelosi and force her back so that we can move forward on a bill that would expand drilling, five Republican senators join five Democrats and basically hand the Democrats everything they want. "
"This is inexplicable. But the Republicans in the House have not signed on to this. This is just ten Senators of that come up with this compromise. The effort here -- Ms. Strassel is right, the effort here -- is to have a competing bill in the Senate so that nothing on this gets done before the November election, and because the difficulty will be in getting both bills to the floor and getting a compromise version passed, and then go to conference. It's too much to happen before the election 'cause they're not going to be in Washington that much, because everybody's going to be out on their own reelection campaigns. But, aside from all that, it just befuddles me. (sigh) I read this this morning, and said, "This cannot be true," and yes, it can be. We have a bunch of coward Republicans scattered around both houses of Congress. "
"We've got a bunch of Republicans who have been trained by the presidential nominee of their party that the way to advance yourself with the media and in Washington social circles is to agree with Democrats. This is just mind-boggling. We'll keep you posted on any further developments."
"If I am for freedom, why should I give away anything? Not saying this is freedom versus tyranny but gosh, folks, if this keeps up we're going to have tyranny, well I think we do, in terms of property rights and any number of things. So here's a bipartisan effort that McCain didn't support. This one included drilling, limitations on drilling, and McCain wants to open up drilling, it's become his issue, and these five Republican senators last Friday just nuked it, at least in the Senate."
"Now, this deal, by the way, this Gang of Ten deal, get this. I talked about some of the regulations in this bill that are onerous. Try this. This deal would allow drilling if -- if and when -- the EPA and PETA and states and cities and counties and the ACLU clear the way. "
"It would put up more barriers to drilling, which is what the Democrats want, because they want no drilling, period. Five Republicans go along with it."
"Yeah, this did catch McCain by surprise, because it put him in a very ironic situation. McCain has made his bones being the bipartisan guy, working with the other guys, so here's Grahamnesty (who is McCain, Jr.) and I think he sees this is how McCain got to be who he is. So Grahamnesty says, "Okay, I'll try it," and in the process, McCain is saying, "Lindsey, he-he, he-he. (snickering)" So McCain, the only way he could oppose this, is, "I'm not for tax increases, and there are too many tax increases in this bill. That's not the way." But it just took the issue away. Well, it hasn't done it yet because the bill is not passed in the Senate. It's just an indication we've got these five guys. By the way, another explanation."
" I left off the most important thing to look at. "Folks, I can't explain it. You can make up whatever explanation you want. They're stupid; they want good coverage in the media, whatever it is." Follow the money. Follow the money. Well, in this case, follow the money. Use your imagination, campaign contributions, lobbyists. They're not up for election this year. They don't face serious opposition. The answer to almost every question, particularly in politics, can be found at the end of the trail of big bucks."

....Thank you Mark for sending this to me.
Posted by Wild Thing at 05:50 AM | Comments (20)
---
America Haters and Racist's Michelle and Barack Obama
.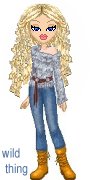 Wild Thing's comment.............
If you notice the date on some of the scenes in the video in the upper right corner.....11/23/2004 it is from Obama's " Dreams from My Father" Book Signing, New York, New York
"The Basic Outline of the government we posses and our civic religion as a people is such that potentially at least, we could create a society that is a model for the world, it isn't right now ."

Michelle and Barack Obama INSULT America Over and Over and Over again. In there own words. These two are totally disgusting. Bashing America, hate for America, preaching, teaching their hate for America every chance they get. What miserable people they are. What vile and horrible Americans they are.
How does she reconcile with the fact that her husband clings bitterly to stereotypes of "typical white person's".
Michelle and Barack are showing the world and example of affirmative action , entitlement mentality, and 20 years of the "self-esteem without accomplishment" push in our culture.
Michelle is telling the world if you do not elect obamaboy that you are stupid, ignorant and racist! Calling the voters ignorant is a great way to get elected.
Posted by Wild Thing at 05:48 AM | Comments (14)
---
Labor Day Reinstated At Tyson Foods!!

Labor Day Reinstated At Tyson Foods!!
Your Calls and Emails Made a Difference!
Chalk up another victory for people power.
When we sent you the email informing you of the Tyson Foods union agreement replacing Labor Day with Eid al-Fitr, so many of you contacted the company that we were told Tyson stopped answering customer service calls, diverting them to voice mail.
Thank you for taking action !!
Now this morning Tyson Foods has announced that it went back to the union and reached a new agreement that reinstates Labor Day. Clearly, the grassroots pressure and negative publicity "encouraged" Tyson Foods to do the right thing. Just as many of you told us you would no longer buy Tyson Foods because of the original agreement, let's now reward Tyson Foods for taking this action by buying their products.
And remember this – other companies are watching what just happened.
This is just one more example of how informed and organized grassroots action can make a difference. It's just one more example of why the mission of ACT! for America is absolutely essential to the long-term objective of stopping the spread of radical Islam.
.
Labor Day Reinstated as Paid Holiday at Shelbyville, TN, Plant
Tyson Foods Requested Change from Union
Springdale, Arkansas – August 8, 2008 - Tyson Foods, Inc. announced today it has reached a new agreement with the Retail, Wholesale and Department Store Union (RWDSU), an American union, reinstating Labor Day as one of the designated paid holidays under the contract for covered employees in the Shelbyville, Tennessee, plant.

Tyson made this request on behalf of its Shelbyville plant employees, some of whom had expressed concern about the new contract provisions relative to paid holidays. In an effort to be responsive, Tyson asked the union to reopen the contract to address the holiday issue, and the union agreed to do so.

The union membership voted overwhelmingly Thursday to reinstate Labor Day as one of the plant's paid holidays, while keeping Eid al-Fitr as an additional paid holiday for this year only. This means that in 2008 only, Shelbyville employees will have nine paid holidays.

For the remainder of the five-year contract period, the eight paid holidays will include: New Year's Day, Martin Luther King Day, Memorial Day, Independence Day, Labor Day, Thanksgiving Day, Christmas Day and a Personal Holiday, which could either be the employee's birthday, Eid al-Fitr or another day requested and approved by their supervisor.

This issue concerns only the plant at Shelbyville, Tennessee. Labor Day has always been celebrated, and continues to be, at the other 118 Tyson plants across the country.

The Shelbyville complex employs approximately 1,200 people. Approximately 1,000 workers are covered by the RWDSU union agreement at that location.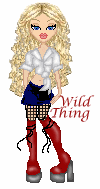 Wild Thing's comment........

Well they added Labor Day back and will keep the Muzzzzlem holiday too. LOL What can I say. At least they added Labor Day back.

This really does show us once again how fighting back does work almost every time. I hate that it has to be done, that we can't just have people do the right thing, the best thing for America, but that just is not the case any longer. Now we have to be in the know of what is going on and keep after the left that want to cave in to things that willl destroy our country step by step.

.....Thank you Darth for sending this update.
Posted by Wild Thing at 05:47 AM | Comments (13)
---
Have You Ever Seen A Baby Panda Sneeze?

LOL this is so cute. It is the baby that sneezes and catches the Mommy off guard. hahaha

....Thank you Col. Clary for sending this to me.

Posted by Wild Thing at 05:45 AM | Comments (6)
---
August 09, 2008
U.S. Tells Russia To Pull Forces Out Of Georgia
Richard Holbruck discusses this on CNN
**** Just a correction I have to make. They announced last night that Bush and Putin DID talk before the Opening events at the Olympics. So perhaps this man did not know that before this video interview was done. --Wild Thing
U.S. tells Russia to pull forces out of Georgia
WASHINGTON (Reuters)
The United States told Russia on Friday to withdraw its forces from U.S. ally Georgia and stop its air attacks on the tiny Caucasus state following fighting in the breakaway region of South Ossetia.
"We call on Russia to cease attacks on Georgia by aircraft and missiles, respect Georgia's territorial integrity, and withdraw its ground combat forces from Georgian soil," U.S. Secretary of State Condoleezza Rice said in a statement.
Rice issued her statement as Georgia, a former Soviet state that now wants to join NATO, said it would declare martial law and battled to get control of the rebel enclave, which was fortified by Russian forces.
Georgia said Russian fighter jets bombed container tankers and a shipbuilding plant in the port of Poti, prompting Washington's sharpest rebuke of Russia since the crisis began.
"We deplore the Russian military action in Georgia, which is a violation of Georgian sovereignty and territorial integrity," U.S. Ambassador Zalmay Khalilzad told reporters at a U.N. Security Council meeting in New York.
The State Department summoned the Charge d'Affaires at Russia's Embassy in Washington, Aleksander Darchiyev, to see Rice's deputy John Negroponte, who pressed Moscow to stop its military activities in Georgia.
"The deputy secretary said that we deplore today's Russian attacks by strategic bombers and missiles, which are threatening civilian lives," said State Department spokesman Robert Wood of Negroponte's meeting with the Russian diplomat.
"These attacks mark a dangerous and disproportionate escalation of tension," he added.
Both Rice and the White House urged an immediate cease-fire in South Ossetia, and U.S. officials said they would send an envoy to the region to help mediate.
As fighting raged in and around the South Ossetian capital of Tskhinvali, Georgian President Mikheil Saakashvili said Russia and Georgia were at war.
Rice said the United States was working with its European partners to launch international mediation, and "we urgently seek Russia's support of these efforts."
American military planners reviewed contingency plans for the possible evacuation of up to 3,000 U.S. citizens from Georgia, including about 130 defense personnel there to train Georgian military forces for duty in Iraq.

Wild Thing's comment.........
Russians will ignore America's wishes is my guess.

"Early Saturday, Interior Ministry spokesman Shota Utiashvili said the Vaziani military base on the outskirts of the Georgian capital was bombed by warplanes during the night and that bombs fell in the area of the Baku-Tbilisi-Ceyhan oil pipeline. He also said two other Georgian military bases were hit and that warplanes bombed the Black Sea port city of Poti, which has a sizable oil shipment facility.
Utiashvili said there apparently were significant casualties and damage in the attacks, but that further details would not be known until the morning."
Also, another site reported that 1200 US special ops forces were present at the Vaizani base for training exercises with Georgias forces...they arrived on TUESDAY. I hope they are ok, the base having come under Russian air attack. ALso, earlier sources mentioned as many as 1000 US Marines were previously in the country.
Georgia is the third biggest contributor of forces in Iraq, with 2500 there. They have been recalled to Georgia because of the emergency. They have been such a good allie to us.
Posted by Wild Thing at 05:55 AM | Comments (18)
---
Nissan Ad Has Arabs Calling for Boycott
Check out the commercial as it aired in Israel. LOL

Nissan Ad Has Arabs Calling for Boycott
The Arab world is fighting mad about a new commercial being aired in Israel by Nissan.
In the commercial, Nissan brags about how fuel efficient their new car the Tiida is by showing how mad it is making Arab Shieks, who start to attack the car and complain about how Nissan is costing them millions of dollars.
The ad is supposed to be funny, but it plays on old Arab stereotypes. In the commercial, the actors playing the Arab Shieks say the car has "destroyed my home," and they direct hatred toward the car saying, "May hawks poke at you day and night," and "May the sun melt you and God take you."
As the ad comes to a close, the announcer declares "when you consume the least fuel, it's obvious they won't like you in the oil emirates."
The Saudi regime, along with other oil-producing Gulf states, is threatening to boycott Nissan -- which is collaborating on the development of the Project Better Place electric car system in Israel -- if the automaker doesn't apologize.

.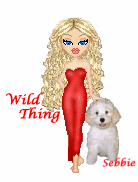 Wild Thing's comment............
"The Saudi regime, along with other oil-producing Gulf states, is threatening to boycott Nissan"
LOL!
I thought their favorite was a Mercedes. And the Nissan Sunny/Sentra is popular for car bombs.
Good for Nissan. This just proves once again that muslims have no sense of humor and will attack anything and everyone that makes a joke about them.
I just could not resist !
Ahab the Arab - Ray Stevens
Posted by Wild Thing at 05:50 AM | Comments (18)
---
The Laws To Be Eligible To Be President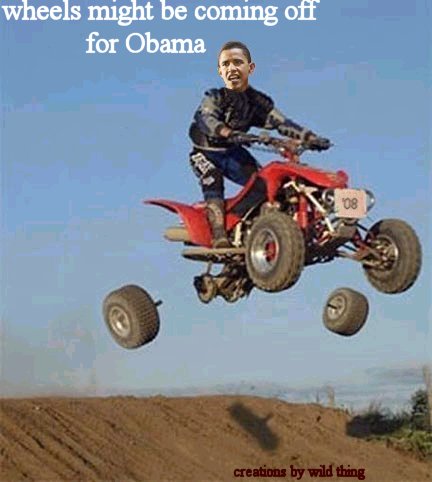 2 campaigns seek 'truth' about Obama's birth
Eligibility for presidency hinges on American citizenship
Israel Insider is reporting that analysts working separately have determined the birth certificate posted on the Daily Kos website and later on Sen. Barack Obama's "Fight the Smears" campaign website is fraudulent, and now two different actions have been launched to try and obtain the truth about the presumptive Democratic presidential nominee's birth.
The Israel Insider report said the two analysts it interviewed both have been "able to independently discern the name 'Maya Kassandra Soetoro' from artifacts left behind in the process of forging a new fake document for Barack from an image of Maya's original document." Maya is Obama's younger half-sister.
The report follows a posting from another researcher, identified by the news publication as Techdude, that the birth certificate is a forgery because it originally documented the birth of a woman in the 1970s.
Blogger Mitchell Langbert now has launched a petition to the Federal Election Commission in which signers are asking the agency to "take responsibility to verify the eligibility of Mr. Barack H. Obama to be president of the United States."
Wrote Langbert, "Mr. Obama has refused to produce a physical certified, stamped copy of his birth certificate. An electronically displayed imaged displayed by his official campaign website has alleged to have been a forgery. … We request that the FEC require Mr. Obama to authorize the FEC to obtain an official copy of his birth certificate."
Ted Moran, who said he wished to be contacted at brotherbear@solomonsstables.org, said he also was launching a campaign to discern the truth about Obama's birth certificate.
"I am looking for 50 brave men or women from 49 states and the District of Columbia to join me in suing the secretaries of state in our respective states to prevent them from posting the name Barak H. Obama on the November 2008 ballot until he presents incontrovertible proof that he is a … U.S. citizen," he said. "The secretaries of state are the ones who by placing a person or initiative on the ballot certify that the candidates or initiatives meet the legal requirements to be on the ballot.
"The office of the president is simply too important to trust to someone other than a person whose loyalties are 100 percent American, and while it is impossible to read into the heart of a man or woman we do have the test our forefathers gave us. Which is this office is not to be entrusted to anyone but a natural U.S. citizen," he said.
Multiple requests over a period of several days by WND to the Obama campaign for a comment or explanation of the birth certificate issue did not generate any response.
The Israel Insider said, "The revelation that [the birth certificate] of Obama's own sister was evidently used to create the electronic forgery represents what supporters of this analysis claim is a 'smoking gun' that appears to implicate Sen. Obama directly. Hawaii law limits access to vital records to family members only, a fact which slowed down the ability of researchers to compare the purported Obama 'birth certificate' – which displayed from the start a peculiar provenance and inexplicable features – to genuine specimens. Therefore, it would seem that either Maya K. Soetoro-Ng (as she is now called) supplied the document or its image to half-brother Barack or his campaign, or Obama/his campaign used it without her permission.
"The stakes couldn't be higher. Even the Snopes anti-rumor site acknowledges that Obama's constitutional fitness to be president depends solely on his being born in the United States, because his mother – not yet 19 at the time of his birth – would not have had a sufficient number of years as an adult citizen, according to the laws prevailing at the time, to pass on 'natural born citizenship' automatically," the report said.
"There have been reports, so far unconfirmed, that Obama was born outside the country, either in Kenya, his presumed father's native land, or in Canada. The fact that the Obama campaign has been touting as genuine a forgery since June 12 will likely increase pressure to not only account for the fake but produce a genuine paper birth certificate. Obama, in his book 'Dreams from My Father,' specifically mentioned having such a document in his possession, but it has not been submitted for public inspection or analysis if it in fact exists," the report said.
The forensic computer investigators interviewed by the news publication concluded there are two obvious possibilities for the birth certificate image: A real certificate was scanned and digitally edited or a real certificate was scanned for the graphic layout, then blanked by soaking the document in solvent to remove the toner.
The certificate was published by the Daily Kos June 12 following initial reports questioning Obama's place of birth. He's stated he was born in Hawaii, but if that was not the case, his citizenship could be uncertain, since his father was not a citizen and his mother was not old enough to pass along American citizenship automatically.
The issue originally was raised by Jim Geraghty, reporting on the Campaign Spot, a National Review blog. He cited the "unlikely" possibility that Obama's 1961 birth was not within the U.S.
At the time, he wrote, "If Obama were born outside the United States, one could argue that he would not meet the legal definition of natural-born citizen … because U.S. law at the time of his birth required his natural-born parent (his mother) to have resided in the United States for 10 years, at least [f]ive of which had to be after the age of 16.'"
He then pointed out Ann Dunham, Obama's mother, was 18 when Obama was born, "so she wouldn't have met the requirement of five years after the age of 16."
When the Daily Kos website posted an image that appeared to be Obama's birth certificate, Geraghty announced he was satisfied.
The presumptive Republican nominee for president, Sen. John McCain, R-Ariz., already has gone through a similar challenge, and the U.S. Senate responded with a resolution in April declaring him to be a "'natural born Citizen' under Article II, Section 1, of the Constitution of the United States."
The article declares "no person except a natural born citizen … shall be eligible to the office of president."
McCain was challenged because he was born to two U.S. citizens in the Panama Canal Zone.
.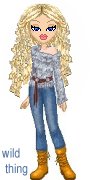 Wild Thing's comment........
Hmmmmmm maybe he wasn't born. maybe he was "begotten"....or maybe spawned.
I don't know the blog in the article but I thought this was interesting how this whole thing keeps gonig and there are so mnay working on it. This one was sent to me, I don't know this blog either, the person is in Texas and it sure has a lot of information on it.
http://texasdarlin.wordpress.com/
Texasdarling web site is definitely a Hillary support site. However, they have good evidence,
B.Hussein Obama may be all legit and legal, but something very peculiar is going on. I am also wondering if some some hanky-panky about this topic is going on while Obama is in Hawaii, since it is a big Democrat State and he could get his doc's in order.
Even if Obama can prove beyond doubt he is a natural born citizen, he used and presented a forgery on his website.
Obama took down the relative high resolution version and put up the crappy compressed version on his website
That by it self would be more than enough to destroy any Republican candidacy.
Obama won his first election by having ALL the other contenders removed from the ballot by extensive and petty challenges to their signers or residency.
Obama played hardball in first Chicago campaign
May 30, 2008
"In his first race for office, seeking a state Senate seat on Chicago's gritty South Side in 1996, Obama effectively used election rules to eliminate his Democratic competition.

As a community organizer, he had helped register thousands of voters. But when it came time to run for office, he employed Chicago rules to invalidate the voting petition signatures of three of his challengers.

The move denied each of them, including incumbent Alice Palmer, a longtime Chicago activist, a place on the ballot. It cleared the way for Obama to run unopposed on the Democratic ticket in a heavily Democrat district.

"That was Chicago politics," said John Kass, a veteran Chicago Tribune columnist. "Knock out your opposition, challenge their petitions, destroy your enemy, right? It is how Barack Obama destroyed his enemies back in 1996 that conflicts with his message today. He may have gotten his start registering thousands of voters. But in that first race, he made sure voters had just one choice."
Posted by Wild Thing at 05:48 AM | Comments (19)
---
Singing Puppies To Sleep

....Thank you Yankeemom, this is adorable!
Posted by Wild Thing at 04:47 AM | Comments (4)
---
Woman Walks 2,700 Miles To Thank Troops
"Through the course of our lives, we are fortunate enough to receive a multitude of amazing gifts; gifts which, though through another's' hard won sacrifice, we freely call our own. The majority of the time we fail to express our gratitude to these selfless heroes, and it is for that reason that generations of men and women serving our armed forces go unnoticed. Yet these men and women have given life, limb and all the creature comforts of home to ensure that liberty and all its freedoms should never fail for You . . . for Me."
"My name is Keela Carr and I AM an American; a proud daughter of my fore fathers; a grateful recipient of the precious gift of freedom. "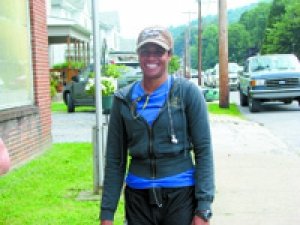 Keela Carr began her Journey of 1,000 Thanks in Barstow, California on Memorial Day, and is scheduled to lay a wreath at the Tomb of the Unknown Soldier in Arlington, Virginia on August 8, 2008.
A Journey of 1,000 Thanks spans thousands of miles
On Memorial Day, Keela Carr began a journey. A journey that would take her across the United States on foot in an effort to give thanks to those who have defended her freedom to do so. The goal of her journey was to give 1,000 thanks to 1,000 United States service men and women for the sacrifices and efforts they have given to keep this nation safe and free.
Starting in Barstow, California, this 35-year-old personal trainer from Central Florida, has crossed 12 states thus far in her quest to reach Arlington, Virginia.
Keela is scheduled to lay a wreath at the Tomb of the Unknown Soldier in Arlington on August 8, 2008. Her journey has taken her through California, Arizona, Colorado, Nevada, Utah, New Mexico, Kansas, Missouri, Illinois, Indiana, Ohio, and West Virginia. Through blisters, rain, nearly unbearable heat, and the occasional critter, (she stepped on a copperhead while traveling through Kansas, and met a very friendly squirrel at the Grand Canyon) Keela has pressed on with what has become a monumental journey of gratitude brought forth through the love of her country. Fourteen pairs of shoes and hundreds of socks later, she is now approaching the last leg of her journey to Arlington.
A life changing visit to Walter Reed Medical Center in Washington, DC, helped to inspire her patriotic trek to give thanks to those who serve.
Throughout her long walk, she has been privileged to meet with and thank veterans from all of the branches of the armed services. West Virginia has become one of her more difficult states to walk across. With the absence of a shoulder alongside the road in many areas, she finds herself walking through the weeds and grass in order to remain safe. She left the Mountain Statesman office Monday heading toward Route 50 East and the remainder of her journey.
This is a truly inspirational effort on the part of one woman who has been blessed with the freedoms and liberties afforded her through the efforts of veterans across the United States. Inspired by the commitment these men and women have made over the years, Keela is happy to dedicate this time in her life in showing her appreciation.
Miss Carr snapped pictures and took video along the way and documented her journey on AThousandThanks.us.
She stayed at hotels during the beginning of her walk, but said she began making connections with strangers who heard about her mission. Many of them took her into their homes and fed her.
Keela's website:
.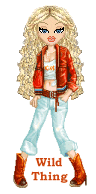 Wild Thing's comment.........
God belss her!
What a difference in this woman and the likes of Barack and Michelle Obama and anyone else on the left.
Posted by Wild Thing at 04:45 AM | Comments (6)
---
August 08, 2008
Character Counts But Not To Democrats and John Edwards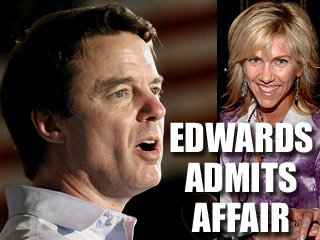 John Edwards, former Democratic presidential candidate, admits he had an extramarital affair while his wife, Elizabeth, was battling cancer.
The other woman is 42-year old Rielle Hunter, a novice filmmaker. She had a baby in February, but Edwards insists he is not the father.

The National Enquirer first reported the affair in October. At that time Edwards said the story was completely untrue and ridiculous. Now, he is admitting he had an affair.

.
"In 2006, I made a serious error in judgment and conducted myself in a way that was disloyal to my family and to my core beliefs," he said in a written statement. "I recognized my mistake and I told my wife that I had a liaison with another woman, and I asked for her forgiveness."
In an interview set to air Friday night on ABC's "Nightline," Edwards acknowledged the affair with 42-year-old Rielle Hunter, which began after she was hired to make documentary videos for his campaign, ABC said.
"You cannot beat me up more than I have already beaten up myself. I have been stripped bare and will now work with everything I have to help my family and others who need my help," he added in the statement. Read the full statement .
He said that he has not taken a paternity test but that the timing of the affair rules out the possibility that he could be her baby girl's father.
Andrew Young, a former Edwards campaign aide who is married, has publicly said he fathered the child. The Washington Post reported Friday that Hunter acknowledged Young as the father.
When the tabloid the National Enquirer first reported the affair in October, Edwards flatly denied it, calling the claims "false" and "ridiculous."
.


Wild Thing's comment..........
The not so breaking news of John Edwards having an affair with Rielle Hunter. There are two things happening with this. Edwards being a low life but also the media . The Media should be absolutely ashamed. They ignored this and tried to play it off as non-news, when if it were a Republican candidate, they'd be all over it.
OH we have all been hearing about it, from the gossip magainzes at the grocery store starring at us as we check out to some of the other blogs online discussing this. But not from MSM. Is it news worthy? It is only because he ran for President and did it AFTER he had this on going affair.
So does this mean he will now get to speak at the Rat convention along with Bill Clinton?
Help me out here:
He vehemently denied the affair before.
He now says that he did have an affair but a) the kid is not his and b) when he had the affair, his wife was in remission.
Now, he is visiting his former mistress in a hotel at 2am with someone else's kid?
This day in history...
Russia and Georgia start a war
The Olympics begin
It's a Friday afternoon in August
Edwards admits he's a lying scumbag.
Obama should take note. Today's the perfect day to admit he's a marxist and forged his birth certificate.
Posted by Wild Thing at 05:47 PM | Comments (17)
---
Russian Army Moving Against Georgian Forces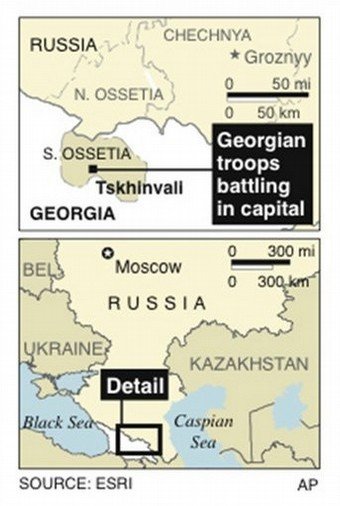 Russian Army Moving Against Georgian Forces Controlling Capital of Breakaway Province South Ossetia
Reuters reports the Pentagon says it has had contact with Georgian officials but have not received a request for assistance..
Parts of Russia's 58th Army — including 150 tanks and armored vehicles — reportedly were moving Friday on the capital of South Ossetia after Georgian troops entered the city in an attempt to crush separatist forces seeking to control the breakaway province.
Kakha Lamaia, a member of Georgia's National Security Council, told Reuters the two countries are "very close" to war, if not already at war.
"If it's not war, then we are very close to it," Lamaia said. "The Russians have invaded Georgia and we are under attack."
President Bush and Russian Prime Minister Vladimir Putin reportedly were discussing the Georgia crisis after attending the opening of the Beijing Olympic games.
Russian Foreign Minister Sergey Viktorovich Lavrov told Reuters that he is "receiving reports of ethnic cleansing in villages of South Ossetia."
Fighting escalated between Georgian and Russian forces escalated earlier in the day with Georgia claiming to have downed four Russian combat warplanes, and Russian planes bombing the Vaziani airbase outside the Georgian capital of Tblisi.
Russian Ground Forces spokesman Col. Igor Konashenkov said that 10 Russian peacekeepers were killed and another 30 wounded durring Georgian shelling of their barracks.
Georgian officials denied firing on the Russian forces.
Russia's Foreign Minister Sergei Lavrov said that Moscow was receiving reports that villages in South Ossetia were being ethnically cleansed.
"We are receiving reports that a policy of ethnic cleansing was being conducted in villages in South Ossetia, the number of refugees is climbing, the panic is growing, people are trying to save their lives," he said during televised remarks in Moscow from Russia's Foreign Ministry.
Georgian troops launched their offensive to regain control over the South Ossetia.
Georgian President Mikhail Saakashvili accused Russia, which has close ties to the separatists, of bombing Georgian territory.
Saakashvili also said it was in the United States' interest to help his country.
But Russian Prime Minister Vladimir Putin said the Georgian attack will draw retaliation and the Defense Ministry pledged to protect South Ossetians, most of whom have Russian citizenship.
Russia's Channel 1 television earlier showed a convoy of Russian tanks that it said had entered South Ossetia. The report said the convoy is expected to reach the provincial capital within a few hours.
There has been no immediate comment from Russian officials.
Separatist officials in South Ossetia said 15 civilians had been killed in fighting overnight. Georgian officials said seven civilians were wounded in bombing raids by Russia.
Georgia declared a three-hour cease-fire to allow civilians to leave Tskhinvali. Georgia's Interior Ministry spokesman said troops were observing the cease-fire, which began at 3 p.m. local time (7 a.m. EDT).
A spokesman for President Bush said Russia and Georgia should cease hostilities and hold talks to end the conflict. NATO Secretary General Jaap de Hoop Scheffer said he is seriously concerned about the fighting and that the alliance is closely following the situation.
Georgia, which borders the Black Sea between Turkey and Russia, was ruled by Moscow for most of the two centuries preceding the breakup of the Soviet Union. The country has angered Russia by seeking NATO membership — a bid Moscow regards as part of a Western effort to weaken its influence in the region.
Saakashvili long has pledged to restore Tbilisi's rule over South Ossetia and another breakaway province, Abkhazia. Both regions have run their own affairs without international recognition since splitting from Georgia in the early 1990s and built up ties with Moscow.
Relations between Georgia and Russia worsened notably this year as Georgia pushed to join NATO and Russia dispatched additional peacekeeper forces to Abkhazia.
The International Committee of the Red Cross said it is seeking to open a humanitarian corridor to guarantee safe access to Tskhinvali. Maia Kardova, ICRC spokeswoman in Tbilisi, said military vehicles are being given priority on the main road leading to the South Ossetia capital and this is making it difficult for rescue vehicles to get through.
Saakashvili urged Russia to immediately stop bombing Georgian territory.
"Georgia will not yield its territory or renounce its freedom," he said.
A senior Russian diplomat in charge of the South Ossetian conflict, Yuri Popov, dismissed the Georgian claims of Russian bombings as misinformation, the RIA-Novosti news agency reported.
Russia's President Dmitry Medvedev later chaired a session of his Security Council in the Kremlin, vowing that Moscow will protect Russian citizens.
"In accordance with the constitution and federal law, I, as president of Russia, am obliged to protect lives and dignity of Russian citizens wherever they are located," Medvedev said, according to Russian news reports. "We won't allow the death of our compatriots go unpunished."

More....................
Russian jets bomb Georgian airbase - Tbilisi
TBILISI, Aug 8 (Reuters) - Russian jets bombed the Vaziani military airbase outside the Georgian capital Tbilisi on Friday, a senior Georgian security official told Reuters.
"No one was wounded but some buildings have been destroyed," said Kakha Lamaia. The airbase is some 25 kilometres (15 miles) from Tbilisi.
"They have declared war against us," said Lamaia. (Reporting by Matt Robinson, editing by Tim Pearce)

Reuters reports Turkey has agreed to supply Georgia with electricity amid the conflict...
Unofficial separatist sources have claimed that if the conflict was protracted they would be prepared to sabotage the Baku-Supsa pipeline that runs between Azerbaijan and Turkey through Georgia and is a key provider of energy for the EU and the United States *snip* FoxNews reports parts of Russia's 58th Army — including 150 tanks and armored vehicles — reportedly were moving on the capital of South Ossetia after Georgian troops entered the city.
AFP reports Georgia has lost control of parts of the South Ossetian rebel capital of Tskhinvali amid Russian bombardment ... "hundreds of civilians" killed in Tskhinvali."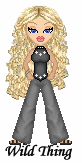 Wild Thing's comment.............

Russia is starting to act like the old USSR. Since then, Georgia has shot down 4 Russian military aircraft, and Russia has retaliated by sending a column of 150+ tanks into Georgia.
We have a military presence in Georgia, and they are an ally.
This could get real ugly, real fast.
We not only have military personel in Georgia, we have had personel at the Vaziani training center since 2002.
Marines and Georgians move to the Field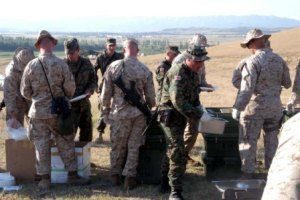 VAZIANI TRAINING BASE, Georgia-Hungry Marines and Georgians finally arrive at the end of the chow line giving them their first hot meal of the day and allowing them to continue their conversations over dinner.

....Thank you John 5 (VN 69/70) for sending this.

Posted by Wild Thing at 01:55 PM | Comments (8)
---
Gitmo Jury Gives Bin Laden Driver 5 1/2 Years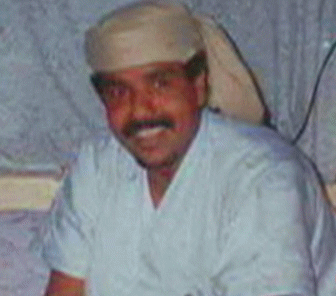 Military jury gives bin Laden driver just 5 1/2 years
GUANTANAMO BAY NAVAL BASE, Cuba
A U.S. military jury sentenced Osama bin Laden's driver Thursday to just 5 1/2 years in prison, a surprise rebuke to Pentagon prosecutors who portrayed him as a member of the al-Qaida leader's inner circle worthy of a life sentence.
Salim Hamdan, with credit for time served, will be eligible for release in less than five months, though U.S. authorities still insist they could hold him indefinitely without charge at Guantanamo.
The judge, Navy Capt. Keith Allred, called Hamdan a "small player," and the jury apparently agreed, rejecting the recommendation of 30 years by prosecutors who said even a life sentence would be fitting in order to send an example to would-be terrorists.
"I hope the day comes that you return to your wife and daughters and your country, and you're able to be a provider, a father and a husband in the best sense of all those terms," Allred told Hamdan at the close of the hearing.
The prisoner, dressed in a charcoal sports coat and white robe, responded: "God willing."
It was an anticlimactic finish to a case that had taken on a special prominence as the first Guantanamo war crimes trial.
The Pentagon pushed forward with Hamdan's prosecution despite repeated legal challenges that went to the Supreme Court in a 2006 case that struck down the previous rules for the tribunals, prompting Congress and President Bush to craft new ones.
The split verdict on the charges and the relatively lenient sentence appeared to strip away the urgency of the government's plans to prosecute dozens of Guantanamo prisoners under special rules widely criticized as unfair.
The jury's sentence now goes for mandatory review to a Pentagon official who can shorten it but not extend it. It remains unclear what will happen to Hamdan once his sentence is served, since the U.S. military has said it won't release anyone who still represents a threat.
The decision was a "slap in the face" to the Bush administration and its detention policies, said David Remes, a Washington lawyer who represents 15 Yemeni prisoners at Guantanamo.
"They chose to make this a test case. But they never imagined that it would result in such a stunning rebuff," he said.
The chief defense counsel for the Guantanamo tribunals, Army Col. Steve David, said the government failed in its strategy to link Hamdan to the Sept. 11 attacks.
"The government attempted to inflame the emotions of the panel," he said. "It didn't work."
"Asking for 30 years to life, not only was ill-advised and wholly inappropriate, but was also soundly rejected by the panel," David said.
Allred said Hamdan, who is from Yemen, would likely be eligible for release through the same administrative review process as other Guantanamo prisoners.
Defense lawyers said Hamdan will have finished his sentence in four months and 22 days.
"It was all for show if Mr. Hamdan does not go home in December," said civilian defense attorney Charles Swift, who hugged Hamdan after the jurors left the courtroom.
Hamdan thanked the jurors for the sentence and repeated his apology for having served bin Laden.
"I would like to apologize one more time to all the members and I would like to thank you for what you have done for me," he told the five-man, one-woman jury, all military officers picked by the Pentagon for the first U.S. war crimes trial in a half-century.
While being convicted of supporting terrorism, Hamdan was acquitted of providing missiles to al-Qaida and knowing his work would be used for terrorism. He also was cleared of being part of al-Qaida's conspiracy to attack the United States — the most serious charges he faced.
Hamdan admitted he drove bin Laden around Afghanistan at the time of the 2001 attacks, but said he took the job without knowing the al-Qaida leader was a terrorist.
It came as "a big shock," he said, when he learned bin Laden was responsible for the 2000 bombing of the USS Cole in Yemen, where Hamdan is from.
Still, he kept the job, Hamdan said — he needed the money, and couldn't go home.
"It's true there are work opportunities in Yemen, but not at the level I needed after I got married and not to the level of ambitions that I had in my future," said Hamdan, who has a fourth-grade education.
Reading a prepared statement in Arabic, he said he had a "relationship of respect" with bin Laden, as would any other driver in the al-Qaida motor pool. Hamdan has said he drove mainly low-profile pickup trucks with tinted windows because his boss shunned the Toyota Land Cruisers favored by Afghanistan's Taliban rulers.
At the time of his capture at a roadblock in Afghanistan in November 2001, Hamdan had two shoulder-launched missiles, but he said the car was borrowed and the rockets were not his. The jury found him innocent of carrying the missiles as part of a conspiracy to kill U.S. soldiers.
Hamdan expressed regret over the "innocent people" who died in the attacks in the United States, according to a Pentagon transcript. His apology couldn't be heard by reporters because the sound was turned off during part of the proceedings to protect classified information.
The guilty verdict will be appealed automatically to a special military court in Washington. Hamdan also can appeal to U.S. civilian courts, thanks to the U.S. Supreme Court. Defense lawyers say Hamdan's rights were denied by an unfair process, hastily patched together after the high court ruled that previous tribunal systems violated U.S. and international law.

.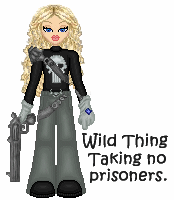 Wild Thing's comment...........

So I see the Gitmo close-out sale is on.
This sends a very bad message! This guy is full of it. He said it came as a shock when he realized what bin Laden was and yet he continued to be his driver even though as he states he could have gotten work elsewhere.
Whatever happened to President Bush's famous "If you support a terrorist, you are a terrorist." Did these lawyers not hear that speech?
In the mean time, our Border guards,Ramos and Compean, each got over ten years...unbelievable!
This raghead was so trusted by the enemy that he drove their top guy around.
This demonstrates why you can't treat terrorism as a law enforcement issue, as Clinton did, as Obama and the Democrats want to do.
It also demonstrates why we can't afford to let Obama nominate the next SCOTUS judges. Don't forget, it's our SCOTUS was the one who gave the terrorists all kinds of rights, they should not be entitled to have.
It is not an exaggeration to say that if the Dems take control of the US — and if Obama wins, they will control the White House, Congress, AND shortly the Judicial Branch also — their policies will cost innocent lives, our innocent lives.

Posted by Wild Thing at 03:55 AM | Comments (8)
---
One Nation, Under a New Obama Salute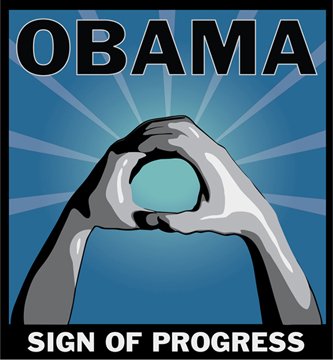 One Nation, Under a New Obama Salute
George Bush had his three-fingered W salute that supporters flashed when greeting him at presidential campaign events in 2000.
And now, if a Los Angeles creative agency gets its way, Sen. Barack Obama will see fans meet him with his own salute like the one above.
"Our goal is to see a crowd of 75,000 people at Obama's nomination speech holding their hands above their heads, fingers laced together in support of a new direction for this country, a renewed hope, and acceptance of responsibility for our future," says Rick Husong, owner of The Loyalty Inc.
Husong tells me that he got the idea after seeing the famous Obama-Progress poster by artist Shepherd Fairey.
"We wanted to get involved some way," he says. So, the agency came up with their own a symbol of hope and progress that also plays off Obama's name. "We thought, 'Let's try and start a movement where even while walking down the street, people would hold up the O and you would know that they were for Obama,' " says Husong.

Much thought went into the relatively simple idea.
"You interlace your hands in a circle, the interlacing being a symbol of different types of people coming together and the circle a symbol of unity," he says. Their design, unlike Fairey's, is free, and Husong is urging people to download it and print it on posters and T-shirts. "We want to see it everywhere, but more importantly we want this sign to take the world by storm."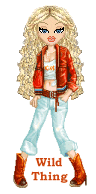 Wild Thing's comment........
So the sign of progress is a big zero?
Notice how everything they do looks Marxist?
Those 75,000 are going to look like they want to wring Obamy's neck. LMAO
First there was his tacky little "Presidential Seal", the custom embroidered "Obama President" leather seats on his plane (how much campaign $$ did those cost?), and now this little gesture!! Good grief!
Posted by Wild Thing at 03:50 AM | Comments (11)
---
Bill Clinton Offered Speaking Role At Dem Convention
Just a little walk down memory lane............Bill Clinton on Obama:" Big Fairy Tale" ....(01/08/2008) The former U.S. president rants on Barack Obama's free pass from the press.

NBC News has learned that the Obama campaign, in an effort to quiet talk of the Obama-Clinton drama, has offered Bill Clinton a speaking role on Wednesday night at the Democratic convention -- before the vice presidential running mate speaks.
Sources say that Clinton in fact will speak.
The campaign rushed tonight to resolve the issue after network news reports about the Clintons and Obama.
.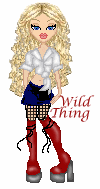 Wild Thing's comment........
I saw Bill Clinton on the news this week and he said he had plenty to say, but not during that interview. Now, I don't think Bill would have a melt down (publically) at the convention......but there is a what if to it. Remember when Bill Clinton said Barack Obama must 'kiss my ass' for his support. LOL That was just a month ago.
Posted by Wild Thing at 03:48 AM | Comments (10)
---
Obama's Hate For America Shows In His Reply To Innocent Child

A 7 year old asked Obama why he was running and this was his reply:
"America, is uh, is… is no longer… uh… what it, it could be, what it once was. And I say to myself, I don't want that future for my children." - B.Hussein Obama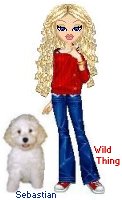 Wild Thing's comment..........
This horrible person Obama, and his hate for our country alone should be enough to not allow him to run for any government office in our land.

The left always thinks what America is about, and what it stands for is BAD. The left could not love America if their life depended on it.
Obama doesn't care any more about this 7 year old kid than he does this country. He'll destroy both for political expediency.

America 101 are you listening Obama?

Posted by Wild Thing at 03:47 AM | Comments (8)
---
A Man Without A Country He Loves, The Tire Gauge Guru Going To Hawaii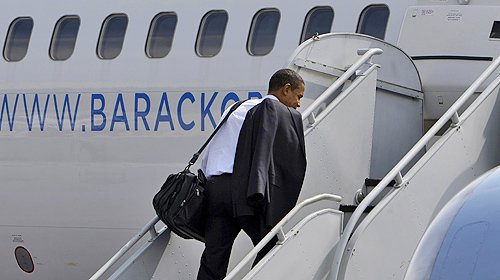 Democratic jitters as Obama heads for Hawaii
Few people are more likely to need a holiday than Barack Obama. Yet as he heads off on Friday for his first week-long break since he launched his presidential bid 19 months ago, Mr Obama is dogged by rising angst about his campaign's direction.
Although he has run what is widely acclaimed to be one of the most impressive campaigns in years, Democrats live in fear of Mr Obama falling prey to the kinds of accident that derailed predecessors in earlier cycles.
Democrats say that Mr Obama needs to accomplish two critical things on his return next week. First, he must put on a good event to announce the selection of his running mate. Second, his speech at the party convention in Denver must be exceptional.
In contrast to the jittery nerves among Democrats in general, the Obama campaign conveys serene confidence that it will accomplish both.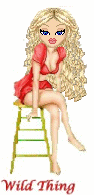 Wild Thing's comment...........
Maybe he's headed to Hawaii to find another (possibly) counterfeit birth certificate, or maybe he will go to the spot where the Japanese dropped the ONE bomb he spoke of in his speech.
"Few people are more likely to need a holiday than Barack Obama. Yet as he heads off on Friday for his first week-long break since he launched his presidential bid 19 months ago"
The media always LIES, the Obama's went to the Virgin Islands in March of this year.
"Democrats live in fear of Mr Obama falling prey to the kinds of accident that derailed predecessors in earlier cycles. "
You mean he might lose in all 57 States?
Posted by Wild Thing at 03:45 AM | Comments (6)
---
August 07, 2008
Clinton Leaves Option Open for Convention Floor Vote
This video was filmed July 31st in Los Altos Hills, CA.
.

Clinton Leaves Option Open for Convention Floor Vote
Hillary Clinton told a group of supporters recently that she has not yet decided whether she will put her name in for a roll-call vote at the Democratic convention in Denver later this month.
The New York senator was filmed addressing the matter apparently at a California fundraiser last week. The video was posted on YouTube.
"I happen to believe that we will come out stronger if people feel that their voices were heard and their views respected. And I think that is a very big part of how we actually come out unified, because I know from just what I'm hearing that there is just this incredible pent up desire," Clinton said in the video, after being asked by a supporter if she'd consider putting her name in for the nomination.
"And I think people want to feel like 'Okay, it's a catharsis, we're here, we did it,' and then everybody get behind Senator Obama. … No decisions have been made."
Clinton said she was trying to work out the issue with the Obama campaign and the Democratic National Committee. Such a vote would presumably allow her remaining delegates to throw their symbolic support behind Clinton on the convention floor.
"I could be wrong, but the best way I think is to have a strategy where my delegates feel that they have a role and that their legitimacy has been validated," Clinton said.
Barack Obama spokesman Bill Burton told FOX News that nothing has been decided in terms of the role of Clinton's delegates.
He said Democrats remain united, despite the hard-fought battle between Clinton and Obama.

Wild Thing's comment..........
This is gonna be good entertainment! heh heh
LOL she seems to have all her bases covered to very possibly have something happen at the DNC convention.
Obama will not complete his first year in office, if he nominates her for VP. Either by death, sickness or scandal driven resignation, she will assume the Presidency within the year if they let her tag along as VP.
Were I in his shoes, I would sincerely fear for my life with her in the VP slot.
Posted by Wild Thing at 03:55 AM | Comments (8)
---
Arabs Deny Obama Camp Returned Illegal Donations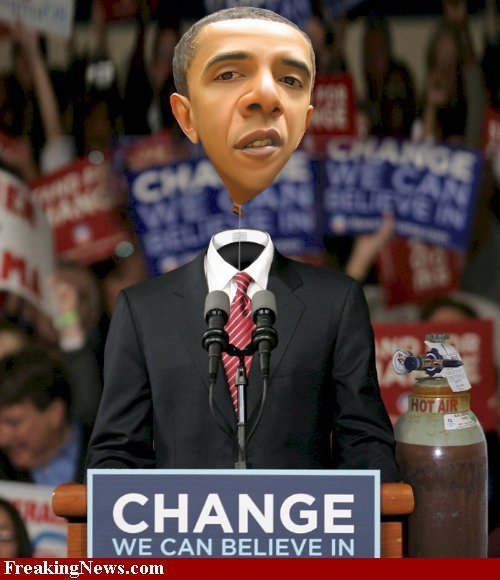 Arabs deny Obama camp returned illegal donations
Candidate's staffers insist Gaza brothers refunded, but men say, 'We did not receive any money back'
Sen. Barack Obama's campaign contends it returned $33,500 in illegal contributions from Palestinians in Hamas-controlled Gaza, but the donors told WND today they have not received any money.
The Wall Street Journal reported it spoke to Obama officials who said the donations from three Palestinian brothers were received between Sept. 20 and Dec. 6 last year, and virtually all of the money was returned by Dec. 6. The campaign said, however, the refunds were not reported to the Federal Election Commission due to a technical error.
The Obama camp insisted the remaining $2,500 was refunded Monday and all of the refunds will be reflected soon in an amended report. The campaign said new controls are in place to prevent any similar attempts in the future.
But WND asked two of the brothers – Monir and Hasam Edwan – to respond to the campaign's claims.
"No, we did not receive any money back from the Obama campaign at any time," said Monir Edwan.
Last week, the blog Atlas Shrugs outlined the series of donations made last year by Monir Edwan and Hosam Edwan, totaling $29,521.54. A third brother, Osama, reportedly gave the campaign about $4,000.
The Edwans continue to maintain – as they told WND earlier this week – that the financial transactions made on Obama's campaign website were not actual donations but purchases of "Obama for President" T-shirts. The transactions, however, were listed as donations in U.S. government election filings.
The donations violate election laws, including prohibitions on receiving contributions from foreigners and against accepting more than $2,300 from one individual during a single election.


Wild Thing's comment.........
Hmmm, Caught in a Trap. Yes, That is where the Obama Campaign is regarding the Edwan brothers from Rafah, Georgia! Or is that Rafah in the Gaza Strip. Not really much difference when you're the Messiah and can walk on water or do fundraising of soft money under $200.00 that does not have to be recorded the same way as hard money donations over $200.00
But when you're the Messiah then you can fly all over the world with your collection plate raking in the donations either in CASH or by Credit Card. You have to wonder who passed the plate in Berlin and how the credit card funds rolled in to his campaign cash register. Just selling $20.08 T-Shirts to the fans in Germany. Yes Just words of praise and by my T-shirts for 20.00 each and send me your Twenties, and Fifties and One Hundred dollar donations.
Type in the last name: Edwan
The amount still shown on this site is $31,318.00 as being received and reported by Obama's campaign.
" technical error"....so that is the excuse Obama's camp is giving. But since it takes time to get a story out like this one, then how come by this time the " technical error" has not been fixed. hmmmmmmm

....Thank you Mark for sending this to me.
Posted by Wild Thing at 03:50 AM | Comments (6)
---
Democrats Kill Ban on Terrorists in Schools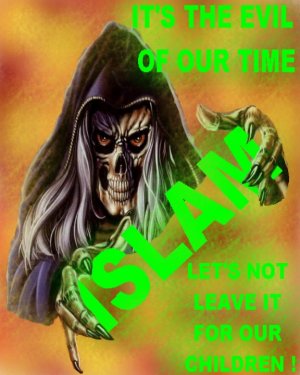 Democrats Kill Ban on Terrorists in Schools
'Citizens should be outraged lawmakers are playing political games with our safety'
Majority Democrats in the California Assembly have rejected two amendments that would have allowed schools to fire any employee discovered to be part of an extremist terror network and require users of school facilities to affirm they are not terrorists.
England argued lawmakers are charged with the duty of defending their citizens from all enemies, foreign and domestic.
"Yet California Democrats placed their radical political agenda ahead of citizens' safety by refusing to prevent terrorists from teaching in our schools. Citizens should be outraged that these lawmakers are playing political games with our safety," she said.
The amendments from Garrick and DeVore "would have required any person or organization seeking use of public school property to sign a 'statement of information' declaring they do not advocate the overthrow of our government and are not part of an extremist terror network. Also, any school employee discovered to be part of an extremist terror network could be fired."
The amendments came as part of discussion on SB 1322, a bill that "will allow communists to teach in public schools and use government property for their meetings," Capital Resource said.
The traditional values advocacy organization said it has opposed the measure "as we recognize the inherent danger in allowing communists – those who seek the violent overthrow of our democratic republic – access to the impressionable minds of young students."
Meredith Turney, legislative liaison for CRFI, said
"It really is shocking that at a time when America is still subject to attacks from radical terrorists and communist governments still terrorize their citizens, California Democrats won't stand up for us. We have brave soldiers putting their lives on the line every day to defend us from such tyranny, but Democrats will not cast a simple vote to do the same here in California. Democrats are quick to side with the latest political cause championing the rights of the oppressed. With their votes today, Democrats have missed their opportunity to make a statement denouncing oppressive communist governments responsible for the misery and suffering of so many worldwide."
A report from Karen England at the Capital Resource Institute said the amendments were submitted by assemblymen Martin Garrick and Chuck DeVore to a plan that also would allow members of the Communist Party to teach in public schools.
"I am appalled that Democrat lawmakers will not agree to these commonsense amendments," said England, executive director of CRFI. "My son is currently serving in Iraq to defend our state and nation from terrorists, yet Democrats will not do their part on the homefront to also defend us from such extremists."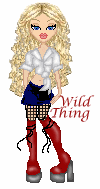 Wild Thing's comment............
There really is no doubt on who America's internal enemies really are --- and the clear and present danger they represent. These liberal lawmakers become more despicable every day.
These are the same lawmakers, who tried to ban day care centers, church schools, church baby sitter centers and schools from running criminal background checks to see if the applicants had jail records or were predators.
Posted by Wild Thing at 03:48 AM | Comments (2)
---
Left Plans "Nuremberg-Style" Tribunals for Bush Administration Officials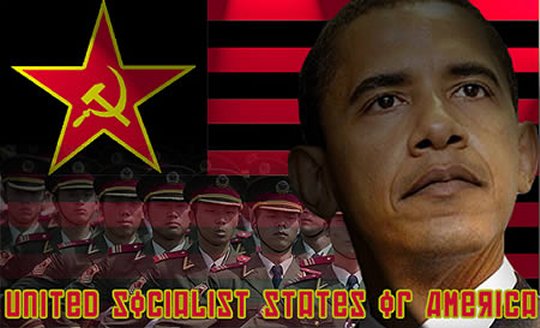 The Left and Plans for "Nuremberg-Style" Tribunals for Bush Administration Officials
One thing that hasn't received much attention in conservative and Republicans circles is the ongoing conversation on the left about the possibility of Nuremberg-style war-crimes trials for members of the Bush administration should a Democratic president take office. I'm not exaggerating or introducing the Nazi analogy myself; they actually use the phrase "Nuremberg-style" when they discuss "war-crimes tribunals." And they are quite serious (although the more moderate of them prefer a "truth commission.")
At the Netroots Nation gathering in Austin, Texas last month — that is the successor to YearlyKos — Dahlia Lithwick, of the Washington-Post-owned website Slate, did an interview with the Talking Points Memo site in which she described a panel discussion she had just taken part in on what is known as the "first 100 days of accountability." Among Lithwick's observations:
"We're already falling into this trap of either positing Nuremberg-style war crimes tribunals, or nothing, immunizing everyone from John Yoo up and down…but everybody says there's a lot of gray area in between that, and that accountability doesn't necessarily mean Nuremberg, it doesn't necessarily mean nothing, it means possibly a truth commission, possibly appointing a special prosecutor to look at it…..."
Lithwick recommended a massive retrospective investigation of the Bush administration, going through every piece of paper, before moving forward:
"Certainly long before we make a decision to do what Stuart Taylor suggested this week, which was immunize everybody in advance, or alternatively make a decision to trot them out before a war crimes tribunal before the whole world, we should really find out what happened…..."
But Lithwick recognized that there are those who argue such an action might be divisive:
"We talked a lot about this notion that it's bad for America, that it will rip America apart if we have hearings or we have criminal trials or if we have war crimes tribunals. And I think it's really worse for America if we don't…..."
I think the thing to emphasize here is that this is a serious conversation going on among people who might have influential voices or play influential roles in an Obama administration. Many of them want to put John Yoo — a special favorite of theirs — on trial, whether before a Nuremberg-style tribunal, a criminal court, or a truth commission with as-yet unspecified powers. And, of course, they wouldn't stop with Yoo; if they had their way, they would likely have a long list of former Bush administration officials to put in the dock. They are serious.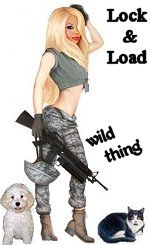 Wild Thing's comment..........
This is very scary! They really dont know when to quit do they?
"But Lithwick recognized that there are those who argue such an action might be divisive: "
Oh really? Gosh do well how obvious is that statement.
Are we sure that Stalan hasn't been reincarnated as Pelosi? The terrorist-loving left was hoping for a "civil war" in Iraq. If they keep this crap up, they'll get one here. If they think that they can get away with it, they will do it in a heartbeat. My heart feels afraid BUT my head tells me they will have a tuff time of pulling this off even with the support of what I am posting below all of this in the additional information.
I believe with all my heart that if this country ever comes to something like this, those unlike you and I on here, you know those filled with apathy willl stand up and fight back along side those of us that have been awake all this time. Some people are leaders and others are followers and those with apathy are the followers and just need a fire lit under them. Let's pray though none of this will come about.
There is an excellent book: War Crimes: The Left's Campaign to Destroy the Military and Lose the War on Terror
Bestselling author Lt. Col. Robert "Buzz" Patterson (Ret.) He lays bare the Left's extensive campaign against all things military and how it severely compromises the ability to fight the war on terror.

.
And here is more information if anyone might want to check it out:
From another article posted last month: This is freightening to say the least. Communisim has got such a strong hold in our awesome, wonderful, oh so special and beautiful America.
"The House Judiciary Committee held a hearing Friday [July 2008] it insisted was not about removing President Bush from office. But critics of Bush's policies couldn't pass up the chance to charge the president with a long list of impeachable 'high crimes and misdemeanors.'"
Speaking of 'high crimes and misdemeanors', here are some facts put together some time ago regarding the Chairman of the House Judiciary Committee, John Conyers Jr...
The chairman of the House Judiciary Committee, John Conyers Jr of Michigan, is an endorser of the Revolutionary Communist Party call to "Drive Out the Bush Regime". So, if anyone needs to be 'investigated', it's that SOB. But since the republicans are mostly spineless cowards, I doubt it will ever happen.
Click on the WCW link just below and see: "Endorsers of the Call to Drive Out the Bush Regime Include". Conyers' endorsement appears right after Ward Churchill's. Al Sharpton's, Maxine Waters and Jesse Jackson Jr's endorsements are also on the list:
http://worldcantwait.net/index.php?option=com_content&task=view&id=2538&Itemid=2
And on Oct 5, 2006, the demonRat chair of the House Judiciary Committee, John Conyers Jr, GAVE A SPEECH to the World Can't Wait--Drive Out the Bush Regime organization. Here's full-page coverage of it from the WCW website:
http://www.worldcantwait.net/index.php?option=com_content&task=view&id=3114&Itemid=243
Fact: World Can't Wait--Drive Out the Bush Regime is a Maoist-revolutionary movement/organization initiated and controlled by the Revolutionary Communist Party. (scroll down the list that appears (after clicking link) to find the World Can't Wait organization --rwor.org is the website of the Revolutionary Communist Party):
http://rwor.org/a/rwlink/links.htm
From David Horowitz's FrontpageMag.com /DiscoverTheNetworks.org:
Profile: World Can't Wait (WCW)
*Revolutionary communist movement that stages protests against the Bush administration
*Organizes college and high-school students
*Founded in June 2005 by Charles Clark Kissinger, a longtime leader of the Revolutionary Communist Party
http://www.discoverthenetworks.org/groupProfile.asp?grpid=7213
From the website of the Revolutionary Communist Party (revcom.us or rwor.org) :
"Create Public Opinion, Seize Power: We are preparing minds and organizing forces for the time when there is a major crack in the system, whenever it comes and wherever it comes from: an opening that makes it possible to bring the future Revolutionary Army of the Proletariat (R.A.P.) into the field and wage a revolutionary armed struggle that actually has a chance of winning. And we have said that building our party itself is the most important part of organizing forces for revolution. This is true now, and it is true looking forward to the creation of that future R.A.P. and the waging of that armed struggle.":
http://revcom.us/a/v20/1000-1009/1000/barw.htm
Also from the Revolutionary Communist Party website: "Tearing Up the U.S. Paper Tiger in Korea: How 300,000 Chinese Troops Snuck into Korea and Kicked the Ass of the U.S. Armed Forces" RW #1059, June 18, 2000:
http://rwor.org/a/v22/1052-059/1059/korea.htm
Here's the Revolutionary Communist Party (see link below) boasting of a FULL PAGE 'World Can't Wait--Drive Out the Bush Regime' ad of theirs which appeared in the New York Slimes.(either "rwor.org" or "revcom.us" takes you to the website of the Revolutionary Communist Party). The NY Times has since allowed several additional full-page RCP/WCW ads.
Article title: "Who Hated the Bush Step Down Ad in the New York Times? ...And what that Tells Us About Why We Must and How We Can Drive Out the Bush Regime"(actual title)
http://www.rwor.org/a/028/who-hated-bush-ad.htm
Posted by Wild Thing at 02:47 AM | Comments (6)
---
B.Hussein Obama and ACORN
(Obama's former employer)ACORN hires Child Rapist, Thieves and Drug Dealers for Voter Registration
KRQE Channel 13 in Albuquerque aired this disturbing report about criminals, including child rapists, persons convicted of fraud and forgery, and drug dealers, being hired by ACORN to solicit voter registrations:
The litany convictions and charges against these individuals is long and this story is not the first problem for ACORN this year nationally or in New Mexico. In June the Dona Ana County Clerk warned citizens about registering with third party groups.
Across the country states like Arizona, Arkansas Louisiana, Nevada, Virginia, Wisconsin and others have warned citizens about registering with and providing sensitive personal information to groups like ACORN.

.
Rep. Maxine Waters (D-CA) Speaks At ACORN National Convention About Obama
.
Fake names get voter registration workers investigated (Obama's ACORN, again!)
Criminal investigations could be launched against at least six voter registration workers who tried to add dead, imprisoned or imaginary people to the voter rolls, according to the Milwaukee Election Commission and the organization that employed them.
Officials are reviewing some 200 to 300 fraudulent voter registration cards, Sue Edman, the commission's executive director, said Wednesday.
And even though the Association of Community Organizations for Reform Now caught the fraud and reported it before the cards were turned in, the incident revived a four-year-old partisan debate over the integrity of Wisconsin's voter registration process, as political groups step up efforts to sign up voters for the Nov. 4 presidential election.
"One woman called us to complain because her husband has been dead for 10 years and a voter registration was submitted," Edman said.
In about 12 cases, deputy registrars paid by ACORN were "making people up or registering people that were still in prison," said Carolyn Castore, ACORN's state political director.
And in other cases, workers used the same address for numerous voters or used driver's license numbers that did not fit the voters' birth dates, Edman said. But most of the fraud involved submitting duplicate cards for voters who were already registered, and forging the voters' signatures, Castore said.
ACORN found the problems and fired a dozen workers, Castore said. Five of them appeared to be working together, she added.
The ACORN effort is part of a massive voter registration drive aimed at the fall presidential election, which is expected to pit Democratic Sen. Barack Obama of Illinois against Republican Sen. John McCain of Arizona.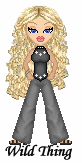 Wild Thing's comoment..........
ACORN is a Marxist front organization for the left wing and for Obama. This is an extremely radical organization and is one of those that hides in plain site. But VERY dangerous is exactly what it is. They are working one city at a time in their revolution and it has been gaining strength.
Obama was an ACORN leadership trainer. ACORN's agenda is " Undisguised authorities socialism".
Some members are Maxine Waters, John Conyers, and many others.
For the first article, dems would never find it necessary to be careful who they hire, why would they. The Dems love criminals and the low life's of humanity that walk the earth.
Regarding the second article, yet another case in a long tradition of voter fraud by the democrats.
Posted by Wild Thing at 02:45 AM | Comments (6)
---
August 06, 2008
Pelosi Privately Tells Dems They Can Back Drilling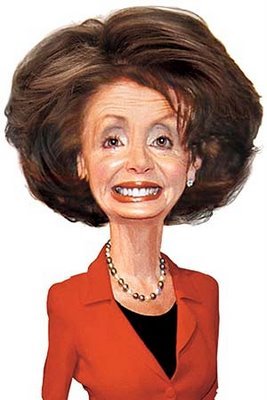 Pelosi: At-risk Dems back drilling
California Democrat Nancy Pelosi may be trying to save the planet — but the rank and file in her party increasingly are just trying to save their political hides when it comes to gas prices as Republicans apply more and more rhetorical muscle.
But what looks like intraparty tension on the surface is part of an intentional strategy in which Pelosi takes the heat on energy policy, while behind the scenes she's encouraging vulnerable Democrats to express their independence if it helps them politically, according to Democratic aides on and off Capitol Hill.
Pelosi's gambit rests on one big assumption: that Democrats will own Washington after the election and will be able to craft a sweeping energy policy that is heavy on conservation and fuel alternatives while allowing for some new oil drilling. Democrats see no need to make major concessions on energy policy with a party poised to lose seats in both chambers in just three months — even if recess-averse Republicans continue to pound away on the issue.
"The reality is we will have a new president in three months, and what Bush and the Republicans are trying to do amounts to a land grab for the oil companies," said one senior House Democratic aide involved with party strategy. "I don't think we have to give in at all pre-election — we have many more options postelection."
It's a reality that Rep. Nick J. Rahall (D-W.Va.) personally delivered to President Bush recently.
Democratic House aides say the energy agenda has been carefully gamed out in strategy sessions, and Pelosi always intended to take heat on gas prices while tacitly encouraging more vulnerable Democrats to publicly disagree with her and show their independence.
Freshman Democrats like Jason Altmire of Pennsylvania and Don Cazayoux of Louisiana have taken her up on the offer.
Altmire has said a drilling vote "will happen," while Cazayoux, hoping to hang on to his seat in a conservative Baton Rouge-area district, on Friday sent a letter to Majority Leader Steny H. Hoyer (D-Md.) demanding a vote on more domestic oil exploration.
"There will be a vote," said Altmire, who faces a rematch with former GOP Rep. Melissa Hart this fall in the Pittsburgh suburbs.
Indeed, Congress must vote before Sept. 30 to renew the annual moratorium; otherwise, it will lapse on its own, giving states the right to decide whether private companies can search for potential drilling sites three miles offshore. .
"My view is that if we have a vote, let's make it a rational policy," said Altmire, whose district includes viable coal and nuclear industries. "We can't let Republicans hold this issue hostage because of one vote."
Cazayoux, in his letter, says "the current debate seems to be bogged down in partisan one-upmanship."
To some extent, House Republicans seem to be playing right along with the strategy, taking Pelosi's name in vain dozens of times during their rebel House sessions over the past few days and making her the villain who won't allow oil drilling votes.
"It's grossly unfair to the Democrats who want a vote," said Rep. Louie Gohmert (R-Texas). "[Pelosi] needs to cut that out."
The Senate has also gone with a run-out-the-clock strategy, with Majority Leader Harry Reid (D-Nev.) calling for a bipartisan energy summit but promising no major energy votes. Reid embraced the drilling and conservation proposals of the bipartisan Senate "Gang of 10" last week, but he made further commitment on the energy debate.
Reid, like Pelosi, is expecting to have a much stronger governing majority in the Senate next year, so he has little incentive to give in to Republicans on energy policy as long as he thinks it won't hurt Democrats.
Even as they face heat from constituents during the August break, Democrats say they aren't going to cave in to popular pressure.
"We feel pretty comfortable with where we are," said Rep. Michael E. Capuano (D-Mass.), who is close to the Democratic leadership. "This is a not a new issue. This just didn't happen today. We've been working on this for months."
Democratic insiders said that Pelosi and other party leaders were "not rattled" by the GOP floor rebellion, and at this point, it's not clear if the Democrats will even pay a price on energy. State-level polling conducted by Democrats suggests that voters still view President Bush and the GOP as the incumbent power in Washington, and Democratic strategists believe any anti-incumbent wave would hurt Republicans more than Democrats.
Rep. Jeb Hensarling of Texas, one of the leaders of the rogue GOP House session, said he realizes that Democrats are "in a four-corners stall right now," and admits that "it gets more challenging" for Republicans if they lose more seats in Congress.
Democrats are also comforted somewhat by the fact that crude oil prices have gone down more than 10 percent from their summer highs, and if the U.S. economy enters a recession, prices may fall further due to slackening demand.
"There is no crisis on our side of the aisle," a top House Democratic leadership aide said. "We have a plan, and we will stick to it."
.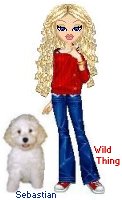 Wild Thing's comment..........
If the democrats do get a veto proof majority, Socialism will reign in this country. We need a big turnout for ALL Republicans running. That is the only to stop the socialist democrats.
Demoncrat and deceit are synonymous. She is the most bitter, hateful, vitriolic female legislator that ever sat in the halls of congress
She's trying to save as many democrat seats as possible but a vote for any democrat in the House is a vote for Pelosi. She could care less if even her own voters have to pay high prices this winter or now. For Pelosi it is all about power and nothing more.

....Thank you Mark for sending this to me.
Posted by Wild Thing at 03:55 AM | Comments (14)
---
RNC Delivers Tire Gauges to Obama Press Corps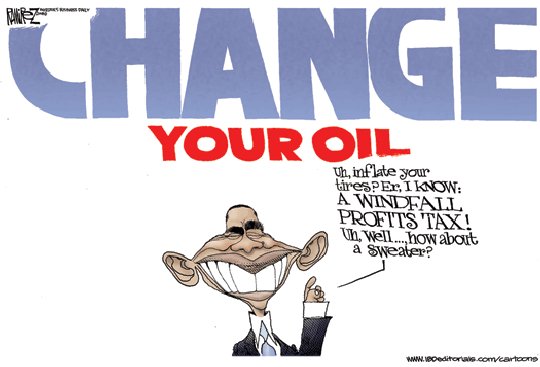 RNC Delivers Tire Gauges to Obama Press Corps

When the Obama press corps arrived at the Elkhart, Indiana, Jameson Inn where the campaign is staying tonight, Obama staffers were on hand to distribute room keys - and a small white envelope from the RNC.
That's right, the Republican National Committee.
Inside the envelope addressed to individual members of Obama's regular traveling press, was a small tire gauge labeled "Obama's Energy Plan" along the side, and a note that joyously read, "Happy Birthday, Barack Obama!"
The RNC along with the McCain campaign seized upon Obama's advice to a voter last week to properly inflate her tires to increase fuel efficiency, and have managed to create a sideshow to mock Obama's "judgment" and "experience" when it comes to energy policy.
The RNC doubled down on their humorous assault tonight with its "gift" to the press corps. "We hope you'll enjoy this complimentary tool related to Barack Obama's energy plan - your very own tire gauge. Because, instead of actually increasing America's domestic oil supply, this is how Obama thinks you should try to alleviate your pain at the pump," the note read.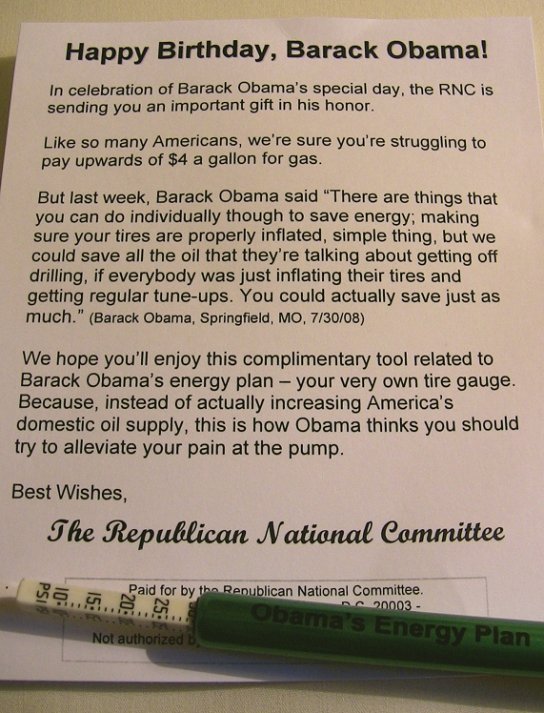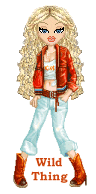 Wild Thing's comment.......
LOL this is funny, great idea! hahahahaha
I've never seen such a huge chip-on-the-shoulder, take- offense mentality like the one B. Hussein Obama has.. And I think the majority of the American people are getting increasingly sick of it.
Posted by Wild Thing at 03:50 AM | Comments (8)
---
Marxist Obama: GOP Detractors 'Take Pride in Being Ignorant'
Obama responds: 'It's like these guys take pride in being ignorant"
Barack Obama, responding to a week of taunts from John McCain's campaign, said Tuesday that his Republican detractors "take pride in being ignorant" and that it's time to get serious.
The Illinois senator was responding in part to criticism from Republicans who mocked him for suggesting last week that Americans could save on energy costs and gas by properly inflating their tires. McCain surrogates passed out tire gauges that say "Obama's Energy Plan," and McCain said last week the "only thing" Obama has proposed with regard to energy is to inflate tires.
"This is the kind of thing they do. I don't understand it," Obama said at a town hall meeting in Berea, Ohio, Tuesday. "Two points: One, they know they are lying about what my energy plan is, but the other thing is they are making fun of a step that every expert says would absolutely reduce our oil consumption by 3 to 4 percent.
"It's like these guys take pride in being ignorant," he said.

Also in Berea, Obama (defended his remark about inflating tires, a first response to the favorite Republican attack of the moment, which he'd ignored for a few days as the GOP mailed gas gauges to reporters.
.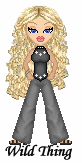 Wild Thing's comment..........
Ignorant? The Obamaloon couldn't find America on a map. a-hem .....57 States???
Keep running your mouth, Hussein, your good at one thing, insulting everyone in the country.
At least he didn't say it was RACIST!!!!!!! That's an improvement, isn't it? hahaha
Posted by Wild Thing at 03:47 AM | Comments (6)
---
Man At Obama's Ohio Townhall Shouts Out About Pledge of Allegiance To Be Done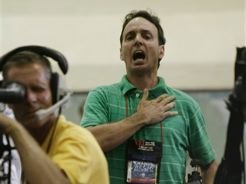 Heckler at Obama event in Berea, Ohio
A man who wore press credentials and took photographs from a platform interrupted Barack Obama's town-hall meeting Tuesday by shouting complaints that the Democratic presidential candidate had not called for the audience to say the Pledge of Allegiance. Obama invited the heckler to lead the audience in the pledge, and he did.
Asked why he had interrupted the event, the man said: "He (Obama) said it was a town-hall meeting" and open to the public. He expressed dismay that Obama hadn't called for the pledge himself, saying, "You all learned the pledge in the first grade."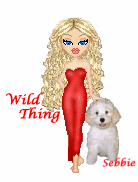 Wild Thing's comment..........
The guy has a point and lot of guts. If he is not a plant then I congratulate him. If he is a plant to try and show Obama in some kind of Patriotic light then it stinks to use our Pledge of Allegiance in this way.
Posted by Wild Thing at 03:45 AM | Comments (2)
---
Bikers Roar For McCain At Rally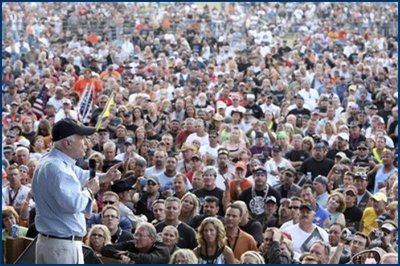 Bikers roar for McCain at Rally: GOP candidate stops at Sturgis

STURGIS
Politicians are used to hearing the roar of the crowd, but Sen. John McCain heard an entirely different roar Monday night at The Buffalo Chip.
Motorcycles pounded out a welcome to the Republican presidential candidate at the campground in Sturgis, as he made a campaign appearance.
"This is my first time here but I enjoyed the sound," McCain said. "It's the sound of freedom."
He noted that his Democratic opponent, Sen. Barack Obama, had received a loud ovation in Berlin during a European tour last week. "I'll take the roar of 50,000 Harleys any day," McCain said.
Thousands of bikers, most clad in black T-shirts and leather, cheered for McCain. He appeared with his wife, Cindy McCain, Sen. John Thune and Gov. Mike Rounds during a salute to veterans and people currently serving in the military. The tribute was followed by a concert featuring Kellie Pickler and Kid Rock.
McCain brought a group of national reporters with him to The Buffalo Chip and they were agape as they snapped photos of girls dancing on stripper poles, muscular bikers strolling around and the general air of freewheeling frivolity at the campground.
McCain took the opportunity to blast Congress for taking an August recess in a time of economic peril. "Tell 'em to come back and get back to work," McCain said.
He said the country needs to "drill offshore and drill now" to alleviate high gas prices.
He also said he would ensure a "respectable closure" to the wars in Iraq and Afghanistan.
McCain discussed several national issues during a half-hour interview on the Straight Talk Express, his famed campaign bus.
He said Thune, whose name has been mentioned as a possible running mate, was a highly accomplished senator but he declined to say if he was under serious consideration for the Vice President slot.
"He (Thune) has made a name for himself in the Senate," McCain said. "He has led on a variety of issues."
But he said his campaign team had to "get through the process" before he could discuss potential running mates.
Thune said he doubted he would be chosen, said he feels a governor or senator from a bigger state would be best choice.
McCain also had kind words for Obama, at least as a person.
"I admire him, I respect him, he's one of the most eloquent speakers to come along in a long time," McCain said. "(But) we've got sharp differences."
Among them are the war in Iraq, where McCain has long called for an increase in troops and a change in strategy. Obama had called for a quick pullout of troops but has since tempered his stance.
McCain said his consistent approach is one reason his message is getting out and he is gaining support. A national poll released Monday showed him with a narrow lead.
"An overwhelming, whopping one-point lead," McCain said with a smile.
"We'll take it," Cindy McCain interjected.
On the stage, Sen. McCain joked that he noticed there was a beauty contest at the campground and he asked his wife if she would enter. She would have the rare opportunity to serve both as first lady and Miss Buffalo Chip.
The crowd cheered and both McCains smiled.
"We've got to have a little humor in the campaign," Sen. McCain had said earlier during the bus ride. He said the controversial TV commercial that compared Obama to Paris Hilton and Brittany Spears was simply that.
But he had serious comments on health care, saying dramatic changes are needed to prevent the poorest people from getting the least care. That's also the issue with fuel prices, McCain said, since the poorest people with the oldest cars have the hardest time paying for $4 a gallon fuel.
That's why he supports expanded drilling for oil.
McCain said he was also concerned about health care for veterans and service members. Some veterans and the South Dakota Democratic Party staged a rally in Sturgis Monday to criticize McCain for supposedly "rationing" health care for veterans and service members, but McCain said they were distorting his words. He said he wanted to send uniformed personnel to regular health care facilities with "a plastic card" to cover the costs while Veterans Administration facilities focus on veterans who suffer from post-traumatic stress disorder (PTSD) and wounds from improvised explosive devices.
"I'd love to have that debate with Democrats and that group," he said.
McCain, who was a prisoner of war from 1967-73, said he didn't suffer from PTSD. "I never had a problem, believe it or not," he said, attributing much of that to his age, since he was nearly 30 while many current service members are a decade younger. "It took me 15 minutes to readjust."
He said the current wars are extremely violent and bloody. "That's tough," McCain said.
He didn't have much knowledge on the proposed Deep Underground Science and Engineering Lab (DUSEL) at the former Homestake Gold Mine in Lead. "I'm sure it's a worthwhile project," McCain said.
But he said he didn't support congressional earmarks, which helped to fund the proposed national science lab.
"It breeds corruption," McCain said, pointing to former congressman Duke Cunningham, who was sent to prison after taking bribes, and Sen. Ted Stevens, the long-serving Republican from Alaska who is under fire for accepting gifts.
"Just let it compete with everything else," McCain said of items set aside the earmarks. "I just want them to compete fairly."
Most of the people in the crowd seemed in support of the Arizona senator.
Steve Mitchell of Great Bend, Kan., and Kim Briggs of Oklahoma City said they are McCain backers.
"We just like what he stands for," Mitchell said.
"I like what he stands for," Briggs echoed. "I don't want my hard-earned money to be given away. People here are hard workers, conservative."
Mitchell and Briggs said they were proud of McCain coming to the Rally, which they have attended five or six times.
"I thought it was great," Mitchell said.
McCain said he feels the campaign is turning his way and he is finally getting a chance to speak to the American people.
"I think we're starting to get the penetration on the issues that are important," he said.


Wild Thing's comment.........
I can't help it, LMAO I just keep thinking of Obama being at something like this. Not that everyone would want to go or should go, but that Obama would be much more comfortable at a Black Panther rally or slapping the knee of Louis Farrakhan at "let's hate whitie" luncheon.
Posted by Wild Thing at 02:40 AM | Comments (8)
---
August 05, 2008
Illegal Obama donors: Middle Eastern Arabs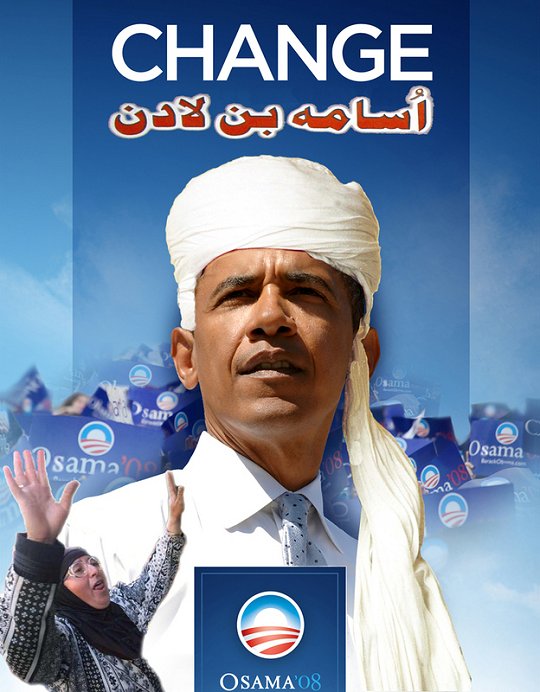 Illegal Obama donors: Middle Eastern Arabs
Gazan brothers' illicit contributions listed in government campaign filings

JERUSALEM – Palestinian brothers inside the Hamas-controlled Gaza Strip are listed in government election filings as having donated $29,521.54 to Sen. Barack Obama's campaign.
Donations of this nature would violate election laws, including prohibitions on receiving contributions from foreigners and guidelines against accepting more than $2,300 from one individual during a single election, Bob Biersack, a spokesman for the Federal Election Commission, told WND in response to a query.
The contributions also raise numerous questions about the Obama campaign's lax online donation form, which apparently allows for the possibility of foreign contributions.
Last week, the Atlas Shrugs blog outlined a series of donations in 2007 made to Obama's campaign from two individuals, Monir Edwan and Hosam Edwan, totaling $29,521.54.
In an online form on Obama's campaign site, the Edwans listed their street as "Tal Esaltan," which they wrote was located in "Rafah, GA."
Rafah is not a city in Georgia. The Atlas blog immediately raised concerns that the money may have been donated from the Gaza Strip town of Rafah.
The Edwans' donations are listed in both FEC filings and other election filing sites, such as CampaignMoney and donordata.org.
Monir made 20 donations ranging from $717 to $2017.50 from October through November 2007. His donations totaled $24321.41. Hosam made seven donations ranging from $508.63 to $1725.96, totaling $5,200.13, all in October 2007.
A WND investigation tracked down the Edwans, who are brothers living in the Tal Esaltan neighborhood of Rafah, a large refugee camp in the Hamas-controlled Gaza Strip.
The Edwans are a large clan that include top Hamas supporters.
Speaking to WND, the two brothers praised Obama and admitted giving the money online to his campaign. They said they are not U.S. citizens or green card holders but are citizens of "Palestine."
The Edwans denied they are affiliated with Hamas. Palestinian sources in Gaza confirmed the Edwans in question are secular, but could not say whether they supported Hamas.
Monir and Hasam Edwan denied their financial transactions online – listed as donations in U.S. government election filings – were actual donations to Obama's campaign. Instead they claimed they purchased about $30,000 in Obama T-shirts from the presidential candidate's online store – a contention that did not hold up during a WND interview, when they changed their story several times.
"My brother Hosam and I knew that Obama will be a big hit even before he became a candidate. We knew the guy would be a celebrity in Gaza so we decided to invest the amount of $29,000 to buy Obama T-shirts from his website and sell them in Gaza," Monir Edwan told WND, speaking by cell phone from Gaza.
"I know on the back of this story Obama rivals will present our business as a donation and they will try to use this story to let Obama fall, but I'm telling you, we bought T-shirts," Edwan maintained.
Edwan said any profit made from purportedly selling the Obama T-shirts was not returned to the Obama campaign.
"We have nothing to do with the Obama campaign. We just like Obama and believe he will be the best for the Palestinians and for the world."
At first Monir Edwan claimed he sold the T-shirts in Gaza for around $9 and that a profit was made.
"Some young men even bought the T-shirts for 60 shekel ($17.29), which is a lot to spend in Gaza on a T-shirt, but that is how much Gazans like Obama," Edwan claimed.
But it was pointed out to Edwan the T-shirts for sale on Obama's website are listed as $20.08 and that selling the merchandise for less would not yield a profit.
"Maybe we sold the shirts for a lot more. I can't remember now," said Edwan.
Asked why he would purchase T-shirts at such a high rate and pay the cost of shipping when he could pay a company to produce T-shirts for less, Edwan replied, "We wanted the shirts to come from the campaign."
But Edwan could not explain how he managed to get shipments of T-shirts into the Gaza Strip during the months he claimed to have purchased the merchandise, since Israel imposed a tight closure of the Gaza Strip starting in June 2007 that lasted until June 2008, when the Israeli government agreed to a cease-fire with Hamas in Gaza.
"We don't want to cause any damage to Obama's campaign," was Edwan's reply.
Edwan said he wants Obama to be president.
"Not just the people in Gaza but people from all over the world are rooting for this great man," he told WND.
FEC spokesman Biersack told WND contributions from overseas are allowed if the donations are coming from U.S. citizens or green card carriers. But he said accepting money from foreigners would violate election provisions.
He said there are strict guidelines against accepting more than $2,300 from one individual during a single election.
"I am not familiar with the particulars of the case, so I am commenting in general. The FEC will have to examine all the circumstances before determining any wrongdoing," Biersack clarified.
Obama's campaign did not return WND phone calls or e-mail queries.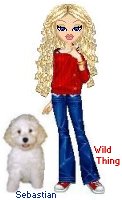 Wild Thing's comment.......
It would be no surprise to find out that EVERY enemy of America was funneling money to Obama through many channels to "clean it" -— it is in the interest of our enemies that he be elected for obvious reasons, a list of which would be too long to list.
You would think that most Americans would realize that Obama is not fit to be president based solely on the type of people who are supporting him.

....Thank you Mark for sending this article to me.
Posted by Wild Thing at 11:33 AM | Comments (10)
---
Happy Birthday Tincan Sailor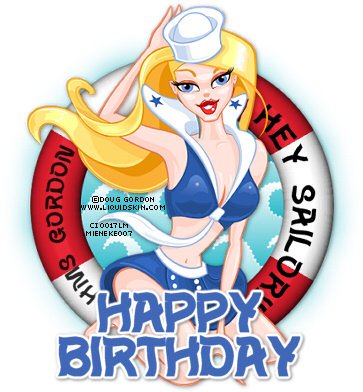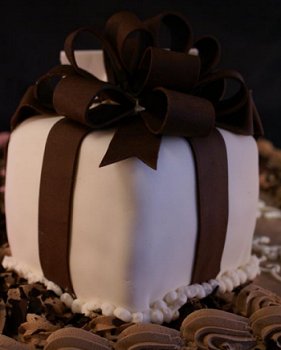 Happy Birthday Tincan Sailor and may all your wishes come true.
Have a wonderful birthday!
From everyone here at Theodore's World!
Chrissie
Posted by Wild Thing at 11:11 AM | Comments (12)
---
Chewbacca or Barack Obama
Posted by Wild Thing at 11:07 AM
---
I Had No Internet Connection ~ Now It Is Back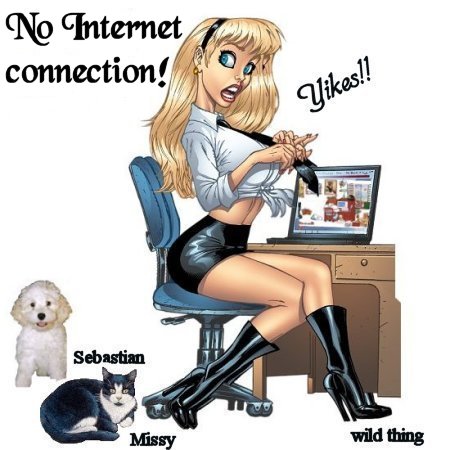 I am so sorry everyone. Starting last night around midnight I lost internet connection in my area. Comcast was having a problem, only in my area and it was down.
All is back now, thank goodness. yipee!
Thank you for your patience, I really appreciate it.
Chrissie
Posted by Wild Thing at 10:55 AM | Comments (12)
---
August 04, 2008
Political Columnist Robert Novak Retires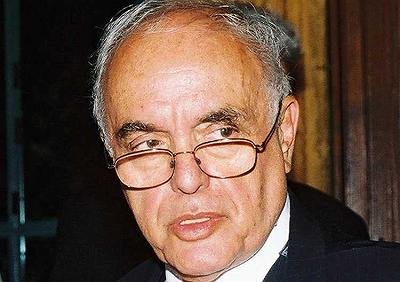 Sun-Times political columnist Robert Novak retires
Robert Novak has announced his immediate retirement following the diagnosis of a brain tumor, a prognosis the Sun-Times' political columnist describes as "dire."
"The details are being worked out with the doctors this week, but the tentative plan is for radiation and chemotherapy," Novak said.
The Evans-Novak column was first distributed by Publishers Newspaper Syndicate on May 15, 1963, with the New York Herald-Tribune, the flagship newspaper. When the Herald-Tribune folded in 1966, the Chicago Sun-Times became their home newspaper.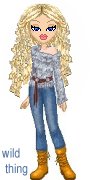 Wild Thing's comment..........
Prayers for Robert Novak and his family.
Posted by Wild Thing at 05:45 PM | Comments (6)
---
Happening Today Republicans Meet About Energy
The House Gallery is FULL!!!
Bush is still saying no special session but I am still thinking postivie about this.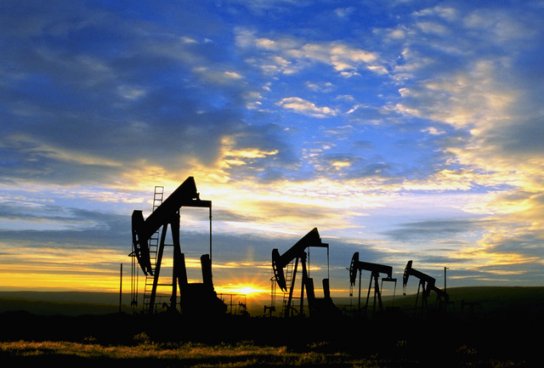 Cantor to Obama: Tell Pelosi to Bring Congress Back

A Virginia congressman who is reported to be under consideration to be Sen. John McCain's, R-Ariz., running mate urged Sen. Barack Obama, D-Ill., on Monday to pressure the Democratic leadership of Congress to take action on off-shore drilling.
"If Barack Obama is serious about trying to fix this problem," said Rep. Eric Cantor, R-Va., "the first thing he should do is pick up the phone and call Speaker Pelosi and tell her to bring Congress back so that we can begin a process of getting an off-shore drilling bill across the floor of the House."
Cantor's effort to pressure Obama on Pelosi and off-shore drilling comes in the wake of the presumptive Democratic nominee softening his opposition to off-shore drilling. Obama told a Florida newspaper on Friday that he does not see off-shore drilling as a solution to the U.S. energy crunch while saying that he would go along with expanded off-shore drilling if it were necessary to win a broader policy overhaul focused on renewable sources of energy.
Asked Sunday on ABC News' "This Week with George Stephanopoulos" why the House Democratic leadership won't allow an up or down vote on the issue of drilling, Pelosi accused House Republicans of doing the bidding of Big Oil.
"We have a debate every single day on this subject," said Pelosi, calling the GOP protest "the war dance of the handmaidens of the oil companies."
The Associated Press reported on Saturday that McCain's campaign has asked Cantor, who serves as chief deputy Republican whip in the House, for personal documents to aid in the search for a running mate.
During Monday's McCain campaign conference call with reporters, Cantor refused to discuss the vice-presidential selection process when he was asked about it by the author of Saturday's Associated Press story.
"Congratulations on being on the short list," the AP's Bob Lewis told Cantor "would you care to comment any about your conversation with the senator over a possible choice."
"No I wouldn't," said Cantor, "this a press conference about the energy plan and the difference between the visions that Barack Obama has and John McCain."
"Thank you, Bob. Thanks for trying," said McCain spokesman Brian Rogers.
.
Rob Wittman up on Twitter
These are just some of the updates:
Taken from here......CLICK to see latest as it is live and not being shown on C-Sapn
Also there is this..............
RobWittman
If you want to listen to my live teletown hall with VA-01 constituents, call 209-244-7073. The event ID code is 11718#

Rep. Mike Pence just said that Congress has a responsibility to America to address the number one issue in the land. 8 minutes ago from web
Conaway says she's the Speaker for the entire House and she owes it to all members to allow the will of the people to be carried out. 24 minutes ago from web
Rep. Conaway is speaking about the responsibility of the Speaker to call for a vote on an American energy policy. #dontgo 25 minutes ago from web
He said this is the opposite of the Congressional leadership today which refuses to take action for American energy independence. #dontgo 29 minutes ago from web
Rep. Jordan is speaking and pointed to John Adams and how the first Congress fought to establish American independence. #dontgo 29 minutes ago from web
He said that this Congress should do the business of the American people- we must have a debate and vote on a comprehensive energy policy. 39 minutes ago from web
Rep. Gingrey is now speaking about how the Speaker has turned off the lights and the sound system to quell debate about energy. about 1 hour ago from web
Rep. Herger talked about his constituents and how folks that live in his district and work in Nancy Pelosi"s distrct want Congress to act! about 1 hour ago from web
Rep. Don Manzullo just gave an impassioned speech about the freedom this nation fought for to have the debate about energy. about 1 hour ago from web
The House floor is nearly full with Members, staff and tourists. People are clapping and screaming "vote,vote,vote". about 1 hour ago from web
Rep. Wolf said this is a travesty for Americans because those resources must be accessible for the economic and strategic needs of the US. about 1 hour ago from web
Rep. Frank Wolf (VA) just spoke about the leases that Cuba has granted to China to drill for oil in areas next to US territorial waters. about 1 hour ago from web
Rep. Musgrave said that the Speaker should allow a vote because it was what the American people want. about 1 hour ago from web
Rep. Musgrave relayed stories of constituents and their suffering and called upon the Speaker to allow a vote. about 1 hour ago from web
Rep. Cole points out that previous energy bills passed by Congress were vetoed by President Clinton. about 2 hours ago from web
Tom Cole is speaking now. Americans are demanding a comprehensive energy policy. Congress must act. about 2 hours ago from web
He said that we are helping our enemies each day we are without a comprehensive energy policy that creates energy independence. about 2 hours ago from web
Lynn Westmoreland is speaking about the lack of action by the majority party and the rhetoric they have professed about energy policy. about 2 hours ago from web
Tom Price is leading off asking for the House to be called back into session. about 2 hours ago from web

you can listen here:
http://www.blogtalkradio.com/eeevil-conservative

Wild Thing's comment.......
Nancy Pelosi is going to learn one way or another that it is NOT HER HOUSE it is the people's house.
They are on a roll today. Mike Pence was on Laura Ingraham's radio show as well. Laura was reporting on the Republicans , and talking about the people (tourists) cheering in the gallery.
Sometimes it is really WONDERFUL to be wrong. And I was wrong. The House Republicans ARE serious about this!
UPDATE ON MY COMMENT:........
Game plan change. LOL
After reading what Mark, Tom, Jack, RWB, Les ...all of you ......and all of you have written. I was wrong. I had wanted the win now and that is not a good idea, it would be better to have a really big win and a better win later.
Thank you ALL for your input.
((hug))
Chrissie
Posted by Wild Thing at 02:27 PM | Comments (8)
---
House Republicans Go Back On The Floor Today (Monday) To Talk Gas Prices
Strother Martin protraying Nancy Pelosi
.

House Republicans go back on the floor Monday to talk gas prices

Continuing with their guerilla tactics from last week, House Republicans will be back on the floor Monday to talk gas prices, even though Congress is in recess, and they may stay there all week.
More than a dozen Republicans have already committed to make appearances, according to House GOP leadership aide, including National Republican Congressional Committee Chairman Tom Cole (Okla.).
Rep. Tom Price (R-Ga.) and Mike Pence (R-Ind.), who lead Friday's five-hour talkathon after the House shut down for the August recess, are also expected to be there, according to this aide.
"In an urgent memo sent to GOP Members and staff Saturday ("A Call to Action on American Energy"), Republican Leader John Boehner (R-) and Whip Roy Blunt (R-Mo.) hailed Friday's action, and encouraged House Republicans to return to the Capitol beginning Monday morning to help keep the historic effort going," said a press release just released by Minority Leader Boehner's office.
"It's not a request we make lightly. But the American people are suffering," Boehner and Blunt said in the memo. "The consequences of continued congressional inaction on gas prices are unacceptable. We've called on the Speaker to call Congress back into an emergency session this month and schedule a vote on the American Energy Act. We must continue to make a stand until the Speaker complies."
Update - Neither Boehner nor Blunt are expected to be in attendance at Monday's talkfest, and its unclear if they will show up at any point during the week, according to GOP leadership aides.
The session will not be televised, since C-Span does not control the cameras inside the House chamber. Rather, those come under the purview of Speaker Nancy Pelosi (D-Calif.) and the Democrats, and they're unlikely to do anything to help Republicans.
Pelosi was grilled by host George Stephanopolous on ABC's "This Week" over her refusal to allow an offshore oil drilling vote on the floor before the House adjourned for the five-week August recess, but Pelosi was having none of it.
"What you saw in the Congress this week was the war dance of the hand maidens of the oil companies," Pelosi said. That's what you saw on the Republican side of the aisle."
This was last Friday and you can hear how angry they were.

Toll free Capital switchboard numbers are:
800-965-4701
800-828-0498
Helping the House Heroes
(202) 224-3121
TTY: (202) 225-1904
Boehner's office: (202)225-4000
Blunt: (202)225-6536
Putnum: (202)225-1252
Repub Conference: (202)225-5107
Fox's main number 888-369-4762
.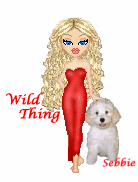 Wild Thing's comment........
Nice to see forward progess instead of the old side to side shuffle...lets hope they maintain their momentum, symbolic acts can be very powerful.
This is a good time to call our reps and get them to DC.
These few are doing the right thing now, and even if the motivation is that they've finally awakened to the anger of the American people in an election year, it beats the hell out of more of the same. I believe the only way we'll get more of this behavior is if they see and hear our enthusiastic support.
A dozen is better than none. It started with 5 on Friday and grew to 50, no telling how many will come back on today.

Pelosi: "What you saw in the Congress this week was the war dance of the hand maidens of the oil companies"
I wonder if someone fired her soundbite writer. That's just wincingly bad.

....Thank you Les for sending me the article.
Posted by Wild Thing at 03:55 AM | Comments (11)
---
Obama Asks Panel to Restore Michigan and Florida Votes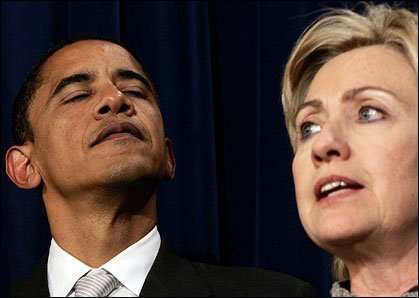 Obama Wants Full Voting Rights for Florida and Michigan Delegates
It seems like another lifetime ago, but remember all the fuss about Michigan and Florida?
After those states held their primaries in violation of Democratic Party rules, the party cracked down on them and said their delegates would not have a voice at the national convention in Denver. Then in May, the rules committee agreed to let their delegates have half a vote each.
Now Senator Barack Obama, the party's presumptive nominee, has asked the credentials committee to let the two states have full voting rights at the convention after all.
The request is likely to be granted since it comes from the all-but-certain nominee, who now controls the party apparatus.
The move was not unexpected. No nominee could afford to alienate the delegates, and voters, from two such important states.
Moreover, Mr. Obama had essentially promised the two states that he would seek to restore their full voting strength, as we wrote on June 2 after the rules committee restored only half a vote to each of the states' delegates.
Why would their voting strength matter when it is clear who the nominee will be?
Because, as Senator Carl Levin, Democrat of Michigan, said at the time, party conventions do more than pick a nominee; they also begin to establish the framework for the primary calendar in the next presidential election. And Michigan, for one, has been trying for years to topple Iowa and New Hampshire from their first-in-the-nation voting perches. Having full votes at the convention will give Michigan more power to pursue that agenda.
At the same time, Mr. Obama's "request" to restore full voting strength to Florida and Michigan is likely to cause heartburn for party officials, who have struggled to maintain some authority over the primary calendar.
By granting Mr. Obama's request, the party will essentially be giving a green light to other states to ignore the calendar next time because there will be no consequences.
The credentials committee is to meet Aug. 24, the day before the convention begins in Denver, to determine who will be seated.
In a letter today to committee officials, Mr. Obama asked that a resolution be passed to entitle each delegate from Florida and Michigan to cast a full vote.
The party must be united in the fall, he said, adding, "To that end, Democrats in Florida and Michigan must know that they are full partners and colleagues in our historic mission to reshape Washington and lead our country in a new direction."
The party sent back a noncommittal response noting that it had received Mr. Obama's request.
"We deeply appreciate and value Senator Obama's perspective on this important issue," the Democratic National Committee said in a statement. "This matter will be the top priority for the credentials committee when we meet on August 24th. As always our goal is to ensure a fair process and a unified Democratic Party so that we can win in November."
The status of the two states was an explosive issue throughout much of the primary season. Back then, the Obama camp was on the other side, arguing that the two states broke the rules by moving up their primaries and should be punished.
His chief rival, Senator Hillary Rodham Clinton, had received more votes in both states but Mr. Obama had taken his name off the ballot in Michigan, and neither campaigned in Florida.
Mrs. Clinton had campaigned fiercely for the delegates in Florida and Michigan to be given full voting status, hoping this would legitimize their primaries, which in turn might bolster her argument that she had won more popular votes than Mr. Obama. Still, she trailed him in delegates, which is the standard by which the nominee is chosen.
The whole subject remains a sore point with some Clinton supporters.
But Mr. Obama's letter today seems timed to try to minimize any damage, coming almost two months after Mrs. Clinton threw her support to him and after it appears unlikely that she will be his choice for vice president.
Later in the day, Mrs. Clinton urged the party to grant Mr. Obama's request to restore full voting rights for Michigan and Florida. Here is her statement:
"During the campaign, I strongly advocated for the Democratic Party to seat the Florida and Michigan delegation with their full votes. The Democratic Party has always stood up for the principle of counting every person's vote. Today, Senator Obama has requested that the Credentials Committee give Florida and Michigan delegates their full votes. This is the right position for the Democratic Party and for the country and I urge the Credentials Committee to restore full votes to Florida and Michigan delegates."
.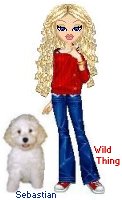 Wild Thing's comment............
The Messiah has spoken it seems.
My first thought was why would he do this? It stands to help Hillary. What could Obama stand to gain?
Wanna see some examples of the "reaction" to the Obamassiah's "request"?
Here is a link to the same information as above that the NY Times publised but this one is at ABC News Blog. They have a special palce under the article to leave comments.
If you want to just Click on this link for a real eyeopener, especially from the Hillary supporters.
IMHO, if the reactions I read so far are an indication of what's coming Obamassiah's way, he might want to try to find a new FULL TIME employee, with full health coverage and an excellent life insurance policy, to start his "Obama '08 Campaign Bus" for him until AFTER he loses the election.
The "replies" are in "reverse order" with the "latest" on top. Just th ereverse as how it is on here.
Here are just a few examples:
* "Oh - NOW you want to count all the delegates in FL & MI - you sure are arrogant! How dare you even suggest this after you blocked re-votes in both states, and demanded your "fair" share of votes - that you did not earn.
Senator Hillary Clinton EARNED her votes - she is qualified to lead our country - you are NOT and will never win." - Perry

* "This is one of the slimiest things he's done, and that is saying a LOT. I cannot express how angry I am. Obama has gone too far this time. I disliked the way he ran his campaign before, but now, you can bet, I (and millions of other ticked off democrats) will work day and night to work against Obama. "- Jersey

* "Obama is now telling us that those delegates should count in full now that it won't count toward who will win the nomination (since he has been crowned). Now, he wants justice???? Now, he wants those delegates to count in full???? Does he even understand how arrogant and self-serving this appears? He is truly in his ego-filled bubble. This makes my vote for McCain easier as a lifelong Democrat. "- Katherine
* "So now, he is the ruler of the DNC rules committee as well. So even though they were doing his bidding, he now throws them under the bus. I hope he gives back those votes in Michigan that were NEVER cast for him. Obama is the worst candidate the Dems could have put forth. He is the most politically expedient flip-flopper I have ever seen in my lifetime. Please, superdelegates, give us Hillary at the convention.
Hillary '08" - JO CHGO
* "Obama is attempting to "unite" the party so he can squeeze out Hillary as a VP choice. Did you hear David Gergen's warning to Obama today on This Week? Get ready for the Republican Attack Machine, they were just priming the pump this past week, with great success, so you better have Hillary to watch your back. I really don't think Obama's brain, Axelrod, is smart enough to do it." - West Coast Messenger
* "All I can say is I watched the whole DNC rules committee hearing on that Saturday. This is like asking the rape victim to fall in love with the attacker." - won't _forget
* "Illegitimate candidate now wants legitimacy and validation. I guess those pesky poll numbers can sober anyone up. I guess 'Da Rulz' don't matter anymore.
The DNC can ignore the rigging of the caucuses, keep a complicit silence while you play the race card in your own party, carry you over the finish line to hand you the nomination, now they can try and help you with the unity pony.
But don't expect a reward vote from people who see through this chicanery.
PUMA!!!! " - lamecandidate
* "OMG people...the DNC should not have given votes at ALL on this. Those states were told NOT to move their primaries or their votes would NOT be counted. Period. Unfortunate. But they did it anyway. Yes, the voters had no say, their elected officials made this decision. However, rules are rules. Supposedly. In this democracy. Supposedly. I am a PROUD Hillary supporter and it is the ONE thing I disagreed with her on. Once those decisions were made to not count the votes, that should have been the end of it. But as an earlier poster stated, the DNC does whatever the hell it wants to get "The Precious" in office. And no, he does NOT have the nomination, officially. Period GO PUMA " - Dawne
* "Hillary suspended her campaign. She never conceded. She hasn't released her delegates. She is the real nominee of this party and they better own up to it. Obama can not be trusted. He is a empty suit.
Now there will be a fight on the convention floor.
This is a whole new ball game.
DNC wake up and stop drinking the Kool Aide. You have a winning nominee-Senator Hillary Rodham Clinton. Super Delegates wake up with Obama you lose. He is tanking. He tried the race card against Mc Cain and it backfired. Now he wants Michigan and Florida-he's desperate. Even he knows he can't win. Give Hillary the nomination which she won or lose big time in November and risk losing the voters of the Democratic Party. Without them you have no party. The party will be over.
The last one to leave turn the lights out." - basil
Posted by Wild Thing at 03:50 AM | Comments (10)
---
McCain Going To Sturgis Motorcycle Rally Week



McCain to roar into motorcycle haven in South Dakota
SEN. McCAIN EXPECTED TO VISIT STURGIS DURING RALLY WEEK

On: 2008-04-30 17:12:33
Senator John McCain is scheduled to appear at the Buffalo Chip on Monday, August 4th, just before performances by Kelly Pickler and Kid Rock. Senator McCain will be participating in the Chip's annual ceremony in honor of American servicemen and veterans.
"We are honored that a patriot of Senator McCain's stature would take time during his Presidential campaign to help us honor our veterans and active duty military personnel," said campground owner Rod Woodruff.
The Buffalo Chip has conducted a veteran's tribute for many years. Past tributes have included The Patriot Guard Riders, The U.S. Army Golden Knights, B-1B fly-bys and numerous color guards and flag-folding ceremonies.
Senator John McCain is scheduled to appear at the Buffalo Chip on Monday, August 4th, just before performances by Kelly Pickler and Kid Rock. Senator McCain will be participating in the Chip's annual ceremony in honor of American servicemen and veterans.
"We are honored that a patriot of Senator McCain's stature would take time during his Presidential campaign to help us honor our veterans and active duty military personnel," said campground owner Rod Woodruff.
The Buffalo Chip has conducted a veteran's tribute for many years. Past tributes have included The Patriot Guard Riders, The U.S. Army Golden Knights, B-1B fly-bys and numerous color guards and flag-folding ceremonies.
McCain will also be joined by Kelly Pickler and the mercurial Kid Rock, according to the Sioux Falls Argus Leader newspaper online.
With a population of 780,000, South Dakota on the Great Plains is hardly an election-day prize for either McCain's Republican Party or rival Democrats.
But the state doubles in population during the annual August motorcycle rally in Sturgis, at the foot of the Black Hills, that draws an estimated 500,000 to 600,000 out-of-state "wild hogs" who roar cross country to celebrate their bike culture.
McCain plans to maximize on the crowds by providing the opening act at an annual concert that honours American military veterans at the Buffalo Chip campground, his campaign said Sunday.
The annual motorcycle rally - from August 4-10 this year - is one of the country's largest, with a reputation for notorious and outrageous behaviour.
A novelty draw to the Buffalo Chip campground this year will be a firing range for cyclists to try out automatic rifles, including vintage World War I machine guns, camp owner Rod Woodruff told the Argus Leader.
It was not known if McCain would take a turn at the firing range - or if he would draw a crowd as large as the 200,000 who flocked to hear Democratic presumptive nominee Barack Obama in Berlin recently.
.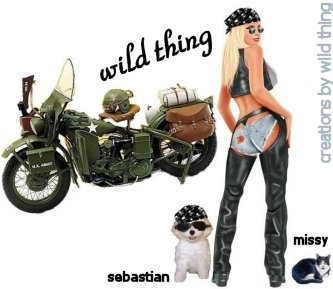 Wild Thing's comment.........
I can't imagine any of these guys getting a thrill up their leg over Obama's oratory skills. LOL
OK Now imagine Obama on a Harley..........heh heh Yeah, thought so.
Can you imagine Obama wading into a huge crowd of bikers with his body guards in tow. Body guards from Farakhan.
How would Obama start his talk?
"Any of you all been to Berlin?"
"Hope you all got your tires inflated?"
"We're all here to save the planet"
Any other suggestions?
Posted by Wild Thing at 03:47 AM | Comments (7)
---
Ant and the Grasshopper ~ Old and New Version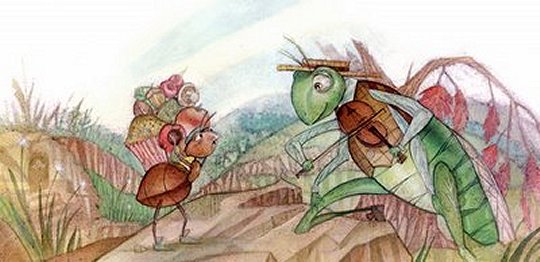 The Ant and the Grasshopper
There is an 'Old Version' and a 'Modern Version'
Two Different Versions! Two Different Morals!
OLD VERSION:
The ant works hard in the withering heat all summer long, building his house and laying up supplies for the winter.
The grasshopper thinks the ant is a fool and laughs and dances and plays the summer away. Come winter, the ant is warm and well fed.
The grasshopper has no food or shelter, so he dies out in the cold.
MORAL OF THE STORY: Be responsible for yourself!
.
MODERN VERSION:
The ant works hard in the withering heat all summer long, building his house and laying up supplies for the winter.
The grasshopper thinks the ant is a fool and laughs and dances and plays the s ummer away.
Come winter, the shivering grasshopper calls a press conference and demands to know why the ant should be allowed to be warm and well fed while others are cold and starving.
CBS, NBC, PBS, CNN, Fox and ABC show up to provide pictures of the shivering grasshopper next to a video of the ant in his comfortable home with a table filled with food. America is stunned by the sharp contrast.
How can this be, that in a country of such wealth, this poor grasshopper is allowed to suffer so?
Kermit the Frog appears on Oprah with the grasshopper, and everybody cries when they sing, 'It's Not Easy Being Green. '
Al Sharpton stages a demonstration in front of the ant's house where the news stations film the group singing, 'We shall overcome.' Jesse then has the group kneel down to pray to God for the grasshopper's sake.
Nancy Pelosi & Barack Obama exclaim in an interview with Larry King that the ant ha s gotten rich off the back of the grasshopper, and both call for an immediate tax hike on the ant to make him pay his fair share.
Finally, the EEOC drafts the Economic Equity & Anti-Grasshopper Act retroactive to the beginning of the summer.
The ant is fined for failing to hire a proportionate number of green bugs and, having nothing left to pay his retroactive taxes, his home is confiscated by the government.
Hillary gets her old law firm to represent the grasshopper in a defamation suit against the ant, and the case is tried before a panel of federal judges that Bill Clinton appointed from a list of single-parent welfare recipients.
The ant loses the case.
The story ends as we see the grasshopper finishing up the last bits of the ant' s food while the government house he is in, which just happens to be the ant's old house, crumbles around him because he doesn't maintain it.
The ant has disappeared in the snow.
The grasshopper is found dead in a drug related incident and the house, now abandoned, is taken over by a gang of spiders who terrorize the once peaceful neighborhood.
MORAL OF THE STORY: Be careful how you vote in 2008!!

....Thank you Mark.
Posted by Wild Thing at 02:45 AM | Comments (7)
---
August 03, 2008
Chicken Obama Terrified Of Townhall Meetings With McCain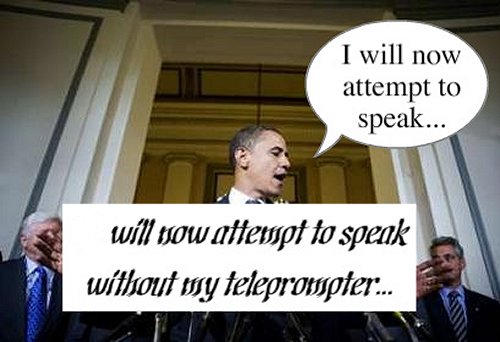 Obama Agrees to Three Presidential Debates, No Town-Halls
In a letter [reproduced below] to the Commission on Presidential Debates, Barack Obama's campaign manager David Plouffe has agreed to three presidential debates and one vice-presidential debate.

The McCain campaign has called on Obama to hold interactive town-hall style events around the country. Obama has not agreed to any such events.
.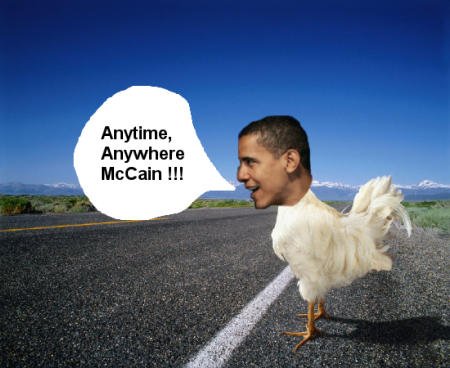 August 2, 2008 Mr. Frank J. Fahrenkopf, Jr. Mr. Paul G. Kirk, Jr. Commission on Presidential Debates 1200 New Hampshire Avenue, N.W. Suite 445
Washington, D.C. 20036
Dear Chairmen Kirk and Fahrenkopf:
I am writing on behalf of Senator Obama to accept the Commission on Presidential Debates' framework for three presidential debates and one vice presidential debate to be held in September and October. Senator Obama has designated Congressman Rahm Emanuel as our representative to meet with the Commission and the McCain campaign to review the specifics of the Commission's proposal, discuss any requested changes to that proposal, and resolve any issues left open by the Commission's framework. We will make our representative available at the earliest convenience of the Commission and the McCain campaign.
Due to the late date of the two parties' nominating conventions, and the relatively short period between the end of the conventions and the first proposed debate, it is likely that the four Commission debates will be the sole series of debates in the fall campaign. Consequently, we believe that finalizing the arrangements for these debates with promptness and certainty is in the interests of both campaigns and the American people.
Please feel free to contact me if you have any questions.
David Plouffe
Campaign Manager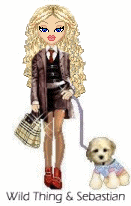 Wild Thing's comment........
Townhall meetings are not a controlled environment. Anything goes and who knows what questions would be asked. Obama knows that the "media" will feed him the questions prior to their "debates" in order to give him time to prepare. Obama doesn't think well on his feet. He's going to need to know the questions ahead of time so he can rehearse his answers.
He's a coward. I hope the GOP runs an ad that says "Barack Obama is too afraid to participate in town halls with John McCain. How can we trust him to defend America?"
Posted by Wild Thing at 04:55 AM | Comments (18)
---
McCain's Camp Responds To Obama's Backing Out Of Towhall Debates
Obama backs away from McCain's debate challenge
In May, when a McCain adviser proposed a series of pre-convention appearances at town hall meetings, Obama said, "I think that's a great idea." In summer stumping on the campaign trail, McCain has often noted that Obama had not followed through and joined him in any events.
Obama's reversal on town hall debates is part of a play-it-safe strategy he's adopted since claiming the nomination and grabbing a lead in national polls. Advisers to the Illinois senator, speaking on condition of anonymity because they are not authorized to discuss strategy, say Obama is reluctant to take chances or give McCain a high-profile stage now that Obama's the front-runner.
On Saturday, in a letter to the Commission on Presidential Debates, Obama campaign manager David Plouffe said the short period between the last political convention and the first proposed debate made it likely that the commission-sponsored debates would be the only ones.
McCain's campaign disparaged Obama for backing off. "We understand it might be beneath a worldwide celebrity of Barack Obama's magnitude to appear at town hall meetings alongside John McCain and directly answer questions from the American people, but we hope he'll reconsider," spokesman Brian Rogers said.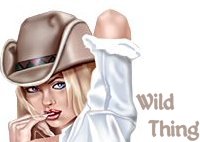 Wild Thing's comment........
"We understand it might be beneath a worldwide celebrity of Barack Obama's magnitude to appear at town hall meetings alongside John McCain and directly answer questions from the American people, but we hope he'll reconsider," spokesman Brian Rogers said."
Oh, that's gonna leave a mark.
ROTFLMAO
I wondered what the McCain camp was going to say but this....but this is much better then I thought it would be.
They hit it out of the park!
Watch Hussein Obama when he speaks. His head swings from left to right to left to right and appears to be looking at the crowd.
However, he NEVER looks straight on down the middle.
That's because there's no TelePrompter there.
He has one on the left and one on the right - and his head swivels back and forth like someone at a tennis match.
It's hysterical.
I'd like to see what would happen if he swung to look at one and it was BLANK.
He'd panic, loose his place, and we'd see a blithering idiot standing there uttering uh-uh-uh-uh-uh-uh-uh-uh-uh
Posted by Wild Thing at 04:50 AM | Comments (5)
---
Hamas, Fatah Feud Over Attacks on Facial Hair ~ LOL
Jan. 2, 2008: A Fatah activist has his mustache shaved in solidarity with a fellow member, whom Fatah says Hamas shaved as a humiliating punishment.
Hamas, Fatah Feud Over Attacks on Facial Hair

The internecine fight between Hamas and Fatah has gotten ugly — at least for Palestinians who favor men with mustaches.
Hamas has resumed its policy of shaving the mustaches of rival Fatah members to humiliate them as a form of punishment, The Jerusalem Post reported.
Reports of such punishments surfaced in January, though Hamas denied it had resorted to close shaves in its struggle to assert dominance over Palestinian politics.
Fatah officials renewed their allegations Wednesday, according to the Jerusalem Post, which said Hamas, in turn, claimed followers' beards had been sabotaged by Fatah officials.
Nafez al-Namnam, a top Fatah operative in the Gaza Strip, appears to be the latest target of Hamas clippers. Namnam, 51, had sported a rather large mustache for more than three decades, but after being rounded up by Hamas in the aftermath of a bombing, he emerged from prison with a clean-shaven face, The Jerusalem Post reported.
In response, the Aksa Martyrs Brigades issued a statement strongly condemning the use of shaving as punishment.
Wild Thing's comment.......
LOL This is funny how they make such a big deal about fascial har. Hey wait, now we have a new form of torture...... but probably Pelosi will ban it like they all banned water boarding a particular favorite of mine. heh heh

....Thank you Darth for sending this to me.
Posted by Wild Thing at 04:48 AM | Comments (11)
---
Obama Aide Concedes 'Dollar Bill' Remark Referred to His Race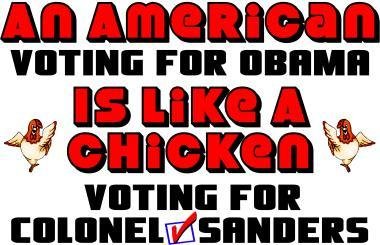 Obama Aide Concedes 'Dollar Bill' Remark Referred to His Race
Sen. Barack Obama's chief strategist conceded that the Democratic presidential candidate was referring to his race when he said Republicans were trying to scare voters by suggesting Obama "doesn't look like all those other presidents on the dollar bills."
The comment had triggered a charge Thursday from Sen. John McCain's campaign manager that Obama had "played the race card... from the bottom of the deck."
Obama's camp initially denied the remark was a reference to Obama's race.
.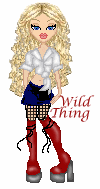 Wild Thing's comment..........
Has anyone else noticed that Obama will NEVER take responsbility for his own words, or deeds?
It's clear Obama is using his race to further his campaign. That he's doing it at the expense of others is deplorable. The Clinton's are masters of this techniques but it appears Obama can teach even them a trick or two.
Posted by Wild Thing at 04:47 AM | Comments (8)
---
A Personal Note from John O'Neill Regarding New Obama Book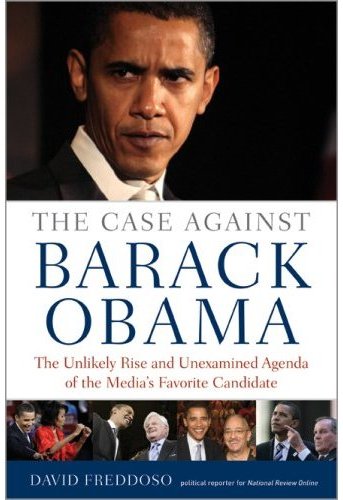 The Case Against Barack Obama: The Unlikely Rise and Unexamined Agenda of the Media's Favorite Candidate
A Personal Note from John O'Neill
Dear Friend,
As you may recall, I was privileged to play a role in helping prevent John Kerry from being elected president when my fellow Swift Boat Veterans and I released the book Unfit for Command. As liberal as Kerry was, America faces an even more liberal threat today: Barack Obama. Fortunately, investigative journalist and National Review Online political reporter David Freddoso has written the book every voter needs to read: The Case Against Barack Obama: The Unlikely Rise and Unexamined Agenda of the Media's Favorite Candidate.
Uncovering stories the mainstream media has neglected, Freddoso reveals Obama for who he really is: the U.S. senator with the #1 most liberal voting record in the Senate. And a politician whose rhetoric of "change" does not match the reality of his corrupt, "Chicago-machine politics" background.
Moving past Obama's inspiring speeches and say-anything-to-win campaign tactics, Freddoso outlines Obama's extreme, far-left legislative record and his questionable associations with both criminals and radicals. From Obama's repeated support for the Chicago patronage system, to his hard-line position of no restrictions on abortion, The Case Against Barack Obama offers the cold, hard facts about this man who would be our next president.
As American citizens, it is our right and duty to question the background, character, and proposals of any candidate who could be our next commander in chief. Democrats and the media are not holding Obama accountable, so conservatives must. I'm grateful to David Freddoso and my publisher, Regnery, for finally revealing the man behind the myth.
I urge you to read The Case Against Barack Obama. I also recommend that you buy copies for your friends and relatives who may consider voting for Obama. They deserve to know the truth, too.
Please click on one of the links below to order your copy today.
Sincerely,
John O'Neill


Wild Thing's comment.........
I am glad all these books are coming out now. I guess they wait till it gets closer to the elction to get these out in the stores.

....Thank you Mark for sending this to me.
Posted by Wild Thing at 04:45 AM | Comments (4)
---
"Out guerilla the guerillas" Tiger Force, 1st Battalion, 327th Infantry Regiment, 101st Airborne Division

Uncommon Valor, Uncommon Bond - The Tiger Force - From Viet Nam to Iraq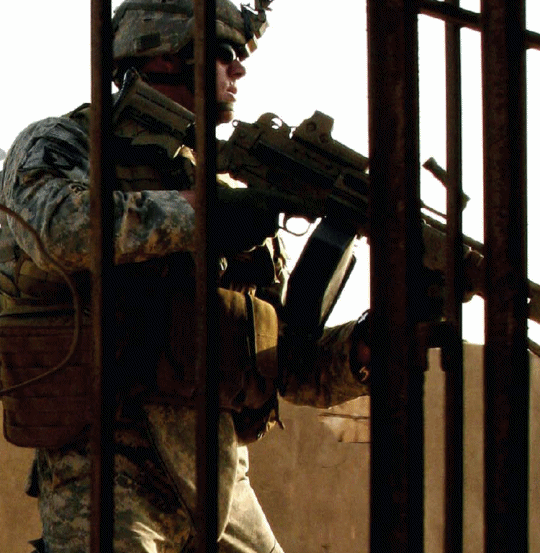 Current Tiger Force Soldier
.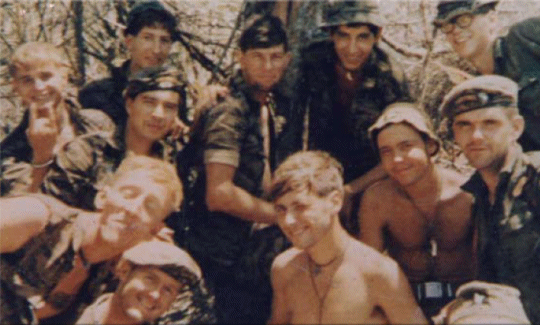 Above photo: Vietnam era Tiger Force Soldiers circa 1968. Top row, second from left, MoH recipient
SSG John Gertsch and Hank "Doc" Ortega.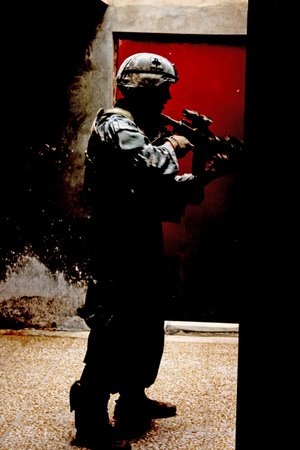 A Tiger Force Soldier on a recent mission in Bayji, Iraq.
Story and Photos by Spc. Rick Rzepka
1st Brigade Combat Team
101st Airborne Division (AA)
Uncommon Bond

Tiger
This ain't your father's Army. Some say it's a kinder, gentler Army, wary of political correctness and public perceptions. Some say that this has caused Soldiers to lose touch with their roots, to disconnect themselves from the past.
But for one Infantry platoon, at the heart of the fight in Iraq, some things never change and they are neither kind nor gentle.
Somewhere, in the dusty expanse of the Salah ad Din province in Iraq, the Tigers are lurking. They patiently wait for their prey in the city and in the desert. They are keenly aware, not only of their immediate surroundings, but of their heritage as well. They know they have some big boots to fill.
Tiger Force, 1st Battalion, 327th Infantry Regiment, 101st Airborne Division (Air Assault), is the most highly decorated platoon sized element in the U.S. Army. Over the past 48 years, Tiger Force Soldiers have earned two Medals of Honor, the Distinguished Service Cross, numerous Silver Stars for valor and countless other commendations. Names like Hackworth, Gertsch, and Gardner are synonymous with the Tiger legacy, which began in the sweltering jungles of Vietnam.
"Out guerilla the guerillas"
In 1965, as the Vietnam War picked up steam, Army brass recognized a need for more unconventional, guerilla style warfare. A young Lt. Colonel in the 101st Airborne Division named David Hackworth proposed that by utilizing small, highly trained units, Vietcong tactics could be effectively countered. The brass liked what they heard and the Tigers were born through highly experienced, hand selected volunteers from the 1st Brigade, 101st Airborne Division.
Their mission: "To out guerilla the guerillas," according to Hackworth, or as MoH recipient Staff Sgt. John G. Gertsch said, "how to really be there, but not be there."
"During the Vietnam years, Tiger Force went through many changes in the full spectrum," said Hank "Doc" Ortega, who served as a Tiger Force medic in 1968. During their time in Vietnam, Tiger Force Soldiers ran the gauntlet of small unit operations, from scouts, ready reaction and long range reconnaissance. "We were basically the eyes and ears of the battalion commander," he said.
"Here is a platoon deep-rooted in history and tradition," said Lt. Col. Peter Wilhelm, "Above the Rest" Battalion Commander. "A platoon that I reserve for the best of the best," he said.
Tigers today, still serve at the behest of the battalion commander in the surly
terrain of the Salah ad Din province. To pigeon hole the Tigers, would be to say that they simply serve as the battalion's sniper and recon asset, but like their predecessors in Vietnam they have found themselves covering down on a wide array of missions and have been instrumental in taking high-value targets, weapons caches and IEDs off of the streets, as well as conducting various
non-lethal operations.
"We do what is necessary in the area of operations to defeat Improvised Explosive Devices, secure high –value targets and support the division's effort," said Sgt. Josh Smith, Tiger Force sniper section team leader. "Today's
battlefield requires so much more out of every element," he said. "There's no
arguing that what we are doing today is the graduate level of warfare. You've got to think outside the box or wind up in a box."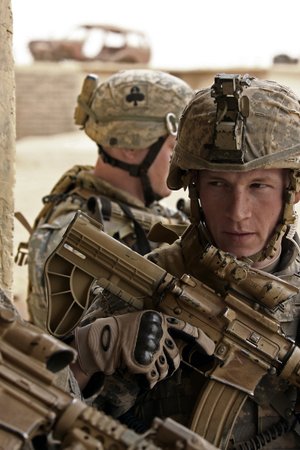 Tiger Force Soldiers investigate a building suspected of being used to store black market fuel in Bayji, Iraq.

The Bond
For Smith and other Tiger Force Soldiers, preserving the Tiger's legacy is an important part of the job. "We do everything with the past in mind," said Smith. "The bond that the current members have with the past members is unbelievable," he said.
During a 101st Airborne reunion event dubbed "Week of the Eagles", in the summer of 2000, Ortega and other Tiger Force veterans returned to Fort Campbell, KY, to give young Soldiers a glimpse into their past and have been dropping in on the Tigers ever since.
"We gave these young men back their history," said Ortega. "We brought names like James Gardner and John Gertsch to life because we knew these men and served with them," he said. "They are not just names on a wall to us, and the young guys deserve to be connected to that history." In garrison, it is not uncommon for an old Tiger to stop by the battalion to see how the platoon is coming along.
During these visits, tales are swapped and the vets get a chance to check out the newest tools of the trade. "Back in the day they were using M-14 rifles with big old Starlight scopes and they were really impressed with the new gear," said Smith. "They get a kick out of it and we get a kick out of doing it because it's just old meets new."
In today's rapidly evolving force, Soldiers often overlook the history of their units and have little or no link with the warriors who came before them.
"I would say it's very rare," said Smith. "I'm in touch with at least a dozen Vietnam-era, Tiger Force vets, and a few in between," he said. "We are very much a big extended family."
Veterans of Tiger Force send care packages and essential items to their deployed brethren in Iraq and have acted as a support system through the hard times.
"December was a bad month for us," said Smith. On Dec. 4,
2007, Tiger Force lost its Platoon Leader, Capt. Adam Snyder
and two fellow Soldiers, Sgt. Eric Hernandez and Pvt. Dwayne
White to an IED attack. The loss was devastating to Tiger
Force Soldiers both young and old.
"When we lost men on Dec. 4th of 2007, it felt the same to us vets as when we lost those we served with exactly the same," said Ortega. "These young guys are our brothers."
Tiger Force veterans were in attendance at each fallen Soldier's funeral services and were there to provide support to loved ones. "They got in touch with the families, made trips for support and basically did everything they could to make them as comfortable as they could be in their time mourning," said Smith. "You're not going to see that level of dedication, 40 years later, in may other places," he said.
For Ortega, supporting the Tigers isn't a random act of kindness, it's fulfilling the oath of honor and country.
"For my own part, my wife and I spent almost two months at Fort Sam Houston at the bedside of a Tiger who was wounded, assisting him and his family with his recovery," said Ortega. "I would work in the aid-station if I
could."
"Doc" Ortega's selfless-service to his country and to the Tigers is the model upon which the latest generation looks up to.
"All I can hope for is that the new Tigers are as receptive to the older guys as we are," said Smith. "They go so far above and beyond. So many people get out of the Army and leave it all behind," said Smith. "They are who
we are."
Ortega would like to see more of these uncommon bonds forged between warrior generations. "I think that more and more Vietnam-era veterans, especially of combat units, are making an effort to relocate their buddies and as a part of that effort, they are sometimes making contact with their younger counterparts at the reunions," said Ortega.
"We need to make this sort of contact and support far less unusual."
For Smith and the rest of the Tigers in Iraq, bridging the generation gap has bred a sense of respect and admiration to the Tiger name. "We're just proud to know them, you know? "The best thing for us is for them to feel like
they're still part of the team."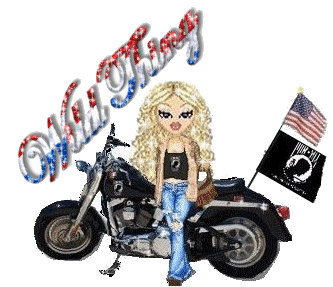 Wild Thing's comment........
Great write up and thank you to all Tiger Force, 1st Battalion, 327th Infantry Regiment, 101st Airborne Division !
Our military is soooo awesome! Thank you Veterans and our troops today.
Posted by Wild Thing at 03:44 AM | Comments (4)
---
Sisters Pilot Afghan Skies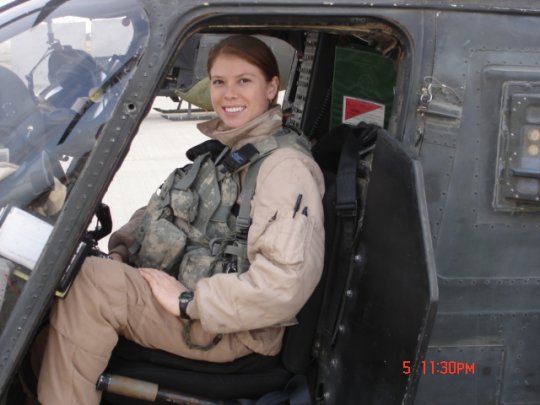 Army Chief Warrant Officer Amber Smith pauses for a picture in a OH-58 Kiowa during her deployment to Iraq in 2006. Chief Smith is now deployed to Bagram Air Field, Afghanistan, where her sister, Air Force Capt. Kelly Smith, a C-130 pilot, was deployed as well. The two sisters from White Salmon, Wash., spent a few weeks together at Bagram before Capt. Smith redeployed back home.
.
Army Chief Warrant Officer Lacey Smith smiles in the cockpit of a UH-60 Blackhawk. Her sisters, Army Chief Warrant Officer Amber Smith, an OH-58 Kiowa pilot, and Air Force Capt. Kelly Smith, a C-130 pilot, had overlapping deployments to Afghanistan. Chief Lacey Smith will overlap with Chief Amber Smith when her unit replaces her sister's in Afghanistan this fall.

.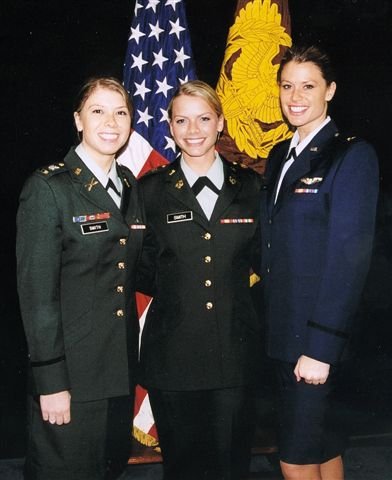 Army Chief Warrant Officer Amber Smith (left) and Air Force Capt. Kelly Smith (right) celebrate at a graduation for their younger sister, Army Chief Warrant Officer Lacey Smith (center). All three Smith sisters are pilots in the armed forces.
Families 'tied' by War: Sisters Pilot Afghan Skies
By Air Force Staff Sgt. Rachel M. Martinez
455th Air Expeditionary Wing Public Affairs
BAGRAM AIR FIELD, Afghanistan
They never planned on being pilots and Afghanistan was the last place they expected to see each other, but that's just what happened for two sisters from White Salmon, Wash.
Air Force Capt. Kelly Smith and Army Chief Warrant Officer Amber Smith grew up in a family rich with aviation ties. Their grandfather flew in the Army Air Corps as a lieutenant colonel during World War II and a commercial pilot after that. Their grandmother and mother were flight attendants. Multiple others in the family became commercial pilots, including their father, uncle and a few cousins.
"Just growing up around it so much, I think we all loved airplanes," Capt. Smith said. "We loved being around airplanes, going up in airplanes, hearing about them."
However, both went off to college with no intention of going into aviation. Capt. Smith studied English and journalism at the University of Arizona and Chief Smith became a cheerleader at the University of Washington.
"I think each of us, at one point, started to rebel," said Capt. Smith. "I know I did. I said I wasn't going to be a pilot."
That quickly changed. During her freshman year, Capt. Smith began to notice the A-10s and C-130s flying into Davis-Monthan Air Force Base, Ariz.
"It looked interesting and at that point I decided I didn't want a desk job," she said. "So, I started flying my dad's little Cessna 150 when I was home the summer after my freshman year. After I soloed, I decided this is really fun."
Capt. Smith transferred to Embry-Riddle Aeronautical University and became a flight instructor after graduating.
Chief Smith turned to aviation after two years of college.
"It came to a point where I had to declare my major and I didn't really know what I wanted to do," Chief Smith explained. "Flying had always interested me so I went and got my private pilot's license in a fixed wing."
Their father had encouraged them to look into the military for flying opportunities. Capt. Smith jumped first, enlisting in the California Air National Guard shortly after the terrorist attacks on Sept. 11.
"[Sept. 11] hit me pretty hard because I had been planning on going to the airlines and interviewing that December," she said. "I'll never forget looking up with all my friends and seeing all our flights cancelled. It was almost like seeing my career go up in smoke."
After graduating from basic military training at Lackland AFB, Texas, Capt. Smith was selected for the pilot board, got her commission and became a
C-130 pilot for the 146th Airlift Wing in Channel Islands, Calif.
"I always liked the C-130s," she said. "I happened to meet this girl whose father is one of the colonels in our unit. He introduced me to everyone in the unit and I got to see all the planes. I thought it was really cool – I decided that was what I wanted to do. I had discovered something that I was really excited in."
In 2003, knowing that she wanted to fly, Chief Smith enlisted in the Army. She chose her airframe, the OH-58 Kiowa Warrior, almost by chance.
"I think you should pick an aircraft based on the mission, but I didn't really know much about any of the missions," she said. "I actually liked flying the TS-57 [in Army flight school] and thought helicopters would be similar – little did I know. I ended up getting Kiowa, which was probably the best thing that could have ever happened to me. I'm really glad I got it – it has an awesome mission."
Fully qualified on the Kiowa, Chief Smith was stationed with the 101st Airborne Division out of Fort Campbell, Ky. In late 2007, her unit deployed to Forward Operating Base Jalalabad, Afghanistan. Not long after deploying, Chief Smith began to receive e-mails from her sister, Capt. Smith – whose unit would be deploying to Bagram Air Field. They would be in different services, different locations, assigned to different units, but they found a commonality in their mission in Afghanistan – aiding troops on the ground.
"We have two completely different missions, but we both take care of the ground troops," said Capt. Smith. "The C-130s do a lot of airdrops and it's fulfilling because you are getting the beans and bullets to the guys on the ground."
Chief Smith agreed.
"I love [the Kiowa] mission because we work in direct support of the ground units," Chief Smith explained. "It's awesome to help them because they are the ones with boots on the ground."
Although not at the same base, the two sisters got the opportunity to see each other in May when Chief Smith's commander allowed her to fly to Bagram for a two-day visit.
"I loved the day that Amber came to visit," Capt. Smith said. "She came and got me up in the morning, we walked to the PX [post exchange] and got coffee, pizza, and massages. When you're back home, you can have girls' day – it was kind of like that, but Bagram style."
Capt. Smith also got the chance to see Chief Smith when she flew C-130s down to Jalalabad. Their favorite moment came out of one of these trips.
"We were taking off out of Jalalabad, Amber was on approach and we heard each other on the tower radio," Capt. Smith recalled with enthusiasm. "That was the coolest thing."
"I thought, how often in our lives is that ever going to happen – in combat," Chief Smith said.
Fellow pilots soon heard about the sisters.
"Everybody I work with knew my sister was here so whenever they would hear a female voice on the radio they would tell me that they heard my sister on the radio," Chief Smith said.
"Me too," added Capt. Smith. "Whenever guys in our unit would fly down to Jalalabad and hear a woman on the radio they would tell me they heard my sister. I have to tell them that there are other female pilots out there – we aren't the only ones."
Good news came for the two when Chief Smith's unit relocated to Bagram. Although Capt. Smith redeployed back to California in mid-July, the sisters spent a few weeks together.
"The past two weeks that I've been here we have probably seen each other more than we have in the past five years," explained Chief Smith. "We are hardly ever together – it seems like somebody is always gone."
Capt. Smith and Chief Smith have each deployed twice and both agree it is easier being deployed together. Chief Smith went to Iraq in 2005 and Capt. Smith to southwest Asia shortly after.
"Here, we are both pilots and have the same type of intel," explained Capt. Smith. "It was harder for me being home when she was in Iraq because I didn't know what was going on. I had never been deployed, and that's scary. I can see why family and friends worry because they don't hear about stuff."
As the older sister, Capt. Smith, 31, added that she doesn't worry about her little sister, 26-year-old Chief Smith too much.
"Here, I get worried, but Chief Smith is a really, really good pilot – you can just tell she is," said the proud older sister. "There is always that lingering fear – when things happen and I haven't heard from her. But it's not like I'm constantly worrying. I think I would be even more worried if I was stuck at home without a clue as to what was going on."
Despite the fact there have been a few days the sisters have not been able to see each other or talk to each other because of work, they both agree having each other makes it easier.
"Just knowing that you have that other person who is here for you – not just a friend, but family is really nice," Capt. Smith said.
It may be easier on them, but it's not easier on their parents.
"I think they are handling this deployment better than the last one," said Chief Smith. "Last time, none of us had deployed before, so it was like their first deployment too. They are doing better with it, but they'll be excited when we are all home. They always say, 'Be safe and we can't wait to see you,' but they are very supportive about it and very practical."
Capt. Smith agreed.
"We are very, very fortunate because our mom realized from the get-go that it would be harder on us to know that they are worrying about us all the time," she said. "So she does a good job of reeling my dad in when he would start whining about how worried he was. That would make it harder on Amber, for example, when she's not only worried about whatever her job is but she's worried about making sure mom and dad are ok."
Capt. and Chief Smith aren't the only ones their parents worry about. Younger sister Lacey, 25, is an Army Chief Warrant Officer and flies the UH-60 Black Hawk. Her unit, A Company, 101st Aviation, replaces Chief Amber Smith's unit this winter.
Chief Amber Smith expects a few weeks of overlap with Chief Lacey Smith, just as she has with Capt. Smith. This will be Chief Lacey Smith's first deployment.
"Amber and Kelly have given me great info about what all the different places are like," Chief Lacey Smith said. "I am really looking forward to our upcoming deployment."
Like her sisters, Chief Lacey Smith looks forward to supporting the troops on the ground – and the flying.
"I chose Black Hawks because of their mission diversity," she said. "I'm not one for shooting things up, but love to have guys like Amber buzzing around us. Plus I love being able to meet and help soldiers."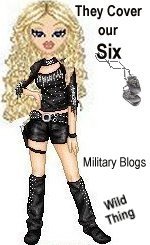 Wild Thing's comment........
A special thank you to Air Force Staff Sgt. Rachel M. Martinez for this story. And another very specail thank you for your service to the Smith sisters.
Posted by Wild Thing at 03:40 AM | Comments (7)
---
August 02, 2008
Pelosi Turns Out The Lights But GOP Keeps Talking
Paging Mr Smith. Paging Mr. Smith. Paging Mr Smith. Paging Mr. Smith. Jimmy Stewart was a Republican, he would be smiling down from Heaven at the fight the Republicans put up agsinst the Dems about this.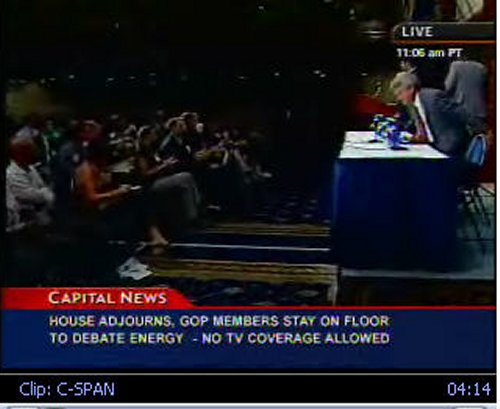 House Dems turn out the lights but GOP keeps talking

Speaker Nancy Pelosi (D-Calif.) and the Democrats adjourned the House, turned off the lights and killed the microphones, but Republicans are still on the floor talking gas prices.
Minority Leader John A. Boehner (R-Ohio) and other GOP leaders opposed the motion to adjourn the House, arguing that Pelosi's refusal to schedule a vote allowing offshore drilling is hurting the American economy. They have refused to leave the floor after the adjournment motion passed at 11:23 a.m., and they are busy bashing Pelosi and her fellow Democrats for leaving town for the August recess.
At one point, the lights went off in the House and the microphones were turned off in the chamber, meaning Republicans were talking in the dark. But as Rep. John Shadegg (R-Ariz..) was speaking, the lights went back on and the microphones were turned on shortly afterward.
But C-SPAN, which has no control over the cameras in the chamber, has stopped broadcasting the House floor, meaning no one was witnessing this except the assembled Republicans, their aides, and one Democrat, Rep. Dennis J. Kucinich (D-Ohio), who has now left.
Only about a half-dozen Republicans were on the floor when this began, but the crowd has grown to about 20, according to Patrick O'Connor.
"This is the people's House," said Rep. Thaddeus McCotter (R-Mich.). "This is not Pelosi's politiburo."
Democratic aides were furious at the GOP stunt, and reporters were kicked out of the Speaker's Lobby, the space next to the House floor where they normally interview lawmakers.
"You're not covering this, are you?" complained one senior Democratic aide. Another called the Republicans "morons" for staying on the floor.
Update: The Capitol Police are now trying to kick reporters out of the press gallery above the floor, meaning we can't watch the Republicans anymore. But Minority Whip Roy Blunt (R-Mo.) is now in the gallery talking to reporters, so the cops have held off for a minute. Clearly, Democrats don't want Republicans getting any press for this episode. GOP leaders are trying to find other Republicans to rotate in for Blunt so reporters aren't kicked out.
Update 2: This message was sent out by Blunt's office:
"Although this Democrat majority just adjourned for the Democrat 5-week vacation, House Republicans are continuing to fight on the House floor. Although the lights, mics and C-SPAN cameras have been turned off, House Republicans are on the floor speaking to the taxpayers in the gallery who, not surprisingly, agree with Republican energy proposals.
"All Republicans who are in town are encouraged to come to the House floor."
Update 3: Democrats just turned out the lights again. Republicans cheered.
Update 4: Republican leaders just sent out a notice looking for a bullhorn, and leadership aides are trying to corral all the members who are still in town to come speak on the floor and sustain this one-sided debate.
Also, Republicans can thank Shadegg for turning on the microphones the first time. Apparently, the fiesty Arizona conservative started typing random codes into the chamber's public address system and accidentally typed the correct code, allowing Republicans brief access to the microphone before it was turned off again.
"I love this," Shadegg told reporters up in the press gallery afterward. "Congress can be so boring. ... This is a kick."
Update 5: The scene on the floor is kind of crazy. Normally, members are not allowed to speak directly to the visitor galleries, and visitors are prohibited from cheering. But in this case, the members are walking up and down on the floor during their speeches, standing on chairs. The visitors are cheering loudly. Some members even brought in visitors, who are now sitting on the House floor in the seats normally filled by lawmakers, cheering and clapping. Very funny.
Democrats faced a choice here: Should they leave the cameras on and let Republicans rip Pelosi & Co. on C-SPAN, or should they leave the cameras off and let the Republicans have their "tantrum," as one Democratic aide characterized it, with the cameras off? So the cameras are off, but Republicans, and the crowd, are clearly enjoying the scene.
Update 6: Republicans are literally hugging each other on the House floor. Rep. Don Manzullo (R-Ill.), not normally known as a distinguished orator, just gave a rousing speech, accusing Democrats of stifling dissent. He referenced President John Quincy Adams, who returned as a House member after being defeated in his presidential reelection bid. Waving his arms and yelling, Manzullo brought the crowd (including a lot of staffers shipped in by GOP leaders to fill up the place), and he left the floor to hugs from his colleagues. You don't see that up here every day.
Update 7: Rep Devin Nunes (R-Calif.) just pretended to be a Democrat. He stood on the other side of the chamber and listed all of the GOP bills that the Dems killed.
He then said, "I am a Democrat, and here is my energy plan" and he held up a picture of an old VW Bug with a sail attached to it. He paraded around the House floor with the sign while the crowd cheered.
Update 8: It's over.
Right at the stroke of five Georgia Rep. Tom Price announced that House Republicans were ending their impromptu protest on the floor of the chamber, ending a five-plus hour rebellion with a round of "God Bless America."
The assembled tourists, aides and members in the chamber gave Price and his compatriots a standing ovation. They left the chamber to shouts of "USA! USA! USA!"

.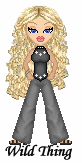 Wild Thing's comment........
Leave it to the Dems to turn the lights out in DC. I called C-Span and they said the House (Pelosi) will not send the feed to them. That if they did they would have put it right back on.
"This is the people's House," said Rep. Thaddeus McCotter (R-Mich.). "This is not Pelosi's politiburo."
I would love to give him a bigi hug. Here is his website:
http://mccotter.house.gov/HoR/MI11/Home/
Boehner's office, they said that the SPEAKER OF THE HOUSE is responsible for turning off the mics and the lights!!I
Boehner's office: (202)225-4000
This needs to be played on every radio station in America this month.
http://johnboehner.house.gov/UploadedFiles/07-30-08AdjournmentVoteJAB.mp3

Mike Pence
Rep. Mike Pence (R-Ind.) said he was "not leaving until we call this Congress back into session and vote for energy independence.....Mike was one of the organizers of the protest, said up to 40 of his fellow Republicans were prepared to keep the talk-in going. "
"Gesturing toward the tourists still filling the visitor's gallery above, Rep. Mike Pence (R-Ind.) said: "Tell your friends the Republicans refuse to go quietly!"
http://mikepence.house.gov/blog/

Nancy Pelosi is holding this entire country HOSTAGE to her environmental marxism!!
Nancy I'm trying to save the planet email ....
http://www.speaker.gov/contact/
Pelosi phone #
202 225 0100

U.S. Constitution, Article II, Section 3
Section 3. He [the President] shall from time to time give to the Congress information of the state of the union, and recommend to their consideration such measures as he shall judge necessary and expedient; he may, on extraordinary occasions, convene both Houses, or either of them, and in case of disagreement between them, with respect to the time of adjournment, he may adjourn them to such time as he shall think proper; he shall receive ambassadors and other public ministers; he shall take care that the laws be faithfully executed, and shall commission all the officers of the United States

Congressman Jeb Hensarling (R-TX), Chairman of the House Republican Study Committee (RSC), and Congressman Mike Pence (R-IN), former Chairman of RSC, today urged President Bush to call for a special session of Congress after the House adjourned without allowing a vote on comprehensive legislation to develop more American energy and help the millions of Americans currently feeling pain at the gas pump.
The text of their letter is below:
The President The White House Washington, D.C. 20500

Dear Mr. President,

The House of Representatives has not taken a vote since January 2007 that would expand domestic energy production. All the while, Americans are hurting. Every time they go to fill up their cars, trucks or tractors they feel the pain at the pump. High gas prices are harming the vitality of our families, the elderly, small businesses, and family farms. Each and every American is affected.

Today the Democrat controlled Congress adjourned for a five-week vacation without taking a vote on bipartisan measures that would lessen our dependence on foreign oil by allowing more domestic drilling on the Outer Continental Shelf. In fact, they adjourned without even allowing time for debate on the subject of drilling.

On July 14, 2008, you took the strong action of lifting the executive order that had banned offshore drilling. In so doing, you said that allowing offshore oil drilling is "one of the most important steps we can take" to reduce the burden of high gas prices. Now, all it would take is an act of Congress for that drilling to begin.

Since Speaker Pelosi has decided not to keep the House in session to allow this vote to take place, we urge you to use the power vested in you by the Constitution to convene an immediate energy special session of Congress. Under Article II, Section 3 of the Constitution, you have the power 'on extraordinary occasions' to convene the Congress.

We believe that the energy emergency that has increased the pain felt by Americans when they purchase $4 per gallon gasoline is an extraordinary occasion. We urge you to immediately bring the Congress back into session to do its job and give the bipartisan, pro-drilling majority a vote.

Thank you for your consideration of our request.
.

Republicans KNOW the country is FED UP with the attitude of Queen Pelosi and King Reid! This is going to point out IN REAL TIME just who in Congress cares and who doesn't! GOD BLESS THESE BRAVE REPUBLICAN REPS!!!
What is the cost of the Democrat "No Domestic Energy Policy?"
No domestic drilling.
No new refineries.
No new nuke plants.
No new dams for hydro-electric.
No coal.
No shale.
Deplete the SPR.
Let Iran get nukes.
Let Iraq fall to Iranian domination.
No Canadian tar sands oil.
All of that puts the U.S. in a position that war for oil or complete economic collapse will be our only choices. You can't frustrate every source of domestic energy without consequences. Our enemies will blackmail us
to the extent that we are vulnerable to blackmail.
....."Perhaps you and I have lived with this miracle too long to be properly appreciative. Freedom is a fragile thing and is never more than one generation away from extinction, It is not ours by inheritance; it must be fought for and defended constantly by each generation, for it comes only once to a people. Those who have known freedom and then lost it have never known it again. Knowing this, it is hard to explain those who even today would question the people's capacity for self-rule. Will they answer this: if no one among us is capable of governing himself, then who among us has the capacity to govern someone else? Using the temporary authority granted by the people, an increasing number lately have sought to control the means of production, as if this could be done without eventually controlling those who produce. Always this is explained as necessary to the people's welfare. But, "The deterioration of every government begins with the decay of the principle upon which it was founded" [Montesquieu]. This is as true today as it was when it was written in 1748." – Ronald Reagan, California and the Problem of Government Growth, January 5, 1967

....Thank you Mark so much for the article.
Posted by Wild Thing at 04:55 AM | Comments (16)
---
Awesome Video of Republican Reaction To Blackout Pelosi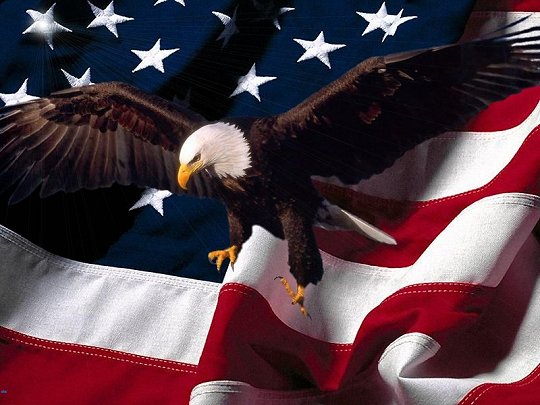 Blackout: Pelosi turns off the lights as GOP demands action on drilling for oil. John Carter 31st district of Texas and John Culberson of the 7th District of Texas, members of the Republican minority have taken the floor and have continued to debate after the house has adjourned. The Democratic leadership including Pelosi turned off the lights today and cut off cameras and mikes, so they can't vote on energy.
Please CLICK to see the video it is well worth it. This is a great link, these didn't give up.
http://clips.shadowtv.net/media/stv/3343/13/2008/214/16/3343_13_20080801_163030_1388.wmv
.
Posted by Wild Thing at 04:50 AM | Comments (4)
---
Good Guy Mitch McConnell & Bad Guy Ken Salazar On Off Shore Drilling
From the senate floor, Mitch McConnell gets Ken Salazar to object to offshore drilling even if gas hits $10 a gallon.
Not Even At $10 A Gallon?
There was a rather extraordinary confrontation on the Senate floor Thursday involving offshore oil drilling that got very little press coverage.
Minority Leader Mitch McConnell (R-Kent.) tried to get Democrats to vote on a measure that would open up such drilling if the price of gasoline reached a certain level.
Although the "bidding" eventually reached $10 a gallon, Colorado's Ken Salazar continually objected.
In back-and-forth bickering on the Senate floor Thursday, Senate Republican Leader Mitch McConnell attempted to force Democrats to vote on a measure opening up coastal waters for drilling when gas reached $4.50, $5 or even $7.50 a gallon.
"If $5-gallon gasoline isn't an emergency, I have to ask what is an emergency?" McConnell said.
"It's a phantom solution," countered Sen. Ken Salazar, D-Colo, noting that such drilling would not affect gas prices in the short term.

.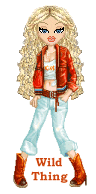 Wild Thing's comment.......

Shocking how the Democrats really hate our country and the citizens of this country. I keep hearing the liberals say that we won't see a drop of oil for ten years if we start drilling. I'm sure glad that when Kennedy called for sending a man to the Moon in 10 years that no one had that attitude.

Posted by Wild Thing at 04:47 AM | Comments (6)
---
Obama and Heckler
Hecklers in Florida have accused Barack Obama of ignoring the plight of the "oppressed" black community.
Three protestors holding a banner reading "What about the black community Obama?" stood up during a meeting in St Petersburg where the democratic presidential candidate was speaking about the US economy.

Wild Thing's comment......
He probably paid them to show up, thinking the average American would see that sign and think, "Hmm, he's not one of those Jesse Jackson types--he doesn't really care about the African American community."
If he did at least he should have had his reaction written down in front of him. He is absolutely pathetic as a speaker in every way. Again, Presidential material, I think NOT.

Posted by Wild Thing at 04:45 AM | Comments (9)
---
Happy Birthday To Rhod and His Wife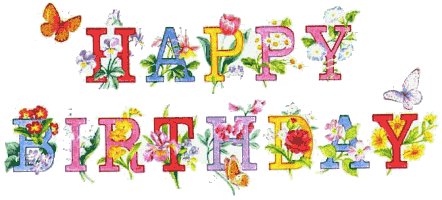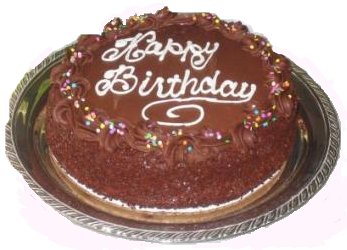 .
Happy Birthday Rhod to you and your wife. Thank you for being a part of Team Theodore and for all you have contributed here and for your kindness and friendship.
Have a wonderful birthday and many more.
from all of us here at Theodore's World

Posted by Wild Thing at 04:44 AM | Comments (7)
---
Tyson Drops Labor Day Holiday For Eid al-Fitr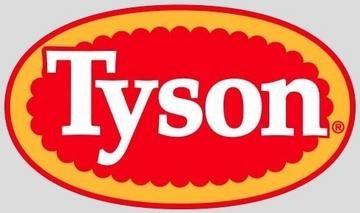 Tyson drops Labor Day holiday for Eid al-Fitr

Workers at Tyson Foods' poultry processing plant in Shelbyville will no longer have a paid day off on Labor Day, but will instead take the Muslim holiday of Eid al-Fitr in the fall.
A recent press release from the Retail, Wholesale and Department Store Union (RWDSU) stated that a new contract at the Shelbyville facility "implements a new holiday to accommodate the ... Muslim workers at the plant."
The RWDSU stated that "the five-year contract creates an additional paid holiday, Iidal Fitil, a Muslim holiday that occurs toward the end of Ramadan."
Eid al-Fitr falls on Oct. 1 this year.
Tyson's Director of Media Relations, Gary Mickelson, stated that while the new contract does not provide an additional holiday, as the union claimed, "the new contract includes eight paid holidays, which is the same number provided in the old contract."
"However, the union leadership did request and receive Eid al-Fitr (which is apparently spelled various ways including Id al-Fitr and Eid ul-Fitr) as a paid holiday in place of Labor Day," Mickelson confirmed in an e-mail to the T-G.
"Since all Team Members will still have eight paid holidays, the change will not affect production," Mickelson said.
Eid al-Fitr means "Festival of the Breaking of the Fast" in Arabic, according to the Encyclopedia Britannica, and marks the end of Ramadan, the Muslim holy month of fasting.
The festival "is distinguished by the performance of communal prayer (salat) at daybreak on its first day. It is a time of official receptions and private visits, when friends greet one another, presents are given, new clothes are worn, and the graves of relatives are visited," the encyclopedia said.
Mickelson said that "Eid al-Fitr is one of eight paid holidays for all Team Members covered by the contract, while Labor Day is not a paid holiday."
"Based on the contract, the other paid holidays include: The Team Member's birthday, New Year's Day, Martin Luther King Jr. Day, Memorial Day, Independence Day, Thanksgiving Day and Christmas Day," Mickelson said.
"Implementing this holiday was a challenge, since it falls on a different day every year and is declared on fairly short notice," RWDSU Representative Randy Hadley said in the press release. "But the negotiating committee felt this was extremely crucial, since this holiday is as important to Muslims as Christmas is to Christians."

Wild Thing's comment........
What the heck??!!!
Come to America and WE will conform to YOUR ways instead of the other way around. So that is what Tyson is doing. I could care less about Tyson Foods, but it does not matter. This is wrong no matter who or what company it is.

This is an outrage and a slap in the face of every American, especially those that have worked the factories, served their country, and have stood tall for the things that represent what our founding fathers envisioned when this great nation was found and came of age. I am disgusted.
Posted by Wild Thing at 04:40 AM | Comments (18)
---
August 01, 2008
Dr. Danny Jazarevic Statement About Obama's Canceled Visit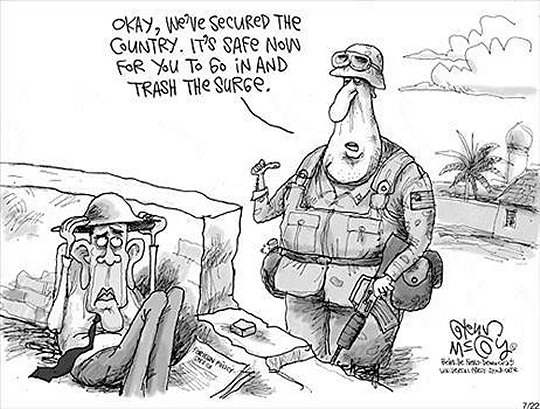 The McCain campaign issued the following Statement On Barack Obama's Canceled Troop Visits
The McCain campaign issued the following statement today:

Today, Dr. Danny Jazarevic, who served as the Chief of Trauma, Critical Care and Vascular Surgery at Landstuhl, issued the following statement on Barack Obama's canceled visit to Ramstein and Landstuhl:
"Last week, Senator Obama skipped a visit with wounded U.S. troops at Landstuhl Regional Medical Center in Germany because the Pentagon would not allow campaign staff or media to accompany him into the hospital. I served as director of trauma surgery at that hospital for nearly four years and saw the effect that a visit from a celebrity like Senator Obama could have on morale. During that time, I do not recall a single member of Congress canceling a visit with the troops despite being just a few hours away, but Senator Obama seems to have been more concerned with how the visit would affect him than how it would affect the soldiers recovering from wounds received in the service of their country."

Decorated Army colonel, vascular surgeon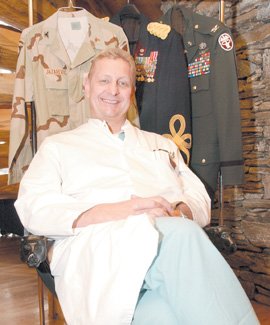 Dr. Danny Jazarevic wears many hats (and coats), including that of a surgeon, an Army colonel, husband/father, musician, karate enthusiast and history buff.
Dr. Danny Jazarevic served as the Chief of Trauma, Critical Care and Vascular Surgery at Landstuhl Regional Medical Center. In 1984, Dr. Jazarevic joined the United States Army and later the Florida National Guard. He has since served in Honduras, Africa, Saudi Arabia, Bosnia, and Iraq. From December 2002 through January 2006, Dr. Jazarevic was assigned to the U.S. Army Hospital in Landstuhl, Germany, where he served as Chief of Trauma, Critical Care and Vascular Surgery. During this period, he deployed to Iraq numerous times, including with the 101st Airborne Division Forward Surgical Team and as Director of Operations for the 44th U.S. Army Medical Command. He is currently the Chief Trauma Surgeon at a civilian medical center in Florida, and also serves as a full Colonel in the U.S. Army Reserve. Dr. Jazarevic has been awarded the Bronze Star Medal.

And this from The Mountaineer
Imagine attending a dinner with six fascinating people.
The first to arrive is a U.S. Army colonel in charge of all the clinical operations in Iraq, including dealing with all wounded American soldiers.
Next to arrive is the son of a diplomat who speaks seven languages proficiently.
Third to arrive is a brilliant vascular surgeon with an active career in critical care at five county hospitals Palm Beach, Fla.
Next to join the group is a man who defected to Austria from Croatia in 1982 and was shot in the leg while crossing the border.
The fifth man to be seated is a black belt in karate, a former bouncer, bodyguard and trumpet player. The last man to arrive holds a doctorate in history and enjoys classical music, painting and military scale modeling.
What is even more extraordinary is that all six men are actually one man, Dr. Slobodan "Danny" Jazarevic, a new vascular surgeon, a specially trained doctor who performs surgery on blood vessels, at Haywood Regional Medical Center.
It would take many dinners with Jazarevic, also called Dr. J., to scratch the surface of everything he has done in his lifetime.
His nine-page resume neatly sums up his many accomplishments. Most recently, he just returned from Iraq where he was the director of clinical operations for the 44th U.S. Army Medical Command in Iraq, 18th Airborne Corps, Fort Bragg, N.C.
As the director, he was in charge of about 17,000 service personnel, six combat army surgical hospitals and four forward surgical teams in addition to all first, second and third echelon U.S. Army medical facilities in the Iraqi theater, including the eight air ambulance companies with 56 helicopters and ground medical transportation assets.
He said there were times when three planeloads of wounded soldiers would arrive within four to five hours or 20 wounded soldiers could arrive in 20 minutes at one of the U.S. military hospitals.
"There were times when I would operate for 37 to 38 hours at a stretch," the 48-year-old Jazarevic said. "Yet, if a patient reached a U.S. surgical facility alive, his or her chances of survival were more than 95 percent." Prior to becoming director, he was the chief of vascular surgery and trauma surgery/critical care at Landstuhl Regional Medical Center in Germany in 2003.
Since 1994, Jazarevic (pronounced Ya-zar-a-vich) has served in the Florida National Guard as a lieutenant colonel and in capacity of senior surgical consultant to the National Guard's state surgeon. He has participated in various medical military activities, especially since the terrorist attacks of Sept. 11, 2001.
In January 2003, he requested a transfer to Army active duty to contribute to the War on Terror.
Jazarevic was also a trauma and vascular surgeon and a critical care specialist at various hospitals in Palm Beach, Fla., where he introduced endovascular surgery and endovascular repair of abdominal aortic aneurysm in 1999.
Jazarevic graduated from the University of Zagreb and the Yugoslav Military Medical Academy in Belgrade. He interned at Vanderbilt University School of Medicine and the Lankenau Hospital at Jefferson University in Philadelphia. He completed his fellowship in surgical critical care/trauma at the State University of New York at Stony Brook Health Sciences Center, where he was the clinical instructor in surgery.
Jazarevic also served as chief surgeon for the 12th Evacuation Hospital VII Corps in Operation Desert Shield and Desert Storm in Saudi Arabia and Iraq from 1990 to 1991.
He was the Mission Chief Medical Officer for the 502 MASH, or Medical Readiness Exercise in Zambia, Africa, in 1992; he was a special assignment intelligence officer for the territories of former Yugoslavia in the 18th Military Intelligence Battalion and the 66th MI Brigade. He has 28 military honors and decorations, including a Bronze Star, an Order of Military Medical Merit and a Meritorious Service Medal. So how did this larger-than-life, experienced trauma surgeon find Haywood County?
Dr. J. and his wife, Lori, camped in the Great Smoky Mountains National Park for many years. After seeing a house in Waynesville in Log Home Living Magazine, the couple bought it so Lori could have a place to live while her husband was in Germany.
"I love it here; I love the town," said Lori Jazarevic, director of rehabilitation services at the Brian Center. "We were robbed five times in Palm Beach."
The couple was married in 1997 and had a baby girl named Gabriella on Oct. 12, 2005.
.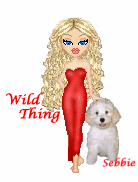 Wild Thing's comment........
Obama is so completely out of his element there is no way he would ever get it.
This fine Doctor hit the nail on the head! But even this doctor would not be able to get through to a person like B.Hussein Obama.
More and more Obama is sounding like an elevated street thug, not an educated black man. I have noticed he has lapsed into his ghetto accent lately, it appears this is what he does when he gets ticked off.
God bless this Doctor and his family.
Posted by Wild Thing at 05:55 AM | Comments (8)
---
Jerome R. Corsi's New Book "The Obama Nation"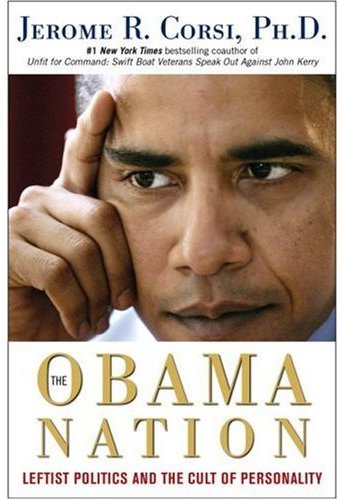 Jerome R. Corsi's new book "The Obama Nation"

The Obama Nation: Leftist Politics and the Cult of Personality by Jerome R. Corsi, Ph.D.

In this thoroughly researched and documented book, the No. 1 New York Times bestselling co-author of "Unfit for Command" and senior staff reporter for WND explains why the extreme leftism of an Obama presidency would leave the United States weakened, diminished and divided, and why Obama must be defeated — and how he can be.

By tracing Obama's career and influences from his early years in Hawaii and Indonesia, the beginnings of his political career in Chicago, his voting record in the Illinois Legislature, his religious training, his religious conversion through his recent involvement in Kenyan politics, his political advisers and fund-raising associates and his meteoric campaign for president, Jerome Corsi shows that an Obama presidency would, in his words, be "a repeat of the failed extremist politics that have characterized and plagued Democratic Party politics since the late 1960s."

Corsi examines:

Obama's extensive connections with Islam and radical politics.
His 20-year religious affiliation with the black-liberation theology of Rev. Jeremiah Wright.
Obama's continuing connections with Kenya.
Obama's involvement in the slum-landlord empire of Chicago political fixer Tony Rezko.
Obama's far-left domestic policy.
Obama's anti-war, anti-nuclear foreign policy.
Soon after Obama was elected to the U.S. Senate in 2004, Corsi began investigating Obama's personal and political background. This book, with more than 700 footnotes, is the result.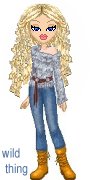 Wild Thing's comment.......

Corsi was on Hannity's show last night. He was excellent!!!

Posted by Wild Thing at 05:50 AM | Comments (4)
---
House Apologizes For Slavery and Jim Crow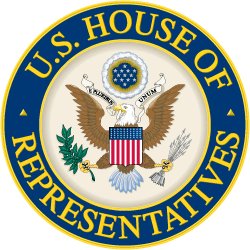 One hundred and forty years after any slave was legally held anywhere in the United States, the House of Representatives voted on a resolution apologizing to African-Americans for slavery and Jim Crow laws that discriminated against blacks mostly in the South.


House apologizes for slavery and Jim Crow
Resolution does not mention reparations; commits to rectifying 'misdeeds'
msnbc
WASHINGTON - The House on Tuesday issued an unprecedented apology to black Americans for the wrongs committed against them and their ancestors who suffered under slavery and Jim Crow segregation laws.
"Today represents a milestone in our nation's efforts to remedy the ills of our past," said Rep. Carolyn Cheeks Kilpatrick, D-Mich., chairwoman of the Congressional Black Caucus.
The resolution, passed by voice vote, was the work of Tennessee Democrat Steve Cohen, the only white lawmaker to represent a majority black district. Cohen faces a formidable black challenger in a primary face-off next week.
Congress has issued apologies before — to Japanese-Americans for their internment during World War II and to native Hawaiians for the overthrow of the Hawaiian kingdom in 1893. In 2005, the Senate apologized for failing to pass anti-lynching laws.
Sen. Tom Harkin (D-IA) said that he would consider introducing a similar resolution in the Senate. Passage of the bill marks the second time this year that Congress has issued an apology for past injustices. The Senate earlier apologized to Native Americans for mistreatment during the settling of the American West.

Obama comment about this
Obama notes 'tragic' US past (title from article)
"I personally would want to see our tragic history, or the tragic elements of our history, acknowledged," the Democratic presidential hopeful said.

"I consistently believe that when it comes to whether it's Native Americans or African-American issues or reparations, the most important thing for the U.S. government to do is not just offer words, but offer deeds."

The US House of Representatives late Tuesday approved by voice vote a resolution [HR 194 materials] apologizing to African Americans for slavery and Jim Crow laws [backgrounder].
The resolution declares:That the House of Representatives--
(1) acknowledges that slavery is incompatible with the basic founding principles recognized in the Declaration of Independence that all men are created equal;
(2) acknowledges the fundamental injustice, cruelty, brutality, and inhumanity of slavery and Jim Crow;
(3) apologizes to African Americans on behalf of the people of the United States, for the wrongs committed against them and their ancestors who suffered under slavery and Jim Crow; and
(4) expresses its commitment to rectify the lingering consequences of the misdeeds committed against African Americans under slavery and Jim Crow and to stop the occurrence of human rights violations in the future.
.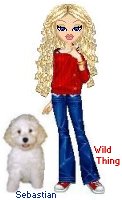 Wild Thing's comment........
When can the Irish, Jews, Poles, etc. expect their apologies for discrimination and quotas?
The Democrat members of the House are the ones who should sign the apology, since it was their party that advocated and fought for both slavery and Jim Crow laws.
Is this apologizing for American white people only....or also the Africans involved in the slave trade????
Is this part of a campaign to pave the way for an Obama presidency (i.e., a black president would help to "make up" for slavery)?

....Thank you Mark for sending the article to me.

Posted by Wild Thing at 05:47 AM | Comments (10)
---
Poser Obama : Wants Reparations To Blacks, Native Americans
The debt has already been paid!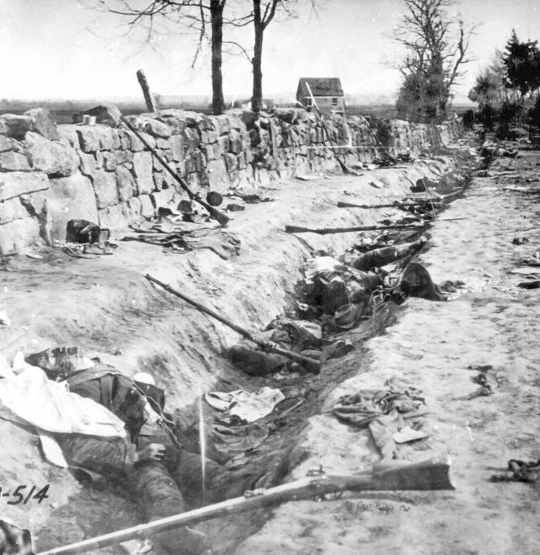 Obama suggests reparations to blacks, Native Americans
Says 'the most important thing to do is not just offer words, but offer deeds'
Sen. Barack Obama told a meeting in Chicago the U.S. should review how it can make amends for "offenses" committed during its history.
And one author is speculating that might even include reparations for al-Qaida soldiers, since, after all, they've been held in violation of their "rights."
Obama's comments came in a meeting with members of UNITY '08, an event for journalists who claim membership in various minorities.
Obama, according to the report in the Honolulu Star-Bulletin, stopped just short of endorsing an official U.S. apology to various groups. He said instead the nation should acknowledge treating certain groups poorly.
"There's no doubt that when it comes to our treatment of Native Americans as well as other persons of color in this country, we've got some very sad and difficult things to account for," Obama told the convention.
He has told Hawaii reporters he supports a federal plan to recognize native Hawaiians. He was asked for his thoughts about a formal U.S. apology to American Indians.
"I personally would want to see our tragic history, or the tragic elements of our history, acknowledged," he told conventioneers.
"I consistently believe that when it comes to whether it's Native Americans or African-American issues or reparations, the most important thing for the U.S. government to do is not just offer words, but offer deeds," he said.
The issue of reparations to African-Americans for the historic slave trade or Native Americans for the "invasion" by Europeans periodically has been raised. Several years ago a lawsuit was filed claiming damages for labor at a current value of $1.4 trillion.
Obama said, "The biggest problem that we have in terms of race relations, I think, is dealing with the legacy of past discrimination which has resulted in extreme disparities in terms of poverty, in terms of wealth and in terms of income. Our inner cities are a legacy of what happened in the past. And the question is less assigning blame or rooting out active racism, because that's not the reason that those inner cities are in such bad shape, but rather figuring out are we willing to make the investments to deal with that past history so we can move forward to a brighter future? And that involves investing in early childhood education, fixing the schools in those communities, being willing to work in terms of job retraining. And those are serious investments."
But at the American Spectator, Jeffrey Lord, CEO of QubeTV and former Reagan White House political director, said the logical extension of such thought obviously could include reparations for al-Qaida.
"Does Barack Obama believe it's time for America to apologize to al-Qaida?" he asked. "You think I'm joking, right? Wrong."
"The push has begun among Obama's fellow-liberals for reparations to Osama bin Laden's al-Qaida warriors. Look no further than the Los Angeles Times review of the new book by liberal journalist Jane Mayer, 'The Dark Side: The Inside Story of How The War on Terror Turned Into a War on American Ideals.' Mayer's indictment of the Bush administration's fight against terrorism has predictably received glowing reviews from the gatekeepers of liberalism, including a July 15th review from Times staff writer Tim Rutten.
Please GO HERE to read entire article , thank you.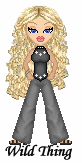 Wild Thing's comment........
Reparations - Extortion paid by those who were never slaveowners to those who were never slaves!!!!
I've had enough of leftist whackos telling us what to do.
Barack Hussein Obama doesn't have any African-American ancestors. He does, apparently, have ancestors who were slaveholders. So logic dictates that he pay up.

....Thank you Mark for sending this article to me.
Posted by Wild Thing at 04:45 AM | Comments (6)
---