January 21, 2020
President Trump Participates in a Bilateral Meeting with the President of the Swiss Federation
President Trump Participates in a Bilateral Meeting with the President of the Swiss Federation

I am looking forward to voting AGAIN for Donald Trump!!!!
Posted by Wild Thing at 01:33 PM | Comments (0) | TrackBack
February 18, 2014
Switzerland Votes to Introduce Immigration Curbs....Good for the Swiss!

Swiss Fault Lines Exposed as Villagers See Risk to Postcard Life

Frida Sommer says her vote to curb immigration into Switzerland wasn't driven by xenophobia.
"We have no space, and it's about the principle," said Sommer, 60, a day-care instructor enjoying a morning croissant and coffee in Appenzell Innerrhoden, a rural canton in the north-east of the country. "We want Switzerland to stay the way it is."
The country's surprise vote to introduce immigration curbs has soured relations with the European Union and prompted companies including Nestle SA to warn of a potential effect on their business. The referendum, which passed with fewer than 20,000 votes, has also highlighted fault lines running through Swiss society, between towns and rural areas, and between German and French-speaking regions.
In Appenzell, 63.5 percent of voters favored immigration limits, the highest proportion of any German-speaking canton and second only to the Italian-speaking region of Ticino. The cities of Zurich, Bern and Basel rejected the proposal, as did Francophone cantons in western Switzerland.
"German-speaking Switzerland is more self-focused and needing to affirm its own identity," said Rene Schwok, political scientist at the University of Geneva.
The vote outcome requires government quotas for all immigrants including European Union nationals. It runs contrary to an EU treaty allowing them free entry and has riled officials across Europe including the foreign ministers of Germany and Belgium. The pact is part of a bigger agreement, meaning a change of immigration rules also threatens trade accords with the EU. As the bloc is Switzerland's biggest trading partner this in turn may hurt the Swiss economy.
Switzerland voted against joining the EU's precursor in 1992, preferring to stay a landlocked country surrounded by the bloc. A set of bilateral treaties, touching on topics ranging from market access for goods and services to scientific research, govern its relations.

Switzerland managed to remain largely unscathed from the debt crisis and recession that afflicted the euro area. In 2013, the unemployment rate among Swiss citizens as measured by the International Labour Organization stood at 3.1 percent while among foreigners it was 8.3 percent. For the EU, the jobless rate was 12.1 percent last year. At the same time, Swiss house prices have climbed almost 40 percent in the last 10 years.
To some, that's evidence Switzerland is better off alone and that immigrants are a burden to society. Adding fuel to the fire, the clampdown by European governments on tax evaders with secret Swiss bank accounts has at times been portrayed by the SVP as Switzerland getting bossed about by the EU.
"The way people like to view their own country is very much like a postcard: neatness and tidiness and natural beauty," communication consultant Ionescu said. "Anything that doesn't fit with that image tends to get pushed to the side."
"Switzerland is doing well, and the EU isn't," said Ricardo Teixeira, a crane operator in Appenzell whose parents moved to the country from Portugal when he was a child. "Switzerland can't take in everybody, or else it'll be the same here."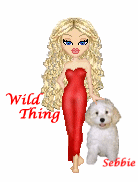 Wild Thing's comment............
Good for Switzerland. It's also good for Switzerland that every household has an full-on military assault rifle ready to go at any time, and folks trained to use them.
Posted by Wild Thing at 12:50 AM
September 05, 2013
Switzerland keeps crown as most competitive economy
Switzerland keeps crown as most competitive economy

Switzerland has kept its title as the world's most competitive economy for the fifth year running, though it needs to resist any temptation to protect its core banking sector if it wants to stay top, the World Economic Forum said on Wednesday.
The Geneva-based body, most famous for gathering politicians and billionaires at an annual shindig in the Alpine resort of Davos, said the same economies made the top 10 as last year, but in a different order.
Singapore and Finland remained in second and third place respectively in the Forum's annual Global Competitiveness Report.
Germany, the United States, Hong Kong and Japan all edged up while Sweden, the Netherlands and the United Kingdom all slipped by two or three notches.
The United States' flair for innovation helped it reverse a four-year downward trend, although serious concerns remained over its macroeconomic stability, the Forum said, ranking it 117 out of 148 countries in that category.
The Forum bases its assessment on a dozen drivers of competitiveness, including institutions, infrastructure, health and education, market size and the macroeconomic environment.
The report also factors in a survey among business leaders, assessing the government's efficiency and transparency.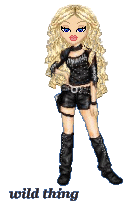 Wild Thing's comment..............
Good for Switzerland. One thing for sure they do not have a POS president like Obama that hates his country. Of all the countries I am glad if is not the USA that the congratulations go to Switzerland.
In Switzerland they actually have public education and teach hard math and science. US public "education" is now nothing but dumbed-down, PC drivel and indoctrination.
Posted by Wild Thing at 12:47 AM
January 09, 2012
Why No One Invades Switzerland
Switzerland has the lowest crime rate in the world,because the people are armed,basic military is mandatory for men,and after wards they are required to keep their weapon at home.A crook will think twice about breaking into houses knowing this,people who think the world should get rid rid of guns should think again.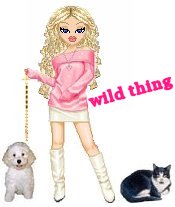 Wild Thing's comment..........

The key to freedom is the ability to defend yourself.

Posted by Wild Thing at 03:20 AM | Comments (4)
September 12, 2011
Swiss Member of Parliament Has Had Enough! A Must See Video! We Need Leaders In America That Speak Like This!
Excellent speech by Swiss member of Parliament Oskar Freysinger said with passion and truth that no politician in Washington is yet ready to speak from the floor of Congress. In order for us to beat back the Islamists we need some key leaders in Washington to make a similar speech and lead the nation against the Islamist threat head on.

Video from Walid Shoebat's website:
.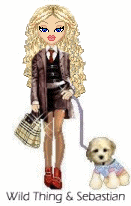 Wild Thing's comment......
Very impressive and he is absolutely right.
Posted by Wild Thing at 05:47 AM | Comments (5)
November 29, 2010
Swiss Voters Approve Harsher Deportation Plan
In Switzerland voters were asked to decide whether foreigners who have been found guilty of murder, rape, drugs trafficking and other serious offences should be deported. The proposal came from the conservative Swiss People's Party (SVP) – the country's largest.

Last year the SVP backed a referendum banning the construction of new minarets on mosques in Switzerland.
Supporters of the proposal claim immigrants to Switzerland are disproportionately responsible for crime and should not be allowed to stay in the country.
The proposal is the initiative of the right-wing Swiss People's Party, the party which also masterminded last year's successful campaign to ban the building of minarets in Switzerland.

The People's Party points to the fact that foreigners are overrepresented in Swiss jails - about 70% of the inmates are foreign, while 23% of Switzerland's overall population is foreign.
"We have in Switzerland two kinds of foreigners, the foreigners who want to work and respect our laws, and these foreigners are welcome," said Patrick Freudiger, a member of the youth branch of the People's Party.
"Then we have other foreigners who commit crimes, who don't want to work," he added.

This is their ad, it is two contrasting images.

The first is a rear view of four young women holding hands and standing in the shallows of Lake Zurich.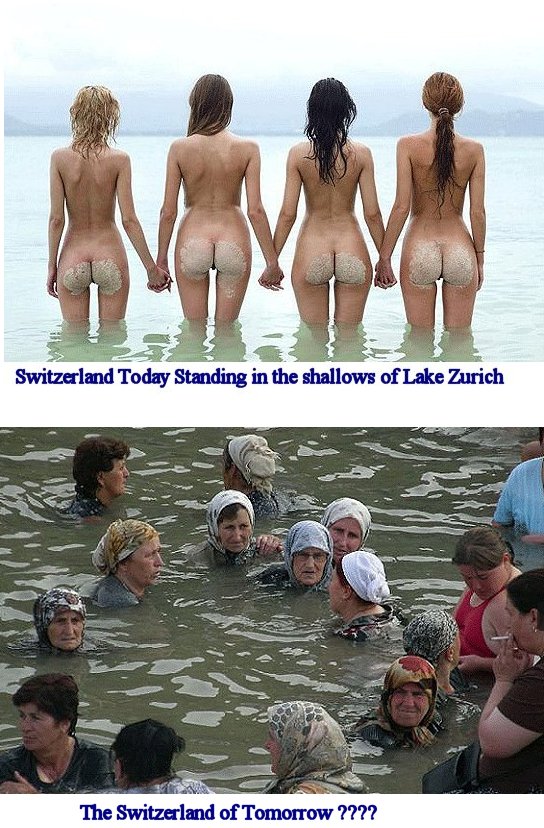 Swiss voters approved an initiative to automatically expel foreign residents convicted of serious crimes.
Of course, the initiative has been criticized by human rights groups.
Swiss voters have approved a far-right initiative to automatically expel foreign residents convicted of serious crimes, according to poll results.
Swiss national broadcaster SF1 said 52.9 percent of voters backed the initiative in Sunday's referendum, a plan proposed by the nationalist Swiss People's Party (SVP).
A counter-proposal put forth by the Swiss government, which would make expulsion dependent on the length of a prison term rather on an arbitrary list of offenses, appears to have been rejected by most voters, according to preliminary results. Currently, decisions to expel foreigners convicted of serious crimes are made on a case-by-case basis.
The initiative, which would apply to foreigners convicted of crimes like murder, rape or trafficking in drugs or people, has been criticized by human rights groups and legal experts, who said it could disregard international anti-discrimination treaties and the free movement of peoples under European Union law.
Almost one in four people living in Switzerland is not actually Swiss, although a great many were actually born in the country.

Switzerland's naturalisation process is one of the toughest in Europe, and becoming Swiss remains a long, complicated and expensive process.

.


Why Switzerland Has The Lowest Crime Rate In The World

Excellent video!!!!

Check out the stickers on the back wall of the fathers gun locker.
FIGHT CRIME SHOOT BACK!

.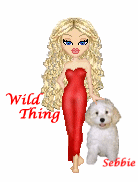 Wild Thing's comment........
Good for the Swiss to stand up to the Third World scum who trash their nation and refuse to respect Swiss culture and laws. This referendum will not be liked by Liberals and Free Trade Open Borders Globalists....but the Swiss stepped up
Need to do this in America.
What a concept; If your in our country abide by our laws or get thrown out.

I also like their other idea of everyable-bodied citizen having military training and keeping their weapons at home with a full battle load, makes for a polite society. And the government provides the ammo, this is for target practice for the annual shooting festival.
Here is the SIG 556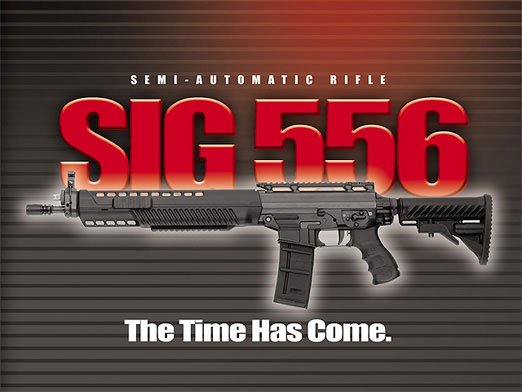 Here in the States:
http://sigsauer.com/Products/ShowCatalogProduct.aspx?categoryid=35
.
Posted by Wild Thing at 12:55 AM | Comments (4)
December 13, 2009
Saudi Arabia Calls To Boycott Swiss Over Minaret Ban

Saudi Arabia calls to boycott Swiss over minaret ban
A number of religious figures in Saudi Arabia called to boycott Switzerland and withdraw all Muslim deposits from bank accounts in the country in protest against the Swiss referendum that banned building new minarets.
The UAE-based newspaper al-Bayan reported that religious moderator Khaled al-Shamrani called for afar-reaching boycott on all good and products originating in Switzerland. He also called upon Muslims to avoid traveling to the country.Religious figure Ahmed al-Hassan called wealthy Muslims to withdraw their deposits from Swiss banks.
* New (informal) statistics regarding the Swiss ban showing overwhelming support for restricted Islamization in Europe:
* France: 49,000 readers at Le Figaro, by a 73-27 percent margin, would vote to ban new minarets in their country. 24,000 readers at L'Express agreed by an 86-12 percent margin, with 2 percent undecided. A leading columnist, Ivan Rioufol of Le Figaro, wrote an article titled "Homage to the Resistance of the Swiss People." President Nicolas Sarkozy was quoted as saying that "the people, in Switzerland as in France, don't want their country to change, that it be denatured. They want to keep their identity."

* Germany: 29.000 readers at Der Spiegel voted 76-21 percent, with 2 percent undecided, to ban minarets in Germany. 17,000 readers of Die Welt voted 82-16 in favor of "Yes, I feel cramped by minarets" over "No, freedom of religion is constrained."

* Spain: 14,000 readers of 20 Minutos voted 93-6 percent in favor of the statement "Good, we must curb Islamization's growing presence" and against "Bad, it is an obstacle to the integration of immigrants." 35,000 readers of El Mondo replied 80-20 percent that they support a Swiss-like banning of minarets.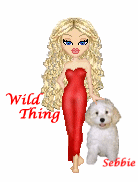 Wild Thing's comment........
Christian churchs are NOT allowed in Saudi Arabia.
Switzerland did the right thing and God bless those that voted against the Minarets.
Posted by Wild Thing at 01:45 AM | Comments (5)
November 30, 2009
Switzerland Says NO To Muslims! Three Cheers For the Swiss!

A pedestrian walks past a display advertising the initiative against the construction of new minarets in Switzerland, in Geneva Photo: REUTERS

This is a POWERFUL picture! No way we could do something like that over here. ~ Wild Thing

Switzerland appears to have backed minaret ban
Voters in Switzerland appeared to have backed a call to ban minarets from mosques, according to early exit poll results.
Thirty minutes after the referendum finished at midday, Swiss television reported: "The initiative would appear to be accepted. There is a positive trend. It's a huge surprise."
According to the respected gfs.bern polling institute an estimated 59 per cent of voters backed the ban. A majority of cantons were also in support of the initiative.
"A majority have voted for a nationwide ban on the construction of minarets," said the institute's director Claude Longchamp, speaking on Swiss Radio DRS.
For the Swiss constitution to be changed, the majority of the electorate and a majority of the cantons are required to vote 'yes'.
A survey two weeks ago showed 53 per cent said they would reject it. Both the government and parliament had rejected the initiative.
Commentators had said the country risked international pariah status and a backlash across the Muslim world if a 'yes' vote was achieved.
If the exit polls prove correct it will be a huge shock and Switzerland risks international pariah status and a backlash across the Muslim world.
Sunday's vote was forced by members of the far-right Swiss People's party (SVP) which has provoked a national debate over immigration with powerful billboard images.
The stark "stop" posters depicting a Muslim woman in a burka against the backdrop of a Swiss flag studded with missile shaped black minarets have been banned in many towns.
Hanspeter Rentsch, an executive director at the watch company Swatch, has warned that the referendum, and the poster propaganda, could damage Switzerland in the eyes of the world.
"The 'Swiss' brand must continue to represent values such as openness, pluralism and freedom of religion. Under no circumstances must it be connected with hatred, animosity towards foreigners and narrow-mindedness," he said.
Campaigners demanded the referendum to halt "political Islamisation" by amending the Swiss constitution to add a clause stating "the construction of minarets is prohibited".
Eveline Widmer-Schlumpf, the Swiss justice minister, has suggested that a vote for a ban could fuel Islamist radicalism and violent protests, such as those that greeted Danish cartoons of the Prophet Mohammed in 2006.
"This is not an appropriate instrument for combating religious extremism. It risks the opposite, of serving the cause of fanatics," she said.
But Oskar Freysinger, an SVP MP, compares warnings of anger in the Muslim world to the arguments used by "appeasers" of Adolf Hitler and the Nazis.
"It is what Chamberlain thought in Munich in 1938. If these are the consequences, it is the proof that what we are doing to defend ourselves is legitimate," he said.
The vote is required because campaigners got over 100,000 signatures on a petition against minarets triggering a vote under the Swiss constitution.
The campaign followed a row over a minaret in the tiny town of Langenthal, in the Bern canton of Switzerland.
Earlier this year Langenthal's 750 Muslims asked for planning permission to add a minaret, 30 feet high, to their mosque in a town with 11 churches and 14,500 inhabitants.
The reaction to the apparently harmless request has polarised Switzerland and crossed borders to feed into British, French, Dutch and Austrian fears over Islam and national identity.
"This minaret is a symbol of conquest and power which marks the will to introduce Sharia law as has happened in some other European cities. We will not accept that," said Ulrich Schueler, an SVP politician and leader of the "stop" minaret campaign.
Muslims have rejected the argument that a minaret symbolises Muslim power. Mutalip Karaademi, leader of Langenthal's Muslim community and of Albanian origin, accused Mr Schueler of telling "dirty lies".
"A minaret is a symbol nothing more. It s nice to see a house of god with a minaret or a church steeple or cupolas on a synagogue," he said.
"They call us terrorists. They call us Taliban, so many labels all wrong. They insult us. We love this country, almost more than our own. Our children were born here."

.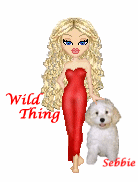 Wild Thing's comment.......
My family is from Switzerland so this makes me very happy.
First notice how the writer of the article is a TOTAL liberal and against the ban. heh heh
A tall minaret is a sign of domination of the surrounding area, proclaiming that all land within sight of the minaret is Islamic land.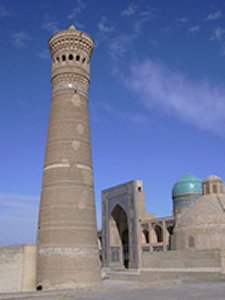 This is one Kalyan Minaret is in Bukhara,Uzbekistan Throughout the eight centuries of its existence, it served a watchtower and lighthouse for trade caravans, the guard-post for observers to notify the city of approaching danger remains in place.



It also makes a great observation point and firing position over the surrounding neighborhood, which might have been its original point.
"a backlash across the Muslim world if a 'yes' vote was achieved"
Hello, the Swiss are armed, including machine guns, and also in the Army there (from the age of 14 till senior citizen). The Swiss still require national miliary service . They require you to maintain arms in your home as long as you're in the army, which is more or less all able bodied males. After retirement, you're given the option of retaining the weapon. The Swiss maintained huge fighting complexes hewn deep into the rock guarding critical roads throughout the country. If you look carefully at the mountain sides as you drive around Switzerland you can see just make out the camouflaged positions that are there. Many are no longer in use however. Plus the mines under the roads. I would think twice about reacting if I was a Muslim.

This is huge. This is great, it's wonderful. . It's not just a slapdown of muzzies. It's a slapdown of tearfilled liberal kiss up people to Islam and Muslims. I am soooo glad they ignored the un-patriotic businesses like Swatch, who advocated for the minarets for "diversity" sake.

The Dutch have Geert Wilders and yes he too is not supported a hundred percent by everyone, but the ones that love their country do support him, and in Italy there is backlash also.
"They call us terrorists. They call us Taliban, so many labels all wrong. They insult us. We love this country, almost more than our own. Our children were born here."
And there it is. They ( the MUSLIMS in Switzerland) admit they haven't assimilated but have kept themselves apart. Which country would they defend? Not Switzerland. A very telling, and probably unintended admission there. So, Switzerland is not their country, and they do not love Switzerland as much as they love their own country, whichever country that might be. So then get the heck out and go back to your Muzzie land.

"This minaret is a symbol of conquest and power which marks the will to introduce Sharia law as has happened in some other European cities. We will not accept that," said Ulrich Schueler, an SVP politician and leader of the "stop" minaret campaign.

VERY True and this ban is a good start!
The Swiss are one of the few peoples that actually get to VOTE on just about everything. And whatever the voters say, that's the law. I wish we did that here, if we did can you imagine how socialized medicine would be voted down big time and so many other things.
Switzerland has never seen itself as an immigrant nation. To that end the country makes it very difficult to become a Swiss citizen. Part of the process includes being accepted, by vote, by the majority of a canton's (more or less equivalent to our counties) voters.
There are all sorts of subtle and not so subtle biases toward foreigners at every level of Swiss society. Everything from wages, supervisory positions and housing are affected. I am not surprised that the Swiss voted to ban minerets. It remains, at it's heart, a fairly conservative nation despite its embracing national health care and a few other socialist trappings.

The world has got to stop thinking of Islam as a religion, it is their law and they live under it no matter what country they live in. Also Islam is a law which they look to enforce onto others. Friends of mine in the UK have told me about how how areas have been taken over, people have been killed because they were white or Christian, or even of they got lost in their area. Churches have been attacked and burned. Pubs have been forced to close or been attacked, firebombed.

Posted by Wild Thing at 03:50 AM | Comments (8)
April 07, 2009
Geithner, and Obama Cause Corporations To Head To Switzerland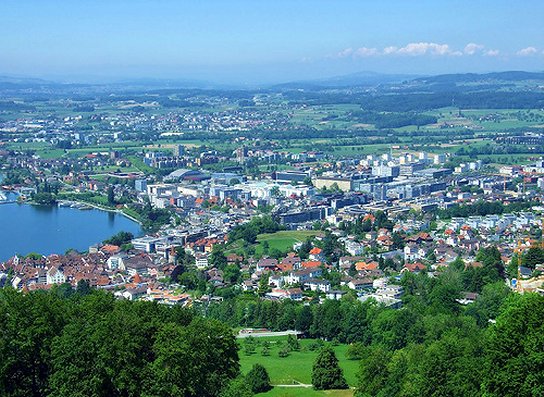 Corporate oil booms in low-tax Switzerland
By Sam Cage
ZUG, Switzerland, March 12 (Reuters) - The tidy towns and mountain vistas of Switzerland are an unlikely setting for an oil boom.
Yet a wave of energy companies has in the last few months announced plans to move to Switzerland -- mainly for its appeal as a low-tax corporate domicile that looks relatively likely to stay out of reach of Barack Obama's tax-seeking administration.
In a country with scant crude oil production of its own, the virtual energy boom has changed the canton or state of Zug, about 30 minutes' drive from Zurich, beyond all recognition. Its economy was based on farming until it slashed tax rates to attract commerce after World War Two.
It still has a chocolate-box old town with views over a lake to the high Alps, but is now surrounded by gleaming corporate offices -- including commodity trader Glencore and oil refiner Petroplus -- shopping malls and housing developments.
Local authorities say about 13 percent of full-time jobs in Zug canton are in the raw materials sector.
Over the past six months companies including offshore drilling contractors Noble Corp and Transocean, energy-focused engineering group Foster Wheeler and oilfield services company Weatherfield International have all announced plans to shift domicile to Switzerland.
"Switzerland has a stable and developed tax regime and a network of tax treaties with most countries where we operate," Transocean Chief Executive Bob Long said in a statement in October, when it announced its move. "As a result, the redomestication will improve our ability to maintain a competitive worldwide effective corporate tax rate."
"One trend that we see is that particularly Bermuda-based companies are now moving to Switzerland," said Martin Frey, a partner at law company Baker & McKenzie. "That may only partly be obviously for tax reasons, but also for security reasons and the fact that the Obama administration may go after them."
Analysts note that because Switzerland has its own tax treaty with the United States, blacklisting it at a corporate or individual level could cause unproductive diplomatic incidents.
Switzerland, which is not a member of the EU, denies the cantons' special status violates its free trade deal with the bloc and rejects negotiations with Brussels on fiscal matters.
But it has pledged to consider some other company taxation regulations the EU has objected to, such as the status of foreign companies, aiming to ensure these go beyond thinly staffed headquarters to invest and create jobs in Switzerland.
Companies say Switzerland's attractiveness as a corporate location goes beyond tax to include easy and efficient transport, a high quality of life high and well-trained staff.
In the current climate, the attractions for the companies that move clearly outweigh one drawback: by making the switch they potentially sacrifice inclusion in stock market indexes such as the closely watched benchmark Standard & Poor's 500.
"In the past and most recently with Transocean, Standard & Poor's has ruled that the process of redomesticating to Switzerland renders a company 'ineligible for continued inclusion' in the S&P 500," said Macquarie Research analyst Angie Sedita in a note.
In buoyant times, inclusion in such indexes has offered access to equity capital. But the S&P 500 has fallen more than 50 percent since Obama was elected.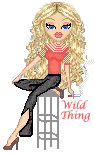 Wild Thing's comment.......
You know what, I can hardly blame them. Nuts cases like Geithner and his love for threatening to fire CEO's which is of course only a beginning of the power he intends to use on all of us if he wants to. Obama and his bully tactics with his reference to pitchforks and so many things with his destroying the American Dream. With Obama it is the American Nightmare! Add in Pelosi and Barney Frank and any number of the stupid big business hating democrats this move thing is no surprise. And not new either.
Their going after big business here in America is stupid. Like Nicholas says, he never worked for a poor man. All this destroying our economy by Obama and Geithner is going to cost more unemployment as companies big and small won't be able to afford to stay in business. They don't like companies that make a profit.
Big money making companies don't only do a lot of hiring, they also do a lot of donating even if it is for tax write offs the places they donate to benefit.
I think it was Brach's Candy that moved less than 100 miles-from the US to Canada...
That move saved them $80 million per year in reduced sugar costs since our sugar is twice what the world price is...
$80 million a year, every year...
The US government chases good companies out of here...
One day, an iconic company, think Coca-Cola or Pepsi or one like that will relocate elsewhere.
Coke and Pepsi already gets the majority of their profits from overseas. Why should they stay here and pay the 2nd highest tax rate in the world. Additionally, they like all corps are subject to the insane labor laws, OSHA, lawsuits, etc...
We continually 'beat up'our successful companies, i.e.
A T & T in the 80's
Microsoft in the 90's
Exxon (and other energy companies) in the 2000's
tobacco, pharmaceuticals, the list continues...
Noble and Transocean moves to Switzerland would be a great tragedy. These two companies represent some of the best of what America has to offer. They are small energy companies, called "independents," competing across the world against large companies, most of them foreign, and a much of their competition are companies that are at least partially or entirely supported by a foreign state.
It is well know in the industry that some of the sharpest and best qualified [in terms of intelligence and also the kind of instinct that comes from years of handling responsibility in a competitive, stressful environment] foremen and drillers come from the small American energy independents.
However, companies like Noble and Transocean are faced with little choice. Remember that although they are small and based here in the US, in recent decades most of their work has been overseas. They can't face the prospect of competing for jobs when their costs, due to higher current US taxes and much higher forecasts for taxes in the near future, are higher than the competition.
The whole thing is a darn shame. Again, I feel horrible because I know we are losing companies that represent the best of American ingenuity and entrepreneurial spirit.
It is politicians using class warfare, pure and simple to extract money from the producers in our society to give to non-producers.
Will the producers ever get fed up and when they do, what will happen?
Maybe move to Switzerland....it seems so. And I honestly can't blame them at all.
Our country has been the single most creator of wealth,and now the left wants to destroy that, they are not going to like it when they get their wish.
Posted by Wild Thing at 05:40 AM | Comments (5)