April 21, 2008
Sign Language for Islamists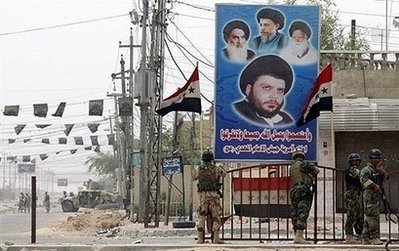 Sign Language for Islamists
In Sadr City, Hashem Hadi Obaid translates sermons by preachers loyal to Moktada al-Sadr, the anti-American cleric, into sign language.Iraq's most anti-western demagogue is determined to bring the message to those who can't hear it.

CLICK FOR VIDEO

http://video.on.nytimes.com/?fr_story=114adf2d4277ffb8f718efdb11f6f575b3452d4b
And this news from Iraq:
Muqtada al-Sadr followers refuse to disband militia in Iraq
BAGHDAD (AP)
Followers of hardline cleric Muqtada al-Sadr raised the stakes Sunday in the showdown with Iraq's government, refusing to disband their militia as the U.S. military reported an "uptick" of fighting in the Iraqi capital.
Prime Minister Nouri al-Maliki, meanwhile, assured visiting Secretary of State Condoleezza Rice that he will not back down in his confrontation with Shiite militias, even as mortar shells fired from Shiite areas struck the U.S.-protected Green Zone.
In a sign of that resolve, Iraqi soldiers took control Sunday of the last stronghold of al-Sadr's Mahdi Army militia in the southern city of Basra, where an Iraqi offensive last month triggered the current wave of Shiite fighting.
Al-Maliki, a Shiite, has demanded that al-Sadr disband his Mahdi Army, the country's biggest Shiite militia, or his followers will not be allowed to run in provincial elections this fall.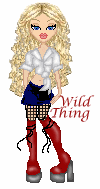 Wild Thing's comment........
The Sadr thug brigade is going to continue to whittle down to nothing as they get their clocks cleaned. He's now been thoroughly discredited and isolated by the other Shite and Iraqi political parties.
So Mookie sits in his little Iranian hole awaiting orders. They will soon toss him to the wind as he will no longer serve any purpose. Not alive anyway.
Word is they will be having him leave Iran. When that happens, he's done. Maybe even better to have him killed was he is still in Iran.
Posted by Wild Thing at 02:45 AM | Comments (12)
April 20, 2008
Cleric Sadr Threatens "open war" On Iraq Government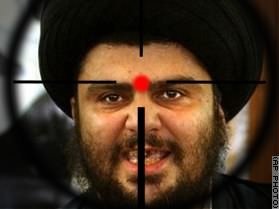 Cleric Sadr threatens "open war" on Iraq government
BAGHDAD
Shi'ite cleric Moqtada al-Sadr on Saturday threatened an "open war" against the Iraqi government unless it halted a crackdown by Iraqi and U.S. security forces on his followers.
The specter of a full-scale uprising by Sadr sharply raises the stakes in his confrontation with Prime Minister Nuri al-Maliki, who has threatened to ban the anti-American cleric's movement from political life unless he disbands his militia.
A rebellion by Sadr's Mehdi Army militia -- which has tens of thousands of fighters -- could abruptly end a period of lower violence at a time when U.S. forces are starting to leave Iraq.
"I'm giving the last warning and the last word to the Iraqi government -- either it comes to its senses and takes the path of peace ... or it will be (seen as) the same as the previous government," Sadr said, referring to Saddam Hussein's fallen regime, without elaborating.
"If they don't come to their senses and curb the infiltrated militias, then we will declare an open war until liberation."
Sadr's movement accuses other Shi'ite parties of getting their militias into the Iraqi security forces, especially in southern Shi'ite Iraq where various factions are competing for influence in a region home to most of Iraq's oil output.
Sadr launched two uprisings against U.S. forces in 2004.
His movement then entered politics and backed Maliki's rise to power in 2006. But the youthful Sadr split with Maliki, a fellow Shi'ite, a year ago when the prime minister refused to set a timetable for the withdrawal of U.S. troops from Iraq.
"Do you want a third uprising?" Sadr said, adding that he wanted Iraq's Shi'ite clerical establishment to set a date for the departure of American troops.
In Sadr's Baghdad stronghold of Sadr City, one Mehdi Army commander said he was "thrilled" about the statement.
"We will wait until tomorrow to see the response of the government. Otherwise they will see black days like they have never seen before i
Sadr's threat could not come at a worse time. On Friday, U.S. forces said they had intelligence suggesting Sunni Islamist al Qaeda, pushed out of Baghdad and western Iraq last year, was plotting a return to the capital to stage major bomb attacks.
ROCKETS HIT HOSPITAL
In Baghdad, police described battles between security forces and gunmen that began on Friday in Sadr City as among the heaviest in the capital since Maliki launched a crackdown on the Mehdi Army in the southern city of Basra late last month.
Police said 12 people had been killed in the Shi'ite slum. Hospitals said they received more than 130 wounded overnight.
Late on Saturday, Ali Bustan, head of the health directorate in the eastern section of Baghdad, said three rockets hit the Sadr Hospital in the slum. It was unclear if there were any casualties. The U.S. military said it was not to blame.
Bustan said the bodies of three women had been brought in along with 40 wounded people following fresh clashes.
Maliki has threatened to ban Sadr's movement from provincial elections this year if the cleric does not disband his militia.
In response, Sadr has threatened to formally scrap a ceasefire he imposed on the Mehdi Army last August, which has already been hanging by a thread given recent clashes.
In his statement, Sadr did not refer to the truce, but his spokesman in the holy city of Najaf, Salah al-Ubaidi, said the cleric was not bluffing.
"We mean every word," Ubaidi told Reuters.
Sadr issued his warning after Iraqi soldiers swooped on the Mehdi Army's stronghold in Basra. Iraqi officials said they now controlled the bastion, known as the Hayaniya district.
The dawn raid by government troops there was backed by a thunderous bombardment by U.S. warplanes and British artillery.
Maliki's initial crackdown on the militia in Basra last month was criticized by U.S. commanders as poorly planned.
It failed to drive the Mehdi Army from the streets and sparked battles across the south and in Sadr City, the cleric's Baghdad stronghold. The government dismissed 1,300 soldiers and police for refusing to fight in Basra, the port for most of Iraq's oil exports.
On Saturday by contrast, Harith al-Idhari, head of the Sadr office in Basra, said the militia had not put up any resistance, in observance of a ceasefire declared by the cleric.
Major-General Abdul-Karim Khalaf, an interior ministry spokesman, described the Basra operation as a major success.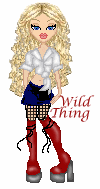 Wild Thing's comment........
Some people just need killing. Bye Bye Sadr!
Posted by Wild Thing at 03:45 AM | Comments (11)
April 13, 2008
Sadr Lashes Out at 'Terrorist' Gates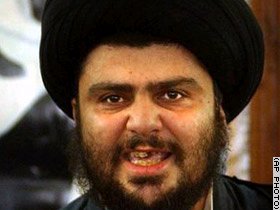 Muqtada al-Sadr says he will not enter any political process that would allow US forces to remain in Iraq.
NAJAF, Iraq
April 12
Iraq's Shiite cleric Moqtada al-Sadr on Saturday lashed out at Robert Gates, saying the US defense secretary will always remain his enemy because he is the occupier of Iraq.
"You have always been my enemy. And you will always be my enemy till the last drop of my blood," Sadr said in a statement.
He was reacting to comments by Gates in which he reportedly said, referring to Sadr, that those who are prepared to work peacefully "within the political process in Iraq" are not the enemies of the United States.
"Which political process do you want to involve me in when you are occupying my land," Sadr asked.
"I heard the statement of the terrorist American defense minister and I feel compelled to give a decent response to such a terrorist. I have no enemy but you. You are the occupier."
Sadr said he will keep resisting the US presence in Iraq in a "way that we consider suitable."
The cleric also told his Mahdi Army that he will no longer accept "any armed men on the streets when they are empty of the occupier."
"If the occupier leaves the cities, we should not use our weapons. Don't raise your weapons against Iraqis as long as they don't help the occupier. I also call on the Iraqi government to back its people to rid the land of the occupier."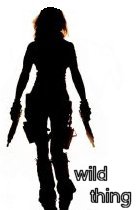 Wild Thing's comment........
"And you will always be my enemy till the last drop of my blood,"
Hopefully, from Mookie's lips to God's ear...and soon.
Sadr is feeling the heat from the Locals heh heh
* Coalition forces killing "a senior intelligence officer of al Qaeda in Iraq's network in Diyala. Arkan Khalaf Khudayyir, also known as Karrarr . . . was described as a senior intelligence leader . . . who facilitated suicide bombing attacks in the Diyala River Valley," and this same "network also has been responsible for attacks in Baghdad, 'to include attacks by female suicide bombers.'"
* "A document seized by US forces in Balad, and a communique from al Qaeda in Iraq's leader intercepted by U.S. intelligence (painting) a bleak picture of the terror group's ability to conduct operations in former strongholds." A captured diary written by a "emir" Abu Tariq "documents the terror group's decline, the desertion of its fighters, and logistical problems incurred in the wake of the surge. The diary is also an intelligence coup for U.S. forces. Tariq names current members of the groups and the companies and individuals used in al Qaeda's support network in the region." Hillary said that if media reports are accurate, the diary requires a willing suspension of disbelief.
* Al Qaeda in Iraq, "driven from its havens in Baghdad and the surrounding belts region, and most recently Diyala," has tried to regroup in Mosul, "which has emerged as the latest battleground." On January 25, 'lame duck' al-Maliki announced a new offensive to kick al Qaeda out of the Mosul region, where al Qaeda "maintains its only established supply line to Syria." The operation has gone better than expected, as you can see by all the media coverage it's not getting.
* On the political front, Iraqi leaders pushed through a provincial powers law that helps define Iraqi federalism, and sets the stage for provincial elections later this year," which is on top of enactment of an "amnesty law to resolve the status of many Iraqis held in Iraqi custody," which is on top of enactment in January of a "de-Ba'athification law that allows mid-level Baath party members to re-enter political and civic life," which is on top of enactment in December of "a pension law that will allow tens of thousands of Sunnis to collect the retirement benefits they were promised." The proposed oil law hasn't passed yet, but "the central government in Iraq continues to distribute oil revenue to the provinces" as if it had.
Now that 12 of the 18 "benchmarks" have been met, liberals complain that the laws passed only after sharp bickering and because lawmakers traded favors by voting for one another's bills -- mammoth abominations unheard of in a democracy.
Before the recent crackdown against militias in Iraq, the New York Times complained that al-Maliki wasn't cracking down enough against militias in Iraq. Now the New York Times complains that Crackdown on Militias May Add to Instability in Iraq. But if the Mookster's idiotic provocations accomplished anything, it's to get the Sunni, Kurd and Shiite factions in the government behind al-Maliki and against the Mookster. Cracking down on Shia militias was another of the Democrats' hallowed "benchmarks," but that was until al-Maliki started cracking down on Shia militias. Bush-Petraeus-McCain won the argument, which is why the losercrats are looking sadr and sadr every day.
Posted by Wild Thing at 03:47 AM | Comments (16)
March 27, 2008
Muqtada al-Sadr Orders Iraq PM Out Of Basra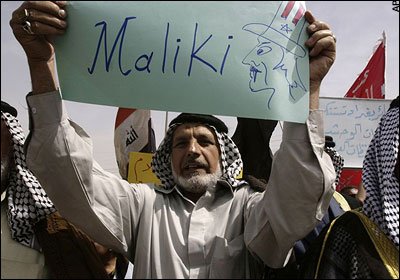 A man holds up a banner depicting Mr Maliki as an American pawn during a protest in Sadr City
Relations between Sadr and Nouri al-Maliki have deteriorated sharply as the two men clashed over fighting between Iraqi forces and gunmen in Sadrist communities in Iraq.
The Iraqi cleric Moqtada al-Sadr has demanded that the country's prime minister leave Basra where he is overseeing a military operation to purge the southern city of its radical Shi'ite militiamen.
Maliki gave followers of Sadr and other Shi'ite gunmen 72 hours to surrender their weapons and renounce violence or bear the brunt of a military crackdown.
"We are not going to chase those who hand over their weapons within 72 hours," said Mr Maliki. "If they do not surrender their arms, the law will follow its course."
A spokesman for Sadr said his movement had appealed to Mr Maliki to reduce tensions in the city by returning to Baghdad and sending a parliamentary delegation to seek an end to fighting.
Liwa Sumaysim, a spokesman for Sadr said: "Sadr has asked prime minister Maliki to leave Basra and to send a parliamentary delegation to resolve the crisis in the city."
Fighting has raged in Basra since Tuesday morning.
A military operation targeting rogue elements of the group was also underway in the Sadr City area of Baghdad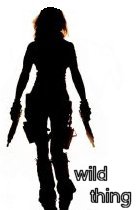 Wild Thing's comment........
Uh...he actually thinks the Maliki will just get up and leave one of his own cities because a random cleric said so? Mook-man is full of Shi'ite.
OK so here is a hint for Maliki, the American way. Forget the 72 hours, forget letting them threaten you Maliki.
Posted by Wild Thing at 12:47 AM | Comments (10)
Mahdi Army Attacks Opposition and Iraq Leadership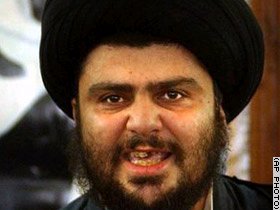 Muqtada al-Sadr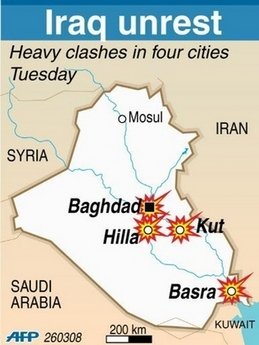 Map locating the four cities where Mahdi Army fighters fought with Iraqi and US forces Tuesday.
(AFP/Graphic)


IMPACT: Shiite enclave back on edge
Shiite militiamen are everywhere. Police and Iraqi army checkpoints are nowhere in sight. U.S. soldiers are keeping their distance.
Sadr City — the Baghdad nerve center for the powerful Mahdi Army — is suddenly back on edge as the militia leader, Muqtada al-Sadr, and Iraq's government lock in a dangerous confrontation over clout and control among the nation's majority Shiites.
The epicenter of the showdown has been the southern oil hub of Basra, where clashes have claimed dozens of lives this week and al-Sadr's forces face a Friday deadline to surrender.
But a more finely tuned measure of the tensions may be found among the one- and two-story homes and shabby storefronts of Sadr City. As the crisis deepened, The Associated Press toured Sadr City on Wednesday to observe its rapid swing from relative quiet to a return of the Mahdi Army swagger before the U.S. military troop buildup in Baghdad last year.
Sadr City — named after Muqtada al-Sadr's father, who was assassinated in 1999 — is seen as critical to the overall stability and security of the capital.
A resurgence of Madhi Army attacks and opposition could roll back the gains that have allowed Baghdad residents to take cautious steps toward normal life and offered Washington hope of accelerating troop withdrawals.
But recent days have resurrected old challenges.
Al-Sadr's militia forces, estimated at about 60,000, now seem itching for a fight. The current crisis came to head over U.S. and Iraqi raids that have detained hundreds of Mahdi Army loyalists even as the group maintained a shaky cease-fire since August — which the Pentagon has credited for helping bring down violence.
The tensions have spilled over into street battles in Basra between Mahdi fighters and Iraqi government forces. Fighting also has flared in other cities across southern Iraq's Shiite heartland — where Iran is hedging its bets by supporting factions of the Mahdi Army and its main Shiite rival.
Mahdi fighters also are blamed for a series of rocket barrages on the U.S.-protected Green Zone, which was hit again Wednesday. The Pentagon appears to want no part of the current troubles. Commanders worry that American troops could be drawn into difficult urban conflict, sapping energy from the fight against al-Qaida in Iraq and other Sunni insurgents.
U.S. forces have made only sporadic stabs into Sadr City, choosing instead to strengthen a security cordon on the outskirts. U.S. commanders, meanwhile, have a limited presence in southern Iraq and show no signs of diverting soldiers — as they did in the last major fight against the Mahdi Army in 2004.
"We are a different force than the one you saw in 2004," a senior Mahdi commander said at his Sadr City home.
"We are now better organized, have better weapons, command centers and easy access to logistical and financial support," added the commander, who spoke on condition of anonymity because he is not authorized to speak to the media.
Squatting on the floor next to two of his fighters, the commander sipped sweet black tea as a U.S. helicopter flew low overhead. A burst of gunfire rang out at one point. Another moment, he listened to the screech of a rocket.
"That's going to the Green Zone," he said.
When one of his fighters left the house, he warned about driving too close to American patrols on the edge of the district — a grid-pattern of teeming streets in northeast Baghdad built in the 1950s to house poor Shiite workers.
It was first named Revolution City. Then it became Saddam City. After Saddam Hussein's fall in 2003, it was designated Sadr City after al-Sadr's father, Mohammed Sadeq al-Sadr, whose death is blamed on Saddam agents.
"Don't be too impressed with what the Americans have. We can still win because we have faith and a just cause on our side," said one of the two militiamen in the commander's home.
Sadr City, home to 2.5 million people, looked like a place bracing for battle.
Its streets — normally crowded and noisy — were oddly quiet. Beside the militiamen, only youngsters were out in large numbers, playing soccer on dirt fields. Most stores were shuttered.
The militiamen, some wearing ammunition belts and sporting two-way radios, were out in full force dressed in a ragtag collection of tracksuits, jeans and pajamas. But they carried the essential firepower for effective street conflict: AK-47 rifles or grenade launchers.
Some stood behind rickety market stands with machine guns perched on top. Snipers took up position on rooftops. Others drove in pickup trucks fitted with machine guns.
Many curbs showed traces of disturbed asphalt — usually a telltale sign of freshly planted roadside bombs. Streets were barricaded by rocks, metal furniture or burning tires. Lookouts on motorbikes relayed the latest movements of U.S. armor deployed nearby.
Mahdi Army commanders have told the AP that the militia has recently taken delivery of new weapons supplied by backers in Iran. The arsenal, they said, included roadside bombs, anti-aircraft guns and Soviet-designed Grad rockets.
They also said an infusion of cash, also from Iran, helped the militia set up new command centers equipped with Internet-linked computers, fax machines and satellite mobile phones. They have also received global positioning system devices, they said.
The United States has long accused Iran of providing Shiite militias in Iraq with arms and training. Iran denies it.
Aides to al-Sadr in Baghdad insisted the Mahdi Army cease-fire remained in force, but warned of dire results if Prime Minister Nouri al-Maliki's government continued its crackdown against Mahdi militiamen.
"There will be grave consequences," said Sheik Salman al-Feraiji, al-Sadr's chief representative in Sadr City.
"We are not going to stand by and watch our sons getting killed," he told tribal leaders at a mosque. "You must tell the government that you will disown it if it doesn't stop the operations in the entire south."
Al-Sadr's movement gained ground in Sadr City in the immediate aftermath of Saddam's ouster. It quickly filled the vacuum left by the regime's fall — and Washington's lack of postwar planning — by running basic services and clamping down on looting in a district that had once been notorious for high crime and unemployment.
The militia is not universally popular in Sadr City because some of its men are involved in extortion and kidnapping. But the Mahdi Army is credited by most residents for protecting the district against Sunni militants during the height of Baghdad's sectarian war in 2006 and early 2007.
The bond between Sadr City's residents and the militia was on display Wednesday, with families offering fighters water, tea and food.
"Today, a family sent us rice and meat for lunch," said another militia commander, who identified himself only by the nickname Abu Ali and said he was one of 12 who oversee the Mahdi Army operations in Baghdad and the south.
Al-Sadr's support was instrumental in helping al-Maliki clinch the prime minister's job in 2006, but the two men fell out about a year ago.
"Down with al-Maliki's government," is now common graffiti in Sadr City. "The Dawa party is treasonous," declared another one, referring to al-Maliki's party.
This is the report from Reurters
14 killed, 140 wounded in Baghdad's Sadr City
BAGHDAD (Reuters) - Fourteen people were killed and more than 140 wounded in clashes between security forces and Shi'ite militants in Baghdad's Sadr City slum, a medical source said on Wednesday.

Another UPDATE:
U.S. airstrike in Iraq reportedly causes 60 casualties
Amid heavy clashes between government forces and Shiite Muslim militants in Baghdad and the southern port city of Basra, Iraqi Prime Minister Nouri al Maliki issued an ultimatum Wednesday demanding that the militias surrender their weapons within 72 hours. Radical cleric Muqtada al Sadr , whose Mahdi Army militia is a prime target of the government offensive, responded by demanding that Maliki leave Basra.

U.S. forces joined Iraqi troops in Baghdad to fight Mahdi Army militants, and police said that at least 20 people had been killed in the Sadr City neighborhood, a stronghold for Sadr's backers.

The city's fortified Green Zone sustained a third round of intense mortar fire beginning at 5:30 a.m. that seriously injured three U.S. government employees, according to a statement from the U.S. Embassy. A mortar round struck near Maliki's office.

With barely functioning hospitals and people holed up in their homes it was unclear how many people had died in Basra. According to health ministry officials in Basra, at least 33 people had been killed and 150 had been wounded in the fighting.

Maliki stipulated in his ultimatum that the militants would be spared if they surrendered their weapons within 72 hours. Sadr called for calm, asking Maliki to leave the Mahdi Army-dominated oil hub of Basra and send a parliamentary delegation to solve the crisis through dialogue, Sadr spokesman Hassan al Zargani said from Tehran, Iran .

In Baghdad , Mahdi Army-dominated neighborhoods remained sealed off, angering residents who couldn't open their businesses, get to hospitals or send their children to school.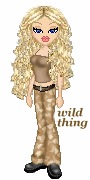 Wild Thing's comment........
I sure wish Muqtada al-Sadr was no longer consuming oxygen. I sure hope they can use this chance to take down Mookie and his "army" once and for all, if he is still in Iraq.
Posted by Wild Thing at 12:40 AM | Comments (9)
August 20, 2007
Sadr Pledges To Work With UN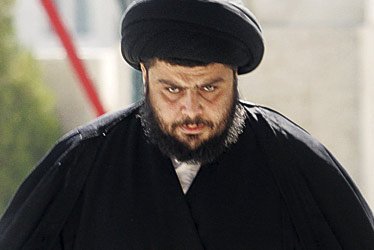 Sadr pledges to work with UN
Herald Sun
Iraqi cleric Moqtada al-Sadr has pledged to commit his forces and followers to help the United Nations if it replaces American and British troops in Iraq, according to an interview published today.
Speaking to The Independent newspaper from his movement's headquarters in Kufa, south of the Iraqi capital Baghdad, Sadr said that he would "support the UN if it comes and replaces the American and British occupiers".
"If the UN comes here to truly help the Iraqi people, they will receive our help in their work. I would ask my followers to support the UN as long as it is here to help us rebuild our country.
"They must not just be another face of the American occupation."
Sadr, who enjoys popular grassroot support among Iraqi Shiites, is a powerful political player in Iraq's embattled government led by Prime Minister Nouri al-Maliki.
His anti-American views have frequently seen his Mahdi Army militia clashing with US soldiers since the US-led March 2003 invasion to topple Saddam Hussein.
Sadr told the newspaper that the British army's downscaling in Iraq was a sign that it had given up and was defeated, saying:
"They are retreating because of the resistance they have faced. Without that, they would have stayed for much longer, there is no doubt."
He also warned that Britain's involvement in Iraq had endangered its citizens at home: "The British put their soldiers in a dangerous position by sending them here, but they also put the people in their own country in danger.
"They have made enemies among all Muslims and they now face attacks at home because of their war. That was their mistake."
On domestic Iraqi politics, Sadr said that Mr Maliki's days as Iraqi leader were coming to a close.
"Al-Maliki's government will not survive because he has proven that he will not work with important elements of the Iraqi people ... The prime minister is a tool for the Americans and people see that clearly," he said.
"It will probably be the Americans who decide to change him when they realise he has failed. We don't have a democracy here, we have a foreign occupation."
Sadr also denied American claims that he was being armed by Iran.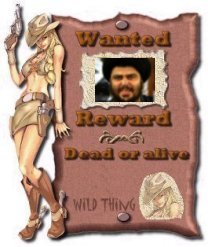 Wild Thing's comment........
Someone really needs to whack this bastard.
"Al-Maliki's government will not survive because he has proven that he will not work with important elements of the Iraqi people ... The prime minister is a tool for the Americans and people see that clearly," Sadr said.
"It will probably be the Americans who decide to change him when they realise he has failed. We don't have a democracy here, we have a foreign occupation."
I sure hope he will not be the one to replace Al-Maliki if he steps down, is killed or they remove him.
Posted by Wild Thing at 12:45 AM | Comments (14)
July 19, 2007
Sadr Re-emerges In Iraq, Bolder Than Ever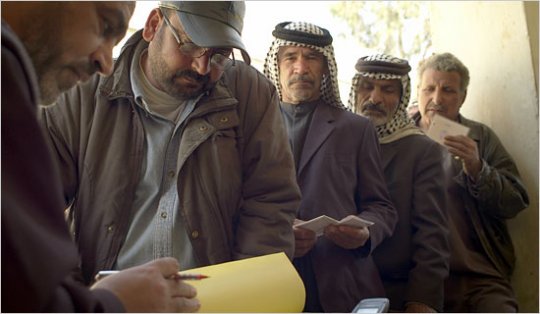 Displaced Shiites who were forced to leave predominantly Sunni neighborhoods around Baghdad and move into the Shiite district of Shuala waiting for assistance at a distribution center run by Sadr's organization.
Sadr re-emerges in Iraq, bolder than ever
international herald tribune ...for complete article
BAGHDAD: After months of lying low, the anti-American Shiite cleric Moktada al-Sadr has re-emerged with a shrewd two-tiered strategy that reaches out to Iraqis on the street and distances him from the increasingly unpopular government.
Sadr and his political allies have largely disengaged from government, thus contributing to the political paralysis noted in a White House report last week. That outsider status has enhanced Sadr's appeal to Iraqis, who consider politics less and less relevant to their daily lives.
Sadr has been working tirelessly to build support at the grass roots, opening new storefront offices across Baghdad and southern Iraq that dispense services that are not being provided by the government. In this he seems to be following the model established by Hezbollah, the radical Lebanese Shiite group, as well as Hamas in Gaza, with entwined social and military wings that serve as a parallel government.
He has also extended the reach of his Mahdi army, one of the armed groups that the White House report acknowledged remain entrenched in Iraq. The militia has effectively taken over vast swaths of the capital and is fighting government troops in several southern provinces. Although the militia sometimes uses brutal tactics, including death squads, many vulnerable Shiites are grateful for the protection it affords.
At the same time, the Mahdi army is not entirely under Sadr's control, and he publicly denounces the most notorious killers fighting in his name. That frees him to extend an olive branch to Sunni Arabs and Christians, while championing the Shiite identity of his political base.

Wild Thing's comment........
Good, let him get bolder, and when his fat ass steps outside from hiding we have a .50 caliber bullet with his name on it. You won't live to see Rama-lama-ding-dong this year pork boy.
Posted by Wild Thing at 12:45 AM | Comments (2)
May 26, 2007
Local Goats Are Frightened ~ Mookie is back. Pelosi, Reid, rejoice!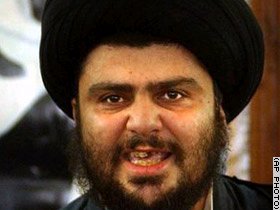 Al-Sadr calls for U.S. pullout from Iraq
Radical Shiite cleric Muqtada al-Sadr appeared in public for the first time in months on Friday, delivering a fiery anti-American sermon to thousands of followers and demanding U.S. troops leave Iraq.
It was not immediately clear why he chose to return now to his base in the Shiite holy city of Najaf from Iran. His speech had new nationalist overtones, calling on Sunnis to join with him in the fight against the U.S. presence. He also criticized the government's inability to provide reliable services to its people.
Al-Sadr's reappearance, four months after he went underground at the start of the U.S.-led Baghdad security crackdown, came just hours before his Mahdi Army militia lost its top commander in the southern city of Basra in a gunbattle with British soldiers, Iraqi police said.
The 33-year-old al-Sadr is believed to be honing plans to consolidate political gains and foster ties with Iran — and possibly trying to take advantage of the absence of a major rival, Supreme Islamic Council of Iraq leader Abdul-Aziz al-Hakim, who was recently diagnosed with lung cancer and went to Iran for treatment.
Al-Sadr traveled in a long motorcade from Najaf to the adjacent holy city of Kufa on Friday morning to deliver his sermon before 6,000 worshippers.
"No, no for Satan. No, no for America. No, no for the occupation. No, no for Israel," he chanted in a call and response with the audience at the start of his speech.
He repeated his long-standing call for U.S. forces to leave Iraq.
"We demand the withdrawal of the occupation forces, or the creation of a timetable for such a withdrawal," he said. "I call upon the Iraqi government not to extend the occupation even for a single day."
He also condemned fighting between his Mahdi Army militia and Iraqi security forces, saying it "served the interests of the occupiers." Instead, he said the militia should turn to peaceful protests, such as demonstrations and sit-ins, he said.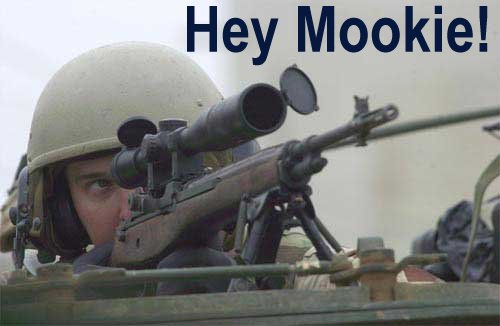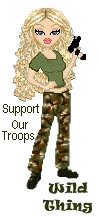 Wild Thing's comment.............
The weasel rears his ugly head again Now where's the smart bomb with his name on it? Time to blow its head off.
Posted by Wild Thing at 12:47 AM | Comments (12)
May 02, 2007
Sadr Fan of Democrats Cowardice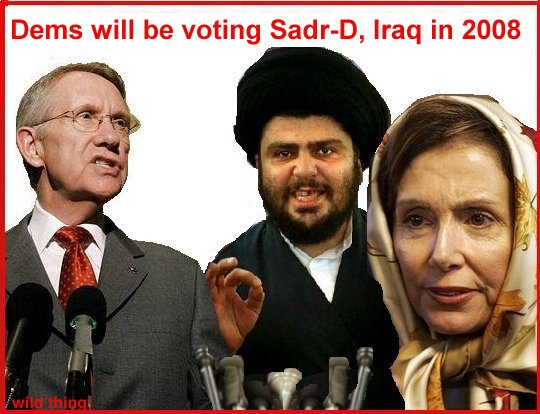 Leave Iraq, Sadr tells "Antichrist" Bush
BAGHDAD (Reuters)
The powerful Iraqi cleric and militia leader Moqtada al-Sadr called President George W. Bush the Antichrist on Saturday and urged him to heed calls by the opposition Democrats to withdraw from the chaos of Iraq.
In fresh violence on Saturday, 14 people were killed and 39 others were wounded in a suicide car bombing in the holy Shi'ite city of Kerbala south of Baghdad, a hospital said. A Reuters witness said he saw tens of casualties.
Sadr, whose ministers quit Shi'ite Prime Minister Nuri al-Maliki's government this month, renewed his demand for a U.S. pullout a day after Bush pledged to veto legislation that would require U.S. troops to begin leaving Iraq by October 1.
Calling Bush "the greatest evil," Sadr said in a letter read out by a Sadrist MP in parliament that an eventual U.S. pullout would be a "victory for the Iraqi people."
"Here are the Democrats demanding that you withdraw at least with a timetable and you are stubborn against them," said Sadr, whose Mehdi Army militia fought two uprisings against U.S. forces in 2004.
"You are like the one-eyed Antichrist. You look with one eye and refuse to look with the other," he told Bush.
Maliki, under pressure from his Washington supporters to pass key power-sharing agreements to reconcile Iraq's warring communities, met a Democrat-led Congressional delegation in Baghdad on Saturday.
A statement from Maliki's office quoted him as telling the delegation that his government is committed "to building its armed forces and taking over the security portfolio all over Iraq in the quickest time."
Bush has refused to set any timetable for a withdrawal, calling it a "surrender date." More than 3,300 U.S. troops have been killed in the increasingly unpopular war since the invasion in 2003.
Defying the veto threat, the Democratic-controlled Congress this week approved a $124 billion war spending measure that would require U.S. combat troops to leave by March 31, 2008.
They have promised to send the bill to the White House on Tuesday, the fourth anniversary of Bush declaring aboard the USS Abraham Lincoln: "Major combat operations in Iraq have ended" after Saddam Hussein was ousted in 2003. The aircraft carrier was decorated with a large "Mission Accomplished" banner.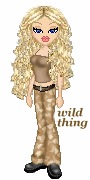 Wild Thing's comment........
But, this stuff is PRICELESS for the conservative movement!!!!!!!!!!!!!!
Imagine TV and video ads and You Tube movements using conservative film and video buffs inundating and saturating the airwaves with: ""This is what the enemies of America are saying," and, "this is what the Democrats are saying..............is there any difference?"" type of stuff.
I would just love that to happen. heh heh
Posted by Wild Thing at 12:55 AM | Comments (12)
April 17, 2007
Sadr Raises Pressure For US To Withdraw
Sadr raises pressure for US to withdraw
Telegraph.co.uk
The United States faced a fresh challenge to its presence in Iraq yesterday when supporters of Moqtada al-Sadr's radical Shia Muslim movement quit the Baghdad government to demand a deadline for withdrawal of its troops.
By pulling out of the ruling Shia Alliance coalition, Sadr has moved a step closer to outright confrontation with the American-led military effort to stabilise Iraq.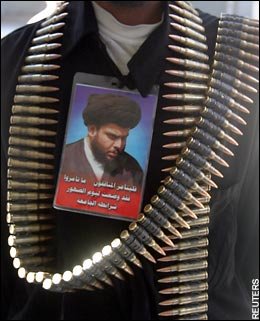 A Shia militiaman wears an identity card with a picture of Moqtada al-Sadr on the back

The loss of Sadr's followers, including six cabinet ministers, does not deprive Nouri al-Maliki, the prime minister, of an overall majority but does reduce his scope for horse trading between competing factions.
Sadr triggered the crisis in a letter to supporters that demanded a timetable for withdrawal of foreign troops from Iraq. It said:
"I pray for God Almighty to bestow on the Iraqi people a government that is independent from occupation and one that works hard in the service of its people."
The movement holds one quarter of parliamentary seats in the Alliance which governs in coalition with Kurdish parties. The bloc's parliamentary representative, Nassar al-Rubaie, said the decision was taken after Mr Maliki rejected an ultimatum to confront the Americans.
Behind the scenes, the split has been on the cards for months. Mr Maliki issued a statement yesterday thanking Sadr for instructing his ministers to resign, so that competent "independents" could be appointed.
The White House welcomed the development, reinforcing its support for Mr Maliki as he launches a much postponed government reshuffle.
Sadrists were until yesterday in control of key ministries including health, transport and tourism.
There were widespread accusations that these ministries had become sectarian enforcement operations under the influence of their political leaders.
In parallel Sadr has sought to distance his movement from an unpopular government. Mr Rubaie said:
"The prime minister has to express the will of the Iraqi people. They went out in a demonstration in their millions asking for a timetable for withdrawal. We noticed the prime minister's response did not express the will of the people"
Mr Maliki managed to persuade the Madhi army, the armed wing of Mr Sadr's movement, to reduce attacks on coalition forces but recently Sadr has resumed aggressive activities and his supporters have taken to the streets to challenge the authorities.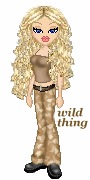 Wild Thing's comment........
Don't you just love how this reject has been playing both sides of the fence. He has representation in a legitimate government, but expects that government to look the other way when his followers intimidate and murder those who "see" things differently then he does. Its time for Maliki to step up to the plate and say "Thanks, but we dont need you anymore."
He has called for the killing of American troops. That makes him the enemy, not opposition political party.Take him out and take out his followers when they protest in the street.
Problem solved, we win.
Posted by Wild Thing at 12:47 AM | Comments (6)
April 09, 2007
Muqtada al-Sadr Calls For Attacks on US Troops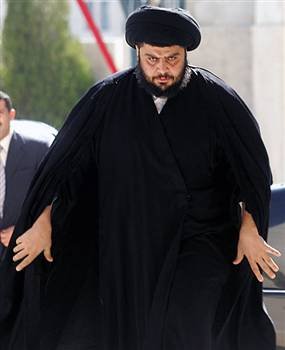 al-Sadr calls for attacks on U.S. troops
The powerful Shiite cleric Muqtada al-Sadr ordered his militiamen on Sunday to redouble their battle to oust American forces and argued that Iraq's army and police should join him in defeating "your archenemy."
Al-Sadr commands an enormous following among Iraq's majority Shiites and has close allies in the Shiite-dominated government. The statement Sunday carried his seal and was distributed in the Shiite holy city of Najaf, where the cleric called for an enormous demonstration to mark the fourth anniversary of Baghdad's fall.
"You, the Iraqi army and police forces, don't walk alongside the occupiers, because they are your archenemy," the al-Sadr statement said.
He urged his followers not to attack fellow Iraqis but to turn all their efforts on American forces.
"God has ordered you to be patient in front of your enemy, and unify your efforts against them — not against the sons of Iraq," the statement said.
Al-Sadr apparently issued the statement in response to three days of clashes between his Mahdi Army militiamen and U.S.-backed Iraqi troops in Diwaniyah, south of Baghdad.
In Washington, Sen. Joseph Lieberman, an independent of Connecticut, said al-Sadr's words showed the American troop surge was working.
"He is not calling for a resurgence of sectarian conflict. He's striking a nationalist chord. We're going to have to watch him closely. He's not our friend. He's acknowledging that the surge is working," the senator, a strong backer of the war, said on CNN's "Late Edition with Wolf Blitzer."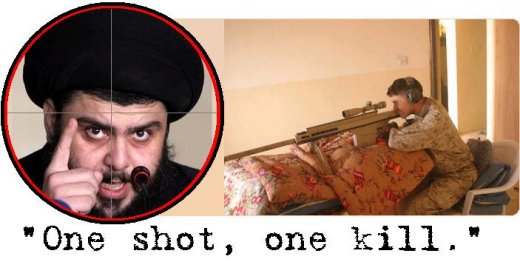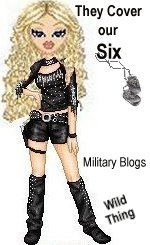 Wild Thing's comment.........
OK so now we have Mookie is openly calling for war against US forces. This POS shoul dhave been taken out when our troops hit Baghdad. My bet is they wanted to but the higher ups, not military, told them to hold back. Then of course they let him play in setting up the new government, but alas he showed he cannot do that. It just isn't in him to play nice, so can we please oh please take him out now? I mean he has declared war on our troops, doesn't this make him a legitimate target?
I realize this terrorist Al Sadr has been calling for war against the US for four years, and his militia lost thousands of terrorists fighting the US. I agree with Lieberman ( OMG did I say I agreed with a democrat) anyway the Surge is working, and Al Sadr is unable to stop it. Also I believe that he just got his latest orders from his masters in the Iranian terrorist regime to send his terrorist militia for a final battle against the US forces to undermine the surge. I wish they will come out in the open because these terrorists will be annihilated by our troops, and al-Sadr along with them would be a nice present to our troops.
Posted by Wild Thing at 12:55 AM | Comments (10)
November 26, 2006
Al-Sadr Loyalists Take Over Iraqi Television Station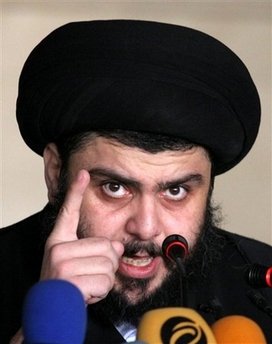 Radical Shiite cleric Muqtada al-Sadr delivers a speech during prayers in Kufa, 160 kilometers (100 miles) south of Baghdad, Iraq, Friday, Nov. 24, 2006. Followers of radical Shiite cleric Muqtada al-Sadr warned Friday they will suspend their membership in parliament and the Cabinet if Prime Minister Nouri al-Maliki meets U.S. President George W. Bush in Jordan next week. (AP Photo)
Al-Sadr loyalists take over Iraqi television station
Mercury News
BAGHDAD, Iraq - Followers of the militant Shiite cleric Muqtada al-Sadr took over state-run television Saturday to denounce the Iraqi government, label Sunnis "terrorists" and issue what appeared to many viewers as a call to arms.
The two-hour broadcast from a community gathering in the heart of the Shiite militia stronghold of Sadr City included three members of al-Sadr's parliamentary bloc, who took questions from outraged residents demanding revenge for a series of car bombings that killed some 200 people Thursday.
With Iraqi Prime Minister Nouri al-Maliki relegated to the sidelines, brazen Sunni-Shiite attacks continue unchecked despite a 24-hour curfew over Baghdad. Al-Sadr's Mahdi Army militia now controls wide swaths of the capital, his politicians are the backbone of the Cabinet, and his followers deeply entrenched in the Iraqi security forces. Sectarian violence has spun so rapidly out of control since the Sadr City blasts, however, that it's not clear whether even al-Sadr has the authority - or the will - to stop the cycle of bloodshed.
"This is live and, God willing, everyone will hear me: We are not interested in sidewalks, water services or anything else. We want safety," an unidentified Sadr City resident said as the televised crowd cheered. "We want the officials. They say there is no sectarian war. No, it is sectarian war, and that's the truth."
Militia leaders told supporters Saturday to prepare for a fresh wave of incursions into Sunni neighborhoods that would begin as soon as the curfew ends Monday, according to Sadr City residents. Several members of the Mahdi Army boasted they were distributing police uniforms throughout Shiite neighborhoods to allow greater freedom of movement. The government announced it would partially lift the curfew Sunday to allow for pedestrian traffic.
In the Diyala province north of Baghdad, Sunni insurgents stormed into two Shiite homes, lined up 21 men and shot them to death in front of women and children, police there said. Later in the day, a Shiite television station showed footage of the victims' burials.
And in the western province of Anbar, a suicide bombing at a checkpoint in Fallujah killed a U.S. serviceman and three Iraqi civilians, according to a U.S. military statement. Another American and nine Iraqis were injured.
Also Saturday, Iraq's most prominent Sunni cleric made an appeal in Cairo, Egypt, for Arab nations to withdraw recognition of Iraq's Shiite-led government and said U.S.-led troops were complicit in Iraq's sectarian crisis. Hareth al-Dhari, leader of the militant Association of Muslim Scholars, declared Iraqi efforts toward a unity government "dead" and said the current violence is political rather than theological.
"The occupying forces have been giving cover to the militias and criminal gangs," al-Dhari said. "The government has been seen setting the atmosphere for them with the curfews to aid them in catching the victims and carrying out their attacks."
Al-Maliki's administration acknowledged it was powerless to interrupt the pro-Sadr program on the official Iraqiya channel, during which Sadr City residents shouted, "There is no government! There is no state!" Several speakers described neighborhoods and well-known Sunni politicians as "terrorists" and threatened them with reprisal.
"We'll obviously try to control them as much as we can, but when they (kill) more than 150 people in bombings, they have the right to speak," said Bassam al Husseini, one of Maliki's top advisers. "What are we going to do? We can't stop this. It's too hot right now."
Sunni politicians vowed to file complaints against the channel for inciting sectarian violence. Ordinary Sunnis were shocked to hear their neighborhoods singled out for attack on the government's station.
"I got four phone calls from friends telling me to change the channel to Iraqiya and see what's happening," said Mohamed Othman, 27, a Sunni resident of Ameriya, one of the districts mentioned in the program. "I think this is an official declaration of civil war against Sunnis. They're going to push us to join al-Qaida to protect ourselves."
Al-Husseini, the government adviser, also affirmed that a meeting between al-Maliki and President Bush would continue as scheduled next week in neighboring Jordan, despite the threats of al-Sadr's allies to withdraw from the government if it occurs. The Cabinet met for more than an hour to hash out an agenda for the trip, he said.
"The meeting will take place. That's the plan," al-Husseini said. "We need to straighten things up."
Al-Husseini said the top two items of discussion would be a report from the Iraq Study Group, a bipartisan commission that will make recommendations for U.S. policy in Iraq, and a timetable for a withdrawal of U.S.-led forces.
"We want to talk about it," al-Husseini said, "to ask, `How long are they going to stick around?"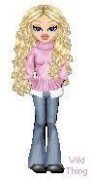 Wild Thing's comment....
7 - 730am: "Good Morning to Death to America", hosted by Mookie and Dirka Dirka Mohammed Jihad.
But wait, there's more! In addition to the suicide explosives belt, the luxurious leather bound Koran personally signed in blood by al-Sadr, the two twin goats for your personal use, the lovely "I Hate Jews" coaster set, and the "Muqtada Rules" Turban, if you call in the next 12 minutes, you'll receive, absolutely free, al-Sadr's new DVD, "Pleasuring 72 Virgins".
I am not making light of how scary it is there. But I know with all that is in me, that if our military was given the OK, they would blow this al-Sadr to the hell hole that awaits him in 10 seconds. Maybe when Bush is there they can discuss sending Muqtada al-Sadr to his death. I would vote for that. I mean Al-Sadr IS a WMD.
Posted by Wild Thing at 01:55 AM | Comments (12)
November 14, 2006
Muqtada Al-Sadr Update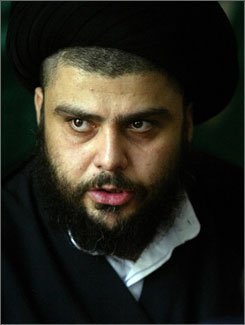 Cleric al-Sadr may hold Iraq's future in his hands
BAGHDAD — Muqtada al-Sadr, the anti-American cleric has emerged as one of the most powerful forces in Iraq, commanding a large militia and a growing political organization.
"I believe that the Mahdi Army continues to pose a threat," Sen. John McCain said in Arizona last week. "I believe al-Sadr has to be taken out."
That may not be realistic. "There are no good options in dealing with al-Sadr," says Wayne White, who formerly headed the State Department's Iraq intelligence team and is now at the Middle East Institute. "He has grown too powerful to be addressed in any reasonable way."
As President Bush and the Democrats in charge of a new Congress plot a new direction in Iraq, al-Sadr remains a huge obstacle unless the Iraqi government does what it has been unwilling or unable to do so far: neutralize him through political negotiations or a military confrontation.
His political group, for example, controls the Health Ministry and has used it to harbor death squads, infiltrate hospitals and punish al-Sadr's enemies, says Ayad al-Samarrai, the deputy chairman of the Iraqi Islamic Party, a Sunni group.
The U.S. military estimates the Mahdi Army has between 6,000 and 10,000 militants in Baghdad. Al-Sadr's militia and al-Qaeda in Iraq are among the groups most responsible for religious warfare, according to the latest Defense Department report to Congress.
The Bush administration has urged the government of Prime Minister Nouri al-Maliki to confront Shiite militias, including al-Sadr's Mahdi Army. Al-Maliki, who relies on al-Sadr for political support, has been slow to act, saying it may not be until next year before militias are disarmed. Al-Sadr's support was instrumental in putting al-Maliki in power.
Because of al-Sadr, "Al-Maliki was able to become prime minister despite the fact that other political parties had gained more seats in parliament," says Vali Nasr, author of The Shia Revival. "He is al-Sadr's prime minister."
U.S. troops say a two-story complex linked to the al-Sadr organization in a nearby neighborhood also is being used as an illegal detention center. "Torturing, killing, everything under the sun happens there," says 2nd Lt. David Michael Stroud, a platoon leader with the 1st Battalion, 23rd Infantry. "It's the heart of darkness."
The complex is considered a "no-touch" zone, since it's aligned with al-Sadr, Stroud says. U.S. and Iraqi army units often need Iraqi government permission before raiding government offices. The Shiite-dominated government sometimes is reluctant to allow raids of al-Sadr associates. "It makes it difficult if someone is sponsoring or being complicit with criminal activity who's in a government position," Smiley says. "It disrupts the essentials to making progress."
Al-Maliki's government has targeted some Mahdi Army officials, and Iraqi security forces have clashed with the militants several times this year. In August, U.S. and Iraqi troops, working on a tip about a kidnapping ring, raided the Health Ministry offices and arrested five of al-Shemari's bodyguards.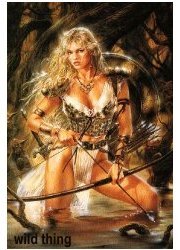 Wild Thing's comment......
I sure hope our troops will be told to take this guy out and soon. Not sure how that works if they have to have the OK first with this kind of a hit, or not, or if he could be just sort of an oops we got him too. But I vote to take him out and not as a prisoner. Just get rid of this jerk. He is nothing but trouble and if our troops do get pulled out of Iraq, to leave this horrible person alive will escalate the worst possible situation immediately.

Posted by Wild Thing at 01:55 AM | Comments (14)
November 01, 2006
Nouri al-Maliki and his buddy Muqtada al-Sadr Up To No Good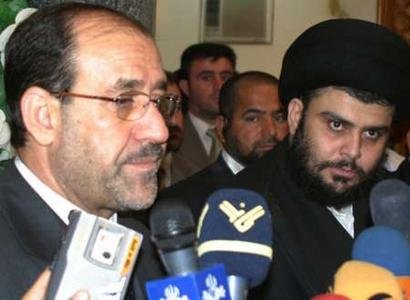 Here is the latest with Iraqi Prime Minister Nouri al-Maliki and his buddy Muqtada al-Sadr.
Maliki orders Sadr City barriers removed
BAGHDAD, Oct. 31 (UPI) -- Iraqi Prime Minister Nouri al-Maliki defied the U.S. military Tuesday and ordered military checkpoints encircling Sadr City removed by sundown.
Shiite gunmen have largely shut down access to their Sadr City stronghold in Baghdad Tuesday. It's part of a campaign by supporters of radical anti-American cleric Muqtada al-Sadr to force an end to a joint U.S.-Iraqi security clampdown.
U.S. obeys order to abandon Sadr City checkpoints
BAGHDAD, Iraq (AP)
U.S. troops on Tuesday abandoned checkpoints around the Shiite militia stronghold of Sadr City on orders from Prime Minister Nouri al-Maliki, the latest in a series of moves by the Iraqi leader to assert his authority with the U.S. administration. Which mean that the U.S. and Iraqi checkpoints around Sadr City and other parts of Baghdad have opened with vehicles passing through unchecked, following an order by Iraqi Prime Minister Nuri al-Maliki.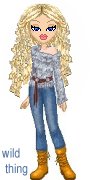 Wild Thing's comment......
Prime Minister Nouri al-Maliki, imo, is going to regret his decisions he is making that are not forward motion decisions. He is going to end up taking all the hard work, dangerous battles of our troops and the Iraqi Amry many steps backward. His ego is leading the way and mix that with his playing farovrites with Muqtada al-Sadr he is asking for it big time.
Posted by Wild Thing at 12:44 AM | Comments (2)
October 26, 2006
Iraq PM Nouri al-Maliki Slams US Military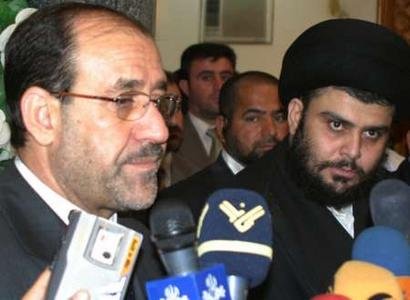 Who is the real leader of Iraq?
BAGHDAD, Iraq - U.S. and Iraqi forces on Wednesday raided Sadr City, the stronghold of the feared Shiite militia led by radical anti-American cleric Muqtada al-Sadr, but Prime Minister Nouri al-Maliki disavowed the operation, saying he had not been consulted and insisting "that it will not be repeated."
The defiant al-Maliki also slammed the top U.S. military and diplomatic representatives in Iraq for saying Iraq needed to set a timetable to curb violence ravaging the country.
"I affirm that this government represents the will of the people and no one has the right to impose a timetable on it," al-Maliki said at a news conference.
The U.S. military said Iraqi army special forces, backed up by U.S. advisers, carried out a raid to capture a "top illegal armed group commander directing widespread death squad activity throughout eastern Baghdad," the military said in a statement.
Al-Maliki, who is commander in chief of Iraq's army, heatedly denied he knew anything about the raid:
"We will ask for clarification about what has happened in Sadr City. We will review this issue with the multinational forces so that it will not be repeated...
Complete article HERE
And this is the response from President Bush............
Bush warns Iraqis that American patience has limits
WASHINGTON (Reuters) -
President George W. Bush said on Wednesday American patience over Iraq had its limits but pledged not to put unbearable pressure on the country's leaders, after a protest by Iraq's prime minister.
"We're pressing Iraq's leaders to take bold measures to save their country. We're making it clear that American patience is not unlimited," Bush told a White House news conference.
Even so, he added, "We will not put more pressure on the Iraqi government than it can bear."
Bush said the United States remained committed to Iraq "until the job is done," but would adjust tactics to confront a changing enemy.
He voiced qualified confidence in Maliki. "We're with him as long as he continues to make tough decisions," Bush said.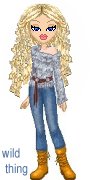 Wild Thing's comment.......
The current PM is an appeaser to Muqtada al-Sadr. They probably did not notify Malki for fear his people would warn the militia of the impending attack and whomever was the target for the raid would dissappear.
SCREW YOU, Maliki. Everybody KNOWS the trouble in Baghdad stems from that festering hellhole called Sadr City. You'd better be glad we're not just flat out LEVELING it.
Stop sticking up for your Iranian buddies and LEAD this nation for which our troops have spilled their blood.
And don't give us that "will of the people" crap. Now get out of the way and let the U.S. and Iraqi forces do what has to be done to make this a stable country.
Oh, and SCREW IRAN AND MUQTADA AL SADR.
Posted by Wild Thing at 12:44 AM | Comments (5)
October 23, 2006
Muqtada al-Sadr a Busy Terrorist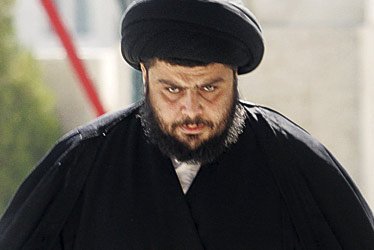 After the fall of Saddam, Muqtada al-Sadr, a charismatic Iraqi cleric who comes from a powerful clerical dynasty, emerged as one of the country's most talked-about Shi'a leaders.
Al-Sadr is one of the most vocal critics of the U.S. troops being in Iraq.
On 18 July 2003 al-Sadr used a Friday sermon in Al-Najaf to denounce as "puppets" the members of Iraq's new U.S.-appointed Governing Council. He also announced his own plans to form a militia.
Al-Sadr announced his new government during his sermon at Friday prayers in Al-Kufah on 10 October 2003. Muqtada al-Sadr announced his intention to form an Islamic state in Iraq by establishing a shadow government there, complete with ministries.
Former Iranian President Akbar Hashemi Rafsanjani praised al-Sadr's recent actions as "heroic" during his Friday prayer sermon in Tehran:
"Contrary to these terrorist groups in Iraq, there are powerful bodies which contribute to the security of that nation...among them is the Mahdi Army, made up of enthusiastic, heroic young people"
By early 2004 Sadr's followers had elevated him to the rank of hujjat al-Islam (a "Sign of Islam," or a "Proof of Islam," the third rank from the top in the Shi'i clerical hierarchy). He wraps himself in a white funeral shroud, showing he is ready for death.
April 7th, 2004......... Iran, Hezbollah support al-Sadr
Muqtada al-Sadr, the fiery Iraqi Shi'ite cleric who ordered his fanatical militia to attack coalition troops, is being supported by Iran and its terror surrogate Hezbollah, according to military sources with access to recent intelligence reports.

On 05 August 2004 Moqtada al-Sadr called on his followers in Iraq to rise up and fight US troops. The message comes as clashes broke out in at least three cities between his supporters and US and Iraqi security forces. Moqtada al-Sadr's representatives said the truce between his followers and the US military was over. By 06 August the US military estimated it has killed 300 militants in the city of Najaf in two days of fighting. Heavy fighting has also been raging in the streets of Sadr City in Baghdad, where at least 19 people have been killed over the same period. Sadr's spokesmen sent mixed messages, with one saying al-Sadr wanted to reinstate the truce, and another saying he had declared America the enemy and urged his followers to fight on.
In late June 2005, however, Muqtada al-Sadr called for a nationwide cease-fire and announced that he would join the political process in the following days. The announcement followed discussions between al-Sadr and the Iraqi government as well as coalition officials.
The peace deal lasted until August 5, when Sadr supporters attacked a Najaf police station, setting off intense clashes between Mehdi Army fighters and U.S. forces. Sadr's supporters used the city's revered sites, primarily the Imam Ali shrine and its adjacent ancient cemetery, to launch their attacks. Some 3,000 U.S. troops and hundreds of Iraqi security forces were deployed to Najaf to try to crush the uprising.
Sadr spokesman, told Al Jazeera August 30 that Sadr was calling on his forces to stop fighting and wait for an upcoming "political project." Sadr supporters have said they will field candidates for the January elections and campaign on a platform calling for U.S. forces to withdraw. But many experts are deeply skeptical about Sadr's intentions, noting that he has promised to stop fighting and join the political process more than once in the past, only to resort to violence.
"He's said it before, many times," Katzman says. "He'll likely keep talking, rearm his militia, and build up support in other cities while staying fairly quiet in Najaf."
How big is the Mehdi Army?
It's unclear. Sadr supporters claim it numbers 10,000 men, although some reports place the number far lower, between 1,500 and 3,000. Some experts say there are also hundreds of thousands of additional Iraqis who are "passive" Sadr supporters.
January 23, 2006......Muqtada Pledges Defense of Iran from US attack.
Muqtada al-Sadr, visiting Iran, has pledged the support of his militia, the Mahdi Army, to Iran in case that country were attacked by the United States.

How widespread is Sadr's support among Shiites?
Experts say he commands the loyalty of some 3 million to 5 million very poor Shiites across the country,
April 6th, 2006........Muqtada al-Sadr is back with a vengeance. Al-Sadr proved a quick study, devising a new approach to his goal of becoming the leader of Iraq's Shi'ite community. He developed a social-services network that could provide the average Iraqi with the protection, medicine, supplies, assistance and even money and jobs that they so desperately needed.
He has parlayed this popularity into real political power. His followers won 30 of 275 seats in the 2005 parliamentary elections. It has largely been al-Sadr's recalcitrance that has produced the months of stalemate in forming a government. He doesn't yet have the power to choose the country's leaders, but he does have the clout to block those he doesn't like, and if Iraq's low-level civil war continues to build, his power seems only likely to rise with it, riding the wave of Shi'ite frustration that he has nurtured from the very beginning.
October 9th, 2006
American and Iraqi troops fight fierce battle with militants in Diwaniya, stronghold of militia members loyal to radical Shiite cleric Moktada al-Sadr; skirmish is third serious clash between American or Iraqi soldiers against members of Mahdi Army in Diwaniya in less than two months; American officials have increased pressure on Prime Min Nuri Kamal al-Maliki to rein in armed militias like Mahdi Army
October, 12th, 2006
BAGHDAD, Iraq -- Gunmen, some of them in police uniforms, stormed the downtown Baghdad headquarters of a new satellite television station Thursday, killing the board chairman and 10 others in the second attack on an Iraqi station in the capital. The attack was carried out by Shiite militiamen.
I wrote about this attack on Sunday, Oct. 21.
Oct. 20 — Hundreds of militiamen linked to the Shiite cleric Moktada al-Sadr battled local police and members of a rival Shiite militia in the southeastern city of Amara today, destroying police stations and seizing control of entire neighborhoods, in apparent retaliation for the arrest of one of their fighters.
BUT look at this.............
Al-Sadr's considerable leverage was apparent earlier this week, when al-Maliki ordered the release of one of Mr. Sadr's senior aides. The aide had been arrested a day earlier by American troops on suspicion of participating in kidnappings and killings. sheesh!!!! Our troops had to have been ticked off beyond belief at this happening after the got the jerk and arrested him. SORRY, but WTF???????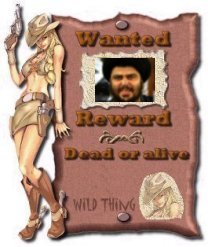 Wild Thing's comment.....
These are only a few of the attacks that this Muqtada al-Sadr and his Mahdi Army have carried out. He is an extremely dangerous man and his truce meant nothing. We knew that, our troops knew that and I think our government and the Iraqi governement knew that too. I pray we come down hard on Muqtada al-Sadr and his army of killers. They do not need to exist one more breath.
Iran may lend some support to any element working to hasten the departure of the Americans from Iraq. Iran, giving them money and weapons and even men to help in the fight. We have read in the past of how Muqtada al-Sadr visited neighbouring Iran since Saddam Hussein was ousted, meeting senior officials in Tehran.
Muqtada al-Sadr visited Iran to attend events commemorating the fourteenth anniversary of Ayatollah Khomeini's death on June 4 and spent a week meeting with top Iranian officials, including Iran's supreme leader, Ayatollah Ali Khamenei, and the head of the judiciary, Mahmoud Hashemi Shahroudi He was also reported to have met secretly with Qasim Suleimani, the commander of the Qods Brigade (a special external department within IRGC intelligence
And this freaking al-Maliki is a weak kneeded fanny kissse to whatever al-Sadr wants. If not then why the heck did he let the prisoner go and all the other things he has done.
Posted by Wild Thing at 12:47 AM | Comments (10)
Muqtada al-Sadr's Mahdi Army Supports the Hezbollah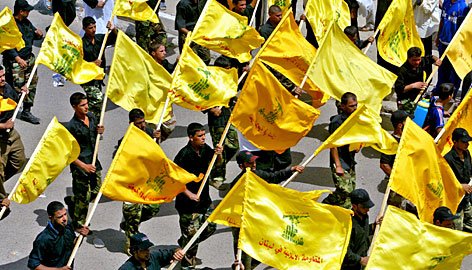 BAGHDAD (AP) — Hundreds of thousands of Shiites chanting "Death to Israel" and "Death to America" marched through the streets of Baghdad's biggest Shiite district. Members of the Shiite Mehdi army militia carry Lebanese Hezbollah flags in the rally.
This was done to show support from Muqtada Al Sadr's Mahdi Army for the Hezbollah just this year with the fighting when Israel fought back.
Posted by Wild Thing at 12:44 AM | Comments (4)
October 22, 2006
Muqtada Al Sadr's Mahdi Army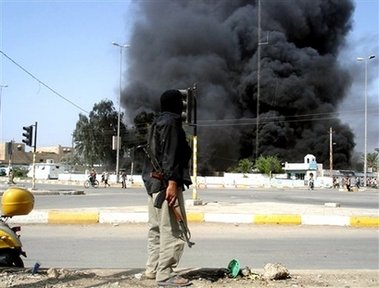 A masked gunman stands on a street corner as a building burns nearby in southern Iraqi town of Amarah, 320 kilometers (200 miles) southeast of Baghdad, Friday Oct. 20, 2006. Mahdi Army, the Shiite militia run by anti-American cleric Muqtada al-Sadr seized control of the southern Iraqi city of Amarah on Friday after their fighters stormed three main police stations Friday morning, planting explosives that flattened the buildings. (AP Photo/Haidar Hany)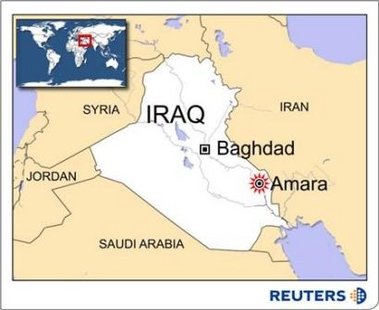 The clashes between US Armed Force and Mahdi Army indicates a new phase and shift of security plans and battle against terrorists, and the next battle to destroy Mahdi Army with Al Sadr dead, or captured alive.
BAGHDAD, Iraq (AP) -- The Shiite militia run by anti-American cleric Muqtada al-Sadr seized total control of the southern Iraqi city of Amarah on Friday in one of the boldest acts of defiance yet by one of the country's powerful, unofficial armies, witnesses and police said.
Prime Minister Nouri al-Maliki dispatched an emergency security delegation that included the Minister of State for Security Affairs and top officials from the Interior and Defense ministries, Yassin Majid, the prime minister's media adviser, told The Associated Press.
The Mahdi Army fighters stormed three main police stations Friday morning, planting explosives that flattened the buildings, residents said.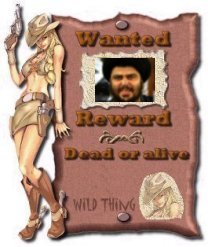 Wild Thing's comment.........
Muqtada Al Sadr is going to have his very own category in my sidebar.
Why we ever let Al Sadr live I'll never understand. As far as I'm concerned, this guy is fair game. He has been quoted as saying...."I will fight until the last drop of my blood has been spilled."
Posted by Wild Thing at 12:44 AM | Comments (6)