« Rosie Finally Is Gone From The View | Main | Female Prisoners Demand Bikinis »
May 26, 2007
Local Goats Are Frightened ~ Mookie is back. Pelosi, Reid, rejoice!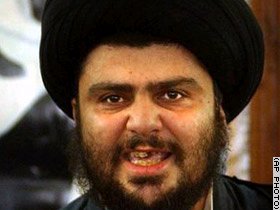 Al-Sadr calls for U.S. pullout from Iraq
Radical Shiite cleric Muqtada al-Sadr appeared in public for the first time in months on Friday, delivering a fiery anti-American sermon to thousands of followers and demanding U.S. troops leave Iraq.
It was not immediately clear why he chose to return now to his base in the Shiite holy city of Najaf from Iran. His speech had new nationalist overtones, calling on Sunnis to join with him in the fight against the U.S. presence. He also criticized the government's inability to provide reliable services to its people.
Al-Sadr's reappearance, four months after he went underground at the start of the U.S.-led Baghdad security crackdown, came just hours before his Mahdi Army militia lost its top commander in the southern city of Basra in a gunbattle with British soldiers, Iraqi police said.
The 33-year-old al-Sadr is believed to be honing plans to consolidate political gains and foster ties with Iran — and possibly trying to take advantage of the absence of a major rival, Supreme Islamic Council of Iraq leader Abdul-Aziz al-Hakim, who was recently diagnosed with lung cancer and went to Iran for treatment.
Al-Sadr traveled in a long motorcade from Najaf to the adjacent holy city of Kufa on Friday morning to deliver his sermon before 6,000 worshippers.
"No, no for Satan. No, no for America. No, no for the occupation. No, no for Israel," he chanted in a call and response with the audience at the start of his speech.
He repeated his long-standing call for U.S. forces to leave Iraq.
"We demand the withdrawal of the occupation forces, or the creation of a timetable for such a withdrawal," he said. "I call upon the Iraqi government not to extend the occupation even for a single day."
He also condemned fighting between his Mahdi Army militia and Iraqi security forces, saying it "served the interests of the occupiers." Instead, he said the militia should turn to peaceful protests, such as demonstrations and sit-ins, he said.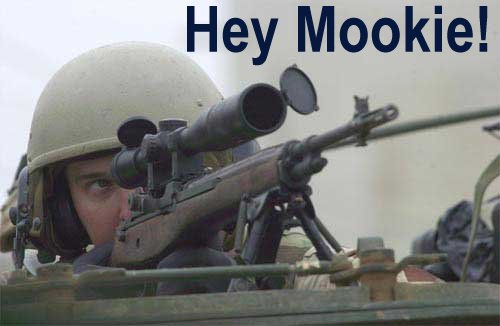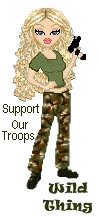 Wild Thing's comment.............
The weasel rears his ugly head again Now where's the smart bomb with his name on it? Time to blow its head off.
Posted by Wild Thing at May 26, 2007 12:47 AM
---
Comments
This Memorial Day, guess WHERE Nancy Pelosi & Meatballs are? Greeneland for a Global Summit BS conference! Gotta love the Yellow Coat Defeatocrat's patriotism, eh?
Posted by: darthcrUSAderworldtour07 at May 26, 2007 01:13 AM
---
Abdul-Aziz al-Hakim, for you I prescribe chemotherapy.
Lots and lots of chemotherapy.
Enjoy every second of your treatment.
Posted by: Rick at May 26, 2007 02:12 AM
---
And he was hiding in Iran!
yeah. We need to blow his fool head off.

Posted by: Lynn at May 26, 2007 08:21 AM
---
I hope he gets dead soon.
Posted by: TomR at May 26, 2007 11:44 AM
---
Smart Bomb??? Saturation bombing will clean out a lot of rats, him too!!!
Posted by: Jack at May 26, 2007 02:10 PM
---
Looks like Mookie is going to get his wish,... a third eye.
Posted by: Mark at May 26, 2007 05:59 PM
---
Darth, oh my gosh I didn't know that. I guess they don't want to hang out here and have to say anything about why we have a Memorial Day.
Posted by: Wild Thing at May 27, 2007 12:52 AM
---
Posted by: Wild Thing at May 27, 2007 12:54 AM
---
Lynn, don't ya just love it how they run off then come back and make more threats. Good grief.
Posted by: Wild Thing at May 27, 2007 12:55 AM
---
Tom, yesssss get Mookie dead as soon as possible would be wonderful.
Posted by: Wild Thing at May 27, 2007 12:57 AM
---
Jack, saturation bombing would be awesome to happen.
Posted by: Wild Thing at May 27, 2007 12:58 AM
---
Mark, haha I sooo hope they do that to him.
Posted by: Wild Thing at May 27, 2007 01:00 AM
---