October 01, 2006
UN Peacekeepers Not So Scary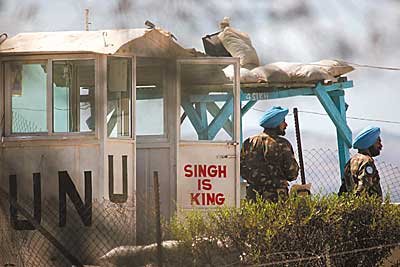 Two Indian soldiers, members of the UNIFIL force in southern Lebanon, stand guard just across the border from Kibbutz Manara.

Wild Thing's comment......
Look not a weapon in sight...the Hezbos must be quaking in their boots at the sight of these patsies. Do they have helmets on under those turbans?

Posted by Wild Thing at 12:55 AM | Comments (9)
September 28, 2006
LOL ~ UN Troops in Lebanon Face Terror Threat ~ DUH!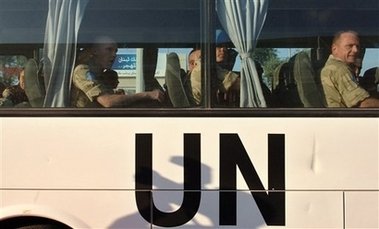 Belgian U.N. peacekeepers ....note nice little curtains on the windows. Sorry but PLEAZZZZEEEE!
Peacekeeping forces in Lebanon face terror threat
UN troops sent to keep the peace in southern Lebanon are taking strong defensive measures against possible suicide attacks - including setting up checkpoints and remote bases - after Al-Qaeda warned they are considered enemies of Islam.
"For us, the protection of the force is the top priority because it could be a target for an attack by Al-Qaeda or another group," French Col. Olivier de Cevins said recently at his temporary headquarters near this Lebanese town, about 20 km from the Israeli border.
France, which is leading the expanded UN force, pulled out of a peacekeeping mission in Lebanon after a suicide truck bombing in Beirut in October 1983 killed 58 French soldiers.
On the same day, 241 US servicemen also died in a similar attack. This time around, the French are taking no chances. They have picked a remote site for one of their main bases in Baraachit, on a high plateau at an altitude of more than 800 m.
UN troops face a difficult mission to prevent a return to hostilities between Israel and Hezbollah and help the Lebanese army re-establish control over the militant group's long-time stronghold in southern Lebanon. Yet despite tensions as Hezbollah faces restrictions on its arms shipments, many of the European peacekeepers do not see it as the primary threat.
"I am more concerned about a group that is foreign to the Lebanese, such as Al-Qaeda, than about Hezbollah," the head of the Spanish military contingent, Col. Luis Melendez, said in an interview last week with the Spanish daily El Pais.
In a video message released on the eve of the fifth anniversary of the Sept. 11 attacks, Al-Qaeda's No. 2, Ayman Al-Zawahiri, condemned the presence of UN peacekeepers in Lebanon "who are hostile to Islam."
He also singled out the "French crusaders," announcing a "blessed union" with an Algerian insurgent group to target France. Lebanon's acting Interior Minister Ahmed Fatfat, who warned in recent months that Al-Qaeda was attempting to establish itself in Lebanon, told AP that Al-Zawahiri was "trying to profit" from the current instability.
"There is always a risk. We are in a difficult part of the world. That is why we are working together to manage the problem and defend the UN forces," he said.
Although Al-Qaeda has rarely carried out attacks in Lebanon, it is believed to have sympathisers among extremist factions in Palestinian refugee camps. In December, Al-Qaeda in Iraq claimed responsibility for a rocket attack into northern Israel apparently carried out by a radical Palestinian group, and Fatfat said Lebanese authorities had broken up four Al-Qaeda cells this year.
The biggest bust happened in January when police arrested 13 people believed linked to Al-Qaeda - seven Syrians, three Lebanese, one Saudi, a Jordanian and one Palestinian - on suspicion of planning terror attacks. But Lebanese authorities are reluctant to intervene inside the largest Palestinian refugee camp, Ein El-Hilweh, in the south, where Asbat Al-Ansar, an Al-Qaeda affiliate, is believed to have people.
The 15,000 foreign troops who will be deployed in a 30-km-wide strip of territory on Lebanon's southern border with Israel represent a potentially soft target. At the entrance to an access road leading toward the camp housing Spain's 500-strong contingent in Taibe, five Spanish marines with automatic weapons backed up by an armoured personnel carrier stood guard watchfully on one recent day. At a second checkpoint about 500 m away, soldiers gestured urgently for a vehicle to slow down. After radioing headquarters and a 15-minute wait, they took down ID details and the vehicle registration, and allowed the car to proceed with an escort inside. But the UN troops don't want to be seen as occupying forces, so some Spanish troops carry out patrols on foot wearing no body armour or helmets.
The French rear base near Deir Kifa that will house off-duty soldiers lies just off a public road. But French military officials say they don't want to set up checkpoints on the road because that would alienate local people. Rohan Gunaratna, a leading terrorism expert at Singapore's Institute of Defence and Strategic Studies, said the UN force faces a significant terror risk.
"I think that the peacekeeping forces must be prepared to suffer casualties. It is the most challenging peacekeeping mission that the international community has embarked on for a long time," he told the AP by telephone from Singapore.
On the other hand, the Shiite Muslim Hezbollah, which was blamed for the 1983 suicide attacks, may not welcome any Sunni Muslim Al-Qaeda incursion into its stronghold. But Gunaratna said it's not inconceivable that Hezbollah's patrons - Syria and Iran - might allow terror strikes by Sunni radicals to pressure the contributing nations to withdraw their peacekeeping soldiers. De Cevins, the French officer, said all possible measures will be taken to minimise risks - in particular, troops will be dispersed rather than housed in a single building as was the case with the Beirut barracks targeted in 1983.
"You will never 100 per cent avoid an attack. But we expect that we wouldn't suffer such big losses if one did happen," he said.

Wild Thing's comment.......
Anyone with half a brain knows that terrorists trying to kill Israelis will not be prevented by UN staff with no authority to kill terrorists. Olmert ( maybe with half a brain to go for this BS ) is an idiot for bowing to this arrangement. I hope Israelis dump him.
Posted by Wild Thing at 12:47 AM | Comments (2)
September 13, 2006
Paroled TWA Hijacker Returns to Lebanon and Hezbollah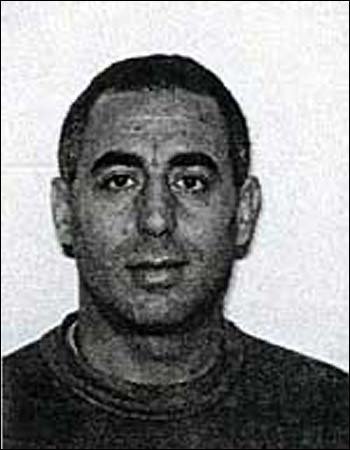 Mohammed Ali Hamadi, circa 2005
Terrorist Ali Hamadi Rejoins Hezbollah Following Release From Prison
WASHINGTON — One of the most infamous terrorists of the 1980s has rejoined Hezbollah following his release from a German prison and deportation to his native Lebanon in December 2005, a senior Bush administration official told FOX News.
Mohammed Ali Hamadi was released despite strong U.S. objections, FOX News learned. Those objections were raised in phone calls to German authorities by Attorney General Alberto Gonzales and FBI Director Robert Mueller, as well as by top-level State Department and administration counter-terrorism officials.
"The Germans ignored us and didn't give us enough time to pursue it through legal action," an official told FOX News on the condition of anonymity. "They gave us very short notice."
U.S. officials said they "can't rule out" the possibility that Germany deported Hamadi, after he had served 19 years of a life sentence, in exchange for the release of Susanne Osthoff, a German archeologist taken hostage in Iraq and freed four days after Hamadi's deportation. German authorities have denied any such deal was made.
In June 1985, Hamadi was one of four Islamic militants who commandeered TWA Flight 847 — en route from Athens to Rome — and hijacked it to Beirut. The ensuing hostage ordeal lasted 17 days, with the plane shuttling among various Mediterranean airports.
On the second day of the hijacking, Hamadi and his accomplices learned that U.S. Navy diver Robert Dean Stethem was on board. Hamadi and his co-conspirators beat Stethem unconscious, then shot him to death and dumped his body on the tarmac of the Beirut airport. The hijackers later escaped.
In 1987, Hamadi was arrested in Frankfurt, Germany, for carrying explosives in his bag at the airport. He was convicted both on that charge and of Stethem's murder and sentenced to life in prison. Late last year he was paroled by the German authorities and deported to Lebanon.
On Dec. 21, 2005, shortly after Hamadi's return to Lebanon, State Department spokesman Sean McCormack told reporters:
"I think what I can assure anybody who's listening, including Mr. Hamadi, is that we will track him down, we will find him and we will bring him to justice in the United States for what he's done."
"We will make every effort, working with the Lebanese authorities or whomever else, to see that he faces trial for the murder of Mr. Stethem."
September 12th 2006 , a press briefing Tuesday, State Department spokesperson Tom Casey confirmed that contact had been made with the Lebanese government regarding Hamadi, and that the case remains active.
"The United States still believes that he and anyone else who is responsible for such heinous acts should face justice," Casey said. "And we do continue to wish to see him be brought to the United States to face trial here."
Hamadi's alleged accomplices — Hassan Izz-Al-Din, Ali Atwa and Imad Mughniyeh — were never captured.
Mughniyeh is also believed to be responsible for the 1983 barracks bombing that killed 241 U.S. Marines in Lebanon and for the 1984 torture and murder of William Buckley, the CIA Station Chief in Beirut.
Mughniyeh, who is believed to have undergone extensive plastic surgery to make himself unrecognizable, has been described in the media as "probably the world's most wanted outlaw."
Upon hearing news of Hamadi's release in 2005, Stethem's family members said they would keep pressuring the U.S. government to seek extradition from Lebanon.
"We'll be after him," Stethem's mother, Patricia, said of Hamadi. "We won't let it rest."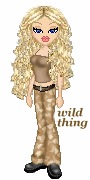 Wild Thing's comment....
We all knew this would happen, it was just a matter of time for him to rejoin the Hezbollah after his release from Germany. UGH!
We should kill any terrorist we find, immediately. Meanwhile, the media and the Democrats want to treat the terrorists as if they were just guilty of vehicular homicide, car theft, DUI, or perjury. People too dumb to understand what it will mean if a terrorist organization plants a nuclear device in NYC or DC, or detonates one in the air over the United States, or plants a biological weapon on the subway, etc. The media and the Democrats act like they are allies of the terrorists. Maybe they are.
Posted by Wild Thing at 01:55 AM | Comments (4)
September 12, 2006
It's For The Children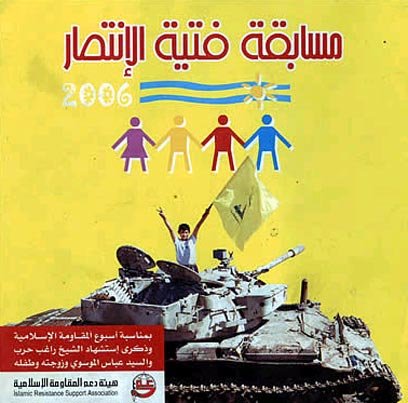 On tank from a young age (Photo courtesy of Intelligence and Terrorism Information Center)
Hizbullah trains thousands for children's suicide corps
Lebanese sources said Hizbullah has recruited more than 2,000 children to serve in its military wing. The youngsters are 10 to 15 years old and have received weapons and bomb training. The sources said the children are recruited at Hizbullah-sponsored schools and youth clubs in southern and eastern Lebanon. Fathers sign a waiver for their children to attend the Mahdi Scout camps and begin indoctrination and training. "They are literally sacrificed by their fathers.
Alongside weapons, rockets and explosives found by IDF soldiers in southern Lebanon, troops also discover booklets containing questions for children on terror group, its struggle. Goal: Conveying messages to youth, who will later become organization's future terrorists
Material collected by Israel Defense Forces soldiers in southern Lebanon – alongside the weapons, rockets and explosives – reveals a complex and rare picture of Hizbullah's contents and activities among children and youth, mainly in southern Lebanon villages which are considered its stronghold.
The kit was produced by the "aid authority for the Islamic resistance." Alongside the questions presented to the infants in southern Lebanon, there are also quizzes presented as a multiple-choice test. Alongside answers to questions like "the Risk game, Playstation or Atari," one can find answers like "Nissim Nasser, Samir Kuntar or Yahya Sahef" (the three prisoners which Hizbullah wants to see released).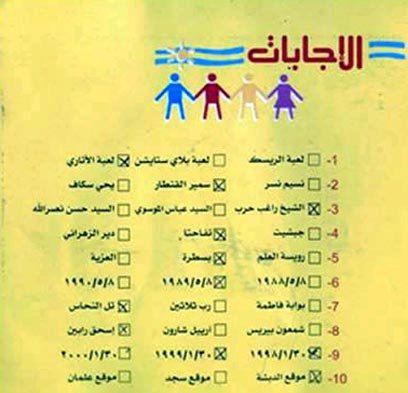 Questionnaire for Hizbullah children (Photo courtesy of Intelligence and Terrorism Information Center)
The document writers say that through a "simple" quiz, Hizbullah is assimilating its messages among the youth, in order to recruit its future terrorists. The quiz stresses a series of messages: The importance of the struggle against the Israeli enemy based on Hizbullah's "war heritage"; commemorating the Abbas Mussawi and suicide terrorist Asad Baru; the importance of the organization's political demands which legitimize its struggle against Israel and its refusal to disarm; and the demand to release prisoners, particularly Samir Kuntar, and "free the Shebaa Farms."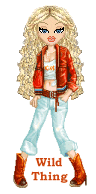 Wild Thing's comment......
Israeli soldiers take training in how to defuse bombs. Lebanese children take training in how to be bombs. So where are the UN and Amnesty international letters of outrage and condemnation??? Not a word!!
Islam is pure Satan. They do not love any living thing or being. I just cannot even imagine how a parent can want their child to be taught these things and also how they could ever want them to be suicide bombers.
Posted by Wild Thing at 01:07 AM | Comments (10)
August 31, 2006
Lebanon Refuses Contact With Israel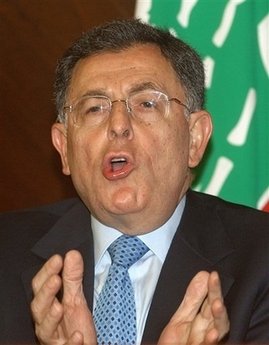 Lebanon's Prime Minister Fuad Saniora gestures while talking at a press conference at the Government House, in Beirut, Lebanon, Wednesday, Aug. 30, 2006. Saniora said Wednesday that he refused to have any direct contact with Israel, and that Lebanon would be the last Arab country to ever sign a peace deal with the Jewish state. (AP Photo)

Lebanese Prime Minister Fuad Saniora said Wednesday that he refused to have any direct contact with Israel and Lebanon would be the last Arab country to ever sign a peace deal with the Jewish state.
"Let it be clear, we are not seeking any agreement until there is just and comprehensive peace based on the Arab initiative," he said.
He was referring to a plan that came out of a 2002 Arab League summit in Beirut. It calls for Israel to return all territories it conquered in the 1967 Mideast war, the establishment of a Palestinian state with Jerusalem as its capital and a solution to the Palestinian refugee problem — all in exchange for peace and full normalization of Arab relations with Israel.
Israel has long sought a peace deal with Lebanon, but Beirut has hesitated as long as Israel's conflicts with the Palestinians and Syria remained unresolved.
Saniora said Lebanon wants to go back to the 1949 armistice agreement that formally ended the Arab-Israeli war over Israel's creation.
Also on Wednesday, a Hezbollah cabinet minister said that the guerrilla group will not release two captured Israeli soldiers unconditionally, and that they would only be freed in a prisoner exchange.
"There will be no unconditional release. This is not possible," Minister of Energy and Hydraulic Resources Mohammed Fneish said in Beirut. He is one of two Hezbollah members in Lebanon's Cabinet.
"There should be an exchange through indirect negotiations. This is the principle to which Hezbollah and the resistance are adhering," he said.
Israeli Prime Minister Ehud Olmert said earlier Wednesday that the Israel-Hezbollah cease-fire could be "a cornerstone to build a new reality between Israel and Lebanon."
Israeli Foreign Minister Tzipi Livni and U.N. Secretary-General Kofi Annan also said they hoped the cease-fire deal could evolve into a full-fledged peace agreement between Israel and Lebanon.
Implementation of the cease-fire "gives us a foundation to move forward and settle the differences between Israel and Lebanon once and for all, to establish a durable peace," Annan said.
Also Wednesday, Saniora said that his government would pay $33,000 per house to compensate residents whose homes were destroyed by Israeli attacks. The government has been criticized for being slow to respond with financial support for people who lost homes in the fighting.
Saniora said 130,000 housing units had been destroyed or damaged in more than a month of Israeli airstrikes and ground fighting with Hezbollah guerrillas, mostly in south Lebanon. He did not give a breakdown of the completely destroyed houses.
Hezbollah launched rebuilding campaigns in its strongholds within days of the Aug. 14 cease-fire, burnishing its support among residents.
Saniora said he would ask delegates to an international donors' conference in Sweden on Thursday to take responsibility for rebuilding specific villages hit by Israeli attacks. Organizers of the conference are aiming to raise $500 million in aid for Lebanon, Sweden's aid minister said Tuesday.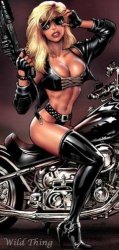 Wild Thing's comment......
How about if Israel gets the leadership of the Hezbollah and Lebanon and then sends them back piece by piece until the IDF soldiers are released. That is the only thing the enemy will understand. Strong yes, but talks never have made a difference anyway. Israel needs to tell the UN to shove it, kick Olmert the heck out of office and get a man that still has his manhood and is loyal to his country instead of a weak kneed Hamas kisser that wants to give more and more land away to the PLO etc.

Posted by Wild Thing at 02:47 AM | Comments (8)
August 20, 2006
U.S. Aid to Lebanon Will Go Straight to Hezbollah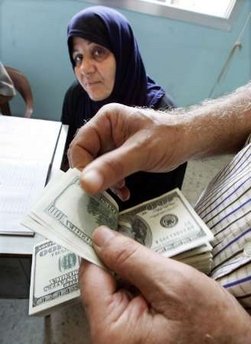 Hezbollah whore......MY Title of this photo!
A Lebanese woman watches her husband count U.S dollar bills they received from a Hizbollah member, at a school in Bourj el-Barajneh, a southern suburb in Beirut, August 19, 2006. Hizbollah handed out bundles of cash on Friday to people whose homes were wrecked by Israeli bombing, consolidating the Iranian-backed group's support among Lebanon's Shi'ites and embarrassing the Beirut government. REUTERS/Eric Gaillard (LEBANON) Email Photo Print Photo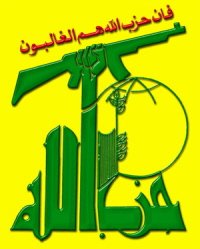 This is just a little from the article, it makes me too ill to put the whole idiotic thing here, sorry................
A Path To Lasting Peace

The writer is the Secretary of State
Looking ahead, our most pressing challenge is to help the hundreds of thousands of displaced people within Lebanon to return to their homes and rebuild their lives. This reconstruction effort will be led by the government of Lebanon, but it will demand the generosity of the entire world.
For our part, the United States is helping to lead relief efforts for the people of Lebanon, and we will fully support them as they rebuild their country. As a first step, we have increased our immediate humanitarian assistance to $50 million. To secure the gains of peace, the Lebanese people must emerge from this conflict with more opportunities and greater prosperity.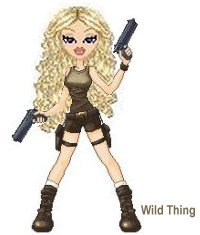 Wild Thing's comment......
WRONGO Condi!
This is NOT good imo, but I have nothing to say about it so bye bye tax dollars to the Hezbollah! What the hell else did they think would happen? That the Hezbollah would say, ah no we don't want the money, give it to the Israeli's or to those living in Lebanon that are the few and far between non Hezbollah.

Let's see, we give money to the Hezbollah while they are burning OUR Flag, saying they want us dead along with all the Jews in Israel. Sure that makes a whole lot of sense to me. NOT!
And another thing.....grrrrrr, you know the tons of photos a person sees or can see online of Muslim women, weeping, gnashing or is it knashing their teeth, whatever, with their few rotten teeth they have for the camera's, the faces they make of such pretend grief at the loss of a loved one that was killed in the war instead of as a suicide bomber that would have made them rejoice?????!!!! Well the wailing and gnashing stops when the bucks show up don't they. The next freakin thing we will hear out of the vile mouths is they " want to go to Disneyland" God help us!
Since Russia has armed Iran and Syria then in turn they armed the Hezbollah and Hamas which issued orders to take IDF hostages and trigger the war. Let the damn Russians pick up the entire tab.
Posted by Wild Thing at 12:55 AM | Comments (15)
Israeli Soldier Killed in Lebanon Raid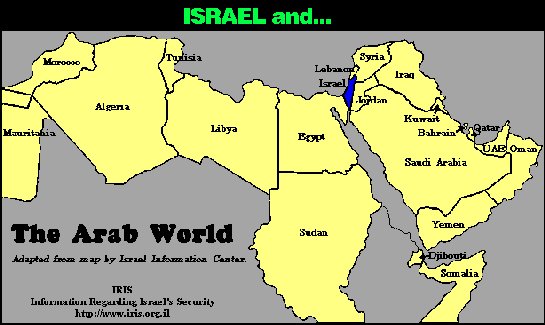 Israeli commando dies in Lebanon raid
BEIRUT, Lebanon - Hezbollah fighters battled Israeli commandos who landed near the militants' stronghold deep inside Lebanon early Saturday, killing one soldier, in the first large-scale violation of the U.N.-brokered cease-fire between the sides.

Hezbollah said its guerrillas foiled the raid after a gunbattle, and the Israeli army said one officer was killed and two soldiers were wounded, one seriously.

Witnesses said Israeli missiles destroyed a bridge during the raid — the first major violation of the U.N.-imposed cease-fire that took effect Monday following 34 days of fighting.

The Israeli army said the special forces operation aimed "to prevent and interfere with terror activity against Israel, especially the smuggling of arms from Iran and Syria to Hezbollah." It said the commando team completed its mission.

The army said such operations would be carried out until "an effective monitoring unit" of Lebanese or multinational troops was in place to prevent Hezbollah from rebuilding its arsenal.

Hezbollah TV and Lebanese security officials said Israeli helicopters dropped off a commando team outside the village of Boudai west of Baalbek in eastern Lebanon.

The officials, who spoke on condition of anonymity because they are not authorized to release information to the media, said the Israelis apparently were seeking a guerrilla target in a nearby school but had no other details. The officials also reported heavy overflights of Israeli jets.

Such a bold operation risked scuttling the fragile cease-fire and suggested Israel was going after a major target near Baalbek — perhaps to rescue two Israeli soldiers snatched by Hezbollah on July 12, or to try to capture a senior guerrilla official to trade for the soldiers.

Hezbollah has said it wants to exchange the two soldiers for Arab prisoners, but the U.N. cease-fire resolution demands Hezbollah unconditionally release the soldiers.

Local media said Sheik Mohammed Yazbeck, a senior Hezbollah official in the Bekaa and a member of the Shura council of the group, may have been the target. Yazbeck is a native of Boudai.

Israeli troops have killed several guerrillas who Israel said threatened its troops in south Lebanon since the cease-fire, and warplanes have flown over the country. But the cease-fire allows military action in self-defense, and the commando raid was by far the most serious incident since Monday.

Lebanese Foreign Minister Fawzi Salloukh said Lebanese authorities found blood at the scene of the raid, indicating Israeli casualties. Salloukh, speaking to reporters after meeting with U.N. envoy Terje Roed-Larsen in Beirut, said he informed the U.N. team of the Israeli action in Baalbek and said the U.N. team would raise the issue with Israeli authorities.

"If Israel continues its violations, it is the responsibility of the (U.N.) Security Council to take action and ask Israel to stop these violations," he said.

A provincial government official, Bekaa Valley Gov. Antoine Suleiman, confirmed the Israeli troop landing. He told the privately owned Voice of Lebanon radio station that the landing party brought with it two vehicles that were later withdrawn after clashes.

Hezbollah's Al-Manar TV said the Israeli commando force landed before dawn and was driving into Boudai when it was intercepted by guerrillas who forced it to retreat under the cover of warplanes, which staged mock raids.

Hezbollah officials on the scene said overflights from Israeli jet fighters drowned the clatter of helicopters as they flew into the foothills of the central Lebanese mountains, dropping commandos and two vehicles they used to drive into the village when the Hezbollah fighters intercepted them in a field.

The commandos identified themselves as the Lebanese army, but the guerrillas grew suspicious and gunfire erupted, the officials said.

Israeli helicopters fired missiles as the commandos withdrew and flew out of the area an hour later, they said.

Witnesses saw bandages and syringes at the site. The also saw a destroyed bridge about 500 yards from the area where the landing took place, after missiles were fired by Israeli aircraft.

Overflights were reported Friday night in the same area.

Israel said late Friday its warplanes have not attacked Lebanon since the cease-fire took effect.

Baalbek is the birthplace of the Iranian and Syrian-backed Hezbollah. The area in the eastern Bekaa Valley, 60 miles north of the Israeli border, is a major guerrilla stronghold.

The U.N. Security Council cease-fire resolution calls for an immediate cessation by Hezbollah of all attacks and the immediate cessation by Israel of all offensive military operations.

In letters to Lebanese and Israeli leaders, U.N. Secretary-General Kofi Annan has warned the two countries against occupying additional territory and told them to refrain from responding to any attacks "except where clearly required in immediate self-defense."

Annan also told Israel and Lebanon that once the cessation of hostilities took effect there must be no firing from the ground, sea or air into the other side's territory or at its forces.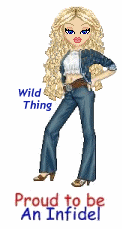 Wild Thing's comment..................
"Such a bold operation risked scuttling the fragile cease-fire and suggested Israel was going after a major target near Baalbek"
Give me a break! Blaming Israel for this and making it sound like they were the ones to break the so called ceasefire is a lie. The Hezbollah never disarmed.
Israel gave up Gaza and South Lebanon and got rockets and Jihad in return.
Insane greed, jealousy and hate, destruction and death in the name of Allah, because the Jews in their little nation are productive and intelligent. Instead of contributing to the world, the Hezbollah and Hamas seek to destroy it.
We need to keep remembering this.....the Ceasefire was broken the minute the Hezbollah said they would not disarm and they never did, but we knew they wouldn't. The Hezbollah broke the cease fire within hours firing into Israel. Of course the article below does not say that, more typical BS agenda of the terrorist hugging Media.
The Hamaz, Hezbollah and Iran threaten Israel with destruction every week. This has stripped all pretensions from the Arab/Palestinian agenda. The Muslim goal is to destroy Israel. Not to get back "occupied lands" and then be content and make peace.
Hudna is integral to Jihad. Islam believes in permanent Jihad until the whole world is Muslim. There are such things as honest treaties and honest cease fires. This is never the case with Islam because Jihad is eternal, so the Muslim is commanded.
"Hudna has a distinct meaning to Islamic fundamentalists, well-versed in their history: The prophet Mohammad struck a legendary, ten-year hudna with the Quraysh tribe that controlled Mecca in the seventh century. Over the following two years, Mohammad rearmed and took advantage of a minor Quraysh infraction to break the hudna and launch the full conquest of Mecca, the holiest city in Islam.

In essence, this is religious license to renege on ones word, and to regroup, rearm, and reorganize to attack when ones enemy is lulled into thinking that one will be honest and fulfill ones side of a truce. This is tactic has been used over and over in Islam's history, and is used to great effect today by Yasser Arafat, Hamas, al-Aqsa, and other Islamic terrorists all over the world. Recent examples include Fallujah and Najaf. What Westerners need to do is to read Islamic scripture and learn that in Islam there is no concept of permanent submission to any other power than Allah. Treaties mean nothing. Beware the hudna."....from Clarity and Resolve
Posted by Wild Thing at 12:47 AM
August 18, 2006
France To Send 400 Troops To Lebanon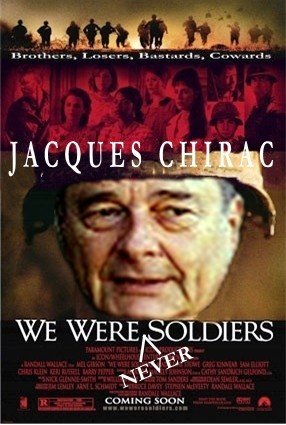 Bangladesh and France offers troops for Lebanon
UNITED NATIONS - Nearly 50 countries that could contribute the 13,000 new troops needed to expand the U.N. peacekeeping force in Lebanon met Thursday amid concern over the ground rules and firepower the soldiers could use.

Bangladesh pledged up to 2,000 troops and France offered 200, a disappointment to some who expected more from the country likely to lead the force.

In an opening speech, Deputy Secretary-General Mark Malloch Brown said at least 3,500 troops are needed to deploy within 10 days to expand the 2,000-strong U.N. force trying to help maintain an uneasy truce between Israel and Hezbollah militants.

"Every moment we delay is a moment of risk that the fighting could re-erupt," he said.

Malloch Brown told diplomats from the 49 countries invited to the meeting that details on how the expanded force will operate and the rules of engagement will make clear that "this will be a strong, robust force, equipped and authorized to take all necessary action in its key tasks."

The U.N. resolution that led to Monday's cease-fire between Israel and Hezbollah after a brutal 34-day war authorized up to 15,000 U.N. peacekeepers to help 15,000 Lebanese troops extend their authority throughout south Lebanon, which Hezbollah controls, as Israeli troops withdraw. The aim is to create a buffer zone free of Hezbollah fighters between the Litani River and the U.N.-drawn border, about 18 miles to the south.

Malloch Brown said the draft rules of engagement call for the use of force to prevent hostile activities in the buffer zone and to resist attempts to prevent the U.N. force, known as UNIFIL, from discharging its duties. The rules also allow UNIFIL to use force in assisting the Lebanese government if asked to secure its borders to prevent foreign forces, weapons and ammunition from entering the country, he said.

France and Italy said earlier Thursday that the peacekeeping mandate — partly written by the French — is not explicit enough, and demanded the U.N. set clear rules of engagement for troops that would bolster the force. A key concern, not mentioned by Malloch Brown, is whether the force will be called on to disarm Hezbollah fighters, as called for in a September 2004 U.N. resolution.

Even though the Israel withdrawal and handover to U.N. forces has gone well thus far, some potential contributors are believed to be concerned about avoiding confrontation with Hezbollah or being caught in the middle of a future conflict. Germany — uneasy given its Nazi past of any possible military confrontation with Israeli soldiers — said it wouldn't send any but is expected to provide logistical support.

Italy has said it could quickly send as many as 3,000 soldiers — up from its current contribution of about 50 — but Italian Prime Minister Romano Prodi's office said that he was pushing for explicit ground rules. In a telephone conversation late Wednesday with U.N. Secretary-General Kofi Annan, Prodi called for "a clear mandate, without any ambiguity and with very precise rules of engagement, for the soldiers who will be deployed," the premier's office said.

UPDATE:
President Jacques Chirac announced Thursday that France will immediately double to 400 troops its contingent in the U.N. peacekeeping force in Lebanon.
The statement from Chirac's office came after he spoke by phone with U.N. Secretary-General Kofi Annan. France currently leads the UNIFIL force in southern Lebanon, and its decision-making on its role in a strengthened force has been closely watched.
Chirac told Annan that France "will immediately double its current contribution by sending 200 men," the statement said.
The plan will be presented at a U.N. meeting in New York later Thursday to flesh out which countries will participate in the peacekeeping force as it expands from the current 2,000 troops to as many as 15,000, Chirac's office said.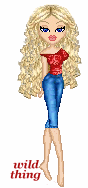 Wild Thing's comment......
That's almost enough cooks for the fighting men who need to be stationed there. Hey maybe they can teach Hezbollah how to surrender.
Posted by Wild Thing at 01:55 AM | Comments (4)
August 13, 2006
Muslims So Peaceful (NOT) Celebrate The Islam Way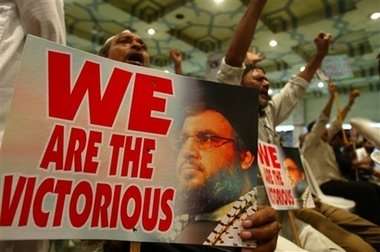 Muslims hold placards with portrait of Hezbollah leader Sheik Hassan Nasrallah during an anti US and Israel protest, in Bombay, India, Saturday, Aug. 12, 2006. (AP Photo/Rajesh Nirgude)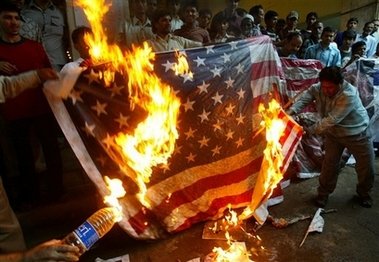 Indian Muslims burn a U.S. flag at a protest in Bombay, India, Saturday, Aug. 12, 2006, against the killing of civilians in Lebanon and Palestinian territories by Israel. (AP Photo/Rajesh Nirgude)


Iranian students attend in a pro-Palestinian and anti-Israeli demonstration in front of the U.N office in Tehran, Saturday, Aug. 12, 2006. An Iranian student holds a poster of Hezbollah leader Sheik Hassan Nasrallah in center. (AP Photo/Hasan Sarbakhshian)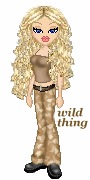 Wild Thing's comment.......
It is not that hard, just pick a side to be on.
you celebrate life, freedom and liberty you are on the side of the USA and Israel. If you celebrate death your own and the killing your own children as you use them for suicide bombers, are into beheadings and torture of taking of limbs and such of your captives, praying 5 times a day with your ass in the air, and wearing non washed smelly turbans on your filthy hair then you are on the side of the followers of Islam......just pick a Muslim infested country and there you go.
So why am I pissed? Why does my heart hurt and my stomach feel sick? Because this is dead on serious business the taking over by the Hezboallah and other Islam groups. They have an agenda that is getting its claws dug deeply into the future of the freedoms we know and love.

What, what, what does Israel get out of this "hudna"?
Return of the captive soldiers? No.
Disarming of Hezbollah? No.
Hezbollah is claiming victory.
Posted by Wild Thing at 01:55 AM | Comments (10)
August 12, 2006
Might As Well Say Hezbollah Is Running The UN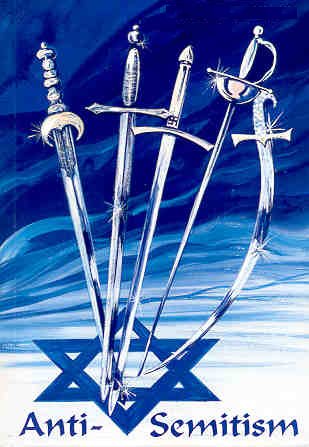 UN rights council sets up probe of Israeli attacks in Lebanon
GENEVA (AFP) -
Aug.11,2006
The UN Human Rights Council voted to set up a commission of inquiry into "systematic" Israeli attacks on civilians in Lebanon, despite fears that it could upset diplomatic moves to end the conflict.
Twenty-seven countries in the 47-member Council backed a resolution submitted by Islamic Nations, including China, Russia and South Africa, setting aside concerns that the resolution was one-sided because it failed to tackle attacks by Hezbollah in northern Israel.
Eleven countries, mainly European Union nations and Japan, voted against. Eight more abstained, while one was absent.
The draft resolution proposed by member states in the Organisation of Islamic Conference "strongly condemns grave Israeli violations of human rights and breaches of international humanitarian law in Lebanon."
It called on Israel to "immediately stop military operations against civilian population."
The Council decided to urgently dispatch "a high level commission of inquiry" composed of experts on human rights and humanitarian law to "investigate the systematic targeting and killings of civilians by Israel in Lebanon."
The United States, which is only an observer on the Council, believed that the session was "potentially counter-productive to the Security Council's efforts" to deal with the conflict, ambassador Warren Tichenor said.
The vote also ignored a warning by the UN High Commissioner for Human Rights Louise Arbour, who said that an inquiry must also cover rocket attacks by Hezbollah on northern Israel and the alleged use of human shields by the group.
"The independence, impartiality and objectivity of such an inquiry must be guaranteed not only by the credibility of the panel members, but also the scope and methodology of their mandate," she said.
However, Arbour said a balanced probe was necessary and insisted before the vote that the crisis "demands a firm and meaningful response from this Council.
"There is a clear and urgent need to bring clarity to a situation in which facts and allegations are now given the same credit but without the benefit of systematic, independent, thorough and credible scrutiny," she told the special session.
Negotiations between the OIC states and Western nations to try to modify the text failed despite an added call for all parties to refrain from violence against civilians.
Israel, which is not a member of the Council, rejected the resolution was one-sided.
"It is painful and regrettable that the Council made a distinction between the sufferings, the blood and the deaths, and this failure will forever be written in the annals of that body," said Israeli ambassador Itzhak Levanon.
Arbour had earlier told the Council that "Israeli attacks affecting civilians continue unabated," while Hezbollah's "indiscriminate" shelling of northern Israel was "unrelenting."
Indiscriminate attacks and human shields are prohibited, she warned while advance warnings of bombardments did not relieve the warring sides of their legal obligation to spare civilians.
The UN rights chief underlined that those in "positions of command and control," could be held personally responsible for those breaches and face war crimes charges.
"I reminded all belligerents that war crimes and crimes against humanity may be committed even by those who believe, accurately or not, that their combat is a just one and their cause a worthy pursuit," she added.
In Lebanon, more than 1,000 civilians -- nearly one-third of them children under 12 -- have been killed and nearly a million have fled their homes.
About 120 people have died in Hezbollah rocket attacks in northern Israel.
Human rights groups including Amnesty International, Human Rights Watch and the International Commission of Jurists said an inquiry should be set up by UN Secretary General Kofi Annan or the Security Council.

Wild Thing's comment....
The hate for Jews is strong, and seeking favor with the Hezbollah is growing among the left on all levels. This is outrageous and should anger everyone that realizes we are at war with Isalm.

Posted by Wild Thing at 01:55 AM | Comments (10)
UN ambassador Dan Gillerman Speaking To The Anti-Semitic Security Council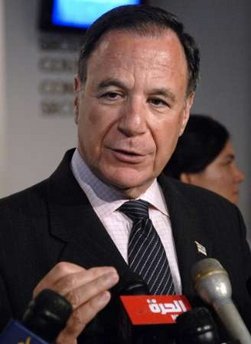 Israel warns of "greater tragedy" if Lebanon does not change (AFP)
12 August 2006
UNITED NATIONS -
Israel warned the world would face an even "greater tragedy" in the Middle East if the resolution passed by the UN Security Council on Friday did not produce change in Lebanon.
"A resolution alone will do nothing," Israel's UN ambassador Dan Gillerman told the Security Council of the UN statement calling for the disarmament of Hezbollah and the establishment of an arms free zone in southern Lebanon after the withdrawal of Israeli troops.
"Unless the tools set out in this resolution are used, with resolve and decisiveness, we will be back at this table -- if not in a week then in a month or a year, facing an even greater tragedy.
"For then the terrorists, supplied no doubt with even more lethal weapons by Iran, will be yet further emboldened by yet another demonstration of our lack of commitment and will."
Gillerman put the blame for the conflict on Lebanon, accusing the Lebanese government of failing to control Hezbollah and establish its authority over the country.
Israel launched its strikes against southern Lebanon on July 12 after Hezbollah, which dominates southern Lebanon, abducted two Israeli soldiers. The conflict has since left more than 1,100 dead in the two countries.
"Israel, like any state, has the right and duty to defend its citizens from Hezbollah's unprovoked attacks," said Gillerman. "However it is ready to respond to the calls of this council and to give another chance to the government of Lebanon and the international community to create a new reality on the ground."
Gillerman also warned that the alleged airline-bombing plot uncovered by Britain this week was a sign that terrorism that has become a mark of the Middle East is a threat to the whole world.
He said the foiled plot showed that "The tragedy we have seen in our region over the past weeks ... is but a preview of a coming attraction, produced by Iran, directed by Syria, acted by terrorist groups, soon to be seen in a theater near you."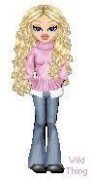 Wild Thing's comment.......
I like Dan Gillerman, I respect him. He is NOT anything like Olmert. What Gillerman said is true. They will be back at the tables again...."if not in a week then in a month or a year, facing an even greater tragedy.".......He knows it because he knows what the Hezbollah is about.
A cease-fire is not peace!!!! In a true peace a new understanding has been reached with ironclad promises for both sides not to attack the other. In a "ceasefire", there is no new understanding; both sides have merely agreed to stop killing each other for the time being. And we all know that that is impossible for the Hezbollah! In this case Hezbollah, whether it is firing missiles at Israel or not, is still dedicated wholly to its destruction. That is not peace. It is an interim for rearming for the Hezbollah!
This is vile horrible news about this freaking so called cease fire has me so angry. If this goes final, Hezbollah will gain even more credibility in the Muslim world. They were already credited for getting Israel to withdraw from Lebanon in the first place.
Olmert is giving the Hezbollah a victory. The IDF did declare that it needed time to destroy those terrorists but Olmert's patience ran out and he is capitulating to France's demand.
They are TERRORISTS...that's what they DO. They have sworn to kill all Israelis and drive them into the sea. This isn't over by a long shot.

This post linked over at Basil's blog
Posted by Wild Thing at 12:47 AM | Comments (2)
August 04, 2006
Nasrallah Thinks Tel Aviv Is Capitol Of Israel ~ LOL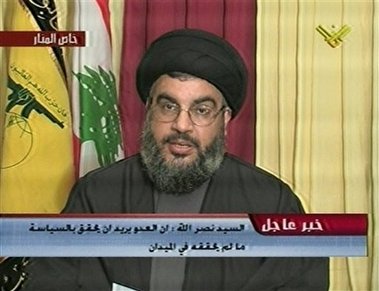 Hezbollah leader Hassan Nasrallah threatened to bomb Tel Aviv during a TV address Thursday night, should Israel attack in Beirut. His threat was delivered in a broadcast over Hizballah's mouthpiece, al Manar TV.
"If you indeed do this, I say this clearly. I won't use terms I used up to now, past Haifa, but I will say clearly and in a way that is not open to interpretation: If you bomb our capital we'll bomb your capital. We'll bomb Tel Aviv and we can do this."
Posted by Wild Thing at 12:55 AM | Comments (2)
July 31, 2006
Arming the Hezbollah
Please CLICK on the image to enlarge it.........and then a second CLICK in the lower right hand corener for full size......thank you.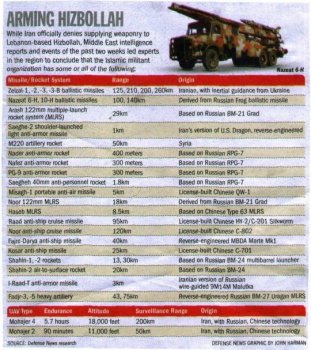 Posted by Wild Thing at 12:20 PM | Comments (2)
IDF: Qana building fell hours after strike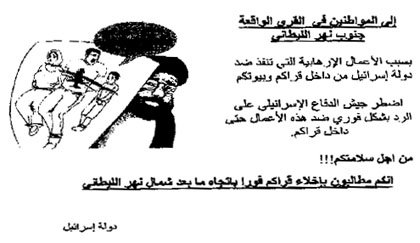 IDF warns Lebanese citizens to evacuate villages (July 25):
"To all citizens south of the Litani River

Due to the terror activities being carried out against the State of Israel from within your villages and homes, the IDF is forced to respond immediately against these activities, even within your villages. For your safety! We call upon you to evacuate your villages and move north of the Litani River."
IDF: Qana building fell hours after strike
IDF is continuing to check difficult incident at Qana village, and attempting to account for strange gap between time of the strike on the building – midnight – and eight in the morning, when the building collapsed.
An IDF investigation has found that the building in Qana struck by the Air Force fell around eight hours after being hit by the IDF.

"The attack on the structure in the Qana village took place between midnight and one in the morning. The gap between the timing of the collapse of the building and the time of the strike on it is unclear," Brigadier General Amir Eshel, Head of the Air Force Headquarters told journalists at the Defense Ministry in Tel Aviv, following the incidents at Qana.

Eshel and the head of the IDF's Operational Branch, Major General Gadi Eisnkot said the structure was not being attacked when it collapsed, at around 8:00 in the morning.

The IDF believes that Hizbullah explosives in the building were behind the explosion that caused the collapse.
Residents were warned days in advance that this area would be targeted by the IDF due to its use by Hizbullah in ongoing terror attacks on Israeli civilian centers.
Video proof of Hizbullah's blatant use of Lebanese civilian centers to launch rockets
(Communicated by the IDF Spokesman)
This morning, July 30, 2006, the IAF attacked missile launch sites in the area of the village of Qana, an area from which hundreds of missiles were launched towards the city of Nahariya and the communities in the western Galilee.

The IDF will defend the citizens of Israel from attacks by the Hizbullah and the responsibility for any civilian casualties rests with the Hizbullah who have turned the suburbs of Lebanon into a war front by firing missiles from within civilian areas.

Residents in this region and specifically the residents of Qana were warned several days in advance to leave the village. Eighteen Israeli civilians have been killed and over 400 have been wounded by these rocket attacks which have disrupted the lives of tens of thousands of Israeli citizens.

The IDF regrets any harm to uninvolved civilians, but this is the result of Hizbullah terrorist organization's contemptible use of Lebanese civilians as human shields.
UPDATE:.....July 31st, 2006
U. S. To Block U.N. Denunciation of Israel
22:06 Jul 30, '06 / 5 Av 5766


(IsraelNN.com) The United States is expected to block a United Nations Security Council resolution denouncing Israel for the killing of about 60 civilians in the Lebanese village of Kana Sunday morning. Israel has said that the explosion in the building that caused the deaths may have been caused by stockpiles of Hizbullah weapons and not by the Israeli attack.

The Council is taking a recess at this hour and will resume its meeting in two hours.
Posted by Wild Thing at 12:55 AM | Comments (2)
Lebanon's PM Very Much Pro Hezbollah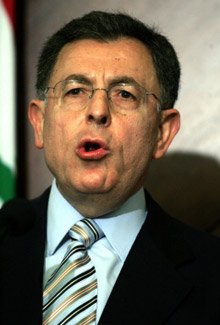 LEBANESE Prime Minister Fouad Siniora thanked Hezbollah for its "sacrifices" in its war against Israel.

"We are in a strong position and I thank the Sayyed for his efforts," Mr Siniora said when asked about a statement by Hezbollah chief Sayyed Hassan Nasrallah calling on the Government to take advantage of Hezbollah's steadfastness against Israeli military might.

"I also thank all those who sacrifice their lives for the independence and sovereignty of Lebanon," he said.

Mr Siniora, a member of Lebanon's anti-Syrian coalition, has often been at odds with the Syrian-backed Hezbollah, but the 19-day-old conflict appears to have brought the two sides closer together.

Wild Thing's comment.......
I watched this jerk on the Sunday morning political talk shows. He is totally PRO Hezbollah.
And also this quote from Meet The Press ( Sunday July 30th 2006)
MR. FUAD SINIORA: We scream out to our fellow Lebanese and to other Arab brothers and to the whole world to stand united in the face of the Israeli war criminals.
Posted by Wild Thing at 12:47 AM | Comments (4)