« The Bribe To Exit Pakistan: 15 cents | Main | President Bush 'assassinated' In New TV Docudrama »
August 31, 2006
Lebanon Refuses Contact With Israel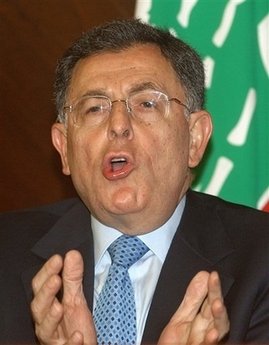 Lebanon's Prime Minister Fuad Saniora gestures while talking at a press conference at the Government House, in Beirut, Lebanon, Wednesday, Aug. 30, 2006. Saniora said Wednesday that he refused to have any direct contact with Israel, and that Lebanon would be the last Arab country to ever sign a peace deal with the Jewish state. (AP Photo)

Lebanese Prime Minister Fuad Saniora said Wednesday that he refused to have any direct contact with Israel and Lebanon would be the last Arab country to ever sign a peace deal with the Jewish state.
"Let it be clear, we are not seeking any agreement until there is just and comprehensive peace based on the Arab initiative," he said.
He was referring to a plan that came out of a 2002 Arab League summit in Beirut. It calls for Israel to return all territories it conquered in the 1967 Mideast war, the establishment of a Palestinian state with Jerusalem as its capital and a solution to the Palestinian refugee problem — all in exchange for peace and full normalization of Arab relations with Israel.
Israel has long sought a peace deal with Lebanon, but Beirut has hesitated as long as Israel's conflicts with the Palestinians and Syria remained unresolved.
Saniora said Lebanon wants to go back to the 1949 armistice agreement that formally ended the Arab-Israeli war over Israel's creation.
Also on Wednesday, a Hezbollah cabinet minister said that the guerrilla group will not release two captured Israeli soldiers unconditionally, and that they would only be freed in a prisoner exchange.
"There will be no unconditional release. This is not possible," Minister of Energy and Hydraulic Resources Mohammed Fneish said in Beirut. He is one of two Hezbollah members in Lebanon's Cabinet.
"There should be an exchange through indirect negotiations. This is the principle to which Hezbollah and the resistance are adhering," he said.
Israeli Prime Minister Ehud Olmert said earlier Wednesday that the Israel-Hezbollah cease-fire could be "a cornerstone to build a new reality between Israel and Lebanon."
Israeli Foreign Minister Tzipi Livni and U.N. Secretary-General Kofi Annan also said they hoped the cease-fire deal could evolve into a full-fledged peace agreement between Israel and Lebanon.
Implementation of the cease-fire "gives us a foundation to move forward and settle the differences between Israel and Lebanon once and for all, to establish a durable peace," Annan said.
Also Wednesday, Saniora said that his government would pay $33,000 per house to compensate residents whose homes were destroyed by Israeli attacks. The government has been criticized for being slow to respond with financial support for people who lost homes in the fighting.
Saniora said 130,000 housing units had been destroyed or damaged in more than a month of Israeli airstrikes and ground fighting with Hezbollah guerrillas, mostly in south Lebanon. He did not give a breakdown of the completely destroyed houses.
Hezbollah launched rebuilding campaigns in its strongholds within days of the Aug. 14 cease-fire, burnishing its support among residents.
Saniora said he would ask delegates to an international donors' conference in Sweden on Thursday to take responsibility for rebuilding specific villages hit by Israeli attacks. Organizers of the conference are aiming to raise $500 million in aid for Lebanon, Sweden's aid minister said Tuesday.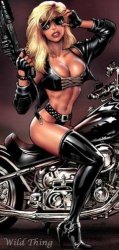 Wild Thing's comment......
How about if Israel gets the leadership of the Hezbollah and Lebanon and then sends them back piece by piece until the IDF soldiers are released. That is the only thing the enemy will understand. Strong yes, but talks never have made a difference anyway. Israel needs to tell the UN to shove it, kick Olmert the heck out of office and get a man that still has his manhood and is loyal to his country instead of a weak kneed Hamas kisser that wants to give more and more land away to the PLO etc.

Posted by Wild Thing at August 31, 2006 02:47 AM
---
Comments
I think you are right and I think Israel blew it this time. They were holding all the cards..Nuclear ones..and there was no reason for them to cease fire until they accomplished their objectives. it did not gain them one gotdam thing. I was admiring the way tye generals were fight the war though. Take out infrastructe, blockade, then mop up the resistance..classic but it just wasn't followed through to the conclusion..I hate these kind of wars because they get people killed needlessly. Fight to win or don't fight at all
Posted by: GUYK at August 31, 2006 10:45 AM
---

I think this would be a good place to drop
this link!!!

To hell and back
Israeli video journalist Itai Anghel went into Hezbollah-controlled Lebanon with the Nahal Brigade and shot 25 minutes of riveting house-to-house combat footage with a night vision lens.The Hezbollah fighters wore Israeli uniforms. Cut and Paste:
http://switch248-01.castup.net/cunet/gm.asp?ClipMediaID=209947&ak=63628786
Posted by: Tincan Sailor at August 31, 2006 10:52 AM
---
Tincan Sailor, I tried the link but it says file is not there. waaa
Posted by: Wild Thing at August 31, 2006 11:12 AM
---
Ohmert, like Carter held back, the enemy will hate you either way, there is no such thing as a limited war, fight to win decisively. The Lebanese and Hezbollah never discriminated and poured all they could into Israel howling all the time that Israel wasn't fighting fair. This war was won in the press by the enemy, Israel lost by equivocating and now Israel and the rest of the free world has to pay the price for Ohmert's intransigence. Which country is getting U.S. aid in the millions right now? Not our ally, maybe Condi can play them a few soothing piano sonatas.
Posted by: Jack at August 31, 2006 01:55 PM
---
GUY I agree with you, fight to win or don't fight at all. Thanks for your commment.
Posted by: Wild Thing at August 31, 2006 03:20 PM
---
Jack, "Condi can play them a few soothing piano sonatas."...... hahaha good one, yes.
Posted by: Wild Thing at August 31, 2006 03:21 PM
---
The premature end of fighting disheartens me. It will be costly in numerous ways, but no more so than by encouraging our enemies. I wonder to what extent the US Administration was behind this horrible ceasefire. More and more I become discouraged at George Bush as I was at his father, one of the weakest Republican Presidents ever.
Posted by: TomR at August 31, 2006 09:22 PM
---
Tom I know exactly what you mean.It was a bad decision and has sent a message of weakness and gosh I hate that soooo much.
Posted by: Wild Thing at September 1, 2006 02:57 AM
---