November 10, 2013
Death toll in Philippines typhoon could reach 10,000, authorities say
Death toll in Philippines typhoon could reach 10,000, authorities say

LOCAL PHILIPPINE OFFICIALS say that as many as 10,000 people could be dead, mostly by drowning and from collapsed buildings, after one of the strongest typhoons on record devastates central Philippines.
One of the most powerful storms on record devastated the central Philippines, reportedly killing an estimated 1,000 people in one town alone and leaving the airport in the hard-hit city of Tacloban in shambles. The Philippine Red Cross told Reuters that based on reports it estimates at least 1,000 dead in Tacloban, which is located about 360 miles southeast of Manila, and 200 in Samar Provice.
Authorities expect a "very high number of fatalities" after one of the strongest typhoons on record devastated central Philippines, cutting communications and severely damaging an airport in one of the hardest-hit regions.
A senior regional police official and a city administrator in the typhoon-ravaged Tacloban city in the central Philippines say the death toll there could reach 10,000 people, according to the Associated Press.
Regional police chief Elmer Soria said he was briefed by Leyte provincial Gov. Dominic Petilla on Saturday and told there were about 10,000 deaths on the island, mostly by drowning and from collapsed buildings.
Tacloban city administrator Tecson Lim said that the death toll in the city alone "could go up to 10,000."
Earlier, the Philippine Red Cross told Reuters that based on reports it estimated at least 1,200 were dead in Tacloban, which is located about 360 miles southeast of Manila, and 200 more in Samar Province.
Interior Secretary Max Roxas arrived in Tacloban Saturday and said it was too early to know exactly how many people had died following Typhoon Haiyan, which was heading toward Vietnam and expected to hit the country's coast Sunday afternoon.
"The rescue operation is ongoing. We expect a very high number of fatalities as well as injured," Roxas said. "All systems, all vestiges of modern living – communications, power water, all are down. Media is down, so there is no way to communicate with the people in a mass sort of way."
Full story at link above.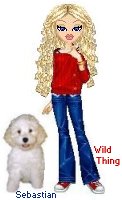 Wild Thing's comment..............
Tragic devastation.Pray for the victims..
Posted by Wild Thing at 12:45 AM | Comments (2)
June 01, 2013
Tornadoes Slam Central Oklahoma

Tornadoes Slam Central Oklahoma

Mother and her child among five dead after tornado outbreak hits west of Oklahoma City, including the town of El Reno, trapping motorists and cutting power to at least 54,000.

Deadly tornadoes touched down Friday west of Oklahoma City, crumbling cars and tractor-trailers, trapping motorists and killing at least two.
The Oklahoma Highway Patrol said troopers found the bodies of a mother and a child near a vehicle along Interstate 40 west of the city. The state medical examiner's office said at least 3 others were killed in Oklahoma City suburbs Friday.
Hospitals in the area say dozens of people were hurt, five critically, but meteorologists who had warned about particularly nasty weather said the storm's fury didn't match that of a deadly twister that struck suburban Moore last week.
The broad storm hit during the evening rush hour, causing havoc on I-40, a major artery connecting suburbs east and west of the city. Violent weather also moved through the St. Louis area, ripping the roof off a suburban casino.
To the south, winds approaching 80 mph were forecast for Moore, where a top-of-the-scale EF5 tornado killed 24 on May 20. Meanwhile, at least 54,000 people were affected by power outages. The Oklahoma Highway Patrol also reported motorists injured or trapped in their cars in the Oklahoma City area while others were missing.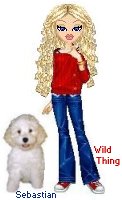 Wild Thing's comment..........

Prayers for everyone in the path of the tornadoes.
Posted by Wild Thing at 12:48 AM | Comments (1)
May 21, 2013
Oklahoma Tornado 200 MPH Winds Kills at Least 91, Twenty of them Children
In the city of Moore, emergency responders and bystanders worked together to rescue those trapped by debris.

Wild Thing's comment.............

Praying for all in Oklahoma.
Posted by Wild Thing at 12:50 AM
Toby Keith: Hometown storm 'devestating'
Toby Keith: Hometown storm 'devestating'
Singer Toby Keith talks to Anderson Cooper about the massive tornado that hit his hometown of Moore, Oklahoma.
Posted by Wild Thing at 12:45 AM
May 25, 2011
Prayers For All The People Where These Tornadoes Are Hitting

Death Toll Reaches 122 from Joplin Tornado; 1,500 People Still Unaccounted For
.

RAW Video: Huge tornado on LIVE TV Oklahoma City May 24 2011
Unbelievable video from Oklahoma City during rush hour.

JOPLIN, MO.

About 1,500 people are unaccounted for in this battered city, a Fire Department official said Tuesday, as rescue workers took advantage of a few hours of sunny weather to continue searching for survivors in buildings leveled by the country's deadliest tornado in more than 60 years. At least 122 people have died.
While the number of those unaccounted for is alarmingly high in a city with only 49,000 people — and raises the specter of a far higher death count — it may merely be a reflection of the widespread breakdown of communication systems here in the wake of Sunday's vicious storm. Many residents who fled ahead of the tornado or survived it may be unable to notify the authorities or family members who have reported them missing.
Capt. Robert Daus of the Maryland Heights Fire District, who is helping to lead a team of about 100 St. Louis-area firefighters in search and rescue operations in Joplin, said that in addition to the 1,500 people who remain unaccounted for, an additional 750 had been injured by the tornado, which cut a three-quarter-mile-wide path through this southwestern Missouri city and damaged as many as 30 percent of its buildings.


.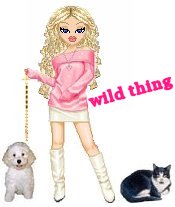 Wild Thing's comment........
It is heartbreaking to see this happening. I can't rememeber this ever happening like this with so many tornadoes.

Prayers for all these people and their loved ones.

Texas also had tornadoes, and large hail. So this is really wide spread over several States.
Also this....The National Weather Service is reporting that a large, dangerous tornado has destroyed the town of Denning, Arkansas.
Posted by Wild Thing at 03:45 AM
April 28, 2011
Tornadoes Devastate The South, Killing at Least 269 Last Count and OBAMA Finally Says Something, After Campaigning All Week,Oprah Show,and Golf

Tornadoes devastate South, killing at least 269
PLEASANT GROVE, Ala. – Massive tornadoes tore a town-flattening streak across the South, killing at least 269 people in six states and forcing rescuers to carry some survivors out on makeshift stretchers of splintered debris. Two of Alabama's major cities were among the places devastated by the deadliest twister outbreak in nearly 40 years.
Tuscaloosa Mayor: Storms Have Removed Neighborhoods from the Map
.
Alabama's state emergency management agency said it had confirmed 128 deaths, up from at least 61 earlier and it was rising as you can see in the total in the above link and article. in this post. ~ Wiild Thing

.
"We expect that toll, unfortunately, to rise," Gov. Robert Bentley told ABC's "Good Morning America."

Mississippi officials reported 32 dead in that state and Tennessee raised its report to six from one. Another 11 have been killed in Georgia and one in Virginia.
The fierce storms Wednesday spawned tornadoes and winds that wiped out homes and businesses, forced a nuclear power plant to use backup generators and prompted the evacuation of a National Weather Service office.

.
.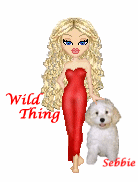 Wild Thing's comment........

Prayers for all! This is just heartbreaking. May God give them strength and comfort.

FOX News was reporting this tornado was on the ground for 220 mils. At 220 miles, that passes the old record longest track 219 miles in Mar 18-19, 1925.

So after days and days of campaigning, going on Orah, golf and basketball........the socialist marxist freak obama FINALLLY SPEAKS BUT ONLY AHEAD OF HIS ANNOUNCEMENTS AND CAMPAIGN SPEECH! Apparently, before this, not enough people had died and had their homes and businesses destroyed in the previous band of severe storms and tornadoes for him to make one.
American Red Cross said this morning that this is their greatest sheltering/feeding operation since Katrina.
I'm surprised he said anything at all. Still waiting on word from him, or an offer of assistance, for the Texas wildfires!!!!!!!!!!!!!!!!!!!!!!
Obama is a despicable Marxist pig! And get this, instead of speaking about all of this during this last week, in his waiting till today he COMBINED HIS COMMENTS with his announcemnet about the changes in the CIA and National Security!!!!!!!!!!!!!!!!!!!!!!!!!!!!!!!!!!!!!!!!!!!!!!!!!!!!!!!! Of course that was after he spent a few minutes bragging about how great he had been as presidernt........OMG he made a campaign speech!
God help us with this evil in power!!!!

Posted by Wild Thing at 04:30 PM | Comments (2)
March 11, 2011
8.9 Earthquake Hits Japan; Tsunami Slams Coast; Warnings Issued For Entire West Coast

8.9 magnitude as it's being reported. Not just big, but one of the largest earthquakes in recorded history.

CNN just reported the wall of water that hit northern Japan was 24 feet high
The Pacific Tsunami Warning Center in Hawaii has put in place a tsunami warning for the entire Pacific,
including Guam, Taiwan, the Philippines, Indonesia, Hawaii and Australia.
*Update* So far there have been 18 aftershocks: 8.9, 6.4, 6.4, 6.8, 7.1, 6.3, 6.3, 5.8, 5.9, 6.3,
6.1, 6.1, 5.9, 5.8, 5.7, 5.6, 5.9, 6.2
.
Tokyo ( CNN World ) — An 8.9-magnitude earthquake hit Japan early Friday, triggering tsunami warnings and sending people fleeing out of buildings in the capital.
Its epicenter was 373 kilometers (231 miles) from Tokyo, the United States Geological Survey said.
The quake rattled buildings and toppled cars off bridges and into waters underneath. In Tokyo, crowds
gathered in the streets and tried to reach relatives via cell phone
OMG look at this one, this is where it hits land and is taking out buildings like they are nothing at all.


.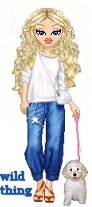 Wild Thing's comment.......

Prayers for all the people there and our troops too which are stationed in Japan. As of this post Fox said 32 people are dead in Japan and they expect more to be found.
As I am working on this post they just announced on FOX that the Pentagon announced that ALL of our service members in Japan are accounted for and they are all safe. Thank you God! The U.S. Navy's 7th Fleet is based in Yokosuka, Japan. They evacuated a couple of the Marine bases there according to Fox just now.

Prayers for our friends in Hawaii and California!!! We lived in Calif. for so many years and then we met a lot of people in Hawaii all the years we went there to work on Magnum P.I. so some extra prayers for all our friends as well.
RAC and Sean that you all know that come to this blog live in Calif . And then we also have many people we know from living in Calif. allmost 30 years.
There is a Tsunami Warning the entire coast of Calif. Tsunami warning sirens in Hawaii trigger evacuations while coastal residents from Southern California to Oregon move to higher ground.
Posted by Wild Thing at 04:55 AM | Comments (11)
December 29, 2010
NYC Sanitation Workers Destroy a Ford Explorer
Strong language in video.....just to let you know.
The vehicle is a NYC Dept of Buildings city owned vehicle.

.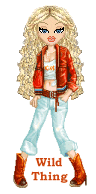 Wild Thing's comment.......
Just my opinion but why didn't they drag the tractor sideways a few feet, away from the parked vehicle, with the tow truck winch.
Posted by Wild Thing at 12:55 AM | Comments (11)
December 18, 2010
Snow Grounds 800 Flights Across Europe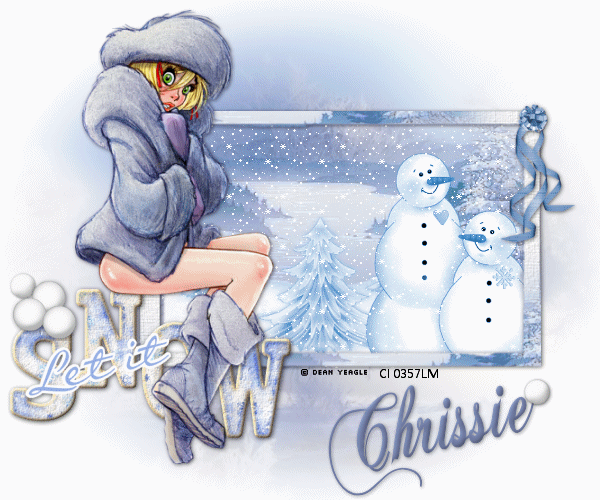 Snow grounds 800 flights across Europe
Heavy overnight snowfall disrupted air travel across western Europe Friday, forcing more than 800 flight cancellations and leading to major delays in Germany, the Netherlands and Switzerland.
Germany appeared the hardest hit by the snow, with more than 600 flights canceled, schools forced to close and highways clogged with traffic after scores of accidents that killed at least three people and injured dozens.

Coldest December since records began as temperatures plummet to minus 10C bringing travel chaos across Britain

* Millions begin the big Christmas and New Year getaway early as the AA urged motorists to beware of the 'worst driving conditions imaginable'
* Quarter of train services disrupted, travel warning in Kent
* Experts warn of a backlog of up to 4 million of parcels which could remain undelivered this Christmas

* The NHS issues an urgent appeal for blood donors as concerns grow over shortages

* Councils reveal plans to share grit amid fears the cold snap could last until January 14
* Odds shortened even further on a 'White Christmas' in some parts of the country next Saturday

Swathes of Britain skidded to a halt today as the big freeze returned - grounding flights, closing rail links and leaving traffic at a standstill.
And tonight the nation was braced for another 10in of snow and yet more sub-zero temperatures - with no let-up in the bitterly cold weather for at least a month, forecasters have warned.
The Arctic conditions are set to last through the Christmas and New Year bank holidays and beyond and as temperatures plummeted to -10c (14f) the Met Office said this December was 'almost certain' to become the coldest since records began in 1910.
The latest snowfall carpeted large swathes of Britain today - with up to 5in falling in places - paralysing roads and rail, and forcing airports and schools to close.
Forecasters warned the worst was still to come over the next 24 hours as the heaviest December snowfall for 30 years tightened its grip on the nation once more. The South is expected to be worst hit with up to 10in falling during the course of tomorrow. By the start of next week temperatures are set to fall to as low as -15c (5f). Met Office forecaster Barry Gromett said the average mean temperature for the first two weeks of this month was -0.7c. The coldest ever average for this time of year - recorded in December 1981 - was 0.2c.

.

Wild Thing's comment.......
Paging Al Gore, paging Al Gore! LOL This can't be true. Al Gore said the world is warming at an alarming pace, so winter has ceased to be.
...OK so I guess Al Gore was not available for comments.

Here is my Solution - eliminate 90% of world government - but, even with that amount of reduction, humans would be faced with government still MUCH too large. LOL
Posted by Wild Thing at 06:40 AM | Comments (2)
September 04, 2010
Mark Steyn on Names for Hurricanes

Mark Steyn on Sheila Jackson Lee's Concern About "Racist Nomenclature" for Hurricanes

Here is the incomparable Mark Steyn at his hilarious best talking about names for Hurricanes! He specifically comments on Democrat Rep. Sheila Jackson Lee's objection about the "racist nomenclature" given to Hurricanes – no predominantly African-American names being given to Hurricanes. She had made comments about this a couple of years ago and because of there being a few hurricanes out there right now, it became news again. So Mark Steyn takes her concern and runs with it!
From the past that Mark Steyn was referring to:
Rep. Sheila Jackson Lee, D-Texas, feels that the current names are too "lily white," and is seeking to have better representation for names reflecting African-Americans and other ethnic groups.
Rep. Sheila Jackson Lee, D-Texas
"All racial groups should be represented," Lee said, according to the Hill. She hoped federal weather officials "would try to be inclusive of African-American names."
A sampling of popular names that could be used include Keisha, Jamal and Deshawn, according to the paper.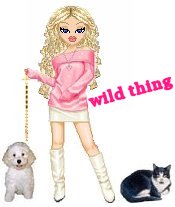 Wild Thing's comment......
Mark Steyn is so good. When Rush is off for a day or a few days, I am always glad when his choice to be there is Mark Steyn.
Posted by Wild Thing at 04:40 AM | Comments (3)
May 09, 2010
Hello Tennessee, Janet Napolitano Has Arrived
Homeland Security Secretary Janet Napolitano spoke after taking a tour of the flood devastation that Nashville and the surrounding area has sustained. (May 8)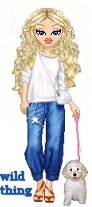 Wild Thing's comment........

The people of Tennessee must be thrilled that ole Janet has found the time, somehow to make a photo op visit.
Posted by Wild Thing at 07:45 AM | Comments (3)
May 08, 2010
Nashville Flood Is Biggest Disaster to Hit Middle Tennessee Since Civil War
Flood waters cover parts of Downtown of Nashville, Tennessee after Cumberland River overflowed its bank from record rain fall May 4, 2010. Severe storms and flash floods left more than a dozen people dead in Tennessee and Kentucky over the weekend as rising river waters closed portions of interstate highways leading in and out of Nashville. (REUTERS/M. J. Masotti Jr.)
Jim sent me this......it is from Patten Fuqua is a hockey blogger in Nashville.
What I am about to write has absolutely nothing to do with hockey.
If you live outside of Nashville, you may not be aware, but our city was hit by a 500-year flood over the last few days. The national news coverage gave us 15 minutes, but went back to focusing on a failed car bomb and an oil spill in the Gulf of Mexico. While both are clearly important stories, was that any reason to ignore our story? It may not be as terror-sexy as a failed car bomb or as eco-sexy as an oil spill, but that's no reason to be ignored.
The Cumberland River crested at its highest level in over 80 years. Nashville had its highest rainfall totals since records began. People drowned. Billions of dollars in damage occurred. It is the single largest disaster to hit Middle Tennessee since the Civil War. And yet…no one knows about it.
Does it really matter? Eventually, it will…as I mentioned, there are billions of dollars in damage. It seems bizarre that no one seems to be aware that we just experienced what is quite possibly the costliest non-hurricane disaster in American history. The funds to rebuild will have to come from somewhere, which is why people need to know. It's hard to believe that we will receive much relief if there isn't a perception that we need it.
But let's look at the other side of the coin for a moment. A large part of the reason that we are being ignored is because of who we are. Think about that for just a second. Did you hear about looting? Did you hear about crime sprees? No…you didn't. You heard about people pulling their neighbors off of rooftops. You saw a group of people trying to move two horses to higher ground. No…we didn't loot. Our biggest warning was, "Don't play in the floodwater." When you think about it…that speaks a lot for our city. A large portion of why we were being ignored was that we weren't doing anything to draw attention to ourselves. We were handling it on our own.
Some will be quick to find fault in the way rescue operations were handled, but the fact of the matter is that the catastrophe could not have been prevented and it is simply ignorant beyond all reason to suggest otherwise. It is a flood. It was caused by rain. You can try to find a face to stick this tragedy to, but you'll be wrong.
Parts of Nashville that could never even conceivably be underwater were underwater. Some of them still are. Opry Mills and the Opryland Hotel are, for all intents and purposes, destroyed. People died sitting in standstill traffic on the Interstate. We saw boats going down West End. And, of course, we all saw the surreal image of the portable building from Lighthouse Christian floating into traffic and being destroyed when cars were knocked into it. I'm still having trouble comprehending all of it.
And yet…life will go on. We'll go back to work, to school, to our lives…and we'll carry on. In a little over a month, I'll be on this website talking about the draft. In October, we'll be discussing the new Predators' season with nary a thought of these past few days. But in a way, they changed everyone in this town. We now know that that it can happen to us…but also know that we can handle it.

.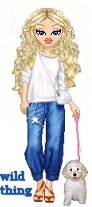 Wild Thing's comment.......
The national media gave this disaster only 15 minutes this entire week:

John Rich on Rush earlier and he composed and recorded a song about the flood . Free download of the song available on http://www.johnrich.com
........and there is also a donation button on the site to help those who've pretty much lost everything because of the flood.
God bless the people of Tennessee.
Singer Taylor Swift gave half a million to the flood victims fund. God bless her for her generosity.
Idiot on CNN said he could not believe all the volunteer help that has come out to help their neighbors in Nashville...He was amazed !!!!!
Why???
Responsible people help others....This is exactly why Tennessee is known as the "Volunteer State"...
Has France offered any help? Has Germany offered any help? Has Mexico offered any help? Has haiti offered any help?
Has the UN offered any help?
The floods in Tennessee have devastated Nashville. Damages are estimated at $1 billion.
How to donate/pitch in....Michelle Malkin has a list at her blog.

.... Thank you Jim for sending this to me.


Posted by Wild Thing at 07:49 AM | Comments (7)
April 26, 2010
Storm and Tornado Warnings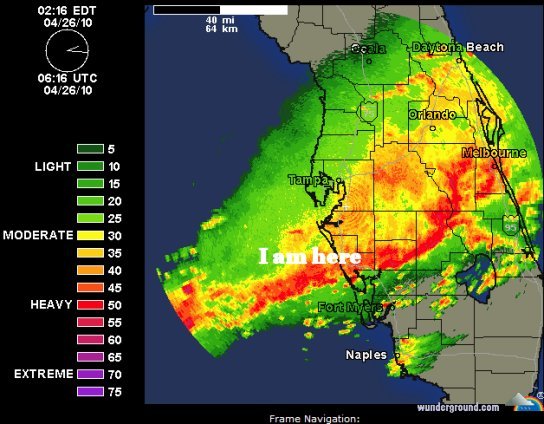 .

Some very bad stuff approachung Sarasota, Bradenton, Venice and south areas.
.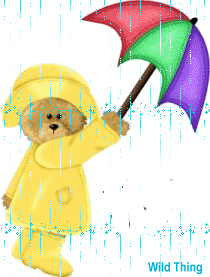 Wild Thing's comment.....
Tornado watch , the weather man said...."If you hear 100 freight trains.... covah u azzzz! "
Only can do a few posts right now. I thought I could stay online longer, but it is really blowing outside and lightening with the very heavy rain.
Buiilding in Gulf to west of Sarasota .
Love you all!

Posted by Wild Thing at 01:47 AM | Comments (9)
April 05, 2010
7.2 Mag Quake Hits Baja California; Big Aftershocks Are 'Likely,' Caltech Says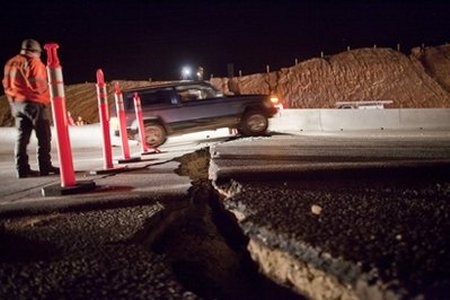 Magnitude 7.2 quake felt by at least 20 million people from Los Angeles to Phoenix to Tijuana
Caltech seismologists said Sunday's magnitude 7.2 Mexicali earthquake was the strongest to strike the region in nearly two decades and that an estimated 20 million people felt it across the Southwest U.S. and Mexico.
Caltech scientist Lucy Jones said an aftershock in the 6-magnitude range is "reasonably likely" in the next few days, and the chance of quake larger than 7.2 magnitude is fairly unlikely but still possible.
"The fault is pretty long, approximately 50 miles," Jones said. "We are seeing aftershocks heading northwest." Jones said the direction of the strike-slip fault runs northwest into California, about six miles beneath the earth's surface.
A man was killed when his home collapsed just outside Mexicali, a civil protection chief told the Associated Press. A two-story parking garage also collapsed in the border town of 653,000.
Oscar Silas, a firefighter at a station 10 miles west of Mexicali, said that at least six homes were destroyed by fires caused by the quake. The blazes started when household propane tanks were damaged and electricity lines were severed, he said.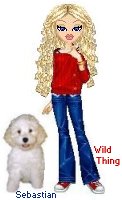 Wild Thing's comment.......
We have readers for this blog in Calif. and I just want them to know we are glad you are ok and if you have not checked in with an email, we hope all is well. I also heard from Phoenix that they felt it there as well.
Posted by Wild Thing at 04:40 AM | Comments (3)
February 07, 2010
How To Give a forecast ~ LOL A Must See Video!

AccuWeather Forecaster Jim Kosek giving his forecast for the huge snowstorm hitting the Washington D.C., Baltimore area. He started out by saying, "Oh boy!"

Posted by Wild Thing at 04:55 AM | Comments (4)
August 31, 2008
To All Our Friends In Gustav's Path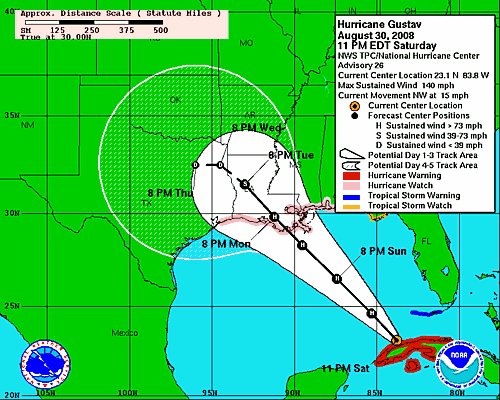 Extremely dangerous Hurricane Gustav blasted across Cuba's Isle of Youth and toward the mainland with 150-mph (240-kph) winds and lashing rains on Saturday as forecasters said it could grow into a catastrophic Category 5 .
Tropical Depression

39 mph
34 kts Minimal
Tropical Storm
39 - 73 mph
34 - 63 kts Minimal
Hurricane 1
(Weak) 74 - 95 mph
64 - 82 kts 28.94" or more
980.02 mb or more 4.0' - 5.0'
1.2 m - 1.5 m Minimal damage to vegetation

Hurricane 2
(Moderate) 96 - 110 mph
83 - 95 kts 28.50" - 28.93"
965.12 mb - 979.68 mb 6.0' - 8.0'
1.8 m - 2.4 m Moderate damage to houses

Hurricane 3
(Strong) 111 - 130 mph
96 - 112 kts 27.91" - 28.49"
945.14 mb - 964.78 mb 9.0' - 12.0'
2.7 m - 3.7 m Extensive damage to small buildings

Hurricane 4
(Very strong) 131 - 155 mph
113 - 135 kts 27.17" - 27.90"
920.08 mb - 944.80 mb 13.0' - 18.0'
3.9 m - 5.5 m Extreme structural damage

Hurricane 5
(Devastating) Greater than 155 mph
Greater than 135 kts
Former DNC Chairman Don Fowler while talking to U.S. Rep John Spratt (D-SC) on a commercial flight laughing that Hurricane Gustav will hit New Orleans during the RNC convention. You can't hear Spratt but he chuckles along.

I know there is Tom, SSgt Steve, and Cheryl, are in Texas. And then there are those that do not comment but write to me that come to TW that live in Texas, LA and areas in the path of this monster hurricane. You are in my thoughts and prayers. stay safe.
Posted by Wild Thing at 05:50 AM | Comments (8)
August 18, 2008
Tropical Storm or Hurricane Fay Not Sure Yet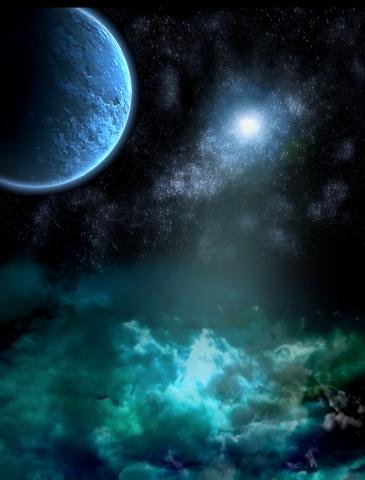 This is the tracker I have been using, it has a little animated arrow thing that follows the storm.
http://www.local10.com/hurricanetracker/index.html
This is weird, there are two stroms, like bookends. Maybe the storm in the Gulf will bump into Fay and stop her. Just a guess anyway.
http://www.ssd.noaa.gov/goes/east/gmex/loop-avn.html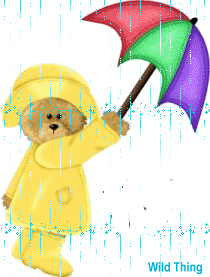 Hi everyone,
As long as I can get online I will have a posts for you in the morning. If not the storm Fay will be the reason. I am posting this now just to let you know. We are one hour south of Tampa, in a city called Sarasota. It is on the West coast of Florida.( the Gulf of Mexico side) ......... Linda is on the East coast side ( the Atlantic Ocean side) so we aren't sure which side the storm will decide to go to.
We have water, batteries and everything is all set. Things are cleared off the patio. We live 10 miles inland from the Gulf, out in the country in a wooded area.
Take care everyone,
((((hug ))))
Chrissie
Posted by Wild Thing at 08:14 PM | Comments (10)
July 23, 2008
Hurricane Dolly Headed Toward Texas

Hurricane Dolly strengthening as it approaches the southern Texas coast.
Hurricane Warning remains in effect for the coast of Texas from Brownsville to Corpus Christi...and for the northeastern coast of Mexico from Rio San Fernando northward to the border between Mexico and the United States.
A Tropical Storm Warning remains in effect from north of Corpus Christi to San Luis Pass.

A Tropical Storm Warning and a Hurricane Watch are in effect from La
Pesca to south of Rio San Fernando.

For storm information specific to your area...including possible
inland watches and warnings...please monitor products issued
by your local weather office.

At 800 am CDT...1300z...the center of Hurricane Dolly was located
near latitude 25.9 north...longitude 96.9 west or about 40 miles...
60 km...east of Brownsville Texas.

Dolly is moving toward the northwest near 8 mph...13 km/hr...and
northwestward to west-northwestward motion with a slight decrease
in forward speed is expected today. On the forecast track...the
center of Dolly will be along the coast near the Texas/Mexico
border around midday today.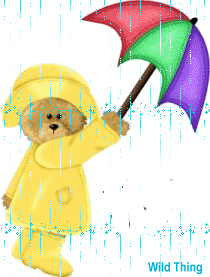 To all of you in Texas near Dolly's arrival I am thinking about you and praying all will be ok.
Posted by Wild Thing at 10:28 AM | Comments (5)
January 03, 2008
An "Inconvenient Truth" er um Forecast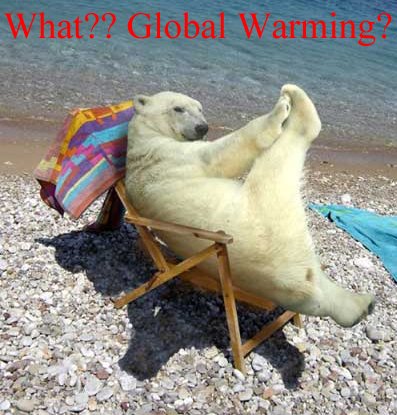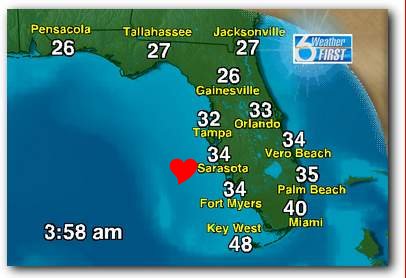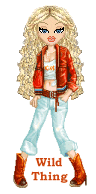 Wild Thing's comment.......
Hey! What happened to global warming? Or, wait, I guess this is "climate change." It's so hard to keep up with all the faux science from the Church of Algore.
Posted by Wild Thing at 04:47 AM | Comments (17)
August 15, 2007
Hurricane Flossie Headed to the Big Island ~ Prayers for Theodore's World Readers
Hurricane Closes Big Island Schools, Parks yahoo news

We urge people on the Big Island to heed the warnings, avoid remote or exposed areas, and to take precautions for protection of life and property. We will reopen these areas on the Big Island as soon as the weather improves, and we can assess them for safe conditions," DLNR interim chairperson Laura H. Thielen said.

DLNR said it also urges boaters on the Big Island to have a plan when around the Big Island. They suggested going into Honokohau, Kawaihae and Wailoa small boat harbors.

Hurricane Flossie dropped to a Category 3 hurricane on Monday. However, forecasters at the National Weather Service said that the storm is still dangerous and could create severe weather conditions on the Big Island as it passes south of the state.
And now I see this has happened as well.
5.4 magnitude earthquake - Island of Hawaii
This is pretty amazing since they have a hurricane headed that way too.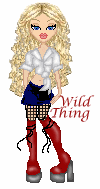 Wild Thing's comment..........
A few things actually. I have not posted about the miners, I was filled with hope that they would be found eartly and all would be ok. Almost trying to do massive positive thinking and not posting about it instead. But so far they are not freed and the concerns grow deeper each day for them. Please say a prayer for them and for their families and loved ones. Thank you.

Also, Theodore's World has readers from all over the world, which is wonderful. I hear from places I never heard of as well as places familiar to all of us. We have a lot of readers in Hawaii and there is a Hurrican headed their way.
Here is an email from Melissa, she lives in Hawaii and is one of the regular readers of TW blog. Her husband is serving in Iraq, it is his second tour. Prayers for a good outcome Melissa. Aloha
" In the next few days that were have a hurricane warning here in Hawaii. It is suppose to come real close to the islands on Tuesday. So far it is not going to hit us directly but it still has time to change directions.So I am going to be getting more supplies for our hurricane kit just in case we get hit and the power is off> I have to get some cooking feul, charcoal and bottled water and maybe a few other things to be on the safe side. There is also a 1000 acre fire burning off to the north west of where I live and so far they havent got it under control.It is starting to go up the mountain range and is on the other side of the road from where we live.

Please tell your commenters I enjoy their comments. I only have a computer at work and am unable to post from my job.
Mahalo
Melissa"
Update: email came in late afternoon on Tuesday
The 5.4 earthquake was on the Big Island and we didn't feel it here on Oahu. The only ones we've felt here was the ones last year that were the big one a 7+ and the smaller 6+ aftershocks. The big Island is getting hit hard tho as Hurricane Flossie is going to hit it's south shore sometime this afternoon. They are expecting high winds, 10+ inches of rain and 20 foot surf. We are several islands away and will prob get wind, rain and some higher surf but no where near what the big island is expecting.

The windfire is still burning and has crossed one of the roads on the land that I can see from our house but it is still 8-10 miles from us if not more.

Last it heard it had burned over 3500 acres they've been fighting it since Sunday afternoon
I hope they get it under control soon if it keeps going east it will eventually get close to Schofield Barricks.

That I know of no one has lost their life just lost land and maybe a few crops like bananas, mangos ect

If you all want to know more you can got our local news channel KHNL News 8 as they update the web site about every hour or so

I can tell we are going to be getting some winds and cool weather cause the air is cool and the tradewinds havent stopped blowing all morning. I will keep you all updated tho as to whats going on here on my little floating lava rock lol
I will be so glad to get back to the mainland lol

Thank you everyone for your prayers.
Mahalo
Melissa
Posted by Wild Thing at 12:47 AM | Comments (10)
July 06, 2007
Temps Top 100 in West From Heat Wave ~ Hello It's Summer!!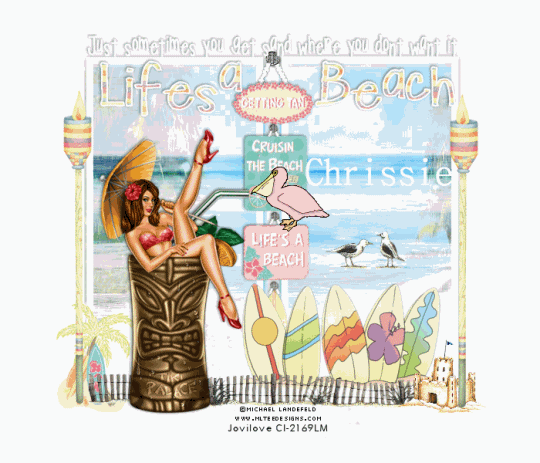 Temps Top 100 in West From Heat Wave
( AP )
Tourists walk in the shade to avoid the sunlight in Las Vegas, Thursday, July 5, 2007. A heat wave...

BOISE, Idaho - Sweltering residents across the West headed for lakes and rivers on Thursday, seeking relief from triple-digit temperatures expected to set records through at least Friday.
Around Las Vegas - where temperatures reached 109 degrees before 1 p.m. Thursday - transformers were overheating and causing electrical pole fires because of all the people switching on their air conditioners, said Scott Allison with the Clark County Fire Department.
In Montana, farmers anxiously watched their crops and thermometers. High temperatures for a handful of days can harm crop yield.
"Prolonged heat is devastating. Four or five days of it is going to be hard," said wheat farmer Lynn Nordwick near Poplar, Mont.
At least 150,000 people were expected to flock to the Lake Mead National Recreation Area in Nevada and Arizona in hopes of cooling off in the water this weekend, said Roxanne Dey, recreation area spokeswoman.
"For some people, we're the only affordable alternative for a place to cool off," Dey said.
In Phoenix, which hit 115 Thursday, 42-year-old laborer Russ Waldrip wiped sweat from his face as he unloaded large windows from the back of a truck.
"When it gets this hot I pour water over my head all day," Waldrip said. "Sometimes I can't wait to jump in the pool, but I don't even have the energy to do that."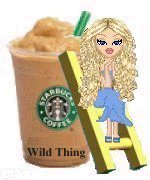 Wild Thing's comment.......
LOL this is just too funny. I have heard Rush Limbaugh tell about how the Dems and the Media have to make people panic, how so many things are presented in a " the world is ending " kind of approach. Everything is a drama with the left and this is just another one of those times.
Sure it is HOT outside, it is summer for pete's sake. I have been in Las Vegas when it was 117 degrees. Within 2 seconds of being out of a pool my bikini was dry. Same with Nick and his swimtrunks. When even the lifeguards at the pool for the hotel were not around because it was way too hot and few people were even attempting to sit outside. They even tell you there that the testes heat inside a car in Las Vegas in the summer can get up 10 160 degrees, if the doors and windows are closed and no air on. No wonder when out and about running errands there a person feels like there head will explode when they get back in the car. We lived there for a few years and I can tell you this is for real about the 160 inside a car like that.
New York in the summer, I have been there when it was 108 in the summer, and maybe it has been even hotter then that as well.
California heck I lived there for many years and we had it so hot and muggy that one could hardly breath when outside.
This heat wave is nothing new, but the media will play it up like it is the most important news item there is.
One would think they have no other news stories when we KNOW THEY DO.
They could be telling us about our troops, wonderful, awesome stories about them. But nooooooooo that would mean they supported them and if they did that they would choke!!
So stay cool, have a cold drink, stay indoors if possible with air conditioning, put your feet up and enjoy life. The weekend is here and we live in America, how much better can life be!!!
If the media wants to talk about heat they should do stories on how HOT HOT HOT it is in Iraq and Afghanistan for our troops. Think about wearing 80 plus pounds of equipment, riding in a non air conditioned Humvee or just walking around with those 80 plus pounds of equipment on in that heat. They deserve a medal just for that alone or for starters for sure!!!!!!
Posted by Wild Thing at 05:45 PM | Comments (17)
April 14, 2007
Prayers For Our Friends In Texas
DALLAS - A severe storm dropped nearly a foot of snow on parts of the central Plains Friday and spawned at least one tornado in Texas, where one death was blamed on high winds.
The storm shattered glass at a Forth Worth grocery store, injuring five people, while a man unloading his truck elsewhere was crushed under his load of lumber, fire spokesman Lt. Kent Worley said.
In nearby Haltom City, several homes and businesses were damaged and about a dozen tractor-trailers were pushed onto their sides. The Valley Missionary Baptist Church there was destroyed.
About 23,000 customers were without power Friday because the storms downed trees and power lines, said Gailee Cardwell, a spokeswoman for TXU Electric Delivery.
The storm also forced the cancellation of NASCAR Nextel Cup qualifying races at Texas Motor Speedway. Thousands of fans were advised to move to safety as tornado sirens blared at the speedway in Fort Worth.
Wild Thing's comment.....
Just wanted to say I hope and pray all our friends are ok from the storm in Texas and it now says it is moving toward the Northwest area.
Stay safe everyone.
Posted by Wild Thing at 12:40 AM | Comments (9)
March 20, 2007
First Day of Spring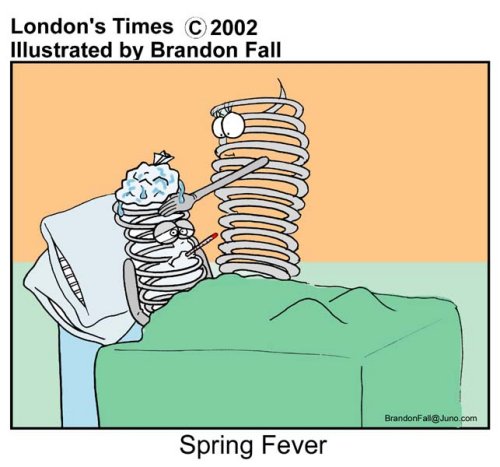 In some areas it feels like spring and I know in many others the snow is still deep on the ground. I thought for those of you with snow still at your place you might like to see the first glimpse of spring in the flowers.
Have a great day everyone!
Wild Thing
Posted by Wild Thing at 12:55 AM | Comments (9)
March 02, 2007
Deadly Tornadoes Rip Through Alabama...Many Children Killed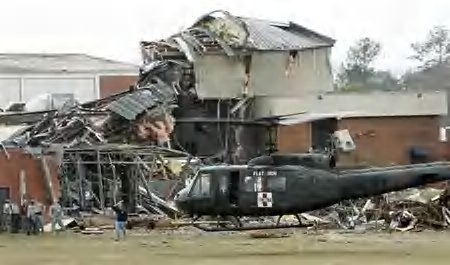 U.S. Military helicopter evacuates a patient from Enterprise High School after a tornado did severe damage to the school.


ENTERPRISE, Ala. (AP) - Tornadoes ripped through Alabama and killed at least 18 people Thursday, including 15 at a high school where students became pinned under debris when a roof collapsed, state officials said. As night fell, crews dug through piles of rubble beneath portable lights at Enterprise High School, looking for other victims.
"The number could very well increase as the search effort continues through the night," state emergency management spokeswoman Yasamie Richardson said.
The storm struck about 1:15 p.m., and Richardson said some students were still trapped three hours later. Erin Garcia, a 17-year-old senior, said students had gathered in hallways around 11 a.m. as a precaution. School officials wanted to send them home around 1 p.m., she said, but the weather turned bad and sirens wailed.
Then, she said, the lights went out.
"I was just sitting there praying the whole time," she said.
After the storm passed, she found the hallway she was in was spared, but a roof and wall collapsed on students in another hallway.
"It was scary. It sounded like a bunch of people trying to beat the wall down. It was complete chaos out in the hallway," she said.
"People didn't know where to go. They were trying to lead us out of the building. I kept seeing people with blood on their faces," Garcia said.
More than 50 people were hospitalized as the violent storm front crossed the state. Two died elsewhere in Enterprise and one in rural Millers Ferry, where a separate storm wrecked mobile homes, Richardson said.
The burst of tornadoes was part of a larger line of thunderstorms and snowstorms that stretched from Minnesota to the Gulf Coast. Authorities blamed a tornado for the death of a 7-year-old girl in Missouri, and twisters also were reported in Kansas.
The high school, about 75 miles south of Montgomery, "appears to have been right in the path," said Paul Duval, a meteorologist with National Weather Service in Tallahassee, Fla., which monitors southeast Alabama.
Martha Rodriguez, a 15-year-old sophomore, said she had left the school about five minutes before the storm hit. When she returned, a hall at the school had collapsed, she said.
"The stadium was destroyed and there were cars tipped over in the parking lot and trees were ripped out. There were trees and wood everywhere. It was just horrible," she said.
At Millers Ferry, 66 miles west of Montgomery, trailer homes were flipped over and trees downed, said Bernadine Williams in the Wilcox County emergency management office.
Several school systems across Alabama closed or dismissed students early as the storm front approached from the west, extending the length of the state.
"The clouds were so dark that all the lights out here came on," said Walter Thornton, who works at the airport in Enterprise, 75 miles south of Montgomery.
President Bush, who visited New Orleans on Thursday, was briefed on the tornadoes by senior staff and called Alabama Gov. Bob Riley and Missouri Gov. Matt Blunt, White House spokeswoman Dana Perrino said aboard Air Force One.
The Federal Emergency Management Agency was working with officials in both states, she said.
In Caulfield, Mo., resident Rick Jarvis heard the storm ripping through his gas station around dawn. His home next door suffered just minor damage, but the twister, described by witnesses as a fat black column, shredded the business, ripping down its roof and back wall.
"It sounded like a herd of horses tearing up stuff. When I came out, it was done," said Jarvis, 48.
Wild Thing's comment......
This is horrifying what has happened. Prayers for these people that have lost loved ones and animals too, this is so very sad.
Posted by Wild Thing at 12:47 AM | Comments (8)
November 07, 2006
Heavy Rains HIt State of Washington

SEATTLE (AP) - A windy Pacific storm dumped heavy rain Monday on western Washington, killing at least one person, prompting warnings of record flooding and closing the main road in Mount Rainier National Park.
A 20-year-old elk hunter from Seattle died when his pickup truck was swept into the Cowlitz River south of Mount Rainier, authorities said.
Gov. Chris Gregoire declared a state of emergency for 18 counties, authorizing the National Guard to activate and the state Emergency Management Division to coordinate assistance.
Officials at Mount Rainier National Park, which had 7 inches of rain Sunday and was expecting 10 more Monday, closed the main park road, turned visitors away and sent employees home early via the only exit road open.
We want to prevent visitors getting trapped inside the park. The road is vulnerable to washouts in several key places, and there is only one way out," superintendent Dave Uberagua said.
A sheriff's helicopter in Snohomish County, just north of Seattle, rescued several transients stranded on a sandbar where they had been camping.
Evacuations were being encouraged in parts of Skagit County near the Canadian border, with the Skagit River expected to reach record levels, county spokesman Dan Berentson said.
The National Weather Service warned county officials to expect worse conditions than in 2003, when flooding caused $17 million in property damage in Concrete and 3,400 households were evacuated, he said. Residents began showing up at one shelter by midday, and a hospital evacuated 15 patients as a precaution.
The warm-weather rainstorms, propelled by air currents from Hawaii in a pattern called the Pineapple Express, could cause flooding of record proportions, the weather service said. Several rivers had already jumped their banks.
The Army Corps of Engineers was sandbagging several rivers. At least 200 hunters were evacuated from about 65 hunting camps near the Cowlitz River.
As of early Monday afternoon, Stampede Pass on the Cascade crest east of Seattle had 4 1/2 inches of rain in the previous 24 hours, while Seattle-Tacoma International Airport recorded more than 2 1/2 inches. The forecast called for 6 to 10 inches in the Cascades and about 3 inches in the Seattle area in the 24 hours ending Monday night, with most rivers expected to crest Tuesday.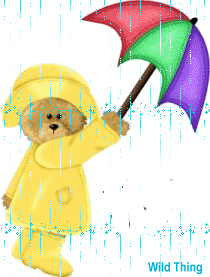 Wild Thing's comment......

For those dear friends of TW blog just wanted you to know you are in my thoughts and prayers. Stay safe with all the rain you are getting!
Posted by Wild Thing at 12:47 AM | Comments (5)
June 26, 2006
NorthEastern Floods Force Evacuations
For all our friends and family of Theodore's World blog that live in the Northeast, you are in our thoughts and payers.

One of the big weather headlines for Sunday was heavy rain falling in the East. A nearly stationary front sitting atop the region, has been bringing rain and thunderstorms to the region for the past few days. The recent rain has prompted the National Weather Service to issue flood watches and warnings throughout the Mid-Atlantic states and into coastal New England.
Nick has a lot of relatives that live in the NE and there are several friends that are a part of Theodore's World blog that live in the NE as well.
Posted by Wild Thing at 02:55 AM | Comments (7)
June 12, 2006
Hurricane Warning Issued for Storm Alberto ~ Surfs Up!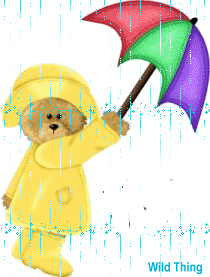 TAMPA, Fla. (AP) -- Forecasters issued a hurricane warning for parts of Florida's Gulf Coast on Monday as the first named storm of the 2006 Atlantic hurricane season quickly gained strength in the Gulf of Mexico.
The warning from Longboat Key near Sarasota to the Ochlockonee River south of Tallahassee means Tropical Storm Alberto was expected to produce hurricane conditions within the next 24 hours.
A tropical storm warning remains in effect for Longboat Key to Englewood.
At 11 a.m., Alberto's winds had increased to 70 mph, up from 50 mph just three hours earlier. The storm was centered about 190 miles south-southwest of Apalachicola and was moving north-northeast at about 7 mph, National Hurricane Center forecasters said.
I live in Sarasota and so far just lots of much needed rain and some wind.
Posted by Wild Thing at 11:24 AM | Comments (4)
October 25, 2005
Update on Wilma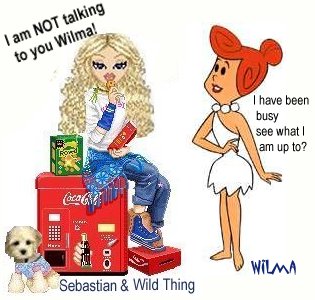 All is well here in Sarasota. Tons of tree branches down and neighbor had tiles from his roof come off. We walked the property and another neighbors fence is a mess.
Thank God we all are ok. Now I wait to hear back from other friends that are without power to get in touch with us.
Posted by Wild Thing at 09:41 AM
October 23, 2005
Hey Fred Come and Take Wilma Away!

Well the patio furniture is all in the garage and the potted plants are all in a safe place too.
Now we just wait and pray.
.

I live in Sarasota,Florida
I am a new Blogger so am also new to which Bloggers are in Florida. My friend Linda at Something...and Half of Something told me about Boudicca's Voice ,The Florida Masochist, The Florida Cracker and I am adding Ranting Right Wing Howler too because I know he is also in Florida.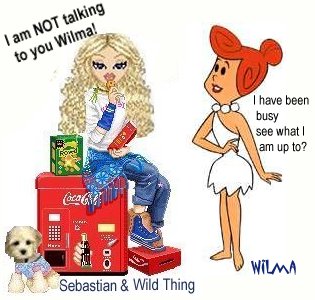 Posted by Wild Thing at 02:44 PM | Comments (9)
October 01, 2005
The Mayor Who Missed the Bus
Guess Who Missed the Bus?

It's readily apparent to most of us
The New Orleans mayor missed the bus,
Ordering those with cars to evacuate,
But those without to sit and wait;
To wait for busses that never came,
Never left the lot to Hizzoner's shame.
Now water swirls around their wheels
While Mr. Mayor squirms and squeals,
And points the finger everywhere,
At others who the blame should bear.
Mr. Mayor needs to show some class
Take his own advice, get off his ass;
Quit blaming others and get to work,
Stop being a finger pointing jerk;
Act like a man, not a whimpering wuss,
Who fell asleep on the job and missed his bus.

Russ Vaughn
Posted by Wild Thing at 05:27 PM