July 04, 2010
A Poem Worth Reading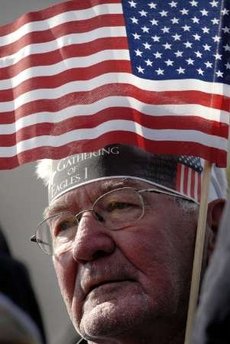 A Poem Worth Reading

He was getting old and paunchy
And his hair was falling fast,
And he sat around the Legion,
Telling stories of the past.
Of a war that he once fought in
And the deeds that he had done,
In his exploits with his buddies;
They were heroes, every one.
And 'tho sometimes to his neighbors
His tales became a joke,
All his buddies listened quietly
For they knew where of he spoke.
But we'll hear his tales no longer,
For ol' Bob has passed away,
And the world's a little poorer
For a Soldier died today.
He won't be mourned by many,
Just his children and his wife.
For he lived an ordinary,
Very quiet sort of life.
He held a job and raised a family,
Going quietly on his way;
And the world won't note his passing,
'Tho a Soldier died today.
When politicians leave this earth,
Their bodies lie in state,
While thousands note their passing,
And proclaim that they were great.
Papers tell of their life stories
From the time that they were young
But the passing of a Soldier
Goes unnoticed, and unsung.
Is the greatest contribution
To the welfare of our land,
Some jerk who breaks his promise
And cons his fellow man?
Or the ordinary fellow
Who in times of war and strife,
Goes off to serve his country
And offers up his life?
The politician's stipend
And the style in which he lives,
Are often disproportionate,
To the service that he gives.
While the ordinary Soldier,
Who offered up his all,
Is paid off with a medal
And perhaps a pension, small.
It is not the politicians/news reporter
With their compromise and ploys,
Who won for us the freedom
That our country now enjoys.
Should you find yourself in danger,
With your enemies at hand,
Would you really want some cop-out,
With his ever waffling stand?
Or would you want a Soldier--
His home, his country, his kin,
Just a common Soldier,
Who would fight until the end.
He was just a common Soldier,
And his ranks are growing thin,
But his presence should remind us
We may need his like again.
For when countries are in conflict,
We find the Soldier's part
Is to clean up all the troubles
That the politicians start.
If we cannot do him honor
While he's here to hear the praise,
Then at least let's give him homage
At the ending of his days.
Perhaps just a simple headline
In the paper that might say:
"OUR COUNTRY IS IN MOURNING,
A SOLDIER DIED TODAY."
Pass On The Patriotism!
YOU can make the difference.
.

Wild Thing's comment........
This is a great poem.

....Thank you Mark for sending this to me.


Mark
3rd Mar.Div. 1st Battalion 9th Marine Regiment
1/9 Marines aka The Walking Dead
VN 66-67


Posted by Wild Thing at 07:50 AM | Comments (5)
September 23, 2007
First Day of Autumn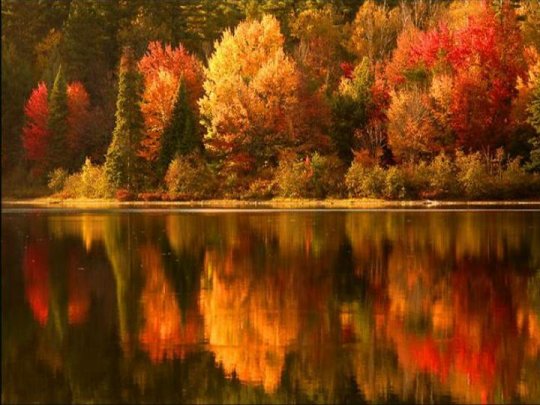 Earth Tone Treasures

Orange tints fade to yellow rust
and cold fall rains pull them down
and the ground carpeted with summer past
its just the same here all over town
summer fled warm times now bust

Crisp crackling leaf piles to jump in,
and wade through in happy moments
in our inner childlike joy long as they last
a vivid gift of the passing season sent
missed until they finally come again

wild thing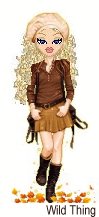 Posted by Wild Thing at 02:55 AM | Comments (18)
August 07, 2007
Poisoned Penns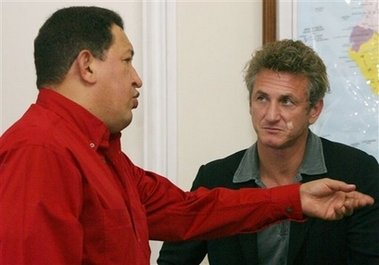 Poisoned Penns

Contributed by Russ Vaughn

It runs like a flood beneath their skins,
In the veins of these left-leaning actors;
From Leo to Sean it seems that all Penns
Can't help but be shrill malefactors.
Leo loved Stalin's world socialist dreams;
Sean too has this love for dictators,
Blind to their cruelty, inhumane schemes,
A trait not uncommon in traitors.

All the world's a stage for Leo's boy;
Sean misses no chance to play lead.
He'll play a tyrant's tomfool toy,
Like his new Venezuelan misdeed.
Actors like Sean, lightweights like him,
Are to tyrants like Chavez but fools;
Fools for the moment, fools on a whim,
History proves them nothing but tools.

Leo the Lefty had a socialist son,
In Hollywood that's a surprise?
Pushing their dogma as innocent fun,
Filling viewers' minds with their lies?
Taking advantage of entertainment skills,
To romanticize their social design,
A hammer and sickle up on Hollywood's hills?
The Poison Penns would call that a sign.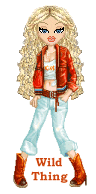 Wild Thing's comment........
Thank you Russ for this poem.
Sean Penn applauded President Hugo Chavez as the Venezuelan leader lambasted the Bush administration and demanded an end to war in Iraq.
Chavez met privately with the 46-year-old actor for two hours Thursday, praising him as being "brave" for urging Americans to impeach President Bush. Sean Penn visiting Chaves, sitting in the front applauding and nodding in agreement.
"In the name of the peoples of the world, President Bush, withdraw the troops from Iraq. Enough already with so much genocide," Chavez said before an auditorium packed with his red-clad supporters.
I wish Penn would stay there, live there and never come back to America!!!!
Posted by Wild Thing at 12:55 AM | Comments (10)
July 22, 2007
"The Involunteers" ~ by Russ Vaughn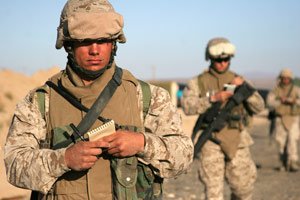 The Involunteers


One thing to me rings loud and clear
Through mainstream media sources:
Libs don't understand, Volunteer,
When it comes to our fighting forces.
Their memories hark to former days,
Dubious deferments due to classes,
Craven cowering in cynical ways,
Just to cover their cowardly asses.

Pony-tailed pundits of treason foregoing,
Now scoff and condemn with derision,
Volunteer warriors, warned and knowing,
Who've made a fateful decision,
Foregoing the comforts liberals love,
That very succor to preserve,
A concept Libs are ignorant of:
To reap benefits, one should serve.

Ever fearful, Libs cower in classrooms,
Proclaiming the due of the masses;
On graves of the brave, toxic mushrooms,
Still cravenly covering their asses.
Preaching, protesting, showing their ire,
Cat-box covering all their worst fears,
Cowardly curs afraid of war's fire,
They're our nation's Involunteers.

I know a truth from mankind's past,
A truth that sure prevails;
Those who fight are those will last,
Throughout all man's travails.
But those making phony excuses,
As false and fearful disguise,
Will feel history's worst abuses,
Enslaved by their cowardly lies.

Russ Vaughn
101st and 82d Airborne
1959-1967
Thank you so much Russ for sending this to me. As always this is another very special poem you have written.
Posted by Wild Thing at 01:47 AM | Comments (6)
June 04, 2006
The "No Right Answer" Game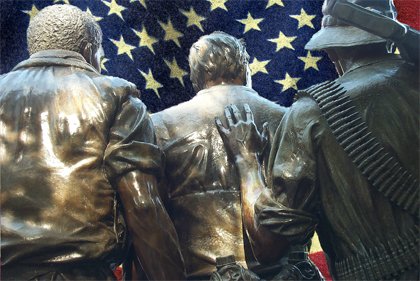 Inspired by " The Wrong Army," by Jeff Edwards, USN, Ret., warrior and novelist

The "No Right Answer" Game

America's forces have won all their wars,
From Revolution to war in Iraq;
And Lefties don't point to the Vietnam War,
Where you stabbed winning troops in the back.
No, the truth is we win; we win time and again;
Done it time after time after time.
Doesn't matter to you, 'cause whatever we do,
We've always somehow dropped the dime.

To Lefties our generals just have to be wrong,
Wrong tactics, wrong weapons, wrong forces;
We're the gang who somehow can never shoot straight,
To hear the mainstream media sources.
Just look at their headlines, view every day's news,
With their blistering barrages of blame.
To warriors out here at the point of the spear,
It's those losers' "No Right Answer," game.

In this lugubrious game loved by Liberal elites,
There's just but one rule to enforce:
Whatever we do, in whatever war,
Must naturally be wrong of course.
There is no right answer, no matter what,
Even when our warriors are winning;
There's always the sly implication we lie,
In the splenetic stories they're spinning.

In peacetime they charge our forces too large
During wartime they squall they're too small;
In peacetime they whine we're spending too much;
But in war, "Where's the armor for all?"
With consummate confidence they know what's best,
Puerile pundits so smug and so smarmy,
Pontificate loud to their Liberal crowd,
That we once again have the wrong Army.

Pick a war, any war, or a period of peace;
Field marshals of the media are spinning;
If generals of journalism are so in the know,
Why are genuine generals winning?
So here at the front, harsh home of the grunt,
We ignore their attempts to defame.
The troops know the score, know what this war's for;
They can stuff their "No Right Answer," game.

SSGT Russ Vaughn
2d Bn, 327th Parachute Infantry Regiment
101st Airborne Division
Vietnam 65-66

Wild Thing's comment......
God bless all our troops! I love this poem and I agree, those like Murtha and the left and ANYONE that does not get that this is the time to stand up for our troops to be supportive of them more then ever can get the hell out of dodge!
Posted by Wild Thing at 01:47 AM | Comments (6)