« Family Of Fallen Soldier Warmed By Letters, Stung By Politicians | Main | Special Rose Parade Float Honors 9/11 Victims »
January 01, 2011
Rose Parade Float Honors President Ronald Reagan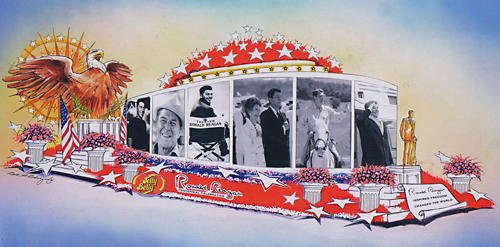 Artist's rendering of Jelly Belly sponsored float celebrating the 100th birthday of Ronald Reagan in the Rose Parade. The float will be accompanied by a military honor guard. Reagan's 100th birthday is February 6.





Rose Parade float honors Ronald Reagan


PASADENA - The centennial celebration of Ronald Reagan's birthday begins New Year's Day, when a float dedicated to the 40th president will make its way down Colorado Boulevard.

The 55-foot-long float is designed by Fiesta of Irwindale. It features a 26-foot-high bald eagle and 11 black-and-white photographs of Reagan, which will be decorated with onion seeds, poppy seeds and crushed sweet rice.

"President Reagan always believed America's best days were ahead. At a time when many Americans look forward to a New Year with a similar optimism and pride, we at the Reagan Foundation are honored to be invited to participate in the 122nd Rose Parade," said Stewart McLaurin, executive director of the Ronald Reagan Presidential Foundation.


The Simi Valley-based Ronald Reagan Presidential Foundation and Library will be in partnership with Jelly Belly as sponsors of the float, officials said.

"Sponsoring the first-ever presidential themed float in the Rose Parade may seem an outside-the-box idea for a presidential library. It is," McLaurin said. "But 2011 is an extraordinarily special year."

The front of the float will feature a replica of the Ronald Reagan statue that stands in the Rotunda of the U.S. Capitol.

The 11 photographs depict Reagan at various stages in his career. Included are photos of Reagan on his horse "El Alamein" Reagan and First Lady Nancy Reagan in the White House, Reagan the movie star and Reagan delivering a speech at the Berlin Wall in which he exhorted Mikhail Gorbachev of the Soviet Union to tear down the Berlin Wall.

Mark Harmsen, a Tournament of Roses volunteer for the past 30 years, said he believes the float marks the first time a president has been honored with an entry.

Presidents that have traveled down Colorado Boulevard include Herbert Hoover, Dwight Eisenhower, Richard Nixon and Gerald Ford.

Although never a grand marshal himself, Reagan once broadcast the parade on radio, Harmsen said. And, in some ways the 40th president was the quintessential Californian.
"That's one of the things that the foundation had in mind," Harmsen said. "His roots were here and the Rose Parade is a present to the country and the world - and a great way to kick off the celebration of the centennial of Reagan's birth in February."



.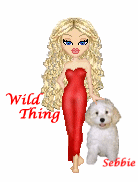 Wild Thing's comment........

Awesome! A float honoring America's greatest President!!

Jelly Belly is co-sponsor of the float. He loved his Jelly Belly's. While he was governor of California, he quit smoking and ate jelly beans to help overcome the cravings. Jelly Belly was a new and very small confectioner that supplied him then, and throughout his presidency. They really are the best.

I hope and pray that the 100th anniversary year of the Gipper's birth blesses our country with a new wave of patriotism and conservatism.


Dumb like a fox, did his version of "Rope a Dope" on the left so many times. Which is why the left still scorns him. He beat them at their own media game by going around the media and right to the American people. Besides his 1987 amnesty deal (nobody's perfect) he was truly the greatest 20th century President. AND he kicked Kadafi's ass to boot.

President Reagan loved his country, her heritage, and her military!! And had GREAT respect for the Office of the President.


There is also this.........Ronald Reagan Stamp Commemorating 100th Anniversary of His Birth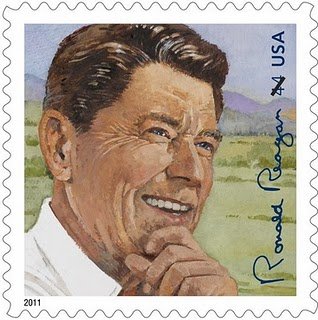 On December 13, 2010, the United States Postal Service unveiled a centennial postage stamp at the Ronald Reagan Presidential Library in Simi Valley, CA in honor of Ronald Reagan's birthday in Tampico, IL on February 6, 1911. It is the third time President Reagan has been honored with a stamp by the USPS.
The stamp is to be released four days after what would have been Ronald Reagan's 100th birthday. Reports are that this will be a special stamp with the 44 cent value replaced with the word "Forever" meaning that the stamp will always maintain first class delivery status regardless of future postal rate increases. This would be fitting for Reagan's handwritten letters to citizens which have been profiled in Dear Americans -- Letters from the Desk of Ronald Reagan was based on over 3,500 handwritten letters from the President to every day Americans. A volume of handwritten correspondence unequaled and all delivered with first class postage!
The stamp was made from a portrait based on a 1985 photograph of Reagan at his "Ranch in the Sky".
Here is a video of the Ronald Reagan Stamp Unveiling - December 13, 2010
This speech he made is one of my many favorites: Whoever did the video also did a great job with it.
"The time has come! For surely the tide is crashing against the shores of this great nation, ever receding the sands of time. A history of greatness waiting to be replenished with the glistening sands of truth! "
"A nation which can prefer disgrace to danger is prepared for a master, and deserves one." Alexander Hamilton
Let's set the record straight. There is no argument over the choice between peace and war, but there is only one guaranteed way you can have peace--and you can have it in the next second--surrender.
Admittedly there is a risk in any course we follow other than this, but every lesson in history tells us that the greater risk lies in appeasement, and this is the specter our well-meaning liberal friends refuse to face--that their policy of accommodation is appeasement, and it gives no choice between peace and war, only between fight and surrender. If we continue to accommodate, continue to back and retreat, eventually we have to face the final demand--the ultimatum. And what then? When Nikita Khrushchev has told his people he knows what our answer will be? He has told them that we are retreating under the pressure of the Cold War, and someday when the time comes to deliver the ultimatum, our surrender will be voluntary because by that time we will have weakened from within spiritually, morally, and economically. He believes this because from our side he has heard voices pleading for "peace at any price" or "better Red than dead," or as one commentator put it, he would rather "live on his knees than die on his feet." And therein lies the road to war, because those voices don't speak for the rest of us. You and I know and do not believe that life is so dear and peace so sweet as to be purchased at the price of chains and slavery. If nothing in life is worth dying for, when did this begin--just in the face of this enemy? Or should Moses have told the children of Israel to live in slavery under the pharaohs? Should Christ have refused the cross? Should the patriots at Concord Bridge have thrown down their guns and refused to fire the shot heard 'round the world? The martyrs of history were not fools, and our honored dead who gave their lives to stop the advance of the Nazis didn't die in vain. Where, then, is the road to peace? Well, it's a simple answer after all.
You and I have the courage to say to our enemies, "There is a price we will not pay." There is a point beyond which they must not advance. This is the meaning in the phrase of Barry Goldwater's "peace through strength." Winston Churchill said that "the destiny of man is not measured by material computation. When great forces are on the move in the world, we learn we are spirits--not animals." And he said, "There is something going on in time and space, and beyond time and space, which, whether we like it or not, spells duty."
You and I have a rendezvous with destiny. We will preserve for our children this, the last best hope of man on Earth, or we will sentence them to take the last step into a thousand years of darkness.
Posted by Wild Thing at January 1, 2011 08:50 AM
---
Comments
I am very glad to see this. At least some people in California remember and respect their fine governor and president. Ronald Reagan was the greatest president in my lifetime. He, along with Margaret Thatcher and Pope John Paul should have received the Nobel peace prize for defeating soviet communism.
Posted by: TomR,armed in Texas at January 1, 2011 11:14 AM
---
Couldn't agree with you more Tom.
He was the greatest President, of my lifetime also. He guided this Country back from the abyss, where that idiot Carter took us.
He was a great because he knew what this Country was about and he was a true patriot, all his life. He Believed in the strength of the people to get things done rather than relying on the Government.
Posted by: Sean at January 1, 2011 01:31 PM
---
Tom, AMEN to all you said.
Posted by: Wild Thing at January 1, 2011 05:21 PM
---
Sean, well said.
Thank God we all lived during his presidency. I would hate to only have heard about it years from now and never know the real difference in what he was and the other presidents we have had especially the one now....augh.
Posted by: Wild Thing at January 1, 2011 05:24 PM
---
Posted by: BobF at January 2, 2011 09:56 AM
---