« Rose Parade Float Honors President Ronald Reagan | Main | The Two Talking Cats ~ This is so cute! »
January 01, 2011
Special Rose Parade Float Honors 9/11 Victims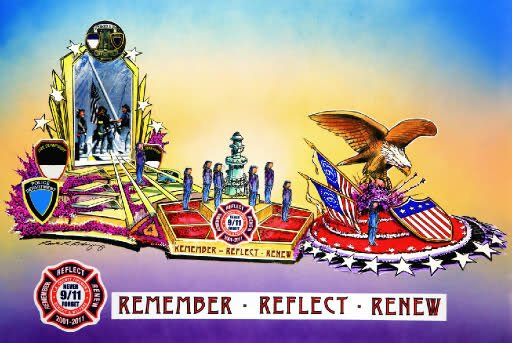 Thousands of volunteers were hard at work in Pasadena and Irwindale getting the floats ready for the 122nd Rose Parade Presented by Honda, but one float in particular is much more than just a float.
"It's a dream come true for me. This is something I've wanted to do for nine years," said Jerry Thomsen, a firefighter specialist.

When America was attacked more than nine years ago, a group of Los Angeles firefighters headed to Ground Zero to help, and Thomsen was among them. Now he and his L.A. firefighting buddies are honoring their fallen comrades in a uniquely Californian way.
"I've heard 'never forget' for a long time, and I think we've forgotten about our heroes that we lost," he said.

The front of the float honors the hijacked United 93 flight. The middle commemorates the Pentagon. The rear depicts New York City.
The float will be lined with roses, each of them with a different 9/11 victim's name on it. A fire hydrant found in the Ground Zero rubble will also be on the float.
Merill Mielke, who has worked on floats for 38 years, says this one is most special.
"It has a lot more meaning behind it. It's not just a beautiful thing. It's really bringing memories back," she said.

For Thomsen, the float's message, "Remember, Reflect, Renew," fits perfectly with the overall Rose Parade.
There was jubilation as hundreds of high school musicians from Pennsylvania arrived at the Continental Airlines terminal at LAX on Tuesday night.
In particular, they are members of the Downingtown East High School band, one of only a dozen marching bands in the country selected to perform in Saturday's Tournament of Roses Parade.
The 350 band members were bused to Newark on Monday where they were scheduled to catch their flights, but the blizzard conditions caused cancellations and almost shattered the hopes of the students. That was until the airline came through and rebooked them on flights this Tuesday evening.
"It's unbelievable to come to California and perform in front of 40 rows of people," said band member Ashley Brown.

The theme of the parade is "'Building Dreams, Friendships and Memories."
There is a California Firefighters Honor Guard Pipes and Drums which will march in the parade.
.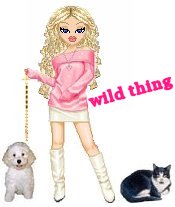 Wild Thing's comment.......
This year 2011 will be the 10 yrs. anniversary of 9/11.
Here is the video preview of 9/11 float: Excellent video about the float.

Thanks goodness somebody's doing something. It's hard to imagine that it's been 10 years. And the sickening thought it only took 8 years to put Barack Hussein Obama in the White House. UNFORGIVABLE! It's so unbelievable how many forgot.
Posted by Wild Thing at January 1, 2011 08:55 AM
---
Comments
Using 9-11 for something as trivial as a parade float seems inappropriate. A parade is a lightweight meaningless entertainment, using 9-11 in this way is pretty flippant and misguided.
Posted by: Findlay at January 1, 2011 01:03 PM
---
Findlay, I am sorry but I disagree with you.
I let your comment through since you had not already been approved to comment. Because I wanted to share with you why I disagree with what you feel. I understand what you are saying, I lost 11 very dear friends on 9-11. Each one was a firefighter and they will never be forgotten.

Regarding parades being lightweight and meaningless entertainment , flippant and misguided to do this with 9-11 is what I disgree with.
You see we have parades on Veterans Day, there were also parades after WW11 to welcome home our troops and to show people cared and acknowledged the sacrifices. Parades are used as a form of showing expression and and IMO to show respect as well as in Veterans Day Parades. This is the 10th anniversary of 9-11 and this country has shown they HAVE forgotten how they felt on 9-11 by their voting in a man that has never shown respect for our country and not only that has friends that think more of dictators and terrorists then they do of the American people and our beloved America.
Having a float to show respect and to remind people never to forget especially on the 10th anniversary year of 9-11 is not out of line but again imo a much needed thing to do.
Posted by: Wild Thing at January 1, 2011 05:19 PM
---
...And then the Rose Bowl was won by TCU...Who? Yes thats right a small school that acommplishes little over it's history but in the Rose bowl they rose to the occasion and beat a Powerhouse from the Big 10. Which should make any American Proud.
The little guy can do it when he is left alone without government interferrence.

Posted by: Mark at January 2, 2011 07:35 AM
---