« Mayor Bloomberg Spearheaded Drive for Ground Zero Mosque Approval | Main | Rose Parade Float Honors President Ronald Reagan »
January 01, 2011
Family Of Fallen Soldier Warmed By Letters, Stung By Politicians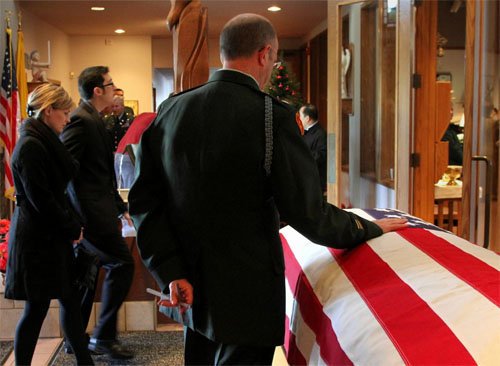 Retired Lt. Col. Patrick Collins places his hand on his son Cpl. Sean Collins' coffin before the memorial service
Family of fallen soldier warmed by letters, stung by politicians ( OBAMA and Sen. Maria Cantwell, D-Wash.)
The parents of a Yelm soldier killed in Afghanistan earlier this month have received cards from friends and strangers expressing condolences, and they're grateful for the support. "As a father of someone killed, it is overwhelming," said Lt. Col. Patrick Collins (Ret.).
His son, Sgt. Sean Collins, was buried Wednesday at the Tahoma National Cemetery.
Among that outpouring of empathy, two politicians inadvertently stung the family.
One slight came in a letter of condolences the family received from the office of Sen. Maria Cantwell, D-Wash.
At first, the Collins family appreciated that Cantwell had taken the time to send a letter acknowledging their son's sacrifice. But the letter misidentified the slain soldier in its last paragraph, which reads:
"Again, please accept my warmest condolences. May your memories of Bryn and the knowledge that he made a positive impact on the lives of so many serve as a source of comfort to you during this time of sorrow."
The letter was dated Dec. 20 and delivered to Sean Collins' mother, Linda Collins of Yelm. The error conveyed to the family that Cantwell had sent a form letter.

"They couldn't even proofread it," she said. "I'm sure if her son had died, she would've at least wanted his name spelled correctly. That's just sloppy staff work, that's an embarrassment," Patrick Collins said. He has not yet called Cantwell's office to ask for an apology.
Cantwell's office is on short staffing for the holiday week and has not replied to an email to its press staff. The Collins family was in touch with Cantwell's office in the capital Thursday, and was told Cantwell's staffers were looking into the mistake.
The other slight came when Patrick Collins called the White House and asked to have President Obama call his ex-wife, Linda, to talk about their son. He was told that Obama did not regularly make phone calls to the families of fallen soldiers.
Later, Patrick Collins read a story about Obama's phone call to Philadelphia Eagles owner Jeffery Lurie. Obama reportedly praised Lurie for giving quarterback Michael Vick a second chance to play football after serving time in prison for running a dog fighting ring.
"That burns," Patrick Collins said Thursday. "Any soldier that gets killed in action, you'd think the president would be calling someone in the family. There's no politics in it. His predecessor did it," Collins said
.
Sgt. Collins died with 5 of his fellow soldiers on December 12 in a suicide attack on their Kandahar province combat outpost.

Muffled sobbing quickly followed the first melancholy notes of music as they rang out for Sgt. Sean M. Collins. The fallen soldier's father, Lt. Col. Patrick Collins (Ret.), grimaced as he fought back his own tears. He stood at attention by a casket while the bugle played taps, holding a final salute to the son he called a hero.
The 2004 Yelm High School graduate volunteered for his last tour with the 101st Airborne Division out of Fort Campbell, Ky. It was his third combat deployment in five years.
"My son was a hero," said Patrick Collins, who served in Afghanistan in 2004 and 2005. "He could have stayed at Campbell. He had dwell time. He was a team leader and he wanted to go with his team."

"Sean wanted to be in the Army since he was 3," said his brother, Travis.

The day the soldiers died, Dec. 12, 2010, "will be a day no soldier in Bravo Company will ever forget," said Capt. David Yu, according to a report from the memorial that appeared in Stars and Stripes. Yu was the commander of Collins' company in the 2nd Battalion, 502nd Infantry Regiment, 2nd Brigade Combat Team.
Brig. Gen. Kurt Story presided over Sgt. Collins funeral today. A seven-soldier honor guard handles the services with precision. It fired a 21-gun salute, stood by while the bugler played Taps and folded the flag over Collins' casket with sharp, tight angles.
Story handed the flag to Linda Collins, as well as a separate flag to Patrick Collins.
"Your son will be missed, but he will never be forgotten," Story told them.
After the military honors, Collins' family talked with guests while the cemetery prepared a grave for his ashes. The mourners made one more caravan to the site and gathered in a circle around the grave while his urn was laid into the ground.

.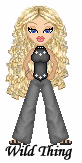 Wild Thing's comment.......

First honestly I would not want to hear from either of these to democrat freaks if I had a son that was killed in the war. But I DO understand the point, it is supposed to be done or should be by their local politician and also if Obama was like Bush did there would be a phone call.
These dems in power are the worst form of humanity.
It is not an excuse if her staff made a misake or not it is still UNACCETABLE!
Remember the Ft Hood shooting, where GW Bush and his wife Laura drove to Hood to see the wounded. Several hours later, the White House called and asked the Bushes to leave. A couple of days later, Obama showed up for a speech which began with shout outs.
Posted by Wild Thing at January 1, 2011 08:48 AM
---
Comments
Shallow effort by a shallow politician. I don't know how many servicepeople have been killed from Rep Cantwell's district, but surely not so many that she could not acknowledge each with a handwritten, correct letter to the family.
As for obama. He is a sorry assed racist, Marxist muslim. I would expect him to value the flawed character of a fellow Black criminal over the sacrifice of a soldier. obama will be the greatest blight on the history of America. Piss on obama!
Posted by: TomR,armed in Texas at January 1, 2011 11:07 AM
---
Tom, LOVE your comment and so true.
Posted by: Wild Thing at January 1, 2011 05:28 PM
---