« Actor Peter Graves Dies at 83 | Main | Wyoming State Plan Fines Feds $2,000 Over Gun Rules »
March 15, 2010
House Democrats Post The ObamaCare Bill for Budget Markup Monday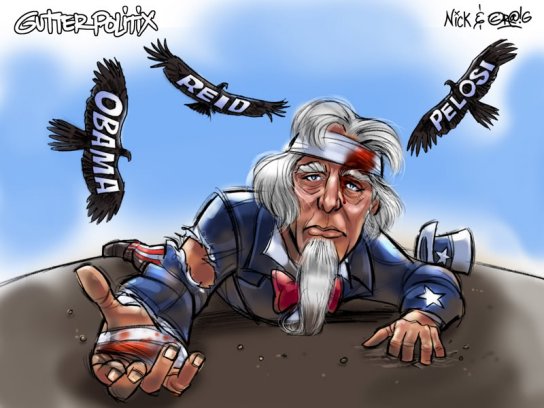 White House announced today that the kickbacks and bribes will stay in the bill.

The White House is backing down from trying to get senators to remove some special deals from the health care bill.
Senior adviser David Axelrod says the White House only objected to deals that affected just one state, such one involving Medicaid and Nebraska that's being cut from the legislation.
Axelrod says that deals that could apply to more than one state are OK.
That means deals pushed by senators from Montana and Connecticut would be fine because they're written in such a way that other states could potentially qualify.
It's a change from a couple days ago when press secretary Robert Gibbs singled out the Montana and Connecticut deals and said President Barack Obama wanted them gone.
House Democrats release bill for Budget markup Monday
The Hill
"House Democrats on Sunday night set into motion what they hope will be the final steps on healthcare reform. The House Budget Committee on Sunday evening released text that will serve as the base legislation for the changes the House will seek to the Senate bill this week. Specifically, the Budget committee released a 2,309-page effort that had been previously recommended to the Education and Labor Committee and Ways and Means Committee last year. The measure posted online does not include the substantive changes to the Senate healthcare bill that House Democrats will seek. Those changes will be offered during the markups in the Budget and Rules committees, which the budget panel hopes to begin on Monday afternoon. The House is expected to approve the Senate's healthcare bill along with the package of changes. The Senate would then be expected to approve the package of changes under budget reconciliation rules
.
The Obama / Pelosi / Senate health care bill has been posted online!
MARCH 2010 Obamacare bill
http://budget.house.gov/doc-library/FY2010/03.15.2010_reconciliation2010.PDF
It is 2,309 pages long and includes language to federalize student loans! There is no H.R. number yet, and the bill begins with this language: To provide for reconciliation pursuant to section 202 of the concurrent resolution on the budget for fiscal year 2010
There are three sections talking about student loans.
pg 916 line 17
pg 1949 line 4
pg 2192 line 1and continues for many pages
More of the The takeover of student loans begins on page 2098.
These people are completely insane, this is a mad grab for power.
There might be more but this is what has been found so far.
And there is this:
Page 1897:
Sum:
The Secretary can withhold Federal Funds to all Medical establishments if they so deem.
- each year the federal government percentage to the states decreases, so that eventually the states pay for all medical applications while the federal government contains overall control.
If you are not liked, you will not be served. You must be a Registered Dumbocrat or you will not get service.
.

Page 2084:
(3) BEHAVIORAL CHANGE COMPONENT.—A behavioral change component which provides for altering employee lifestyles to encourage healthy living through counseling, seminars, on-line programs, or self-help materials which provide technical assistance
2084
•J. 55–345
1 and problem solving skills. such component may in
clude programs relating to—
3 (A) tobacco use;
4 (B) obesity;
5 (C) stress management;
6 (D) physical fitness;
7 (E) nutrition;
8 (F) substance abuse;
9 (G) depression; and
10 (H) mental health promotion (including
11 anxiety).

.
Page 1971 ''Placing health professionals in regions experiencing significant changes in the cultural and linguistic demographics of populations, including communities along the United States-Mexico border."
.

P. 2261
(e) CRITERION USED IN DETERMINING AMOUNT OF AWARD.—In determining the amount to award a State
under section 402(a), the Secretary shall take into account—
(1) the proportion of children under age 5 from low-income families in the State relative to such pro-portion in other States; and
(2) the State plan and capacity to implement the criteria described in paragraphs (3) and (4) of subsection (d).
P. 2265
(1) IN GENERAL.—Beginning with the second fiscal year of a grant under section 402(a), a State with respect to which the Secretary certifies that the State has made sufficient progress in implementing the requirements of the grant may apply to the Sec- retary to reserve up to 25 percent of the amount of the grant to expand access for children from low-in- come families to the highest quality early learning programs that offer full-day services,
This is FAR MORE than college loans, this is a huge intrusion of the federal government into education at all levels, all ages.
This bill essentially subordinates state control over education to the federal government, to the extent that states desire to get the funding which has been appropriated from its citizens by the force of the federal government.


.
And it appears they've decided to go all-in on this one. Included in the bill appears to be the "public option" that was removed from the Senate bill. From page 1167 of the bill:
from Red State blog
Subtitle B—Public Health Insurance Option
SEC. 221. ESTABLISHMENT AND ADMINISTRATION OF A PUBLIC HEALTH INSURANCE OPTION AS AN EXCHANGE-QUALIFIED HEALTH BENEFITS PLAN.
(a) ESTABLISHMENT.—For years beginning with Y1, the Secretary of Health and Human Services (in this subtitle referred to as the ''Secretary'') shall provide for the offering of an Exchange-participating health benefits plan (in this subdivision referred to as the ''public health insurance option'') that ensures choice, competition, and stability of affordable, high quality coverage throughout the United States in accordance with this subtitle. In designing the option, the Secretary's primary responsibility is to create a low-cost plan without compromising quality or access to care

.
A small taste for you — the table of contents:
To provide for reconciliation pursuant to section 202 of the concurrent resolution on the budget for fiscal year 2010.
Be it enacted by the Senate and House of Representatives of the United States of America in Congress assembled,
SECTION 1. SHORT TITLE.
This Act may be cited as the ''Reconciliation Act of 2010''.
SEC. 2. TABLE OF CONTENTS.
The table of divisions is as follows:
DIVISION I—HOUSE COMMITTEE ON WAYS AND MEANS: HEALTH CARE REFORM
DIVISION II—HOUSE COMMITTEE ON EDUCATION AND LABOR: HEALTH CARE REFORM
DIVISION III—HOUSE COMMITTEE ON EDUCATION AND LABOR: INVESTING IN EDUCATION
DIVISION I—COMMITTEE ON WAYS AND MEANS: HEALTH CARE REFORM
SEC. 1. SHORT TITLE; TABLE OF SUBDIVISIONS, TITLES, AND SUBTITLES.
(a) SHORTTITLE.—This division may be cited as the ''America's Affordable Health Choices Act of 2009''.
(b) TABLE OF SUBDIVISIONS, TITLES, AND SUB-TITLES.—This division is divided into subdivisions, titles, and subtitles as follows:
SUBDIVISION A—AFFORDABLE HEALTH CARE CHOICES
Title I—Protections and Standards for Qualified Health Benefits Plans
Subtitle A—General Standards
Subtitle B—Standards Guaranteeing Access to Affordable Coverage
Subtitle C—Standards Guaranteeing Access to Essential Benefits
Subtitle D—Additional Consumer Protections
Subtitle E—Governance
Subtitle F—Relation to other requirements; Miscellaneous
Subtitle G—Early Investments
Title II—Health Insurance Exchange and Related Provisions
Subtitle A—Health Insurance Exchange
Subtitle B—Public health insurance option
Subtitle C—Individual Affordability Credits
Title III—Shared responsibility
Subtitle A—Individual responsibility
Subtitle B—Employer Responsibility
Title IV—Amendments to Internal Revenue Code of 1986
Subtitle A—Shared responsibility
Subtitle B—Credit for small business employee health coverage expenses
Subtitle C—Disclosures to carry out health insurance exchange subsidies
Subtitle D—Other revenue provisions
SUBDIVISION B—MEDICARE AND MEDICAID IMPROVEMENTS
Title I—Improving Health Care Value
Subtitle A—Provisions related to Medicare part A
Subtitle B—Provisions Related to Part B
Subtitle C—Provisions Related to Medicare Parts A and B
Subtitle D—Medicare Advantage Reforms
Subtitle E—Improvements to Medicare Part D
Subtitle F—Medicare Rural Access Protections
Title II—Medicare Beneficiary Improvements
Subtitle A—Improving and Simplifying Financial Assistance for Low Income
Medicare Beneficiaries
Subtitle B—Reducing Health Disparities
Subtitle C—Miscellaneous Improvements
Title III—Promoting Primary Care, Mental Health Services, and Coordinated
Care
Title IV—Quality
Subtitle A—Comparative Effectiveness Research
Subtitle B—Nursing Home Transparency
Subtitle C—Quality Measurements
Subtitle D—Physician Payments Sunshine Provision
Subtitle E—Public Reporting on Health Care-Associated Infections
Title V—Medicare Graduate Medical Education
Title VI—Program Integrity
Subtitle A—Increased funding to fight waste, fraud, and abuse
Subtitle B—Enhanced penalties for fraud and abuse
Subtitle C—Enhanced Program and Provider Protections
Subtitle D—Access to Information Needed to Prevent Fraud, Waste, and Abuse
Title VII—Medicaid and CHIP
Subtitle A—Medicaid and Health Reform
Subtitle B—Prevention
Subtitle C—Access
Subtitle D—Coverage
Subtitle E—Financing
Subtitle F—Waste, Fraud, and Abuse
Subtitle G—Puerto Rico and the Territories
Subtitle H—Miscellaneous
Title VIII—Revenue-related provisions
Title IX—Miscellaneous Provisions
SUBDIVISION C—PUBLIC HEALTH AND WORKFORCE DEVELOPMENT
Title I—Community Health Centers
Title II—Workforce
Subtitle A—Primary care workforce
Subtitle B—Nursing workforce
Subtitle C—Public Health Workforce
Subtitle D—Adapting workforce to evolving health system needs
Title III—Prevention and Wellness
Title IV—Quality and Surveillance
Title V—Other provisions
Subtitle A—Drug discount for rural and other hospitals
Subtitle B—School-Based health clinics
Subtitle C—National medical device registry
Subtitle D—Grants for comprehensive programs To provide education to nurses
and create a pipeline to nursing
Subtitle E—States failing To adhere to certain employment obligations
DIVISION III—HOUSE COMMITTEE ON EDUCATION AND LABOR: INVESTING IN EDUCATION
SECTION 1. SHORT TITLE.
This division may be cited as the ''Student Aid and Fiscal Responsibility Act of 2009''.
SEC. 2. TABLE OF CONTENTS.
The table of contents is as follows:
Sec. 1. Short title.
Sec. 2. Table of contents.
Sec. 3. References.
TITLE I—INVESTING IN STUDENTS AND FAMILIES
Subtitle A—Increasing College Access and Completion
Sec. 101. Federal Pell Grants.
Sec. 102. College Access and Completion Innovation Fund.
Sec. 103. Investment in historically Black colleges and universities and other
minority-serving institutions.
Sec. 104. Investment in cooperative education.
Sec. 105. Loan forgiveness for servicemembers activated for duty.
Sec. 106. Veterans Educational Equity Supplemental Grant Program.
Subtitle B—Student Financial Aid Form Simplification
Sec. 121. General effective date.
Sec. 122. Treatment of assets in need analysis.
Sec. 123. Changes to total income; aid eligibility.
TITLE II—STUDENT LOAN REFORM
Subtitle A—Stafford Loan Reform
Sec. 201. Federal Family Education Loan appropriations.
Sec. 202. Scope and duration of Federal loan insurance program.
Sec. 203. Applicable interest rates.
Sec. 204. Federal payments to reduce student interest costs.
Sec. 205. Federal PLUS Loans.
Sec. 206. Federal Consolidation Loan.
Sec. 207. Unsubsidized Stafford loans for middle-income borrowers.
Sec. 208. Loan repayment for civil legal assistance attorneys.
Sec. 209. Special allowances.
Sec. 210. Revised special allowance calculation.
Sec. 211. Origination of Direct Loans at institutions located outside the United
States.
Sec. 212. Agreements with institutions.
Sec. 213. Terms and conditions of loans.
Sec. 214. Contracts.
Sec. 215. Interest rates.
Subtitle B—Perkins Loan Reform
Sec. 221. Federal Direct Perkins Loans terms and conditions.
Sec. 222. Authorization of appropriations.
Sec. 223. Allocation of funds.
Sec. 224. Federal Direct Perkins Loan allocation.
Sec. 225. Agreements with institutions of higher education.
Sec. 226. Student loan information by eligible institutions.
Sec. 227. Terms of loans.
Sec. 228. Distribution of assets from student loan funds.
Sec. 229. Implementation of non-title IV revenue requirement.
Sec. 230. Administrative expenses.
TITLE III—MODERNIZATION, RENOVATION, AND REPAIR
Subtitle A—Elementary and Secondary Education
Sec. 301. Definitions.
CHAPTER1—GRANTS FOR MODERNIZATION, RENOVATION, O REPAIR OF PUBLICSCHOOLFACILITIES
Sec. 311. Purpose.
Sec. 312. Allocation of funds.
Sec. 313. Allowable uses of funds.
Sec. 314. Priority projects.
CHAPTER2—SUPPLEMENTAL GRANTS FOR LOUISIANA, MISSISSIPPI, AND ALABAMA
Sec. 321. Purpose.
Sec. 322. Allocation to local educational agencies.
Sec. 323. Allowable uses of funds.
CHAPTER3—GENERAL PROVISIONS
Sec. 331. Impermissible uses of funds.
Sec. 332. Supplement, not supplant.
Sec. 333. Prohibition regarding State aid.
Sec. 334. Maintenance of effort.
Sec. 335. Special rule on contracting.
Sec. 336. Use of American iron, steel, and manufactured goods.
Sec. 337. Labor standards.
Sec. 338. Charter schools.
Sec. 339. Green schools.
Sec. 340. Reporting.
Sec. 341. Special rules.
Sec. 342. Promotion of employment experiences.
Sec. 343. Advisory Council on Green, High-Performing Public School Facilities.
Sec. 344. Education regarding projects.
Sec. 345. Availability of funds.
Subtitle B—Higher Education
Sec. 351. Federal assistance for community college modernization and construc-
tion.
TITLE IV—EARLY LEARNING CHALLENGE FUND
Sec. 401. Purpose.
Sec. 402. Programs authorized.
Sec. 403. Quality pathways grants.
Sec. 404. Development grants.
Sec. 405. Research and evaluation.
Sec. 406. Reporting requirements.
Sec. 407. Construction.
Sec. 408. Definitions.
Sec. 409. Availability of funds.
TITLE V—AMERICAN GRADUATION INITIATIVE
Sec. 501. Authorization and appropriation.
Sec. 502. Definitions; grant priority.
Sec. 503. Grants to eligible entities for community college reform.
Sec. 504. Grants to eligible States for community college programs.
Sec. 505. National activities.

.


Wild Thing's comment........
This whole thing is a travesty and a monstrosity. If and when they do put this into action. This is an absolute DECLARATION OF WAR from the obama administration on the American People.

GOP Rep. Paul Ryan warned last week of the Dems' strategy ramming this "shell" HC Bill through committee tomorrow. The budget committee approves the shell, sends it to the rules committee, then strips out the language and stuffs the actual reconciliation changes into the bill. So that means that what they have posted online is the shell the outer container of what they will add to etc.
Posted by Wild Thing at March 15, 2010 05:47 AM
---
Comments
Now we know why Osama Obama read the Muslim authored book The Post American World. This is his start to post America and the SOB and his tribe of cronies should be tarred, feathered and run out of town.
Posted by: Bob A at March 15, 2010 09:23 AM
---
There is nothing good in this bill for honest freedom loving Americans. This is a massive socialist program. It is a redistribution of the wealth of freedom from the individual citizen to the collective Federal govt.
Posted by: TomR at March 15, 2010 10:40 AM
---
Health care is one thing, but how about a complete re-do, not the Obomba
Crapola.. First and foremost it's Jobs Stupid and get our manufacturing
Going again. I for one am tired as hell of buying S*** from china.. Put
America back to work and put one term Obomba out of Office !!

Posted by: Gator at March 15, 2010 01:21 PM
---
This health care bill when doctors are forced to live on or near the border. There will be a mass exodus from the profession. Since when does the government tell some private citizen where he can and cannot work. Also if this piece of crap passes there will be a signifant drop in Specialist for basically the same reason. All the innovative procedures...? We can kiss them good bye. Nothing will be the same and if you get to see a doctor he's probably related to you.
Posted by: Mark at March 15, 2010 04:43 PM
---
Bob A., well said my friend.
Posted by: Wild Thing at March 15, 2010 06:34 PM
---
Tom, your right. I looked for anything that would even resemble something like health insurance, it is all baloney, all BS and total control and taxing.
Posted by: Wild Thing at March 15, 2010 06:36 PM
---
Gator, DITTO all you said.
Posted by: Wild Thing at March 15, 2010 06:37 PM
---
Mark, thanks for that about the borders. Your right and about the other too, fewer and fewer specialists will enter the field of medicine. What a mess and so anti-American the whole thing.
Posted by: Wild Thing at March 15, 2010 06:40 PM
---