« To All Democrats From The Marines! | Main | A Little Humor Break »
March 30, 2009
Obama's Deck Stacked in Billed 'open' Forum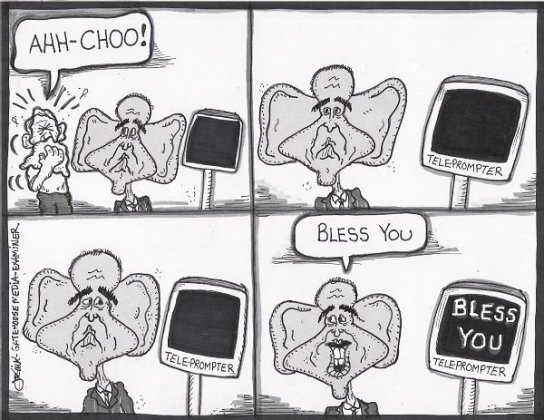 .
Obama's deck stacked in billed 'open' forum
Obama's deck stacked in billed 'open' forum President picks campaign supporters to ask questions at 'online' town hall Barack Obama speaking at Open for Questions In an event billed as an opportunity for the American people to ask questions of an "open" and "transparent"
administration, the only fully identified inquirers plucked from the audience, it turns out, were Obama campaign supporters.
At last week's "Open for Questions" forum, the full transcript and video of which is posted on the White House website, Obama answered several questions selected from a reported 100,000 queries posted online.
He also took a handful of questions, in town hall fashion, from those in attendance at the event.
But according to a Washington Post report, those audience members the president chose included "a member of the pro-Obama Service Employees International Union, a member of the Democratic National Committee who campaigned for Obama among Hispanics during the primary;
Obama invited six audience members to pose questions.
The first questioner, named Ellie, wasn't fully identified on the White House transcript of the event. The other five, however, were people later pegged as Obama campaign backers.
In the week leading up to the Open for Questions forum, Obama released a promotional video on YouTube in which he said, "One of my priorities as president is opening the White House to the American people, so that folks can understand what we're up to."
White House Press Secretary Robert Gibbs told the Post that Obama has said, "I think it's important to engage your critics ... because not only will you occasionally change their mind but, more importantly, sometimes they will change your mind."
Those the president engaged, however, included Sergio Salmeron, who told the Post he had worked as a canvasser for the campaign, as well as working with voter registration and translation of campaign materials.
Salmeron told the Post he was invited to Open for Questions by a fellow worker at Organizing for America, the volunteer coordination effort with the homepage www.barackobama.com.
Questioner Carlos Del Toro thanked the president "for all the efforts that you and your administration [have] done on behalf of veterans and also on behalf of small businesses."
Del Toro also ran as a Democratic candidate for the Virginia Legislature, donated over $2,700 to Democrat candidates in 2008, and endorsed Obama for election in the Fredericksburg Free Lance-Star.


Wild Thing's comment..........
Obama is such a LIAR! He can't even be honest when it comes to those asking questions.
I heard on Sunday morning a women in the press and I wish I could get her quote she was so awesome, she said a lot of the press is getting fed up with how Obama is treating them. She went on to say that the press is supposed to ask questions ( LOL they didn't want to when he ran for president but now they say they do want to) and they Obama won't let them. That no other president in history has controlled the press like Obama has been doing. Those are some of the things she said and she was not a happy camper.
Well they wanted him, they knew he could only speak with a teleprompter and yet they kept going on and on into insanity what a great speaker he was.

....Thank you Mark for sending this to me.

Mark
3rd Mar.Div. 1st Battalion 9th Marine Regiment
1/9 Marines aka The Walking Dead
VN 66-67


Posted by Wild Thing at March 30, 2009 07:45 AM
---
Comments
Gypsies, Tramps and thieves...that fits. That 'town hall' was so phony, yet he stuttered even through that.TOTUS must've been on a break.
Posted by: Mark at March 30, 2009 12:26 PM
---
If he didn't know it before, then Obama must have picked this up from Hillary. The Dems are so phony that they are overly phony. They are like having to sit through a bad comedy.
Posted by: TomR at March 30, 2009 12:36 PM
---
Mark, and yet people that voted for him probably
sit on the edge of their seats holding their breath
so see what he will say. They will pay just like
we will and they will wonder what happened.
Posted by: Wild Thing at March 30, 2009 07:45 PM
---
Tom, haha they sure are. "They are like
having to sit through a bad comedy."
What gets me is how obvious it is all of
us and yet not to so many that worship
at his feet. They just can't see it.
Posted by: Wild Thing at March 30, 2009 07:57 PM
---