« Mark Levin on Explosive CNN Benghazi Report: "It's Iran-Contra Times a Thousand" | Main | CNN Benghazi Bombshell: CIA Engaging in "Unprecedented" Intimidation of Benghazi Operatives to Keep them Silent about what Happened »
August 02, 2013
Sickest Idea Yet! Smithsonian Wants Trayvon Martin's Hoodie to Display in Museum

Smithsonian Wants Trayvon Martin's Hoodie to Display in Museum
The Director of the National Museum of African American History and Culture at the Smithsonian wants to acquire the piece for its collection.
The hooded sweatshirt Trayvon Martin wore the night George Zimmerman shot him to death could end up on display at the Smithsonian Institution.
The shirt became a powerful symbol of the case after Zimmerman described Martin as wearing a "hoodie" the night he killed the teen, claiming self-defense. Protestors across the country wore hoodies in support of Martin as they called for Zimmerman's arrest, prosecution and conviction.
The hoodie is now stored with other evidence from the case at the U.S. Department of Justice, which has opened an investigation into whether Zimmerman violated Martin's civil rights.
But the power and symbolism of the hoodie could be available for legions of visitors to an iconic Washington, D.C., museum.
The director of a new branch of the Smithsonian, the National Museum of African American History and Culture, told the Washington Post he would like the museum to acquire the piece of history for its permanent collection.
"It became the symbolic way to talk about the Trayvon Martin case," Lonnie Bunch told the Post. "It's rare that you get one artifact that really becomes the symbol.
"Because it's such a symbol, it would allow you to talk about race in the age of Obama."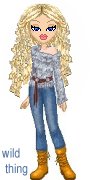 Wild Thing's comment.........

This is so disgusting, what on earth has happened to our country.
Posted by Wild Thing at August 2, 2013 12:47 AM
---