« Hussein Obama Has More Bad Poll News | Main | Obama Criticizes and Mocks Tea Parties and FOX ( Video) »
April 29, 2009
L/Cpl Amy Thomas First British Woman In Frontline Combat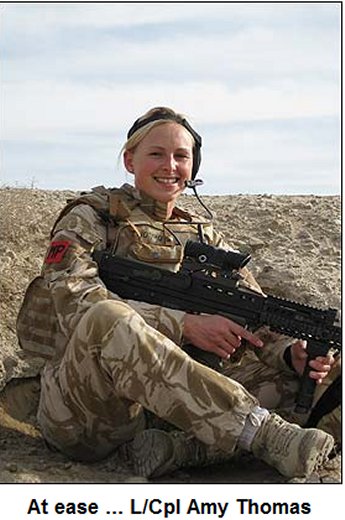 Helmand Heroine:
A woman soldier believed to be the first British female to see frontline combat has told how she fired on a Taliban fighter in a day-long battle.
L/Cpl Amy Thomas, 20, was serving with Royal Marine Commandos in Afghanistan's Helmand province hellhole.
She loosed off a burst of shots with her SA80 rifle after being flown into a notorious hotspot with comrades.
She said: "As soon as we left the helicopters the company came under fire and then it was non-stop.
"There were loads of Taliban in the area. I identified one of them running with a weapon and indicated him to the lads. They didn't see him so I took the shot. I don't know whether I hit or killed him. It was the only time I opened fire on the Taliban."
Amy, a Royal Military Policewoman, had been attached to 42 Commando — her role was to help gather evidence of terrorism and frisk women suspects.
But she ended up going on highly dangerous missions during her two-month stint.
Women cannot join the Marines or infantry regiments so it was unprecedented for one to be in combat. Amy, from Port Talbot, South Wales, completed a six-month tour of Afghanistan on Saturday.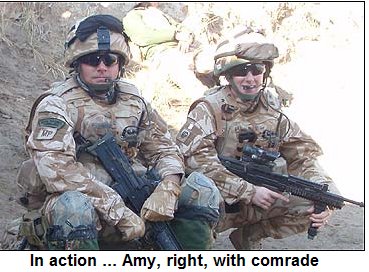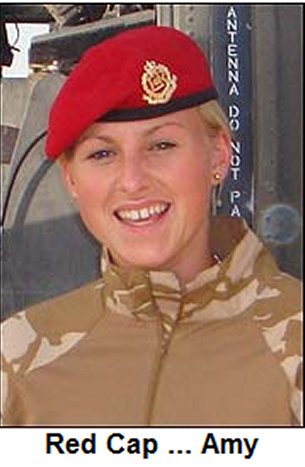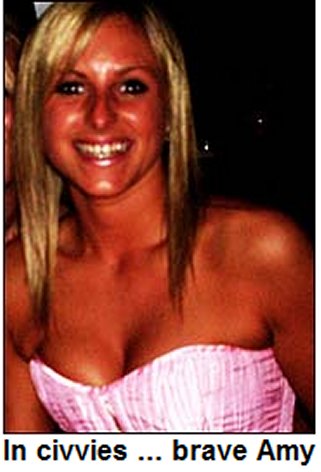 She was the only female to serve with the 150 battle-hardened Marines throughout the two-month stretch.
She said: "I just got on with it because you have to.
"At first I thought I wouldn't be able to because I'm quite a girlie girl but once I was out, the training kicked in. The Marines did not treat me any differently as a girl and I felt like one of the lads when I was out with them."
During part of her two months she was joined by one other woman from the RMP and a further six were attached to other regiments.
Major Dave Bradley, the officer commanding Amy's unit, 114 Provost Company, said: "More and more commanders are requesting female RMP support.
"With most operations involving interaction with the locals, showing respect for traditions and cultures is paramount, with the treatment of females central to this."
Amy said: "I'm happy I got to work with the Marines.
"They are easy to get on with and some I would now count as very good friends."

Wild Thing's comment.......
I love it, what a great story. God bless L/Cpl Amy Thomas.

....Thank you Tom for sending this to me.

Tom
US Army Aviation
Vietnam 1966-68
US Army Special Forces
1970-72


Posted by Wild Thing at April 29, 2009 05:55 AM
---
Comments
Can't remember who said it, Two countries separated by a common language...Maybe Geroge Bernard Shaw.
"She loosed off a burst of shots... ". Gotta love how they butcher our language, ... We have come along way in 235 years.
But I must say this is a 'bang-on' report by that British Newspaper.
Posted by: Mark at April 29, 2009 07:11 AM
---
Good for her! I've always told my daughters that they can do anything they put their minds to and I mean it. Now women have no excuses-if Amy can do it, so can we. I'm glad to see this.
Posted by: Lynn at April 29, 2009 08:11 AM
---
Right Bangin' she is! I'm glad she came home safe, and all the wiser for her experience. I FIRMLY BELIEVE women MUST stand beside men in battle, as they benefit from sacrifices of our country and countrymen, and therefore MUST be willing to take the same risks. They can be, and ARE an asset, and should be treated the same as us men, and HONORED as such the SAME WAY. RIGHT PROPER article, and THANKS for the story.
Posted by: pontiff alex at April 29, 2009 10:09 AM
---
Kinda cute to be put in harms way. The first? How about Boadicea?
Posted by: Odin at April 29, 2009 10:30 AM
---
Rodger, at Curmudeonly & Skeptical today has an article about a kid at West Richland, WA who had to change a picture in his school project and use one of his father without an M-16, rather than the one he wanted to use holding one. His father is a corporal in the US Army Reserve and is his hero. A commenter bewailed the unreal situation the teacher's unions have inflicted on us.
Rodger's response hit me, "Exacto mundo, so what is your suggestion for fixing the situation? The ballot is no longer a viable option. Debate is impossible. What?" I too am afraid that we cannot vote ourselves out of the fix that the masses have voted us into.
Posted by: horace at April 29, 2009 10:36 AM
---
Amy may be a real "girlie-girl" at home but with the Royal Marines she was a real trooper. I bet the Taliban would really be ticked to know they were fired at by a woman.
Posted by: TomR at April 29, 2009 11:34 AM
---
I'm smilin' Chrissie, this old fart had the distinct honor of having a female soldier working alongside him back in '74, she more than packed her load. Like wise with a couple ladies I worked with in the civilian world, I'd take them to battle any time, taking the lead and doing the right thing under dangerous conditions. One lady I had to order to leave an explosive atmosphere against her will to minimize personnel exposure.
Can't say that all the ladies I've worked with were a joy, but if they can handle the job treat them as equals in all aspects, I value their judgement too, that includes combat duties. Remember that the Yugoslavs and the Russians had women in combat roles during WWII, how about those Israeli ladies too.
Posted by: Jack at April 29, 2009 01:54 PM
---
Mark, giggle. Yes we have come a long
way.
I love how they write, but I did have some trouble
when I first went to England. There were words
for things I had no idea what they meant, but I jotted
them down and did as good as I could to remember
them for the next time.
Posted by: Wild Thing at April 29, 2009 06:39 PM
---
Lynn, you are such a good mom. I love how
you talk to them like that.
Posted by: Wild Thing at April 29, 2009 06:45 PM
---
Alex, yesss, she will never forget these
times and they won't forget her either.
Stories like this really should be shared
more, I wish our news on TV would do this.
It would be so wonderful to have something
each evening to see about those fighting
in this war.
Posted by: Wild Thing at April 29, 2009 06:54 PM
---
Horace, thank you for sharing about over
Rodger's blog. Rodger makes a good point.
I just can't give up,we have a few
more chances to take our country back.
But only if we play it hard line and a
take no prisoner attitude. I am glad we
no longer have specter he was voting
democrat anyway, so no lose at all.
I have had it with flesh in human form
occupies our side and then votes as a
democrat. Be gone I say. haha ( laughing
at myself) but I do want them gone,I mean
it.
Posted by: Wild Thing at April 29, 2009 06:59 PM
---
Tom, OH I LOVE how you put that!!!!
Yessss I bet it would send them in such
anger to know it was a woman shooting
at them. Tah dah!!!!
Posted by: Wild Thing at April 29, 2009 07:01 PM
---
Jack, thank you so much for sharing about
the female soldier and those in civilian
workplace too.
OH yesss the IDF too, they have some truly
awesome fighters that are women. Snipers too
that are women in the IDF.

Posted by: Wild Thing at April 29, 2009 07:05 PM
---
Hey Odin, you woun't find a bigger fan of boudicea than I. If you have any links or info send them to me.
boudica_bpi@boudica.us
Bob A.
Posted by: Bob A at April 29, 2009 07:10 PM
---