« Three Of Our Soldiers Missing and Updates | Main | Smackdown by Fred Thompson ~ Priceless!! »
May 15, 2007
"US does not Deserve Hosting UN"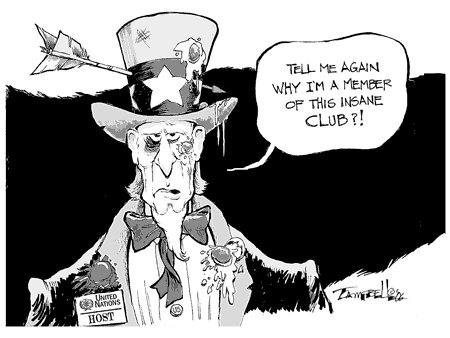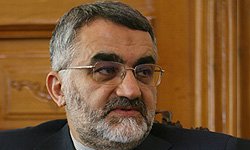 US does not Deserve Hosting UN
TEHRAN (Fars News Agency)- A prominent Iranian lawmaker stressed that the Untied States is not a proper host for the United Nations Organization and called on all member states to demand a transfer of the UN headquarters from New York.
Speaking to reporters on the sidelines of an open session of the Islamic Consultative Assembly here on Sunday, chairman of the Iranian parliament's National Security and Foreign Policy Commission Alaoddin Boroujerdi said:
"As the articles of association of the UN state that the United Nations' permanent headquarters is located in New York, transfer of the headquarters requires rectification of the said articles of association."
Considering that the UN is in charge of grave affairs, any transfer of the headquarters should be carried out through a consensus of the member states and rectification of the articles of association, he said.
The legislator said that the plan for the transfer of the UN permanent headquarters from the US should be viewed as a political position taken (by Iran) against the measures adopted by the White House leaders.
"The US has proved that it does not deserve to host the United Nations member states," he underlined.

Wild Thing's comment........
Finally there is something said by an Iranian official I agree with! LOL....OMG did I say that.....yep. Can you believe it, are pigs flying some place?? I agree- we don't "deserve" the UN., or even saying it the other way works just as well....The UN does not deserve the U.S.! How about putting it in downtown Tehran!!!!!
Posted by Wild Thing at May 15, 2007 12:55 AM
---
Comments
In a way the Iraniacs are right - move the UN -Necessary UN out of NY City! Perhaps to Canada, the Netherlands, Switzerland, France or Nigeria? The former UN could be sold and the $ be given to all 9-11-01 families that lost 2,996 family members!
Posted by: darthcrUSAderworldtour07 at May 15, 2007 07:13 AM
---
My gosh!! An Iranian official who makes sense. Americans would love the UN to pack up and move someplace else. The UN has been a financial drain on the City of New York for decades.
They could turn the building into low income housing.
Posted by: BobF at May 15, 2007 09:09 AM
---
What a plan, from a raghead no less, the U.N. fit's in well with with any Islamo-Fascist or Communist Regime, Palestine would be good, they've already set a precident of being there since their formation in Palestine, it would improve both countries. Get it on!!!
Posted by: Jack at May 15, 2007 01:41 PM
---
I agree move it out of the country let these towel-headed bandits pay for a new building. Then it will collapse on its own weight.
US out of the UN and the UN out of the USA
Posted by: Mark at May 15, 2007 04:38 PM
---

I have run this post before, Send them to Geneva
and turn the palce over to Trump.Let him make
high dollar condos out of the place,more tax
money for New York...
Posted by: Tincan Sailor at May 15, 2007 06:41 PM
---
I always thought it should be on some remote island in the middle of nowhere so they can fight it out amongst themselves!
Posted by: Lynn at May 15, 2007 07:30 PM
---
Darth, I have wanted the UN off our land since I was a child and my Dad told me about how awful it was and why.
Posted by: Wild Thing at May 15, 2007 11:39 PM
---
Bob, LOL, my gosh is right, I almost fell of my chair when I saw where the suggestion was coming from.
Posted by: Wild Thing at May 15, 2007 11:40 PM
---
Jack that is how they should have put it..raghead speaks out about the UN.heh heh
Posted by: Wild Thing at May 15, 2007 11:41 PM
---
Mark it would collapse if we got out of it. But I agree too I sure wish we would and do it now.
Posted by: Wild Thing at May 15, 2007 11:42 PM
---
Tincan Sailor, it would be a great area in NY for please to live.
Posted by: Wild Thing at May 15, 2007 11:43 PM
---
Lynn, I agree and far away from us.
Posted by: Wild Thing at May 15, 2007 11:44 PM
---