« Another Do As I Say Or You Will Be Dead from little man on footstool | Main | Baker - Riyadh's Man in Washington »
December 07, 2006
Pelosi To Put Dem Caucus Through Boot Camp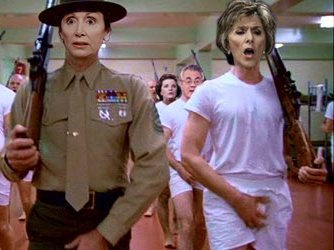 Pelosi to put Dem caucus through boot camp
Closed-door sessions will focus on foreign, economic policies
SFGate.com
Washington
Speaker-to-be Rep. Nancy Pelosi of San Francisco is taking her Democrats to school this week for discussions about Iraq and the domestic economy, even as the 109th Congress limps to the close of its four day "lazy duck'' session this week.
The outgoing Republican-led Congress will leave behind a wealth of unfinished business for Pelosi and the other leaders of the new Democrat-controlled Congress, who promise a legislative blitz when they convene in early January.

The legislative highlights this week will be the expected Senate confirmation of Robert Gates as President Bush's chosen replacement for Defense Secretary Donald Rumsfeld and an attempt to win House passage of a Senate-passed bill that would expand offshore oil drilling in the Gulf of Mexico west of Florida.

California's two Democratic senators, Dianne Feinstein and Barbara Boxer, are pushing for last-minute passage of a compromise version of the Ryan White HIV/AIDS program reauthorization bill. It would prevent the most draconian cuts that earlier versions of the bill had in store for San Francisco.

Congress also will try to extend expiring tax breaks, including credits for sales tax payments and research and development breaks.

Having failed to finish work on nine of the 11 appropriations bills, totaling about $400 billion, Congress instead will pass a continuing resolution funding all federal activities, except for the already enacted military and homeland security spending bills, at current levels until mid-February of 2007.

That means that when the new Congress meets, it will have the unexpected responsibility, in addition to the busy 100-hour plan that Pelosi and new Senate Majority Leader Harry Reid of Nevada have proposed, of dealing with spending bills for all kinds of government programs, everything from national parks to aid to education to medical research.

The sputtering end for Congress led a Washington Post editorial Monday to label it the "lazy duck'' session rather than the usual "lame duck.''

With the old Congress slowing down, Pelosi plans two closed-door sessions for Democratic members in an attempt to keep the spotlight on her party's takeover, which begins Jan. 4.

Democrats are scheduled today to hear from foreign-policy experts on Iraq, including former President Jimmy Carter's national security adviser Zbigniew Brzezinski, former President Bill Clinton's U.N. Ambassador Richard Holbrooke and retired Army Gen. John Batiste, a leading critic of President Bush's Iraq policy.

On Wednesday, the Democrats will meet with Robert Rubin, Clinton's treasury secretary and a top Wall Street figure, to discuss the economy.

The Iraq discussion comes just a day before the Iraq Study Group releases its report that is likely to recommend stepped-up training of Iraqi forces and a withdrawal of some U.S. forces from the country. The recommendations are unlikely to win favor with some in the Democratic House caucus who want a quick start to troop withdrawals.

The choice of Rubin for an economic discussion is interesting. He helped steer the nation into a budget surplus in Clinton's last term, a position that is popular with many of the deficit-hawk incoming Democrats. But he is also an advocate of free trade, an unpopular position with many House freshmen elected from districts in states such as Indiana, Ohio or Pennsylvania that have lost manufacturing jobs to such low-wage countries as China.

A lively discussion with Rubin is expected. "We welcome dissent and differing opinions in the Democratic caucus,'' Crider said.

Later in the week, the Democratic House Steering and Policy Committee is expected to approve the Pelosi-backed lineup of committee chairmen in the coming Congress. No surprises are expected, now that she has tapped Rep. Silvestre Reyes, D-Texas, to chair the House Intelligence Committee. That ended the one bit of suspense in the committee picks, because Pelosi passed over the current panel's two top Democrats before settling on Reyes, a 26-year veteran of the Border Patrol.

Bay Area chairmen will include Rep. Tom Lantos, D-San Mateo, at International Relations; and Rep. George Miller, D-Martinez, who will lead the Education and Work Force Committee.

The 109th Congress' failure to pass most of the appropriations bills presents the Democrats with an opportunity and a burden.

The unfinished bills contain thousands of earmarks, the controversial individual spending items that members insert at the last minute, skirting the usual oversight of the congressional committee system. In the unfinished bills, such earmarks add up to tens of billions of dollars and have drawn sharp criticism from government watchdog groups.

By not approving the bills, the Republicans pass the ball to the Democrats, who next year can decide to pass the spending bills as is, or strip out the earmarks, or combine all the appropriations bills into a single omnibus bill.

"The Democrats may do an omnibus and have no obligation to include the earmarks,'' said Steve Ellis of Taxpayers for Common Sense.

Ellis was scornful of the GOP Congress. "The failure to do these bills is the biggest indictment of incompetence in the 109th Congress,'' he said. "They have one major constitutional responsibility (to raise money and spend it), and they couldn't do it.''

Earmark-reform legislation, which at a minimum would disclose the sponsors of all such items, is among the top issues Democrats plan to take up in January. Therefore, it would seem impossible for them to turn around and quickly pass spending bills containing thousands of earmarks.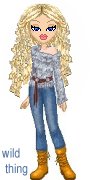 Wild Thing's comment.....
When I saw what they titled this article the Dems it made me angry. I hate when the cowardly left uses military lingo for things when they hate our military so much.
So in the graphici I have for this you see them in bootcamp including Bawney Fwank! heh heh
Posted by Wild Thing at December 7, 2006 02:40 AM
---
Comments
I do too, WT!! They wouldn't last getting just off the bus and standing in line at Boot Camp.
Posted by: yankeemom at December 7, 2006 10:53 AM
---
This article makes me realize that the Republicans are even more screwed up than I thought. They could not even get spending bills finished and passed in a Congress they controlled. Now I wonder if this is an omen that the elephant party is so screwed up that we are really looking at many years before it can be the majority party again. Or never, as the Democraps and our **%#)$$ President give voting rights to 20 million illegal aliens who will almost in a bloc register Democrap.
Posted by: TomR at December 7, 2006 11:48 AM
---
Bingo Tom, It has been obvious to me for some time now that we didn't have Republicans in office, mostly RINO's who blocked Republican initiatives, that includes President Bush. So in reality both parties are getting their long sought constituents.
Can the traditional Communist re-education camps be far behind?
The closed door and the sealed lips are prerequisites to tyranny.
--Frank L. Stanton

Posted by: Jack at December 7, 2006 05:44 PM
---