« Holder Raises Question On Sept. 11 Death Penalty | Main | Megyn Kelly's Show ....The Connection Is Made - White House And New Black Panthers »
July 13, 2010
Gibbs Refuses Comment on Glenn Beck Rally, New Black Panther Scandal, and Palin "Mama Grizzly" Ad
Gibbs Refuses Comment on Glenn Beck Rally, New Black Panther Scandal, and Palin "Mama Grizzly" Ad
White House Press Secretary Robert Gibbs refusing to comment on the upcoming August 28 Glenn Beck Rally at the Lincoln Memorial, even though the reporter had asked Gibbs to seek comment from Obama on both the rally and the scandal surrounding remarks by New Black Panther Leaders. Gibbs said he had not talked to the President about it. He also refused to comment on Sarah Palin's "Mama Grizzly" ad, saying only that the country would have "a choice" in 2012.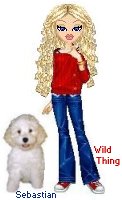 Wild Thing's comment.......
I pray nothing happens to Beck or any of the fine citizens who go to this rally.
GLENN BECK...... AUG. 28, 2010 - 10AM.... RESTORING HONOR.... LINCOLN MEMORIAL, WASHINGTON, D.C.
Posted by Wild Thing at July 13, 2010 05:50 AM
---
Comments
Gibbs makes even the Clinton press secretaries look intelligent and honest.
Posted by: TomR,armed in Texas at July 13, 2010 09:57 AM
---
Does the Rally even have a permit. If they consider the Tea Party 'Racist' what do they call Glenn Beck. I wonder if they won't recind the permit.
Posted by: Mark at July 13, 2010 10:37 AM
---
Anyone who isn't buying ammo deserves what the 1/2 breed bestows on them in the near future.
Posted by: Eddie (Proud Cracker) at July 13, 2010 10:57 AM
---
Tom, haha he sure does.

Good question Mark, the permit might not be allowed. But I guess they must have it, I sure hope they do and have all the i's dotted etc. so there can't be any trouble. But the left will do something to make waves that's for sure.
Eddie, I agree. We can at least be able to protect ourselves. Words mean something and some nut case, nuttie and crazier then these speaking out might follow through.
Posted by: Wild Thing at July 14, 2010 03:37 AM
---