« Obama Says Presidency is "A Little Confining"; Can "Drive You Crazy" | Main | Lockheed's HULC Super-Soldier Exoskeleton Gets More Juice »
January 24, 2010
J.D. Hayworth: 'Time For (McCain) to Come Home'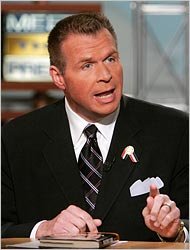 J.D. Hayworth: 'Time For (McCain) to Come Home'
Former Rep. J.D. Hayworth says he's planning to challenge Arizona's current senior Senator, John McCain, during the upcoming Republican primary election. CNN reports:
The former six-term congressman stepped down Friday as host of his conservative talk radio program on a radio station in Phoenix.
"We will formally announce at a later time, but we're moving forward to challenge John McCain," Hayworth told the Associated Press. "I think we all respect John. I think his place in history is secure. But after close to a quarter-century in Washington, it's time for him to come home." ...

Hayworth told AP that a recent "outpouring of support" from people in Arizona asking him to run changed his mind about challenging McCain, the 2008 GOP presidential nominee and four-term senator who's up for re-election this year.
McCain's already facing a primary challenge from Chris Simcox, a co-founder of the Minuteman movement. Simcox announced his candidacy last April and then resigned from the volunteer organization, which tries to prevent illegal crossings of the U.S. border. McCain's past support of immigration reform legislation in Congress nearly derailed his presidential bid two years ago.
And, as I noted earlier this week, former Alaska Governor Sarah Palin will be appearing in Arizona to fundraise for her old running mate. Should be an interesting election to watch down in Arizona.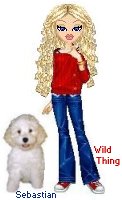 Wild Thing's comment.......
I hope J.D. shows McCain's record on opposing Bush's tax cuts.
McCain is done.His weakness saddled America with the worst president the nation HAS EVER HAD! I guess Sarah Palin feels she owes McCain for introducing her to the national scene. McCain needs to take some advice and retire.

....Thank you Mark for sending this to me.


Mark
3rd Mar.Div. 1st Battalion 9th Marine Regiment
1/9 Marines aka The Walking Dead
VN 66-67


Posted by Wild Thing at January 24, 2010 04:40 AM
---
Comments
I don't hate McCain. But I hope he is defeated in the primary by a strong conservative candidate. McCain talks the conservative talk, but too many times he has gone a liberal walk. His presidential bid was abysmal. I am betting that the voters of Arizona will probably bid adios to John this go-round.
Posted by: TomR at January 24, 2010 11:38 AM
---
I don't hate McCain either, he has lost what little respect I held for him. He's too progressive, too vacillating, his Democrat side outweighs any consideration of his ever being a reliable Republican, I'm distraught that Sarah Palin has decided to back him, perhaps she sees him differently that we do, being personally close. John is like that cophragous dog, you like him but it is those deplorable eating habits!!! Ugh!!! I don't blame him for the debacle that led to Obama, I do hold the GOP and the RNC in particular accountable, they got the 'democrat' they so desperately wanted.
Posted by: Jack at January 24, 2010 03:59 PM
---
Hayworth makes sense to me. I like McCain, but the times they are a-changing. He is a good man; yet his time is behind him. He is not stupid. He will figure it out. This will surely be an interesting race! I love that new leaders are emerging - one of the tenets of our grassroots group here.This is what we need to have for the continuation of what our founding fathers risked so much for.
Posted by: Jan at January 24, 2010 06:57 PM
---
Go JD, get that old fart out of there. To hell with all these pleasantries, McCain sux.
Posted by: Mark at January 24, 2010 07:35 PM
---
Thanks everyone. It would be wonderful if we could vote out the rino's. I know the reality is we can't vote them all out, but we might be able to replace them with some that are more consistently conservative.
Posted by: Wild Thing at January 24, 2010 11:16 PM
---