« Lt. Andrew Kinard, and Trace Adkins, and the West Point Cadet Glee Club | Main | J.D. Hayworth: 'Time For (McCain) to Come Home' »
January 23, 2010
Obama Says Presidency is "A Little Confining"; Can "Drive You Crazy"
Obama today speaking at a Town Hall Meeting in Ohio where he began his remarks by saying he it was just nice to "get out of Washington." Obama said the job of being President is "a little confining," and can "drive you crazy." Obama said he "relishes" the chance to "break out" of the White House and Washington, and spend a day with regular people.

.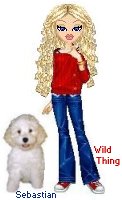 Wild Thing's comment........
Oh my gawd! This guy is not only dangerous for our country, he is a total idiot even though he has his agenda, he is such an embarassment as President. He asked for the job. What a whiner. He is a disgrace.
He's taken somewhere in the neighborhood of 160 flights on AF1 and he's complaining sheesh!
Then leave for good you worthless pos! Look around...see anybody who wants you there now? Didn't think so.
Getting out among regular people? Yeah, as if that would ever happen (unless he's campaigning for an election, and then he's likley to meet people like Joe the Plumber). He's out among those who still look at him with those dreamy eyes, not regular Americans .
Is there such a thing as a "no confidence recall vote?" He's not just radical - he frighteningly unstable. Obama's in over his head, and he's starting to resent it. Our enemies abroad know it. They smell it like a shark smells blood in the water.
He was crazy before he won the election. I say get out while the getting's good and don't let the door hit you in the rump on the way out. Take your goons, thugs and commie czars with you.
Posted by Wild Thing at January 23, 2010 04:55 AM
---
Comments
Off topic but a moment of SILENCE for AIR AMERICA ... going OFF THE AIR!!!
>>
PS: IOU's for staffers too?
Posted by: darthcrUSAderworldtour07 at January 23, 2010 09:46 AM
---
Your take was the same as mine, unconfine yourself Obumble and leave.
Posted by: Bob A at January 23, 2010 09:47 AM
---
I live in Cuyahoga County (hotbed for decades of dem racketeering, payoff and fraud - all of which is under the FBI magnifying glass when the whistle blew about 2 years ago), and the talk-radio phone lines are burning up. This guy can't smell his own stench. Nor can his followers. But many can - America is awakening from that blind drugged slumber. I cannot wait for our grassroots meeting next week - it started in August and we already have 400 members. His ship is listing and taking on major water. We truly have only begun to fight. We want more feel-good weeks like this one. It's contagious! Let's roll!! :)
Posted by: jan at January 23, 2010 12:45 PM
---
I must share this: Matt Patrick is on local WTAM 1100 AM radio and is he ever a hoot! He just started the 4 - 7 PM EST Sat. time period. VERY ANTI-JERK :O). I love it! He has the stamina to listen to the useless loser's "townhall" yesterday. Right out of the gate the loser said they were here in MI, but of course it was OH. Matt is playing that segment over and over and over and over and over and over :). sigh, I love Matt :O)
Posted by: jan at January 23, 2010 04:36 PM
---
Three great analyses of Mr. Obama´s first year (1/20/09 - 1/20/10) as Usurper, aka POTUS:
1. "The Roots of Obama Worship, Auguste Comte´s Religion of Humanity finds a 21st-century savior.," By James W. Ceaser, January 25, 2010, Vol. 15, No. 18, at http://www.weeklystandard.com/print/articles/roots-obama-worship .
2. "Obama´s First Year: Defeat, Disarray, Disillusionment," Tuesday 19 Jan 2010, By Jim Meyers, at http://www.newsmax.com/newsfront/obama-first-year-failures/2010/01/19/id/347357 .
3. "The Age of Obama, Anno Domini 2, The Margaret Thatcher Freedom Lecture," January 19, 2010, by Charles Krauthammer, at http://www.heritage.org/press/events/ev011910b.cfm .
Posted by: Anon at January 23, 2010 06:47 PM
---
Jan, WTAM just doesn't have the same Ring as "3 W-E" did. Be sure to let us know if James Trafficant (17th district)is going to run again.
Oh...and how did Dennis the Menace ever get elected, Cleveland's one and only, one man wrecking crew.
Posted by: Mark at January 23, 2010 07:11 PM
---
Sorry, Barry O, but dude, you were long crazy before you got exposed to the Oval office.
Posted by: Billy Ray at January 24, 2010 12:01 AM
---
Darth, isn't that something. I thought it happened last year. Thaks Darth,
Posted by: Wild Thing at January 24, 2010 01:14 AM
---
Bob A., haha I agree, yesss thanks.
Posted by: Wild Thing at January 24, 2010 01:17 AM
---
Jan, thank you for sharihg about Matt Patrick.
That is fantastic, I love it being on our side of
the fence. We have such awesome people.
Posted by: Wild Thing at January 24, 2010 01:20 AM
---
Anon, thank you so much for all of those.

Posted by: Wild Thing at January 24, 2010 01:22 AM
---
Billy Ray, heh heh he sure is. People are waking up now more then ever, thank goodness.
Posted by: Wild Thing at January 24, 2010 01:23 AM
---
Hah, James (i just got out of prison) Traficant was given the early Sat aft. slot on WTAM. Matt Patrick is on after him. It is oddly surreal. I just wait to turn on the radio till 4 PM. Traficant is passe.
Posted by: jan at January 24, 2010 10:54 AM
---