« Senator Max Baucus Drunk / Intoxicated on Senate Floor ~ ROTFLMAO | Main | Nephew Of Ali Mousavi KILLED During Deadly Protests Of Terrorist Ahmadinejad's Regime »
December 27, 2009
Sunday Second Incident Another Flight From Nigeria Bound For Detroit Same Flight Number Requested Emergency Landing
.

Police Surround Plane at Detroit Airport After Reports of Suspicious Activity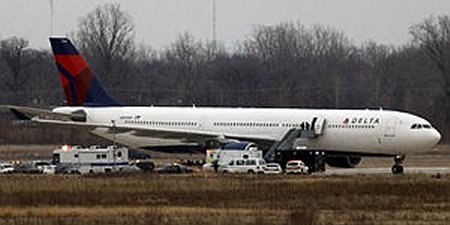 SUNDAY ....Northwest Airlines Flight 253 sits on the tarmac after requesting emergency help at Detroit Metropolitan Airport

Disruptive NWA Flight 253 passenger in custody

A Nigerian man in his thirties aboard the same Delta/Northwest flight that was attacked on Christmas Day has been taken into custody, reports Fox News.
Law enforcement officials say no device has been found on or with the detained passenger and that he does not appear to be a threat, reports CNN.
Northwest Airlines Flight 253 requested emergency assistance upon landing after the crew reported suspicious behavior from a "verbally disruptive" passenger.
The crew observed a passenger who got up and down from his seat several times and then barricaded himself in the bathroom for about an hour.
Upon landing, the aircraft was immediately surrounded by emergency crews as passengers deplaned at the Detroit Metropolitan Airport.
The remaining 255 passengers have safely disembarked from the aircraft.
The TSA said the plane was being held at a remote location at Detroit airport for more screening.
This comes a day after Umar Farouk Abdulmutallab was charged for attempting to blow up a flight with the same airline, number and path, as it was also travelling from Amsterdam to Detroit.
The Christmas Day terror attempt has left security heightened and officials on edge.
Commercial airline passengers may not rise from their seats during the final hour of their flights or have any personal belongings on their laps during the hour before landing, according to new government rules announced by some airlines yesterday.
Two Sources told Fox News that the Nigerian man taken into custody today boarded a plane in Lagos, Nigeria with no baggage.
Fox News also reported that federal authorities know who the man is, but have declined to release any information about him or whether he is connected to Abdulmutallab.
Second Nigerian possible failed attack on a flight to Detroit from Amsterdam
Local news video reporting a second incident involving a Nigerian national being "detained" by police at the Detroit Metro Airport after he was reported for being "unruly" during the flight from Amsterdam to Detroit. Reports indicate the man barricaded himself in the plane's bathroom for an hour, and had boarded the plane with no luggage.
.

Incredible Coincidence?
Police have arrested an airline passenger following a disruption on the same Detroit-bound flight that was attacked Christmas Day by a Nigerian man who allegedly attempted to blow up the aircraft while in flight.
A law enforcement official says the man removed from a Sunday flight to Detroit posed no security risk to the plane.
The official says the passenger was taken into custody after becoming verbally disruptive on landing. Subsequent interviews by investigators determined he was a businessman who became ill during the flight.
Two sources tell Fox News that the suspect boarded a plan in Lagos, Nigeria, with no baggage, and said the FBI has already sent an e-mail alert to other federal agencies notifying them of the incident.
A source told Fox News that the man taken into custody at the Detroit airport was a Nigerian national in his 30s. Federal officials know who the suspect is, but won't provide any more details.
Detroit's Metro Airport spokesman John Wintner said there was a report of suspicious activity on the Delta/Northwest Airlines Flight 253 from Amsterdam Sunday. That is the same flight that Umar Farouk Abdulmutallab, a 23-year-old Nigerian man, was suspected of attempting to blow up over Detroit on Christmas Day.
White House spokesman Bill Burton said President Obama was notified of the disturbance Sunday as federal officials began reviewing airline security measures.
"The President was notified shortly after 9:00 a.m. Hawaiian time of the incident regarding an unruly passenger on the flight arriving in Detroit by NSS chief of staff Denis McDonough," Burton said. "The President stressed the importance of maintaining heightened security measures for all air travel and gave instructions to set up another secure teleconference briefing as soon as possible."
All 257 passengers and 12 crew have deplaned safely, said Delta spokeswoman Susan Elliott. The flight landed in Detroit at 12:34 p.m. Sunday.
The plane has been moved to a remote location at the airport so authorities can conduct additional screening, Reuters reported.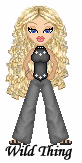 Wild Thing's comment.......
Apparently, the Nigerian flying from Amsterdam to Detroit on same flight number but different day, caused a verbal disruption & locked himself in bathroom. Left Nigeria with no luggage.
And yet all the increased security is aimed at air travelers in general. How about just not letting Muslims get on a plane until they have gone through a complete body search.

Posted by Wild Thing at December 27, 2009 03:25 PM
---
Comments
A saw a great solution over at "Crusader Rabbit" cover the airplane seats with pigskin!
Posted by: Ron Russell at December 27, 2009 05:18 PM
---
Ron, LOL awesome!!! Thank you for sharing
about that.
Posted by: Wild Thing at December 27, 2009 05:42 PM
---
Easily fixed. Turn plane around, fly over Nigerian airport, toss trouble maker out at altitude 2,000 feet over soccer field after alerting all the local and international media so they can show video of the sudden earthly impact of the trouble maker tied to a large pig carcass.
Fly back over Nigerial city with "NEXT?" painted on underside of aircraft.
Posted by: Billy Ray at December 27, 2009 06:53 PM
---
Wrap them up in their carpets and tie firmly with rope. Fly and land safetly. Don't untie them till they are left at the airport entrance road curb.
Posted by: jan at December 27, 2009 07:42 PM
---
Inside the so-called Obama administration, and their answers:
1. Islamic Terrorism, and War on Terrorism: We don´t use these offensive words.
2. Al-Qaida declared war against US in ´98: Really???, When???
3. 9/11/01: America´s own fault!!!
4. "Never Forget Ft. Hood Texas 11/5/09!": Never happened!!!
5. The Situation Room: What is that???
6. National Security, and US Armed Forces: ???
Impeach the usurper in the White House
PS: Can you imagine yourself to brief Mr. Obama on National Security? (I can´t.)
Posted by: Anon at December 27, 2009 09:10 PM
---
I thought obama would command respect because he is one of them. Looks like he may not have paid his dues to the brotherhood of i-slam. Maybe being only a HALF brother they don't trust him. Sure seems that way to me. The attacks seemed to have increased since he took over and restored our respect in the world.
Or could it be we are now perceived as weak. In that image Barry's projected ariybd the world, espect the attacks to become more frequent. Especially this time of year with all the big events going on Bowl games with a 70,000 people in one place, makes for target rich environment.
Posted by: Mark at December 28, 2009 09:53 PM
---
I know this is really boring and you are skipping to the next comment, but I just wanted to throw you a big thanks - you cleared up some things for me!
Posted by: Delmer Quadnau at January 3, 2010 02:33 AM
---