« Put Your Hand Up If You're British or American | Main | Strikers Prepare for Thanksgiving in Northeastern Baghdad »
November 27, 2008
Kabul 'bomb Attack' on US Embassy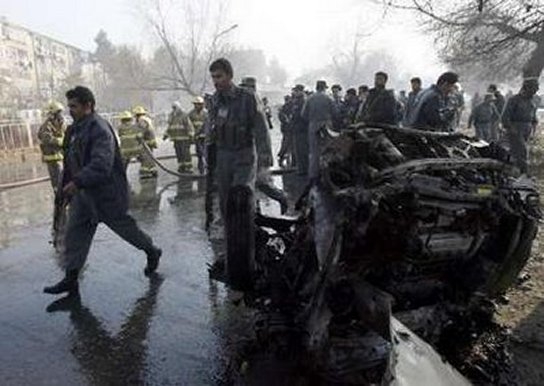 A suicide car bomber targeting an American convoy exploded outside the US Embassy in Kabu
KABUL, Afghanistan
A homicide car bomber targeting an American convoy exploded about 200 yards outside the U.S. Embassy in Kabul on Thursday, killing at least four Afghan bystanders as people entered the compound for a Thanksgiving Day race.
Four Afghans at least 18 more people were wounded in the 8:30 a.m. attack, said Abdullah Fahim, a health ministry spokesman.
Police officer Abdul Manan said the explosion was set off by a suicide bomber in a Toyota Corolla.
No U.S. Embassy personnel were killed or injured in the blast, an Embassy statement said.
The blast happened on the last day of a visit by a United Nation's Security Council delegation. The U.N. had warned its staff in Afghanistan of possible terrorist attacks coinciding with the visit.
The U.S. Embassy was hosting a Thanksgiving Day fun run beginning at 9 a.m., so Americans and other Westerners were entering the embassy compound when the bomb went off, sending some participants sprinting for the embassy gates.
"I was about 30 or 40 yards inside the gate. There was a large explosion. I felt the shock wave, though it wasn't all that strong," said Danny Cutherell, a 26-year-old aid worker from Virginia. "We were about 200 yards from the blast when it went off, but we were behind the embassy wall and that protected us."
Cutherell said about 20 participants in the run had been locked inside a room with double-locking doors at the embassy's security checkpoint and that guards would neither let them in or out. "We're here for a while," he said.
"It was a bit shocking but it's also not that shocking because it is Thanksgiving and we had heard there was going to be tightened security today," Cutherell said. "It's just scary to be that close to it."
Insurgents attacks in Kabul have been rare this year, although they have launched a few spectacular assaults, including one targeting the Indian Embassy on July 7 that killed 60 people and left over 140 others wounded.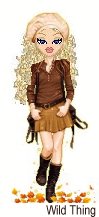 Wild Thing's comment......
God bless and protect our awesome troops.
It seems the terrorists are putting the world on notice in the "CHANGE YOU CAN BELIEVE IN".
Posted by Wild Thing at November 27, 2008 03:48 AM
---
Comments
Sad. I pray for the wounded and the deceased, both American and civilian. These people have no concept of what human life is all about or what it means to be a human being. They are monsters at the core and will do anything they can to destroy what was once nice and beautiful. Nothing means anything to them except death.
I don't think Obamammy is going to be able to handle it if there is another attack. It was awful how it went from "change we can believe in" to "change we need." Change we need? What in the heck are you talking about Obamammy? I can't believe how many voted for Obamammy just to get Bush out of office. He was going anyway! His time was up.
Posted by: Lynn at November 27, 2008 06:19 AM
---
GRRRRRR!!
Oh yes, I'm sure once Barry! actually gets in to the Oval Office (shudder), all of these misguided poor ignorant and oppressed victimized SOBs will lay down all their bomb making equipment and join hands and sing the Obama song and see the errors of their ways.
Yea and I've got a couple of bridges to show ya....
Posted by: yankeemom at November 27, 2008 09:15 AM
---
Well pretty soon it will be obama's turn in the Barrel and we shall see how welll he handles these crazies. Let's see Hobama handle this crisis.
The Soviets now have ships in Chavez's port. Lets see Barry talk them out of it.
Posted by: Mark at November 27, 2008 10:58 AM
---
Lynn, yes it is so sad. Your right "nothing means anything to them except death."

Posted by: Wild Thing at November 28, 2008 12:00 AM
---
Yankeemom, I agree, Obama is going to see how his way won't work.
Posted by: Wild Thing at November 28, 2008 12:04 AM
---
Mark, your right, Obama is going to get a full plate served up by the terrorists and Russians.
Posted by: Wild Thing at November 28, 2008 12:10 AM
---