« Minneapolis Somali Community Reacts To Terrorist Reports | Main | Kabul 'bomb Attack' on US Embassy »
November 27, 2008
Put Your Hand Up If You're British or American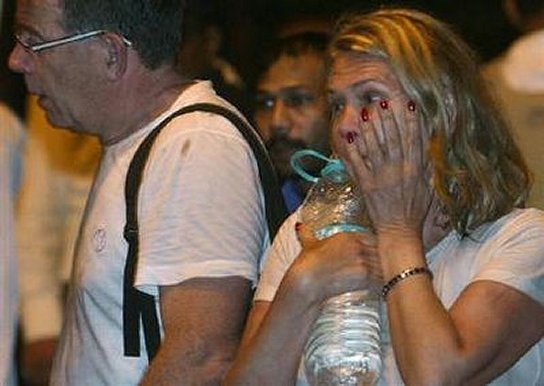 Foreign guests react after being rescued from the Taj Hotel in Mumbai

Put your hand up if you're British or American

GUNMEN who killed more than 80 people in Mumbai last night ordered hotel guests: "Put your hand up if you're British or American." Frightened hostages were marched off — and their fate was unclear. Local reports said they could include up to 40 British and other foreigners.
Late last night police were said to be storming two luxury hotels, one of which was ablaze.
The Oberoi and Taj Mahal Palace hotels were among at least SEVEN locations attacked simultaneously as maniacs with machine guns and bombs staged massacres that rocked the teeming Indian city.
At least 900 were wounded as the wild-eyed terrorists, thought to be Islamic fanatics, opened fire and lobbed grenades indiscriminately.
A rail station, restaurant and police HQ were also hit, along with a hospital where 58 perished.
The Foreign Office was frantically trying to find out if Britons were among the latest victims.
Anyone concerned about friends or relatives should call the Foreign Office on 0207 0080000
At the Oberoi, Brit Alex Chamberlain — who works for the Indian Premier League cricket website — told how he managed to slip away as up to 40 guests were herded up 18 flights of stairs at gunpoint.
He said: "They told everybody to put their hands up if there were any British or Americans.
"My friend said to me, don't be a hero, don't say you are British.
"I am sure that is what this is all about. They were talking about British and Americans specifically.
"There was an Italian guy. They said, 'Where are you from?'. He said he was from Italy and they said 'fine' and they left him alone.
"I thought, 'Fine, they're going to shoot me if they ask me anything — and thank God they didn't."
Fellow Brit Rakesh Patel confirmed: "They wanted anyone with British or American passports."
Later an explosion was reported after commandos were said to have stormed in.
At the Taj Mahal Palace, British Euro MP Sajjad Karim told how he fled as gunmen burst in.
Holed up in its basement with other survivors, the Tory's voice shook with fear as he said via mobile phone: "A gunman just stood there spraying bullets around, right next to me.
"I managed to turn away and I ran into the hotel kitchen and then we were shunted into a restaurant in the basement. We are now in the dark in this room and we've barricaded all the doors. It's really bad."
He told of seeing "several people go down" as the gunmen opened up.
A guest at a wedding reception said: "Everyone — the bride, the groom, everyone — just ran."
One hotel guest said a stairway was full of bodies.
Amid the mayhem, police and paramedics used anything they could lay their hands on to transport the injured.
Some were wheeled to safety on the hotel's golden luggage carts.
Screaming
Later, fires burned in the top floors as police reportedly tried to overpower gunmen.
Screaming people were seen hanging out of windows of lower floors as firefighters tried to reach them with ladders and cherry-pickers.
The hotel was used by the England cricket team just two weeks ago — and they were due to stay there again for next month's Second Test.
Last night there were fears the Test may be called off.
Plans by Middlesex County Cricket Club to fly out today for the inaugural Twenty20 Champions League were scrapped.
The bloodbaths began at 10.33pm local time. Gunmen in jeans and carrying rucksacks fired AK47s and threw grenades at the crowded CST railway terminus — killing ten.
At the police HQ, a frantic cop yelled down the phone: "We are under fire, there is shooting at the gate." The chief of the anti-terror squad was among three top cops reported killed.
Three more people died when a taxi was blown up near the airport.
Another target was the city's famous Cafe Leopold — a mecca for tourists.
It was left pitted with bullet holes — with pools of blood on the floor where diners had fled leaving behind their shoes.
Journalist Sourav Mishra was wounded in the shoulder as he ate there with friends. Last night he was having to share a hospital bed with THREE other injured patients. He said: "I heard gunshots — something hit me. I ran away and fell on the road."
Hospital officials said a Japanese man had died there and nine Europeans had been admitted, three of them in critical condition with gunshots.
An Indian government spokesman said four suspects had been killed in two incidents when they tried to flee in cars.
He added another more died at the Taj Mahal Palace Hotel and nine more were arrested.
Mumbai has frequently been targeted by Islamic extremists, including a series of bombings in July 2007 that killed 187 people.
A group calling itself the "Deccan Mujahedeen" last night boasted its members had staged the attacks.
Police said: "The encounters are still going on and we are trying to overpower them."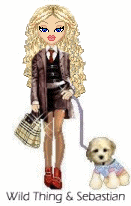 Wild Thing's comment.........
Even though these attacks happened far away, they were attacks on America and Engliand.
We need to being to exploit their every weakness and we all know what their weaknesses are but are reluctant to exploit them as we must follow PC guidelines even when fighting wars.
For starters, don't give terrorists in prison Korans and all the Islamic comforts of home.
Posted by Wild Thing at November 27, 2008 03:47 AM
---
Comments
Tragic doesn't begin to cover this. Yes, Virginia, I'm afraid there is evil in the world.
I'm thinking this "Living in interesting times" has gone way over the top.
Posted by: yankeemom at November 27, 2008 09:18 AM
---
Yes, the religion of peace shows again that it is no more than an evil cult, a cult of intimidation, death and destruction. Islam should be no more welcome in these United States than the KKK, even less so.
"For starters, don't give terrorists in prison Korans and all the Islamic comforts of home."
I posted this yesterday on my site.
ALL INMATES EAT HALAL CHICKEN IN SCOTS JAIL - BECAUSE 7 OF THEM ARE MUSLIMS
Posted by: Bob A at November 27, 2008 09:21 AM
---
I hope the Indian government identifies the groups responsible and reacts with proper vengence. The latest news says Indian troops rescued 45 hostages in one of the hotels.
Too many Americans have forgotten that we have had war declared on us by radical islam. It is not just in certain parts of the world, but worldwide including here in America. Think 9-11.
Posted by: TomR at November 27, 2008 10:47 AM
---
Just a reminder about the Religion of Peace to share with those who seem to forget.
Posted by: Les at November 27, 2008 09:12 PM
---
Yankeemom, yes it realy has gone over the top.
This terrifes me, this photo of the woman and the fear in her eyes says it all. It gave me chills when I saw it.
Posted by: Wild Thing at November 28, 2008 12:13 AM
---
Bob A., oh good I am so glad you posted this.
We have got to stop making exceptions for them.
Posted by: Wild Thing at November 28, 2008 12:17 AM
---
Tom, your so right, it is not just certain countries anymore,it is all over the world. Thanks for the info, that some were rescued.

Posted by: Wild Thing at November 28, 2008 12:20 AM
---
Les, thanks for the information.
Posted by: Wild Thing at November 28, 2008 12:22 AM
---