« 88 Year-Old WW II Vet Beaten to Death in Spokane, WA; Two Black Males being Sought by Police | Main | 2 Million Bikers To D.C. In Rememberence of 9-11 »
August 24, 2013
Terrorist Nidal Hasan Found Guilty of Murder For Fort Hood Shootings
Nidal Hasan Found Guilty of Murder For Fort Hood Shootings

Fort Hood shooter Nidal Hassan was found guilty on all counts of premeditated murder and attempted murder Friday, making him eligible for the death penalty.
Sentencing was set for Monday.
A military jury deliberated for roughly one day before announcing the verdict.
Hasan sat emotionless, stroking his beard as the verdict was delivered.
He was charged with 13 counts of pre-meditated murder and 32 counts of attempted pre-meditated murder in the Nov. 2009 shooting attack at the sprawling Texas military base.
Hasan, an Army psychiatrist, had acted as his own attorney at the 13-day trial, but questioned only three of nearly 90 witnesses and presented only a single piece of evidence in his defense: an evaluation from his boss that called him a good soldier. He also chose not to make a closing statement.
The American-born Muslim told jurors during a brief opening statement that evidence would "clearly show" he was the shooter, and he described himself as a soldier who had "switched sides."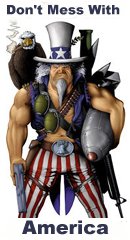 Wild Thing's comment..............
I guess Obama is disappointed since he said it was just work place violence.
Posted by Wild Thing at August 24, 2013 12:45 AM
---