« NBC: Obamacare Is Forcing Companies to Cut Employee Hours | Main | Dallas Cowboys Announce Move To Frisco »
August 14, 2013
Democrat San Diego Mayor Bob Filner Banned From All Hooters Restaurants in the City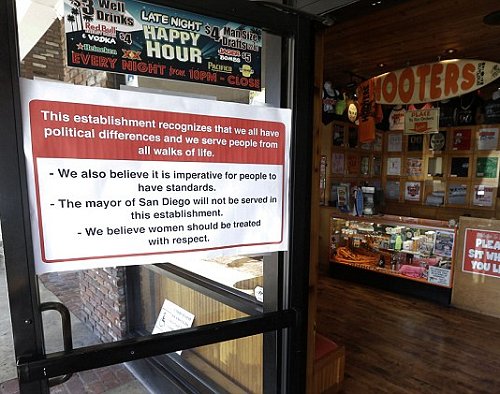 San Diego Mayor Bob Filner Banned From All Hooters Restaurants in the City

Photo: Sign at Hooters in San Diego
"This establishment recognizes that we all have political differences and we serve people from all walks of life.
- We also believe it is imperative for people to have standards.
- The mayor will not be served in this establishment.
- We believe women should be treated with respect."
San Diego's horn dog mayor has been banned from the city's Hooters restaurants.
Fresh out of a two week treatment for sexual addiction, San Diego Mayor Bob Filner has been banned from Hooters restaurants in his city, according to a spokesperson. Signs have even been posted in the front windows of each location.
The ban was first discovered Monday by Francis Barraza, the executive director of the Republican Party of San Diego, and shared in a tweet.
Barraza tweeted an image of a sign in a local Hooters with the caption 'My local hooters won't serve Bob Filner.' A Hooters spokesperson told Slate that all San Diego Hooters have banded together to ban their depraved mayor.
Special education teacher charged after 'having sex with multiple teenage male students who stayed on after class' Parents left terrified after man hacked their baby monitor and yelled abuse at them and their 2-year-old daughter
'The signs went up at our four locations in San Diego this morning,' Melissa Fry, director of marketing for HootWinc, the west coast Hooters franchise, told the site. 'It's not a political move for us in any way, shape, or form. We're strictly taking a stand for the fair treatment of women. At our franchise alone, we employ 1100 beautiful, talented women.'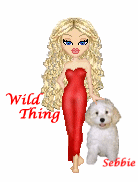 Wild Thing's comment................
This guy is so disgusting. How bad is that when a Hooters says he cannot go inside. hahaha good for Hooters!
Posted by Wild Thing at August 14, 2013 12:47 AM
---
Comments
Can somebody tell me what this mayor did that Bill Clinton didn't do while he was governor and president?
Posted by: bobf at August 14, 2013 07:44 AM
---
Actually I think this is very funny. Kudos to Hooters. Perhaps more politicians should be treated in ways appropriate to their actions.
Posted by: TomR,armed in Texas at August 14, 2013 12:00 PM
---