« SORRY NEWT...PALIN'S RIGHT! | Main | Obama's Health Care that Is NOT Healthy for Anyone! »
October 26, 2009
Washington Caught Off Guard by Netanyahu Visit ~ Good For BiBi !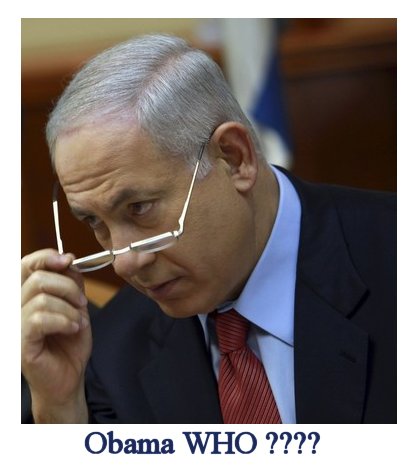 .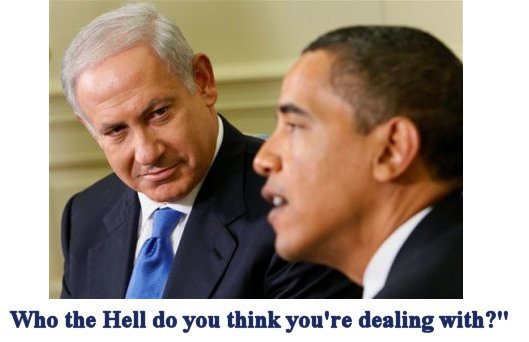 Washington caught off guard by Netanyahu visit
Israel says PM did not consult Obama ahead of trip because meeting on peace process unnecessary.
WASHINGTON
Prime Minister Benjamin Netanyahu's intention to visit Washington for the annual UJC General Assembly has surprised many on Capitol Hill and was apparently not coordinated with the Obama administration.
An American source told Ynet Sunday that news of the visit had been received with reserved astonishment.
The Obama administration has not yet responded to questions of whether a meeting with Netanyahu was forthcoming due to their surprise over the unscheduled visit. On the other hand, failure to invite Netanyahu to the White House may be perceived as a diplomatic crisis.
Sources in Jerusalem say Netanyahu did indeed decide to attend the GA without first consulting President Barack Obama, but that since the latter would also be present at the event the two may meet in any case.
The sources say a summit between the two leaders would be superfluous at this point in the peace process, and for this reason an official meeting has not been scheduled.
An official statement regarding Netanyahu's visit is scheduled to be published soon in the US, and an unofficial oral announcement has already been given by the Jewish Federations' leaders. The prime minister's visit is scheduled to take place on November 8-10.

Wild Thing's comment........
Bibi rules! I just love this. I hope he does his meeting and ignores Obama completely! BiBi doesn't have to get permission from freak Obama to come to America.
"Reserved astonishment"
ha ha ho ho heh heh .......Obama discovers that the earth does not revolve around him.
Hussain Obama and his Administration have treated Netanyahu like DIRT ... so what ever Bebe does in return is just 'jim dandy fine with me'.

....Thank you Mark for sending this to me.

Mark
3rd Mar.Div. 1st Battalion 9th Marine Regiment
1/9 Marines aka The Walking Dead
VN 66-67


Posted by Wild Thing at October 26, 2009 05:55 AM
---
Comments
With BHO and Al-Qaeda and Hamas... who needs FRIENDS, eh? God bless Benji and the children of God in Israel! This is a GREAT man and leader - SECOND TO NONE...
PS: What is the only difference between God and BHO? God doesn't think that He is Obama!
Posted by: darthcrUSAderworldtour07 at October 26, 2009 08:09 AM
---
Well for one thing Netanyahu has a career that spans more than 5 minutes and Bibi has a clue and knows he's dealing with a Clown in the white house and his chief Ballerina.
Posted by: Mark at October 26, 2009 01:16 PM
---
Netanyahu has made his evaluation of obama and found obama lacking. Bibi has plenty of supporters in America he can spend his time with.
Posted by: TomR at October 26, 2009 01:46 PM
---
I love Bibi, he can shit in Husseins face and I'll cheer him on. Israel rocks!
Posted by: Eddie (Enemy of the State) at October 26, 2009 03:02 PM
---
How do you say 'Fa-que' in Hebrew???
Posted by: pontiff alex at October 26, 2009 04:33 PM
---
Posted by: Wild Thing at October 26, 2009 04:48 PM
---
Mark, so true. I can just imagine how
BiBi shakes his head every time he
even thinks about dealing with horrible
obama.
Posted by: Wild Thing at October 26, 2009 04:50 PM
---
Tom, your right, I love how he did this.
And Obama can't complain about it either
since he mostly snubbed some other
leaders of countries.
Posted by: Wild Thing at October 26, 2009 04:52 PM
---
Eddie, hahaha I would cheer him on too.
Posted by: Wild Thing at October 26, 2009 04:54 PM
---
Alex, hahaa I have no idea.
Posted by: Wild Thing at October 26, 2009 04:59 PM
---
You have it completely right Wild Thing. The CEO of government motors may have to ask the ONE for permission to wipe is butt, but Bebe.....Obama is not close to being in his league.
Posted by: Ron Russell at October 26, 2009 07:09 PM
---
Bibi vs Obama:
1. The Will to Power vs The Will to Nothingness.
2. Man vs Boy. (Man vs Juvenile.)
3. Streetsmart vs Booksmart.
4. Real World vs Theoretical World.
5. Natural Instincts vs Non-Natural Instincts.
6. Vast Historic Knowledge vs Little Historic Knowledge.
7. Statesman vs Empty Suit.
Winner by KO: Benjamin Netanyahu.
Posted by: Anon at October 26, 2009 11:32 PM
---
I agree, BiBi knows EXACTLY who he is dealing with and also how this clown manages to alienate Israel with one ear swap. Good for Bibi!!! Love it!
Posted by: jan at October 27, 2009 06:39 AM
---