« Obama Seeks to Track Visits to .gov Websites | Main | Fort Campbell Welcomes Home Vietnam vets »
August 17, 2009
Puppy of Iraq War's Oldest Fallen Soldier Safe in States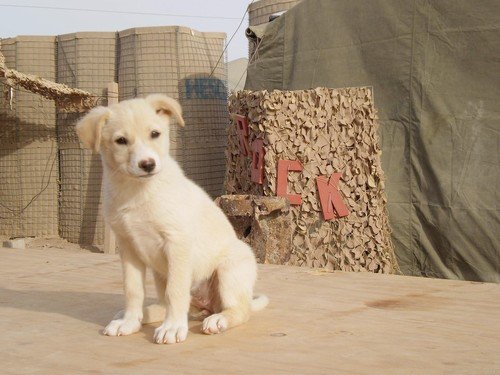 Maj. Steven Hutchison adopted Laia, who was found on the base near Basra, Iraq. The two were inseparable.
His 11-man crew was running errands on an Army base near Basra when Hutchison ordered a lunch break.
The transition team, whose job was to train Iraqi police and soldiers, pulled their armored vehicles into the base's Subway restaurant and ordered sandwiches.
Hutchison paid, as was his wont, and gave the thumbs up to roll out, team members recall. But the logistics advisor threw back a thumbs down.
Soldiers had gathered around the back of one vehicle and were playing with a scrawny yellow puppy, one of the many strays that wander Iraqi streets.
New mission, Hutchison barked. He took the 1-month-old puppy back to his armored vehicle, fed her his turkey sandwich and gave her water from his bottle.

.
Maj. Steven Hutchison, 60, center, is the oldest U.S. casualty in Iraq. A Vietnam veteran, he was also a psychology professor.
Puppy of Iraq War's Oldest Fallen Soldier Safe in States
We love happy endings, so when we read this heartwarming Los Angeles Times story about a soldier and the stray dog he came to love, we had to share it.
When Major Steven Hutchison was killed while serving in Iraq, he was, at 60, the oldest American casualty in either of the wars in Iraq or Afghanistan. His unit, who had come to love him like a father, devised a unique way to honor their fallen leader -- and it involved a puppy.
Why join the Army again?
Hutchison had enlisted in the Army in 1966, served two tours in Vietnam and was awarded a Bronze Star before retiring in 1988. After the 9/11 terrorist attacks he wanted to return to active military duty, but his wife Kandy Rhode wouldn't hear of it.
Married three times before, Hutchinson was devastated when Rhode died from cancer in 2006. "A part of him died," Hutchison's brother Richard Hutchison told the Huffington Post.
In July 2007, at the age of 59, Hutchison "signed up for the Army's Retiree Recall program," reports the Los Angeles Times. He was sent first to Afghanistan for a year and then onto Iraq where he joined the 2nd Battalion, 34th Armor Regiment, 1st Brigade Combat Team, 1st Infantry Division.
Finding puppy love
Though Major Hutchison vowed he'd never fall in love again after the death of his wife, the seasoned military man fell surprisingly hard for a stray yellow puppy his unit found while leaving an Army base near Basra. According to the Los Angeles Times, Hutchison scooped the puppy into his arms and took her to his armored vehicle.
Hutchison named the puppy Laia [sic] (for Princess Leia, according to Stars and Stripes) and snuck her back to the base. Stray animals in Iraq are typically euthanized the same day they are caught, reports the Los Angeles Times, and service members are not allowed to keep any strays as pets.
But, the major "was hooked," Sgt. Andrew Hunt later emailed to Hutchison's family, according to the Los Angeles Times. The military man allowed Laia to sleep with him at night and sit in his lap while driving around to visit the unit's Iraqi counterparts.
Honoring Hutchison
On Mother's Day, May 10, 2009 -- two days before he was to go on leave and one month shy of his 61st birthday -- Major Hutchison was killed by a roadside bomb while patrolling with his team in Al Farr, Iraq, near Basra. Laia was not with him that day; he had left her behind at the base. He was buried in Scottsdale, Arizona on May 19 and is survived by his mother, brother, half brother, half sister and two adult daughters.
As a tribute to Major Hutchison, Sgt. Hunt secured approval to send Laia to the United States and worked with the U.S. Embassy in Iraq and SPCA International's Baghdad Pups to transport the lucky pooch to America and place her in a home, which costs the non-profit animal rescue group about $4,000.
Major Hutchison would be happy to know that the scrawny yellow puppy he rescued is now happily living in Michigan with the family of a special agent who worked with Hutchison's team in Iraq. Though Laia lost one of her legs to an infection, she is doing well.
.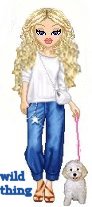 Wild thing's comment........
I feel so badly Hutchinson was killled, I am glad though he and Laia met even for a short time to share in each others lives. The war stories from every war are always dotted with such awesome stories of animals our troops meet when deployed. The amazing thing is, that each life touchs the other, Laia was needed by Hutchinson even if he did not know it at the time. And Laia needed him as well. What a beautiful story.
PAW Nation is awesome.

....Thank you Tom for sending this to me.


Tom
US Army Aviation
Vietnam 1966-68
US Army Special Forces
1970-72


Posted by Wild Thing at August 17, 2009 06:50 AM
---
Comments
Extremely touching, thank you WT and Tom.
We were not allowed to bring our dogs back, I hope the unit that acquired them took as good of care of them as were did. We had dogs in hell, I hope they are in heaven too.
♪ Taps ♪ for Maj. Steven Hutchison.
Posted by: Jack at August 17, 2009 09:15 AM
---
I hope Major Hutchinson is with his beloved Rhode now. Major Hutchinson died as a warrior. He left behind a part of him in Laia. Even the family that adopted the dog has ties to Major Hutchinson.
Hey Jack, I think all our pets go to heaven, via Rainbow Bridge.
Posted by: TomR at August 17, 2009 12:04 PM
---
Great story. More people should love animals as much, be a better place.
Posted by: Mark at August 17, 2009 01:40 PM
---
Jack, Tom and Mark thank you so much.
I agree about Rainbow Ridge too.
Posted by: Wild Thing at August 17, 2009 11:43 PM
---
SACRIFICE.... My God this HERO. SO SO SO appropriate that the dog be brought back , if for no other reason than a symbol of the man Major Hutchison was. It gives you a sad, but proud, feeling. DEEP PRIDE... /// I always thought it was a deep, and true shame, that the 'war dogs' from Vietnam were left behind after they were 'used'.... They saved MANY lives... and continue to die at our side GIVING THEIR ALL... it is the LEAST we can do..... http://www.uswardogs.org/id32.html
Posted by: pontiff alex at August 18, 2009 12:35 PM
---
Posted by: pontiff alex at August 18, 2009 02:12 PM
---