« Cardinals Cheerleaders Prepare for Big Audience Yet | Main | Defense Official: Obama Calling for Defense Budget Cuts »
February 01, 2009
Super Bowl XLIII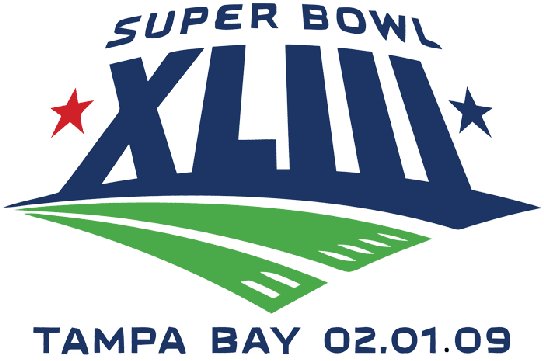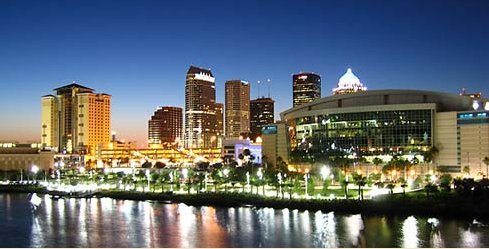 Super Bowl XLIII will be played at the Raymond James Stadium in Tampa. This will be the fourth time that Tampa has hosted a Super Bowl, and the second time for the Raymond James Stadium.

Troops in Iraq allowed beer for Super Bowl
Air Force Times

BAGHDAD
American troops in Iraq will be allowed to drink beer without fear of court-martial for this year's Super Bowl — an exception to a strict military ban on drinking alcohol in combat zones.
In what is sure to be a major morale boost, the top U.S. commander in Iraq, Gen. Ray Odierno, issued a waiver Wednesday paving the way for troops to participate in the popular American football tradition.
Super Bowl XLIII will kick off on Feb. 1 in Tampa, Fla., but it will be 2 a.m. in Baghdad when the live broadcast starts. Troops will gather in dining halls on military bases nationwide to watch the game.
A copy of the waiver said the consumption of alcoholic beverages will be limited to Feb. 1-2, and service members can only have two, 12-ounce beers each.
Odierno also appeared to acknowledge the sensitivity of drinking alcohol in an Islamic country, particularly considering the game falls during a holy period for Iraq's majority Shiite Muslims.
The waiver orders commanders to "keep in mind all host nation laws and customs regarding alcohol consumption" and "to exercise discretion and good judgment in enforcing these guidelines and restrictions."
U.S. troops have been banned from drinking, possessing or selling alcoholic beverages under a general order that also bans them from possessing pornography and other activities. They can face a reduction in pay or rank or even a court-martial if they violate the rule.
The Washington Post reported that several service members said the only other time the ban was lifted was in 2005, for troops operating under the Baghdad command.
Drinking alcohol isn't illegal in Iraq but is banned under Islam, and extremists have frequently targeted liquor stores.
.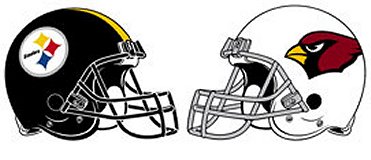 Deployed Troops to Watch Super Bowl From Forward Operating Base Tillman
As deployed U.S. troops pull up to their TV screens this weekend to watch the Arizona Cardinals take on the Pittsburgh Steelers during Super Bowl XLIII, there's likely to be a special sense of commemoration at Forward Operating Base Tillman in Afghanistan.
The remote base in Afghanistan's Paktia province is named in memory of Army Sgt. Pat Tillman. Tillman was a three-year starter for the Cardinals, but left the team before the 2002 season to join the Army after the Sept. 11, 2001, terrorist attacks. He became an Army Ranger and deployed to Afghanistan, where he was killed during a highly publicized friendly-fire incident in April 2004.
Only two of the Cardinals headed for Tampa for the Super Bowl were Tillman's teammates. But Adrian Wilson, a rookie during Tillman's final season, told the New York Daily News Tillman's memory lives on. "He's not a forgotten man," he said. "He's an inspiration for the whole organization."
The Pat Tillman Memorial erected near the stadium includes an 8-foot-tall, 500-pound white bronze sculpture of Tillman and a circular reflection pond on the Pat Tillman Freedom Plaza that surrounds the stadium.
These troops, assigned to 2nd Battalion, 506th Infantry "White Currahees" Regiment, serve as a trip wire to Taliban infiltrators attempting to cross the Pakistan border, less than two miles to the east.
Army Maj. Jason Westbrock, the unit's executive officer, said he expects many of his soldiers to watch the Super Bowl, which will be broadcast live on American Forces Network. AFN Afghanistan is coordinating with the Pentagon Channel to produce a video tribute to Tillman, and hopes to air it during the game.

.


National Football League, Military Continue Super Bowl Traditions
From fighter jet flyovers to military performances at halftime shows, the National Football League and U.S. military have shared more than 40 years of Super Bowl history.
The tradition continues on Feb. 1 in Tampa, Fla., during Super Bowl XLIII, with Army Gen. David H. Petraeus, commander of U.S. Central Command, performing the ceremonial coin toss for the Arizona Cardinals' and Pittsburgh Steelers' team captains.
"It is a privilege to represent our Soldiers, Sailors, Airmen, Marines and Coast Guardsmen in the coin-toss ceremony," Petraeus told American Forces Press Service today in an e-mail. "And it is an honor to thank the NFL commissioner and the teams and players for all that they have done in recent years to recognize the service of our troopers and their families."
The Air Force Thunderbirds aerial demonstration squadron is set for a pregame flyover, and an all-service U.S. Special Operations Command color guard is planned to present the nation's colors during the game's national anthem.
Air Force Tech Sgt. Holly Bracken will be on the field in the color guard formation, presenting the Air Force colors. She's privileged to represent her service and the military, she said, adding that it just wouldn't be a Super Bowl without military support.
"It's such an honor to go there and present the colors," said Bracken, who grew up near Pittsburgh rooting for the Steelers. "You can't have the presentation of the colors without [military] representation."
The NFL-military Super Bowl partnership stems from the first Air Force flyover in 1968 over Miami's Orange Bowl for Super Bowl II. Ever since, flyovers have become a staple of the Super Bowl, NFL spokesman Brian McCarthy said, citing military flyovers as "an unbelievable experience" to watch from the football field.
Since then, the military has supported flyovers for nearly every Super Bowl, he said. Also, military choirs have performed the pregame national anthem twice, with the U.S. Air Force Academy Chorale singing for Super Bowl VI in 1972, and a combined chorus from the U.S. Military Academy at West Point, the U.S. Naval Academy and the U.S. Coast Guard Academy singing for Super Bowl XXXIX in 2005.
The Marine Corps Silent Drill Platoon performed at halftime for Super Bowl VI in 1972, and the U.S. Air Force Band did the same in 1985 for Super Bowl XIX.
The military even has taken on its normal role as peacekeeper and protector for past Super Bowls, with the Florida Army National Guard taking part in security efforts in 2005 and 2007 along with other federal and state agencies.
"The NFL has had a longstanding tradition of supporting the military," NFL spokesman Brian McCarthy told American Forces Press Service during a phone interview. "We have a great appreciation for what the military does and feel honored to include the military in the Super Bowl."
Throughout the years, the Super Bowl has become one of the most highly rated televised events of the year. This year, Super Bowl XLIII will be broadcast to more than 230 countries to a potential worldwide audience of more than 1 billion viewers, including military members serving in Iraq and Afghanistan.
McCarthy said the NFL is working with NBC, which has the broadcast rights for Super Bowl XLIII, to coordinate a "look-in" from some of those military members serving abroad. A live satellite feed will show military football fans watching the big game from a military post in the Middle East, he explained.
"The NFL feels that the 70,000 fans attending the Super Bowl this year should be cheering louder for the military than the two teams playing," he said. "It is, indeed, very important for the NFL to look for every opportunity to support the troops."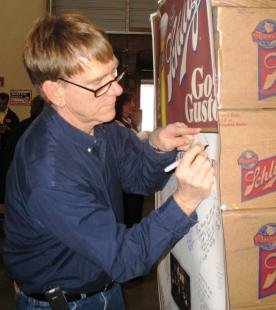 Mr. Jim Freeland, corporate chef, principal for Lou Malnati's, signs a wall-sized troop greeting card at Lou Malnati's corporate office in Chicago, Ill., Jan. 23, before shipping two crates of Schlitz beer and a truck-load of pizza to Soldiers in Iraq and Afghanistan for Super Bowl XLIII.
Posted by Wild Thing at February 1, 2009 04:50 AM
---
Comments
Oh boy! Beer! Are they ever going to love that!!! My nephew, the Boogster and his partners in crime in the motorpool will certainly enjoy an ice cold beer with the game. You can't have football without it. Sitting back, enjoying yourself and having a cold one. Yeah, that's the ticket and the kids do deserve it. They work so hard every day in the hot sun, so let them have it.
Posted by: Lynn at February 1, 2009 06:47 AM
---
We always tried to stay friends with the CB's they always had Beer and a CO2 fire extinguisher near by to get them cold real quick.
There used to be a standing order of two brews per day for the troops. That must've been cancelled along the way.
Glad to see they have recinded that no beer order at least for now.
Posted by: Mark at February 1, 2009 07:48 AM
---
The only NFL team with the nickname of a BIRD that ever WON a Super Bowl over the last 42 years was ?
The 2000 Baltimore RAVENS which really are the Baltimore Browns or Cleaveland Ravens! Love the fact that the EAGLES still have not won a Super Bowl ring. They brag about 1948, 1949 and 1960?
Let's hear it for Harry Truman and Dwight D. Eisenhower(Dec.26,1960 - Lame Duck then)
Posted by: darthcrUSAderworldtour07 at February 1, 2009 08:52 AM
---
I am glad the NFL has a good relationship with the military. Wild Thing has had many posts here to show that pro wrestling also supports our troops.
Support for the troops has certainly changed sincs Vietnam. Now, only the far left demonstrates against the troops. Even those Americans against the war still support the fighting men and women.
One advantage we did have in Vietnam was beer. There was beer almost everywhere. It was a part of local custom rather than against their religion. Who can ever forget that fine local blend of hops and formaldahyde, "33". Also called "bamiba". Beer in the EM club was 10 or 15 cents.
I listened to the 1967 NFL playoff game, the "Ice Bowl", between the Cowboys and Packers on Armed Forces Radio while flying a recon mission in Vietnam. It was a delayed broadcast, but we did not know the outcome beforehand. The game was played in temps below zero, while we were in the 90's.
Posted by: TomR at February 1, 2009 11:00 AM
---
Lynn, I am so glad. I was surprised to find out they don't normally get it. But I forgot they have the pressure of the Islamic not to offend them apparently.
Posted by: Wild Thing at February 2, 2009 12:59 AM
---
Mark, heh heh that is great!
"We always tried to stay friends with the CB's they always had Beer and a CO2 fire extinguisher near by to get them cold real quick."
Posted by: Wild Thing at February 2, 2009 01:03 AM
---
Darth, wow great question. I never knew that, thank you.
Posted by: Wild Thing at February 2, 2009 01:06 AM
---
Tom, see your right, I keep relating the things our troops had in Vietnam and I guess the Islam thing is so strong with our military they have to be careful about the beer. I am thrilled our troops get some at least for today. Maybe they will do this again for them.
Tom, thank you so much for sharing about that I really appreciate it.
Posted by: Wild Thing at February 2, 2009 01:09 AM
---
TomR, "33" yeah, I remember it well and it was real tasty. Went to a Vietnamese restaurant here a while back and they didn't have it but did special order it for me. On a hot summer evening an icy cold "33" was da kine.
Posted by: cuchieddie at February 2, 2009 11:36 AM
---