« Predictions for the New Obama "Presidency" | Main | Chicago Furniture Store Ad in Chi.Trib. Selling "Senate seats" »
December 31, 2008
Blagojevich Announces Burris But Look At This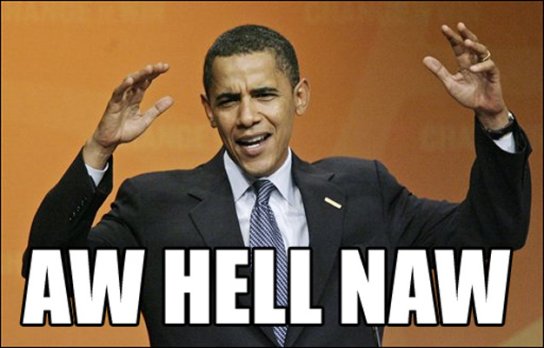 B. HUSSEIN Obama reacts .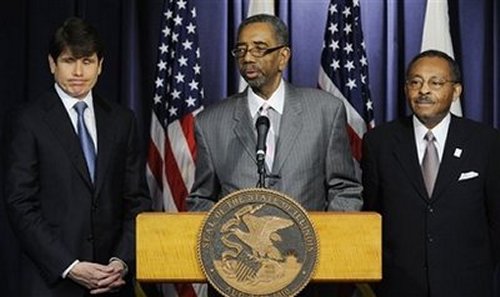 U. S Rep. Bobby Rush speaks after Illinois Gov. Rod Blagojevich announces his choice of former Ill. Attorney General Roland Burris, right, to fill President-elect Barack Obama's U.S. Senate seat Tuesday, Dec. 30, 2008 in Chicago
Illinois Governor Rod Blagojevich yesterday afternoon with his announcement created more political chaos with his nominee for president-elect Barack Obama's Senate seat, former Illinois Attorney General Roland Burris.
Best way to describe it was ......it was a bizarre press conferences. Soon after he introduced Burris, Blogo began to get a lot of LOL uncomfortable questions.
Within moments, Burris seemingly spontaneously spotted a friendly face in the crowd and called former Black Panther and now Illinois Congressman Bobby Rush up to "say a few words."
This was followed within minutes with an message from Obama from the land of surf and sand in Hawaii. This is so rich!
Blagojevich's appointment of Roland Bussis leads to Jim (James Reynolds which lead to Obama.
Thanks to Hoosiermama
1. Burris has gone on to receive over $1 million in no-bid, low-effort "consulting" contracts from Illinois State agencies under the Governor's control as well as a $5000/month "retainer" from Loop Capital, headed by BHO homie Jim Reynolds. ( source )
Craig Robinson is Barack Obama's Brother-in-Law ( Michelle's brother) ... He was also a managing director and partner at Loop Capital Markets. Obama's brother-in-law also served in 1999 as a managing director at the bond underwriting firm Loop Capital Markets, which was co-founded by Obama's neighbor, friend and political financier James Reynolds Jr. Several of Obama's most active financiers — black and white — say they were first introduced to him by Reynolds.

2. Jim Reynolds and Barack Are Very Close Friends And Have Been For A Long Time... ( source )
3. "In 2003, James Reynolds, A Chicago Investment Banker Who Is A Member Of Obama's National Finance Committee, Was Recorded On FBI Wiretaps Arranging What Prosecutors Said Was A "Sham' Consulting Contract With A Woman They Called The "Paramour' Of A Mayoral Adviser In Philadelphia. His Firm Later Won $300,000 Worth Of City Contracts." (Ken Dilanian and Matt Kelley, "Fundraisers Linked To Corruption Cases," USA Today, 10/16/08) ( source additional ..... check this out too Barack Book http://www.barackbook.com/Profiles/JamesReynoldsJr.htm
OBAMA responds
KAILUA, Hawaii (Reuters) - U.S. President-elect Barack Obama said on Tuesday he agreed that Senate Democrats "cannot accept" any move by Illinois' scandal-tarred governor to name a replacement for Obama's Senate seat.
Obama said he was disappointed that Gov. Rod Blagojevich — who has been accused of trying to sell the vacant Senate seat — had appointed former state attorney general Roland Burris to fill the vacancy.
"Roland Burris is a good man and a fine public servant, but the Senate Democrats made it clear weeks ago that they cannot accept an appointment made by a governor who is accused of selling this very Senate seat," Obama said in a statement, adding that he agreed with this position.
"I believe the best resolution would be for the Governor to resign his office and allow a lawful and appropriate process of succession to take place."
Reid: Senate won't seat Blagojevich pick
Blagojevich snubs Senate, taps Burris for seat.
U.S. Senate Majority Leader Harry Reid (D-Nevada) said in a statement this afternoon that the Senate will not seat anyone Gov. Rod Blagojevich chooses to fill Illinois' vacant Senate post, amid word that the governor is set to name former Illinois Attorney General Roland Burris.
The statement also is signed by U.S. Sen. Dick Durbin of Illinois, who has repeatedly urged Blagojevich not to name a replacement for the seat vacated by President-elect Barack Obama. The statement specifically names Burris, but applies to any choice the governor might make.
"This is not about Mr. Burris; it is about the integrity of a governor accused of attempting to sell this United States Senate seat," the statement read. "Anyone appointed by Gov. Blagojevich cannot be an effective representative of the people of Illinois and, as we have said, will not be seated by the Democratic Caucus."
The decision was made during a 10-minute conference call that included Reid, Durbin and Sen. Robert Menendez (D-N.J.), as well as representatives of Sen. Chuck Schumer (D-N.Y.). There was little discussion and no dissent in reaching the position, said a Senate aide.
"The goal was to get this statement out before Blagojevich made his announcement," the Senate source said.

.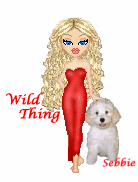 Wild Thing's comment..........
LOL this might be setting a new bar in criminal and political drama and all thanks to the THUG Obama and his friends.
I can see now why Obama replied immediately today when the announcement was made. Hahahaha He has got to be ticked to the max about this. Which is funny, because remember when Obama said awhile back he wanted a black to be given the job. I guess just not THIS black man some other one.
Posted by Wild Thing at December 31, 2008 05:45 AM
---
Comments
Posted by: Jack at December 31, 2008 08:34 AM
---
From what I've heard, Harry Reid has to seat this new Senator. They can impeach him but they have to seat him. He has met the constitutional requirements, the demos have no choice, whether they like it or not.
But since when have the dems ever followed the Constitution ? Blago has been indicted but not charged or convicted of any crime... yet. This is such a wonderful Christmas present to obama, such a great gift that keeps on giving...Can you say corrupt Chicago Politics, Barry ?
Posted by: Mark at December 31, 2008 09:44 AM
---
Blago is obviously mentally off his rocker.
The man is certifiable and makes those who live or have lived in Illinois look like they don't care about the corruption in that state.
Used to be we were proud to be from Illinois because of Lincoln. Now I just don't know anymore.
Dums only follow the Constitution when it fits their needs and who cares what happens to the rest of us. It's their unchecked handing out of money to those not willing to work and make something of themselves that has run this nation into the ground financially. They haven't yet learned that you can't give everyone everything. I wish we could but we can't.
Posted by: Lynn at December 31, 2008 09:54 AM
---
Just like the Clinton years. The next four years are going to be badly entertaining as all the crimimnal elements in Obama's rise to power come forward to get their piece of the pie. Like a pack of hyenas fighting over road kill.
Posted by: TomR at December 31, 2008 10:18 AM
---
Let me get this straight, "Reid: Senate won't seat Blagojevich pick", but......
Reid Plans to Seat Franken; GOP Furious
http://www.newsmax.com/insidecover/reid_franken_senate/2008/12/31/166764.html
Reid won't seat a senator legally chosen by a governor who hasn't been proven guilty of anything, yet he will seat a senator who is still in the middle of a questionable recount election. Democratic ethics at it's best (or worst).
If the GOP was really furious, they would use this Democratic circus to publicly press Harry Reid and the Senate to review Obama's original birth certificate to see if he really meets the natural born citizen requirement to be President.
Eligibility case finds 'standing'?
New suit claims unique state law enables citizens to demand proof
http://www.worldnetdaily.com/index.php?fa=PAGE.view&pageId=84966

Posted by: Les at December 31, 2008 05:22 PM
---
We have a community organizer without a valid birth certificate and age as our incoming 44th president, and Al Franken slated to be one of Muslimsotas next U.S. senators?
Happy F'N New Year?
Posted by: darthcrUSAderworldtour07 at December 31, 2008 05:29 PM
---
Jack yes, it feels like the Arkansas Clinton years all over again.
Posted by: Wild Thing at December 31, 2008 07:04 PM
---
Mark, thanks for the information. Your right too, Dems snub their noses at our Constitution, it means nothing to them. They only like it when it agrees with them.
Posted by: Wild Thing at December 31, 2008 07:08 PM
---
Lynn, Yes I feel badly for the good people that live in Illinois. I know from living in Calif. it is hard to live where your outnumbered but you keep trying to vote the bad guys out.
Posted by: Wild Thing at December 31, 2008 07:10 PM
---
Tom, that is exactly what it feels like to me too. The names are still in my mind too from all the crimes.

LOL great description Tom....
" Like a pack of hyenas fighting over road kill."
Posted by: Wild Thing at December 31, 2008 07:13 PM
---
Les good point, yes if the GOP had their manhood they should do that. waaaaaa they are too weak to do stuff like that. GREAT idea though Les.
Thank you so much for the links and the information. WOW I sure hope this one sticks, this lawsuit.
Posted by: Wild Thing at December 31, 2008 07:16 PM
---
Darth, well said..... that is just what we have.
Posted by: Wild Thing at December 31, 2008 07:25 PM
---
Burris is an idiot. I had a temp job in his office when he was first elected Comptroller (a lot of dead folks were all for it that year). One of his "people" offered me a job with no responsibilities except to "party" with Burris and his boys when they were in town. No thanks! Makes my skin crawl everytime I think about him.
I went to work for lawyers, a huge step up...lol.
Posted by: Eden at January 1, 2009 04:50 PM
---