« Ahmanutjob Giving Us The "neener-neener-neener" | Main | Castro: Hillary Will Win »
August 30, 2007
Tankity Tank Tank Tank ~ Lovin it!
M-1 Abrams Music Video...song is titled..."I'VE GOT DAH POWAH!"

.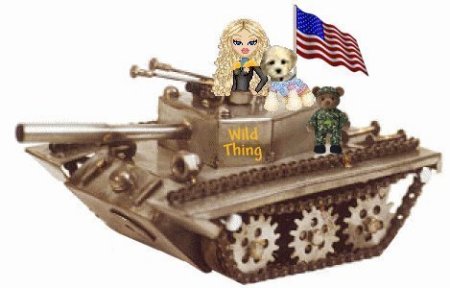 Posted by Wild Thing at August 30, 2007 12:45 AM
---
Comments
Frau Vader and I played the Panzer song from 'The Battle of the Bulge' when we got married! "Is it twoo vat day say about your 88 howitzer?.... It's twooooooooo.... ja vol!"
Posted by: darthcrUSAderworldtour07 at August 30, 2007 05:57 AM
---
The A3 model of the Abrams is now coming on line. No known tank in the world compares with our M1Abrams. It would be nice if the Gathering of Eagles could have a couple of these in DC on 15 Sep
Posted by: TomR at August 30, 2007 10:17 AM
---
This video gave me goosebumps, I'd still like to take that Abrams for a spin. Big differences between the old M60A1 in the interior. No mechanical range computer, the loader still has to man handle the ammo, like that HEAT round in the beggining, the CVC helmet looks to be a bit cooler and more comfortable. But one thing is for sure, you take a pounding anytine you're in one. I'd bet the HVAC is pretty much the same too. The way to tell the armored troops from all the rest is to strip them naked, the ones with all the bruises are Armor.:)
Posted by: Jack at August 30, 2007 05:04 PM
---
Darth, giggle. I love it.
Posted by: Wild Thing at August 31, 2007 12:53 AM
---
Tom, oh wow what a fantastic idea, that would be so awesome.
Posted by: Wild Thing at August 31, 2007 12:55 AM
---
Jack, wow that is amazing.
Posted by: Wild Thing at August 31, 2007 01:00 AM
---