« CENTCOM Commander Visits Mountain Lion Battlefields | Main | When Libya's Mummar Qaddaf Got His Butt Kicked »
May 23, 2006
Commission Maintains U.S. Military Cemeteries Overseas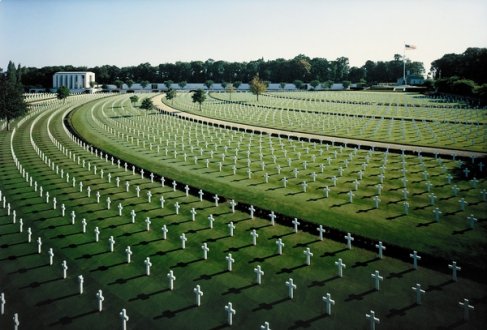 The U.S. cemetery in Cambridge, England, contains the remains of 3,812 of American war dead from World War II. (Courtesy photo)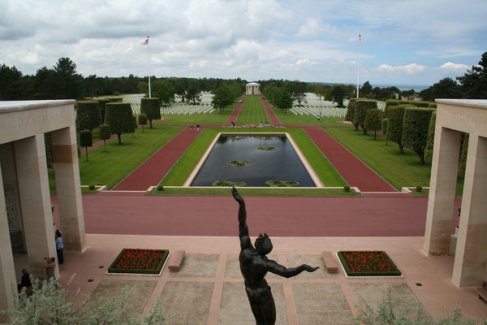 The American Battle Monuments Commission maintains the U.S. cemetery in Normandy, France. The cemetery is situated on a cliff overlooking the English Channel. The 172-acre cemetery contains the graves of 9,387 U.S. servicemembers, most of whom died on D-Day, June 6, 1944. Courtesy photo
By Steven Donald Smith American Forces Press Service
WASHINGTON, May 23, 2006 – Recognizing the need for a federal agency to take the lead in honoring U.S. servicemembers who died on foreign soil, Congress enacted legislation in 1923 to create the American Battle Monuments Commission.
The American Battle Monuments Commission maintains and oversees American cemeteries and monuments around the world. They are commemorative sites honoring our nation's war heroes," retired Army Brig. Gen. John "Jack" Nicholson, secretary and chief executive officer of the commission, said.
The commission directs the administration and operation of 24 American military cemeteries and 25 monuments and memorials located in 15 countries, including three memorials in the United States. The commission is an agency of the executive branch of the federal government.
The commission maintains the sites with appropriated funds, Nicholson said, and employs about 300 foreign nationals.
"We sort of live by the motto of our first chairman, Gen. John J. Pershing, who said, 'Time will not dim the glory of their deeds,'" Charles A. Krohn, deputy chief of public affairs, said.
Its mission also includes designing and constructing new cemeteries and monuments. For instance, the commission designed, planned and raised money for the World War II Memorial in Washington, D.C., which was turned over to the National Park Service shortly after it opened on April 29, 2004.
The primary focus of the commission is World War I and World War II, but it also maintains a cemetery in Mexico City from the Mexican-American War (1846-48) and a cemetery in Panama that includes many U.S. troops and civilians who died of yellow fever while building the Panama Canal, Krohn said.
There are 124,917 American war dead interred in ABMC cemeteries: 30,921 from World War I, 93,246 from World War II, and 750 from the Mexican-American War, commission officials said.
The families of those killed during World War I and World War II had the option of bringing the bodies of their loved ones back to the United States for burial. But 39 percent allowed the remains to be buried overseas at American cemeteries. In 1949, the next of kin again had the option of repatriating the remains or leaving them overseas. Sixty-five percent opted to move the remains back to the U.S., Krohn said.
The American cemetery in Normandy, France, is the commission's most famous and most visited site, Nicholson said.
He said the Normandy cemetery, along with all the other sites, are a reminder to all people of what the U.S. has done for the cause of freedom.
"The United States has willingly sent its young men and women to these foreign countries when asked to restore their freedom," Nicholson said. "We encourage people to visit them to be reminded of the sacrifice and courage of the Americans buried there."
Krohn said that on a visit to a commission cemetery in Tunisia in February, Defense Secretary Donald H. Rumsfeld became a "legend" with the folks who work at the commission.

"As he was being escorted through he saw a cigarette butt on the ground and, without saying anything, he bent down, picked up the cigarette butt and put it in his pocket," Krohn said. "He may not have made much of it, but it was watched by a lot of people who were exceptionally moved by the thoughtfulness of that act."
The biggest challenge faced by the commission is getting people to visit some of its more obscure cemeteries and monuments, Krohn said. "We have cemeteries near Paris and Rome, but nobody knows about them. Spreading the word is our biggest challenge," he said.
Nicholson said visiting the sites is an educational experience, and everyone he has talked to has been glad they made the trip.
"I think there has never been an American or a person from any other country that has visited one of our cemeteries or memorials that regretted it," Nicholson said. "Go see them. You'll be glad you did."
A full list of American Battle Monuments Commission cemeteries and memorials is available on the commission's Web

Wild Thing's comment......
Just a thought and maybe I am wrong, but wouldn't it be respectful and show gratitude if the countries that we saved their glutes would keep up the Cemeteries as a way of saying thank you into eternity?
Posted by Wild Thing at May 23, 2006 03:55 PM
---
Comments
I've repeatedly said this before, that we should repatriate our dead, especially from those countries who have forgotten who saved their asses, not once but twice, and spit on us today.
Posted by: Jack at May 23, 2006 09:00 PM
---