« NBC Ask Muslims To Troll Nascar and Other Events | Main | Schools Ban Patriotic Clothes, Flags »
April 06, 2006
U.S. Troops Secure Baghdad's Route Redwing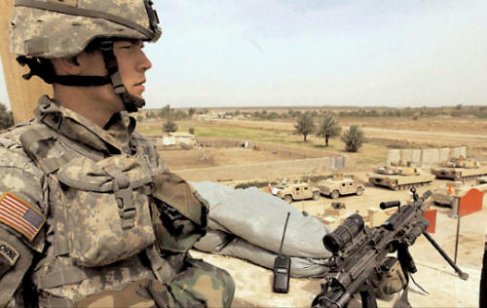 U.S. Army Spc. Michael Sheridan, assigned to the 101st Airborne Division, looks onto Route Redwing in Baghdad. He provides security for an observation point and troops on the ground. (U.S. Army photo by Spc. James P. Hunter)
April 05, 2006
BAGHDAD, Iraq -- U.S. soldiers are tasked to run security operations and route reconnaissance on Route Redwing, used by insurgents to bring supplies into Baghdad.
To prevent improvised explosive devices from endangering the lives of coalition forces and Iraqis, U.S. soldiers assigned to elements of the 4th Infantry Division and 101st Airborne Division have been tasked to run security operations and route reconnaissance on Route Redwing in southern Baghdad.
Prior to the soldiers taking over Redwing, insurgents used the route to bring supplies into Baghdad, said U.S. Army Spc. Derrick Marez, a gunner with Company D, 2nd Battalion, 506th Infantry Regiment. Insurgents also used the route for a clear path to fire mortars at the International Zone in Central Baghdad.
Along the road, many improvised explosive device craters can be seen, some which took the lives of soldiers only a few months earlier. On the west side of the road, there is a house where insurgents planned attacks, said U.S. Army Sgt. 1st Class Steven Crafton, a Company D platoon sergeant. Soldiers nabbed the insurgents.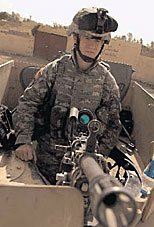 U.S. Army Pvt. Joseph Boje, a 101st Airborne Division gunner, helps secure Route Redwing in Baghdad from a humvee turret. (U.S. Army photo by Spc. James P. Hunter)

As the coalition works to hinder improvised explosive device placement, U.S. forces still need help from the Iraqi police forces, said U.S. Army 1st Lt. Christian Wollenburg, a Company D platoon leader. One of their main goals is to eventually hand over the route to the 4th Public Order Brigade, an elite Iraqi police unit.
The Iraqis now provide security at the checkpoint, controlling traffic and ensuring no weapons or explosives are brought into the area, he added. They are also conducting joint patrols with the soldiers.
Each patrol the 506th conducts, the light infantry tries to incorporate the Iraqis, said Wollenburg. Their presence lets the Iraqi people know their government is taking the needed steps to secure freedom for their country.
Wollenburg said the Iraqis are steadily improving. They are all wearing the same uniforms, carry their weapons correctly, and acting and moving as a unit.
The U.S. and Iraqi forces continuing efforts to eliminate the insurgency on Redwing will ensure safety, said Wollenburg. Their efforts will give the 506th troops the opportunity to use their combat power in another area and the Iraqi police the opportunity to take control of the mission.
By U.S. Army Spc. James P. Hunter - Multinational Corps-Iraq

Posted by Wild Thing at April 6, 2006 12:27 AM
---
Comments
Good post, because of blogs like yours, Wild Thing the word gets out that things are going in the right direction in Iraq.
The MSM says that nothing good is happening in Iraq.
This post indicates the contrary.
1. Iraqis are still joining the police forces and army. They want to make things better.
2. Training police and soldiers takes a lot of time and patience. It does not happen over night.
3. The Iraqis are making progress.
Posted by: RightToCarry at April 6, 2006 05:42 AM
---
RTC you are so kind, thank you.

I like your list and it would just kill our media if they said positive things about our troops and this war. ugh!

Posted by: Wild Thing at April 6, 2006 10:04 AM
---