« Carter Seeks Vote in U.N. Against U.S. | Main | Al-Quada Suspects Trail In Yemen »
March 05, 2006
Letter Writing Request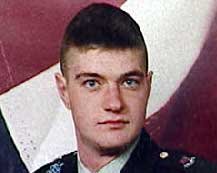 .
SGT. Ricky Jones
Many of you have read about the "brave dissenters" who expressed their "support for our Troops" by vandalizing the home of Army SGT Rickey Jones.
The story about it is here........Dead soldier's home vandalized

He was killed in action Feb. 22 when an improvised explosive device detonated near his Humvee during patrol operations in Hawijah, Iraq. These "patriots" have actually called SGT Jones' family to tell them 'I'm glad your son is dead." If that wasn't enough for SGT Jones' family to deal with, Fred Phelps and his hatemongers will probably picket the funeral.
Army Sgt Rickey Jones, 21, Kokomo, Indiana
Died February 22, 2006 with three other soldiers when their vehicle was hit by a roadside bomb north of Baghdad. Assigned to the 101st Airborne Division based in Fort Campbell, KY.

Ronnie Jones, the soldier's grandfather, said his grandson was a loving person and the pride of his family. He said the family received few details of the soldier's death.

The four soldiers assigned to the division's 1st Brigade Combat Team were killed on patrol Wednesday near Hawijah, 150 miles north of Baghdad, the military said in a statement.

Jones, a 2002 graduate of Kokomo High School, was serving his second tour in Iraq and recently had been promoted to sergeant. He is survived by his mother, Tenia Rogers, and grandparents Ronnie and Margaret Jones, all of Kokomo.
A Soldier's Perspective, is trying to help organize a letter writing campaign to the family of SGT Rickey Jones.
If you are as disgusted as I am and would like to write a letter to have delivered to this family, please email Lauren (MyWay716@aol.com) for more information. The good people over at Operation Military Pride are helping facilitate the delivery of these letters.
Thank you
Posted by Wild Thing at March 5, 2006 01:20 AM
---
Comments
Thank you for remembering Rickey! We all Loved him.
Posted by: HOmetownkokomo at May 29, 2006 09:54 AM
---