« Rick Perry Says The Truth Calls Ron Paul a Hypocrite For His Earmark Record | Main | Rick Perry At the Debates Over the Weekend ~ Excellent »
January 09, 2012
Rick Perry Picks Up Key Endorsement in South Carolina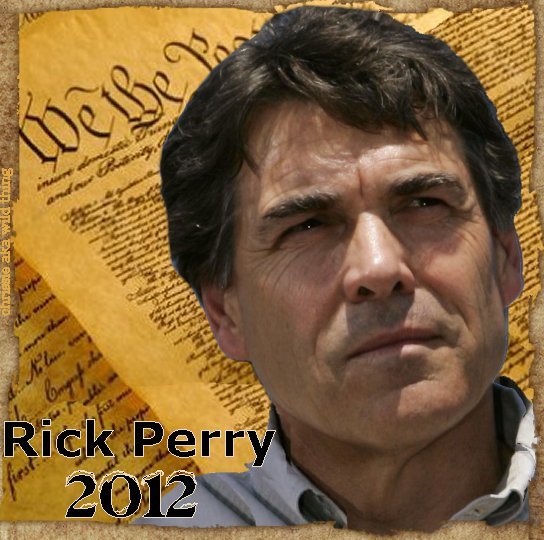 Rick Perry attacks Obama and picks up key endorsement in South Carolina

GREENVILLE, S.C. — Texas Gov. Rick Perry continued to barrel across the Palmetto State on Saturday, picking up a prized endorsement here in the heart of South Carolina's most conservative and evangelical region.
More than 400 curious partisans packed Tommy's Country Ham House to check out the latest Republican presidential hopeful — the largest crowd assembled at this iconic political eggs-bacon-and-grits joint since another Texas governor, George W. Bush, was running for president in 2000.
As Perry walked through the restaurant with his wife, Anita, he made clear that his hopes of winning the Republican nomination rest with South Carolina. "We're going to campaign in South Carolina with fervor," Perry said, calling the state "a conservative beacon on the eastern seaboard of this country. It is truly a bright light."
Fortunately for Perry, one of the state's most influential Republicans, former state House speaker David Wilkins, who served as Bush's ambassador to Canada, embraced him here.
Wilkins ticked through the bullet points of Perry's biography: married with two grown children, a Southerner, a conservative, started his political career at age 34, served in uniform, attended a land-grant university.
"I'm sure all of you have many things in common with Governor Perry, and that's the point," Wilkins said. "Governor Perry is one of us. He is someone that we can relate to, he is someone that we can connect with, he is someone that we can believe in. And Governor, South Carolina is a small state, but we have a big heart. We want our government to do a few things — a few things — and do them well, and then get out of the way."

At that, shouts of "Amen!" rang out among the crowd.
Perry is aggressively building a campaign organization in South Carolina, home to the first primary in the South, where evangelical Christians make up a sizable portion of the Republican primary electorate. Perry, who laces his comments with references to his faith, is expected to do well here, although Rep. Michele Bachmann (R-Minn.), who also appeals to evangelical voters, has been making an aggressive push, as well.
Perry secured a slew of endorsements from state legislators and other South Carolina Republican figures in recent days, advisers said, and plans to begin rolling some of them out as early as next week.

Perry is wrapping up an eight-day campaign swing this weekend that began with his official announcement last Saturday in Charleston, S.C. He planned to return home to Austin on Saturday afternoon, and aides said he plans to spend the next week raising money and building his campaign organization. Perry may not return to the campaign trail until the following week.

At the Ham House here, Perry spoke for only five minutes but left no doubt about what his campaign would be about.
"We may talk about a hundred different issues by being asked different questions, but let me tell ya, every time I'm going to come back to the issue that is most important to Americans, and that is, 'How are we going to get this country workin' again, sir?' " Perry said.
"The answer is: We're gonna cut the taxes, we're gonna lower the regulations, we're gonna get the lawyers out of our business, and we're gonna get America back workin' again."
Perry lashed out at President Obama, as he has at each stop on his busy campaign schedule over the past week.
"The Obama administration recently referred to food stamps as economic stimulus," Perry said. "Food stamps are not the solution. They are a symptom of a problem, Mr. President. There's too many people out of work. Most Americans don't yearn to be dependent on government. They want economic freedom. Economic freedom comes from work and wages, not welfare."
Perry said his campaign would be about change.
"It is time for change," he said. "Not rhetoric of change, but a record of change. We will get America workin' again. God bless you."
In a short news conference after his final event of the day, Perry criticized Obama's handling of troop deployments in Afghanistan and Iraq.
"We need to be thoughtful before we ever go into an area that America's interests are truly being impacted, and then we need to start having a thoughtful conversation with those commanders in the field about how to be bringing our young men and women back," Perry said. "Look, I think the president made a huge mistake by signaling the enemy that we're going to leave at a particular time. That's bad public policy, but more importantly it put our kids in harm's way."
He also defended his comments earlier in the week about global warming.
"I just happen to believe that the earth's temperature has been moving up and down for millenniums now, and there are enough scientists out there now that are skeptical about the reasons for it," he said. "And I happen to be one of those that are skeptical that for us to spend billions of dollars on a theory that is not proven, and that you have skeptical science against that, is not in America's best interest."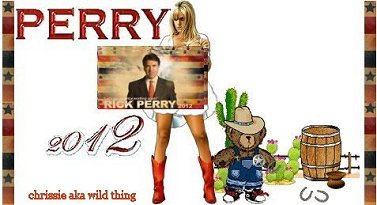 Wild Thing's comment........
People love to meet him, and their response always is so great.
I really hate how close the Caucus things are to each other, It really is unfair to all the candidates.
Posted by Wild Thing at January 9, 2012 02:50 AM
---
Comments
That's the problem. Perry picks up a lot of the right kind of high level endorsements but we never hear of them unless we read them here or on the internet. The MSM, including FOX, never mention Perry's endorsements and what they're saying about Rick. All they talk about if Romney, Gingrich, and Santorum.
Posted by: BobF at January 9, 2012 07:37 AM
---
Bob - I seldom watch Fox anymore. It bugged me no end that most of the anchors/moderators would ask a guest a question and then talk over the guest. Most of my news comes off the Internet where i can get summaries of speeches and interviews w/ the superflous nonsense filtered or culled out.
Jan 21 is going to be a major event in Perry's campaign. The most recent polls show him at about 9-10%. If he doesn't do much better than that I am afraid he may drop out. Gingrich, Paul, Perry and Santorum are all dividing the conservative vote among themselves and Romney is coasting along with about 25-30% of the other Repub votes. Some of the states have open primaries and I see Dems crossing over to vote Romney and boost his delegate count.
Meantime, obama becomes even more dictatorial as he sees that he could possibly lose reelection.
Posted by: TomR at January 9, 2012 12:19 PM
---
Tom, you're right. That bugs the fire out of me when FOX does that to their guests, whether Conservative or Liberal. They also try to lead their answers and get the guest to say what they want, not what the guest has to say. Sean Hannity does that quite a bit.
Posted by: BobF at January 9, 2012 06:19 PM
---
Thank you so much Bob and Tom, I really appreciate it.
Posted by: Wild Thing at January 10, 2012 04:08 AM
---