« Madison Police Detain Union Pperative Who Tried To Destroy Tea Party Sound System | Main | Tea Partiers Rally in Madison to Support GOP Gov. Scott Walker ~ " America is going to be community organized NO More" »
February 20, 2011
House Speaker John Boehner Unleashes New GOP Freshmen ~ Fantastic Work Speaker Boehner!!!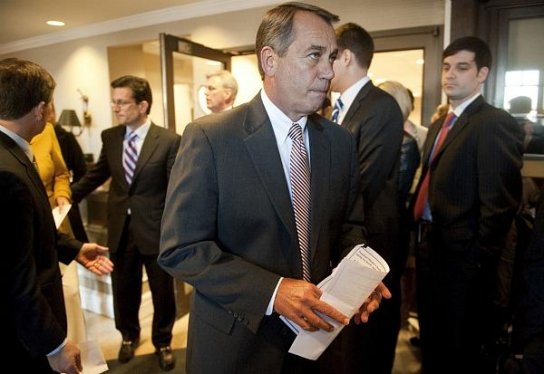 Speaker of the House John Boehner, (R) of Ohio, arrives for a news conference at Republican National Committee headquarters Tuesday, Feb. 15. Unlike his predecessor Nancy Pelosi, Speaker Boehner is much more willing to let individual lawmakers act independently.
House Speaker John Boehner Unleashes New GOP Freshmen
House Speaker John Boehner is taking a sharp turn from former speaker Nancy Pelosi's command-and-control style. He's letting his new freshmen act more independently. The battle to cut spending while avoiding a government shutdown is the first test.

Washington
The schedule was shot – final votes on a massive bill to fund the government past March 4 had been set for Thursday -- the House floor had just erupted in hoots and shouts, and John Boehner, Speaker of the House for just 45 days, was beaming.
"This was like diving off a 50-foot diving board your first dive – to do all of government," the Ohio Republican told a handful of reporters in an impromptu meeting Friday night, just off the House floor. "There's no example of the People's House better than what you've seen here. They've had a real debate, and they loved it."
Not everyone loved it. Senior Democrats – who had seen their legacy on issues ranging from health care reform and financial regulation to greening initiatives in the Capital defunded by the new majority this week – called it a travesty.
"The only good thing about it is that it will go nowhere," said Rep. Barney Frank (D) of Massachusetts, whose signature Wall Street reform law was drained of resources by floor votes this week.
But for the bumper crop of Republican freshmen – the engine of the new majority – this week marked a decisive coming out.

Many waited until late Friday night to present their own amendments to an omnibus bill to scale back a projected $1.6 trillion deficit for FY 2011. The right to offer amendments on legislation had all but disappeared in the highly polarized House in recent years. For a freshman to have a shot at amending a bill was an event rarer still.
This week, a dozen GOP freshmen stood up on the floor to manage their own amendments. By the end of the week, the time allotted to make their case on the floor had dropped to three minutes, including time to offer to colleagues supporting your amendment.

Boehner says it's just what he wants.
"This open debate is teaching a lot of members to be legislators," he said, in remarks to journalists on Friday. "Half of the freshmen have never served in public office. Allowing them to participate in this will speed up their development as legislators."
This is vintage Boehner, who helped lead the Republican revolution that took back the House in 1995.
"If we're able to continue with as open a process as we can have, it will drive major change in the institution," he said on Friday. "With an open process that respects the work of committees, you'll see more working across the aisles and more healthy debate…. All of our differences get thawed out on the floor of the House."
'My job is not to enforce my will'
Asked whether he can control the 87-member freshmen class, he said: "Our job is not to have control over them. That's not the way the House should be run…. My job is to protect the institution, not enforce my will … to restore an institution that has been badly damaged over a long time."
That's exactly what concerns Senate Democrats, who now must decide how to come to terms with a bill that both majority leader Harry Reid and President Obama have rejected.

Boehner announced on Thursday that he will not accept an extension of the continuing resolution (CR) now funding government without spending cuts. If the House and Senate do not agree on a bill to fund the government by March 4, the government shuts down.
Boehner and the freshmen are facing two other major votes on spending: Next, a vote to pass a budget resolution for FY 2012 and, later this spring, a highly controversial vote to raise the national debt limit above $14.3 trillion.
"These will be the most important two or three months we've seen in this town in a decade," he said, on Friday. Then, he smiled.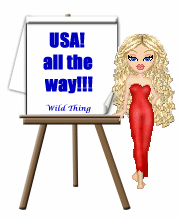 Wild Thing's comment.......
This really shows how Pelosi was a real tyrant! There should be MORE deal making in House, and certainly each of our respecitive Representatives should have a voice, rather than running everything by just a few leaders.

"Command and Control" should be the Democrat's Party's motto.

The Freshmen are having a huge impact for only being in office for 6 weeks. AND Speaker Boehner supports them. He's not being a RINO here. Better yet, he's not Nancy and he has Barney Frank all a dither!
Posted by Wild Thing at February 20, 2011 05:48 AM
---
Comments
I sure like the way Boehner has operated since taking over the speaker's gavel. Also, he has't requested a giant personal plane to fly home in on the weekends. I bet that chaffs Pelosi's botoxed ass.
Posted by: TomR at February 20, 2011 10:52 AM
---
It's going to take time they got to get their
'Sea legs' befor they can much farther.
Posted by: Mark at February 20, 2011 11:40 AM
---
Excellent post...thanks for the heads up. I did not now Boehner was around in 1995 to help clean up that mess too.
Posted by: Olga Centura at February 20, 2011 05:32 PM
---
The motto of the Democrat Party is Control, Control, Control. Writing an intelligible command or budget is too much work for them.
Posted by: Avitar at February 20, 2011 05:45 PM
---
Tom, I agree, he is doing it in a quiet strength unlike Pelosi the control freak demanding attention and special favors for herself.
LOL I bet it does too what you said about Pelosi. hahaha
Posted by: Wild Thing at February 21, 2011 12:19 AM
---
Mark,yes I agree, and making them take part more is helping them.
Posted by: Wild Thing at February 21, 2011 12:21 AM
---
Olga, nice to meet you, thank you for your comment.
Posted by: Wild Thing at February 21, 2011 12:22 AM
---
Avitar, well said and so true.
Posted by: Wild Thing at February 21, 2011 12:24 AM
---