« Unlike Barack Obama, Here is A REAL Man and An America Loving President Ronald Reagan - We Must Fight Speech | Main | Insane!!! Justice Breyer Says Save the Koran, and Burn Constitution »
September 15, 2010
Tuesday's Political Races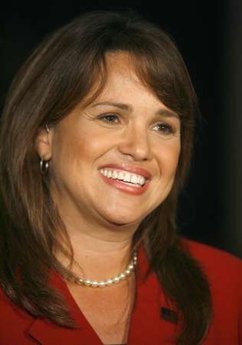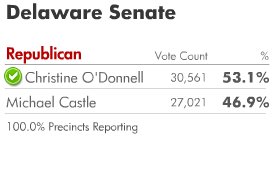 Tea party-backed Christine O'Donnell wins for Senate race in Delaware
Christine O'Donnell upended nine-term Rep. Mike Castle in Delaware's Republican Senate primary on Tuesday.
She thanked Sarah Palin during her victory speech. She had Rush Limbaugh and Mark Levin also on her side,and several other conservatives.....(more of my notes further down ~ Wild Thing)
.
Good grief– FOX News reported, "The National Republican Senatorial Campaign (
NRSC
) announced tonight that they will not support conservative Christine O'Donnell in her campaign for US Senator in Delaware."
.

The GOP in Delaware launched an outrageous roboball call against conservative challenger Christine O'Donnell. The call suggests that conservative O'Donnell is only out for the money.
The Delaware Republican party has launched a new robocall the same day voters head to the polls – attacking one of their own.
It features a woman identifying herself as former campaign manager for Republican Senate candidate Christine O'Donnell's and saying, "O'Donnell is no conservative" rather she "just wanted to make a buck."
In the call, a woman introduces herself as Kristin Murray, saying she managed O'Donnell's 2008 Senate bid and alleges: "I found out she was living on campaign donations – using them for rent and personal expenses, while leaving her workers unpaid and piling up thousands in debt. She wasn't concerned about conservative causes. O'Donnell just wanted to make a buck."
Murray is backing O'Donnell's opponent, nine-term Rep. Mike Castle.
Rush Limbaugh was right…......" Republicans Are Blowing Their Best Chance to Beat Liberalism " ................"They would prefer to have somebody like Mike Castle elected, who is not even as good as McCain. What good is that going to do the conservative movement?"
Then Karl Rove and some others said they were for Castle and not for O'Donnell saying she would not win in November....... see video below:
Karl Rove on Sean Hannity, Discussing Christine O'Donnell and 2010 Election

Mike Castle is a complete RINO and he also voted with Dems for Bush impeachment resolution.
Rove at least acknowledges that Castle votes poorly. BUT OMG, Rove cranked up a one man smear campaign on live TV,... against a Republican who just won a primary. Rove was very pissed off. For some reason he thinks Castle would be an asset in the Senate...maybe like Collins and Snowe, Lindsey Dipshit and McCain.
Hey Karl, wake up and smell the Patriots! I realilze Rove is looking at the BIG picture of who can win against the democrat, but here is the thing. Isn't it better to at least try to put a conservative in office then keep these RINO"s in that end up voting with the democrts so much of the time. It is a risk I realize that in trying to win, but a risk worth taking imo. We are talking about Republicans after all .....conservatives vs. more rino's.
We're having a Revolution on November 2nd!
.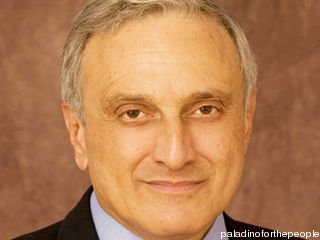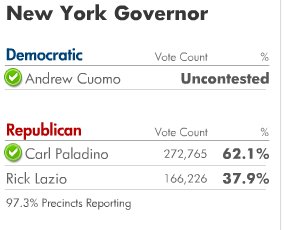 Palidino declared winner in NY GOP Gubernatorial Primary
PALADINO : 65.4% LAZIO : 34.6%
NEW YORK (AP) - Political novice and tea party ally Carl Paladino has beaten the Republican designee in the race for the party's nomination for New York governor. Paladino rode a wave of voter anger on his way to defeating former Congressman Rick Lazio.
Paladino, a millionaire Buffalo developer, will now take on the popular and well-financed Democratic attorney general, Andrew Cuomo, in November.
Paladino lost to Lazio at the state GOP convention but then petitioned his way to the primary by securing 30,000 Republican signatures statewide.
In an interview yesterday in NY Carl Paladino said Andrew Cuomo hadn't been properly vetted by the press so he would do it..

.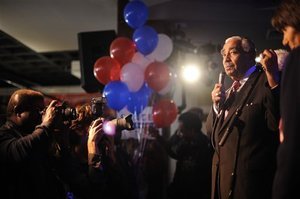 Charles Rangel, with all the ethics charges against him, easily defeated his main challenger Adam Clayton Powell IV by a wide margin for 52% to 24% with over 70% precincts reporting.
Veteran Rep. Charlie Rangel defeated five primary rivals Tuesday night to lay claim to a history-making 21st term in his Harlem seat, even amid the specter of an upcoming House ethics trial and a snubbing by a national Democratic establishment that held him at arm's length.
HARLEM, N.Y. (WPIX) — Even though they're required to be impartial, poll workers cheered on scandal-plagued Congressman Charlie Rangel as he arrived to cast his vote.
"The law prohibits electioneering and other improper activity within the polling place," is a requirement of the New York City Board of Elections. However, the people working for the board at Rangel's local polling place, P.S. 175, an elementary school on 134th Street in Harlem, not only applauded and cheered when the congressman entered the polling place, some even shouted, "He's going to stay!" and "He's ours!"
.
Regarding Rove going off like that. I don't get it, she beats the "shoe-in" candidate and she's unelectable? He has donen this before, not as strongly as this time. But I forget the name of the person that was running and he was a conservative and Rove chose the rino then too. Rove has sided with the Rino forces and has been completely tone deaf to the rise of the Tea Party movement.
November on the horizon. My concern is the fraud machine. Vote fraud is theft of government and should be a capital crime. To me, it is akin to treason.
And then there is also this:
Michelle Malkin has a very solid reaction to Karl Rove's disgraceful behavior on Fox News tonight. That is not why Fox should suspend him and investigate. According to this report, Rove was working behind the scenes on behalf of the Castle campaign to negotiate a deal that would have led to some Delaware Tea Party groups not supporting Christine O'Donnell, while giving Mike Castle a pass.
Especially given his comments on Fox News tonight, until this is resolved, it seems impossible to trust Rove as an objective analyst. In terms of the conservative movement, we should not simply ignore him, but proactively work to undermine Rove in whatever ways we can, given his obvious willingness to undermine us.

via Michelle Malkin's blog , before Christine O'Donnell could even make an acceptance speech, the NRSC rushed out to say they will not support her. Video here via The Right Scoop.
One source I spoke with claims that RNC Michael Steele is purportedly going to go to Delaware to support Christine O'Donnell. As I said earlier on Twitter, the NRSC is dead on the web as far as I am concerned.
@NRSC Cornyn is one of the most incompetent NRSC heads ever. Now you won't support us? You are DEAD on the web ....
I would encourage all grassroots and conservative activists and bloggers to, not just ignore them, but proactively work to run-down whatever web based initiatives they choose to employ until this matter is resolved. John Cornyn should be held accountable and removed from his NRSC position.
He has demonstrated his incompetence several times over and now this. It is time for John Cornyn to go. If the NRSC had decided to not fund O'Donnell that is one thing. But to leak word of it tonight as they did, on the very night of her compelling victory over their preferred candidate, is way over the top. Cornyn needs to resign in disgrace, or be replaced if the GOP establishment wants any cooperation from online bloggers and activists going forward.

.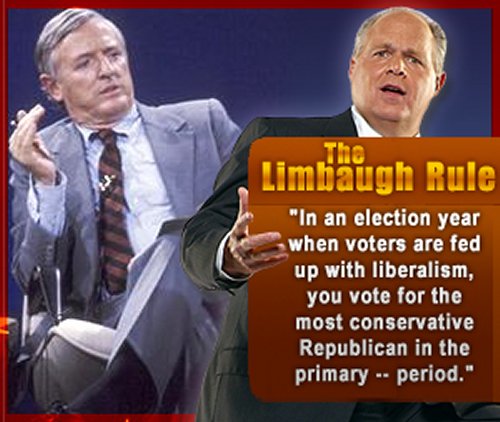 The Limbaugh Rule: Vote for Most Conservative Candidate in Primary
We still have people who think that professional Washington politicians are the way to fix this, and clearly it isn't. Some of these people are citing the Buckley Rule.
Now, I can honestly say that I know what the Buckley Rule is. I can honestly say I knew William F. Buckley and Buckley was a friend of mine.
The Buckley Rule is, ostensibly, that you vote for the most electable conservative option against a Democrat in November. You vote for the Republican, slash, conservative who can win. To me, this requires clairvoyance, as is being currently applied in the Mike Castle-Christine O'Donnell race in Delaware, to use an example.
The polling data is that Castle will win big and O'Donnell will lose big. If she gets the Republican nomination today, if she wins the election she'll lose big. The polls say she'll lose by 25 points; that Castle will win by 20 points.
But who knows this?
The election's a long time off. In a year like this, it seems to me that Americanism versus socialism can make up 25 points. Why the hell not try to? Is what I don't understand. Why not try to make up the 25 points?
Okay, let's just assume that it's correct. Let's assume that Christine O'Donnell is down in the polls, Democrat polls, by the way, by 25 points. Okay, fine. If she's the best option we have to stop what's going on once she gets to Washington, why not try to make up the 25 points?
We got socialism, communism, liberalism on the ropes. It's too risky? Let me tell you something. It's worth the risk. We're talking about saving the [blank] damn country. What do you mean, too risky?
Posted by Wild Thing at September 15, 2010 05:49 AM
---
Comments
The Republican establishment isn't going to support O'Donnell. It only goes to show that they're no different than Democrats. Neither cares what the people want, it's only what the party wants.
Posted by: BobF at September 15, 2010 07:53 AM
---
The message is clear. George Corley Wallace nailed in in 1968, there's not a dimes worth of difference between a democrat or a republican. These past few years have porved that.
The Rnc better wake up and cast over the side the blue bloods otherwise they will be the third party minority.
Posted by: Mark at September 15, 2010 08:44 AM
---
I've been using the Limbaugh Rule for years. Also for years I have declined to support the RNC. John Cornyn, the RNSC chief, is one of my senators from Texas. His support of Rino candidates has made him unpopular among conservative in Texas. If a true conservative runs against him in the next election cycle he will find himself in a real fight for his political career.
I am so fed up with Rinos that I now vote for conservatives that may have little chance to win. I am tired of voting for the lesser of two evils. It seems like I am not alone. I hope these Nov. elections are a wake up for the Repub party.
Posted by: TomR,armed in Texas at September 15, 2010 11:02 AM
---
Delaware GOP, stop being a bunch of RINOs... support her, it's what We the People want!
Posted by: Anonymous at September 15, 2010 11:33 AM
---
According to Karl Rove, she(Odonnell) aint got no rectitude and IRS trouble, gee sort of reminiscent of this administration. But rectitude ????
Poor Karl, Castle got his moat drained the friggin RINO.
Posted by: Mark at September 15, 2010 07:51 PM
---
Thank you all so much, you are all so fantastic.
Posted by: Wild Thing at September 16, 2010 01:12 AM
---