« Glenn Beck Launches A New Website ~ The Blaze | Main | Restore America! Yes, We Can! by Colonel Bob Pappas, USMC, Retired »
August 31, 2010
Two Men on United Flight from Chicago Arrested on 'Preparation of a Terrorist Attack' in Amsterdam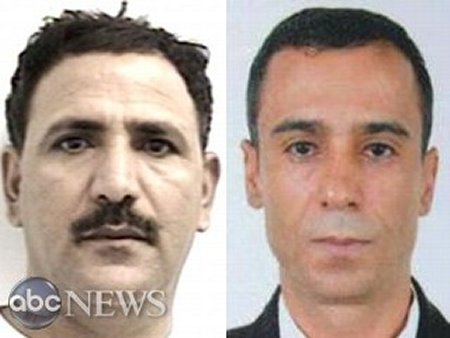 Ahmed Mohamed Nasser al Soofi, left, and Hezem al Murisi, were taken off a United Airlines flight in the Netherlands and have been charged by Dutch police with "preparation of a terrorist attack," according to a U.S. law enforcement official. (ABC News)
ABC News Exclusive: Two Men on United Flight from Chicago Arrested on 'Preparation of a Terrorist Attack' in Amsterdam
Suspects Had Been Cleared Sunday by TSA in Chicago, Birmingham Despite Security Concerns
Two men taken off a Chicago-to-Amsterdam United Airlines flight in the Netherlands have been charged by Dutch police with "preparation of a terrorist attack," U.S. law enforcement officials tell ABC News.
U.S. officials said the two appeared to be travelling with what were termed "mock bombs" in their luggage. "This was almost certainly a dry run, a test," said one senior law enforcement official.
A spokesman for the Dutch public prosecutor, Ernst Koelman, confirmed the two men were arrested this morning and said "the investigation is ongoing." He said the arrests were made "at the request of American authorities."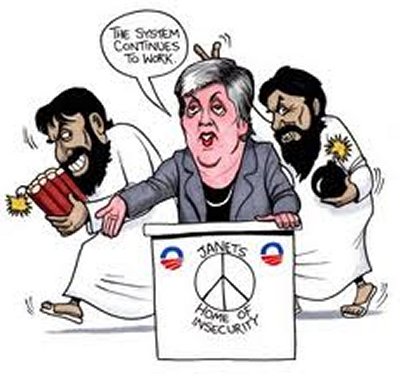 The two were allowed to board the flight at O'Hare airport last night despite security concerns surrounding one of them, the officials said.
The men were identified as Ahmed Mohamed Nasser al Soofi, of Detroit, MI, and Hezem al Murisi, the officials said. A neighbor of al Soofi told ABC News he is from Yemen.
Airport security screeners in Birmingham, Alabama first stopped al Soofi and referred him to additional screening because of what officials said was his "bulky clothing."
In addition, officials said, al Soofi was found to be carrying $7,000 in cash and a check of his luggage found a cell phone taped to a Pepto-Bismol bottle, three cell phones taped together, several watches taped together, a box cutter and three large knives. Officials said there was no indication of explosives and he and his luggage were cleared for the flight from Birmingham to Chicago O'Hare.
Once in Chicago, officials say they learned al Soofi checked his luggage on a flight to Washington's Dulles airport for connections on flights to Dubai and then Yemen, even though he did not board the flight himself.
Instead, officials say, al Soofi was joined by the second man, Al Murisi, and boarded the United flight from Chicago to Amsterdam.
When Customs and Border officials learned al Soofi was not on the flight from Dulles to Dubai, the plane was ordered to return to the gate so his luggage could be removed. Officials said additional screening found no evidence of explosives.
The two men were detained by Dutch authorities when the United flight landed in Amsterdam, according to the officials.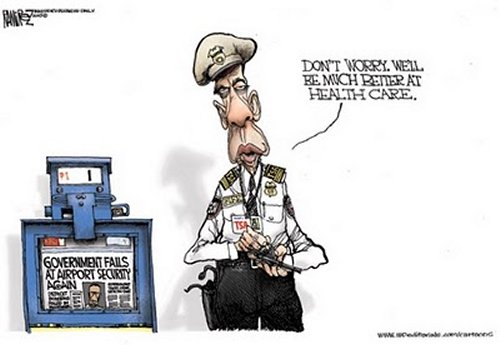 .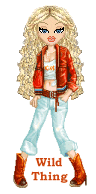 Wild Thing's comment.........

The two were allowed to board the flight at O'Hare International Airport in Chicago on Sunday night despite security concerns surrounding one of them, officials told ABC News, which identified the men as Ahmed Mohamed Nasser al Soofi, of Detroit, MI, and Hezam al Murisi.
Our airport security sucks--big time.
Posted by Wild Thing at August 31, 2010 05:47 AM
---
Comments
More moderate muslims run amok. But hey, they were going To Amsterdam so aint no big deal...Right.
When are they going to take this War seriously.
Posted by: Mark at August 31, 2010 08:35 AM
---
For sure, at least one of these clowns was born in America. Probably trained at a Saudi funded madrassas. Every moslem needs to be treated as a suspected terrorist.
Posted by: TomR, armed in Texas at August 31, 2010 09:48 AM
---
But we can't "racially profile", boo hoo hoo.
Posted by: Curmudgeon at August 31, 2010 10:41 AM
---
Exactly, Curmudgeon. Racial Profiling is the only solution. Ask anyone in Law Enforcement.
If you happen to fit the profile, tough. Go through the process and get on with your life.
The TSA is just another Government agency, employing according to Affirmative Action guidelines, those that cannot qualify for real Law Enforcement jobs, for one reason or another.
In other words like the Rent-A Cop, standing in the shopping center parking lot.
Posted by: Sean at August 31, 2010 10:56 AM
---
This was an obvious test run to see if they could get away with it.
The FBI now says it was not.
It won't be long and a lot of Americans are going to die due to terrorism and our very own government will be the ones with blood on their hands.
How much more of this can the American public tolerate this before they finally rise up?
Posted by: Eddie (Enemy of the State) at August 31, 2010 11:15 AM
---