« Obama Sends US Delegation For The First Time To 65th Year Anniversary of Hiroshima | Main | I Want Your Money ~ Film About Obama »
August 07, 2010
Obama Choppers Six Miles For Economy Comments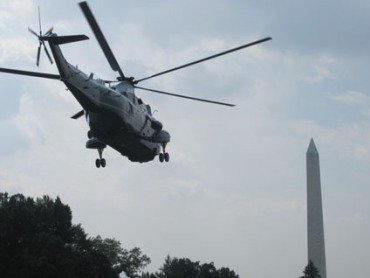 Obama Choppers Six Miles For Economy Comments
Obama Friday flew Marine One from the White House less than six miles to Northwest D.C.

He choppered to Gelberg Signs, the Washington, D.C.-based company where he'll deliver remarks on the economy and July employment numbers.
According to Google maps, the drive would have taken about 20 minutes from the White House.

By CBS News' Mark Knoller's count, this is the president's 300th flight on Marine One.
As to why the president choppered to a company in D.C., spokesman Bill Burton said, "Probably because it's an easier than a motorcade through the city in the middle of the day."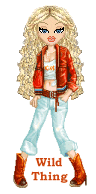 Wild Thing's comment.......

Meanwhile, Obama and Chewbacca keep spending like Royalty. I detest this elitist, self-centered, trailer trash thug!!!
He can't use the excuse about traffic in D.C. during a busy time of day, because motorcading through the city in the middle of the day has never bothered him when he wants to lunch at a burger joint. He could have made his remarks from the White House lawn.
Posted by Wild Thing at August 7, 2010 06:50 AM
---
Comments
Just like one of the Boyz in da hood, spend all dat money, it aint yers.
Posted by: Mark at August 7, 2010 02:36 PM
---
Posted by: Wild Thing at August 7, 2010 05:30 PM
---
Hey everybody, I'm Baaaack! I have been ill, but G_d and my meanness saved me.
Way to go Osambo. Waste my grandson's future and my money. You are such an arrogant piece of Shitake.
I spent a lot of time in WASHDC in the past. I have known several Marine One personnel. Let me say that I feel so sorry for the Marines who serve you. If I were one, well I guess I'd end up in Levenworth.
They serve in dishonor. They all HATE you. But, then again, out of approx. 200,000 Marines who serve our country, there must be one or two who actually voted for you.
Obama,don't get mad, just go away!
Love, Steve
p.s. Please note that I DID NOT refer to you as Mr. President...for you are not, really.
Posted by: SSgt Steve, P.O.'ed Marine at August 7, 2010 09:00 PM
---
I hate to bring you up short but in the future please have more respect for trailer trash, they do not deserve associations with Obama's thugs.

I do not know what the inhabitants of Ivey League Student Ghettos are called but that is most of the current Whitehouse.
Posted by: Avitar at August 7, 2010 11:36 PM
---