« At Ramadan, Obama Hails Islam As 'Part Of America' | Main | Barack Obama 'May Be Prepared to Meet Iranian President' »
August 12, 2010
Awesome Sheriff Arpaio fires back; Slams Obama, Sharpton, media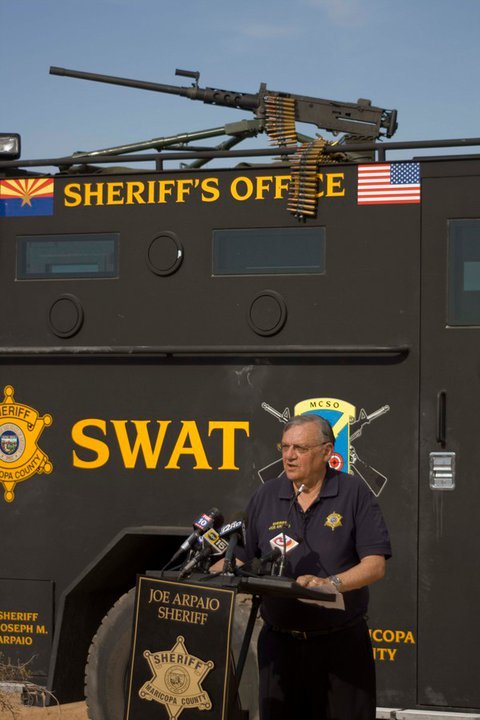 I love this photo of Sheriff Joe, it says don't mess with me big time. heh heh
Sheriff Arpaio fires back; Slams Obama, Sharpton, media
"I cannot compete with the local and national media machines that distort my record and the job I'm doing to protect this country. And, I don't have the personal resources to defend myself from these vicious attacks." - Sheriff Joe Arpaio
In an effort to bypass the new media's "liberal filter," a mass mailing from the man known as "America's Sheriff" is being circulated to Americans to give them the unadulterated opinions of the lawman's lawman. While the pleas from American citizens in Arizona and other states fell on deaf ears in Washington, DC, the violence and crime at the U.S.-Mexico border continues unabated. And instead of offering support for Arizona's initiatives to combat criminal aliens and their violence, the Obama Justice Department and Democrats in his own state continue to target Maricopa County Sheriff Joe Arpaio because of his tough immigration enforcement policy.
Meanwhile, according to MyFoxPhoenix.com, a man who requested anonymity claims his wife received a text message included an international phone number and instructions to pass the message along. The message placed a $1 million bounty on Sheriff Arpaio's head and a $1 thousand incentive to join the drug cartel..
Lisa Allen of the Sheriff's office told MyFoxPhoenix.com that they believe the message originated in Mexico. Although the Sheriff routinely received death threats in the past, they believe this threat is credible because of its timing.
"This is hardly earth-shattering news since Mexico has long represented the single greatest drug trafficking threat to the U.S., despite Uncle Sam's multi billion-dollar effort to halt the northbound flow of narcotics. The costly investment has failed miserably, according to a federal report that reveals Mexican heroin production has actually doubled in the last year," state officials from the public-interest group Judicial Watch.
The legal director of an influential national group La Raza that represents day laborers calls Arizona's immigration law an "unconstitutional, unwise and odious bill" created by "demagogue leaders" who have become folk heroes for "white supremacists" throughout the country.
Well, now Sheriff Joe Arpaio is speaking out to all Americans.
"I cannot compete with the local and national media machines that distort my record and the job I'm doing to protect this country. And, I don't have the personal resources to defend myself from these vicious attacks," said Arpaio
"You... probably saw that a federal judge blocked the toughest parts of law before it was set to be enacted on July 29th. I still support this law 100%. Even before this law was passed and the judge blocked parts of it, I was the only law enforcement official in this state enforcing all the laws that our federal and state legislatures put in place to combat illegal immigration and human smuggling," said the popular law enforcement official.
"Because I have taken the lead over the years by enforcing existing state and federal laws against illegal immigration, I have become the target of attack by radical, left-wing, open-borders extremists," said Arpaio.
When asked about the people coming to Arizona to oppose immigration law enforcement -- commonly referred to as "carpetbaggers," Arpaio said, "I've been sued, picketed, burned in effigy and even had the Reverend Al Sharpton come to Phoenix – TWICE! – to march on my headquarters. Some have even gone so far as to call for my assassination! Now, the Mexican Drug Cartels have issued a "hit" on me."
"One of the local newspapers printed a political cartoon of me and our Governor wearing Nazi uniforms and performing the Nazi salute," he laughed. Showing he gives little credence to the neo-Stalinist tactics of the far-left.
"What these extremists really want is a Sheriff who will look the other way, be silent and allow the charade to continue, while ignoring the laws of our land. That, I promise, will never happen," said Arpaio.
"I won't back down. I won't surrender to politicians, thugs or drug dealers!"
.

Arpaio visits Rancho Bernardo country club in San Diego. Sneaks in the back way but still has to come "meet" with Protesters
.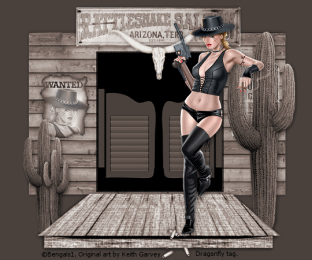 Wild Thing's comment.......

People across the nation that have heard the Sheriff Joe story, and know the things he's tried to do for the Phoenix area know that he's a great man trying to do a tough job that's only made tougher by the politically correct BS he has to wade through.
I pray for his safety, this has to be hard on him, even if he is a strong man, things like this can take their toll. America is fortunate to have such a man.
Posted by Wild Thing at August 12, 2010 03:48 AM
---
Comments
The more you see this, the more you appreciate Sheriff Joe.
Posted by: BobF at August 12, 2010 07:42 AM
---
He's got to feel all alone out there. But he's stubborn when he believes in something nothing can get in his way.
Posted by: Mark at August 12, 2010 08:31 AM
---
Sheriff Joe is the target for the Far Left bunch. He is doing a remarkable job as is Gov. Brewer. They have to fight the Federal govt. which is violating The Constitution by not enforcing Federal law. Arizona has some real American servants they can be proud of.
Posted by: TomR, armed in Texas at August 12, 2010 10:20 AM
---
I think that there will be some serious and dire reprecussions, should something happen to Sheriff Joe.
There are a large number of people in Arizona and throughout the Southwest, who revere the man and see him as representing all that they believe in. These people also have large gun cabinets,which are full.
Push is getting dangerously close to shove here, my friends.
Posted by: Sean at August 12, 2010 11:08 AM
---
Just for the Hell of it he ought to mount a scope on the Ma Deuce. Pick'em off at 2500 yards and save on haveing to arrest/or bury them.
Posted by: Mark at August 12, 2010 11:11 AM
---
Excellent picture. I saved it.
The more he agitates the left, the more we love him.
I wish we could clone him and have one in every county across the country.
Go, Sheriff Joe, go !
Posted by: Carlos at August 12, 2010 01:50 PM
---
BobF., I feel like that too. I do worry about him and for him, there are crazy people on the far left.
Posted by: Wild Thing at August 12, 2010 07:53 PM
---
Mark, your right, I really do love how determined he is and he knows no matter what he is doing the right thing.
Posted by: Wild Thing at August 12, 2010 07:57 PM
---
Tom, I agree, those taking a stand there are making a difference. Arizona can be proud it is trying 100% to do what has to be done.
Posted by: Wild Thing at August 12, 2010 08:00 PM
---
Sean, I agree so much with what you said.
I keep him in my prayers each day and the Gov. too.
Posted by: Wild Thing at August 12, 2010 08:06 PM
---
Mark, that would be something. You know if he was in those two areas that are marked off not to enter because of the drug cartel gangs, I sure would have that gun aimed right at them. They are the ones beheading American tourists.
Posted by: Wild Thing at August 12, 2010 08:09 PM
---
Carlos, oh good, I am glad you like that photo of him too. Please feel free to save anything you like on here.
Heh heh that is not a bad idea....to clone him.
Posted by: Wild Thing at August 12, 2010 08:11 PM
---