« Hello Tennessee, Janet Napolitano Has Arrived | Main | Islam Becomes Taboo Topic on TV in Wake of 'South Park' Threats and Times Square Scare »
May 09, 2010
Michelle Obama Does It Again, This Time She Refers To Barack Obama as a "Kenyan"
First Michelle Obama claimed Kenya was Barack's "home country" and now this video from 2007 is uncovered, in which she flat out calls him a "Kenyan."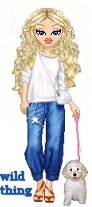 Wild Thing's comment........
LOL keep it up Michelle.
Posted by Wild Thing at May 9, 2010 07:50 AM
---
Comments
Is she trying to stir up the 'pot'. She knows what has been spent trying to cover everything up. I don't believe what she is doing, it has to be by design. Or she is as stupid as she looks.
Posted by: Mark at May 9, 2010 09:08 PM
---
Mark, hahahha maybe she is, good point.
Posted by: Wild Thing at May 10, 2010 01:56 AM
---