« Marines Honor Fallen Brothers in Afghanistan | Main | Gene Simmons From KISS-A Patriotic Salute to the Military »
May 31, 2010
Johnny Clem "Drummer Boy of Chickamauga."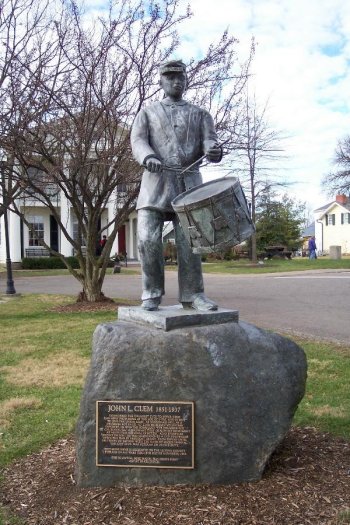 Johnny Clem statue located in Veterans Park Newark, Ohio
.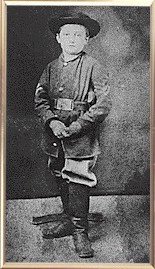 (1851-1937)
Born in Newark, Ohio, 13 Aug. 1851, Clem ran away from home in May 1861 to join the army and found the army was not interested in 9-year-old boys. When he applied to the commander of the 3d Ohio Regiment, the officer said he "wasn't enlisting infants," and turned him down. Clem tried the 22d Michigan next, and its commander said roughly the same. Determined, Clem tagged after the regiment, acted "just the same as a drummer boy," and wore down resistance. Though still not regularly enrolled, he performed camp duties and received a soldier's pay, $13 a month, a sum donated by the officers.
The next April, at Shiloh, Clem's drum was smashed by an artillery round and he became a minor news item as "Johnny Shiloh," the smallest drummer. More than a year later, at the Battle Of Chickamauga, he rode an artillery caisson to the front and wielded a musket trimmed to his size. In one of the Union retreats a Confederate officer ran after the cannon Clem rode with, and before the drummer killed him, said, "Surrender you damned little Yankee!" This pluck won for Clem national attention and the name "Drummer Boy of Chickamauga."
Clem stayed with the army through the war, served as a courier, and was wounded twice. Between Shiloh and Chickamauga he was regularly enrolled in the service and thereafter received his own pay. After the Civil War he tried to enter West Point but was turned down because of his slim education. A personal appeal to Pres. U.S. GRANT, his general at Shiloh, won him a 2d lieutenant's appointment in the Regular army 18 Dec. 1 871, and in 1903 he became colonel and assistant quartermaster general. He retired from the army as a major general in 1916. d. San Antonio, Tex., 13 May 1937.
.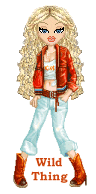 Wild Thing's comment.......
Amazing story and life he had.

....Thank you Mark for sending this to me.


Mark
3rd Mar.Div. 1st Battalion 9th Marine Regiment
1/9 Marines aka The Walking Dead
VN 66-67


Posted by Wild Thing at May 31, 2010 04:45 AM
---
Comments
Love this story. First time I have heard it. Clem loved the Army and I bet he was a good officer.
Posted by: TomR at May 31, 2010 09:59 AM
---
He's a study of Americanism. What it is to be an American. He failed a couple of times trying to enlist at 10 years old. By the time he was 13 he had been in combat, wounded twice and taken prisoner twice. He was captured at Chickamauga, they took his uniform away and his favorite cap, it had three bullet holes in it, then released in a prisoner exchange. Later he was mustered out in 1864. Then he writes Grant, then President and wins a commision to 2nd Leutenant when he's 20. In twenty years he's already lived a lifetime.
This is what so inspiratonal about this country, he believed he could do it and did. Why aren't these stories taught in school. This is not unusual for this country, you will find a Johnny Clem's in every generation.
Posted by: Mark at May 31, 2010 02:54 PM
---
To, me too, I love learning about those that have served. I am never disappointed.

Mark, great way to put it, that is exactly what it is . Thanks again Mark for sending this to me.
Posted by: Wild Thing at May 31, 2010 07:50 PM
---