« Democrat Martha Coakley DANGEROUS For America! | Main | Massachusetts Miracle ~ Awesome Video »
January 16, 2010
Scott Brown's Daughter Ayla Brown 'Completely Offended' by Martha Coakley's Attack
Scott Brown with his daughters Ayla and Arianna Brown
~ this is a cute ad. ~ Wild Thing
.
Ayla Brown 'completely offended' by Martha Coakley's attack
"American Idol" starlet Ayla Brown morphed into campaign pit bull yesterday for GOP dad Sen. Scott Brown as she tore into Democrat Attorney General Martha Coakley for plunging the U.S. Senate race into the gutter.
"Martha Coakley's new negative ad represents everything that discourages young women from getting involved in politics, and as a young woman, I'm completely offended by that," said the 21-year-old Brown. "She even spelled Massachusetts wrong in her original ad which is very embarrassing, I must say as a young woman."
The former Idol contender and Boston College senior sought to further boost her father onto the national political stage as the race intensified amid polls showing it tightening.
"This past campaign season I've really seen him evolve," Brown told the Herald. "I think he has an incredible shot at winning if they just get out there and vote."
The singer, who belted out "Ain't No Mountain High Enough" during her "American Idol" audition, slammed Coakley for striking a sour note in a new television ad that she said misrepresents her father on the issues.
The spot shows images of a distraught woman at the bottom of a stairwell as a voiceover details a legislative amendment filed by Brown that would have allowed some facilities to deny emergency contraception to rape victims.
"Her attack on my dad is completely inaccurate and misleading," Brown said as she defended her doting dad. "I'm here today to say that Martha Coakley should take down her negative ad."
Coakley's campaign stood behind their ad but didn't respond directly to the college hoopster's sharp elbows.
"We take issue with the regressive legislation that Scott Brown sponsored. Today, he has continued to try to back away from it because of the devastating impact it would have had on women's health. But he cannot run away from his record," said Coakley spokesman Corey Welford in a statement.
Ayla broke her silence on the campaign trail in the last stretch of the heated battle to fill the late U.S. Sen. Edward M. Kennedy's seat. But Brown, standing next to her 19-year-old sister Arianna, said she wasn't "dragged into the campaign."
"We are very willing to play a part in my dad's campaign," Brown said.
Brown told the Herald Coakley's inflammatory ad prompted her to speak out. "For our family, especially me being on 'Idol' but (also) my dad being in politics, there are always so many people who have something negative to say," Brown said. "The minute it's sponsored and the people really believe in false accusations, that's where we had to draw the line."

.
Ayla Brown - "The Star-Spangled Banner" with the Boston Pops
.
Ayla Brown "Come Together" Live with the James Montgomery Blues Band & The Uptown Horns

This is the third live video from the new album "Ayla Brown Live!" available now on iTunes and all other digital music stores. Ayla Brown toured in the summer of 2009 with The James Montgomery Blues Band & The Uptown Horns.

.

Poll shocker: Scott Brown surges ahead in Senate race
Riding a wave of opposition to Democratic health-care reform, GOP upstart Scott Brown is leading in the U.S. Senate race, raising the odds of a historic upset that would reverberate all the way to the White House, a new poll shows.
Although Brown's 4-point lead over Democrat Martha Coakley is within the Suffolk University/7News survey's margin of error, the underdog's position at the top of the results stunned even pollster David Paleologos.
"It's a Brown-out," said Paleologos, director of Suffolk's Political Research Center. "It's a massive change in the political landscape.
The poll shows Brown, a state senator from Wrentham, besting Coakley, the state's attorney general, by 50 percent to 46 percent, the first major survey to show Brown in the lead. Unenrolled long-shot Joseph L. Kennedy, an information technology executive with no relation to the famous family, gets 3 percent of the vote. Only 1 percent of voters were undecided.
~snipet~
While Brown has 91 percent of registered Republicans locked up, an astonishing 17 percent of Democrats report they're jumping ship for Brown as well - likely a product of Coakley's laser-focus on hard-core Dems, potentially at the exclusion of other Democrats whom she needed to win over, Paleologos said.
For Coakley, Brown's surge may be as ominous as the fact that her campaign's peril is not fully recognized, with 64 percent of voters still believing she'll win - a perception that threatens to keep her supporters home.
Brown's popularity is solid. He enjoys a 57 percent favorability rating compared to just 19 percent unfavorable. Coakley's favorability is 49 percent; her unfavorability, 41 percent.
No longer does Brown suffer from a name-recognition problem, with 95 percent of voters having heard of him statewide.
.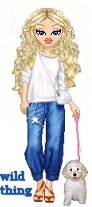 Wild Thing's comment........
I am proud of Ayla Brown for speaking out. What Coakley did was lie and she needed to be called on it.

This was her American Idol questionaire:

When did you first start to sing?
When I began watching Winnie the Pooh and Disney Movies.
Do you have any formal singing training?
Yes. I have taken singing lessons in the past at the Franklin School for the Performing Arts.
What other talents do you have?
Scholarship for basketball at Boston College. Ceramics. All Sports.
If you don't make it on AMERICAN IDOL, what will you do?
Continue to play basketball at Boston College.
What are your personal goals in life?
To be a role model, to live a healthy and happy life, to continue to have a successful career in basketball.
Who is your AMERICAN IDOL?
My parents.
Do you have any rituals or things you do each time you perform?
Yes, I wear a special star necklace my mom gave me for my 16th birthday. I also wear it before every game.
Most embarrassing moments?
My first day I had my permit I backed out of my driveway and into a parked car.
What has been your proudest moment in life so far?
Being one of the few people in MA to be a 2000 point scorer.
If you couldn't sing, which talent would you most like to have?
To be a professional basketball player.
What is your definition of an AMERICAN IDOL?
To be a role model for their community, work with young people. Leading by example.
Who is your favorite judge and why?
Randy because he shares a passion for sports and music.
What would people be surprised to learn about you?
That I sleep with a teddy bear and I almost can't sleep without it.
How has this changed your life?
This has taken me down a road I didn't expect.
Do you have any lucky charms?
A lucky star necklace.
Who are your heroes in life?
People who serve in the armed forces - like my Dad.
What's been your toughest obstacle in life?
Overcoming people's incorrect assumptions about me.
Do you think the audition process was fair?
Yes.
If you win, who will you thank first?
My parents and the people who believe in me, and who have supported me for many years.

....Thank you Mark for sending this to me.

Mark
3rd Mar.Div. 1st Battalion 9th Marine Regiment
1/9 Marines aka The Walking Dead
VN 66-67


Posted by Wild Thing at January 16, 2010 03:55 AM
---
Comments
Maybe the people of Massachusetts are finally opening their eyes and seeing what a mess Democrats are making of our country. Maybe they'll vote John Kerry out of office too.
Posted by: BobF at January 16, 2010 07:49 AM
---
Good grief, Wild Thing:
I came here this morning to do a quick READ of your posts, and find these great videos to watch. How can I keep on reading when these are so alluring? What a wholesome family. Active Nat'l Guard Officer Daddy, n a daugher who is not only a great singer, but a college basketball player, and not a bit afraid of "facing the camera". And the other sister is as forward as her.
Thanks, Wild Thing.
"Never Forget the Ft. Hood Texas 14 of 11/5/09!"
Posted by: Frankly Opinionated at January 16, 2010 09:39 AM
---
Coakley is a liberal slag of the kind only the Northeast can produce.
51% of Mass voters are unaffiliated. The state is heavily Democratic, but it occasionally elects Republicans. Brown has a good chance.
There's no explanation for the state electing a fat perv and a goat-faced idiot to the Senate over and over, except that the coastal areas are heavily populated, heavily liberal and heavily crooked.
The sweetest thing in my lifetime would be to have the "Kennedy seat" occupied by the man who killed ObamaCare.
Posted by: Rhod at January 16, 2010 10:45 AM
---
I've got my fingers crossed for the outcome of this race. The Democrats are running scared. Reid has already said that he would delay the swearing in if Brown wins.
Both of Brown's daughters are hot tickets.
Posted by: TomR at January 16, 2010 01:21 PM
---
What a voice, Wow!!! climbs right up there, Mariah...Who ??? 3 octaves during that song. Unbelievable.
Maybe Massatwoshits will finally be able to rid itself of that festering boil known as the Kennedys. I sent a donation to help lance that sucker.
Posted by: Mark at January 16, 2010 03:02 PM
---
Hmmm. I know a young 1st Cav corporal with a pocket full of combat pay......
Posted by: Jim at January 16, 2010 06:50 PM
---
GOOD NEWS! Two months ago, Obamessiah flew to Virginia and New Jersey to rally his Democratic base, and now the ANNOINTED ONE is jetting up to Taxachusettes to rally his Baracksheviks once again in 'Operation 0 for 3!'
Posted by: darthcrUSAderworldtour07 at January 16, 2010 08:07 PM
---
I had do idea, that Ayla could sing like that and of course her father is singing the right tune now--"People's Seat". Its a smash hit and will echo through the U.S.Senate--listen up Harry and Nancy and learn to dance to it!
Posted by: Ron Russell at January 16, 2010 09:21 PM
---
BobF., that would be so awesome if Kerry was voted out too.
Frankly, thank you. I agree, it is a wonderful
family.
Rhod, great to see you. Thank you for your input, I am praying like we have been reading that dems from disgust will also vote for Brown along with the Republicans like you said.
Tom, oh my gosh Reid said that? Thank you for the information. sheesh what a horrible person Reid is !!
Mark, yes she has an awesome voice. I did not know about the family at all till the last few days.
Jim, giggle. Love it.

Darth, Yessss that IS good news. Thank you Darth.
Ron, I didn't either. It was a pleasant surprise.
Posted by: Wild Thing at January 17, 2010 01:11 AM
---