« 40 Terrorists Go Free From Jail in England ~ WTH?! | Main | NFL Opening Kickoff Tonight ~ Pittsburgh Steelers vs. Tennessee Titans »
September 10, 2009
Great Uncle Leon and Football With Jim Thorpe by Mark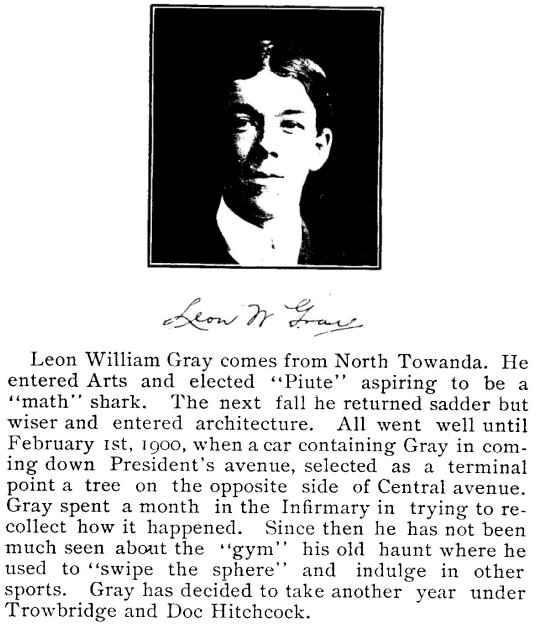 In a year book or newspaper from the school at the time there was a story printed about him.


.
My great Uncle Leon W. Gray in 1897 he received one of two scholarships from Cornell University . He went as an Arts major but soon converted to Architecture and graduated in 1902. He was the last of the bright one. heheh.
I thought it was really interesting how they put words together then. We found all this out through our genealogy research. After he graduated, he worked for the government designing irrigation ditches in Ohio and Indiana, rode a horse and carried a .45. One of my favorite Uncles.
Here is the football team that played Jim Thorpe. Mark's great Uncle is 2nd from the right.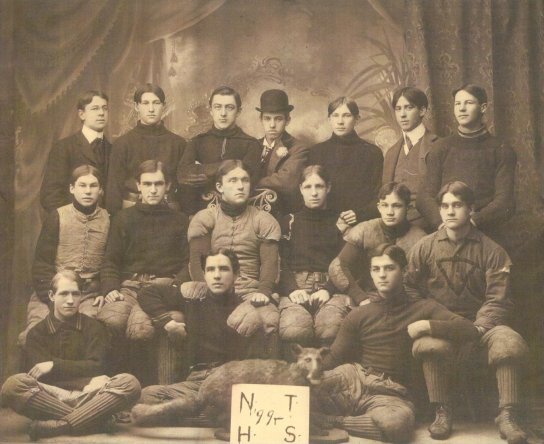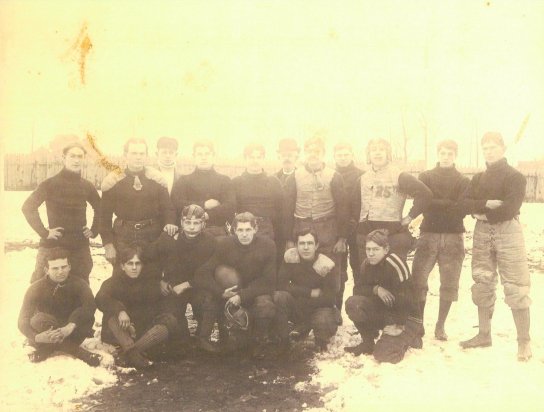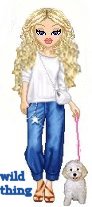 Wild Thing's comment.......
Thank you Mark for sharing about your Great Uncle Leon with all of us.

....Thank you Mark for sending this to me.


Mark
3rd Mar.Div. 1st Battalion 9th Marine Regiment
1/9 Marines aka The Walking Dead
VN 66-67


Posted by Wild Thing at September 10, 2009 07:45 AM
---
Comments
Thank you, WT, for posting this. They had a championship team in 1899 and 1900, won all kinds of acolades from the media at the time and trophys. When North Tonawanda became a city, they finally built a high school, in the 1960 they were setting up a museum for the sports teams from the area. and Never mentioned the team before the city was founded, nor did they want any of the trophies, it just didn't seem to matter.
My cousin who is his 80's, still has alot of the stuff they earned and will pass it on but its' a shame they didn't get an honorable mention.
Notice the round Football, sort of tough to throw a forward pass. Thats when the team played both offense and defense, looks like they had one spare in case someone went down.
Oh and the .45 is a Colt peacemaker, the Cousin still has it.
Posted by: Mark at September 10, 2009 06:43 PM
---
I think about the old folks quite often. Bits and pieces here and there on the genealogy trail. One has to read between the lines to get a picture of what was going on in their lives. Lots of hardships and people dying way too young.
Posted by: Jim at September 10, 2009 07:51 PM
---
Wonderful family links Mark. Something to be proud of. My paternal tribe is rumored to be from Missouri, most likely to escape a lynching, I wouldn't know. They have all passed on. I knew only my grandmother on my mothers side of the family, last seen in 1959. As a youngster I grew up much like those pioneers, no electric, no running water, no indoor plumbing and for damned sure no central heating. We farmed with horses, so much for the good old days.
I was in Oklahoma a couple of times to Bartlesville just North of Tulsa, it's like stepping back in time to the 1900's, I made it over to Will Rogers hometown of Oologah, Oklahoma. Last time back there I went to Coffeyville, Kansas the hometown of my wife's grand parents. Most of us don't spend enough time around the old folks to appreciate and learn from them, they have a wealth of knowledge that passes on with them.
Posted by: Jack at September 10, 2009 10:54 PM
---
Mark, it is really interesting to
look at these photos. Just kind of
go into them like being there and
what it was like back then.
Thank you for sharing these like this
and about your Great Uncle Leon.
Interesting too about the round
football.
Posted by: Wild Thing at September 10, 2009 11:19 PM
---