« 31 Horsemen of Talk Radio's Apocalypse? | Main | "How Republicans Can Build a Big-Tent Party" ~Senator Jim DeMint »
May 03, 2009
'Ugly Angels' Deploy From Iraq to Afghanistan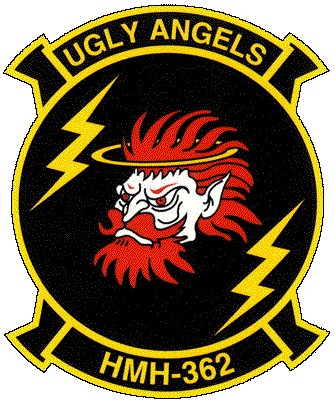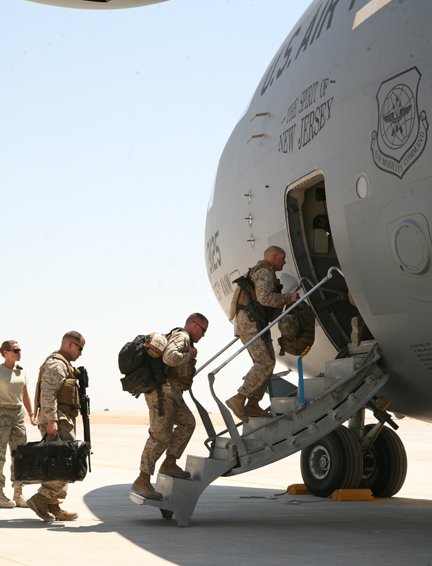 Service members with Marine Heavy Helicopter Squadron 362 board an Air Force C-17 at Al Asad Air Base, Iraq, for a flight to Afghanistan, April 10. The squadron's Marines have been deployed to Iraq since January and will finish the remainder of their deployment in Afghanistan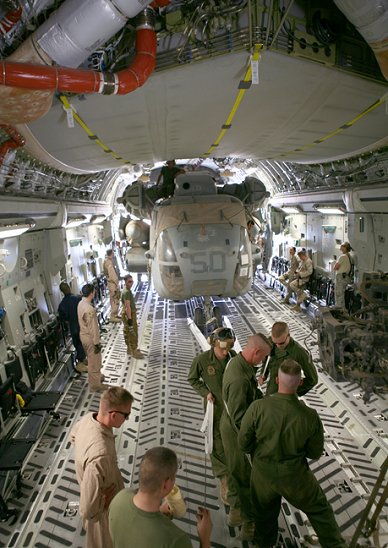 Airmen and Marines carefully maneuver one of Marine Heavy Helicopter Squadron 362's CH-53D helicopters onto an Air Force C-17 aboard Al Asad Air Base, Iraq, April 10. The service members keep a close eye out during the loading process to ensure the aircraft aren't damaged in the process.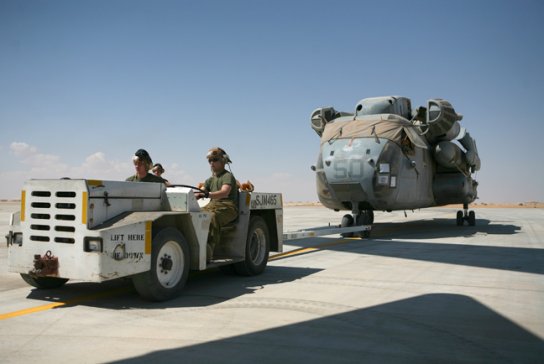 Cpl. Ryan Bertucci, a flightline mechanic with Marine Heavy Helicopter Squadron 362, right, and Cpl. Shane Potter, an airframes mechanic with HMH-362, navigate a CH-53D to a loading point on the flightline aboard Al Asad Air Base, Iraq, April 10. The squadron's ten helicopters are being shipped to Afghanistan to be used in support of Operation Enduring Freedom.
Spreading Their Wings: 'Ugly Angels' Deploy From Iraq to Afghanistan
Marine Heavy Helicopter Squadron 362 Takes the Fight From Iraq to Afghanistan
by Sgt. Juan D. Alfonso
KANDAHAR AIR FIELD, Islamic Republic of Afghanistan
On April 15, 1962, a squadron of Marines launched from the USS Princeton to Soc Trang, Vietnam, becoming the first Marine helicopter squadron in-country. Those Marines began a proud tradition of combat deployments that day. Today the same unit continues their combat tradition in Afghanistan.
Unlike the majority of units serving in the Islamic Republic of Afghanistan, Marine Heavy Helicopter Squadron 362, part of Special Purpose Marine Air Ground Task Force – Afghanistan's aviation combat element, didn't deploy from its home station at Marine Corps Base Kaneohe Bay, Hawaii – it deployed to Afghanistan from Al Asad, Iraq.
Originally deployed to Iraq, Jan. 23, to conduct assault support, logistics and movement of personnel missions, the unit was given a new mission shortly after arriving: pack up and go to Afghanistan.
"Afghanistan is where the fight is now," said Lt. Col. Jeffrey A. Hagan, HMH-362's commander. "There was a planned drawdown in Iraq and an increasing need for medium lift capabilities in Afghanistan. So we begin making arrangements to move from Al Asad to Kandahar Air Field, Afghanistan."
Though the unit was motivated and prepared for their new mission, environmental differences between the two theaters coupled with operational requirements called for major modifications to the Ugly Angels' CH-53D Sea Stallions.
The unit's maintenance Marines began working around the clock to exchange the T64-GE-413 engines, typically found in CH-53Ds, to hotter burning T64-GE-416 engines used in CH-53E Super Stallions, according to Master Sgt. Robert Webb, the maintenance section chief.
In addition to the modifications, the Marines had to partially dismantle their aircraft for transportation to Afghanistan; each bird was sent one at a time. But despite their daunting task, the Marines pulled together, rolled up their sleeves and went to work.
"Our maintenance Marines are the best in the Marine Corps," said Maj. Gary W. Thomason, HMH-362's aircraft maintenance officer. "On their backs is how we made this happen. I think I speak for everyone involved when I say, fantastic job."
After more than two months of backbreaking work, the Ugly Angels are in Afghanistan, eager to take the fight to the enemy.
"This deployment has been a great experience," said Cpl. Jorge Toledo, a crew chief and flight line mechanic with HMH-362. "We've been able to operate in both areas of operation and it's been a good training opportunity with the demanding terrain and climate differences. Since arriving in Afghanistan, I personally was able to be a part of testing seven aircraft in twelve days. I have gained more experience on this one deployment than my whole time in the Marine Corps."
Today, the Marines and their Sea Stallions are ready to tackle whatever the insurgency and Afghanistan's terrain throw at them.
"We expect the mission set to remain relatively the same," Hagan said. "Given the more kinetic nature of this theater, I would expect to see more raid and quick reaction force support than was executed during our time in Iraq. But the Marines are excited and eager to do what Marines do. This deployment has proved beyond a shadow of a doubt that my Marines can, are eager and willing to accomplish any task thrown at them."
On April 15, the 47-year anniversary of the unit's Vietnam deployment, The Ugly Angels arrived in Afghanistan. HMH-362 began combat operations, April 22.

.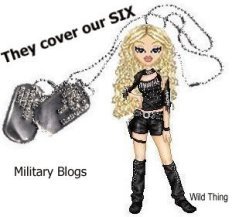 Wild Thing's comment......
God bless these warrios and keep them safe.
Here is their website:

A little history of the "Ugly Angels" they are a Marine Heavy Helicopter Squadron 362, stationed at Marine Corps Base Kaneohe Bay, Hawaii, recently celebrated its 55th birthday. Activated on 30 April 1952 as Marine Helicopter Transport Squadron 362, it is a squadron rich in tradition.
And into the 1970s, 1980s and 1990s HMH 362 was involved in numerous training exercises, as well as contingency and combat operations overseas. These include deploying to Saudi Arabia for Operations Desert Shield and Desert Storm and the first and only Marine helicopter squadron deployed aboard an aircraft carrier (USS Theodore Roosevelt) during Operation Uphold Democracy in Haiti. In 1995 HMH 362 relocated to MCAF Kaneohe Bay, Hawaii as pat of Marine Aircraft Group 24, 1st Marine Aircraft Wing.
"Many stories have been told through the years of how the squadron received the name Ugly Angels, but only a few have proven to be true. It is said that the helicopter herself was so ugly, yet she was called an angel because she descended from the heavens to save the souls of her war weary men. It has also been told that a Marine while being rescued made the statement: " You are the ugliest angel I have ever seen", and from there the name was adopted the "Ugly Angels". Before the squadron gained their well-known name they were referred to as Archie's Angels, after their first commanding officer, Lieutenant Colonel Archie Clapp. They arrived in Vietnam in April of 1962 and answered the prayers of many wounded Marines until August of 1969. The Ugly Angels were the longest serving squadron in Vietnam and during a seven-year service, 33 brave crewmen gave the ultimate sacrifice for their fellow Marines. "
Posted by Wild Thing at May 3, 2009 05:55 AM
---
Comments
Wow!
Chrissie, thanks for the article! I'm a 1968/69 Ugly Angel. I'll save one of the Ugly Angels challenge coins that I'm about to order for the Ugly Angels Memorial Foundation.
Col. Frenchy L'Heureux, the CO of HMX1 is also an Ugly Angel. He is the man who flew President Bush out of DC during the latest inauguration.
We are the mafia of Marine Helo Aviation.
Posted by: Billy Ray at May 3, 2009 09:44 AM
---
Thanks for the military news Wild Thing. It is hard to find in the main news sources. I find my self comming to your blog first when I want to know what's going on with the wars. Well done.
Posted by: Odin at May 3, 2009 02:36 PM
---
The Marine's Prayer(excerpt from Warrior Culture of the U.S. Marines, copyright 2001 Marion F. Sturkey)
 
Regardless of the situation, the Marine Corps has an answer for almost everything.
Contact with The Deity is serious business. It is also an excellent idea for Warriors who are expected to put their lives on the line against an assortment of foes. For U.S. Marines of any faith who may desire guidance when contacting their Maker, the Marine Corps has a ready aid,The Marine's Prayer:
Almighty Father, whose command is over all and whose love never fails, make me aware of Thy presence and obedient to Thy will. Keep me true to my best self, guarding me against dishonesty in purpose and deed and helping me to live so that I can face my fellow Marines, my loved ones, and Thee without shame or fear. Protect my family.

Give me the will to do the work of a Marine and to accept my share of responsibilities with vigor and enthusiasm. Grant me the courage to be proficient in my daily performance. Keep me loyal and faithful to my superiors and to the duties my Country and the Marine Corps have entrusted to me. Help me to wear my uniform with dignity, and let it remind me daily of the traditions which I must uphold.

If I am inclined to doubt, steady my faith; if I am tempted, make me strong to resist; if I should miss the mark, give me courage to try again.

Guide me with the light of truth and grant me wisdom by which I may understand the answer to my prayer.
Godspeed for a swift and safe tour of duty in Afghanistan, may God watch over and bless all these warriors.
Thank you Chrissie.
Posted by: Jack at May 3, 2009 03:56 PM
---
Sturk just sent me his new edition of Murphy's Rules of Combat. He's a good Marine Rotor Head and always at the popasmoke reunions.
Gary Doss's book is also well worth the wait if you have to order it. Gary is an Ugly Angel, also.
Posted by: Billy Ray at May 3, 2009 05:03 PM
---
Yes, our brave young men and women sacrifice their lives so a POS CIC can coddle up to his muzzie friends. He is a threat to Israel and a threat to the U. S.
Bob A.
Posted by: Bob A at May 3, 2009 06:03 PM
---
Billy Ray, when I checked on the places I
go for miliarty news it was right there so
it was really nice to see it and be able
to share about it.
Thank you Billy Ray for your service and for
sharing about it.
Posted by: Wild Thing at May 3, 2009 07:05 PM
---
Odin, oh wow thank you so much. I really
appreciate it. I love to read about our
military so much.
Posted by: Wild Thing at May 3, 2009 07:06 PM
---
Jack, that was wonderful thank you so much.
Posted by: Wild Thing at May 3, 2009 07:09 PM
---
Billy Ray, giggle, that is neat about
Murphy's Rules of Combat.
Posted by: Wild Thing at May 3, 2009 07:12 PM
---
Bob A., I pray hard for our miltiary, it
has to be extremely difficult the worst
actually to serve with a CIC like Obama.
He is so evil.
Posted by: Wild Thing at May 3, 2009 07:16 PM
---
Murphy's Laws of Combat as applied to Marine Helicopters, or, Everything I ever needed to know about life, I learned as a Marine Helicopter Crew Chief in Viet Nam:
NEVER FORGET!
1. Once you are in the fight, it is way too late to wonder if this is a good idea.
2. Helicopters are cool!
3. It is a fact that helicopter tail rotors are instinctively drawn toward trees, stumps, rocks, etc. While it may be possible to ward off this natural event some of the time, it cannot, despite the best efforts of the crew, always be prevented. It's just what they do.
4. NEVER get into a fight without more ammunition than the other guy.
5. The engine RPM, and the rotor RPM, must BOTH be kept in the GREEN. Failure to heed this commandment can affect the morale of the crew.
6. A billfold in your hip pocket can numb your leg and be a real pain in the ass.
7. Cover your Buddy, so he can be around to cover you.
8. Letters from home are not always great.
9. The madness of war can extract a heavy toll. Please have exact change.
10. Share everything. Even the Pound Cake.
11. Decisions made by someone over your head will seldom be in your best interest.
12. The terms "Protective Armor" and "Helicopter" are mutually exclusive.
13. The further away you are from your friends, the less likely it is that they can help you when you really need them the most.
14. Sometimes, being good and lucky still was not enough. There is always payback.
15. "Chicken Plates" are not something you order in a restaurant.
16. If everything is as clear as a bell, and everything is going exactly as planned, you're about to be surprised.
17. The BSR (Bang Stare Read) Theory states that the louder the sudden bang in the helicopter, the quicker your eyes will be drawn to the gauges.
18. The longer you stare at the gauges, the less time it takes them to move from green to red.
19. It does too get cold in Vietnam.
20. No matter what you do, the bullet with your name on it will get you. So too can the ones addressed "To Whom It May Concern".
21. Gravity: It may not be fair, but it is the law.
22. If the rear echelon troops are really happy, the front line troops probably do not have what they need.
23. If you are wearing body armor, the incoming will probably miss that part.
24. It hurts less to die with a uniform on than to die in a hospital bed.
25. Happiness is a belt-fed weapon.
26. If something hasn't broken on your helicopter, it's about to.
27. Eat when you can. Sleep when you can. Visit the head when you can. The next opportunity may not come around for a long time. If ever.
28. Combat pay is a flawed concept.
29. Having all your body parts intact and functioning at the end of the day beats the alternative.
30. Air superiority is NOT a luxury.
31. If you are allergic to lead it is best to avoid a war zone.
32. It is a bad thing to run out of airspeed, altitude, and ideas all at the same time.
32a. Nothing is as useless as altitude above you and runway behind you.
33. While the rest of the crew may be in the same predicament, it's almost always the pilot's job to arrive at the crash site first.
34. When you shoot your gun, clean it the first chance you get.
35. Loud sudden noises in a helicopter WILL get your undivided attention.
36. Hot garrison chow is better than hot C-rations, which, in turn is better than cold C-rations, which is better than no food at all. All of these, however, are preferable to cold rice balls (given to you by guards) even if they do have the little pieces of fish in them.
37. WHAT is often more important than WHY.
38. Boxes of cookies from home must be shared.
39. Girlfriends are fair game. Wives are not.
40. Everybody's a hero on the ground in the club after the fourth drink.
41. There is no such thing as a small firefight.
42. A free-fire zone has nothing to do with economics.
43. The farther you fly into the mountains, the louder the strange engine noises become.
44. Medals are OK, but having your body and all your friends in one piece at the end of the day is better.
44a. The only medal you really want to be awarded is the Longevity Medal.
45. Being shot hurts.
46. Thousands of Vietnam Veterans earned medals for bravery every day. A few were even awarded.
48. Running out of pedal, fore or aft cyclic, or collective are all bad ideas. Any combination of these can be deadly.
49. Nomex is NOT fire proof.
50. There is only one rule in war: When you win, you get to make up the Rules.
51. Living and dying can both hurt a lot.
53. While a Super Bomb could be considered one of the four essential building blocks of life, powdered eggs cannot.
54. C-4 can make a dull day fun.
55. Cocoa Powder is neither.
56. There is no such thing as a fair fight, only ones where you win or lose.
57. If you win the battle you are entitled to the spoils. If you lose you don't care.
58. Nobody cares what you did yesterday or what you are going to do tomorrow. What is important is what you are doing NOW to solve our problem.
59. If you have extra, share it quickly.
60. Always make sure someone has a P-38.
61. A sucking chest wound may be God's way of telling you it's time to go home.
62. Prayer may not help . . . but it can't hurt.
63. Flying is better than walking. Walking is better than running. Running is better than crawling. All of these however, are better than extraction by a Med-Evac, even if this is technically a form of flying.
64. If everyone does not come home none of the rest of us can ever fully come home either.
65. Do not fear the enemy, for your enemy can only take your life. It is far better that you fear the media, for they will steal your HONOR.
66. A grunt is the true reason for the existence of the helicopter. Every helicopter flying in Vietnam had one real purpose: To help the grunt. It is unfortunate that many helicopters never had the opportunity to fulfill their one true mission in life simply because someone forgot this fact.

Posted by: Billy Ray at May 4, 2009 12:41 AM
---
Billy Ray, thank you so much. These are great!
Posted by: Wild Thing at May 4, 2009 06:58 AM
---