« Palin Will Meet With Karzai, Kissinger, Uribe | Main | Sarah Palin's Anti-Elitist Charm »
September 21, 2008
Pakistan Marriott Hotel Bombing Death Toll Rising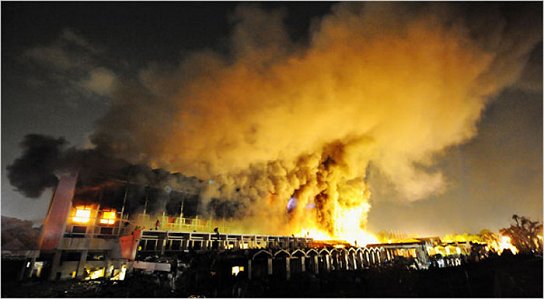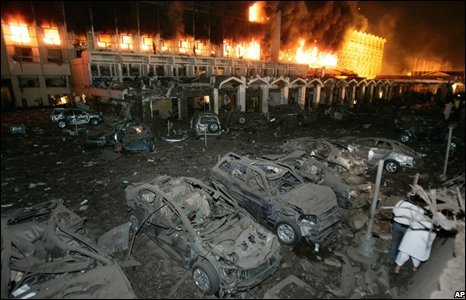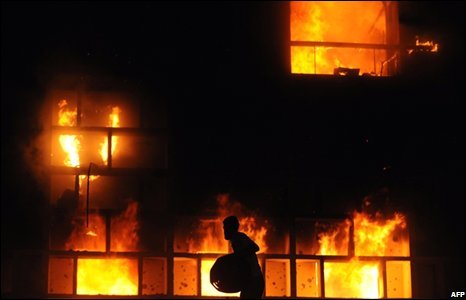 A massive bomb blast has hit the Marriott Hotel in Pakistan's capital, Islamabad, killing at least 40 people.
BBC
The hotel's owner said the explosion occurred when a lorry, which was being checked by security staff and sniffer dogs blew up at the hotel's entrance.
The blast created a 20ft (6m) deep crater, and destroyed the entire front section of the hotel.
President Asif Ali Zardari condemned the attack and vowed to "continue to fight terrorism and extremism".
In a statement, he said: "Such dastardly acts cannot dent the government's commitment to fight this menace.
The explosion - a suspected suicide bombing - is thought to have been caused by more than a tonne of explosives and police are warning that the hotel could collapse.
The BBC's defence and security correspondent, Rob Watson, says that the attack bears the hallmarks of al-Qaeda, given the scale, the target and what would appear to be the careful political timing involved.
The attack came just hours after the newly elected President Zardari had given his first speech to MPs, vowing not to allow Pakistan's territory to be violated by terrorists or foreign powers fighting them.
Our correspondent says the attack is without doubt the most serious in the Pakistani capital to date and will spark fears about the country's stability in the face of a growing Islamist insurgency.
The Marriott is the most prestigious hotel in the capital, and is popular with foreigners and the Pakistani elite.
The hotel is located near government buildings and diplomatic missions, so security is tight, with guests and vehicles subject to checks.
The Marriott has previously been the target of militants. Last year a suicide bomber killed himself and one other in an attack at the hotel.
And this...........................
Senior CIA officers were target of Islamabad blast

Islamabad , Sept 20 (ANI): Several senior officers of Central Intelligence Agency (CIA) who are reported to be currently visiting Islamabad were the target of the blast at the Marriott Hotel which took place here tonight.
Well placed sources said that Marriott Hotel is usual hotel choice of the US officials and it seems that militants tipped off that certain high level US intelligence officers were currently staying at the hotel.
While no confirmation was available but Pakistan sources said it was clear that the explosion was aimed at specific targets based on a tip off.

Wild Thing's comment..........
Fox News channel was saying that it happened around dinnertime and many were in one of the five restaurants in the hotel ending their fast at the close of Ramadan.
Fox news reported that the president and prime minister of Pakistan were scheduled to have a dinner at the hotel at the same time....BUT THE PLANS WERE ALTERED AT THE 11th HOUR!! How Convenient!!
Bloomberg reports 3 American citizens killed
"``The suicide bomber tried to enter from the main gate and blew up his truck,'' Sadruddin Hashwani, who owns the Marriot, told reporters. ``Gas pipelines exploded because of the blast, causing the fire. Some people are still stuck, and we're trying to evacuate them.'' Close to Parliament
A Danish diplomat and three U.S. citizens were among the dead, Dawn News television reported, without saying where it got the information. Four Germans and six Saudi Arabian citizens were injured, the broadcaster said.
The hotel, which has been bombed at least once before, is in the city's high-security zone, less than a kilometer from the parliament building, the President's House and the diplomatic enclave.
The explosion shattered an adjacent government building, shredded trees and smashed more than 40 cars parked near the hotel. More than one ton (2,200 pounds) of explosives was used in the bomb, GEO TV reported, without saying where it got the information. "

UPDATE:
US Marines may have been target of Marriot attack: Officials
Islamabad, Sept 20 (IANS) US Marines staying at the Marriott Hotel may have been the target of Saturday's suicide attack that killed more than 60 people, security officials said.They said that about 30 Marines were staying at the hotel and were scheduled to leave for Afghanistan early Sunday morning.
One official said that the American security personnel were in Pakistan for the just-concluded visit by the Chairman of the US Joint Chiefs of Staff, Admiral Michael Mullen.
But another source said that they had come to Islamabad Friday and were scheduled to leave for Afghanistan on Sunday morning.
"We believe that they can have been the target of the suicide attack," a senior security official told IANS. Otherwise, "we don't find any other reason for such an attack", he added.
The sources said that soon after the blast, US embassy officials reached the spot and were seen looking for the Marines who, according to the sources, were staying on the fourth floor of the hotel which was among the worst affected as the entire hotel turned into a blazing inferno with orange flames and thick smoke billowing out of its windows.
Besides the Marines, the staff of Saudi Airline and a number of foreigners was also staying at the Marriot.

Posted by Wild Thing at September 21, 2008 04:48 AM
---
Comments
This is truly tragic. You have to believe Al Qaeda was behind this bombing and the Pakistani government is doing nothing to stop it. It's like Al Qaeda just moves around as it pleases and kills whoever gets in it's way.
You just can't trust certain world governments anymore as far as you can spit.
This is why we will never achieve world peace. There is always someone, something, who will continue to force people to believe as they do or be killed.
Posted by: Lynn at September 21, 2008 06:43 AM
---
Well, let's see now what the new president of Pakistan, Zardari, does in answer to this attack. Pakistan is a center of radical muslim activity(Saudi Arabia is the heart and soul)and the Pakistani government has seemed reluctant to really go after the problem. Maybe this change of govt. will be more aggressive, or less.
Pakistan has nuclear bombs. The terrorists would love to get their hands on these. A series of high profile terrorist attacks in Pakistan could make the government so unstable it could topple into chaos. Then who would control the bombs?
Posted by: TomR at September 21, 2008 10:46 AM
---
Just a stark reminder that we are at war with these radical Islamic bastards. B. Hussein Obama does not have a clue of what to do.
One more reason why he can't be President. He can not be trusted to do the right thing and that is to fight these heathens where ever they are.
Posted by: Mark at September 21, 2008 11:37 AM
---
Talk to 'em Barry they love apostates!!! Especially stupid ones. Biden and Obama, both worse than the Katzenjammer kids.
The muzzy butchers were bold enough to kill 241 American servicemen in Lebanon under Ronald Reagan's presidency the same attack on the French Barracks killed 58 French paratroopers. Beyond condemning there was no response, Obama will respond, he'll praise the butchering muzzie bastards and wants to make tête-à-tête with them.
Posted by: Jack at September 21, 2008 02:57 PM
---
Lynn, yes, these terrorists are doing their killings all around the world on a weekly basis. Some bigger in size of deaths and bombings but every week and they don't stop and won't stop. I truly believe that part of our enemy we will never be able to stop completely. Thank God though that Bush did want to go after them and I pray McCain is Pres. because I think he will have the same attitude to not just sit there after an attack like Bill Clinton did.
Posted by: Wild Thing at September 21, 2008 07:18 PM
---
Tom, I am curious too how their new President handles this.
Posted by: Wild Thing at September 21, 2008 07:23 PM
---
Mark, when I heard about this I thought of how Obama would be running around and stammering not knowing what to do. Maybe in circles around the rug in the Oval office like a mad man.
I agree with what you said he really is clueless.
Posted by: Wild Thing at September 21, 2008 07:26 PM
---
Jack good cartoon thanks.
Yes these are some of Obama's ilk I really believe that.
Posted by: Wild Thing at September 21, 2008 07:29 PM
---