« China Olympic News | Main | B.Hussein Obama Responds To Comments By Hillary and McCain »
April 12, 2008
Obama's Family ~ Not Like Yours and Mine

Obama's Militant Muslim 1/2 Brother Abongo Is Luo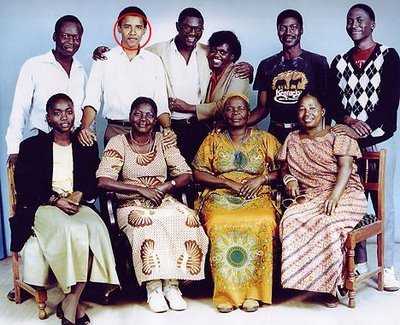 In this Obama Family photo are: (bottom row, from left) half-sister Auma, her mother Kezia Obama, Obama's step-grandmother Sarah Hussein Onyango Obama and unknown; (top row, from left) unknown, Barack Obama, half-brother Abongo (Roy) Obama, and three unknowns ( Sun Times)
Barack Obama stands behind Kezia (stepmother) in a Kenyan family shot. Included in the photo is brother Abongo "Roy" Obama who is a Luo activist and a militant Muslim who argues that the black man must "liberate himself from the poisoning influences of European culture."
"Abongo's new lifestyle has left him lean and clear-eyed, and at the wedding, he looked so dignified in his black African gown with white trim and matching cap that so me of our guests mistook him for my father," Obama wrote in Dreams From My Father.
If Obama left Islam, Obama must have very definite thoughts about it. Obama would have had to make a decision to reject Islam. When did he make that decision? How? Why the silence? Why the reluctance to talk about it?
Apostasy is punishable by death in Islam. Have there been calls for Obama's death? If not, why not? Islam gives no free passes. A few that have left Islam are quite vocal - Wafa Sultan, Ayaan Hirsi Ali, Walid Shoebat, Elijah Abraham. These people have had their lives threatened.


.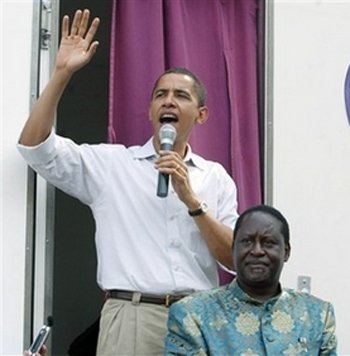 Barack Obama's cousin Raila Odinga is accused of ethnic cleansing and is currently battling for power in Kenya.
Barack has stated his support for Luo Opposition Leader in Kenya RaRaila Odinga (who signed a Shariah pact with Muslims and claims to be Obama's cousin) and is married to Ida Odinga. They have four children - two sons and two daughters. His oldest son, Fidel, is named after Fidel Castro.

Raila Odinga has signed a pact to institute sharia when he takes power after the current bloody coup.
Odinga is a Marxist who reportedly has made a pact with a hard-line Islamic group in Kenya to establish Shariah courts throughout the country. He has also vowed to ban booze and pork and impose Muslim dress codes on women -- moves favored by Obama's brother.
Barack Obama's cousin Raila Odinga is charged with ethnic cleansing by Kenyan officials.
President Mwai Kibaki was declared the winner of the 27 December poll, but the results were rejected by the opposition and called into question by international observers.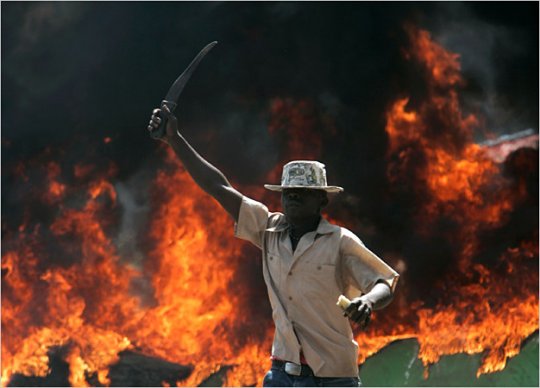 A supporter of the presidential challenger Raila Odinga
More than 600 people have died in unrest since, and another quarter of a million have been driven from their homes.
In an interview last week with the BBC's HARDtalk programme, Ms Karua said the government had suspected that Mr Raila Odinga's ODM party was "planning mayhem if they lost".
But she said they had not expected "the magnitude [of the violence] and for it to be ethnic cleansing".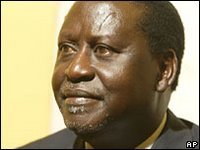 Barack Obama's cousin and Kenyan Opposition Leader Raila Odinga (BBC)
source: Investor's Business Daily

In 1991, when Obama joined the Trinity United Church of Christ in Chicago, he pledged allegiance to something called the Black Value System, which is a code of non-Biblical ethics written by blacks, for blacks.
It encourages blacks to group together and separate from the larger American society by pooling their money, patronizing black-only businesses and backing black leaders. Such racial separatism is strangely at odds with the media's portrayal of Obama as a uniter who reaches across races.
The code also warns blacks to avoid the white "entrapment of black middle-classness," suggesting that settling for that kind of "competitive" success will rob blacks of their African identity and keep them "captive" to white culture.
In short, Obama's "unashamedly black" church preaches the politics of black nationalism.
Obama has close family ties to Kenya, and even founded a school in his ancestral village -- the Senator Obama School.
In the bloody conflict there, which already has claimed some 700 lives, Obama appears to have sided with opposition leader Raila Odinga, head of the same Luo tribe to which Obama's late Muslim father belonged.
Obama's older brother still lives there. Abongo "Roy" Obama is a Luo activist and a militant Muslim who argues that the black man must "liberate himself from the poisoning influences of European culture." He urges his younger brother to embrace his African heritage.
Beyond family politics, these ties have potential foreign policy, even national security, implications.
Odinga is a Marxist who reportedly has made a pact with a hard-line Islamic group in Kenya to establish Shariah courts throughout the country. He has also vowed to ban booze and pork and impose Muslim dress codes on women -- moves favored by Obama's brother.
With al-Qaida strengthening its beachheads in Africa -- from Algeria to Sudan to Somalia -- the last thing the West needs is for pro-Western Kenya to fall into the hands of Islamic extremists.
Yet Obama interrupted his New Hampshire campaigning to speak by phone with Odinga, who claims to be his cousin. He did not speak with Kenyan President Mwai Kibaki.
Would Obama put African tribal or family interests ahead of U.S. interests?
He denies being Muslim, however, and says he "embraced Christ" while answering the altar call 20 years ago at Trinity. (Contrary to anonymous e-mail rumors circulating, Obama never took the oath of office on the Quran. He used a Bible, and Vice President Dick Cheney swore him in during his Senate ceremony.)
This merely raises another concern, beyond that of the controversial church he chose to baptize him. If Obama were ever Muslim, even as a youth, he would now be viewed as an apostate, which in radical Islam is punishable by death. As Mideast expert Daniel Pipes has noted, a President Obama could be the target of a fatwah.
Still, his Muslim heritage is not the signal issue before the electorate. It's his Afrocentric church, which preaches black socialism and black nativism, and his family ties to an African tribe that's fanning the flames of Marxism and militant Islam in a country once considered strongly democratic and a friend of the U.S.
"I believe in the power of the African-American religious tradition to spur social change," Obama has asserted. He also says his faith has led him to question "the idolatry of the free market."
.
How Raila acquired his billions.
Raila Odinga's big break came in 2001 soon after he led his party, NDP, into a merger with KANU, the then ruling party. As Energy Minister in Moi's government he was introduced to the family of Sheikh Abdukeder AlBakari, one of the richest families in Saudi Arabia with interests in petroleum drilling, petroleum exploration and export in the Middle East, Asia, USA and Africa.
Through the Saudi contacts,Raila was initiated into the lucrative world of oil business and soon enough he had joined the league of gig independent oil importers via his firm Pan African Petroleum Limited.
Industry sources say that one of the things that helped Raila make a quick buck in the oil business was a concessionary petroleum deal he struck with the Al Bakri Group where he was not only incorporated as a silent partner in the local arm of Al Bakri International but was also supplied with petroleum products from Saudi Arabia at subsidized prices which his firm would sell in the market at normal prices. That way,Raila was able to deftly beat the competition in oil business by occasional price undercutting.
While still Energy Minister,Raila re-established and nurtured his links with the Libyan government of Colonel Muammar Gadaffi where again he not only did good business in oil importation but also got substantial material support during the 2002 general elections.
A. K. Al Bakri & Sons Holding is the Saudi group headed by President & CEO Abdulkader Al Bakri, which has more outlets, subsidiaries and other companies than one can easily count. One of the prime contracts they would get is for the supply of jet fuel to Nairobi Airport, which allowed for undercutting of the competition there.
This is the very same Abdulkader Al Bakri listed as a defendant in the First Amendment Complaint suit brought by various insurance companies against al Qaeda and associated organizations and individuals.
Within that suit is mentioned documents (known as the Golden Chain document) picked up by Bosnian police on a raid on a charitable front organization for al Qaeda in Sarajevo. One of the listed documents is the "Tareekh Osama" ("Osama's History") in which Abdulkader al Bakri aka Abdel Qader Bakri gets a prominent listing:
ABDEL QADER BAKRI (ABDULKADER [AL] BAKRI)
CEO, Bakri Group of Cos
CEO, Al Bakri International Power Co. Ltd (Jeddah, Saudi Arabia)
CEO, Al-Bakri Shipping Group (Jeddah, Saudi Arabia)
CEO, Alkhomasia Shipping and Maintenance Company Ltd (Jeddah, Saudi Arabia)
CEO, Red Sea Marine Services (Jeddah, Saudi Arabia)
CEO, Diners Club International (Jeddah, Saudi Arabia)
Bakri Group formed in April 2002 a JV with the Malaysian International Shipping
Corporation (MISC) to operate in Middle-East countries, including Yemen. MISC leased
super tanker MT Limburg when it was attacked on October 6, 2002, coming from Ra's
Tannura (Saudi Arabia).
And then particular to one of the bin Laden brothers:
WAIL (WAEL HAMZA JULAIDAN)
Former Secretary General of the Muslim World League and Rabita Trust in Pakistan,
designated by the United States Treasury as SGDT
Receives donations from Suleiman Al Rashid, Abdulkader Bakri, Salahuddin Abduljawad,
Abdul Tahi Taher
So, when a man like Raila Odinga is linked with Abdulkader al Bakri, you are not making a minor connection, but one directly into al Qaeda. Such are the vagaries of making political bedfellows in other Nations.


Then there is Raila Odinga's Memorandum of Understanding with the Moslems in Kenya to turn the Nation into an Islamic State.
This Memorandum was dated and signed on August 29, 2007, between Raila Odinga and Shiekh Abdullah Abdi, chairman of the National Muslim Leaders Forum of Kenya.
Here are just a few of them:
b) Within 6 months re-write the Constitution of Kenya to recognize Shariah as the only true law sanctioned by the Holy Quran for Muslim declared regions.
c) With immediate effect dismiss the Commissioner of Police who has allowed himself to be used by heathens and Zionists to oppress the Kenyan Muslim community.
g) Within one year facilitate the establishment of a Shariah court in every Kenyan divisional headquarters. [Note: everywhere in Kenya, not just in "Muslim declared regions

.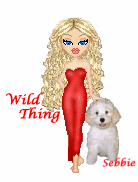 Wild Thing's comment.........
Isn't Obama's family just great? Obama and Odinga support each other's "insurgency" candidacies. Obama goes to Kenya, campaigns for his cousin and calls Kenya's government corrupt, and, along with our State Dept., pushes Kenya into a coalition government with Odinga, who has attempted several coups against the government of Kenya, and now will be working from the inside to deliver Kenya to the Islamo-fascist NAMLEF, and the Eurasian Axis of Russia, Red China, Iran, etc
Obama is not merely related to this SOB Odinga which would be something he could not help, but CAMPAIGNED for him.
Posted by Wild Thing at April 12, 2008 02:50 AM
---
Comments
"By looking at the family photo, I told you Barack was a zebra!" - Daktari 2008!
Posted by: darthcrUSAderworldtour07 at April 12, 2008 06:40 AM
---
"I thought that Luo Abongo was a bongo player named Bongo Louie from the Congo?" - Tarzan 2008
Posted by: 2bornot2b? at April 12, 2008 06:45 AM
---
"If zebra Barack Hussein Obama calls himself black, then am I yellow or black?" - Chester the Cheetah at 72 miles per hour!
Posted by: drstrangeloveb52isok at April 12, 2008 06:48 AM
---
The whole family is NUTS!
It kind of sounds to me that this is what he wants over here. Ethnic cleansing (Hitler tried it too and he was a very popular leader for awhile, too)only this time it will be White Christians and Jews who have to be dealt with because we're not easy to turn.
We will be put to the sword if we do not convert to Islam and agree to Sharia laws.
He is indeed a Muslim plant. They want the whole world and Obama wants to sit on top of it like the cherry on top a sundae.
You'd think Americans, being some of the most intelligent people on Earth, would be able to recognize what this man is doing, right?
Posted by: Lynn at April 12, 2008 06:57 AM
---
Looking at that group of inlaws one might get the impression, that somewhere, incest is legal.
Posted by: Mark at April 12, 2008 09:16 AM
---
I can picture it now. President Obama appoints the Rev. Jeremiah Wright as ambassador to Kenya. The cult of Obama rejoices.
Posted by: Les at April 12, 2008 02:07 PM
---
And don't forget that both Raila and his father, Oginga, both tried to stage coups in Kenya. Such lovely folks...
Raila also has a connection to a couple of Red Mafia types that have shown up in a timely fashion to do some side work in which Raila had a bit of benefit.
Then there is Obama's benefactor, Saddam Hussein's cousin, Nadhmi Auchi who seems to keep on popping up in various ways. Of all of them it is this guy that is the most troubling for me as he is implicated in Angolagate with the Clintons through Marc Rich and he has backed one of the top Red Mafia industrialists who recently had a meeting with Sen. McCain. Yes, a real bad feeling about this election season....
Posted by: ajacksonian at April 12, 2008 07:29 PM
---
Darth yes he is, but what really is bad is his soul is filled overflowing with hate and hate for America. grrrrr
Posted by: Wild Thing at April 12, 2008 11:13 PM
---
2bornot2b?, LOL no hahaha but that is funny.
Posted by: Wild Thing at April 12, 2008 11:14 PM
---
Lynn, I beleive that too, he has to be a plant and paid for by Soros and others wanting to bring America to it's knees.
I too thought the percentage of people were smarter then they are showing. It is like they are mesmerized or something. YUK!
Posted by: Wild Thing at April 12, 2008 11:18 PM
---
Mark, yes it does doesn't it.
Posted by: Wild Thing at April 12, 2008 11:20 PM
---
Les, Obama could very well make Rev. Wright the speaker at all the White House Prayer breakfasts they have. That would be so horrible.
Posted by: Wild Thing at April 12, 2008 11:27 PM
---
ajacksonian, thank you so much. Your blog was amazing with information. You did a tremendous amount of work. Thank you so much I really appreciate the information.
Posted by: Wild Thing at April 12, 2008 11:29 PM
---
"Now I recognize this photo WT! We were shown this exact photo by our pre-mission USAF intel officers prior to our Mogadishu missions in 1991. They're the 'Mogadishu Hillbillies' and they were evicted from their Somalia sub-prime grass hut condo by Somali Warlord Adid in 1992!... Thanks for the memories WT and they're faintly related to the Ugandan headhunters."
Posted by: darthcrUSAderworldtour07 at April 13, 2008 12:14 AM
---
Darth, giggle.....Good one.You knwo it does look like some of those photos from back then.
I am so grateful you served our country. Thank you!
Posted by: Wild Thing at April 13, 2008 05:23 AM
---
PS: Obama's freak family make Cousin It look normal in the Adams Family. In 'The Lion King,'
my favorite characters are the three hyenas: Ed, Chenzi & Banzai... and Obama's family tried to hunt them and eat them thinking they tasted like chicken? Every day is Mardi Gras in Somalia and Kenya.
Posted by: darthcrUSAderworldtour07 at April 13, 2008 06:01 AM
---
"I'm surrounded by idiots!" .... " Some circle of nuts, eh?" - The Lion King 1991?
Posted by: SCAR at April 13, 2008 06:04 AM
---