« Mark McKinnon McCain's Adviser Won't Fight Obama | Main | Mughnieh murder 'Zionist gangsterism' »
February 14, 2008
Imad Mugniyah The Mastermind Of Many Terrorists Attacks DEAD
Hizbullah accused Israel on Wednesday of being behind the deaths of two of its top commanders killed in a car bomb blast in a Damascus neighborhood late Tuesday night. Imad Mugniyah the mastermind of numerous terror attacks including the 1985 hijacking of a TWA airliner, appeared on Israel and the United States wanted list, and was also believed to have been behind the kidnappings of IDF soldiers Eldad Regev and Udi Goldwasser in 2006. Haj Hussein Khalil the deputy general of Hizbullah's political wing was killed along with Mughniyah in the blast.02/13/08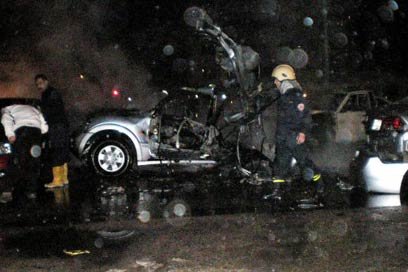 Israel's No. 1 Most Wanted Terrorist Assassinated
"Hizbullah's Imad Mughniyeh Killed, Israel Blamed"
An-Nahar
Beirut, 13 Feb 08, 11:32
The coffin holding Mughniyeh's body was placed on a podium in Hizbullah's stronghold in Beirut's southern suburbs, where the Shiite militant group planned a memorial service for the "martyr" on Thursday.
It was not clear, however, where Mughniyeh, who was killed on Tuesday in Damascus, would be buried.
"He was a legend. We always heard of his victories against Israel although we never knew him personally," said Ahmad, a 22-year-old man as he climbed an electricity pole to erect a black flag.

"American intelligence officials have described Mughniyeh as Hizbullah's operations chief and was believed to have moved between Lebanon, Syria and Iran in disguise.
His last public appearance was believed to be at the funeral of his brother Fouad, who was killed on Dec. 12, 1994, when a booby-trapped car blew up in Beirut's southern suburbs.
Syrian security forces on Tuesday quickly sealed off the area of the blast and removed the destroyed Mitsubishi Pajero, which had its driver's seat and the rear seat blown away by the force of the explosion.
Witnesses in Damascus said that a passerby was killed as security forces removed the body, but Syrian authorities would not give details.
Iran's English-language satellite station Press TV said an Iranian school and a Syrian intelligence office were in the same area of Kafar Soussa where the explosion occurred.
Mughniyeh's assassination was the first major attack against a leader of Hizbullah since the 1992 helicopter strike that killed the party's secretary-general Sheikh Abbas Moussawi in southern Lebanon.(AP-AFP-Naharnet)"
(Responsble for the 1983 Marine Barracks bombing)
'Mughniyeh co-founded Hizbullah'
Jerusalem Post
For 25 years, Hizbullah operations chief Imad Mughniyeh was one of the world's most wanted terrorists, involved in endless attacks against Israel and the United States, including the abduction of two IDF reservists in 2006 and the bombing of US embassies in Africa.
Less known than Osama bin Laden but considered a greater outlaw, Mughniyeh was implicated in the 1983 bombing of the US Embassy and Marine barracks in Beirut that killed more than 300, as well as the 1994 bombing of the Israelite Mutual Association building in Buenos Aires, which killed 85 people, and the 1992 attack on the Israeli Embassy in the same city, in which 29 died.
He apparently had strong ties with al-Qaida, and according to the testimony of Ali Muhammad - a senior al-Qaida operative who was arrested for involvement in the attacks on American embassies in Africa - Mughniyeh met with bin Laden in Sudan in 1993. Hizbullah, Muhammad said, provided explosives training for al-Qaida fighters. This relationship - and the fact that Mughniyeh was Hizbullah's liaison to al-Qaida - has led Western intelligence agencies to raise the possibility that he was also involved in the September 11 attacks.
Born in Tyre, Lebanon, in 1962, Mughniyeh did not attract attention until 1976, when he joined the PLO's Force 17 as a sniper targeting Christians on the Green Line dividing West and East Beirut.
Fatah officials told The Jerusalem Post that he had been very close to Yasser Arafat when the PLO was based in Beirut.
Mughniyeh was Hizbullah's chief liaison with the Iranian Revolutionary Guards and was believed to have spent most of his time in Teheran under tight Iranian security. Outside of Iran, he reportedly never slept in the same place twice and constantly looked over his shoulder.
In January 2006, Mughniyeh is believed to have traveled with Iranian President Mahmoud Ahmadinejad to Damascus for a meeting with Nasrallah, Hamas leader Khaled Mashaal and Islamic Jihad chief Ramadan Salah.
"He knew that he was on the FBI's list for many years, and he has lived many years according to this understanding - and this was strengthened following the Second Lebanon War," said Col. (res.) Dr. Eitan Azani, deputy executive director of the Institute for Counter-Terrorism at the IDC Herzliya and a former head of the Lebanese Desk at IDF Military Intelligence.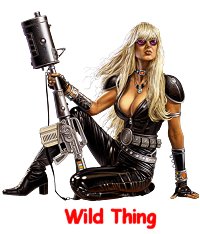 Wild Thing's comment.........
This is a huge kill! Great news! The Mossad strikes again! Words cannot convey the SATISFACTION to know that he is dead! This piece of goat shit was responsible for the deaths of hundreds of unarmed innocents and fine US military personnel.
Mugniyeh taught Al Qaeda how to make truck bombs that actually go "BOOM", (see Aden Hotel attacks for more info) and also taught Al Qaeda their supposed signature technique of mulitple, simultaneaus attacks, during AQ initited consultations in Sudan, circa 1994.

Some of his worh he was so proud of:
Marine Barracks in '83
US Embassy in '83
Hostages at the Sheik Abdallah Barracks in Baalbek
TWA 847
Col. Higgins in '87
Buenos Aires bombings in '92
Khobar Towers in '94
and Robert Dean Stethem's murder has been avenged
Mughniyeh was one of the most dangerous and cruel terrorists," Former Mossad head and Labor MK Danny Yatom said. "This is a huge achievement for the war against terror."
"Mughniyeh was living on borrowed time," Likud MK Silvan shalom said. "He is responsible for many deaths and his passing is a contribution to the international community's war against terror."
"When bastards like Mughniyeh, whose hands are covered in the blood of Israelis, Argentian Jews and Americans, go on to a 'better place', our world also becomes a better place," Former chairman of the Knesset Foreign Affairs and Defense Committee MK Yuval Steinitz (Likud), said."
Posted by Wild Thing at February 14, 2008 01:50 AM
---
Comments
Good news for us, bad news for all the Islamist goat bangers who visit this blog.
Posted by: Rhod at February 14, 2008 05:48 AM
---
"Fatah officials told The Jerusalem Post that he had been very close to Yasser Arafat when the PLO was based in Beirut." But, But, Jimmah, tell me it isn't so.
Beer and Pizza for the IDF, partial justice for my fellow Americans.
Rot in hell Imad Mugniyah you camel felching raghead bastard.

Posted by: Jack at February 14, 2008 10:54 AM
---
A very good kill. I am glad it happened in Syria. The Syrians have to be worrying that they can't control what happens at home. Whether it is chemical rocket warheads blowing up, nuclear weapons dumps being bombed by the Israeli Air Force or Hizzbullah terrorists being assasinated.
Posted by: TomR at February 14, 2008 11:25 AM
---
Rhod hahaha yesss heh heh
They don't like my Allah Sucks graphic in my sidebar on the right of the blog either. hahhaa
Posted by: Wild Thing at February 14, 2008 07:53 PM
---
Jack giggle. Amen!
I love it when the plans to take these vile subhumans out comes together.
Posted by: Wild Thing at February 14, 2008 07:55 PM
---
Tom, me too, I was glad when I read where it happened.
Posted by: Wild Thing at February 14, 2008 07:56 PM
---
BOOOOOOM! Looks good on ya, pal. Paybacks are a real bitch!! Why is the killing of a mass murderer considered murder?? Isn't it simply JUSTICE?
Posted by: PeteSuj at February 15, 2008 08:41 PM
---