« Herald Tribune My Local Paper PRO Illegals Article | Main | Thompson: "Wrong Answer" »
November 03, 2007
Pakistan Declares State Of Emergency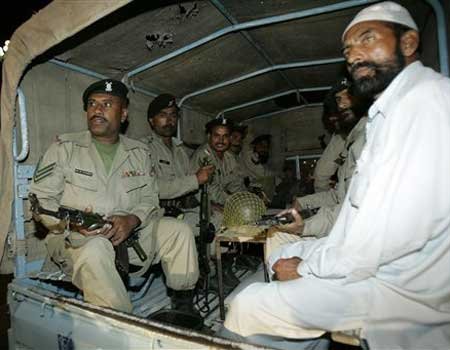 Nov. 3: Soldiers arrive in front of the administrative center of the capital Islamabad, Pakistan. President Gen. Pervez Musharraf declared a state of emergency in Pakistan on Saturday ahead of a crucial Supreme Court decision on whether to overturn his recent election win and amid rising Islamic militant violence.
ISLAMABAD, Pakistan Musharraf declares state of emergency
Faced with increasing violence and unrest, Pakistani President Pervez Musharraf declared a state of emergency Saturday.
Musharraf issued an order proclaiming the emergency and suspending the nation's constitution, according to a statement read on state television, and declaring martial law.
Musharraf is scheduled to address the nation at 1800 GMT (2 p.m. ET) Saturday.
The Supreme Court declared the state of emergency illegal, claiming Musharraf had no power to suspend the constitution, Chief Justice Iftikhar Mohammed Chaudhry told CNN.
A senior Pakistani official told CNN that the emergency declaration will be "short-lived," and will be followed by an interim government. Martial law is a way to restore law and order, he said.
Shortly afterward, Chaudhry was expelled as chief justice, his office told CNN. Troops came to Chaudhry's office to tell him.
The government appointed Justice Abdul Hameed Dogar as the new chief justice, according to state television.
In Islamabad, troops entered the Supreme Court and were surrounding the judges' homes, according to CNN's Syed Mohsin Naqvi.
Supreme Court sources said some judges who were not in Islamabad were not at their homes, and it was not known whether they had been arrested.
Aitzaz Ahsan, a leading Pakistani attorney and president of the Supreme Court Bar Association, was arrested at his home. A former interior minister, Ahsan represented Chaudhry the first time he was forced to leave his post.
Meanwhile, former Prime Minister Benazir Bhutto, who left Pakistan last week to visit her family in Dubai, arrived in Karachi on Saturday, according to her husband, Asif Ali Zardari. She returned to Pakistan last month, despite death threats, after several years in exile.
On October 18, upon her return, at least 130 people were killed when a suicide attacker tried to assassinate her. Bhutto was lightly wounded, but escaped largely unharmed.
Bhutto has pledged to help her party succeed in January's parliamentary elections. She hopes to gain a third term as prime minister, possibly under a power-sharing deal with Musharraf.
"The people of Pakistan will not accept it," Bhutto spokesman Farhatullah Babar said of the emergency declaration. "We condemn this move."
The declaration prompted a few hundred people to take to the streets in protest, but police and paramilitary groups blocked Islamabad's main roads and dispersed the crowds.
Earlier, private networks had reported the declaration was imminent as top officials huddled at Musharraf's residence in Rawalpindi. Shortly after that report, most media channels went off the air in an apparent blackout, although some flickered off and on.


Wild Thing's comment.......
This is beginning to look real nasty and may drag us in a different direction. If Pakistan falls, every Islamist nutgroup in the ME will soon have nuclear weapons. This is just not good at all. Darn it anyway!
Posted by Wild Thing at November 3, 2007 03:27 PM
---
Comments
Greetings.
In response to Pakistani dictator Pervez Musharraf's declaration of martial law and illegal dismissal of a Pakistani Supreme Court Justice, I am encouraging all bloggers out there who want true democratic rule for Pakistan's 165 million people to unite in opposition.
From now on, I am asking bloggers to consistantly refer to Musharraf as "Pakistani dictator Pervez Musharraf" consistantly linking back to a post I made explaining this idea in greater detail.
The post allows threaded comments, so that those opposed to Pakistani dictator Pervez Musharraf can start discussing ways that we can organize and unite in opposition to his dictatorial actions.
My hope is that a consistant message of opposition to martial law and support for democracy in Pakistan can help to influence the media away from legitimizing the Musharraf regime by referring to him as a President. By definition, he cannot be a President if he refuses the right for his government's Supreme Court to decide whether his running for office is legal or not.
Please drop by the post, leave a comment as to what ideas you have on how we can best unite in opposition to martial law, and please do consider using the phrase "Pakistani dictator Pervez Musharraf", linking back to the post.
Thank you,
Mark Kraft
Posted by: Mark Kraft at November 3, 2007 04:19 PM
---
Muslims killing Muslims...who would have thought?
Posted by: Steve, Red Dawn Guerrilla at November 3, 2007 08:54 PM
---
Devil Dog Steve... we used to fly to Islamabad and pick up Mujahadeen militia and take them to Andrews AFB, where they got medical treatments, and then returned them to Islamabad where they "would kill more Russkies in Afghanistan!"
Fortunately these 'Ramboislamos' didn't blow themselves up during our missions either!
Posted by: darthcrUSAderworldtour07 at November 3, 2007 11:53 PM
---
To think that Obama is going to start a dialog with them Bwaahahaha!!!
Posted by: Jack at November 4, 2007 12:22 AM
---
Mark Kraft, it is a very intense situation, what happens there will effect our troops so I am concerned about that.
To be honest about how I feel about Musharraf I could care less if he exists or not. I only care in relation to what he does that may effect the war. He is not a strong man against the terrorists. He has bashed the USA right after he left visiting here the last time, that ticked me off big time.

Posted by: Wild Thing at November 4, 2007 02:41 AM
---
Steve, Red Dawn Guerrilla, yes your so right, that is their favorite thing to do. "Muslims killing muslims" their favorite indoor, outdoor, anytime hobby, sport and all the above.
Posted by: Wild Thing at November 4, 2007 02:43 AM
---
Jack, Hahahahahhaa yes isn't that something.
God help us from idiots like Obama.
Posted by: Wild Thing at November 4, 2007 02:45 AM
---
Pakistan is coming apart. Maybe Bhutto can fill the void somehow. If the Taliban types take over, we are in for a rough ride.
Posted by: TomR at November 4, 2007 06:23 AM
---
He shut down parts of the media who disagreed with him, suspended the right to a trial, sent Government officials to jail without the benefit of a trial, and quashed protest by sending in Government troops to quell the riots.
This guy surely is a dictator. What kind of a leader would do such a despicable thing.
For one, Abraham Lincoln did the exact same thing.
To Mark Kraft don't tell me who to support until you get your facts straight.
Posted by: Mark at November 4, 2007 07:35 AM
---