« A Special Thankgiving With Friends | Main | Christmas With a Capital "C" »
November 25, 2007
Football Week Twelve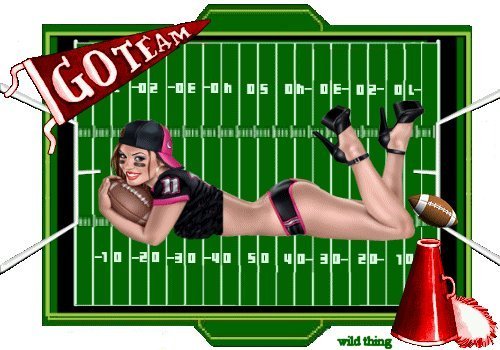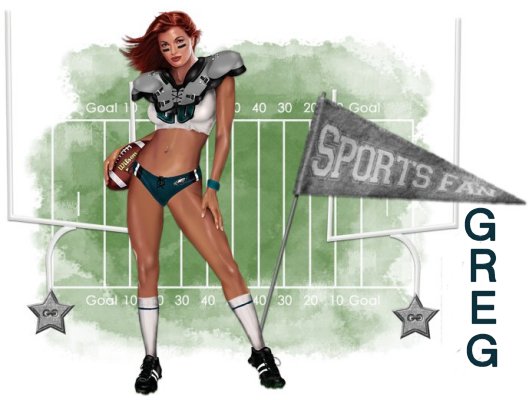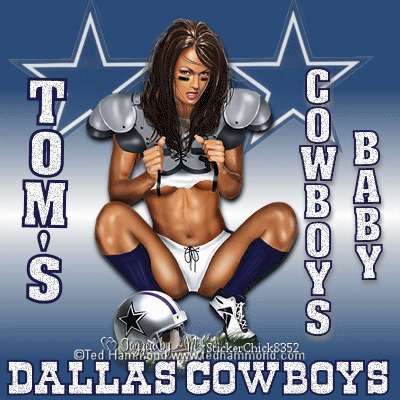 Cheerleaders of the NFL


Here are the matchups for Sunday, November 25 Time (EST)
NO @ CAR 1:00 PM
HOU @ CLE 1:00 PM
OAK @ KC 1:00 PM
SEA @ STL 1:00 PM
TEN @ CIN 1:00 PM
WAS @ TB 1:00 PM
BUF @ JAC 1:00 PM
MIN @ NYG 1:00 PM
SF @ ARI 4:05 PM
BAL @ SD 4:15 PM
DEN @ CHI 4:15 PM
PHI @ NE 8:15 PM
Monday, November 26 Time (EST)
MIA @ PIT 8:30 PM
Byes: None

These are the teams I think everyone is for. I will add to this as you tell me your favorite teams.
(Some names are those deployed in Iraq)
Lynn - Broncos, Bears, Browns
Tom - Cowboys, Broncos
Darth - New York Giants, Tampa Bay Bucs, (ABP - 'anybody' but Philly )
Mark - Patriots, Buffalo Bills, Bears
Bob - Buffalo Bills
Billy - Jets, NY Giants, Bears
Nick - Cowboys, Rams and Raiders
Karsten - Tampa Bay Bucs, NY Giants
navycopjoe - Chicago Bears
LindaSOG - Miami Dolphins
Jonathan - Raiders
Dawn - Seahawks, Bronco's ....(husband USARMY delpoyed, Iraq)
Amber - Green Bay Packers .....(husband USMC delpoyed Iraq)
Cuchieddie - Raiders
Sierrahome - Colts
patrickdaniel - Chargers, Cowboys
Eve - Colts ....(husband USARMY deployed Iraq)
Beth - Bears , Saints
Chief - Seahwaks
Chrissie - Bears, Broncos and Cowboys
Deployed:
Andy ( USMC) - Colts
Mike ( USARMY) - Seattle Seahawks
Sand Man ( (USMC) - Bronco's
Dave (USARMY) - Patriots
Tim ( USMC) - Bears
Jean ( USARMY) - Atlanta Falcons
Greg (USARMY) - Eagles
Max ( USARMY- Cowboys
Pete ( USMC) - Bronco's

Sunday FINAL Scores
OAK 20 @ KC 17 FINAL
WAS 13 @ TB 19 FINAL
NO 31 @ CAR 6 FINAL
TEN 6 @ CIN 35 FINAL
HOU 17 @ CLE 27 FINAL
BUF 14 @ JAC 36 FINAL
SF 37 @ ARI 31 FINAL
DEN 34 @ CHI 37 FINAL
BAL 14 @ SD 32 FINAL
MIN 41 @ NYG 17 FINAL
SEA 24 @ STL 19 FINAL
PHI 28 @ NE 31 FINAL

Posted by Wild Thing at November 25, 2007 12:45 AM
---
Comments
Boy, old TomR is going to like this...
Posted by: SSgt Steve, CLC at November 25, 2007 05:28 AM
---
Does anyone remember a Monday Night game between Dallas and another team, but it was a Dallas Cheerleader. She and her squad were doing a cheer and suddenly one of her twins popped out of her top on national TV. I did not personally see, unfortunately, but was told about the next day.
So I was wondering whether anyone else saw it. After seeing the video of all those cheerleaders that was the second thing that came to mind.
Posted by: Mark at November 25, 2007 08:00 AM
---
You betcha Old TomR is appreciative. Chrissie and Dawn have done a good job with their graphics of our teams girls. The NFL cheerleaders are some of the most beautiful girls around. The teams do a good thing by sending these cheerleaders to entertain our troops all over the world.
Mark, I sure missed it.
Posted by: TomR at November 25, 2007 10:51 AM
---

For Football,Boise State,yeah we lost friday night,first championship loss in 5 years
My main sport the NHL, Detroit Redwings and the
Anaheim ducks,blood on the ice,old time hockey!

Posted by: Tincan Sailor at November 26, 2007 11:13 AM
---