« Iraq Frees Detainees Under Amnesty Plan | Main | NY Times....The Terrorist's Tipsheet »
June 28, 2006
Now It is Two That Are Kidnapped by Hamas Group
The Popular Resistance Committees, which has claimed responsibility for abducting both the settler and an Israeli army corporal, said in a statement that "we are running out of patience."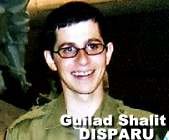 Cpl Shalit, 19 years old, is a gunner on a tank, a soldier in the IDF
.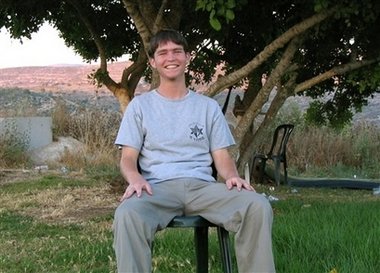 Israeli Oshri Eliahu, 18, is seen in this undated photo released by the family Tuesday, June 27, 2006. A spokesman for the Popular Resistance Committees, a violent group with close ties to the Hamas-led Palestinian government, who took part in Sunday's cross-border infiltration near Gaza in which militants killed two Israeli soldiers and abducted Cp. Gilad Shalit, said the group had taken Eliahu, a Jewish settler from Itamar in the West Bank hostage. Israel Radio reported the settler had been hitchhiking Monday night and failed to return home. (AP Photo)
Posted by Wild Thing at June 28, 2006 12:57 AM
---
Comments
Now Israel has the excuse to release the brakes, and take back Gaza. Do what you need to Israel! The World is going to criticize you anyway, even if you were in your own death throes. Take Gaza back, round up the palestinians and send them to the other islamic countries to take care of. Then we would see how humane the other islamic republics are to their own arab trash.
Posted by: TomR at June 28, 2006 10:27 AM
---
Tom I would love for that to happen. I love the part about sending palestinians back to the other Islamic countries. yesssss
Posted by: Wild Thing at June 28, 2006 11:39 AM
---